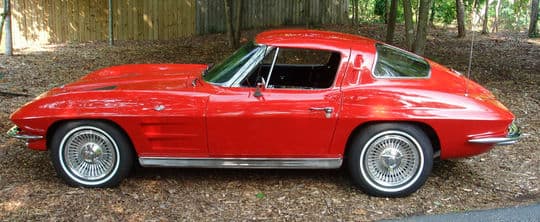 Above and below: 1963 Corvette C2 coupe – click to enlarge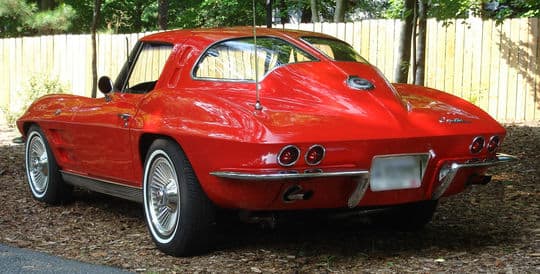 Then I bought a red 1962 Corvette C1 because that was the year I was born.  My third Corvette is a red 1963 Corvette C2 coupe, which is one of the top five Corvettes someone would want.  It was an only year car, so it's very coveted.
The 1985 Corvette C4 was a secondary car for me, whereas the 1962 and 1963 didn't have many miles.  I got nervous about driving the 1962 and 1963 Corvette after certain point because they were older and more valuable cars.  The 1962 also had drum brakes, so it didn't stop like new cars do.  Driving it in traffic was not a comfortable experience.  Eventually, I sold the 1962.  Now I take 1963 to shows.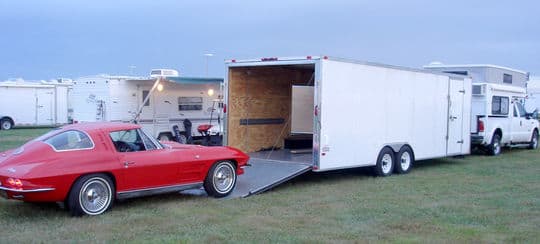 Above: 1963 Corvette and camping at FunFest – click to enlarge
TCM: Do you work on the Corvettes, or do you just take them to shows?
Hugh: I have worked on both the 1962 and the 1963.  With the 1962, I put in a new engine and rebuilt rear the end.  In the 1963, I installed a new transmission, and still have more work to do.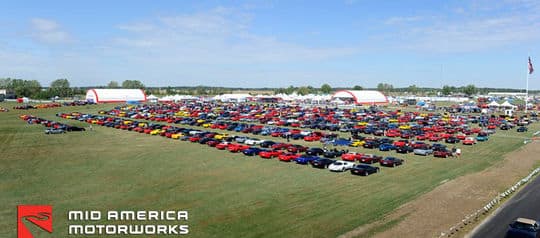 Above: Corvette FunFest is in Effingham, Illinois in September – click to enlarge
TCM: Tell us about Corvette FunFest.
Hugh: Corvette Funfest is run by Mike Yager and his family in Effingham, Illinois every September.  It's become one of the largest annual Corvette gatherings in the country.  They always have a band play Saturday night with all kinds of activities all weekend.  The event lets you dry camp on site for a $25 weekend pass which includes everything and a welcome bag.  Mike and his family put on a great weekend.
I have a job, so it's hard to travel to other shows.  FunFest has turned into one of the largest Corvette shows in the world.  They have a huge area for camping because Mike owns a huge plot of land.  Originally he wanted to have a racetrack there.  People can just park and camp for the weekend.  The grounds are nice and flat.
Above: Dry camping at Corvette FunFest – click to enlarge
I want to go to the Pennsylvania Corvette Show, but I haven't yet.  I go to shows for fun, not for the stress of judging.  I never could take the pain of someone picking over my car.  We just drive around and hang out with friends.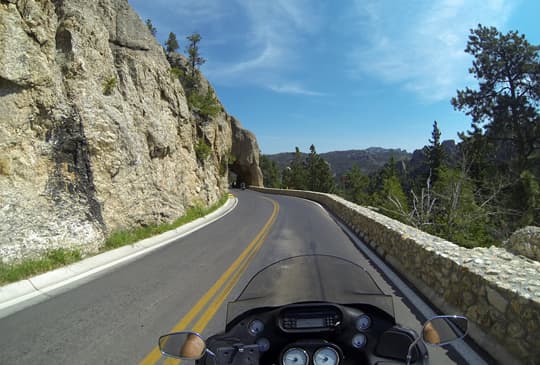 Above: Riding on the Needles Highway, South Dakota
TCM: You're also passionate about motorcycles and went to Sturgis with your Phoenix Custom Camper this year.
Hugh: Sturgis is definitely something to experience if you're into motorcycles.  Riding in that area is a beautiful experience.  There are also nearby attractions like Crazy Horse and Mount Rushmore.  You can ride on two lane roads and get far off the highway.