Dan and Moneta Woollard of Thunder RV go on a truck camping adventure from Oregon to South Dakota in their Arctic Fox 1160.  Wait a minute, is that another Arctic Fox 1160?

Perhaps Truck Camper Magazine should award a special merit badge for truck campers who have mastered the art of free overnight camping.  We could call it the TCM FreeCamper badge.  There would be a 100 night bronze FreeCamper badge, 500 night silver FreeCamper badge, and a 1,000 night gold FreeCamper badge.  As a magazine, we would have easily earned a bronze FreeCamper badge and are probably well on our way to silver.  In the meantime, we would wear our bronze FreeCamper badge with pride.
This week we're celebrating industry leaders who go truck camping.  We were very excited to learn that Dan and Moneta Woollard of Thunder RV in LaGrande, Oregon had recently returned from a 2,500 plus mile truck camping adventure to Mount Rushmore in South Dakota.  We were equally excited to discover their enthusiasm for free overnight camping.  While our high standards call for additional written documentation and proper photographic evidence before awarding the prestigious TCM FreeCamper badge, it's clear the Woollards are well on their way.
TCM: Before we get to your truck camping adventure, please introduce yourself and tell us a little bit about your RV dealership.
Dan: My name is Dan Woollard and my wife, Moneta and I are the owners of Thunder RV in LaGrande, Oregon.  We opened Thunder RV in August of 1997, but I've been selling RVs on and off since 1972.  We sell all of Northwood Manufacturing's RV products including Arctic Fox and Wolf Creek.  We also sell Adventurer and Chalet truck campers, offer full RV service and repair, and have a well stocked RV parts store that ships all over the United States.
TCM: How did you get into RVing?
Dan: My parents took me camping and fishing as soon as I was old enough to walk.  When I was about seven years old, I went with my dad hunting in our 1956-1958 Gem model travel trailer.  My brothers and sisters would also go camping with us.
Moneta and I have been married thirty-nine years this year.  We've always been hunting, fishing, and camping together in travel trailers, fifth wheels, and now truck campers.  We love it.  With a truck camper, we can get into tighter spots and stay off the grid.
We don't go to campgrounds if we don't have to.  We have stayed at casinos, Cabelas, and Walmarts.  Otherwise we're in the mountains.
Moneta: I was a rancher's daughter.  We had cows in the mountains and stayed in our tiny travel trailer.  We also had tents, but I didn't like them so I'd stay in the trailer.  We also went hunting and fishing as kids.  My grandmother loved to fish.  I think I was born with a fishing rod in my hand.  When Dan and I met, camping and fishing became a part of us.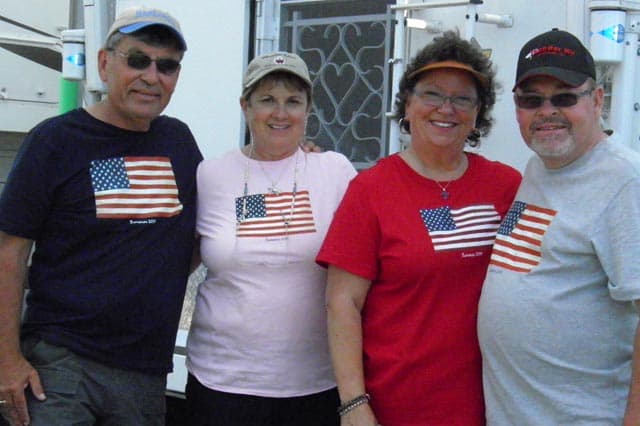 Left to Right: Don, Roxy, Moneta, and Dan
TCM: Had you ever gone on a truck camping trip before you're latest adventure?
Dan: Yes, we've gone on several truck camping trips.  I've delivered travel trailers to Arizona and stayed in truck camper along the way.  We prefer truck campers when traveling because they're more convenient to use and maneuverable.  With a camper, we can always stop in places where there isn't much parking.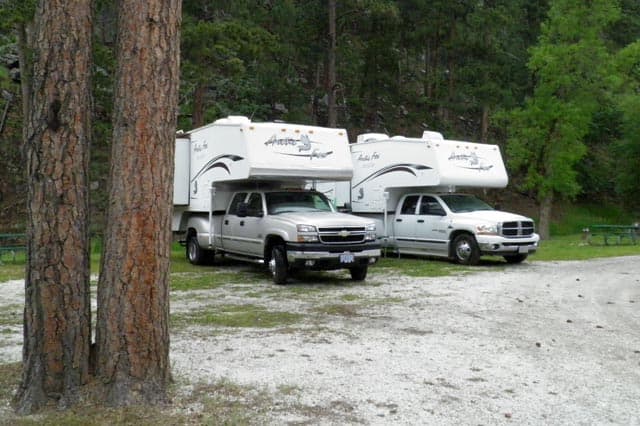 On this last trip, we went with customers who have become good friends, Don and Roxy.  It just so happened that we went in the same model, an Arctic Fox 1160.  It was a good experience to be on the trip together.
The Arctic Fox 1160 is a double slide-out that Northwood debuted in 2007.  Northwood didn't sell as many as they wanted and stopped making the model in 2009.  Part of the problem was that some dealers didn't know how to set them up right.  No matter what camper you're buying, you need a truck with sufficient payload for the camper and the correct suspension enhancement equipment.  It's all about making a proper truck and camper match.
Moneta: We want our customers to be happy.  If the camper is not set up correctly, they'll be upset.  A proper match and set up makes all the difference in the world.
I remember a man got mad at Dan because he would not sell him a camper because he didn't have the right truck.  The camper was simply too heavy for the customer's truck.  We didn't sell him that camper because it would have been unsafe.