Dan and Moneta Woollard of Thunder RV go on a truck camping adventure from Oregon to South Dakota in their Arctic Fox 1160.  Wait a minute, is that another Arctic Fox 1160?

Perhaps Truck Camper Magazine should award a special merit badge for truck campers who have mastered the art of free overnight camping.  We could call it the TCM FreeCamper badge.  There would be a 100 night bronze FreeCamper badge, 500 night silver FreeCamper badge, and a 1,000 night gold FreeCamper badge.  As a magazine, we would have easily earned a bronze FreeCamper badge and are probably well on our way to silver.  In the meantime, we would wear our bronze FreeCamper badge with pride.
This week we're celebrating industry leaders who go truck camping.  We were very excited to learn that Dan and Moneta Woollard of Thunder RV in LaGrande, Oregon had recently returned from a 2,500 plus mile truck camping adventure to Mount Rushmore in South Dakota.  We were equally excited to discover their enthusiasm for free overnight camping.  While our high standards call for additional written documentation and proper photographic evidence before awarding the prestigious TCM FreeCamper badge, it's clear the Woollards are well on their way.
TCM: Before we get to your truck camping adventure, please introduce yourself and tell us a little bit about your RV dealership.
Dan: My name is Dan Woollard and my wife, Moneta and I are the owners of Thunder RV in LaGrande, Oregon.  We opened Thunder RV in August of 1997, but I've been selling RVs on and off since 1972.  We sell all of Northwood Manufacturing's RV products including Arctic Fox and Wolf Creek.  We also sell Adventurer and Chalet truck campers, offer full RV service and repair, and have a well stocked RV parts store that ships all over the United States.
TCM: How did you get into RVing?
Dan: My parents took me camping and fishing as soon as I was old enough to walk.  When I was about seven years old, I went with my dad hunting in our 1956-1958 Gem model travel trailer.  My brothers and sisters would also go camping with us.
Moneta and I have been married thirty-nine years this year.  We've always been hunting, fishing, and camping together in travel trailers, fifth wheels, and now truck campers.  We love it.  With a truck camper, we can get into tighter spots and stay off the grid.
We don't go to campgrounds if we don't have to.  We have stayed at casinos, Cabelas, and Walmarts.  Otherwise we're in the mountains.
Moneta: I was a rancher's daughter.  We had cows in the mountains and stayed in our tiny travel trailer.  We also had tents, but I didn't like them so I'd stay in the trailer.  We also went hunting and fishing as kids.  My grandmother loved to fish.  I think I was born with a fishing rod in my hand.  When Dan and I met, camping and fishing became a part of us.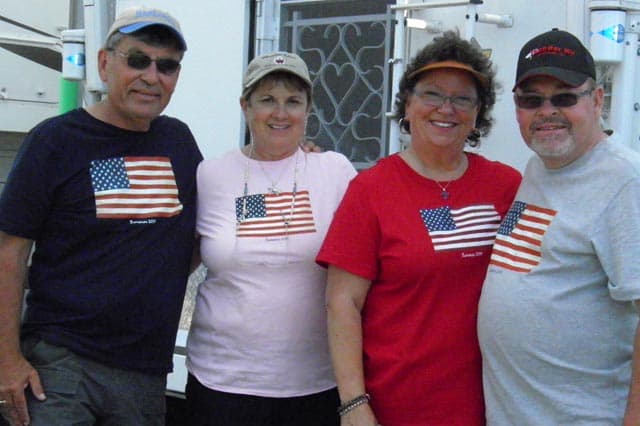 Left to Right: Don, Roxy, Moneta, and Dan
TCM: Had you ever gone on a truck camping trip before you're latest adventure?
Dan: Yes, we've gone on several truck camping trips.  I've delivered travel trailers to Arizona and stayed in truck camper along the way.  We prefer truck campers when traveling because they're more convenient to use and maneuverable.  With a camper, we can always stop in places where there isn't much parking.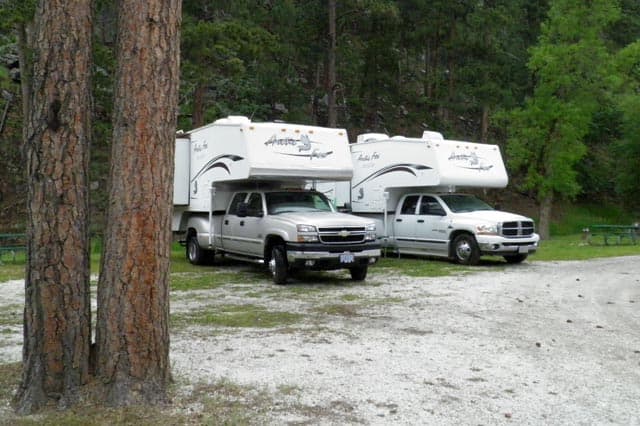 On this last trip, we went with customers who have become good friends, Don and Roxy.  It just so happened that we went in the same model, an Arctic Fox 1160.  It was a good experience to be on the trip together.
The Arctic Fox 1160 is a double slide-out that Northwood debuted in 2007.  Northwood didn't sell as many as they wanted and stopped making the model in 2009.  Part of the problem was that some dealers didn't know how to set them up right.  No matter what camper you're buying, you need a truck with sufficient payload for the camper and the correct suspension enhancement equipment.  It's all about making a proper truck and camper match.
Moneta: We want our customers to be happy.  If the camper is not set up correctly, they'll be upset.  A proper match and set up makes all the difference in the world.
I remember a man got mad at Dan because he would not sell him a camper because he didn't have the right truck.  The camper was simply too heavy for the customer's truck.  We didn't sell him that camper because it would have been unsafe.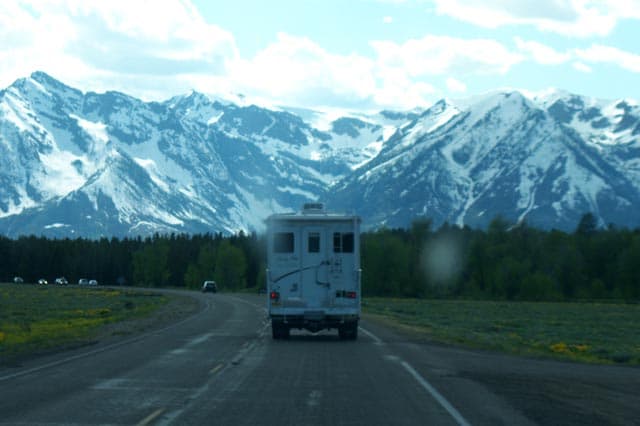 TCM: Tell us about your latest truck camping adventure.
Moneta: It was great!  Whenever we stopped people would come over to talk to us about our campers.  We did lots of PR work for Northwood on our trip.  People like to see both campers together and wanted a tour.  It was great fun!
This was our third big trip with Don and Roxy.  For the other two trips we went to Canada and to Arizona.
This past trip was out to Mt. Rushmore, the Badlands, Custer State Park, the Tetons, Yellowstone, Devils Tower.
Along the way we met another couple with an Arctic Fox from Canada while we in South Dakota.  They saw our two Arctic Fox campers and came over to join us.
Dan: We took walkie talkies with us on the trip so that we could talk back and forth.  The walkie talkies came in handy.  We'd make plans and pretty much stayed together.  Don, Roxy, Moneta, and I enjoy same types of things, and we weren't on a time schedule.
Moneta: If we saw a store or a place we wanted to go, we'd stop.  It was great to not be on a time schedule.  Every night we would pull out our maps and see what was on the way to the next place we wanted to visit.
TCM: How did Roxy get a broken foot on your trip?
Moneta: We were in Butte, Montana on our way home.  She stepped out of the camper and took a few steps.  There was a hole in the ground and she twisted her ankle and broke it in three places.  She thought she sprained it, so we wrapped it up, but it kept getting worse.  Roxy called her doctor and he told her not to walk on it.
After that, we opted to go to places like the sapphire mine where she could sit and not stand.  We had fun putting her on carts and wheeling her around.  When we got home she went to the doctor.
TCM: What were some highlights of your trip?
Dan: I loved the Crazy Horse Memorial.  I learned more on history there than I did at Mt. Rushmore.  We learned a lot of Indian history.  It's privately owned, so there are no government regulations.  The museum was beautiful, and there were a lot of volunteers.  We also stopped at Little Big Horn and learned more there too.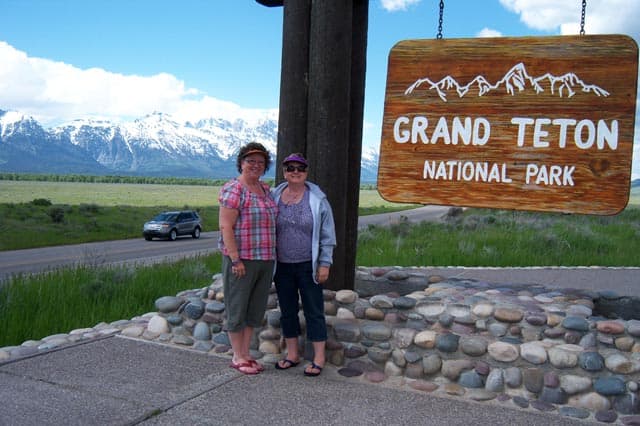 Moneta: We left on June 24th and got back July 13th and thoroughly enjoyed the whole thing.  We drove through three national parks.
TCM: Was there anything unexpected that happened?
Dan: We stopped in a town near Mt. Rushmore and went to a campground to ask about the campsites.  We got to talking to them and told them we didn't need water.  They told us we could stay for free.  It was a RV campground hooked to a hotel.  We stayed for two nights.  The water wasn't working anyhow, so they couldn't really put anyone else there.
Not so much else happened on this last trip, but on our trip to Arizona, we stopped to get diesel.  The receipt came out and it said gas.  When I asked about the receipt, the attendant said that it was diesel and that I just got it for the gas price.
About twenty miles down the road, the engine started knocking.  I got to Arizona, and my brother-in-law asked if we had changed the fuel filter.  We came to find out that I had filled half the tank with gas and it mixed in with the diesel.  That was unexpected.
TCM: In an email to us, you said that Ennis, Montana was a neat out of the way town.
Moneta: Early on during the trip we took a back road and hit the cute town of Ennis.  We're always studying our maps to find routes that avoid the freeway.  That's how you find those cute little out of the way towns.
Dan: We did take a few highways, but we were not in a hurry.  Something else we enjoy about our pick-up and camper is that we can slow down a little bit and enjoy the ride.  I averaged sixty to sixty-three miles per hour during the trip.  By slowing down, we got to see more things and got better fuel mileage.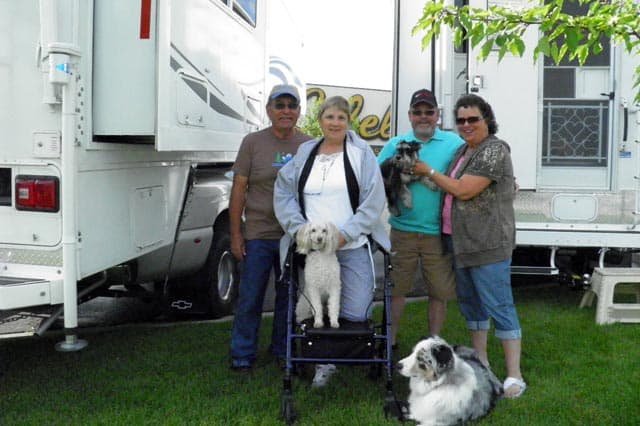 TCM: How did your dogs like truck camping?
Moneta: We have two dogs, an Australian Shepherd and a Miniature Schnauzer.  Don and Roxy have a poodle.  All of the dogs love to travel, so it was great.  We did look for shade if we were to camp in a warmer area.  We would also open up the windows, leave cold water, and turn on the Fantastic fan.  If it was really hot, we had our generators and we would turn them on with the air conditioner running, so the dogs were happy.  We never left them in there for an extended time.  An hour was probably the longest when we went into eat.  We never had a problem.
TCM: After going on this trip, do you have any tips for fellow truck campers?
Dan: With our personal truck camping experiences, we are able to explain truck campers and the truck camping lifestyle to our customers.  I know truck campers because I use them.  Unfortunately, some RV dealers have never gone camping, much less ever taken a truck camper out for weeks at a time.  As a result, they don't know how to help their customers when they have issues.  I recommend seeking out the dealers with truck camping experience.
TCM: Any thing else you'd like to share?
Dan: For anyone who is currently researching their first truck camper, talk to people who are already truck camper owners.  Find out what they like, and don't like.  Don't just walk into a dealership and ask what you should do.  The dealers may push you into something you think you want instead of what you actually need.  Truck Camper Magazine is a really good resource for people who are learning and researching truck campers.  It's a good place to get started.  We read it all the time.
TCM: Thanks Dan and Moneta.  Please keep in touch with your truck camping adventures.
Dan and Moneta: We will.