On December 22nd, 2021, at 4:32am, Mike Brandl woke up to a loud screeching noise and bright yellow light through his bedroom window. In his confusion, he thought a spaceship might be landing in his yard. The reality was even more terrifying.
In April of 2021, we published a series of articles with Mike Brandl titled, "The Pros and Cons of Super Singles" and, "Installing Super Singles on a Ford F-450". The pros and cons article went on to be the second most popular article of 2021 and continues to be exceptionally well-read to this day.
Unfortunately, the true significance of these two articles – at least for Mike – wouldn't be known until the following December. If there has been a Truck Camper Magazine article (or article series in this case) that made more of an important impact for the interviewee, we don't know it.
The following personal account from Mike will not be easy to read. You may find yourself gasping, or even looking away. You might suddenly have the urge to run out and hug your truck and camper. All of this is perfectly natural given how much we all love our truck camper rigs. Angela and I darn near cried when our beloved truck was hauled away after our car accident. We can't imagine what Mike went through.
As you recover from Mike's story, we highly recommend reading, "9 Lessons From A Truck Camper Accident". Nobody likes to think about bad things happening to our rigs, but there's peace of mind knowing you're prepared.
Have a seat fellow truck campers. This one's a doozy.
The 100 mph Domino
At 7:00am on July 3rd, 2020, I left my house for a month-long road trip to Moab, Utah. Thirty minutes later, with cruise control set at 70 mph, I was rear-ended by a car going 100 mph with no traffic around us. From what I saw on my backup camera, the speeding car drifted into my lane. I have no idea why.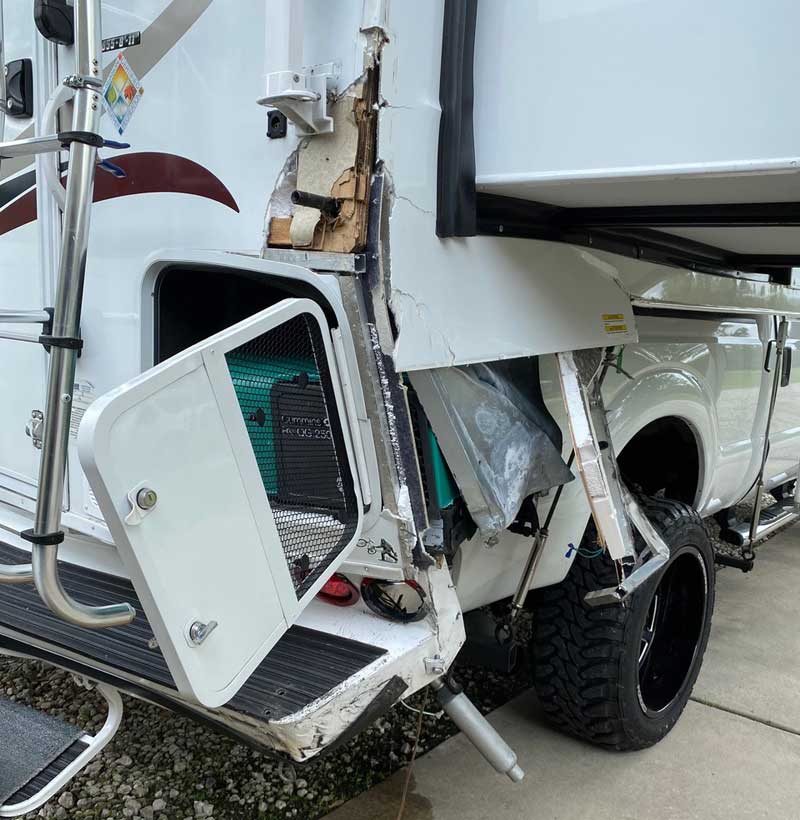 After all the insurance claims and adjustments, the Lance 855S was a total loss (pictured above). The truck was repaired and then sold.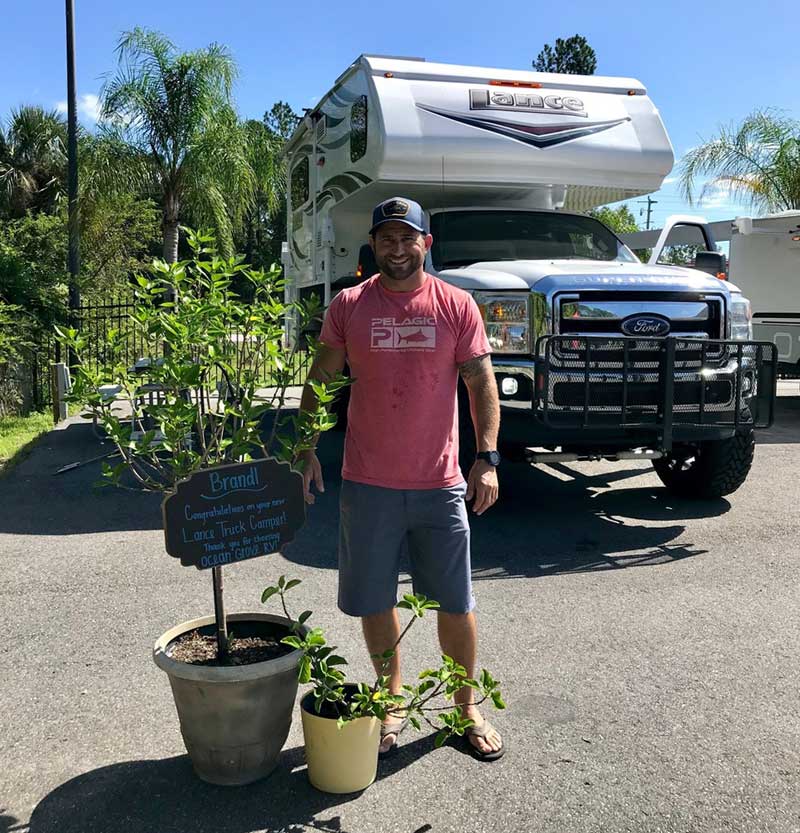 That August, I bought a used 2018 Lance 975 and a Ford F-450. Starting in late 2020, I converted the F-450 to Super Singles. You may recall my Super Single conversion articles in Truck Camper Magazine the following April. A short time later I decided that I wanted a lighter non-slide camper and sold the Lance.
Crossing the Country for an Adventurer
While searching for a camper, I stumbled upon a 2018 Adventurer 901SB 50th anniversary edition for sale in California. I researched the camper and fell in love with it.
There were four things on my list for a new camper when I was looking; no slides, mid-bath, a large refrigerator with a large freezer, and a four-person dinette. The Adventurer 901SB anniversary edition had all that plus the extra bells and whistles they added for the special edition.
Knowing the camper was too far to pick up easily, I called the owner and asked his true opinion of the camper. I actually told Steve I wasn't calling to buy the camper because it was too far away. He had nothing but great things to say about the model.
Along the way, Steve put two and two together and figured I was the guy with the F-450 Super Single articles in Truck Camper Magazine. He said he was willing to work with me to ship the camper. After Steve sent me multiple videos, I bought the camper sight unseen.
Shipping the camper was not as easy as we had hoped. Most of the shipping companies did not understand what a truck camper was and wanted to tow it. Others had trailers that were too tall. I just didn't have good luck finding someone who was willing to go to Fresno and also had the right trailer. I eventually gave up on that idea and went to plan B, driving across the country and picking up the camper myself.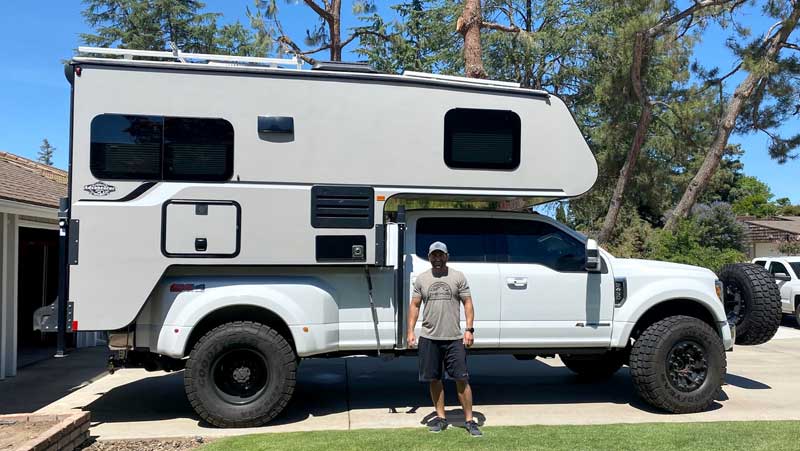 Two weeks later, I was on the road. On June 11th, 2021, I pulled into Steve's driveway and checked out the camper for the first time. It was perfect.
Steve was excited to see my Super Single converted F-450 in person. That would become important later. On my way back, I went straight to Moab, Utah to make up for the lost trip the previous year. I picked up my girlfriend at the Moab airport and we spent a few days exploring the area. On the way home, we went to Needles Overlook in Canyonlands National Park, drove the Million Dollar Highway in Colorado, and stayed in Silverton. That trip was just eleven days.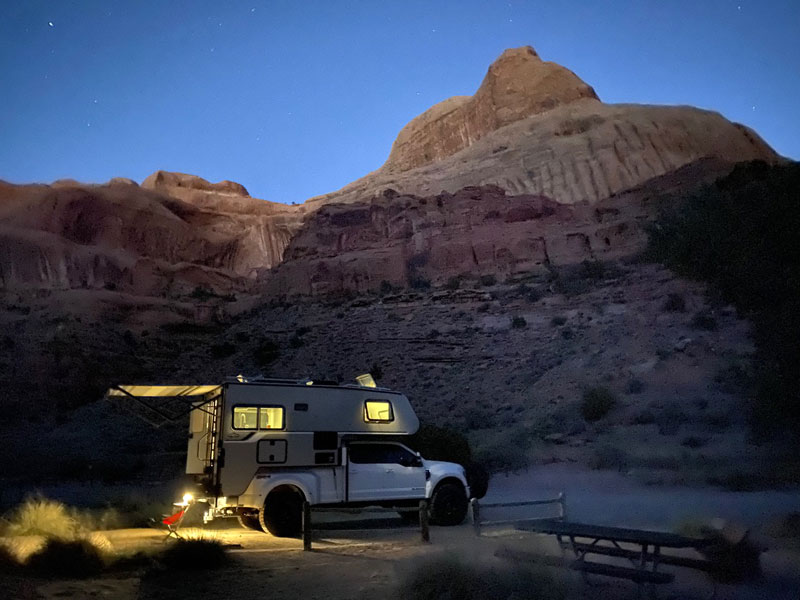 With the 901SB, I went on a lot of trips in Florida. I went to Tallahassee for a mountain bike race in August, Boyd's Campground in the Florida Keys in September, Oleno State Park in High Springs for a mountain bike race, and Paynes Prairie Preserve State Park in Gainesville in October.
I went to Punta Gorda and moochdocked at a friend's house and then to Seminole Campground in North Fort Myers for a mountain bike race in November. Then, I went to Shangri La Campground for a race at Santos in December. That was the last time I used it. At least I got some use out of the camper for only having it for six months.
The Fire
On December 22nd, 2021, at 4:32am, I woke up to a loud screeching noise. My bedroom windows were glowing bright yellow. When I looked outside my windows all the trees were also bright yellow. I thought there was a spaceship landing in my yard. I was so confused.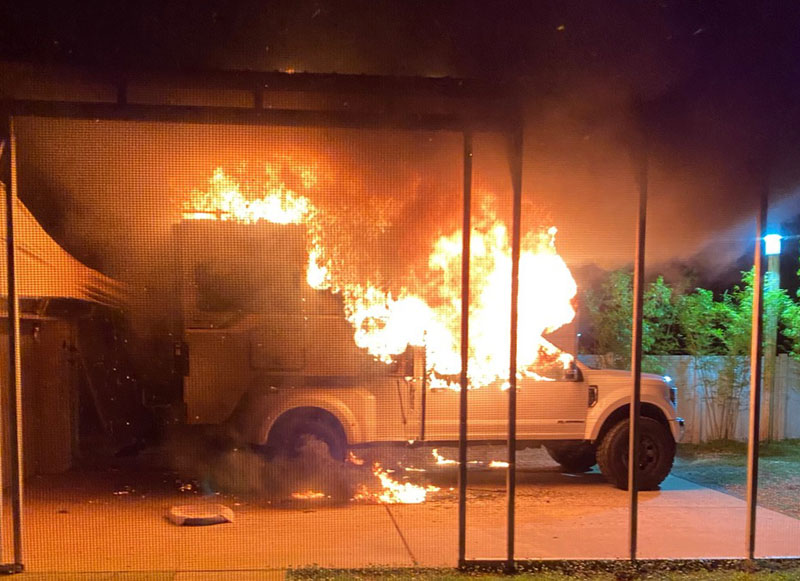 I ran across the house and found the nightmare of my truck and camper engulfed in flames. I immediately called the fire department and grabbed the water hose. The fire was too strong for the water hose, so I started wetting down my garage to protect it. Flames were already blowing up into the soffit.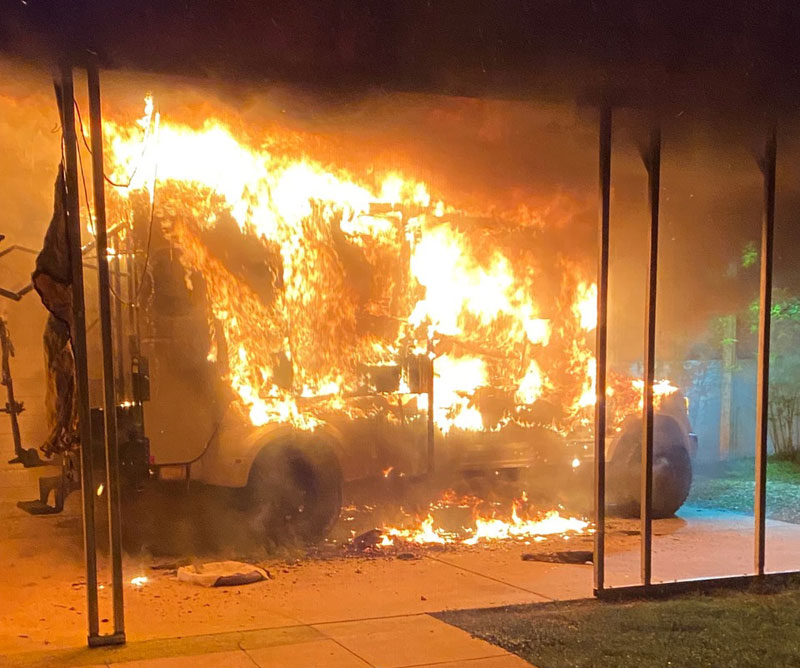 Then the gun I had in the camper started shooting rounds. I immediately took cover. Moments later I noticed the siding on my house melting off. Fearing my house would catch fire with my dog inside, I ran in and closed her in a room on the opposite side of the house with an exterior door. If the house did catch, I could get to her.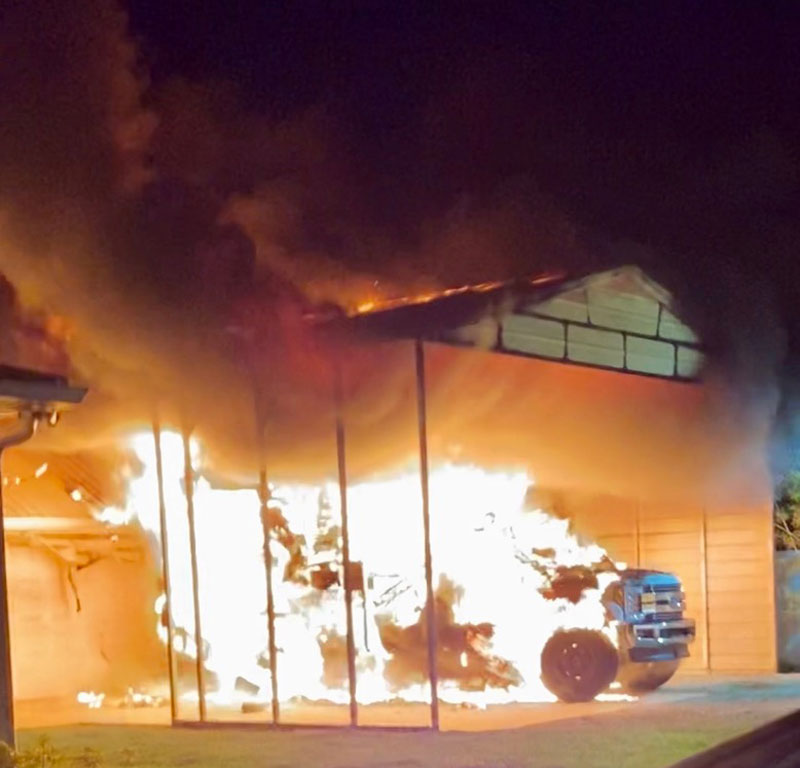 By the time I returned to the fire with the water hose, it had melted. With two propane tanks still in the camper, I took cover and watched the fire. When the first propane tank exploded, debris scattered across my yard.
The fire department was there within thirteen minutes. By that time, the camper and truck were already completely engulfed. The firefighters went straight to save the garage as it was starting to spread to the attic.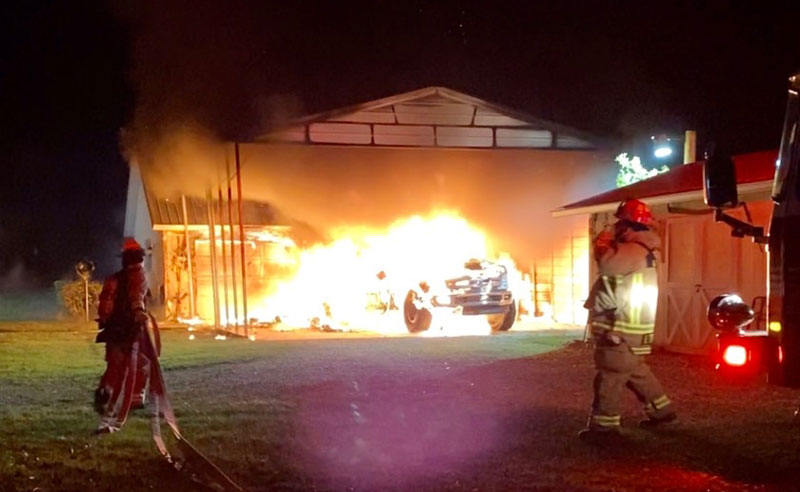 It only took them about twelve minutes to get the garage and the truck put out. They spent about another twenty minutes or so checking and putting out hot spots in the garage rafters. They entered the smoke-filled garage and dropped the drywall ceiling to put out the rafters.
Thankfully, my dog was fine and no smoke got into the house since the garage was detached. The heat busted the window on the second floor but the wind wasn't blowing in that direction. I stayed up and spent the rest of the morning sitting on the steps looking at all my hard work gone. Then my friends showed up to help me clean all the debris that was scattered across my yard from the propane tanks exploding.
The Investigation
The fire was two days before Christmas, and I was hosting for my family. From the propane tank explosion, broken glass, screws, and sharp metal were strewn across my driveway and yard.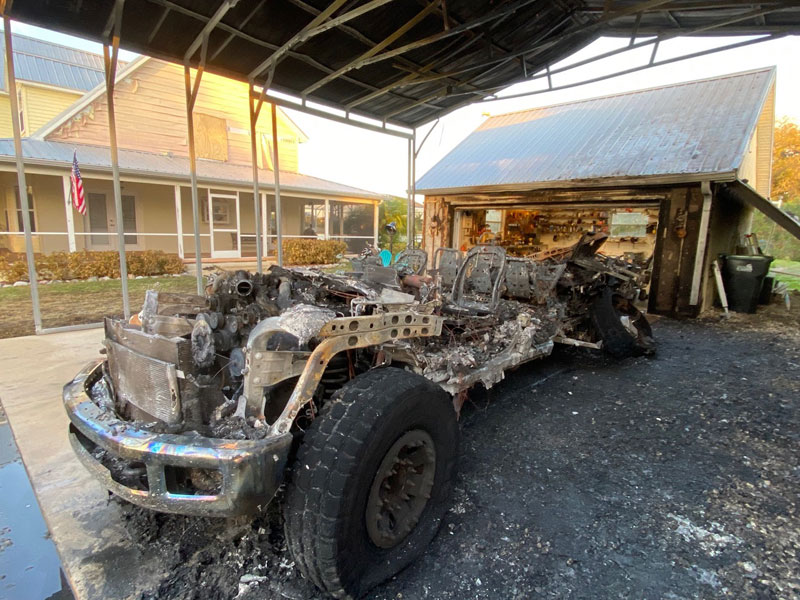 I contacted my insurance agent that morning and he said, "Don't touch anything." When I told him that I was hosting Christmas for my family and their kids and that my dog needed the yard, he gave me permission to clean the yard and driveway, but not to touch the truck.
The insurance company sent one investigator to my house. There was no way to tell what happened because everything was burned up. When the fire inspector arrived, he was not pleased that I had cleaned my driveway and yard. He said the investigation would normally take four to six months and that the scene should be preserved during that time. I said there was no way I was going to let all that debris sit in my yard for that long, which complicated my insurance battle.
I cleaned up the driveway and yard, but the burned remains of my rig stayed. Weeks went by without a clear plan from the insurance company. When it rained, ash and fluids from the burned truck and camper were running into our drainage ditch, which runs into a nearby lake. I'm on well water and so is my neighbor. We were both concerned about ground contamination.
Not wanting any environmental issues, the insurance company finally moved forward. With no legal opportunity for a fair investigation, the investigation was wrapped up and my truck and camper were hauled off.
How The Fire Started
My security cameras recorded the entire fire incident. Watching the security footage, the battery compartment exploded at 4:20am. Ten seconds later you can hear the smoke detector going off in the camper. That indicates that there was no fire in the camper that could have caused the battery to explode.
I later spoke with a few battery companies. They all said lithium phosphate does not explode like that, but lithium ion does. I was also told that there have been rumors of an overseas company rewrapping lithium-ion batteries and selling them as lithium phosphate. While I have no absolute proof due to the level of devastation, I believe that's what happened.
The Camper Insurance Experience
My truck and my camper were insured with the same company but had separate insurance policies with different adjusters and claims. The camper was insured for a fixed amount. They paid that fixed amount. I purchased the camper for $35,000 and put an additional $5,000 into it. The insurance paid me $39,000, which is what my new camper ended up being. That wasn't bad.
The camper insurance didn't cover my personal items in the camper. According to my insurance agent, my personal items were covered under my homeowner's insurance policy, even though the items were in my camper. He said there was no need for double coverage.
All my personal items in the truck and camper were covered under my homeowner's policy. It went pretty smoothly. I buy everything on Amazon or on websites so I was able to go back and find almost every item and provide a receipt. Then the agent adjusted the number for depreciation. There were a couple of items for which I did not have receipts – like the Honda generator and bike rack – but I was able to provide pictures both before and after the fire.
I claimed items like my tow strap, shackles, generator box – every single little item I could think of that I lost. I was actually surprised how I was able to claim so many things. I even claimed the heat shield tape I bought for my generator box.
The Truck Insurance Experience
My truck was insured for its current market value. It was a considerable fight getting them to price the truck fairly.
For starters, they used comps (comparable prices) for trucks that were out of state in lower-priced markets and had poor Carfax reports. When they sent their first low offer over, I requested the VIN numbers for the three comps. When I ran the VIN numbers, two of the trucks had been in accidents. Obviously, that wasn't a fair comparison. One of the trucks was out of state, which isn't allowed.
When I questioned the adjuster on these points, she admitted that the VINs had not been verified and that most people don't run the VINs. That was a lesson.
She threw that value out and used two dealerships to put together a new value, this time using my VIN number. That number also came back low. Then I realized that the value was based on a Level 3, which is a truck in poor condition. They were valuing my truck in poor condition as if it was wrecked, in a lower market area, or at a lower vehicle condition. Obviously, that wasn't a fair value either.
Believe it or not, what helped was that my truck had been featured in Truck Camper Magazine. There it was, from a third-party source, presented with lots of photography and details about the modifications I had done.
The insurance company also called Steve, the previous owner of the camper in California, to ask about the condition of the truck and camper. Steve had seen the truck in person and told them he had seen my articles in TCM. As a result of the articles, Steve's testimony, and my persistence, they pulled back their second low offer and made a third and better one.
I bought the Ford F-450 for $56,000, and put another $15,000 in aftermarket work into it. The insurance company eventually paid $71,000, so I broke even. That was a huge win for me. Of course, their number did not actually include the aftermarket work. I got $71,000 because the cost of the truck had gone up that much with inflation. They only covered $1,000 in aftermarket parts, which is all my policy evidently allowed for.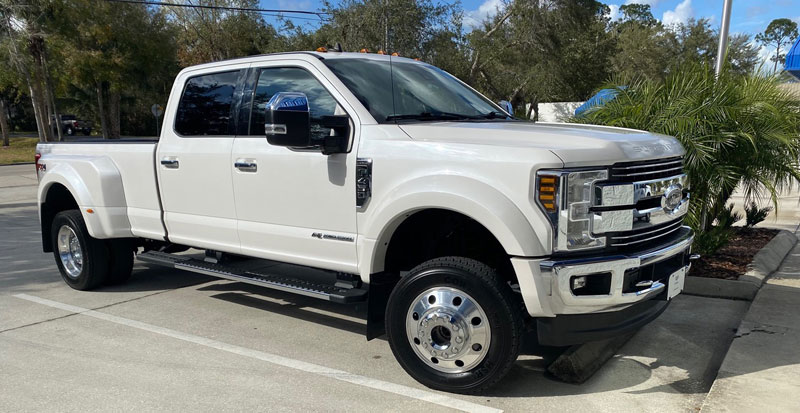 Speaking of inflation, my new Ford F-450 truck ended up being $80,000. Then I had to put in the cost of the Super Single conversion.
Through this experience, I learned a lot about insurance coverage with different policies. My advice is to insure everything possible with a separate policy (truck, camper, house, etc.), document everything you have, take pictures of everything you have, and keep all of your receipts for everything you have. With that, you'll at least have a fighting chance of breaking even should the unthinkable happen.
From The Ashes: A New Truck and Camper
About a week after the fire, I started contemplating if I wanted to stay with a truck camper or go another route. I went to the big Tampa RV show to see about other options, but nothing satisfied my needs. The only thing that interested me for a little bit was a mid-2000s Chinook van that could be converted to four-wheel dive. Ultimately, I went back to a truck camper because it made the most sense for my lifestyle and there was no doubt about what truck and camper I wanted.
Even after everything that happened, I really wanted to recreate the rig I had before; a Ford F-450 and an Adventurer 901SB. On February 4th, I found a 2019 Ford F-450 for sale only two hours away. I was halfway there.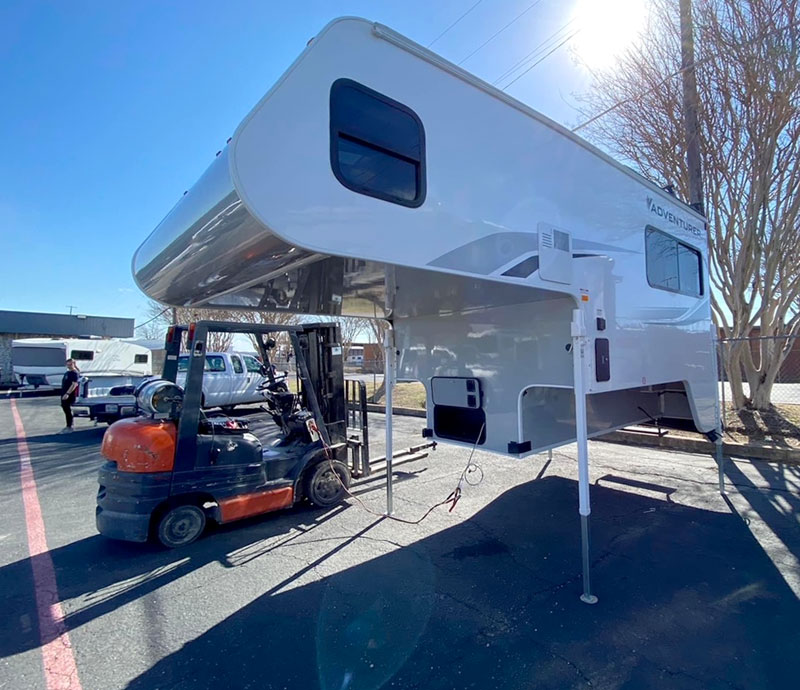 At first, I really wanted the 901SB 50th Anniversary Edition, but with only sixty made I had no luck finding one for sale. Knowing about my situation, Angela from Truck Camper Magazine sent me a lead for a 2022 Adventurer 901SB at Princess Craft RV in Texas. I flew out there on February 15th, 2022, and purchased it.
A Second Super Single Conversion
On April 30th, I started the Super Single conversion process by tearing my new Ford F-450 apart. By June 16th, I had it ready for my first short trip. We headed out to Indian Mound Fish Camp in Oakhill, Florida.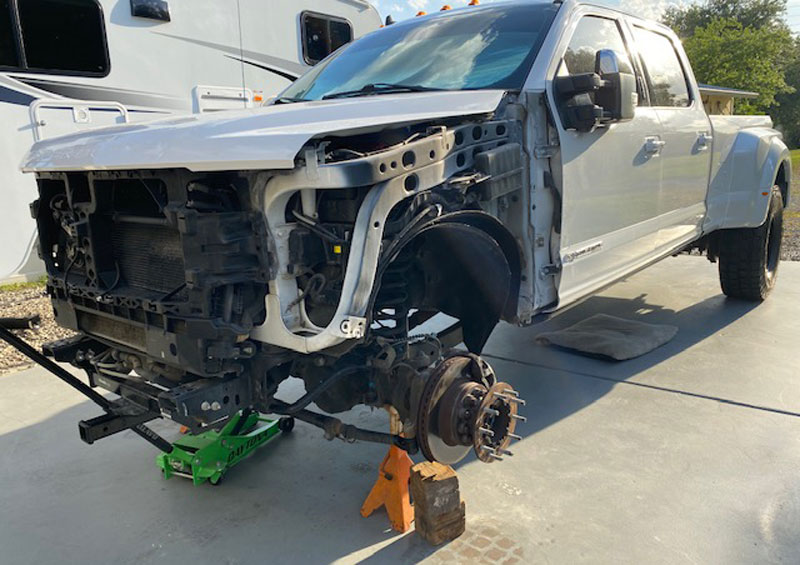 Above: Mike's second Super Single conversion on his second F450
There are still so many things to do to the truck and camper. I just installed a generator on the rear camper bumper, a rear outdoor shower, more solar, swapped out the Dometic air conditioner for a quieter Houghton unit, a pop-up power outlet in the kitchen counter, swapped out the stock roof fan with a Maxxair fan, swapped out the small bathroom fan to a larger Vortex fan, added two Caframo Sirocco fans at the dinette and a list of many other little things that make it my own. I also built the onboard air system for the truck.
What no one sees are all the little things it takes to start from scratch again; decorations, clothing, towels, utensils, truck camper tie-downs, Torklift hitch, and front truck hitch. It's now been nine months since I got the camper and I'm almost done.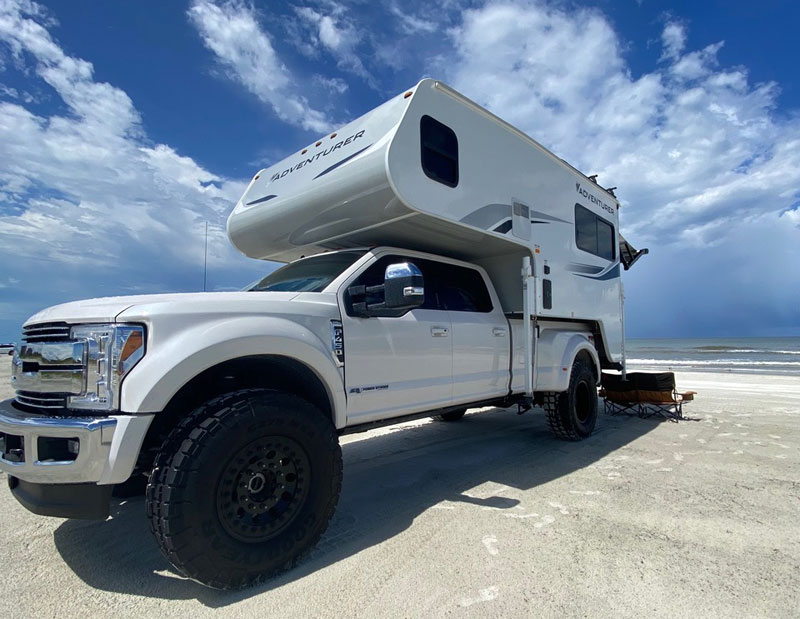 Lessons Learned
If I could go back in time, I would have done things differently during the fire. I should have opened my garage side door and started getting items out. I kind of went into panic mode and didn't think about it.
I have since learned how bad smoke is and the effects it has on steel long after the fire. Weeks after the fire all my tools started rusting in my garage. Everything steel has severely rusted. I did go back to the insurance for that and they had a company take my tools and clean them, but months later the rust came back. Another call to the insurance and they sent a check for me to buy new tools.
I will never use lithium batteries again even if that might not have caused the fire.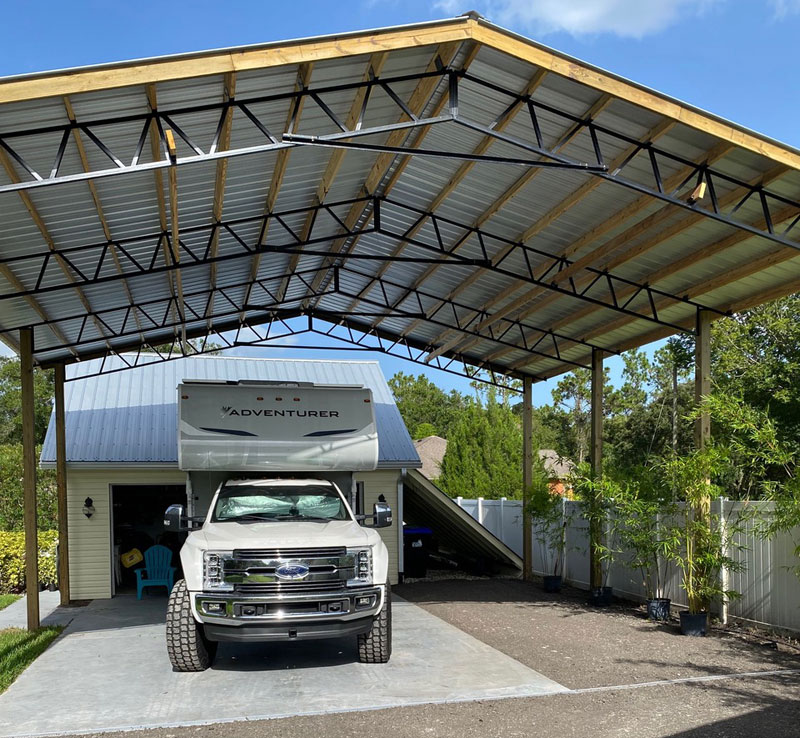 I park in the same spot under a new pole barn that is made out of wood this time. Hopefully, my bad luck is over.
Insurance companies are not in business handing out money, so be ready to fight. You can get them to change their numbers.
My new rig is basically exactly what I built last time. The only change I made is not mounting a generator in a box on the rear bumper of the camper. I mounted it exposed and use a weatherproof cover. It made it a lot more simple and it was less costly.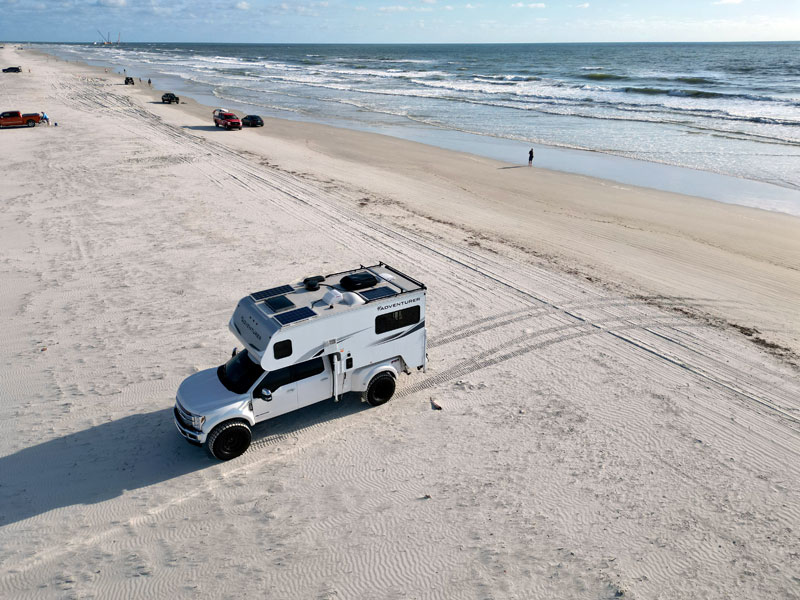 Above: Mike's new rig is all together and he is out camping again!
Check out Mike Brandl's articles about how he put his original Adventurer and Ford together, "The Pros and Cons of Super Singles" and, "Installing Super Singles on a Ford F-450".