To celebrate Adventurer Manufacturing's 50th anniversary, and honor their late Founder, Erdman Epp, the Yakima, Washington company has built 60 special edition units that push the envelope in truck camper design, material, and technology.  Want to go truck camping in the future?
The 901SB is nothing less than a statement product from Adventurer Manufacturing.  Every material, process, component, and design element that went into this all-new truck camper has been challenged.  Where there was a decision to stay safe and traditional or bold and forward thinking, the Adventurer team choose the bolder path – again, and again.
The story behind this camper is equally compelling.  After a half-century of production, the Adventurer 901SB celebrates where the company has been, and envisions where it's going.  The traditional non-slide floor plan echos successful floor plans and refinements of Adventurer's past.  Beyond that, everything about this camper pushes hard into the future.
Upping the stakes even further, the 901SB is no one-off show camper.  Adventurer Manufacturing has built 60 special edition units (the total production for this model) and has already shipped the majority to dealerships across the United States and Canada.
If the 2019 Adventurer 901SB looks like a camper from 2020, it should.  The question is, are we ready for what Adventurer has produced?  As the management team at Adventurer Manufacturing always says, "Let the market decide."
To get the full back story on the design and development of the 901SB, we talked to Greg Tucknies, National Sales Manager, and Shawn Mathews, Head of Engineering, at Adventurer Manufacturing.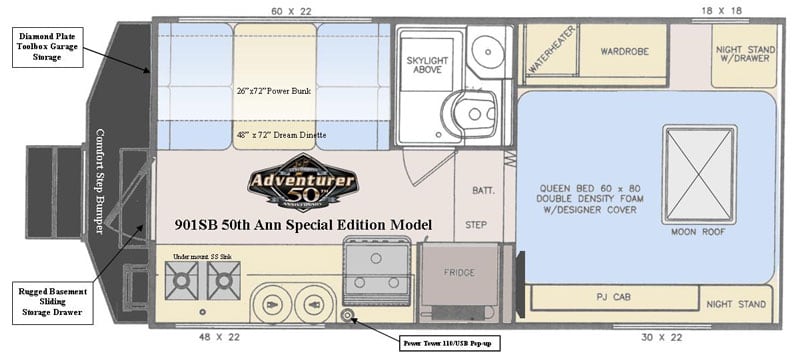 2019 Adventurer 901SB Specifications:
The 2019 Adventurer 901SB is a hard side, non-slide, wet bath truck camper made for short or long bed trucks.  The interior floor length of the 2019 Adventurer 901SB is 9'1", the interior height is 78", and the center of gravity is 40" as equipped.  The 2019 Adventurer 901SB has a 36-gallon fresh tank, a 28-gallon grey tank, a 28-gallon black tank, and a 6-gallon hot water heater.  It can accommodate two batteries and has two 20-pound propane tanks.  Adventurer is reporting the weight of the 2019 Adventurer 901SB to be 3,280 pounds, which includes every option.  The MSRP for the 2019 Adventurer 901SB, as equipped with all options, is $39,379.  Click here to request more information about the 901SB.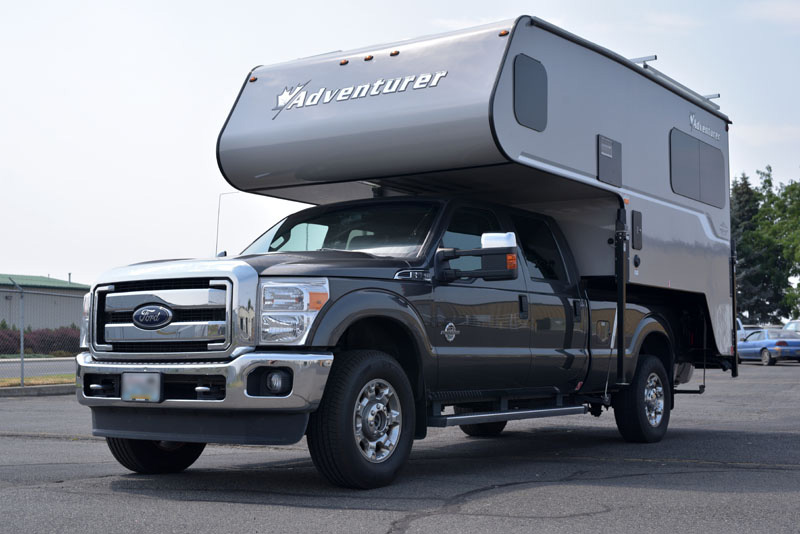 Before we talk about the camper, tell us why this camper came to be, and what it means to Adventurer Manufacturing.
Greg: We started talking about this camper a year ago in a meeting about 2019 products. To celebrate our 50th anniversary, we wanted to honor the Epp family, and build something truly special and unique.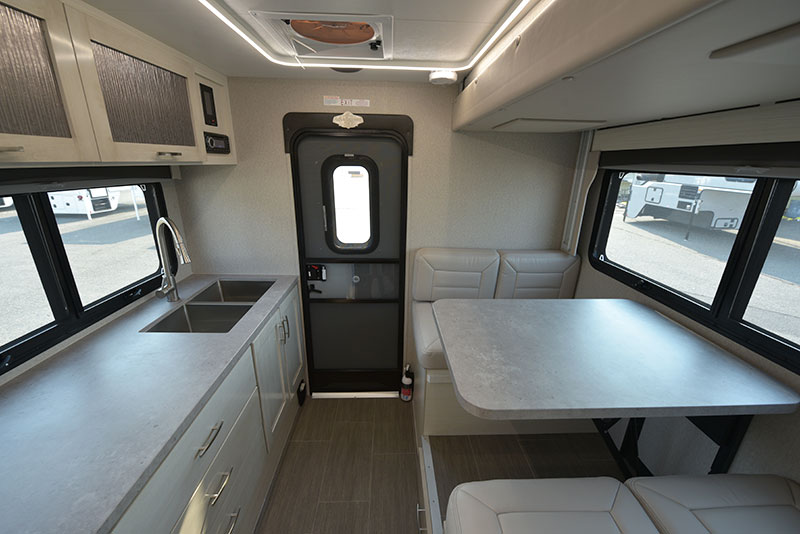 From that point, there was a series of meetings about the different possibilities. Our first thought was to simply produce a 50th anniversary decal. Then we talked about an upgraded 50th anniversary interior and exterior package. Finally, we talked about an entirely new floor plan. The new floor plan idea got everyone here very excited.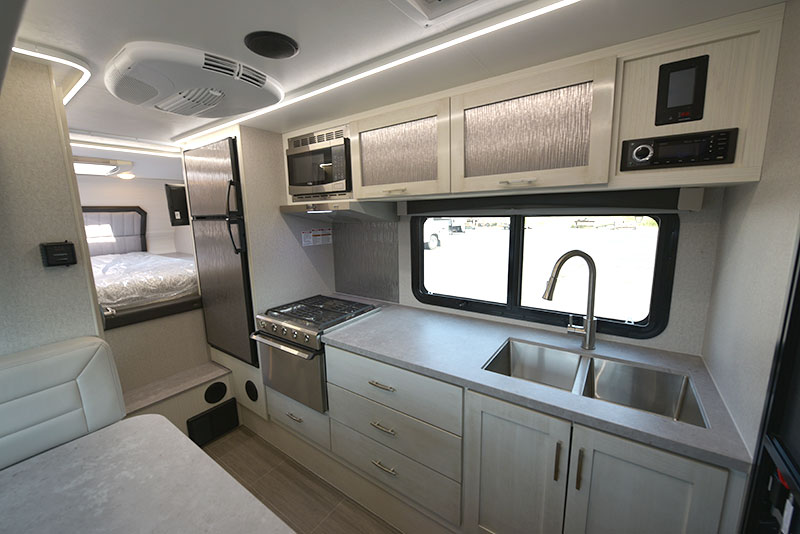 From previous announcements, we know that Adventurer starts new models with a wish list based on feedback from customers, dealers, and the in-house team. Did you follow a similar process for the anniversary model, or was this design approach different for this model?
Greg: Dave Frampton, our General Manager, asked the sales team for a wish list. James Epp and David Epp submitted their suggestions. We talked about length, weight, and whether it should be a short bed or long bed. Then, we looked at lists of ideas from dealers and customers. After that it took legs of its own and progressed into this new innovative product.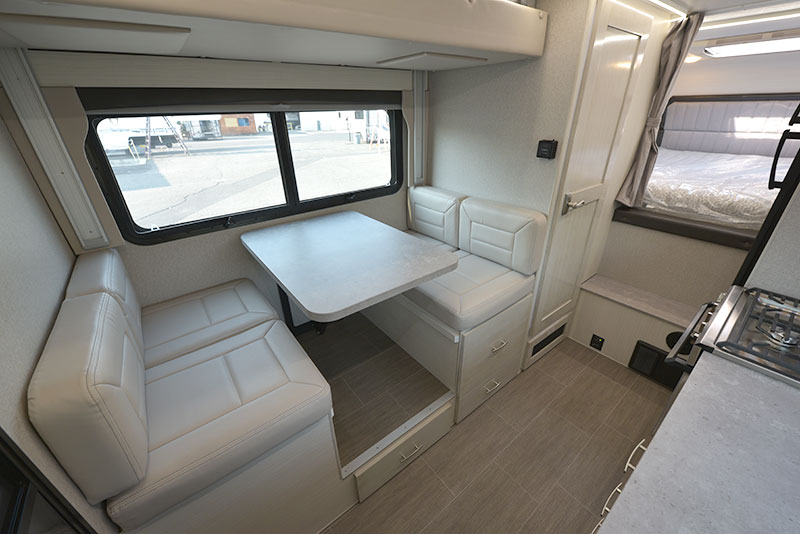 Shawn: We have some new production equipment in the factory like our TigerStop up-cut automated saw and Biesse Selco SK 4 numerical control beam saw. With the 901SB design, we took full advantage of the capabilities and efficiencies of these new machines.
As we were designing the camper, we picked apart the drawings to better utilize our production technology. With a few design adjustments, material quantity and lengths were standardized. As part of this effort, we reduced raw face frame materials in the 901SB by 50-percent.