To celebrate Adventurer Manufacturing's 50th anniversary, and honor their late Founder, Erdman Epp, the Yakima, Washington company has built 60 special edition units that push the envelope in truck camper design, material, and technology.  Want to go truck camping in the future?
The 901SB is nothing less than a statement product from Adventurer Manufacturing.  Every material, process, component, and design element that went into this all-new truck camper has been challenged.  Where there was a decision to stay safe and traditional or bold and forward thinking, the Adventurer team choose the bolder path – again, and again.
The story behind this camper is equally compelling.  After a half-century of production, the Adventurer 901SB celebrates where the company has been, and envisions where it's going.  The traditional non-slide floor plan echos successful floor plans and refinements of Adventurer's past.  Beyond that, everything about this camper pushes hard into the future.
Upping the stakes even further, the 901SB is no one-off show camper.  Adventurer Manufacturing has built 60 special edition units (the total production for this model) and has already shipped the majority to dealerships across the United States and Canada.
If the 2019 Adventurer 901SB looks like a camper from 2020, it should.  The question is, are we ready for what Adventurer has produced?  As the management team at Adventurer Manufacturing always says, "Let the market decide."
To get the full back story on the design and development of the 901SB, we talked to Greg Tucknies, National Sales Manager, and Shawn Mathews, Head of Engineering, at Adventurer Manufacturing.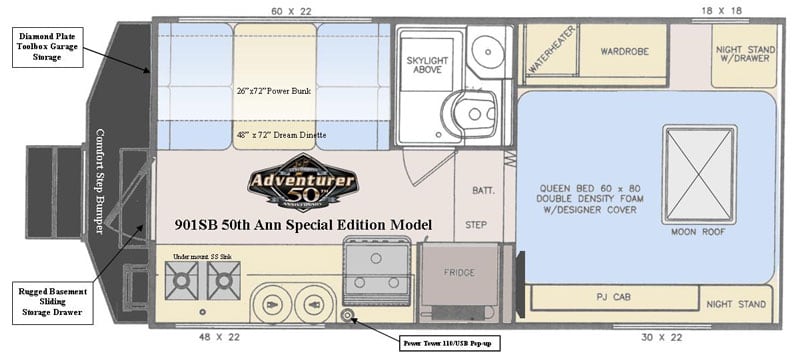 2019 Adventurer 901SB Specifications:
The 2019 Adventurer 901SB is a hard side, non-slide, wet bath truck camper made for short or long bed trucks.  The interior floor length of the 2019 Adventurer 901SB is 9'1", the interior height is 78", and the center of gravity is 40" as equipped.  The 2019 Adventurer 901SB has a 36-gallon fresh tank, a 28-gallon grey tank, a 28-gallon black tank, and a 6-gallon hot water heater.  It can accommodate two batteries and has two 20-pound propane tanks.  Adventurer is reporting the weight of the 2019 Adventurer 901SB to be 3,280 pounds, which includes every option.  The MSRP for the 2019 Adventurer 901SB, as equipped with all options, is $39,379.  Click here to request more information about the 901SB.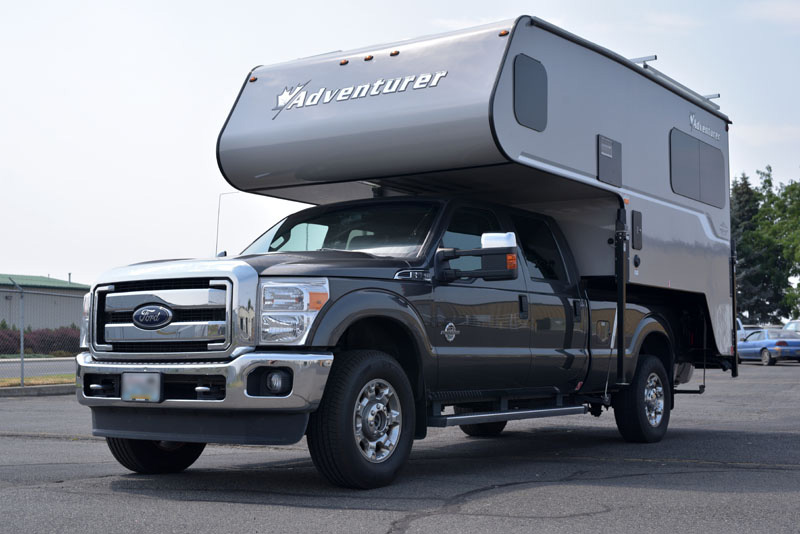 Before we talk about the camper, tell us why this camper came to be, and what it means to Adventurer Manufacturing.
Greg: We started talking about this camper a year ago in a meeting about 2019 products. To celebrate our 50th anniversary, we wanted to honor the Epp family, and build something truly special and unique.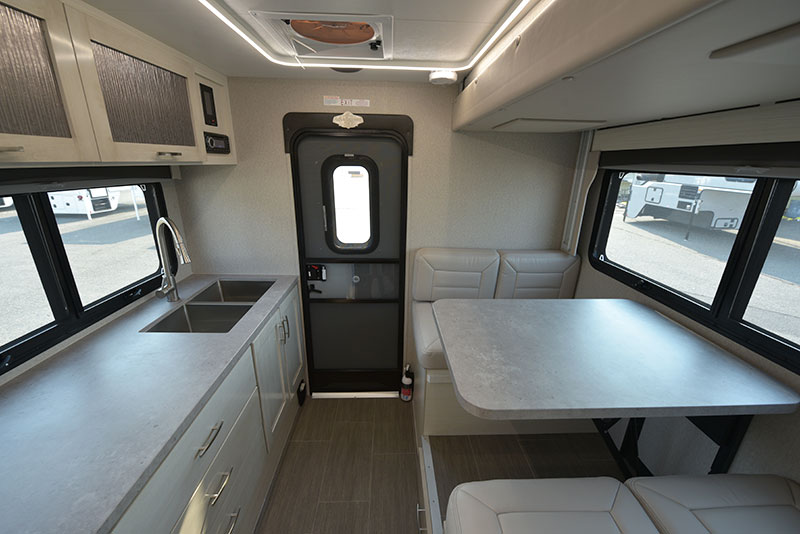 From that point, there was a series of meetings about the different possibilities. Our first thought was to simply produce a 50th anniversary decal. Then we talked about an upgraded 50th anniversary interior and exterior package. Finally, we talked about an entirely new floor plan. The new floor plan idea got everyone here very excited.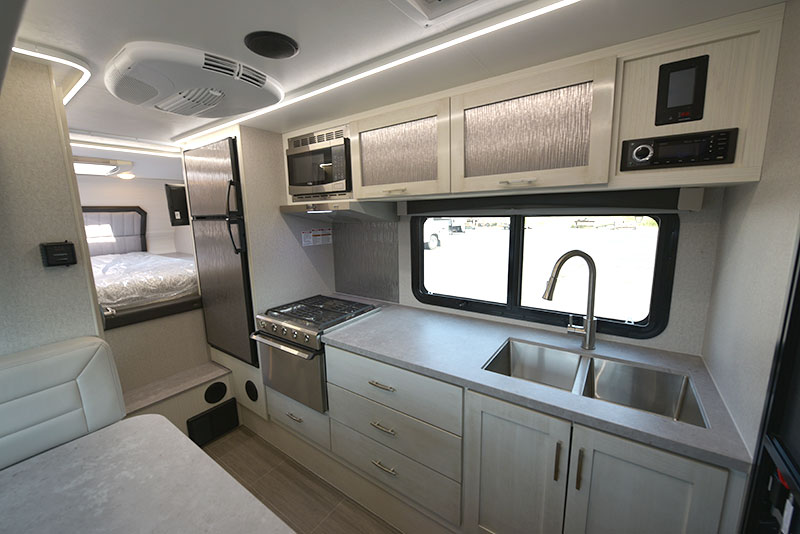 From previous announcements, we know that Adventurer starts new models with a wish list based on feedback from customers, dealers, and the in-house team. Did you follow a similar process for the anniversary model, or was this design approach different for this model?
Greg: Dave Frampton, our General Manager, asked the sales team for a wish list. James Epp and David Epp submitted their suggestions. We talked about length, weight, and whether it should be a short bed or long bed. Then, we looked at lists of ideas from dealers and customers. After that it took legs of its own and progressed into this new innovative product.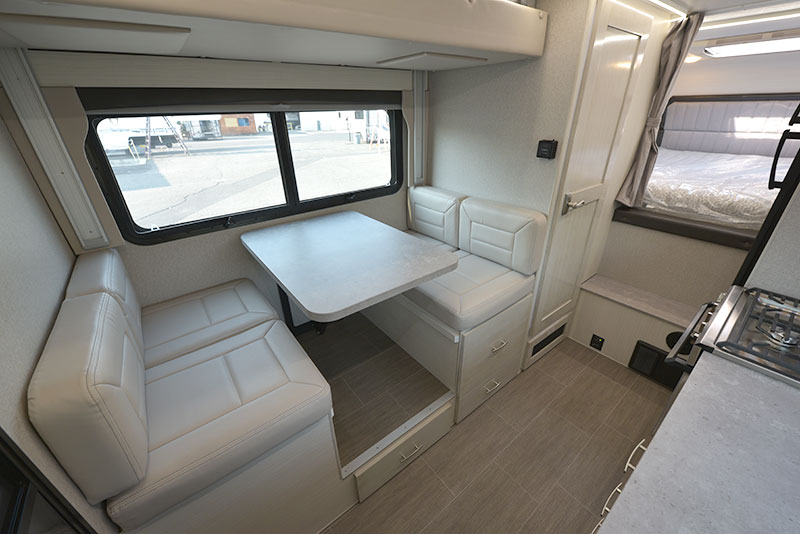 Shawn: We have some new production equipment in the factory like our TigerStop up-cut automated saw and Biesse Selco SK 4 numerical control beam saw. With the 901SB design, we took full advantage of the capabilities and efficiencies of these new machines.
As we were designing the camper, we picked apart the drawings to better utilize our production technology. With a few design adjustments, material quantity and lengths were standardized. As part of this effort, we reduced raw face frame materials in the 901SB by 50-percent.
"With this camper, we wanted to see what we could do better from a design, production, and technology point of view. It's our vision for 2020."
We also reduced the number of plumbing fittings, drain fittings, electrical connections, and fasteners. We tried to reduce everything. Reducing the number of materials and material sizes helps production, purchasing, material handling and our suppliers and shipping.
Adventurer usually introduces a new camper to replace an existing floor plan. Is the 901SB intended to replace an exiting model?
Greg: The 901SB was not designed to replace anything. With this camper, we wanted to see what we could do better from a design, production, and technology point of view. It's our vision for 2020.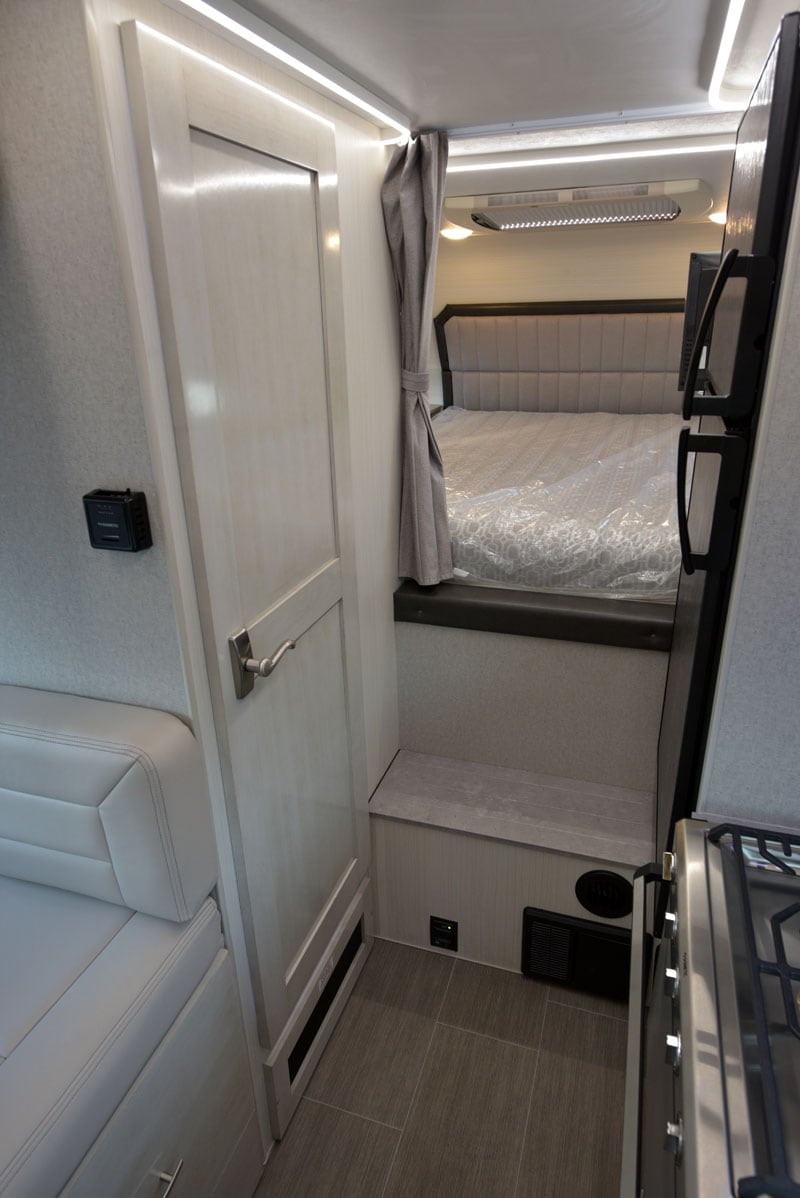 Adventurer Manufacturing is well known for building multi-slide truck campers. Why did Adventurer decide to make the 901SB a non-slide floor plan?
Greg: We wanted to pay tribute to non-slide floor plans of past Adventurer models. Specifically, the 901SB floor plan is similar to the Adventurer 90FWS from years ago. The 901SB floor plan is actually reversed from the 90FWS, and tweaked with numerous design improvements.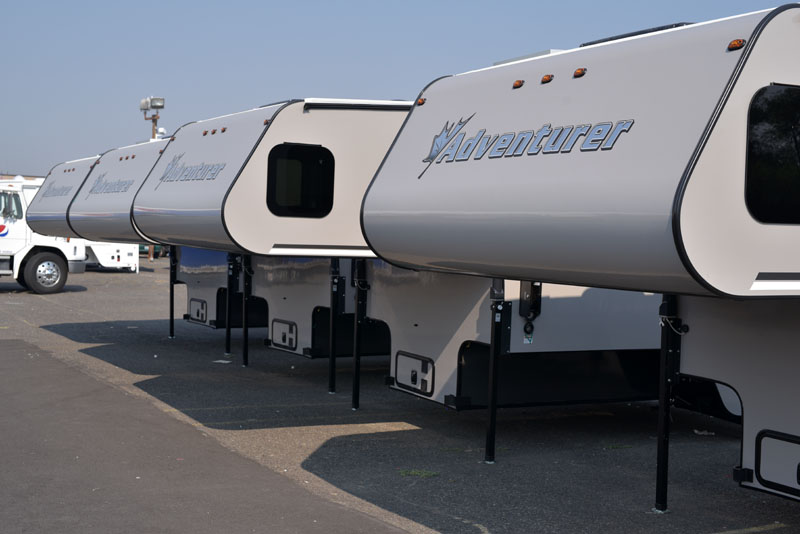 Above: 2019 Adventurer 901SB units ready for shipping at Adventurer Manufacturing
Adventurer Manufacturing has long stated that you use the right framing material for the job. Some Adventurers have both wood framing and aluminum faming – depending on what was best for that area of the camper. What framing material did you use for the Adventurer 901SB, and why?
Shawn: The 901SB is 100-percent aluminum framed. Pre-bent aluminum tubing is creating new opportunities in design and production efficiency. We have already implemented it on other Adventurer truck campers, and are using it in some of our interior cabinetry.
Greg: The nose radius in the 901SB is custom built from aluminum bent tube. That approach not only improves the strength of the nose radius, but speeds production.
"This camper is debuting a lot of new technology and products not seen anywhere else."
Does this mean Adventurer will be moving all of its campers to aluminum framing?
Greg: For weight savings, the Adventurer 80-series will stay wood framed. That's the 80S, 80GS, and 80RB models. The 89RB and 86FB are aluminum and wood framed. Again, the wood framing saves weight compared to aluminum. We will still use the right material for the job.
Does the anniversary model employ the same True Composite Construction (TCC) as other Adventurer truck campers?
Shawn: Yes, it uses the same tried and true TCC bonding system.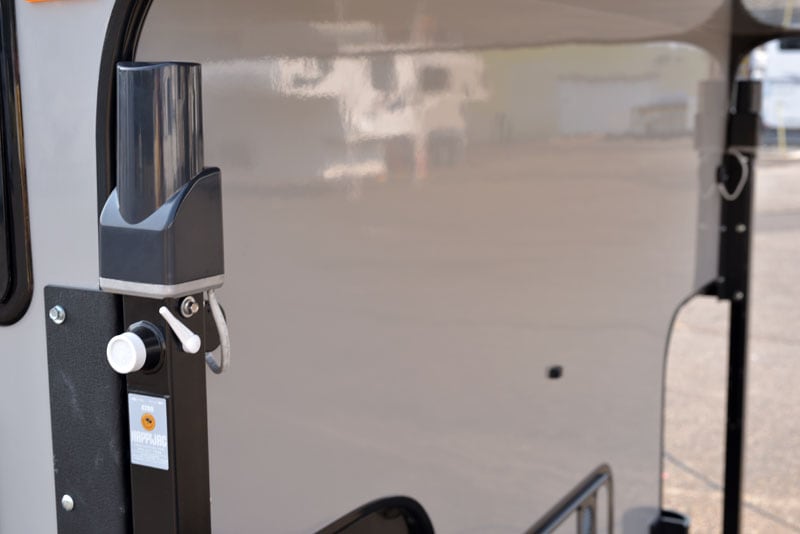 The Adventurer 901SB features new direct-drive jacks from Happijac. We've never seen these jacks before. What's the story there?
Shawn: We have worked with Happijac this past year to develop different jacks for the 901SB. Happijac was actually going to introduce these jacks in September or October, but worked with us to get them completed and tested for this run of 60 campers.
The new direct-drive jacks have a tighter fit to the unit, weigh less, and draw less amps. They're based on Happijac's 4200 model that we're already using, so they have the same weight capacity.
Another nice feature of the new jack is a cleaner access port. Happijac only produced enough of these new access ports for these 60 units, but they're now working on production quantities.
Tell us about the design of the white and grey-tone modern interior. Who did the design work?
Shawn: Our design team is M.B. Designs out of Yakima. They design high-end homes. They came on board a year and a half ago to help us with the 2018 and 2019 interiors. For the 901SB, they presented three different interiors to look at.
M.B. Designs had mock ups at their studio so we could see the interiors in person. I like that they are local. I can quickly meet to review item/materials and get decisions made.
They came here last Wednesday and looked at a final 901SB. They were floored at how the new look turned out. They said it was even better than they anticipated.
Greg: Our design choices for the 901SB have been a hybrid of Class B motorhomes, tiny homes, and modern domestic home design. RV interiors are typically behind the times. Our vision is to move forward. If you are not moving forward, you are moving backward.
Our demographics are changing to younger buyers. The designers at M.B. Design are younger themselves and constantly work with younger buyers. Since that's the marketplace trend we're seeing, we're moving in that direction.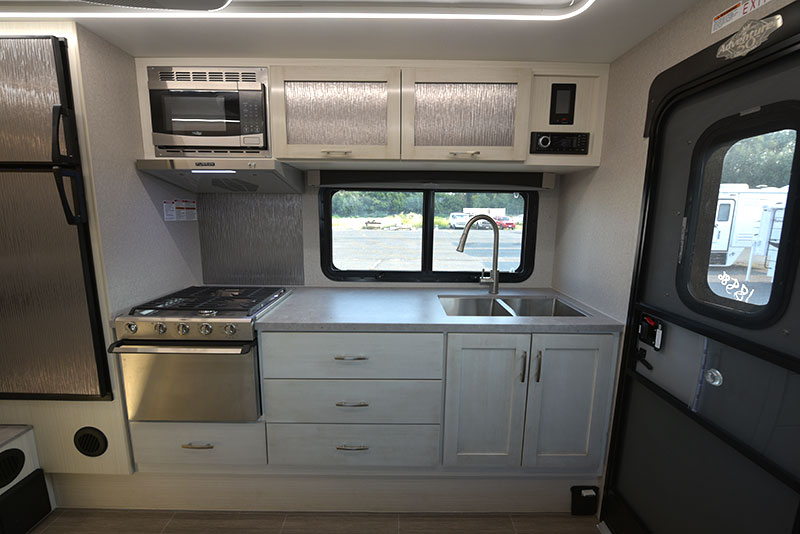 The countertops and dinette table look like poured concrete. Obviously, they are not poured concrete – so what is that material?
Shawn: They are thermoformed MDF – the same material that we're using in Adventurer and Eagle Cap truck campers. The concrete-look is a vacuum-formed material.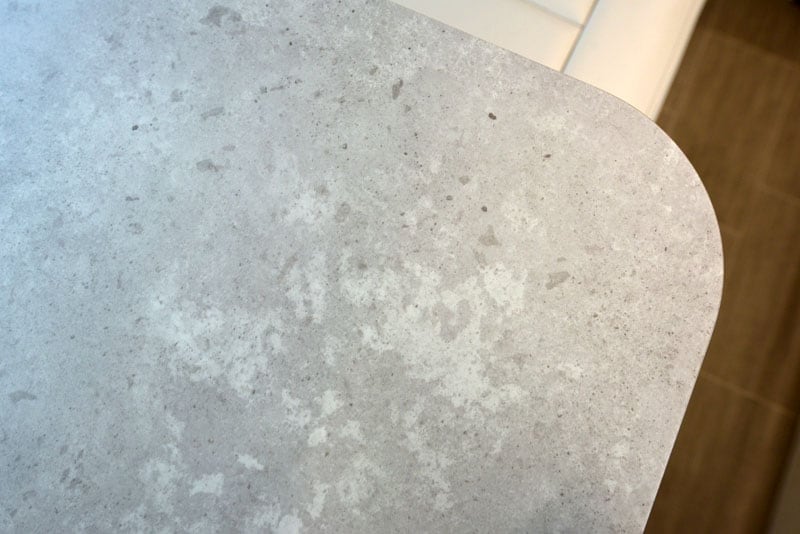 The result is a countertop that is extremely durable and exceptionally resistant to scratches.
The dinette cushions are a leatherette with a new cut and stitching design. What's the story behind the new dinette cushions?
Greg: We started with our furniture supplier to get a basic cushion, but it didn't look right. Looking at automotive-style cushions, Shawn came up with a design that was much better. Shawn spent a lot of time to get the stitching design just right.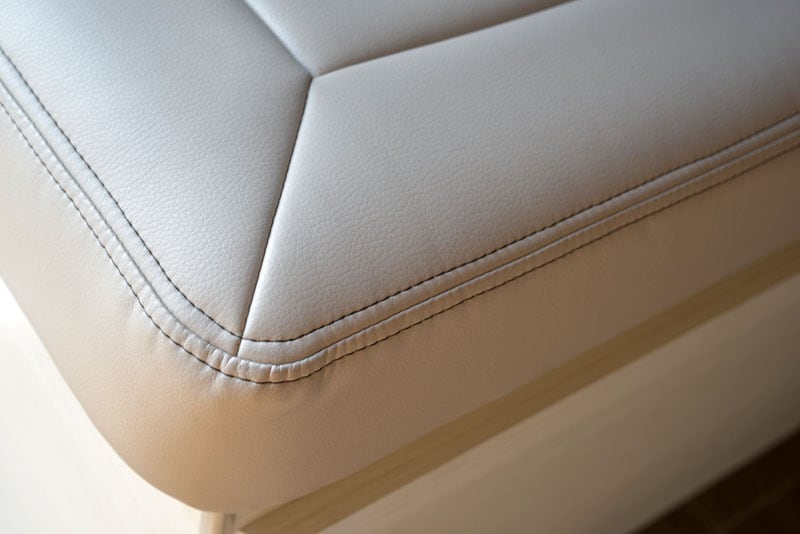 Part of this story is actually comical. The final design is essentially what James has been asking for, for many years. Now that it's in the 901SB, he wants it in our motorhomes.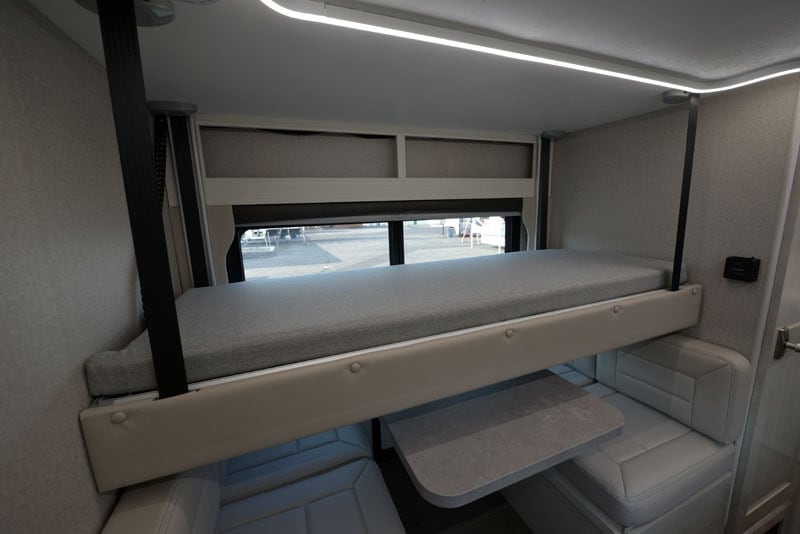 Above the dinette is another very unique facet of the 901SB – an electric bunk. Tell us about this feature and how it works.
Shawn: The bed lift system is made by Project 2000, an Italian manufacturer owned by Lippert. We are seeing electric bunks in Class As above the driver's and passenger's seats. The bed lift system is simple to use and elegant. From a production side, it's just a bolt in feature.
We liked it from both the consumer and production point of views. Now we are looking at how to integrate it into other floor plans. We also like that it doesn't take up a lot of headroom in the dinette.
Greg: If we get good feedback about the electric bunk in the 901SB, it will be something we can consider to offer as an Adventurer and Eagle Cap option in 2020.
Shawn: The bunk is 71.5-inches wide and holds 800-pounds. You will not need to break down the bed and move items to use it. If someone had a sleeping bag up there, you can leave it up there and close the bunk.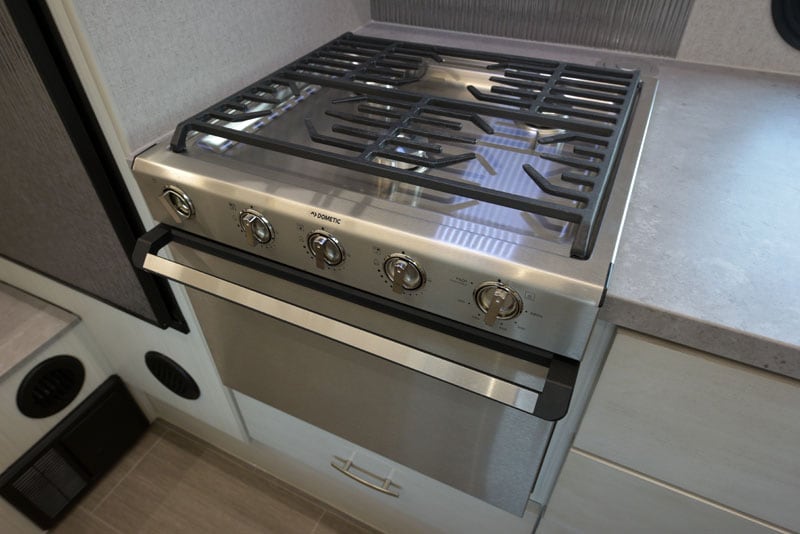 The new Dometic cooktop and oven has a fresh design. Are there any other features about this range other than its modern aesthetics?
Shawn: The new range has a residential feel from the redesigned control knobs to residential cooking grate. Dometic only announced this new model in RV Business last week, but they committed to put them in our 50th anniversary models. This camper is debuting a lot of new technology and products not seen anywhere else.
Greg: M.B. Designs recommended the grate look to make the kitchen more elegant.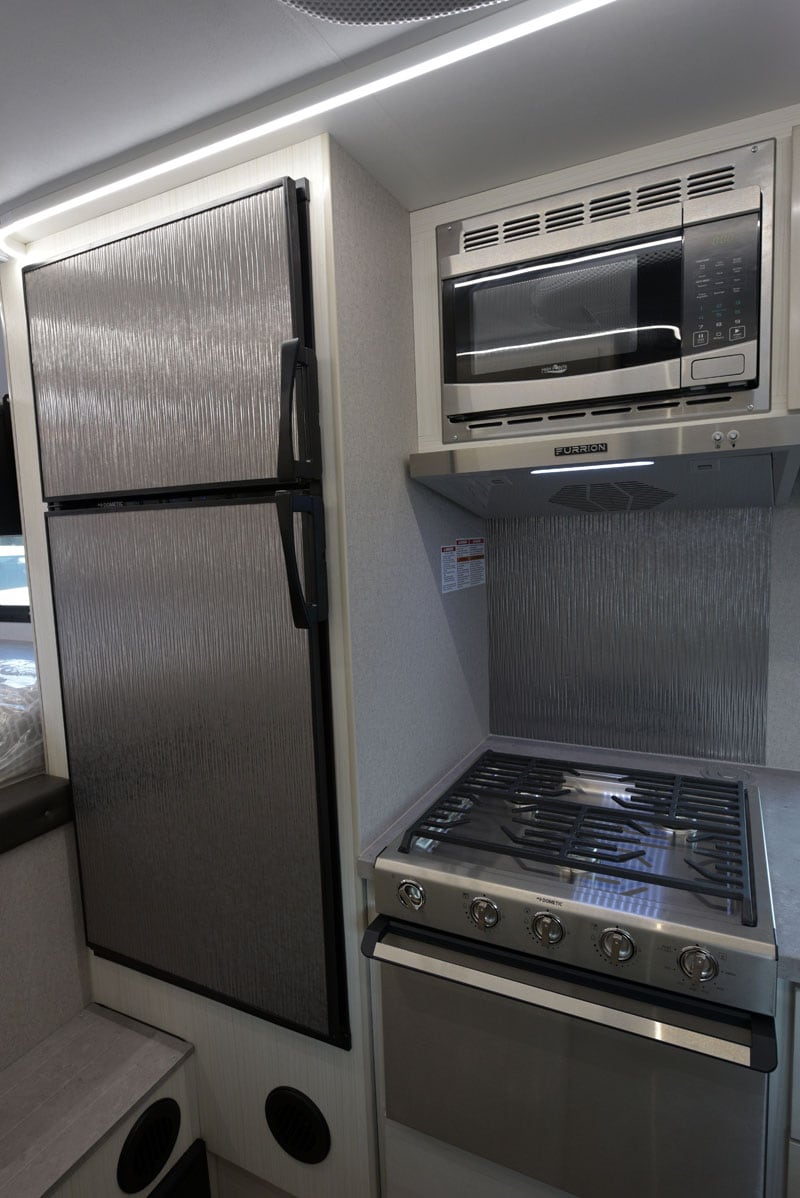 The Furrion range hood is also striking. Why did you decide on the Furrion hood?
Shawn: Furrion is an appliance manufacturer that makes cook tops, range vents, and audio and video equipment. They're actually a pretty large company. The range hood is a more residential-style and offers a lower profile and dimension inside. The venting is easier for our manufacturing process. It is also competitive in price.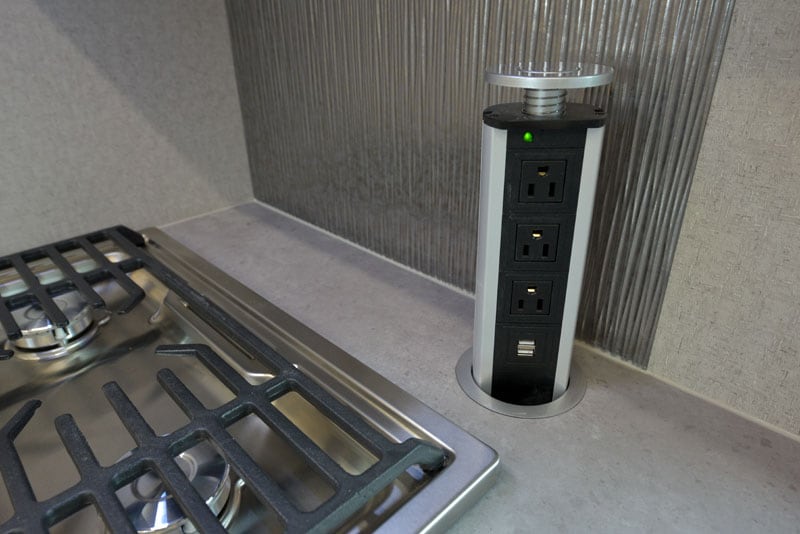 Above: The Power Tower Multiport pop-up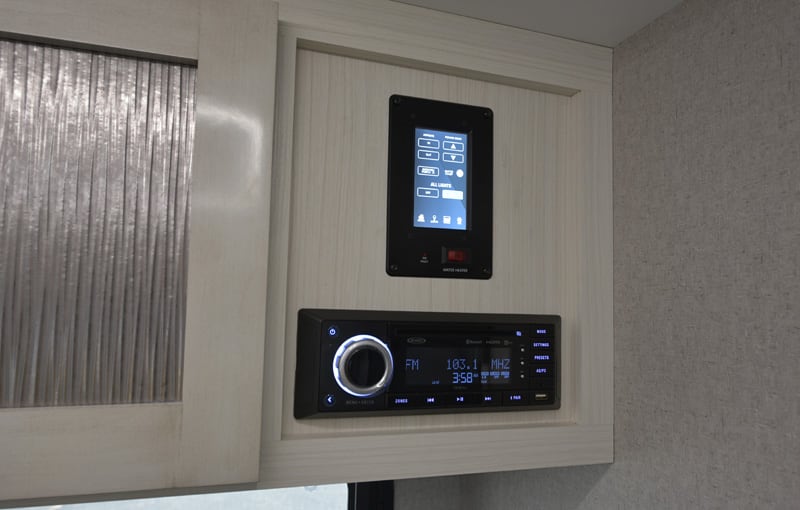 There is a very deep integration of technology in the anniversary model. Tell us about the touch screen and what it controls.
Shawn: As you guys well know, there are a lot of components in a truck camper. There's a switch here and a button there. The touch screen integrates the controls into one area. With only one space for the components, we have more useful space in the unit. We looked at different touch screen systems and the KIB Electronics system met our requirements.
Greg: KIB Electronics offers custom solutions for different types of companies and products. They have been here in Yakima three times for our 60 camper anniversary model. During development we worked to make the unit production ready. It's something we're considering for use in future models.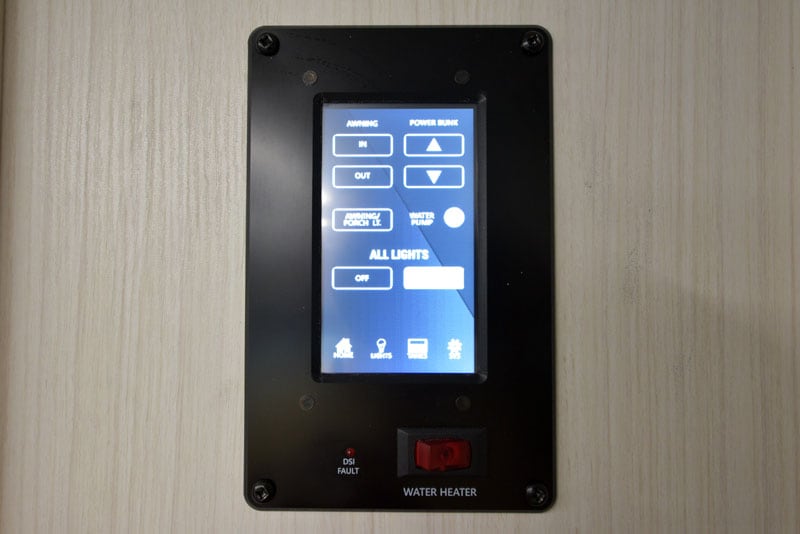 What exactly does the touch screen control?
Shawn: The dimmable LED-lighting, outside lower step light, rear awning/porch light, electric bunk, water pump, awning operation, battery level monitor, and holding tank monitor.
The tank monitor in the 901SB is digital and accurately reads tank levels in increments of 5-percent. Solar is a separate panel in the cabover. Solar integration is something that we'll work on in the future.
Greg: They are also working on a phone app that will allow users to control all of these functions from their phones. That development is going on now.
What if the touch screen doesn't work and – for example – your awning is out?
Shawn: There are manual overrides for the awning and the electric bunk.
Greg: If there is a system failure, KIB can send out a program updater. That's how they are able to upgrade programs. It was a collaboration to get the touch screen system right and we're excited for people to experience it.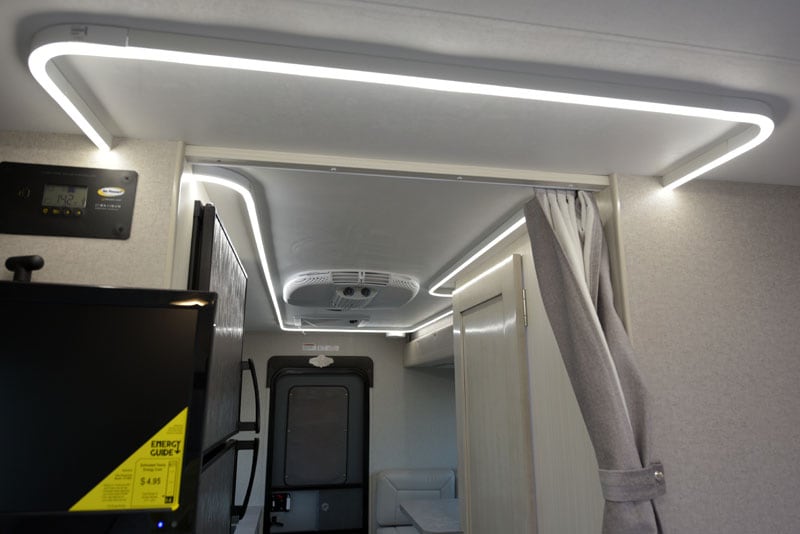 The LED lighting in the 901SB is unlike anything we've seen in an RV before. Tell us about the lighting system and why you decided to use it for this model.
Shawn: When we were in Louisville looking at Class Bs, we were looking at trends and options that we could put in a truck camper. The LED strip in the 901SB is similar in size to what's in modern Class Bs. When it's on, you get a bigger feel in the unit. That's what makes this style of LED lighting popular in the Class B segment.
We are using the LED strip in the 901SB instead of individual LED-lights. It gives you an even lighting. These lights are dimmable and they are divided up into the bedroom and main living area.
Greg: We build Class Bs for Fraserway's rental fleet, so we were also looking at different concepts for those units. As we saw the results of that, Shawn started thinking about truck campers. The key is to be in touch with the new changes and what the market is saying.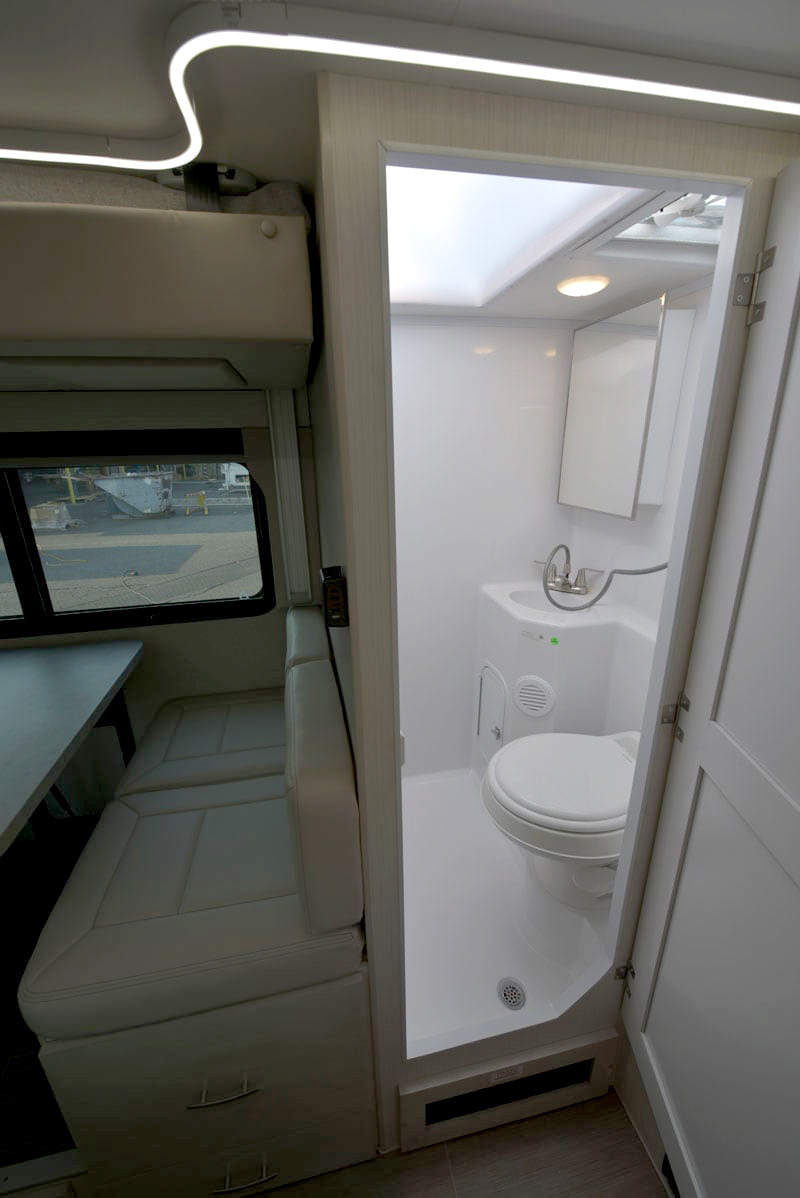 Why did you decide on a wet bath for the 901SB?
Shawn: We couldn't have a dry bath because of space. We want a large wet bath for the 901SB. It's based on a design that works well in another model. The stall has a lot of floor space. We also mounted the shower head toward the back of the stall, which works better.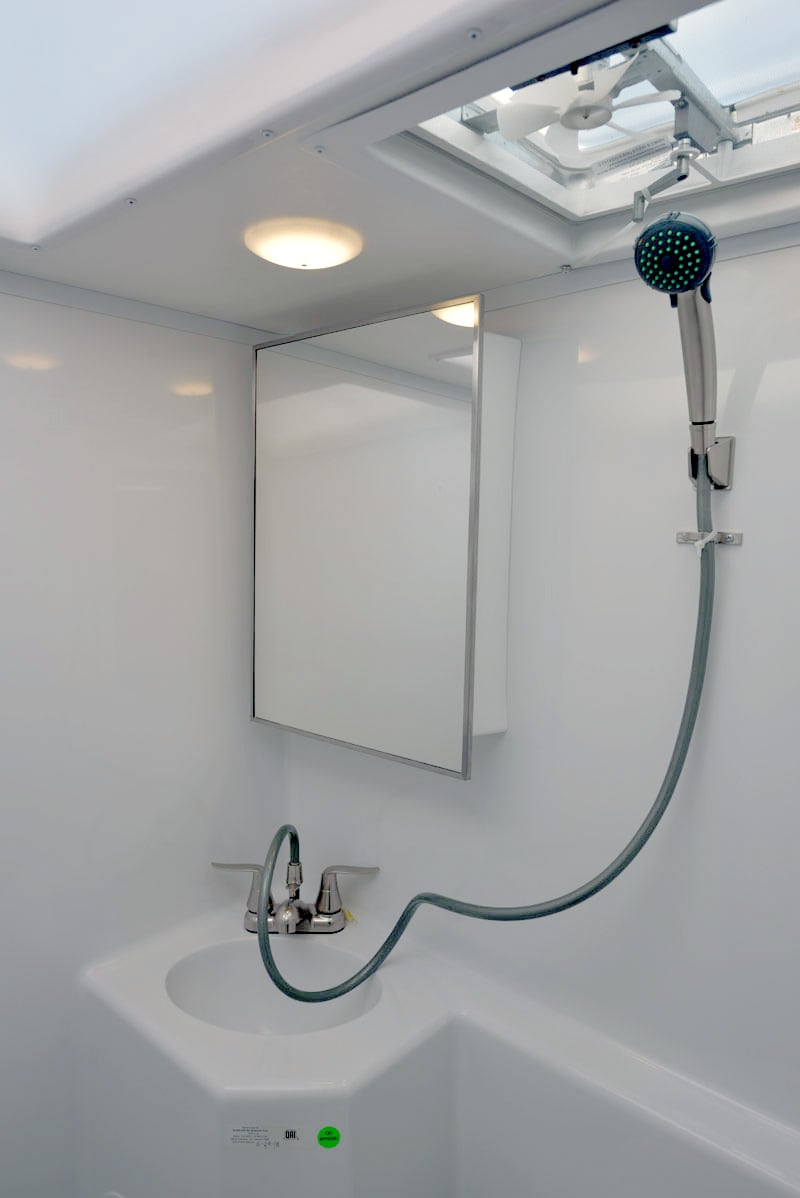 Greg: From a production point of view, the 901SB wet bath works better for plumbing making our production line more efficient.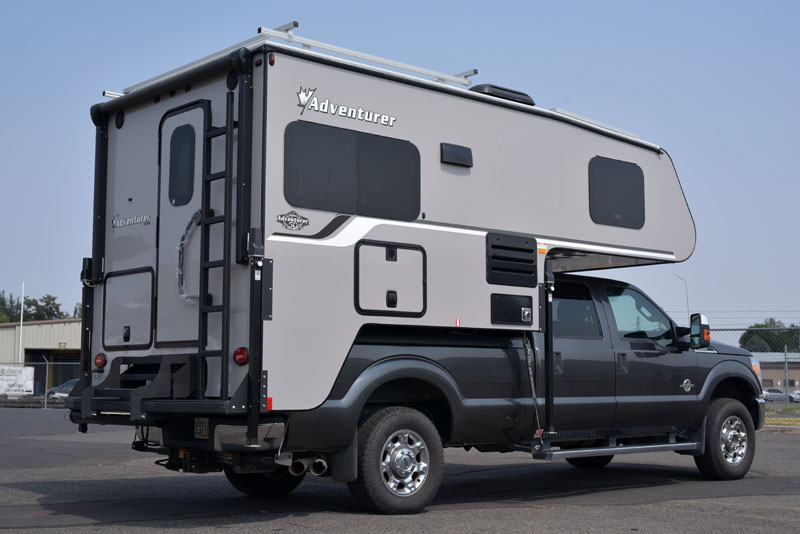 Why did you decide to employ frameless windows in the 901SB?
Shawn: The look. Frameless windows are clean and sleek from the outside.
Greg: The Adventurer line has never had frameless windows. It's one more way to make the anniversary model special.
Are the windows thermal pane?
Shawn: No, they're single pane windows. They are the same 3000-series we are using with Eagle Cap, just not thermal pane.
Why not put a window on the back wall?
Shawn: On the dinette side we couldn't install a window because of the electric bunk. With 72-inches of room and 71.5-inch bunk space, a window wasn't possible. We didn't want to put a window on the passenger's side back wall because you would be looking at the ladder. A frameless picture window was added to the entry door to allow for natural light. There is a covering on the door window that can be removed.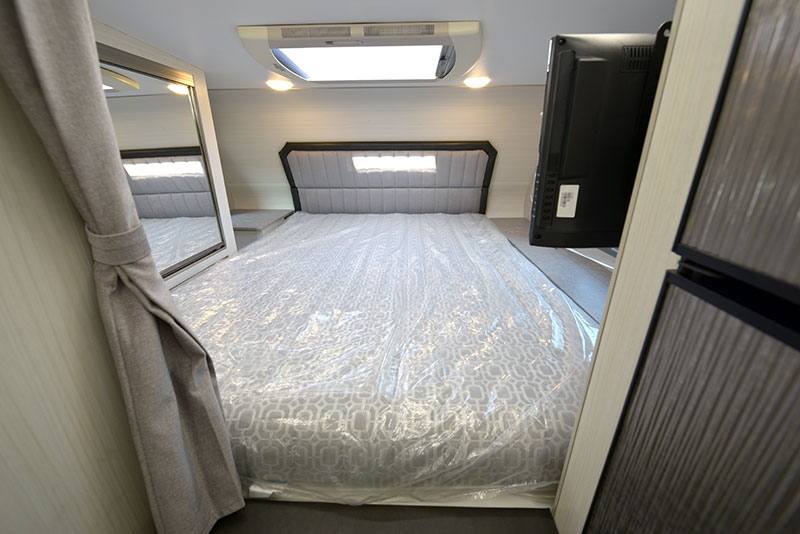 There appears to be a new mattress in the 901SB. What can you tell us about it?
Greg: On our model year wish list we wanted a mattress that looked nice, was strong and functional, but didn't require a bed spread. We were able to have one designed that worked with a nice design on it. We also wanted it to go with the M.B. Design. The resulting mattress will very likely be carried forward on future units.
How did you go about designing the cabover layout, cabinetry, and windows?
Shawn: The 901SB cabover design is very similar to the 89RBS. We flip-flopped it.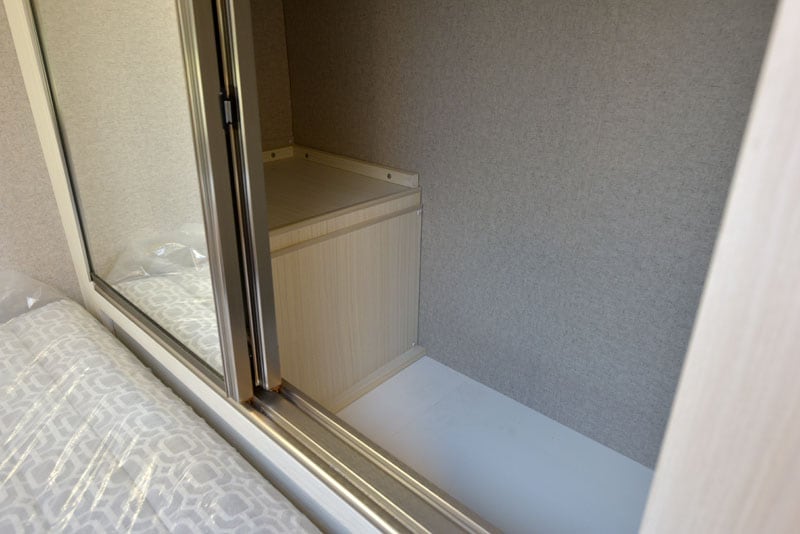 That's why the water heater is in the cabover wardrobe, just like the 89RBS design?
Shawn: That's correct. We needed the water heater forward for space, weight and center of gravity.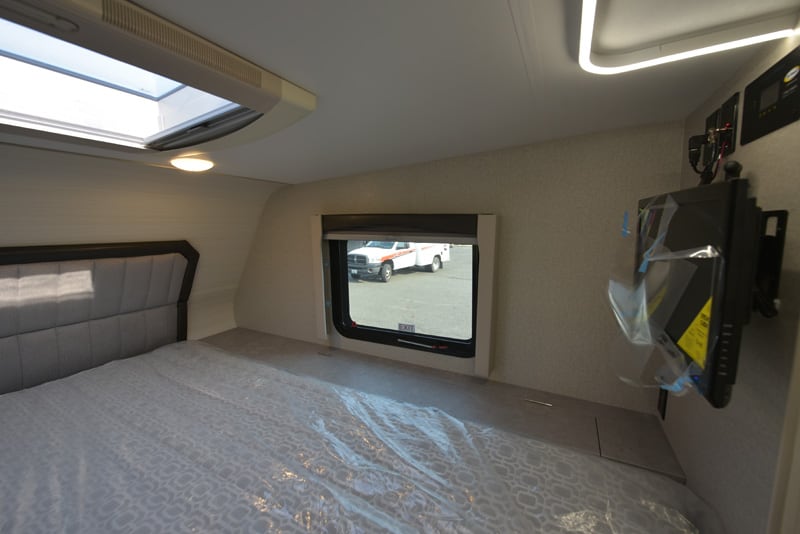 We redesigned the passenger's side hamper for the 901SB. The hamper has a single flow countertop with a bigger lift up.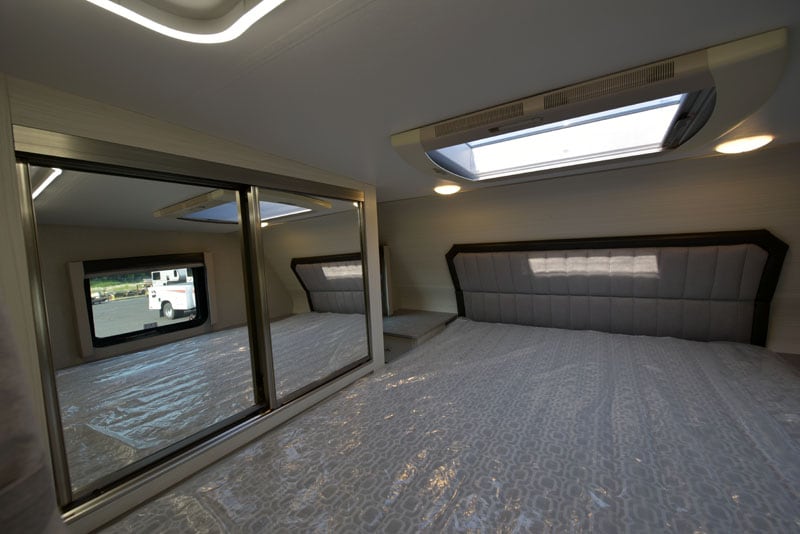 On the driver's side there is a space in front of the wardrobe with a countertop night stand, a pull-out drawer, and the largest window we could fit there.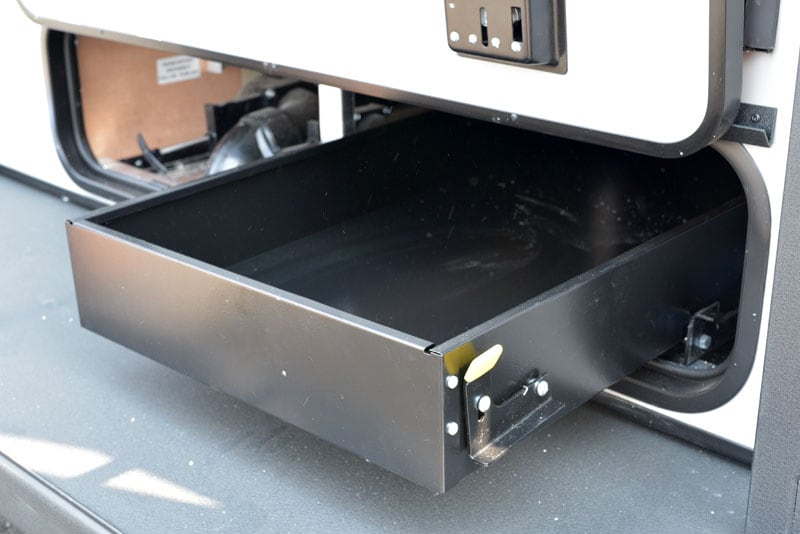 Above: The basement storage drawer
What height is the basement on the 901SB?
Shawn: The basement is 13-inches tall.
Since you challenged all facets of design, why not go with a rail height basement?
Shawn: We had to keep the weight of the unit down. A rail height basement would add too much height and weight.
Tell us about the size of the holding tanks in the anniversary model and why you made the tanks that size.
Shawn: The holding tanks are new for this model. We wanted to utilize the space and get the tanks as large as we could. The fresh tank is 36-gallons, the water heater is 6-gallons, the grey tank and black tank are both 28-gallons.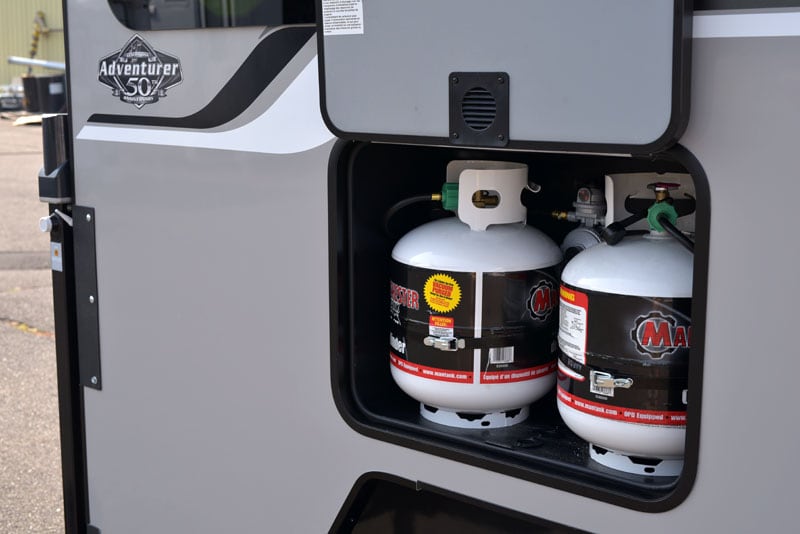 What are the propane tank sizes?
Shawn: There are two 20-pound vertical tanks that are as far forward as possible. With the propane tanks on the galley side, we utilized the full length of the kitchen drawers with propane tanks behind it.
Where is the battery compartment?
Shawn: The batteries are on the front wall to keep the center of gravity forward. You can get two Group 31 batteries in that compartment.
Greg: The compartment is ventilated, so they can be sealed or unsealed batteries.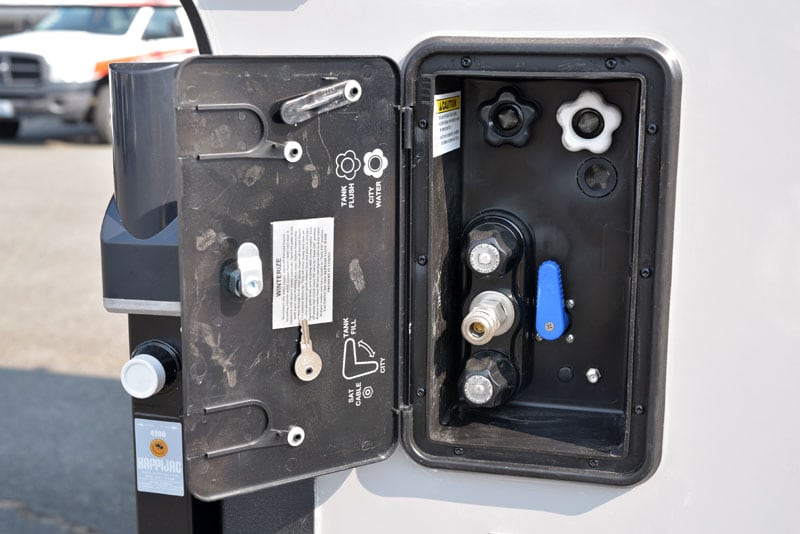 Shawn: One thing we did differently is a combined service center. The city water, outside shower, cable/satellite connection, and black tank flush are all together in one service center compartment.
Greg: The water heater bypass is easy to access inside the cabover wardrobe. There are easy to access low point drains and a fresh water drain. There is a battery disconnect inside the basement door on a push/pull switch. We build all of our truck campers to be easy to winterize and service.
Above: The Adventurer 901SB garage can fit a portable generator
Can the air conditioner run on a portable 2,000-watt generator?
Greg: Yes. We have a 10,000 BTU Dometic air conditioner on all Adventurers. A generator is not an option for this unit, but the back garage has enough space to store a portable generator.
We're seeing a lot of people using portable Hondas. We've had customers put their portable generators on the Comfort Step bumper. Part of the garage storage idea is that you can put a generator in there or you can put other things in there. You can't run a generator in there because it's not vented, but the size of the compartment will accommodate it for storage.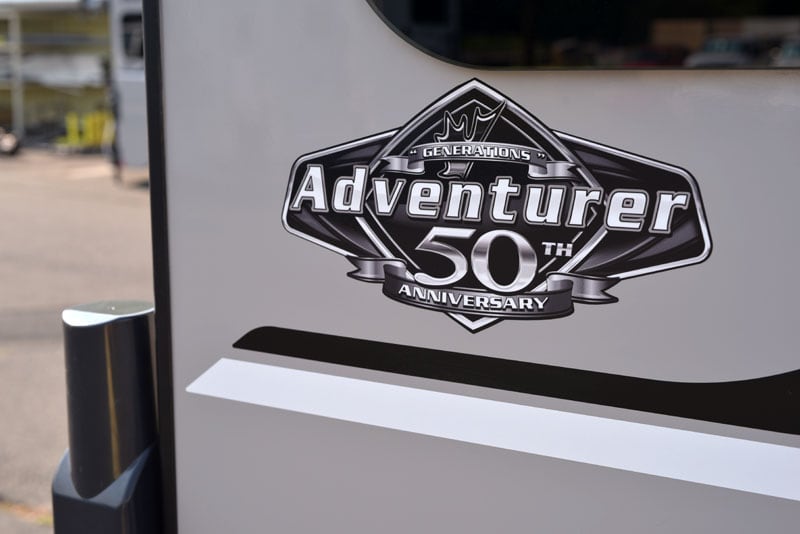 One of the concepts of the Anniversary model is that comes loaded with every option. What was the thinking behind making every model loaded with every option?
Greg: The anniversary camper was designed to be truly special. For this special model we wanted to build it with all the options we offer. In the future we will most likely not have a fully-optioned special edition. We'll just offer options and let the consumer decide what they want.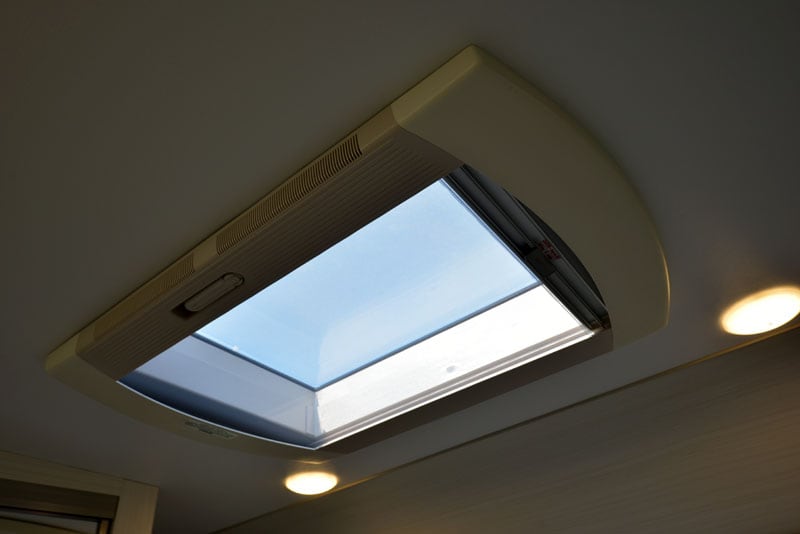 We noticed that you're not using the traditional Heki skylight in the cabover. What are you using?
Shawn: It's a new skylight offered by Hengs Industries. It has an enhanced latching system. Instead of a bar latch, it has a crank.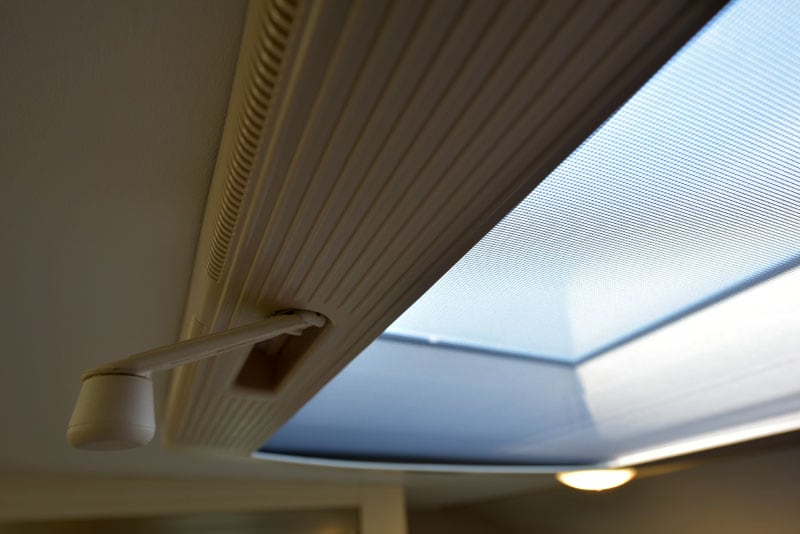 When closing, it engages two hooks on the side. It won't open during transit. Also, the parts are all available in the United States.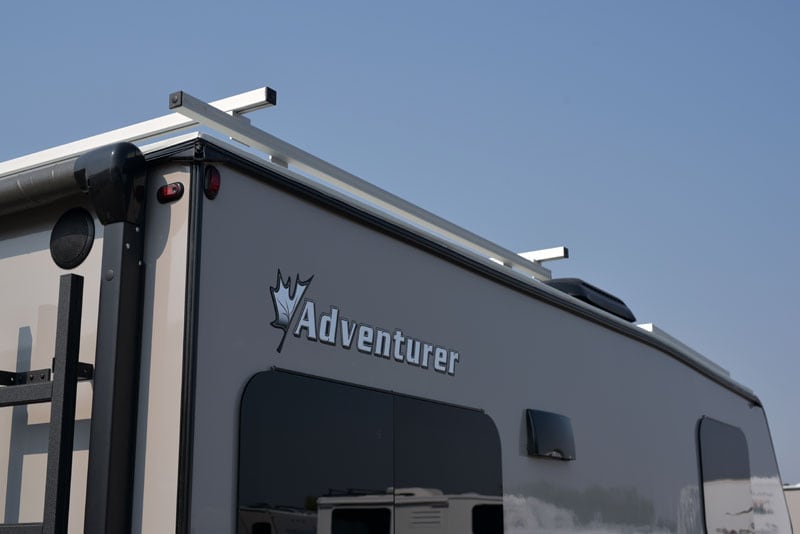 We are also using an 80/20 extrusion roof rack. The 80/20 extrusion system is like an erector set with aluminum extrusions and brackets. We utilized the 80/20 system to create a roof rack and ladder for the 901SB.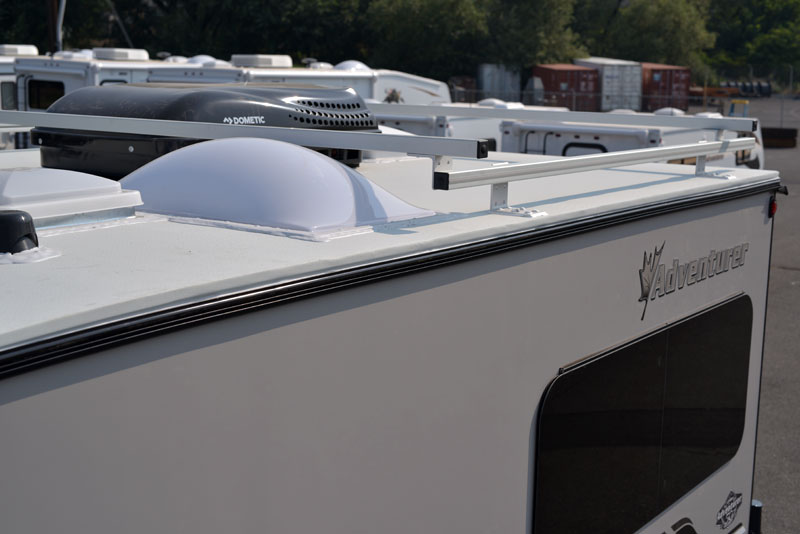 That sounds amazing. I bet our mod making readership would love to check that out.
Shawn: Put 80/20 into Google and see what others have done with the system. It's big in the industrial world for scaffolding and railings. To our knowledge, no one else in the RV industry is using it.
Greg: The 80/20 ladder is much stronger than what we were using. It also attaches to our bumper for better stability and support. We like that the 80/20 system allows us to control the design.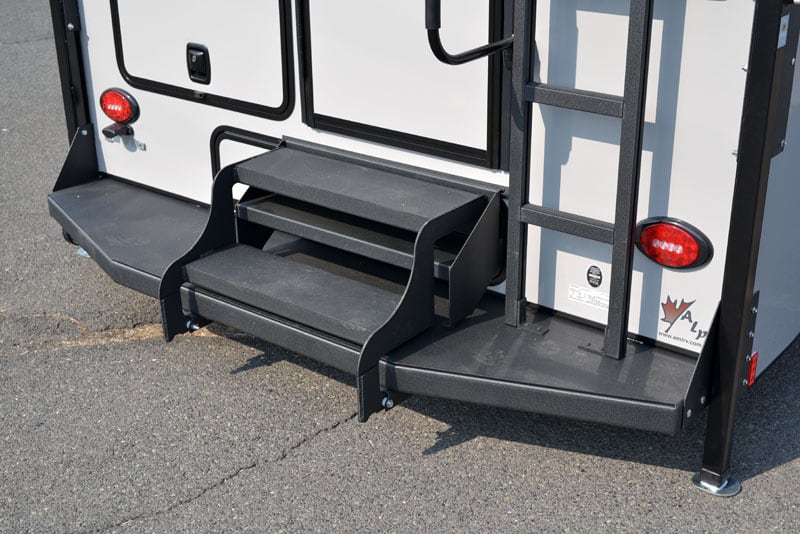 Tell us about the standard bumper and entry step system for the 2019 Adventurer 901SB.
Shawn: We started with our popular Comfort Step system and changed to non-slip black powder coat.
Greg: The whole bumper is non-skid. I had a concern about not putting on the anti-skid treads because I thought we would need to. I put my foot on and tried to slide and the whole pallet and bumper moved. It's got at least as much grip as the anti-skid treads.
Then we soaked the bumper with water and I had better traction when it was wet. With the black powder coating we don't need the anti-skid treads. That was another great discovery in developing this camper.
Above and below: The stringless locking cellar shades are another new standard feature in the 901SB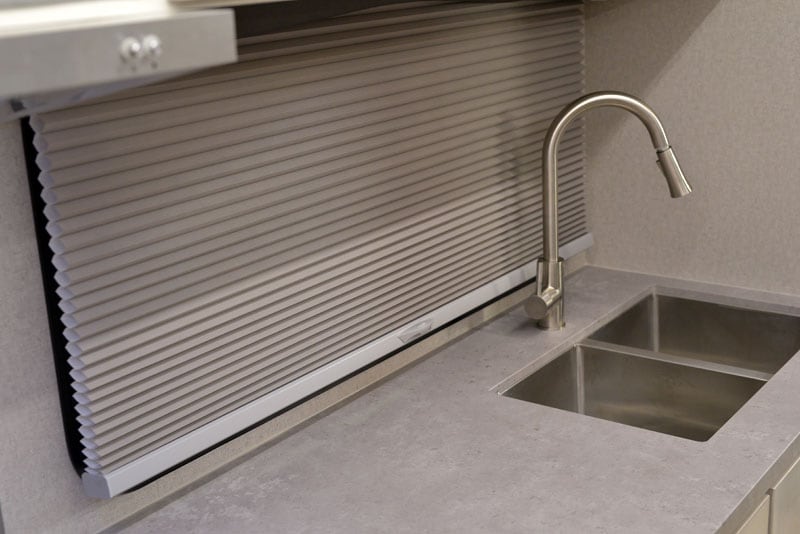 What does the 2019 Adventurer 901SB weigh with standard build features?
Greg: The 2019 Adventurer 901SB with every option is 3,280 pounds.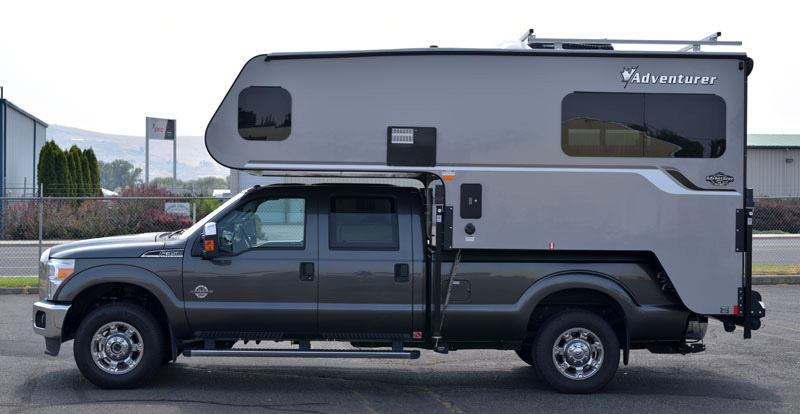 Above: The COG sticker clearly marks the center of gravity
Where is the center of gravity on this camper?
Greg: It's at 40-inches. It's marked with a center of gravity sticker, as we do on all of our units.
What is the MSRP for the 2019 Adventurer 901SB?
Greg: The 901SB is $39,379. Again, that includes every option as standard.
What is the warranty for the 2019 Adventurer 901SB?
Greg: It is the same as everything we build here at ALP. We have a three-year structural warranty. All appliances have their own warranties.
Will every Adventurer dealer have the 901SB anniversary model available?
Greg: They are not at every dealer, but most dealers have them on order. They are shipping right now.
Are all 60 units sold?
Greg: Not yet. We've kept about ten campers back. We anticipate some dealers will order after the consumer response to this article. Fraserway saw their first one arrive this week. Their sales manager said that he wants more.
"To celebrate our 50th anniversary, we wanted to honor the Epp family, and build something truly special and unique."
Wouldn't it have made more sense to build 50 for the 50th anniversary?
Greg: Dave Frampton decided on 60 because we build in runs of 20. It was either going to be 40 or 60. We built 60 instead of 50 because of efficiency.
What does SB stand for?
Greg: SB stands for side bath.
Is there anything about the 2019 Adventurer 901SB that you would like to add?
Greg: This is a one off unit for our anniversary celebration, but some of these features may carry forward in future Adventurer and Eagle Cap models. We've talked about a non-slide Eagle Cap, so the 901SB may turn into that idea. There will be many meetings and lots of feedback gathered from your readers and our customers and dealers before making any decisions.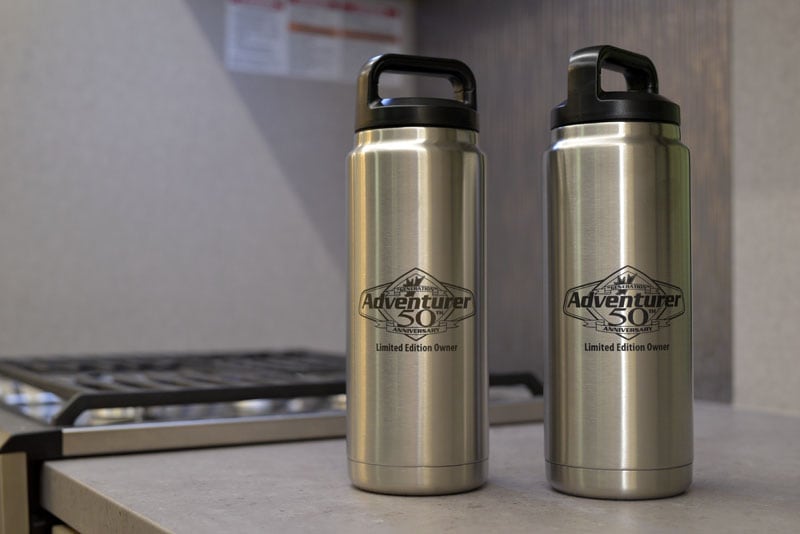 We are going to offer all 901SB customers two Yeti water bottles with the special edition logo. You will get it when you fill out your warranty card and send it in. You will also get a 50th anniversary owner certificate because you have a special unit.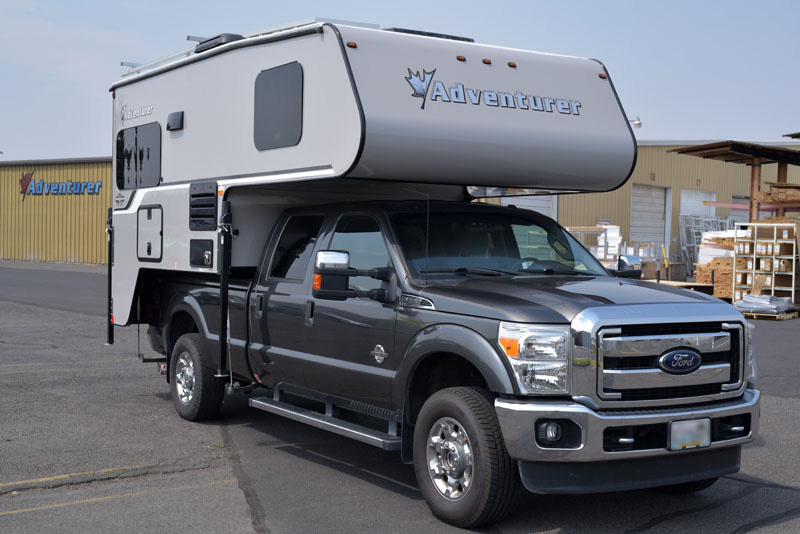 We want this camper to be a statement of the Epp family legacy.  Adventurer was started in 1969 as a mom and pop operation. We want the 901SB to be a testament to that and a celebration of 50 years of innovation in the RV industry.
James shared this anniversary model design with Erdman. We are very proud of his legacy.
Shawn: The news of Erdman Epp passing away was ironic timing with the 901SB being built. They were actually on the line when he passed. It really gives this camper more importance to us and our company.
To learn more about Adventurer campers, visit their website at adventurercampers.com.  Click here to request information on the 901SB.