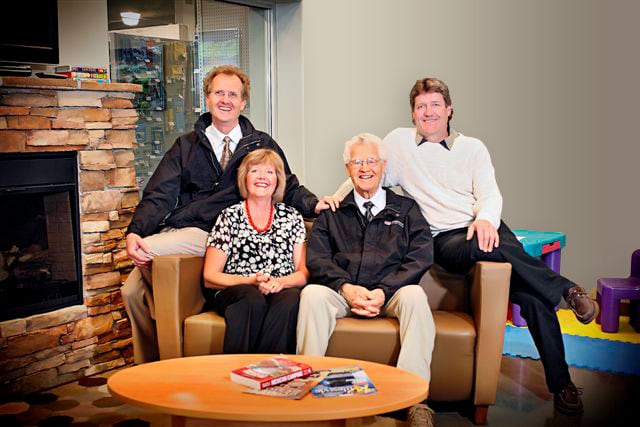 Above left to right: James, Brenda, Erdman, and Chris Epp.  Photo courtesy of Fraserway RV.
Erdman Epp, 99, of Abbotsford, British Columbia, passed away Saturday, July 28, 2018. Epp was born August 9th, 1919 and grew up in Rosthern, Saskatchewan.
Epp will be missed by his daughter, Brenda (David), and son, James (Vanessa), his grandchildren, great-grandchildren, relatives and friends.
The family requests donations to the Gideons Memorial Bible Fund in lieu of flowers. Online condolences to the family can be made at www.woodlawnfh-abbotsford.com.
Click here for Erdman Epp's obituary.
Man of Faith, Family and RV Entrepreneur
One of eight children, Erdman left the family farm to work at a co-op store in Western Canada. He later married his wife, Mabel in 1949. Erdman and Mabel enjoyed married life until Mabel's passing in 2005.
After 22 years at the co-op and reaching the level of General Manager, Erdman found himself unemployed. At the age of 49, he purchased a small RV manufacturer in Abbotsford, British Columbia.
The fledgling company had five employees, a 5,000 square foot manufacturing facility, and a house on the property. Epp moved his wife and family to their new home and launched into building truck canopies and campers. The year was 1969.
As an entrepreneur, Erdman worked six days a week. When it was possible, he involved his sons, James and Chris, in the business. Still in school, James and Chris joined their father during summer breaks, holidays, and weekends.
In 1980, Erdman, with his oldest son, James, purchased Trav-L-Mate Industries from imminent receivership. Along with the company came a building and land.
In 1983, Erdman Epp sold the Abbotsford Fraserway Camper manufacturing and retail operations to James, and daughter-in-law, Vanessa.
Erdman's youngest son, Chris, partnered with him to grow the Trav-L-Mate business. In 1992 Erdman and Chris partnered together in the purchase of Okanagan Manufacturing from Thor.
Through the 1990s, Erdman was involved in the development of all four truck camper brands; Slumber Queen, Trav-L-Mate, Adventurer and Okanagan. Even in Erdman's retirement he kept an eye on product development and often shared his suggestions to the development teams.
In retirement, Erdman devoted more time with his family, friends, and was involved with Gideon's International. He was also an active member of the Abbotsford and Mission Evangelical Free Church with a focus on missions.
From his son's perspective, his father told him early on, "We are building more than campers, we are building men". From a customer's perspective, his motto was, "Never satisfied until good is better and better is best".
Today Fraserway RV is owned and operated by Erdman's son, James. The company has grown to become Canada's largest and only national RV dealership network with full-service sales, service, and rental businesses.
The small RV manufacturer Erdman bought in 1969 is now Adventurer Manufacturing building both the Adventurer and Eagle Cap truck camper lines in Yakima, Washington.