The following week I was on fishing forums about starting a club for Arizona State.  Three people were interested and, about four months later, we were participating in the our first fishing tournament in Arkansas.
TCM: Now that's initiative.  How did things progress from there?
Mitch: Through college I fished around the country in multiple tournaments.  At that point I knew I wanted to pursue fishing as a career and started figuring out how to do it.  Sponsorship is one way, but it's a hard sport to get sponsored.
I majored in Graphic Design at Arizona State, so I can present myself well and I understand marketing and business.  I entered my first professional tournament in 2009.  I was in the Bassmaster Central Opens the next year, and I'm still doing that now, along with some of the FLW Rayovac Series.
My goal is to be in the Bassmaster Elite Series, which is like the NFL of bass fishing.  I will keep trying for as long as I can afford to, or as long as it takes to get there.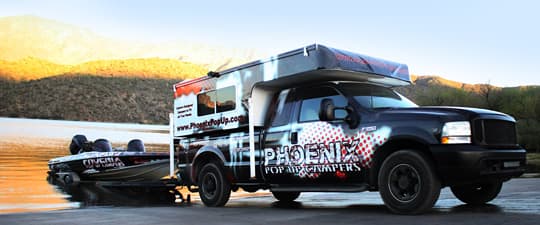 Above: Mitch's 1999 Ford F-250, 2013 Phoenix Custom Camper, and 2001 Triton TR-22 boat
TCM: When did your interest in fishing intersect with truck camping?
Mitch: One of the first memories I can remember is Dad taking me, my brother, and sister tent camping in the Black Hills of South Dakota.  I grew up in Aberdeen, South Dakota, so we would go camping in places around the state.
Five years ago, I bought a Ford F-150 and evolved from sleeping in a tent to sleeping in the bed of the truck for fishing trips.  I did that for a year.  Then I put a camping shell on top of that truck and built a platform with a memory foam mattress and storage underneath.   That was my makeshift camper for when I was fishing.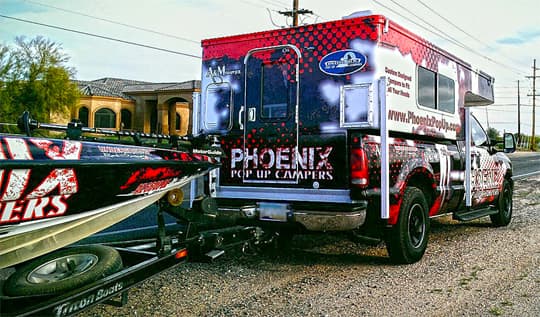 Above: Pulling over and taking a break is an advantage to having a truck camper
I wanted a pop-up truck camper because it would be light weight and offer good fuel economy.  That would be important as I often drive long distances to compete in tournaments.
During my research I started talking to Cari and Robby Rowe of Phoenix Campers.  From the beginning they were very helpful and interested in supporting my fishing career.  Not too long after that first contact, we started working on designing a custom Phoenix Camper.
Above: The inside of Mitch's camper (click photos to enlarge)
TCM: That must have been a huge step-up.
Mitch: It was a huge improvement; night and day compared to sleeping in a pickup shell.  Now I have all the amenities I could want including a propane refrigerator, stove top, and sink.  I also have plenty of storage, holding tank capacity for fresh water, and a bathroom with a toilet and shower.

Above: Mitch can keep the camper loaded or unload at his camping spot
TCM: How has having the Phoenix Camper changed your fishing tournaments?