These are opinions forged in real life experiences.
I remember about ten years ago while negotiating a narrow gorge in Vermont, with maple trees protruding at 45 degree angles from the canyon wall, just out of my mirror's field of vision.  My truck was a very powerful Dodge Cummins diesel.  I had gone too far and needed to back up in order to negotiate a turn.  I checked my mirrors and started in reverse.  The sickening sound I heard was like a combination of a car crash and moaning of bent timber just before snapping.  I had just transformed my wooden framed camper from a rectangle to a parallelogram.
Besides the Dodge Diesels, I've had a couple Toyota Tundras, but I wanted something smaller.  I chose a Toyota Tacoma SR5 4X4 with a four-cylinder engine.  That's right: a 2.7 liter four cylinder engine.  My goal was to attain 20 miles per gallon.  Last tank got me a high of 23.3 and a low of 19 mpg.  I added Firestone airbags and heavier adjustable Bilstein shocks.
The Eagle camper is Four Wheel's narrow chassis unit with lessoned cab over-hang.  I can pass through narrow openings in mesquite forests and cruise highways with a high degree of aerodynamics.  It has a power-sipping Dometic Waeco all-electric refrigerator, and an 85-watt roof mounted solar panel.  Lighting is all LED with usual creature comforts (furnace, pressurized water, and stove, and external shower).  My beer stays cold on 110-degree days and I have power to handle the computer.  Life's good!
Comforts aside, my job is defined by hours and sometimes days of waiting.  I spend my time waiting for the moment of magic.  Endless waiting, then absolute panic as the conditions become perfect.  Wind blasts my camper, snow loads on the roof, or I broil in the summers in the Sonoran Desert.  The beauty of the Four Wheel Camper is that I can break camp in a hurry and run after a storm front.  I may camp and un-camp six times a day.
You ask, why go to all this trouble just to get some solitude?  It's hard to say just when inspiration occurs, but I will say, when I literally live in a place and experience the power of its weather in all seasons, the images I produce are stronger.  I see my photography as a visual language relating a narrative between the reader and me.
My goal is to transmit to the reader or viewer of my work, not only a sense of the place, but also what I felt when I was there.  The funny thing is:  every location becomes part of me as well.
So here are images born in inclement weather.  From snow at the Grand Canyon, pre-tornado clouds on the high plains, storm clouds over Arches, icy pre-dawn take-off of sand-hill cranes, a sand storm in Death Valley, and monsoon lightning storms in the Sonoran Desert.   Enjoy!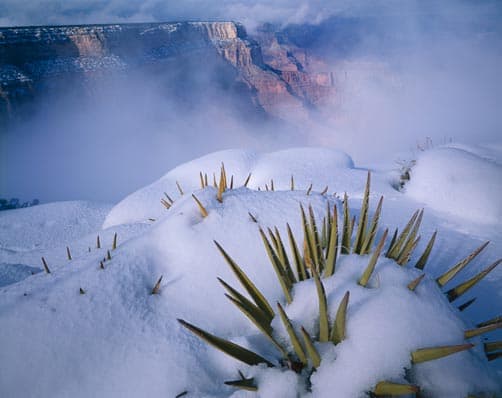 ABOVE: Nestled in a remote camping spot outside the Grand Canyon National Park, Arizona having arrived ahead of the storm, I rise at 5AM to head to the canyon rim as the storm lifts.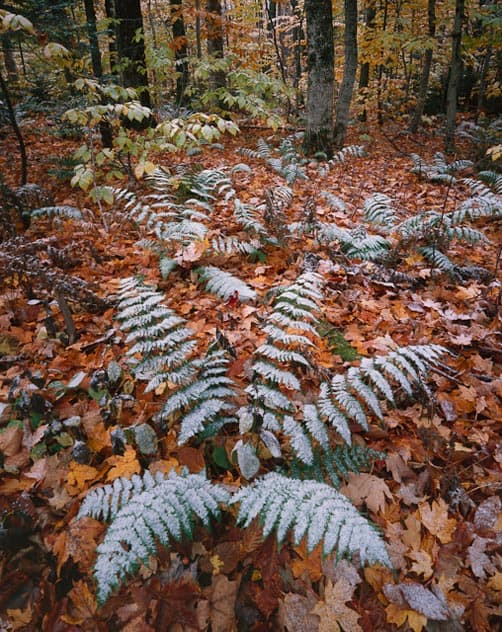 ABOVE: After making the long drive to Vermont's Green Mountains photographing fall color, the unexpected happens and new snow coats the landscape.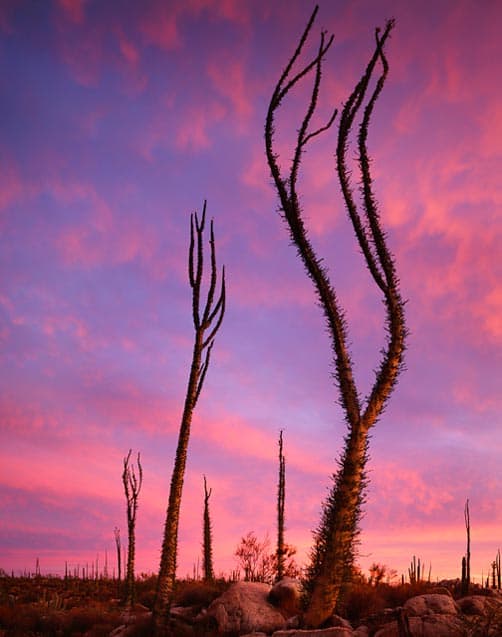 ABOVE: My favorite place in Mexico lies in the Desierto Central of Baja, where boolum trees extend their fingers to the lifting morning fog, colored by sunrise.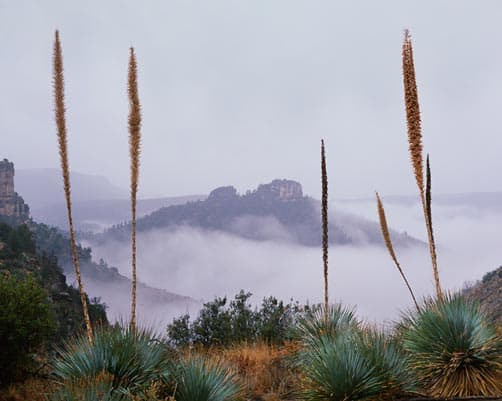 ABOVE: Arizona's Salt River Canyon is the "other grand canyon".  While working on a National Geographic story about Native American land stewardship, I endured a downpour, photographing under an umbrella to record the mesas rising about the lowering, foggy cloud layer.