Mike Schwitters takes us on a wild goose chase across the United States in his Phoenix pop-up camper.  This is one truck camper that is truly up to fowl play.

Cari and Robby Rowe of Coyote RV tipped us off on this story for the birds.  If Guinness kept track of such things, Mike Schwitters would probably hold the world record for number of geese and swans spotted.  Why should you care about bird spotting?  It turns out that this is the front line tracking the H5N1 virus.  That's right, Mike Schwitters and his wild goose chase are a critical wing of our national security.  But before you think this is all fowl work and no play, Mike also enjoys competitive bird watching.  The message is clear; with the help of his Toyota Tundra and Phoenix pop-up camper, Mike Schwitters always gets his bird.
TCM: How did you get into truck camping?
Mike: My interests in traveling and waterfowl go back to early adulthood.  My first camper was just a pick-up with a topper.  I built a platform in the bed with mattress for sleeping.  That set-up allowed me to be as flexible and mobile as I possibly could.
I'm seventy years old now and a bit more formal with my camper.  I have a Phoenix custom pop-up camper from Coyote RV that I bought in 2001.  The reason we bought the camper was so that I could include my wife more in my traveling activities.  A pick-up with a topper is too small for two people, so we went the next step with the pop-up.  It's been a great camper for us.
TCM: Did your interest in waterfowl lead you to a truck camper?

Mike: We saw truck campers during our travels and that's where it started.  Then our research lead us to Coyote RV and their Phoenix campers.  Our Phoenix is very nice and efficient.  We took a trip to Denver, after some communication with Coyote RV.  We saw the camper and bought it.
TCM: Why did you choose pop-up camper?
Mike: The low profile of a pop-up camper is much better suited for us.  The low profile also helps us to get close to the birds and saves us money in fuel mileage.  I don't even know the camper is there when I'm driving down the road.

TCM: Could you give us a definition of chasing and re-sighting waterfowl?
Mike: For a long time biologists would put metal bands on legs of ducks and geese.  A hunter would the shoot a goose with a metal leg band and it would say who to contact with the coded legband.  They would get information from the legband like where it was shot.
Then, the biologists switched to plastic neck bands to help acquire multiple points of information.  By using plastic bands on geese and swan necks, we are able to go out and re-sight the birds.  The scientists put the bands on at the nesting grounds and then let the birds go out and be free.
Volunteers or hired people go out to find them by using a spotting scope to read the code on the band.  Each bird will have multiple sightings throughout its life.  With the information that we provide, biologists are able to find the migration paths, the timing of migration, where they spend winters, who hunts them, and their survival statistics.  All kinds of biological information can be derived from the re-sighting of birds.
I work for the state of Montana, the U.S. Geological Service, the U.S. Fish and Wildlife Service, the Canadian Wildlife Service, and the Audabon bird watching folks.  Networking got me hooked.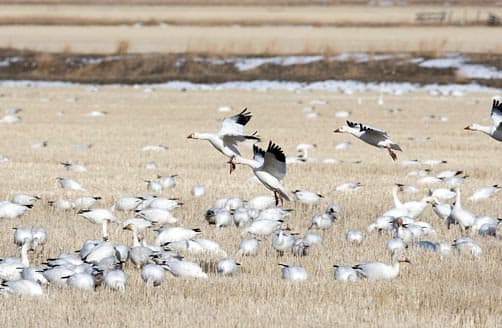 TCM: What's the point of tracking birds?
Mike: Biologists have an interest in finding the H5N1 strain of influenza that affects birds.  That began in Asia and is highly pathogenic.  Our government has been aggressive testing the birds that might come to North America from Asia.
In one example, the biologists fly into remote western Alaska and live in camps to take samples of the swans.  They'll freeze those samples and send them off to a lab.  Then, they will travel back to Anchorage and look for whether or not it has been infected with the bird flu.  Sometimes they won't get their answers for weeks.
We try to accurately define the migration of swans.  That way we can track the highly pathogenic influenza.  So far there have been no positive results in North America, but it still could happen.  If and when it happens, our biologists can tell where those birds go by obtaining resightings of the neck bands they put on the birds.
TCM: I didn't realize that bird sighting could be that important.  Have you ever seen the same bird twice?