As a Dynamic Positioning Operator for the oil and gas industry, Chris Tiefenbrunn works 28 days on and 28 days off.  During his extended breaks, Chris charts long-distance truck camping adventures to Key West, Death Valley, Denali, and beyond.


As a society, we have long accepted the 40-hour, Monday through Friday work week as normal.  We even accept the resulting 25.4-minute average commute and meager 10-day paid vacation times offered by employers as normal.
Factor in employer-supplied smartphones, expected overtime, increasing responsibilities, and workplace politics and it's no wonder how so many of us get upside down in our work-life balance.
Fortunately, there are exceptions to every rule – even the 40-hour work week.  Fellow truck camper Chris Tiefenbrunn works for the oil and gas industry in 28 day rotations; 28 days of work, followed by 28 days off.  All tolled, that's six-months off a year to spend with family and friends, travel, pursue personal interests, and just relax.
Of course working on an offshore drillship also means six-months away from family and friends missing holidays, birthdays, weddings, graduations, anniversaries and other events.  Working on a drillship can also be very physically demanding, not to mention extremely dangerous.  It's not a field for the faint of heart.
And yet, a month off presents some incredible truck camping possibilities for a young, unmarried, and otherwise free individual.  From our own experience, you can cover a lot of ground and have a lot of adventures in 28 days.  Heck, you could literally drive cross-country and visit ten or more national parks in that time – if you planned ahead and kept to a reasonable schedule.
As he explains it to us, Chris retires every 28 days for 28 days.  If there's someone with a more extreme work-life balance, we haven't met them.
Above: Chris at the Dalton Highway with his 2016 Ram 3500 and 2016 Northstar Arrow U
TCM: You are 31 years old.  Most of our readers are 55 plus.  How is that you bought a truck and camper at such a relatively young age?
Chris: On a trip to west Texas with friends, I woke up freezing cold in my tent and decided this whole sleeping on the ground thing was for suckers.
While pondering more comfortable options, the idea of a truck camper kept coming to mind.  I could either tow my Jeep to explore dirt roads and trails, or demount the camper and use the truck to roam around.
Shortly after my epiphany, I went to an RV Show in Houston.  I was surprised that there wasn't a single truck camper in the entire convention center.  Not one.
The next closest RV type with four-wheel drive capability were Sprinter and Sportsmobile style vans.  I passed on these because I wanted a truck to use when the camper is demounted.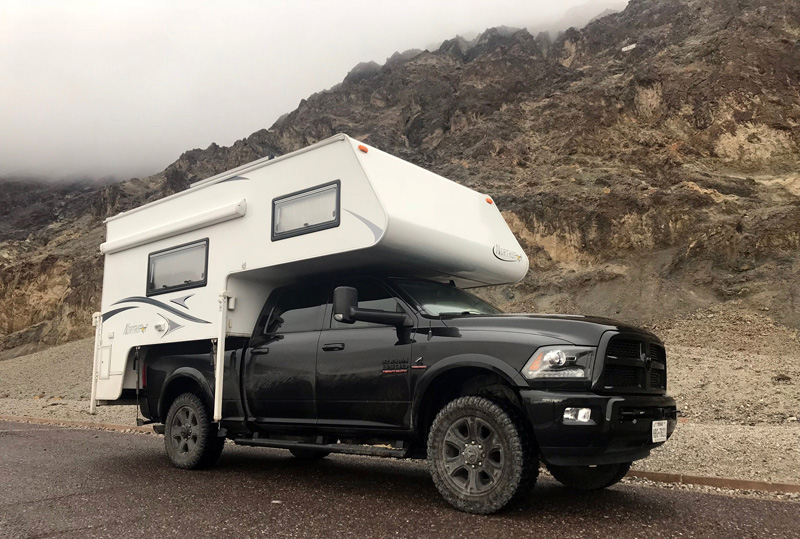 That's when I ran across your website and came across Northstar Campers.  Northstar had the perfect mix of quality, utility, and comfort that I was looking for.
I liked that Northstar Campers are non-basement designs that offered wheel well storage access from inside the camper.  I also knew I didn't want a slide-out camper as I would be traveling off-road in remote areas where slide-outs might fail.
A pop-up camper probably would have been sufficient for my needs.  However, I work in the oil Industry that goes through regular booms and busts.  I thought it would be a good idea to get a hard side model that I could live in full-time if we hit a really big bust.
By the way, I was actually 29 when I bought the Northstar.
TCM: You've done a lot with your camper over the past three years.  You've been to Everglades National Park and Key West in Florida, Death Valley National Park in California, and up to Alaska.  How do you travel these long distances with your work schedule?
Chris: I am a navigator on a ship that drills for oil.  We work 12 hour days every day for 28 days in a row.  Then we get 28 days off.  The problem is that we do not get holidays off, or sick days.  The upside is that we get big chunks of time off all at once.  That's how I can plan long trips.  It's amazing how far you can go in 28 days.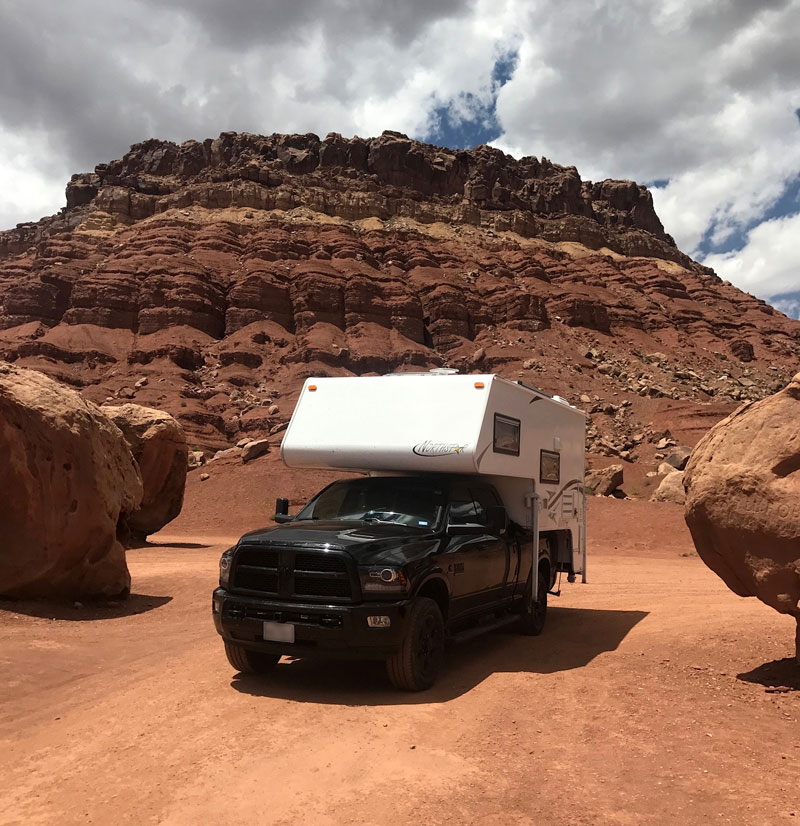 Above: Just off the Fredonia Vermillion Cliffs Scenic Road, a 104-mile drive between Fredonia and Bitter Springs on US Highway 89A, Arizona
TCM: You live and work in Texas, and you were able to go to Alaska and back in 28 days?
Chris: I went to Alaska in three pieces.  I drove from Houston to Seattle via Grand Canyon National Park, Death Valley National Park, and Napa Valley.
When it was almost time to go back to work, I rented a storage lot for the camper in Seattle.  Then I flew back to Houston for the next 28 days to work.
Twenty-eight days later, I flew back to Seattle to pick up my rig.  Then, I drove to Alaska.  At the end of the 28 days, I drove back to Seattle, stored my rig, and went back to work.  Twenty-eight days later, I flew back again to drive the rig back to Texas.
I had lots of windshield time.  I left wiggle room if I got burnt out driving and needed a break.  I listened to audio books and podcasts as I drove.
TCM: You're driving a lot of long distances and exploring remote areas by yourself.  How do you keep in touch with friends and family back home?
Chris: For peace of mind when I travel alone, I have a Delorme Satellite Messenger.  I've had it a long time because of the remote trips I would take with my Jeep.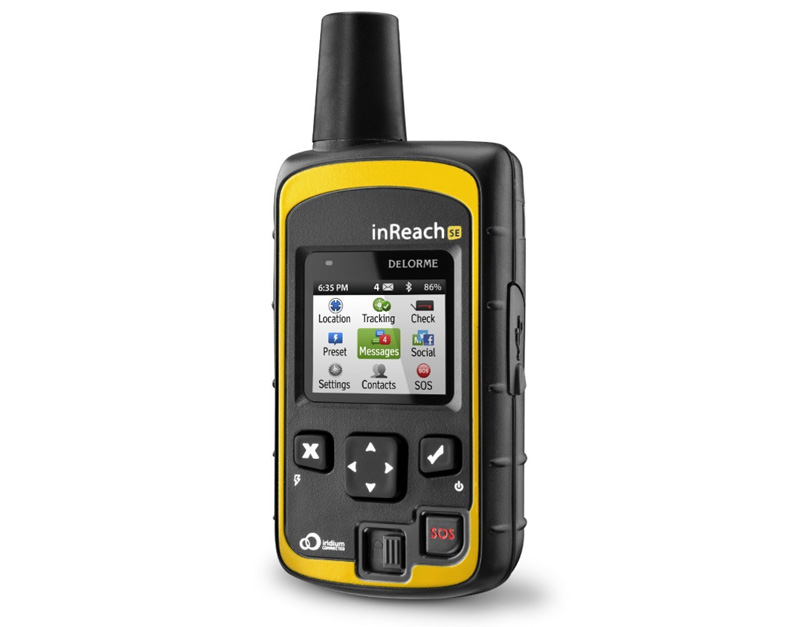 The Delorme Satellite Messenger has a SOS button.  I can also send text messages via satellite.  If I don't have cell service, I can text someone with the Delorme to contact a tow truck for me.
I like the idea of self-reliance.  I don't consider myself a doomsday prepper and I wasn't a Boy Scout, but I like to be ready for anything. I think having a satellite messenger is a no brainer, especially since I mostly travel alone.  Even if it's two people in one vehicle, you are by yourself if something goes wrong.
I would recommend a Delorme Satellite Messenger to anyone traveling in remote areas outside of a group where there is no cell phone service.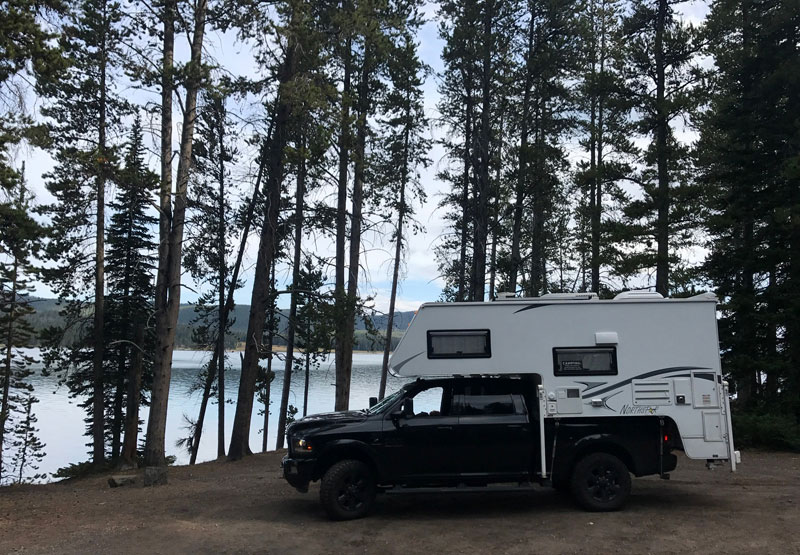 Above: Quiet spot next to Yellowstone Lake, Wyoming
TCM: What does the Delorme service cost?
Chris: It costs $27 a month for 40 unique text messages, and unlimited pre-set text messages.  I have three pre-set messages; "I'm checking in and everything is okay", "I'm stopping here", and, "I'm on the move".  You can pre-program who each of those pre-set text messages goes to.  It also shows them your position.  If something happens to me, they have a good place to start looking.
There's also a tracking mode that sends out my position every 10 minutes.  I use this feature when I'm hiking by myself.  Tracking mode uses more battery, but it automatically follows you.  I figure it's more likely that something bad is going to happen while I'm hiking.
My mom thinks the Delorme Satellite Messenger is cool because she can click on my position and it brings up a satellite picture.  She might ask me about a building she saw on the satellite and I'll tell her what it was like to see in person.
TCM: Are you always going out truck camping on your 28 days off?
Chris: I am a season ticket holder for the Houston Astros.  In the summer, when I want to go to the games, I do a lot less traveling with the truck camper.  If the Astros are out of town for a week, I may go on a camping trip near home.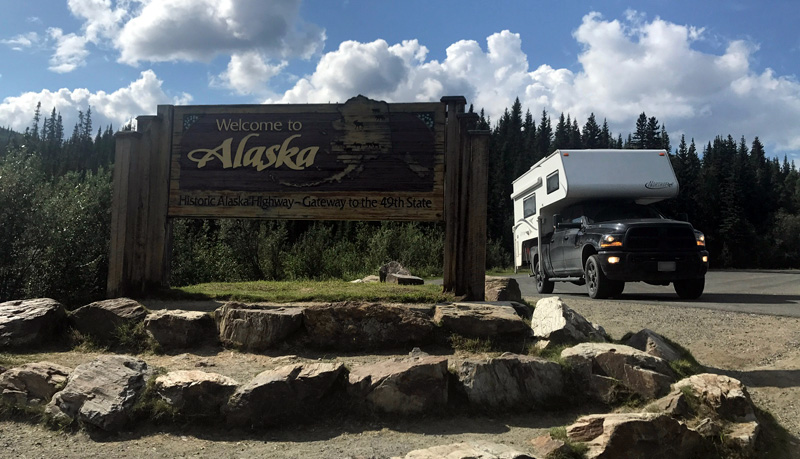 TCM: How did you plan your trip to Alaska and The Yukon while working on the oil ship?
Chris: At work I have twelve hours of downtime.  During my 12 hours off, I studied The Milepost from cover to cover.  Before setting out, I had drawn all over the map and planned things I wanted to see.
I would also map out how many places I could visit between fuel stops.  I looked at this first trip to Alaska as a preview for a bigger and longer trip.  In the future I would like to go back and spend a whole summer there.  This trip was a good sampling of what I want to do and what I don't want to do.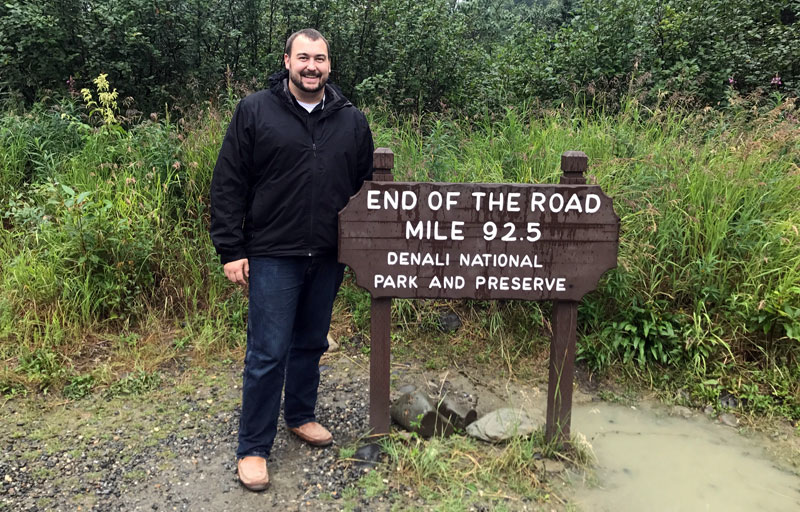 Denali National Park was something I really wanted to see and it was a great experience.  There was so much wildlife.  I also went up to Deadhorse just to say that I've been there.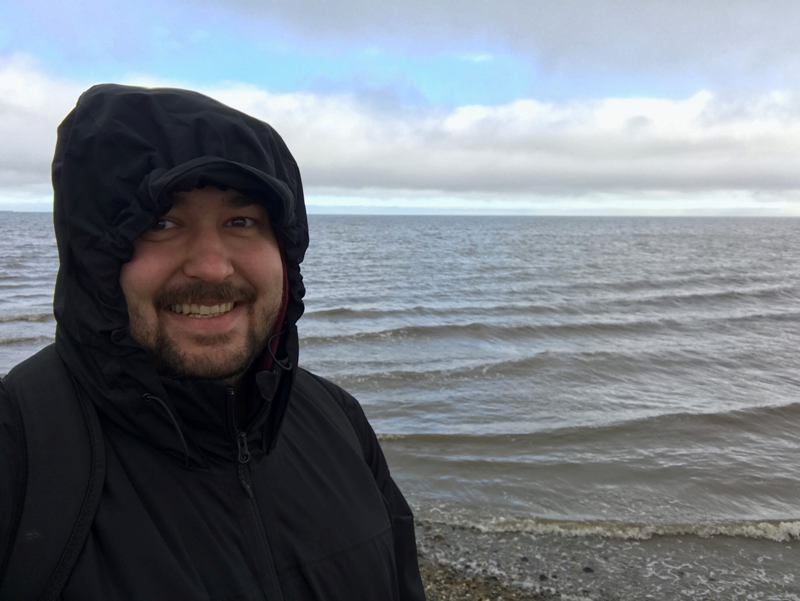 Above: The Arctic Ocean, Deadhorse, Alaska
On the way up, I had to make adjustments to avoid forest fires.  I had to skip things I wanted to see in British Columbia because that.
In British Columbia and the Yukon, rest areas are very frequent.  If you need a place to stay, you're good.  There's not too much traffic and the rest stops are in beautiful places.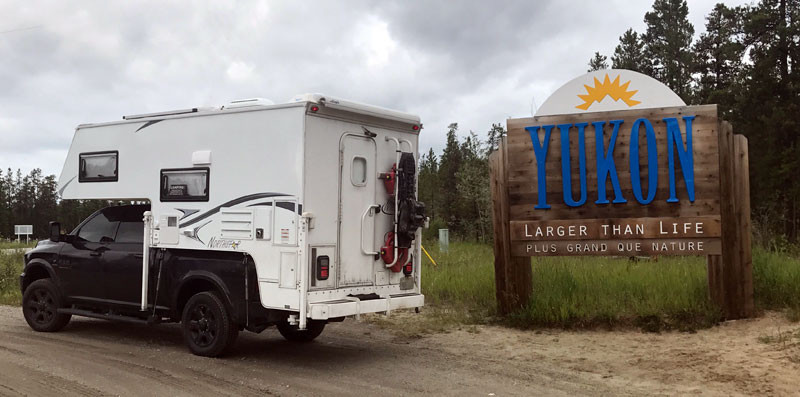 TCM: It seems like you take a lot of pictures with signs.  Is that by design?
Chris: My hobby on the road is the journey itself.  Those signs show it.  When I visit the national parks, I park my camper and get a sign picture.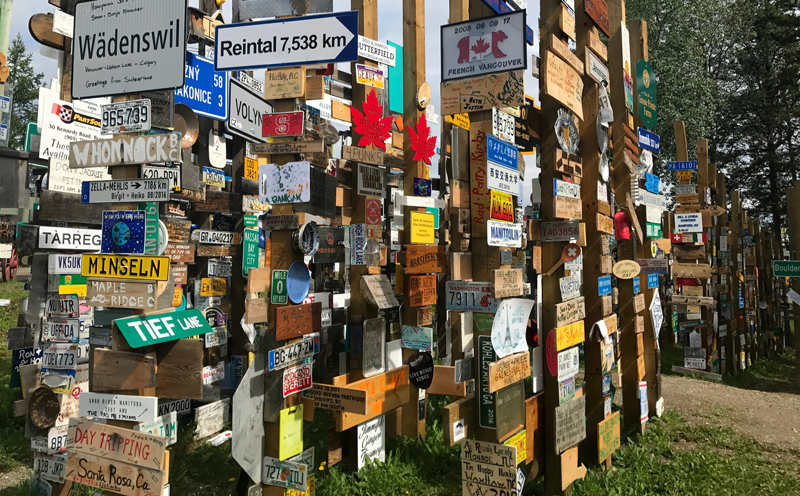 I really liked the Signpost Forest in Watson Lake.  I brought my own sign, and it was fun walking around to look at signs from all over the world.  Travelers are all crossing paths there.  I really liked that.
TCM: In an email you sent us, you shared a harrowing experience with a frost heave.  Tell us what happened.
Chris: Permafrost is a thick subsurface layer of soil.  It remains frozen throughout the year and expands to create uplifts in the road.  These uplifts in the road are called frost heaves.
Frost heaves are everywhere once you get to the Yukon.  There is a chance you might encounter a frost heave in British Columbia, but you will definitely see them in the Yukon and Alaska.
Usually you can see these uplifts coming and you slow down.  However, under the right light, frost heaves can blend in.  Sometimes you'll hit a jarring bump without notice.
A frost heave snuck up on me.  I hit it a little too fast causing my camper to bump into the satellite radio shark fin antenna on the top of my truck.  The fin actually poked a hole in the bottom of my cabover.  I put Eternabond over it, which seemed to have patched it for now.  The satellite antenna also cracked and I put clear silicone on top of that.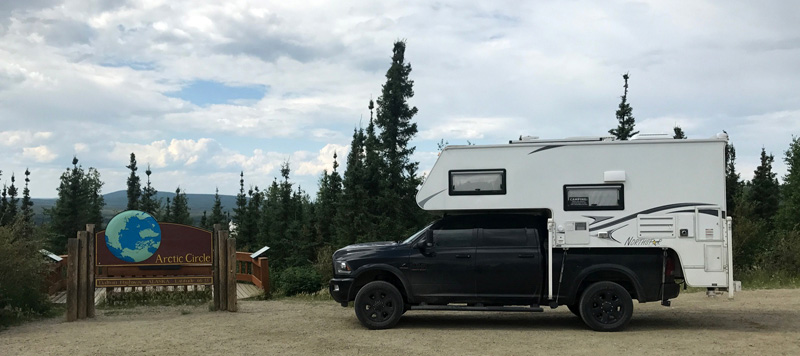 TCM: That must have been a scary experience.  Other than getting The Milepost and looking for frost heaves, do you have any other advice for truck campers heading to Alaska and the Yukon?
Chris: I did walk around my rig in Denali and noticed screws and nails in my tire.  At that point my tires were older and I was not about to replace just one tire.  Canadian Tire in Whitehorse in the Yukon, has a high door bay.  They were able to put four new tires on my truck with my camper still mounted.
Being flexible is really important.  There were lots of wildfires on my trip throughout British Columbia and the Yukon.  I had to change my route in the beginning because of the fires.  Along the way, I found the Canadian provinces have websites with maps to show road closures.  These maps are worth checking when you get WIFI.
For traveling in high latitudes in the summer, Northstar Campers have black out windows.  The only light that can get in is through the bathroom vent.  The rest of the camper is dark enough to sleep just fine.
The sun being visible so long will mess with you.  The sun doesn't really set.  It could be 10:00pm and feels like 4:00pm.  You don't feel tired because the sunlight is there.  You can get in trouble because you're tired, but the sun is still up.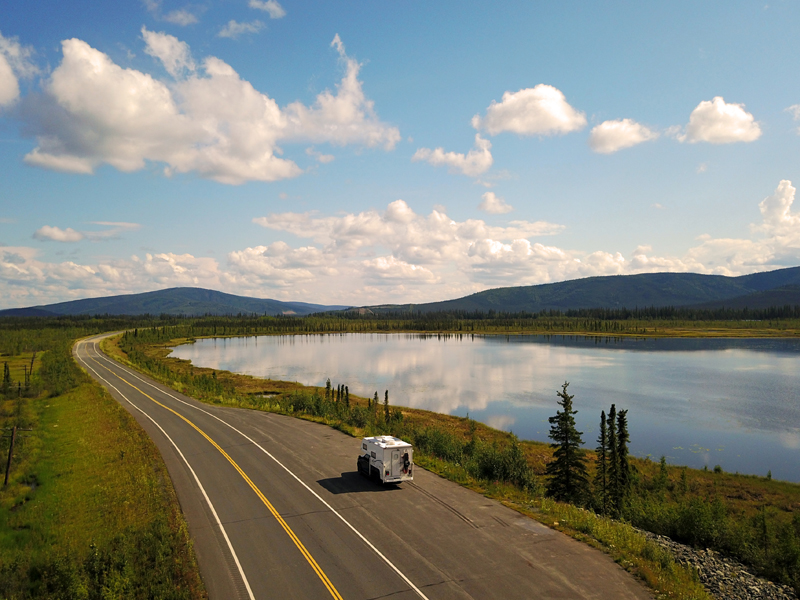 TCM: Some of your photographs were taken with a drone.  Where did your interest in drones come from?
Chris: I got a drone for my Alaska trip.  I knew I was going to see great sites and would be in wide open spaces where I could fly it.
I have a DJI Mavic Pro.  I got the Mavic because it's pretty simple to use.  It almost flies itself.  When I first got the Mavic, I learned to fly it near my house.  When it takes off, it lifts four feet into the air and just hovers there.  If there's wind, it adjusts itself.  The Mavic's automatic flight capabilities make it easier to not fly into a tree.
The drone is always fun and really makes it easy to get unique shots.  Alabama Hills was an amazing place to fly my drone because it's a wide open space with no restrictions.  And it has beautiful scenery.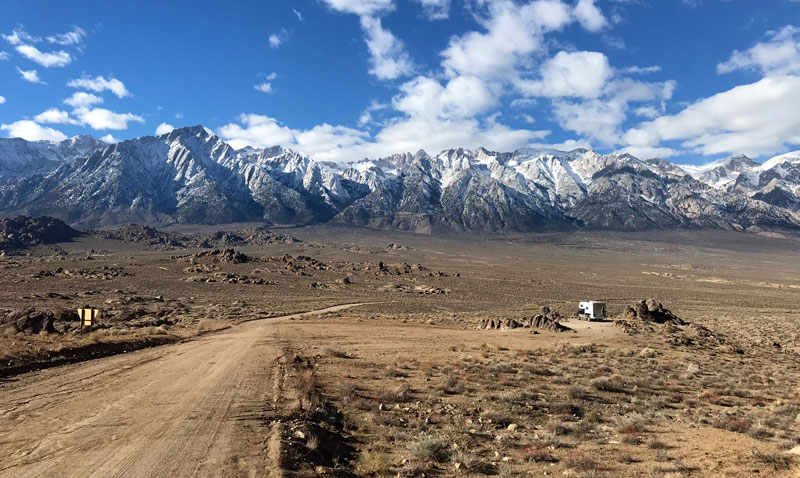 Above: Free BLM camping in Alabama Hills near Lone Pine, California
There have been ways I have used the drone that were unexpected.  In a national forest in Arizona, I didn't know if I would be able to fit the rig down a road.  I knew there was a campground there, but I was not sure if I could fit with my camper.
I flew the drone down the road and checked it out ahead of time.  I could see that there were no low hanging trees.  It's a nice thing to be able to scout out the path ahead ahead with the drone.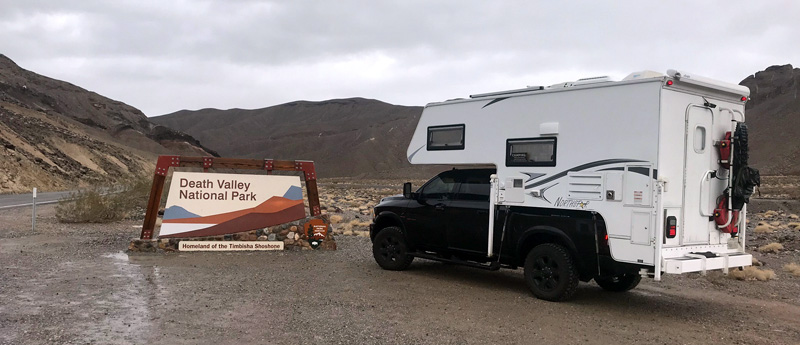 TCM: That's the first time someone has described using the drone for off-road reconnaissance.  Obviously most of Alaska and Alabama Hills are wide open for drone use, but have you experienced flight restrictions in other areas?
Chris: The drone will not let me fly around stadiums, national parks, and airports.  It's easier to find legal places to fly where things are spread out; in the southwest, west, Canada and Alaska.  As you head east, it's harder to find places to fly because there are a lot of small towns with airports.  Even if the airport looks abandoned, the drone might not let me fly.
I have to plan ahead and follow the rules.  There are areas of the map that are blocked for drone use.  In Canada, it won't let you take off within five miles of an airport.  In the United States, it just gives you warnings if you are within five miles of an airport.  When I was in Watson Lake in the Yukon, they had seaplanes landing in the area, so I couldn't fly there.
My mother was a professional photographer for over thirty years.  I use the drone most of the time for pictures, but I also use my phone because it's so convenient.  I'm not making wall sized prints, so I'm okay with the camera phone.
I recently got the Light L16 camera.  It's twice the thickness of an iPhone and it has 16 different lenses and image sensors.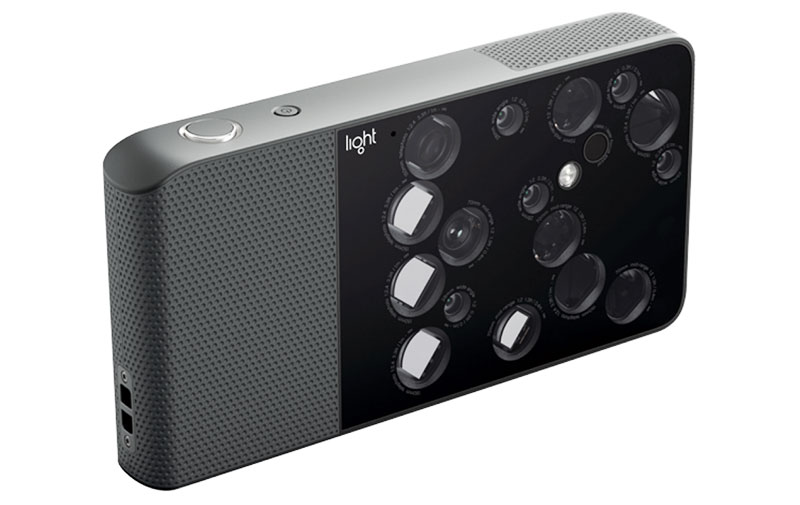 It automatically picks some or all of the 16 lenses and image sensors to take pictures with.  Then it will combine the images and stitch them together.
I like this instead of carrying an SLR that can't fit in my pocket, and it produces good quality photos.  Also, I have an attachment for my iPhone to connect to my spotting scope.  It will actually take pictures through the spotting scope.

Above: Picture without the spotting scope (notice the building in the background), Below: The building you can barely see with the spotting scope that was taken with the L16 camera.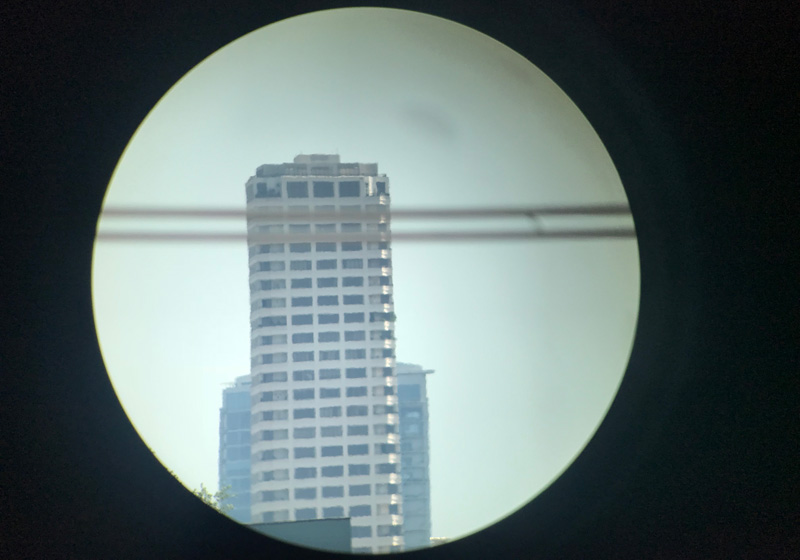 TCM: The L16 sounds wild.  How are you attaching all of those things to your ladder?
Chris: For my Alaska trip, I wanted to carry spare fuel.  The Rotopax fuel containers are three gallons each.  The support for ladder is horizontal.  The Rotopax fit perfectly into the ladder at an angle.  One corner fits in the gap between the horizontal supports.  They are supported and rest in there.  They are also strapped with webbing so they can't get loose.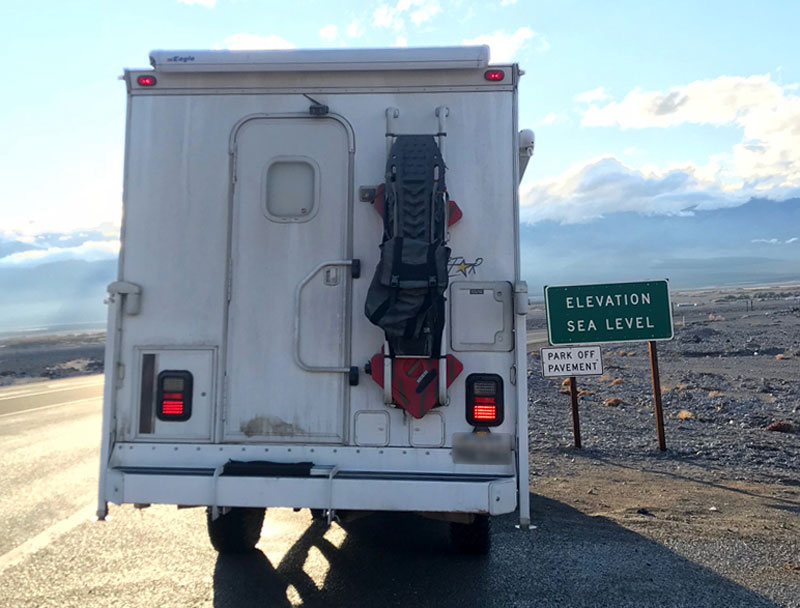 I also have traction mats mounted to the outside of the ladder.  I like having traction mats because, if I get into a situation with mud or sand, I can get out.  Luckily, I have never had to use them.
To mount everything safely, I use webbing straps that have a cam to push a button that releases it.  That holds everything tight.  I have adjustable six-foot cable locks, which is a secondary retention system that's also used for security.
I also store my trash bag on the ladder.  It is high enough that critters can't get to it, except for bears.  Bears have no respect for the law and will try to rob you.  If I know I am in bear country I make sure it is cleaned out and unused.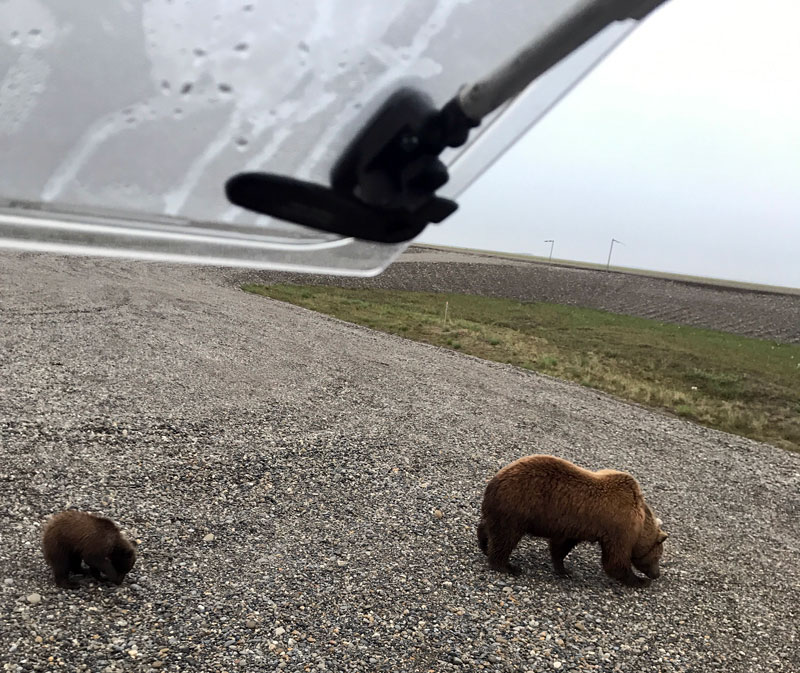 TCM: That's quite a statement, "Bears have no respect for the law and will try to rob you".  Where did that come from?
Chris: I was south of Deadhorse at a turnout.  It was four in the morning and I was in an area where the sun didn't set.  I wasn't feeling well, so I was in a dead sleep.
Then I heard sniffing.  At first I thought it was caribou licking salt off the camper because they will do that.  Before I went to bed there was a herd of caribou on the other side of river.
Then I heard huffing and sniffing, like you hear in the movies.  I couldn't see anything because whatever was causing the noise was out the back of the camper.  Then, I opened the cabover window and poked my head out.
The bears didn't see me.  I started banging on walls, and they started walking away.  It was a mama bear and two cubs.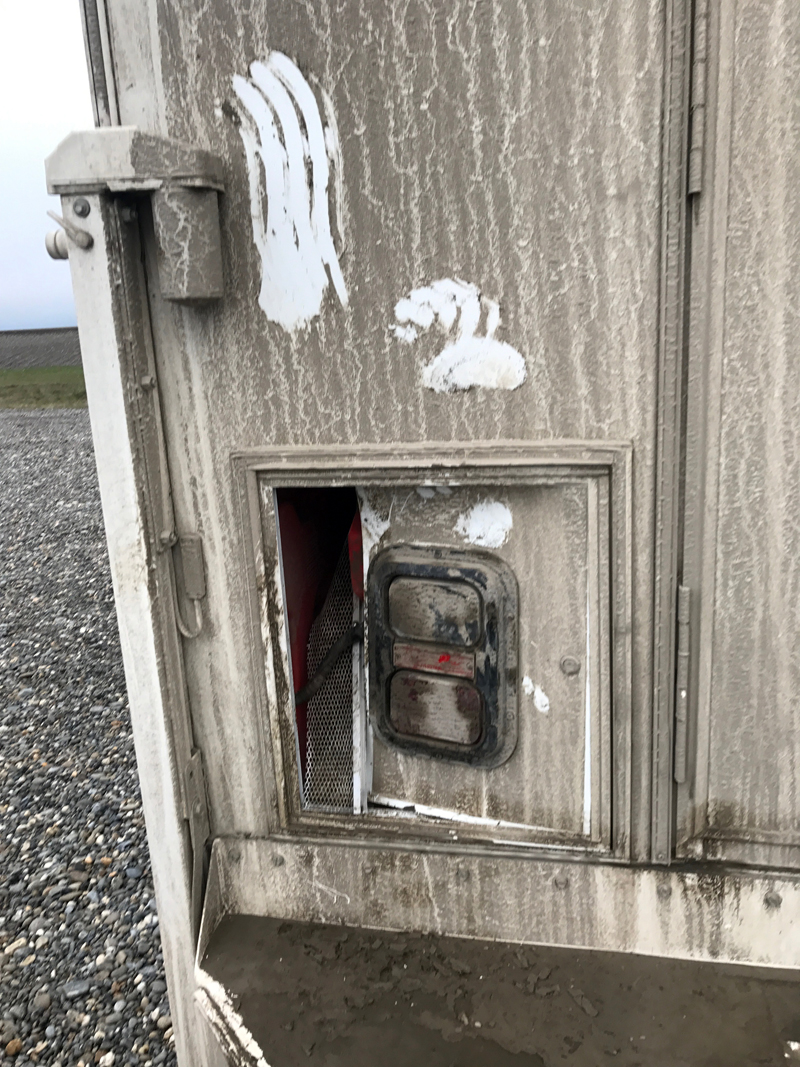 Above: Marks and damage left behind by the bears
There was no food on the outside of the camper.  I had some fuel stored in the generator compartment.  I guess they found a soft spot and started pushing on it.
I should have launched the drone and got shots from above.  I was a little freaked out and I was sick, so I was ready to go back to sleep.  I swear the mama bear tried to open the door.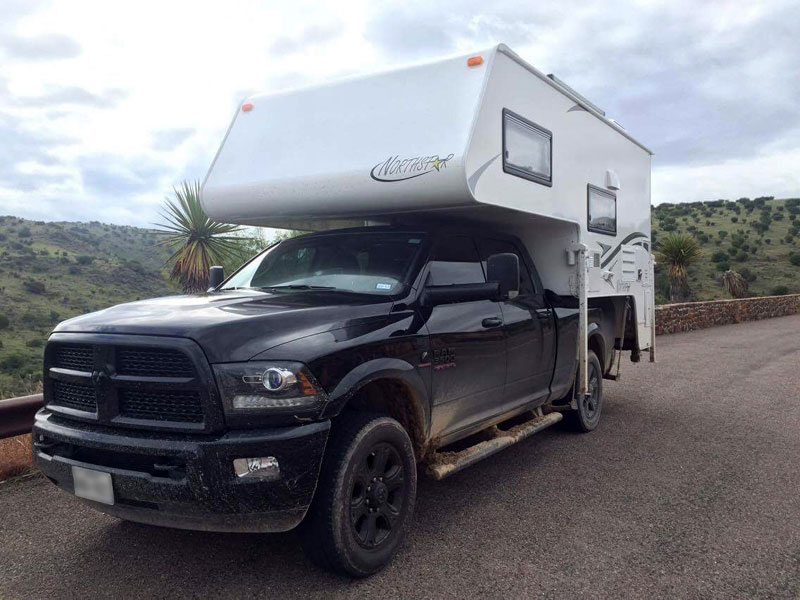 Above: Exploring the Big Bend region of Texas
TCM: You are very lucky that mama bear didn't push in the door.  What do you enjoy doing while truck camping?
Chris: My desire to explore grows every year, starting with the first time I took my Jeep to Big Bend National Park.  That place is really special.  I like the beauty, remoteness, and challenge of self reliance.  You are certainly a long way from help if something goes wrong there.  I've realized that the United States has many diverse and interesting places and I decided I want to see as much of it as possible.
I've learned that I'm perfectly self-sufficient in a multitude of environments and scenarios.  I do not consider myself a hermit, but I do enjoy time to myself.  It gives me time to clear my head.  I really like exploring, going down dirt roads, and going to the places a normal tourist would miss.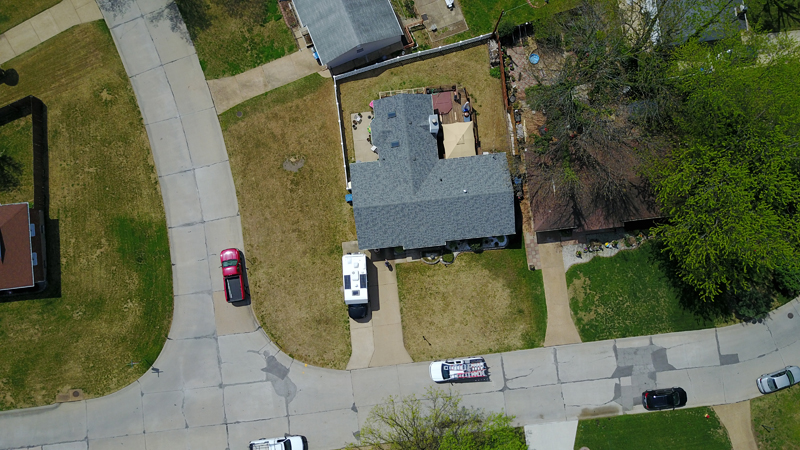 Above: Moochdocking at his parent's house in Missouri
Having a truck camper makes it to easy to stop and check out anything you find interesting along the way. I've heard it referred to as "road magic" on your site.  I only recently heard this quote by Rob Boegheim, but it certainly rings true for me…"The road that teaches you the most about yourself, is the one you've never been down".
TCM: That's a good quote.  And yes, we definitely believe in road magic.  Earlier you mentioned being a Houston Astros season ticket holder.  You also have visited a number of baseballs stadiums with your camper.  What's the story there?
Chris: I've been to ten baseball stadiums, but not all with the camper.  Most baseball stadiums are in a downtown area.  One advantage to truck camper that we are more maneuverable than a trailer but, it can be a challenge in a downtown situation.
In Denver they have an RV lot at their baseball stadium. You can not stay overnight, but they have a spot where just RVs are parked so they don't squeeze you in with cars.
The Texas Ranger's stadium is close to interstate with many wide open lots.  That's a great option for a truck camper.  In Phoenix later this year, I am going to be staying at a campground outside of town.  It's within a good distance for an Uber.  I'll get a ride to and from the campground.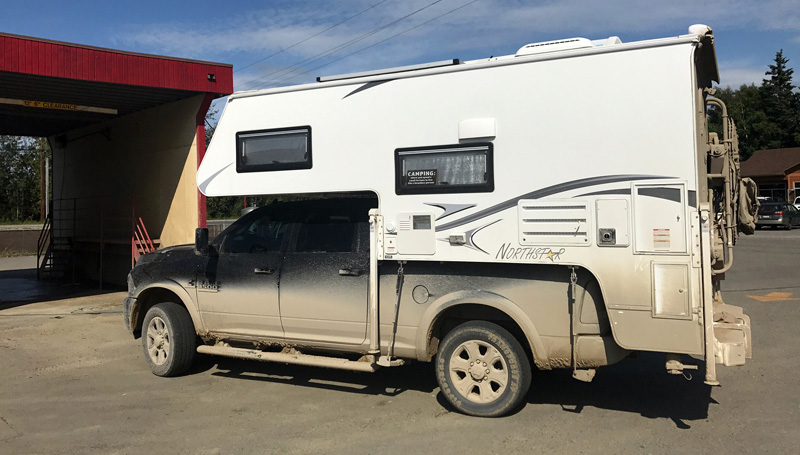 Above: Mud after driving the Dalton Highway
TCM: Using Uber to get into urban area places too densely packed for truck campers is a great idea.  What did you think of the Overland Expo?
Chris: The Overland Expo was a great experience.  While it seems to me that the overland marketplace mostly involves smaller vehicles such as Jeeps and Land Rovers, the Overland Expos are a great way to learn new skills and check out the latest equipment that everyone has to offer.
There are hands-on classes like tire repairs, wilderness survival skills, and welding using three 12-volt batteries.  It's nice to be able to practice skills before you need them and you're stuck on the side of the road.
My inspiration to complete a trip from the southernmost road in the United States to the northernmost came from watching the Expedition Overland videos on YouTube.
While they don't use truck campers in their video series about Alaska and The Yukon, they are great illustrations of the preparation and planning required for such a trip.
Above: A drone video Chris shot from a rest stop in British Columbia
TCM: Great tip.  Is there anything else that you'd like to share about your truck camping lifestyle?
Chris: I was 29 a few years ago when I got my truck camper, which probably makes me one of the youngest truck campers.  I contribute this to my rotational work schedule which allows me the time to enjoy the camper and put it to good use.  I like to think of it as being retired, but only half the time.
Chris Tiefenbrunn's Rig
Truck: 2016 Ram 3500, SRW, Cummins Diesel, Crew Cab, Short Bed, 4×4
Camper: 2016 Northstar Arrow U
Tie-Downs and Turnbuckles: Torklift Fastguns
Suspension: Timbren DRTT3500D Suspension System