As a Dynamic Positioning Operator for the oil and gas industry, Chris Tiefenbrunn works 28 days on and 28 days off.  During his extended breaks, Chris charts long-distance truck camping adventures to Key West, Death Valley, Denali, and beyond.


As a society, we have long accepted the 40-hour, Monday through Friday work week as normal.  We even accept the resulting 25.4-minute average commute and meager 10-day paid vacation times offered by employers as normal.
Factor in employer-supplied smartphones, expected overtime, increasing responsibilities, and workplace politics and it's no wonder how so many of us get upside down in our work-life balance.
Fortunately, there are exceptions to every rule – even the 40-hour work week.  Fellow truck camper Chris Tiefenbrunn works for the oil and gas industry in 28 day rotations; 28 days of work, followed by 28 days off.  All tolled, that's six-months off a year to spend with family and friends, travel, pursue personal interests, and just relax.
Of course working on an offshore drillship also means six-months away from family and friends missing holidays, birthdays, weddings, graduations, anniversaries and other events.  Working on a drillship can also be very physically demanding, not to mention extremely dangerous.  It's not a field for the faint of heart.
And yet, a month off presents some incredible truck camping possibilities for a young, unmarried, and otherwise free individual.  From our own experience, you can cover a lot of ground and have a lot of adventures in 28 days.  Heck, you could literally drive cross-country and visit ten or more national parks in that time – if you planned ahead and kept to a reasonable schedule.
As he explains it to us, Chris retires every 28 days for 28 days.  If there's someone with a more extreme work-life balance, we haven't met them.
Above: Chris at the Dalton Highway with his 2016 Ram 3500 and 2016 Northstar Arrow U
TCM: You are 31 years old.  Most of our readers are 55 plus.  How is that you bought a truck and camper at such a relatively young age?
Chris: On a trip to west Texas with friends, I woke up freezing cold in my tent and decided this whole sleeping on the ground thing was for suckers.
While pondering more comfortable options, the idea of a truck camper kept coming to mind.  I could either tow my Jeep to explore dirt roads and trails, or demount the camper and use the truck to roam around.
Shortly after my epiphany, I went to an RV Show in Houston.  I was surprised that there wasn't a single truck camper in the entire convention center.  Not one.
The next closest RV type with four-wheel drive capability were Sprinter and Sportsmobile style vans.  I passed on these because I wanted a truck to use when the camper is demounted.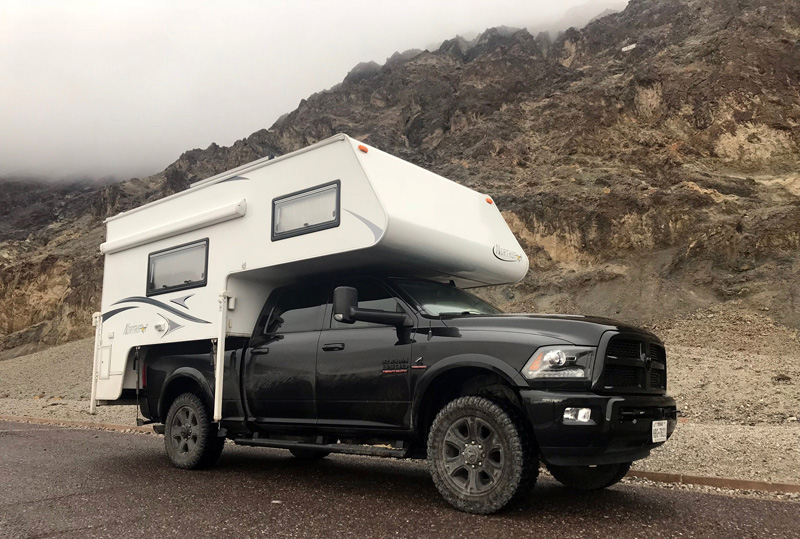 That's when I ran across your website and came across Northstar Campers.  Northstar had the perfect mix of quality, utility, and comfort that I was looking for.
I liked that Northstar Campers are non-basement designs that offered wheel well storage access from inside the camper.  I also knew I didn't want a slide-out camper as I would be traveling off-road in remote areas where slide-outs might fail.
A pop-up camper probably would have been sufficient for my needs.  However, I work in the oil Industry that goes through regular booms and busts.  I thought it would be a good idea to get a hard side model that I could live in full-time if we hit a really big bust.
By the way, I was actually 29 when I bought the Northstar.
TCM: You've done a lot with your camper over the past three years.  You've been to Everglades National Park and Key West in Florida, Death Valley National Park in California, and up to Alaska.  How do you travel these long distances with your work schedule?