Truck Camper Magazine reviews the Northstar 8.5 Arrow U, a hard-side, non-slide, wet bath, short bed truck camper.  Warning: Slide-out camper jokes ahead.

Taking delivery of the Northstar 8.5 Arrow U at Truck Camper Warehouse this past August marked our return to non-slide hard-side truck campers.  Yes, we were somewhat seduced by the floor space making slide-outs in our previous two truck campers, but going back to the simplicity, convenience, and practicality of a non-slide hard-side truck camper was like going home.
Speaking of home, we took about ten days to explore New Hampshire and Vermont before going there.  Along the way we visited truck camping friends, practiced dumping the cassette toilet, re-acclimated to European-style acrylic thermal pane windows, and remembered the non-slide "scoot-by-the-spouse" dance.  Scusi!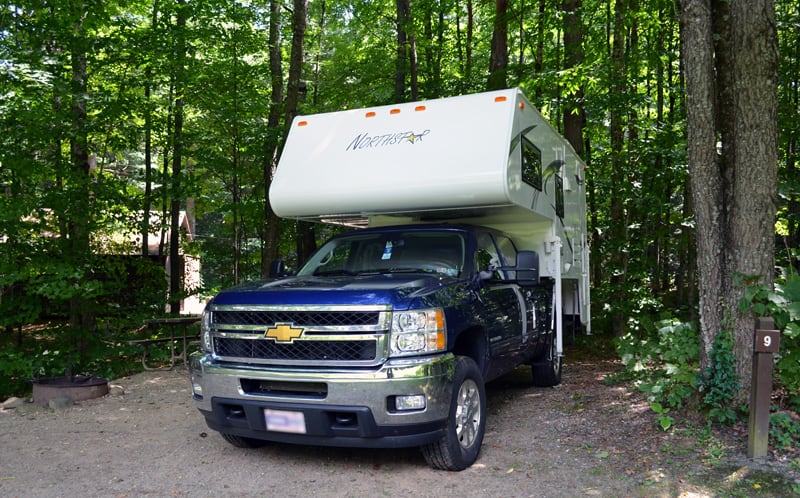 The whole time I couldn't stop with the bad slide-out jokes.  For example, I would say, "Did you remember to put the slide-out back in?" when we got into the truck.  Even worse, I would open the back door and make Angela wait as I pretended to put the non-existent slide-out out, complete with simulated "rar-rar-rar" slide-motor noises.  Now you start to realize what a pain in the you know what Angela's husband can be.  Personally, I think he's hysterical.
All of this was perfect fodder for a review of the Northstar 8.5 Arrow U, the very subject of this article.  So let's skip the small talk and dive into the minutia of this unit.  Along the way, I'll do my best not to make any more bad slide-out jokes.  I know how sensitive slide-out types can be.  Click here to contact Northstar with questions about this camper.
At 7'6", the width of Northstar hard side truck campers is a full six inches narrower than most hard-side truck campers on the market.  Furthermore, all Northstar hard side truck campers are non-basement models lowering the overall height of their campers by six inches compared to basement equipped competition.
By making their campers half-a-foot lower in height, and half-a-foot narrower in width, Northstar removes a considerable amount of weight and improves aerodynamics, something we really appreciate when driving our new Northstar rig down the road.
Based on all of the hard-side campers we've gone camping with, we believe Northstar campers offer the best drivability and ride quality.  As Angela said during that first week, "The truck handles like the camper isn't even there."
As a bonus, their lower and narrower shape allows Northstar Campers to fit into standard shipping containers making Northstar a preferred brand by world travelers and a top truck camper brand in Australia.  That's right, Northstar truck campers can go anywhere, even upside down in Oz.  Sure hope we can do that some day.
We also want to convey how nice and tight the Northstar 8.5 Arrow U fits our Chevy Silverado 3500.  While any properly designed short bed truck camper would technically "fit" our truck, the narrower width and overall design of the Northstar fits particularly well.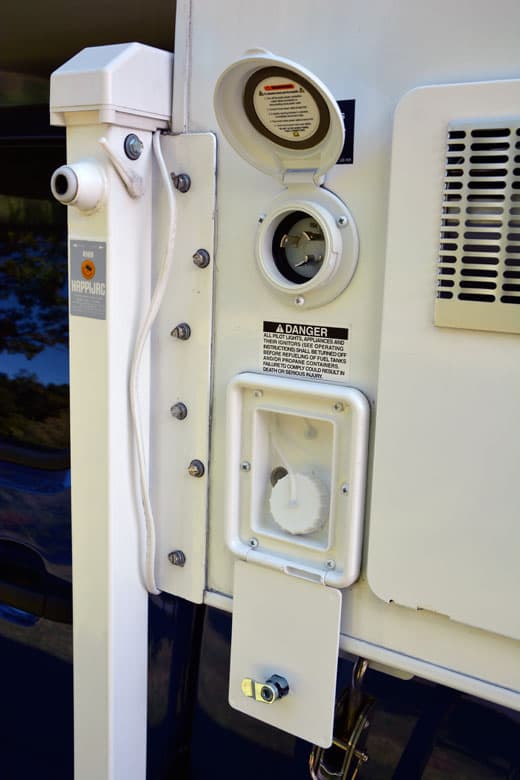 The driver's side of the Northstar 8.5 Arrow U features all of the necessary campground connections; the 30 gallon fresh water fill, city water connection, detachable 30-amp electric connection, and the grey water dump facilities.  The lockable dump hose compartment is also accessible from the driver's side.
It seems logical to have these amenities on one side, but far too often we see campground and dump connections spread out on both sides and rear of a camper.  Having them all on one side and easy to access is excellent.  Having them all on the driver's side leaving the passenger's side for setting up a few lawn chairs, a campfire, and an adult beverage or two is even better.  Design decisions like this clearly show that someone at Northstar understands truck camping.  Love it.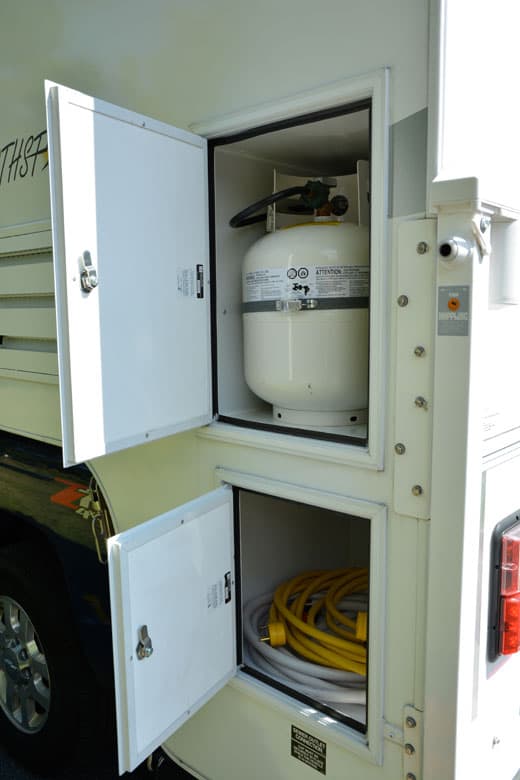 The rear driver's side has a compartment for two twenty-pound propane tanks.  The tanks are held in place with two metal straps.  Initially, it can be tricky to get the metal strap buckle lined up, but that's something you learn quickly.
If you're in cold weather, gloves would be a good idea for the metal straps.  Gloves would also make handling cold propane tanks more comfortable.  Speaking from experience, cold and heavy propane tanks are no fun.
Overall, we like this strong and lightweight (no roll-out metal tray necessary) solution for securing propane containers.  Like much of Northstar Camper design, it's a smart balance of form and function.