Truck Camper Magazine reviews the Northstar 8.5 Arrow U, a hard-side, non-slide, wet bath, short bed truck camper.  Warning: Slide-out camper jokes ahead.

Taking delivery of the Northstar 8.5 Arrow U at Truck Camper Warehouse this past August marked our return to non-slide hard-side truck campers.  Yes, we were somewhat seduced by the floor space making slide-outs in our previous two truck campers, but going back to the simplicity, convenience, and practicality of a non-slide hard-side truck camper was like going home.
Speaking of home, we took about ten days to explore New Hampshire and Vermont before going there.  Along the way we visited truck camping friends, practiced dumping the cassette toilet, re-acclimated to European-style acrylic thermal pane windows, and remembered the non-slide "scoot-by-the-spouse" dance.  Scusi!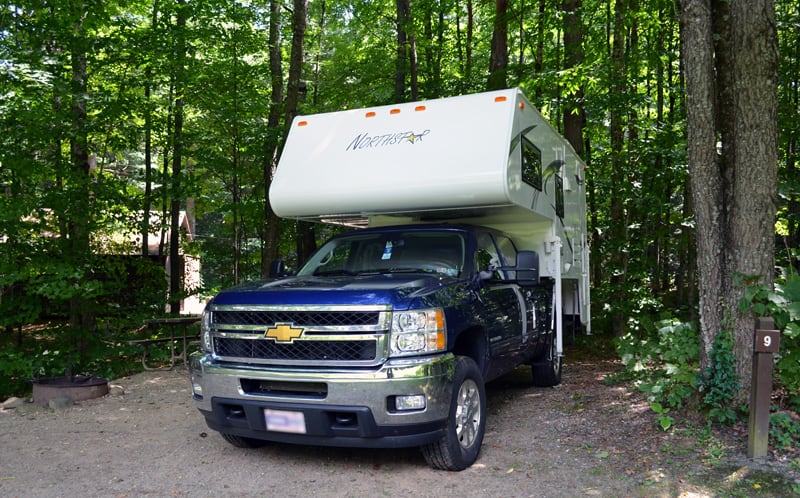 The whole time I couldn't stop with the bad slide-out jokes.  For example, I would say, "Did you remember to put the slide-out back in?" when we got into the truck.  Even worse, I would open the back door and make Angela wait as I pretended to put the non-existent slide-out out, complete with simulated "rar-rar-rar" slide-motor noises.  Now you start to realize what a pain in the you know what Angela's husband can be.  Personally, I think he's hysterical.
All of this was perfect fodder for a review of the Northstar 8.5 Arrow U, the very subject of this article.  So let's skip the small talk and dive into the minutia of this unit.  Along the way, I'll do my best not to make any more bad slide-out jokes.  I know how sensitive slide-out types can be.  Click here to contact Northstar with questions about this camper.
At 7'6", the width of Northstar hard side truck campers is a full six inches narrower than most hard-side truck campers on the market.  Furthermore, all Northstar hard side truck campers are non-basement models lowering the overall height of their campers by six inches compared to basement equipped competition.
By making their campers half-a-foot lower in height, and half-a-foot narrower in width, Northstar removes a considerable amount of weight and improves aerodynamics, something we really appreciate when driving our new Northstar rig down the road.
Based on all of the hard-side campers we've gone camping with, we believe Northstar campers offer the best drivability and ride quality.  As Angela said during that first week, "The truck handles like the camper isn't even there."
As a bonus, their lower and narrower shape allows Northstar Campers to fit into standard shipping containers making Northstar a preferred brand by world travelers and a top truck camper brand in Australia.  That's right, Northstar truck campers can go anywhere, even upside down in Oz.  Sure hope we can do that some day.
We also want to convey how nice and tight the Northstar 8.5 Arrow U fits our Chevy Silverado 3500.  While any properly designed short bed truck camper would technically "fit" our truck, the narrower width and overall design of the Northstar fits particularly well.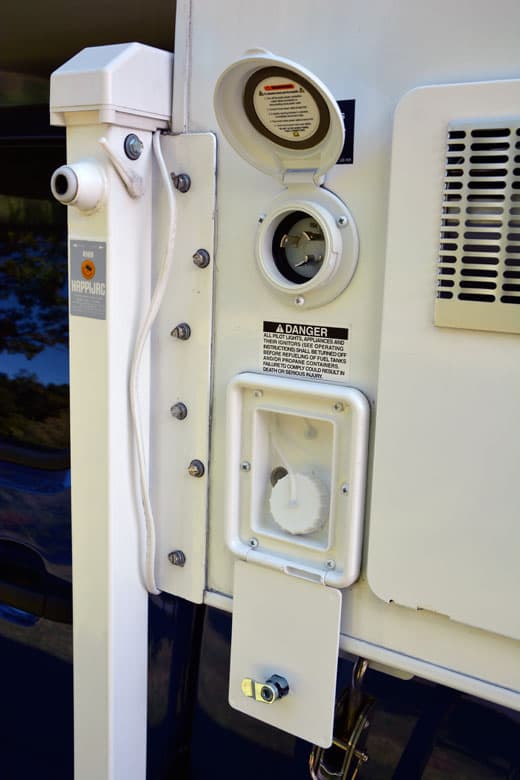 The driver's side of the Northstar 8.5 Arrow U features all of the necessary campground connections; the 30 gallon fresh water fill, city water connection, detachable 30-amp electric connection, and the grey water dump facilities.  The lockable dump hose compartment is also accessible from the driver's side.
It seems logical to have these amenities on one side, but far too often we see campground and dump connections spread out on both sides and rear of a camper.  Having them all on one side and easy to access is excellent.  Having them all on the driver's side leaving the passenger's side for setting up a few lawn chairs, a campfire, and an adult beverage or two is even better.  Design decisions like this clearly show that someone at Northstar understands truck camping.  Love it.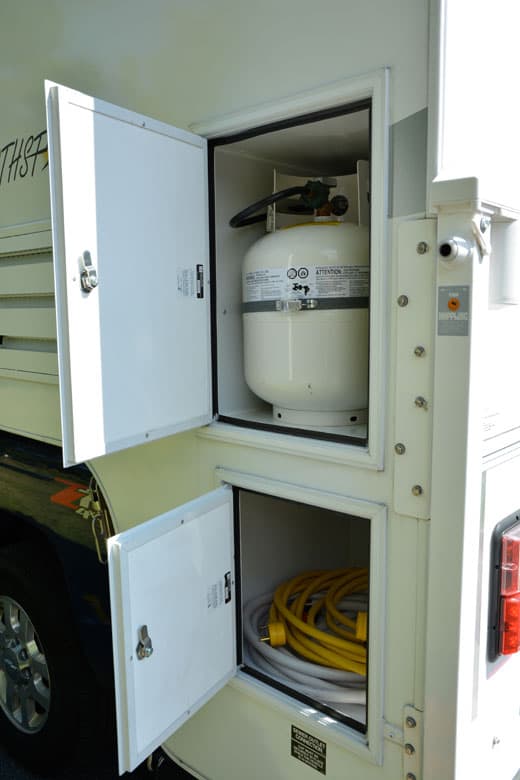 The rear driver's side has a compartment for two twenty-pound propane tanks.  The tanks are held in place with two metal straps.  Initially, it can be tricky to get the metal strap buckle lined up, but that's something you learn quickly.
If you're in cold weather, gloves would be a good idea for the metal straps.  Gloves would also make handling cold propane tanks more comfortable.  Speaking from experience, cold and heavy propane tanks are no fun.
Overall, we like this strong and lightweight (no roll-out metal tray necessary) solution for securing propane containers.  Like much of Northstar Camper design, it's a smart balance of form and function.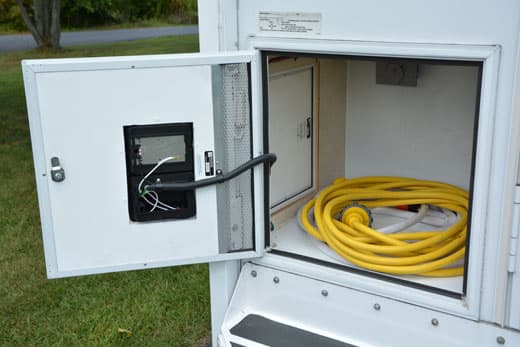 Immediately under the propane compartment is a portable generator compartment.  This compartment is designed to carry a Honda EU2000i or similar portable gas generator.  Again from experience, we also know the Honda EU2000i will run the optional Coleman Mach Polar Cub air conditioner on the Arrow U's roof.
As you can see, we don't currently have a portable generator on board.  We also didn't have a generator, built-in or portable, on our previous truck camper.  With all-LED lighting and a decent-sized solar panel, we have yet to need a generator or shore power unless we want to run air conditioning or the microwave.  Since we do our best to camp away from hot weather, and can live quite comfortably without a microwave, a generator is not a must for us.
That said, Honda EU2000i generators are extremely quiet, reliable, and efficient.  I wouldn't hesitate to purchase one if our needs changed, especially if we had a camper that featured a pre-wired and ready-to-go portable generator compartment like this.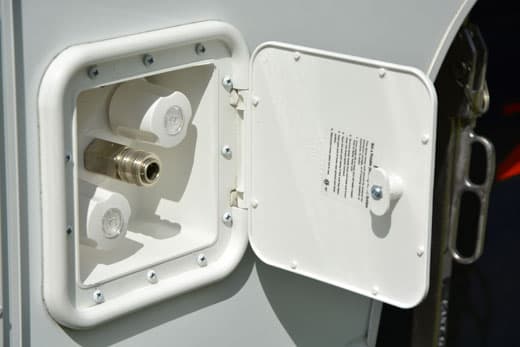 Traditional RV outside showers are a common point of failure as owners often forget to properly winterize them.  With Northstar's new hose connection and removable sprayer, you get the functionality of the outside shower while removing the potential for damage and an expensive repair.  We also like that the sprayer and hose could be used for additional purposes, like washing off the truck and camper, putting out a campfire, or nailing Uncle Bob in a water fight.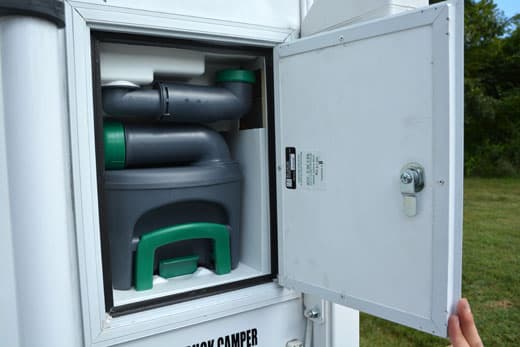 Northstar Campers is the only truck camper manufacturer who installs Thetford cassette toilets as standard equipment in all of their toilet-equipped hard side and pop-up truck campers, including our Northstar 8.5 Arrow U.
Thetford cassette toilets are built-in RV toilet systems that feature a removable 5.1 or 4.5 gallon portable black tanks.  The primary advantage of a Thetford cassette toilet system is the ability dump the removable cassette into any residential-style toilet, porta-potty, or pit toilet.
There are very few RV dump stations near our home in Lancaster, Pennsylvania.  This means we need usually to dump our holding tanks long before we get home and put our camper into storage.  While this has become routine for us, it remains an inconvenience and sometimes requires a change to our route or schedule.
With the cassette toilet equipped Northstar, we no longer worry about dumping our holding tanks before returning home.  We take the route and schedule we please, and then dump the cassette into a toilet at home.
To learn more about the cassette toilet system we recommend reading, "Ask The Expert: Thetford Cassette Toilet Systems".  We will also be following up with an article on our experience with the cassette toilet system down the road.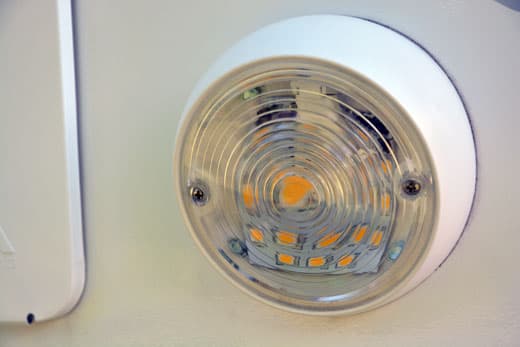 The driver's side, passenger's side, and rear of the Northstar feature identical exterior LED lights with switches conveniently built into the light fixtures.  The driver's and passenger's side LED lights are mounted low for easy access once the camper is loaded.  The rear LED light is mounted high and close to the rear door for use when entering or exiting the unit.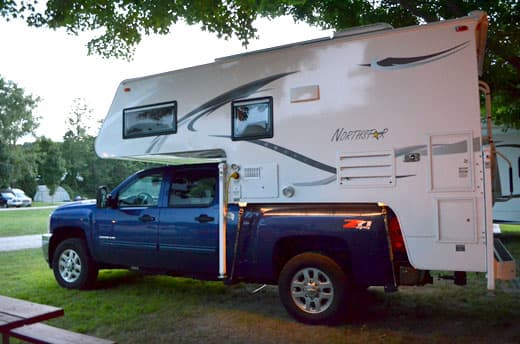 The LED strip lighting under the camper wings may as well be pulsing disco balls for all the excited attention and comments they've generated at rallies and campgrounds.  Despite the comedy, we enjoy the light the LED strip lights give to otherwise dark campsites.  And there's certainly no mistaking which camper is ours once they're on.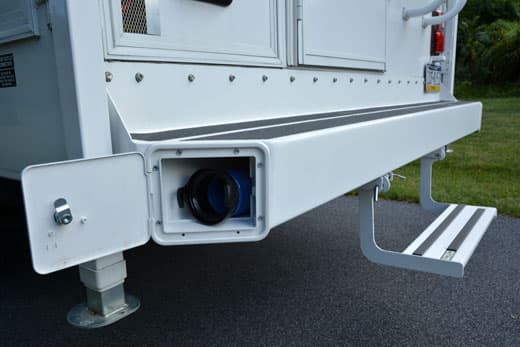 Northstar's aluminum bumper and Torklift International GlowStep flip-down step system is really fantastic.  When traveling, the GlowStep securely locks into position preventing the steps from moving during transport.  Upon arrival, the step is released by pulling a spring loaded latch on the inside left of the step hinge.  Entry into the camper is further aided by a large swing-out assist handle.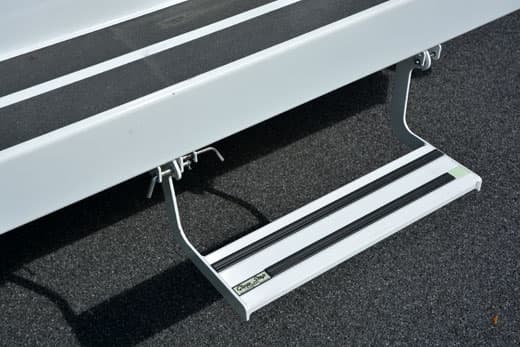 Our only gripe about the new bumper is that the flip-down GlowStep rubs on the non-slip surface of the bumper top leaving a mark.  We also recently heard, from an otherwise very happy GlowStep owner, that the Torklift International logo sticker should also glow creating glow elements on both sides of the step.  We agree, but clearly these are minor nit-picks to an otherwise solid and comfortable to use bumper and step system.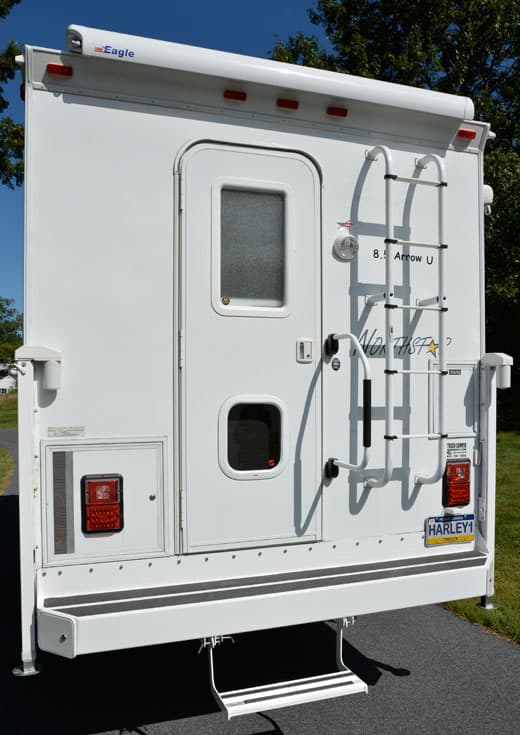 The passenger's side and rear of the camper feature large manual awnings.  We tried out the awnings on the Northstar with great success at a recent truck camper gathering.  Perhaps this will be the year we take more advantage of the outside shade and shelter awnings provide.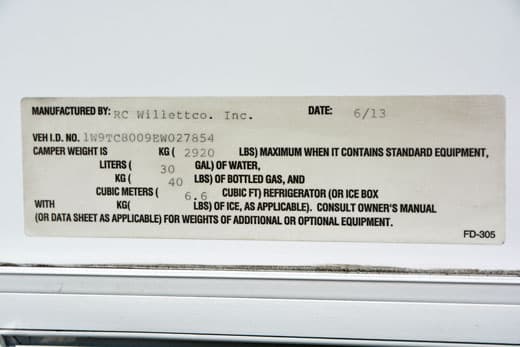 Northstar is to be commended for weighing every truck camper that comes off the line and posting that weight on the units.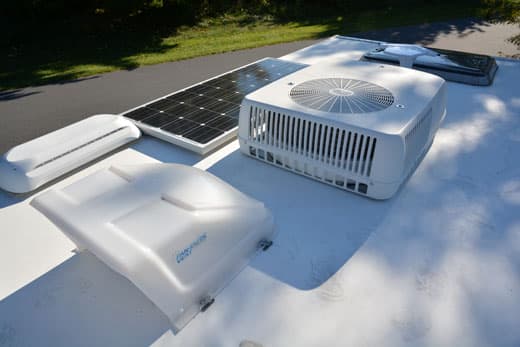 On the Northstar 8.5 Arrow U roof we found a covered Fantastic Vent, 140 watt solar panel, Coleman Mach air conditioner, Jack digital HDTV antenna, and a large Heki skylight.
This is the first time we've had a vent covered Fantastic Vent and we've already come to appreciate the peace of mind the vent cover gives us.  No longer do we need to worry about a possible rain shower if we go on a hike or to enjoy a "Dark and Stormy" fireside chat with the North-East Jamboree trouble makers (they know who they are).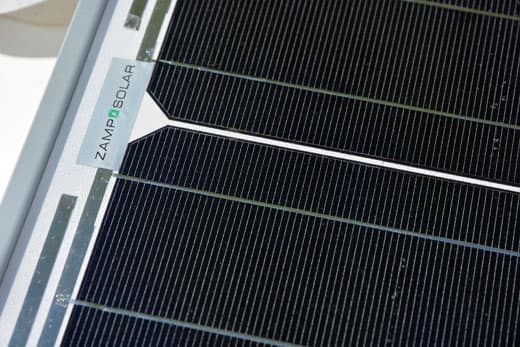 The optional 140-watt solar panel, standard all-LED lighting, and standard single Group 27 battery should give us all the power we need.  If we owned this camper we would likely look for an opportunity to add an additional battery for those inevitable cold boondock nights when we need to crank the propane furnace.  Torklift International's HiddenPower under-bed auxiliary battery mount would be on the short list of possibilities.
We love that Jack digital HDTV antennas do not need to be raised and lowered.  Have we left a crank-up television antenna or two raised while driving?  You bet.  When leaving a dealership in 2007, we got a phone call on our cell phone that went something like, "Is this Truck Camper Magazine, the authority on all things truck campers?  Well, you're driving down the road with your camper antenna up!"
We have found Jack digital HDTV antennas to work well and pick up free HDTV channels when they are available.  In a recent trip to southwest Colorado, we picked up over 100 free digital channels on a Jack digital HDTV antenna.  99.9% of the shows were terrible, but at least they were clear.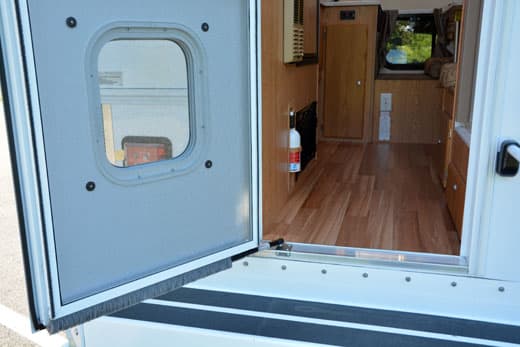 For 2014, Northstar has added gas struts to hold open the rear entry door.  Under the door is what Angela calls a "mustache" that keeps the bugs out when the screen door is used.
Also note how the lower rear door window lines up with the front wall window allowing the driver to see straight through the camper.  In our experience, this natural line of sight makes driving more comfortable as the driver can see vehicles and/or headlights behind the rig.  The ability to have these windows line up unimpeded is a significant advantage of non-slide truck campers.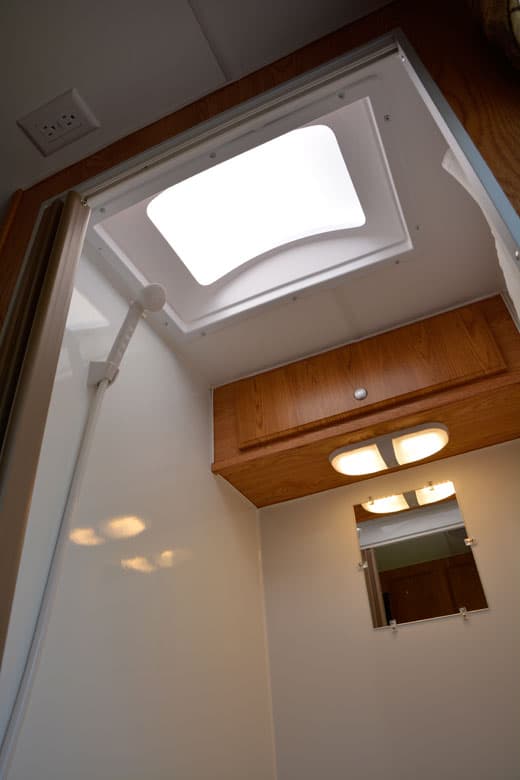 Just inside the passenger's side of the 2014 Northstar 8.5 Arrow U is a wet bath featuring the previously mentioned Thetford cassette toilet system, shower facilities, LED light, storage compartment, mirror, towel rack, skylight, and accordion-style soft door.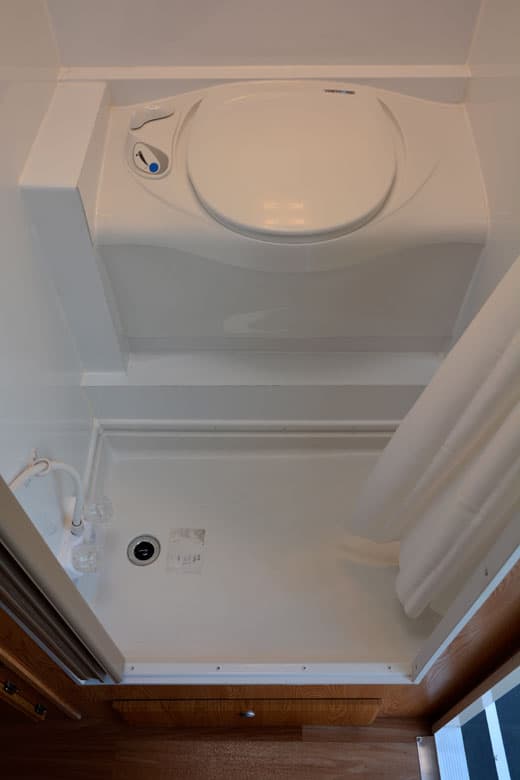 The Thetford cassette toilet system is built into the passenger side wall.  At 6'3", I have plenty of leg room when sitting on the toilet, but can't quite reach the floor with my feet (my apologies if this is too much information).  Most of us haven't had this problem since about age six (my apologies to the height challenged).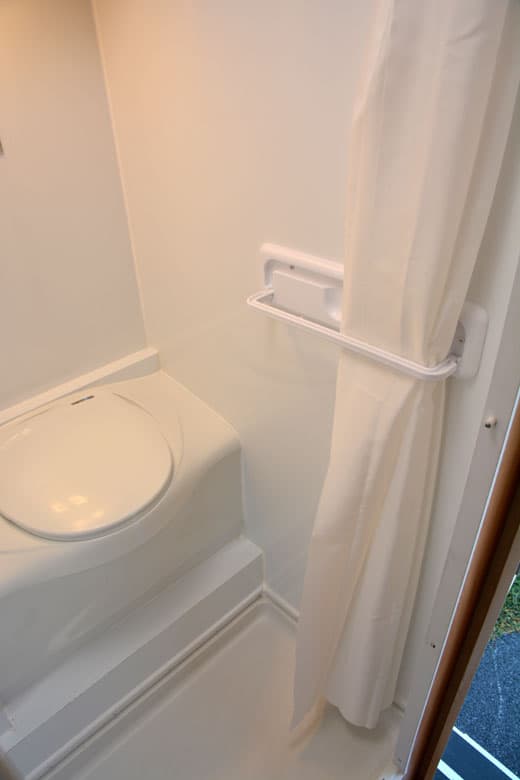 The feet dangling is remedied by one of two solutions.  First, Northstar supplies a sturdy  inset that brings the bathroom floor up about two inches but needs to be removed before showering.  Second, and our favored solution, you can put your feet on the two-inch lip under the installed cassette system.  This works quite well and prevents those awkward childhood flashback urges to cook cupcakes with an Easy Bake Oven.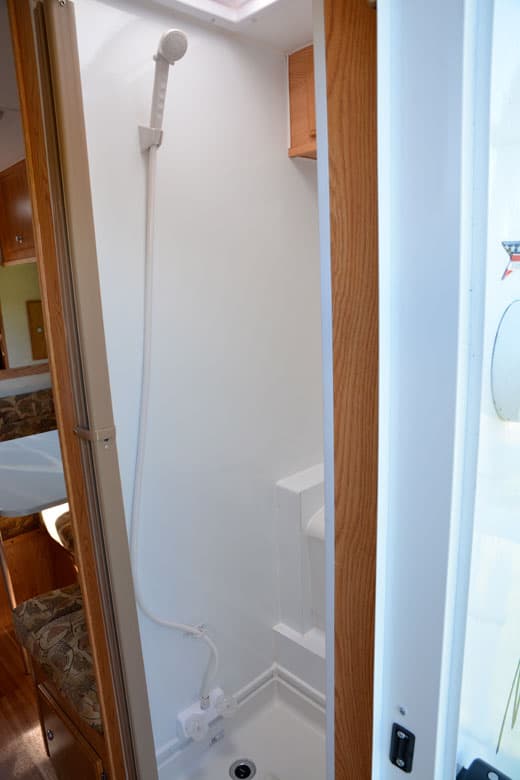 The shower controls are located near the floor of the wet bath requiring a shower taker to squat while turning on the separate hot and cold faucets and adjusting for temperature.  Before this camper even left Iowa, Northstar informed us they are working on plumbing solutions to move the faucets to a higher position for future versions of the 8.5 Arrow U.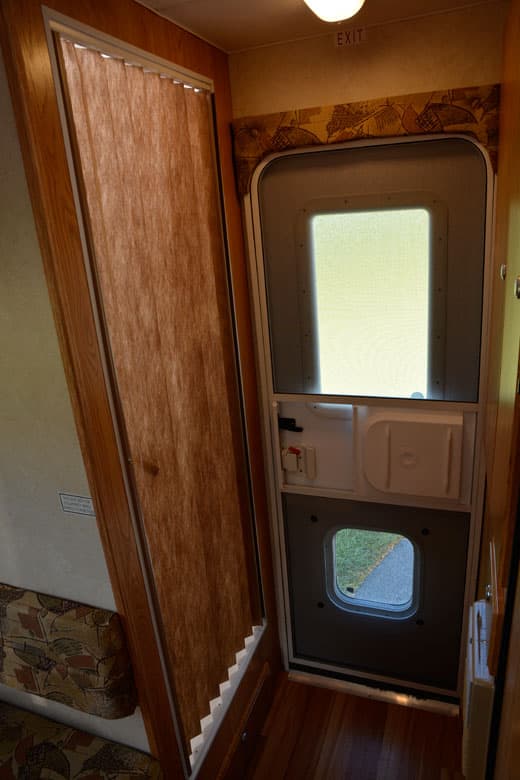 The accordion-style bathroom soft door gives the bathroom occupant visual privacy.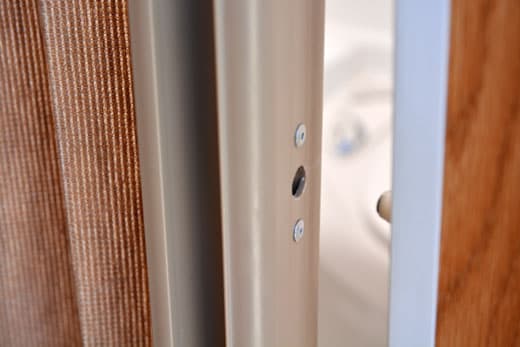 A plastic nub on the door sill clicks into a receiver hole on the soft door to close the bathroom door.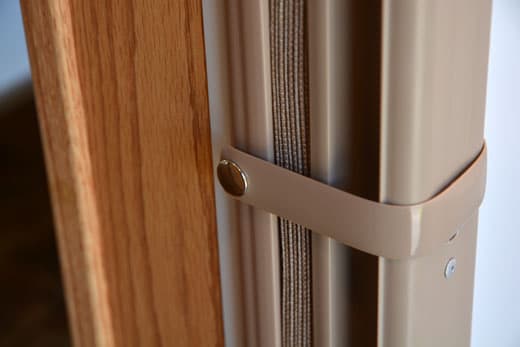 When open, the soft door is held in place with a plastic strap that closes with metal snaps.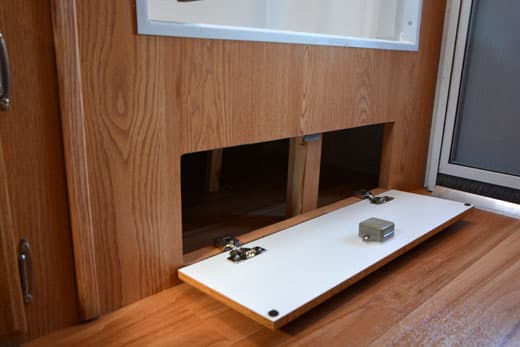 Under the bathroom door is a small storage nook.
Having used this wet bath on multiple camping excursions, I have three nit-picks on this area of the camper.  First, I look forward to the moved faucets as I am not that limber.  Second, I would like a noisy fan inside the bathroom to improve (a-hem) air circulation and (a-hem) sound privacy.  A side-mounted small circular fan would be perfect.  And three, the small bathroom mirror should be removed (it's too small and awkwardly positioned for comfortable use) in preference to a larger mirror mounted inside the rear cabinet door (see below).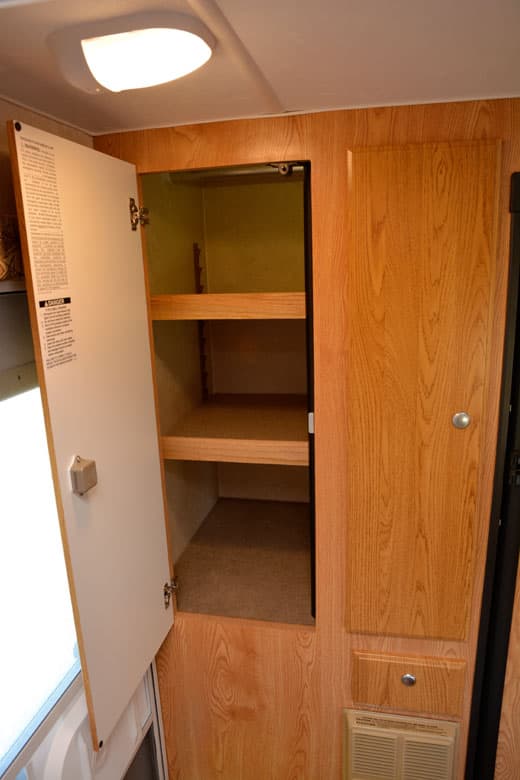 Facing the wet bath on the driver's side of the truck camper is a large cabinet with adjustable shelves.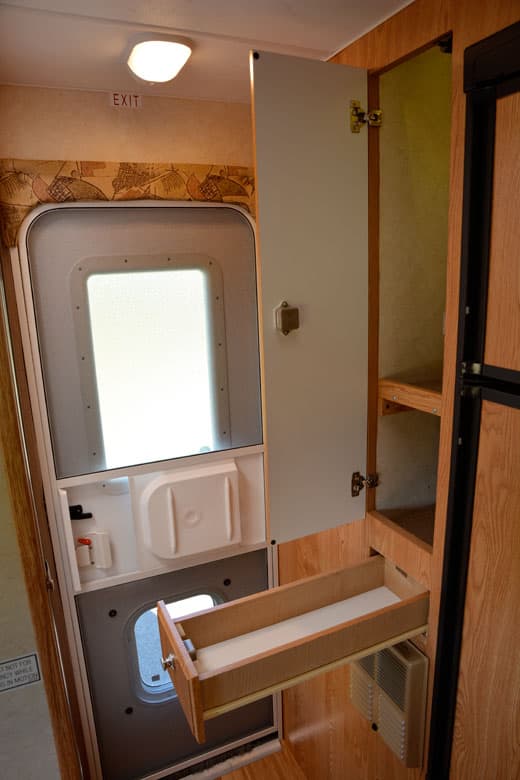 In front of the rear cabinet is another large cabinet with a shelf and hanging closet.  Under this cabinet is a deep drawer, propane heater, and fire extinguisher.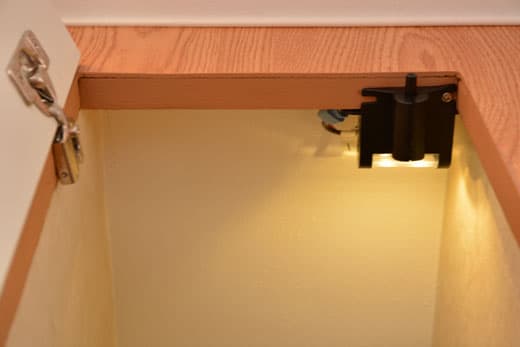 Beyond admiring the excellent storage these compartments provide, we also really like the automatic lights that turn on when these compartments are opened.  Just make sure you properly close the compartments as the lights will otherwise stay on.  This is as easy as listening for the proper latch snap when closing the compartments.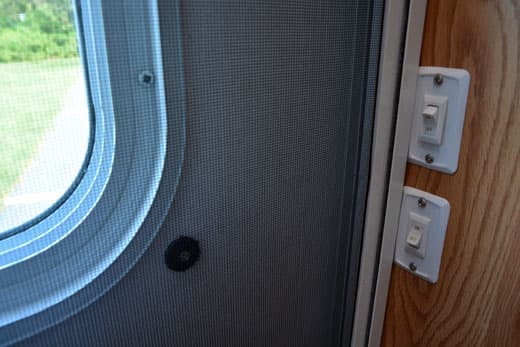 Inside the entry door are switches to turn on the outside LED strip lighting and the inside LED light immediately above the door.  While the outside LED lights are as much for fun as they are functional, having a light switch in this location for an inside light is truly excellent (for when coming back to a dark camper at night) and another feature missing on too many truck campers.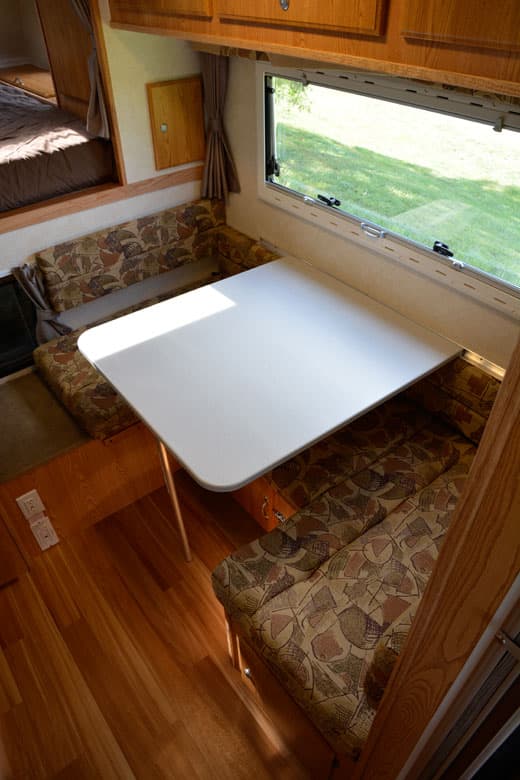 Since we use our truck campers for both work and play, we asked Northstar if we could have a larger table than what comes standard in the Northstar 8.5 Arrow U.  To accommodate our needs, Northstar installed a wall-mounted full-size table from their American Hero model.  This worked brilliantly giving us a large and sturdy table for our laptops and papers.
The downside to our requested customization is that the dinette ceases to be a U-shape dinette capable of seating people on all three sides.  Since Angela and I only travel with a cat, this isn't an issue for us and we absolutely love the additional room the larger table provides.  Thank you, Northstar.
As a non-basement camper, the dinette floor does not continue to the wall (the truck wheel wells prevent this on non-basement designs).  Naturally, you can stretch one or both legs over the side-bench area (the bottom of the U-shape), something we do regularly to enjoy a little more room.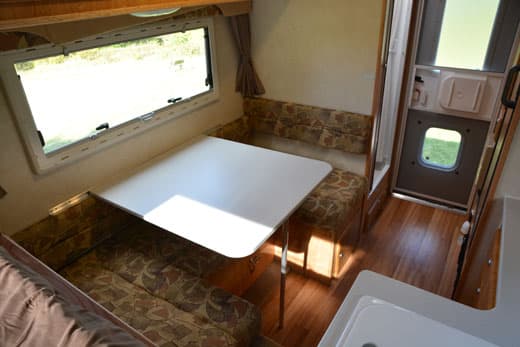 The dinette has an absolutely huge European-style acrylic thermal pane window offering a generous view of whatever happens to be outside.  The dinette also features a small storage compartment just behind the front wall.  This is a great cubby for books, maps, and other things you commonly use when seated at the dinette.
Immediately above the dinette table is a large three-door storage cabinet.  The interior storage in the 2014 Northstar 8.5 Arrow U is phenomenal.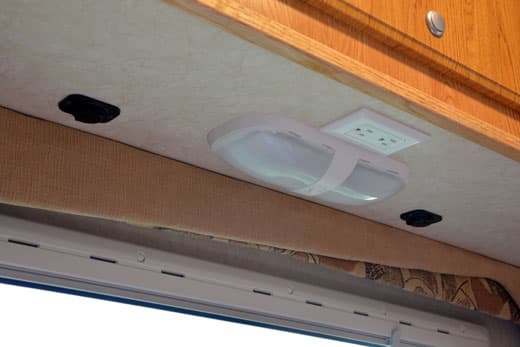 The underside of this storage cabinet features two 12-volt outlets, one 120-volt outlet, and an LED light.  Having two 12-volt outlets and a 120-volt outlet in the dinette is a dream come true for us as heavy laptop and technology users.
Far too many truck campers skimp on outlets, 12-volt or otherwise, and/or place their outlets in inconvenient locations for day-to-day, real-world use.  Northstar understands that modern truck camper owners use portable technology including laptops, iPads, digital cameras, and cell phones.  We need to keep that technology charged up and ready to go as part of our truck camping lifestyle.  Once again, Northstar gets it and gives us what we need.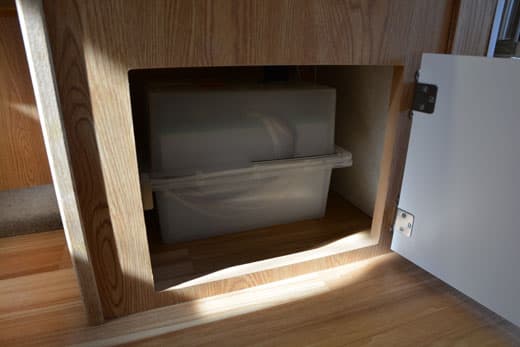 Under the rear dinette seat is where a single battery is housed in a battery box.  We were initially concerned about only having one battery, but the 140-watt solar panel system and all-LED lighting have made one battery work well for us so far.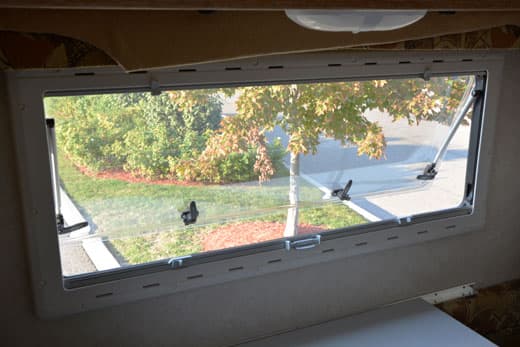 Over the years we have experienced all kinds of RV windows; single pane and dual thermal pane glass windows, crank out jalousie and slide-open windows, and push-out European-style acrylic thermal pane windows.  Although we really like the functionality of the crank out jalousie windows, our favorite RV window type is the European-style acrylic thermal pane windows featured on all Northstar hard-side truck campers.
Above: The European-style acrylic thermal pane windows feature latches that release with the push of a button.  In the left photo the latch is in the locked position.  In the center photo the latch has been released and opened.  In the third photo the window has been pushed out into a click-and-hold position.
The European-style acrylic thermal pane windows are easy to open, but can take some practice to get used to the click-and-hold mechanism that keeps them open.  When extending the windows out, you have to listen for the "clicks" that designate a point at which the window will hold itself open.  Once you get the hang of it, it's quite fun to open the windows and have them click-and-hold, as if by magic.
Left to right: Window no screen or shade, window with full screen, and window with full black out shade.
The built-in blackout shades are also a real plus for boondocking at Walmart and other preferably stealth urban situations.  With the blackout shades up, interior light from these windows is almost completely extinguished.  This is much better than the ridiculous towels over the window shades trick we swear we've never done at certain locations we will never admit to.  It wasn't us, honest.
The black out shades have also been great for our cat, Harley, who wakes up at the hint of the crack of dawn.  With the black out shades drawn, he sleeps like a teenager on a Sunday morning.  The blackout shades would also be a fantastic feature for anyone planning a summertime trip to Alaska.
Before going to sleep, we will often crack open an overcab window to its first click-and-hold position, pull down the bug screen until it connects with the blackout shade, and then pull the connected blackout shade and bug screen up to almost the top of the window.  This gives us just a little air, and just a little light, until morning.  Good night.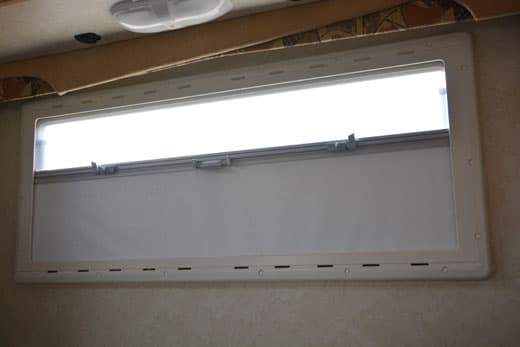 Above: You can combine the screen and black out shade in any position.
Most importantly, no other window system has impressed us with the ability to lock in the warmth and keep out the cold like the acrylic thermal pane windows.  There's no doubt in our minds that these windows are part of the secret sauce that make Northstar hard side truck campers the warmest we have ever camped in, period.
The only downsides to acrylic windows are their reported susceptibility to scratches and the fact that they cannot be closed without exposing the camper to bugs.  While we have not personally experienced scratched acrylic windows, science dictates that glass is a much harder surface than acrylic and would be less susceptible to scratches from tree limbs, etc.
The issue with bugs takes a little explanation.  Let's say you've opened your windows and closed the screens during the day and enjoyed a hike until the mosquitoes attacked.  Running back into your camper, you realize that you'll have to open the screens before you can close the windows, thus exposing the camper to invaders.
There are two solutions that we have developed.  The first is to open the screen and close the windows very quickly.  This takes maybe a second per window with practice.  The second solution, if it's not going to rain sideways or get too cold, is to lift the blackout shade all the way up and leave the window open for the evening.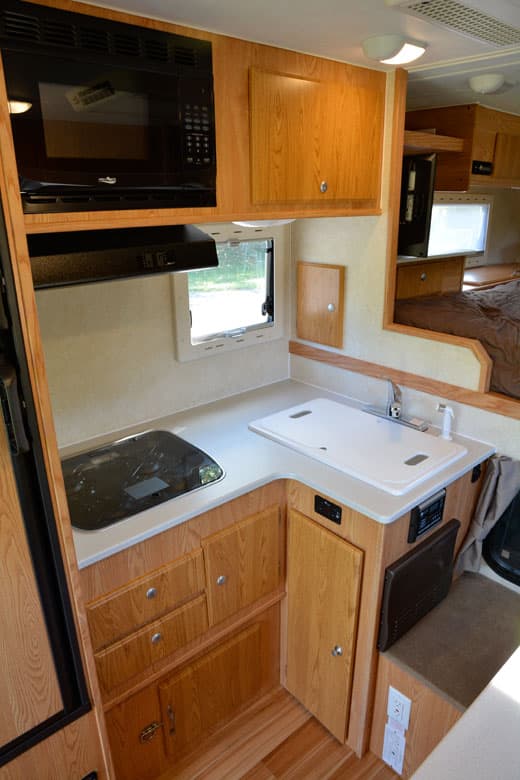 The L-shape kitchen in the Northstar features a good amount of storage and is nicely appointed with a large double sink, water sprayer, two inset cutting boards, a European-style flush-mount, glass-top, three-burner, propane cooktop, range hood with light and fan, and a microwave.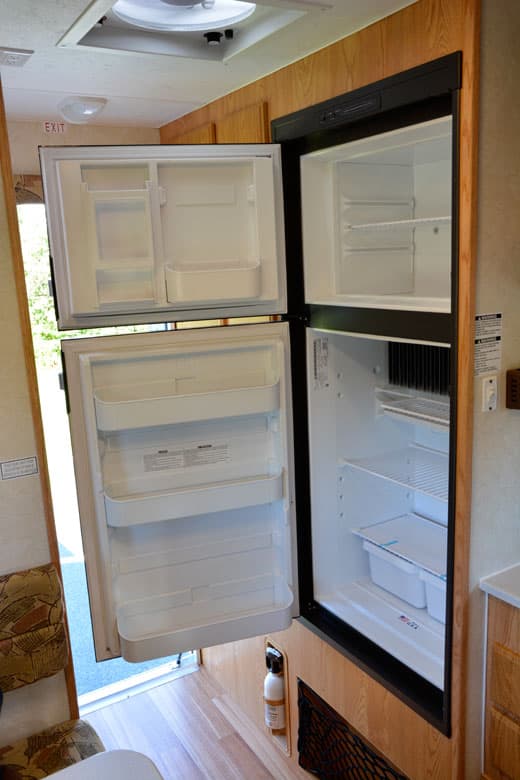 The 2014 Northstar 8.5 Arrow U also features a six-cubic foot two-way refrigerator.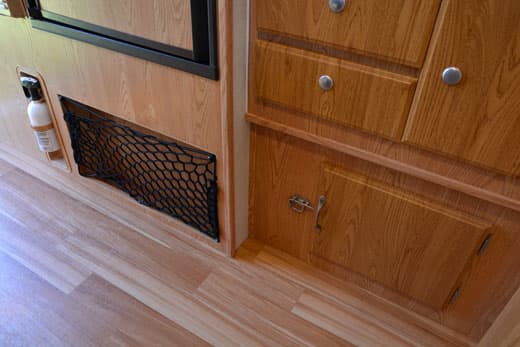 The Northstar is absolutely full of storage opportunities like this netting under the refrigerator.  We put our extra shoes here.
While some will miss a traditional propane oven, many truck camper owners never use their ovens and will prefer the storage offered by two deep drawers and a storage compartment under the flush-mount propane cooktop.  We also appreciate the counter space and modern aesthetic provided by the flush-mount cooktop when it's closed.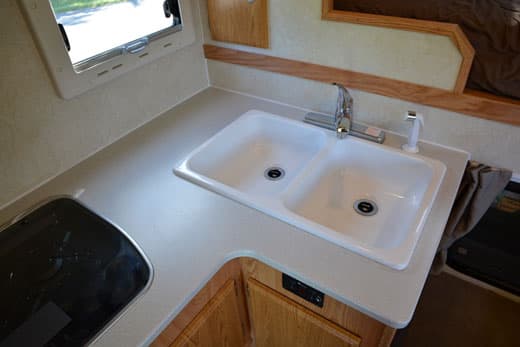 The double sink is exactly what our readership asked for in our 2012 Truck Camper Survey; a porcelain double sink.  The sprayer is a nice touch, but not one we are likely to use.  We would also prefer a taller kitchen faucet, but the one here is perfectly functional making this another nit-pick.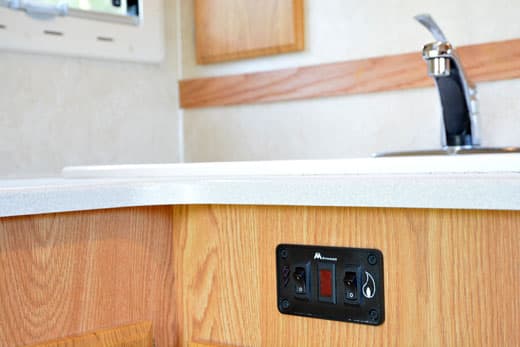 Under the kitchen counter are the switches for the water pump and propane water heater.  It's a bit odd that the water pump switch is marked as an electric water heater, but we figured this out quickly.  We do appreciate the central location of the water pump and heater switches.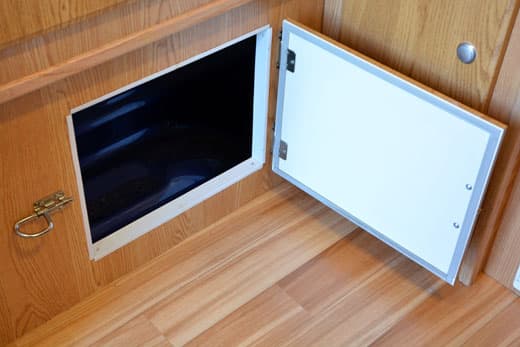 The 2014 Northstar 8.5 Arrow U features wheel well storage doors.  These wheel-well doors (there is a matching wheel-well door on the passenger's side) actually accesses the truck bed allowing for storage around the wheel wells of the truck.  If you look carefully at the photo above, you'll see the blue color of our 2013 Chevy Silverado 3500 truck bed.
In the past we have used wheel-well doors and the wheel well storage space they provide for shoes on one side, and gallons of drinking water on the other.  If you've never seen this kind of access door before, it's because you've never had a non-basement camper.  Basement campers prohibit access to the wheel well areas.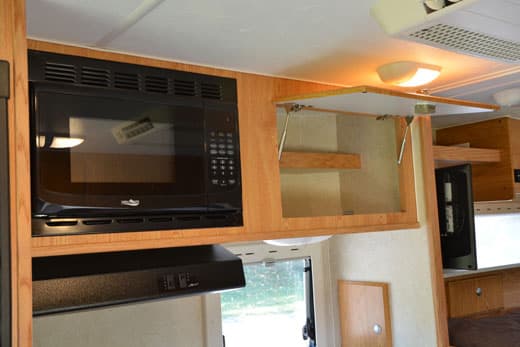 Above the kitchen counter is the optional microwave and a large storage cabinet.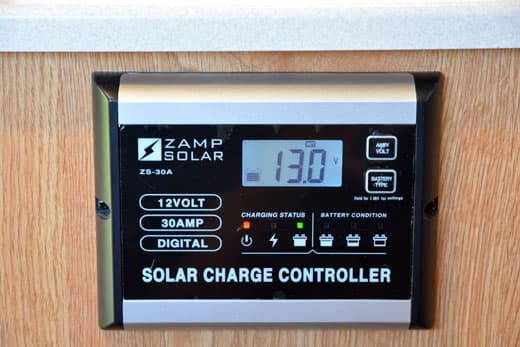 Our Arrow U features an optional ZAMP solar charge controller which features a regulator to prevent battery overcharge and displays operational status and battery voltage.  Under the ZAMP solar charge controller is the camper fuse box.
Once again, storage is well thought out and in good supply in the Northstar 8.5 Arrow U cabover.  The driver's and passenger's sides have an upper cabinet and a lower hamper, both make perfect locations for clothing and other necessities.
The passenger's side also has a large closet while the driver's side has a high shelf, a night stand, pull-out drawer, and HDTV television on swing out arm.  Angela loves the night stand area for her iPad.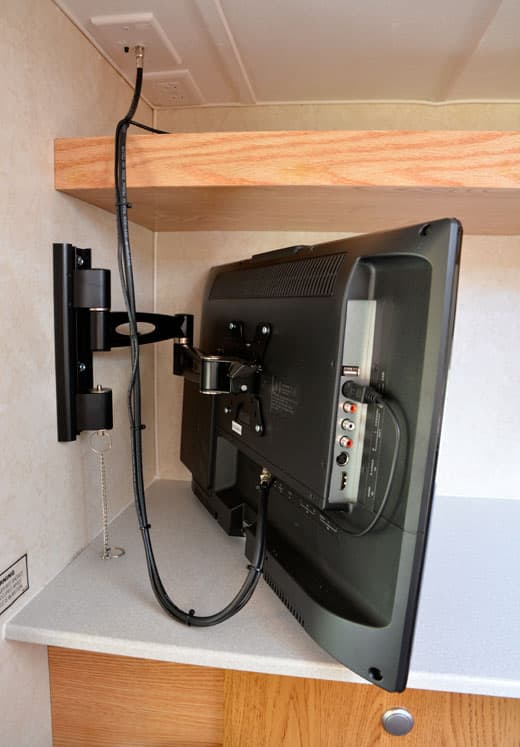 I really like the way the location and swing out arm holding the HDTV television.  The related cords and wires are also dressed well for a neat install.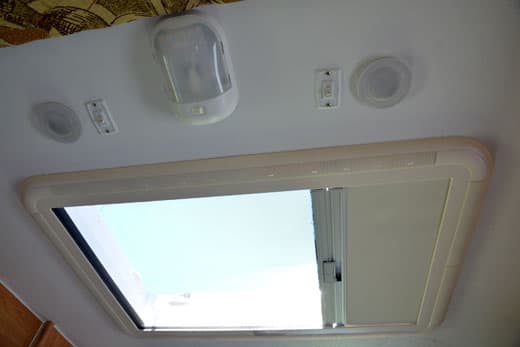 The Heki skylight in the Northstar 8.5 Arrow U is significantly larger than the Heki skylights you see in most truck campers.  Together with the large windows on either side, the North-South queen-sized bed, and the light-color cabinetry, the big Heki makes the cabover feel open and bright.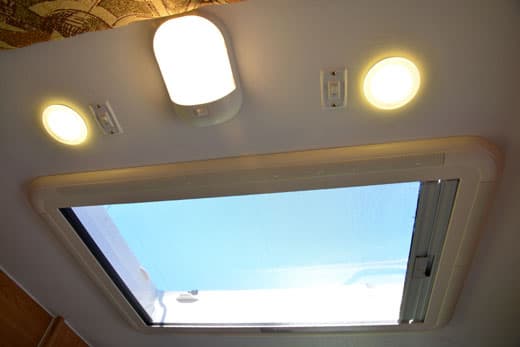 The interior LED lighting is nice and bright in the Northstar 8.5 Arrow U.  The color of the LED lights is close to daylight white, not yellow like a standard incandescent light.
We love LED lights, but some of the lights in the Northstar are almost too bright.  If this were our long term truck camper, we would swap out a few of the LED lights in the unit for LED lights with lower lumens (light output).
Speaking of comfortable interior LED lights, why not put the same LED strip lights on the outside of the camper on the inside for some low-power night time interior lighting?  We have seen quite a few truck camper owners put this type of LED strip lighting inside of their campers to great effect.  Changing the LEDs or adding LED strip lights should be an easy owner modification for those knowledgeable and comfortable working with electricity and 12-volt systems.
The Case of the Missing Monitor
One item that's curiously missing in the 2014 Northstar 8.5 Arrow U is a systems monitor.  There is no systems monitor for checking levels of fresh water or grey water.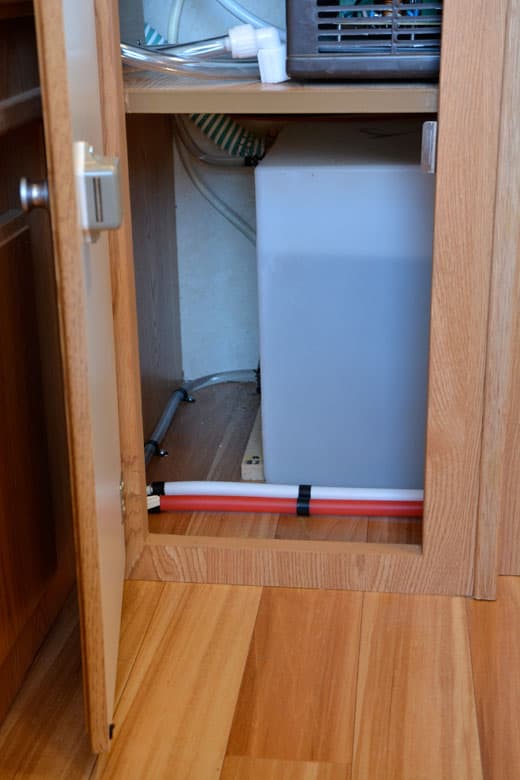 Fresh water is easy to monitor by looking under the sink where the translucent fresh water holding tank is clearly visible.  By checking the water line in the fresh water tank, you can see approximately how much water you have.
The grey water tank is a bit more tricky.  If you are able to dump the grey water tank and fill the fresh water tank at the same time, you can gauge how much water is in the grey tank by how much has left the fresh tank.  Since the fresh tank in the 2014 Northstar 8.5 Arrow U is 30 gallons, and the grey tank is 19 gallons, you will need to dump the grey tank when you've used almost three-quarters of the fresh tank.
If you don't dump the grey water and fill the fresh water at the same time, you will need to become in-tune with your usage to know when to dump grey water.  I know that sounds a little out-there, but you will get in-tune with your truck camper systems (including battery and holding tank levels) after living with them for a while.  Experienced truck campers owners know what I mean.  It's a Zen thing.
The Thetford cassette toilet system features a LED warning light signaling when the portable cassette is almost full.  This is the equivalent of a black tank monitor in a typical RV.  And yes, you will become in-tune with your cassette toilet as well.
Wrap It Up
At the Gettysburg North-East Jamboree rally we were asked by readers to compare the 2014 Northstar 8.5 Arrow U to some of the campers we've previously had.  The truth is, we can't.  The design, material, construction, and feature philosophies of Northstar make comparisons to other brands like comparing a motorcycle to a car.  It's not apples to apples, or anything close.
The right question is, "Do you agree with Northstar's product philosophies?"  Do you want the advantages of building 7'6" wide, non-slide and non-basement design, hung-wall and wood frame construction, cassette toilet systems, built-in pre-wired portable generator compartments, European-style acrylic thermal pane windows, and a myriad of above-mentioned details that make a Northstar hard side truck camper unique in the marketplace?
Folks don't typically seek out these attributes until they understand what they are, and why they are desirable.  I know I'm supposed to be wrapping this up, but allow me to make just one more example not explained in the above review; hung-wall and wood frame construction.
Here's Northstar's philosophy as to why they use wood frame and hung-wall construction; as a framing material, wood offers superior economy, superior strength-to-weight ratio, superior insulation quality, and superior ability to take and hold a screw.  Hung-wall and wood framed constructed campers also don't outgas lamination adhesive and are much easier to repair than those that are laminated and/or framed with aluminum.  In these regards, nothing beats hung-wall and wood frame construction.
Understanding this particular Northstar philosophy, some folks who thought they wanted a laminated-wall and aluminum frame camper might consider the benefits of hung-wall and wood frame construction instead.  The same could be said if a consumer understood each of Northstar's product philosophies.
See what we're getting at here?  Once you understand Northstar, you understand why they're so successful.  If you agree with Northstar's design, material, construction, and feature philosophies, Northstar's truck campers, including the Northstar 8.5 Arrow U, make for a very compelling choice.  Based on Northstar's strong sales, both domestic and international, it's clear that many have come to this conclusion all over the world.
For more information, visit the Northstar Camper Buyers Guide or their website at northstarcampers.com.  Request a free Northstar brochure.
Check out our Northstar Arrow U adventures in Northstar to NASA, Disney's Fort Wilderness, and San Antonio Missions.