What happens when two dozen truck camping adults go to Lake Buena Vista, Florida, stay at Fort Wilderness Resort, and explore the theme parks at Disney World?  A moon shot.

Mike Tassinari (aka Mikeee) announced the Disney Jamboree in 2012, about a year and a half in advance.  Immediately upon hearing of Mike's plan, we all looked at each other and said, "Disney?  In 2014?  Seriously?"
This was somewhat akin to Kennedy announcing, "We choose to go to the moon" in 1962.  Like the moon, Mike's Disney vision seemed impossibly far away, both in time and distance.  And the very concept of truck camper gathering at Disney World was so far outside of the normal scope of truck camper rallies that it might as well been a rally on the moon.
Or am I just using the "moon" analogy to foreshadow something obscenely funny (and possibly just plain obscene) that will happen a few paragraphs from now?  I wouldn't do that, would I?
Choosing To Go
Back on Earth, the idea of going to Disney in 2014 was not something I was initially for.  First, the cost was considerable; fuel costs aside, Fort Wilderness campground and Disney park passes would cost about $267 a day, even with the group discount Mike had negotiated.
Second, I had been to Disney World when I was seven.  The idea of going back to Disney at the slightly less green banana age of forty-one struck me as ridiculous.  I couldn't fathom why a couple dozen of otherwise reasonable adults had already signed up to go to Disney World.  Isn't Disney World for kids?
This began an intense back and forth negotiation with Angela.  Angela was ready to drive to Florida right then and there if our truck camping friends were going.  The idea of revisiting Disney World intrigued her (she had also been to Disney World as a kid), but that's not why she wanted to go.  Angela saw an opportunity to be in Florida in January and hang out with fellow truck campers.  Even our cat Harley agreed with her on this point.
With the cat tipping the scale (another story all together), I was now out numbered.  The decision was finally made; we were going to the North East Truck Camping Jamboree in Disney World.  Our darn cat is always on Angela's side.
After reviewing the costs, we agreed to stay four days and then explore more southern parts of Florida.  As she loves to do, Angela started making plans and creating an itinerary.  Well Mike, what have you gotten us into this time?
The Disney Magic Arrives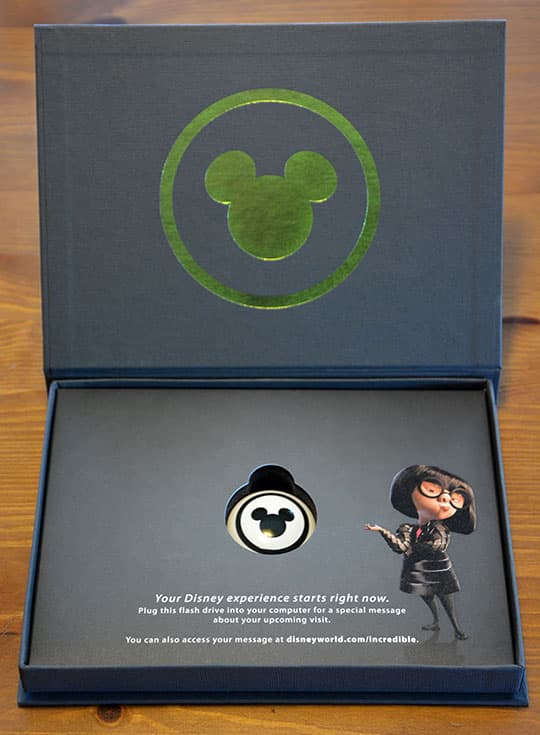 Above: The Disney Experience movie on a flash drive
In the months that followed, Disney sent us email confirmations, packets in the mail, and even a movie on a flash drive to help get us excited about going to Disney World.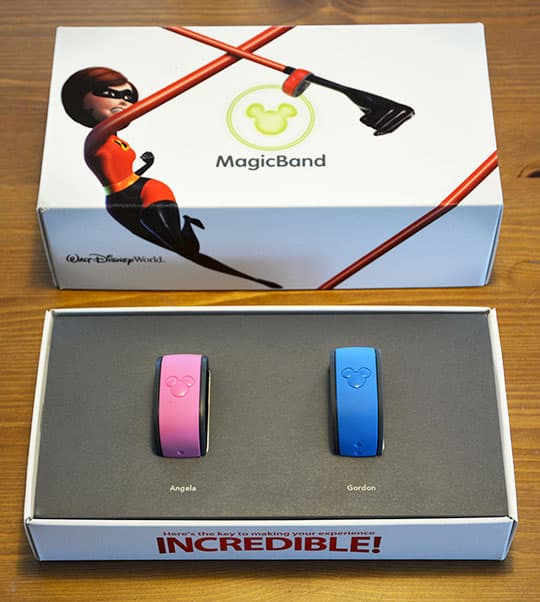 Above: The Magic Band Kit
I really didn't pay much attention to these deliveries until the Disney "Magic Band" kit arrived.  Inside a sturdy white presentation box featuring characters from Pixar's "Incredibles" were two wrist bands, one pink for Angela, and one blue for yours truly.  The box and the bands had our names printed in a presentation worthy of anything Apple has ever done.
These waterproof rubber Magic Bands were to be our all-in-one tickets and portable charge cards for everywhere we went and anything we bought in the parks.