TCM visits NASA's Kennedy Space Center in Cape Canaveral, Florida, camps at Jetty Park, and almost gets run over by three cruise ships.  Look out Potato Sack!

In our house, I'm the grump.  I'm the guy who almost always says, "No" to going on a trip, and generally has a negative attitude towards possible fun and adventure.  I know, it's kinda shocking, until you get to know my lovely wife, Angela.
Angela is exactly the opposite.  She's almost always positive, ready to go, and would probably jump out of a plane tomorrow if she had the chance, and a parachute.  She's the one who said, "While we're in Florida, let's go to Kennedy Space Center!"  I'm the one who replied, "Maybe.  What does it cost?" and, "Is it on the way?"  Like I said, I'm the grump.
So imagine Angela's delight when I had more fun at Kennedy Space Center than I've had in a long time.  Angela was right!  Kennedy Space Center is absolutely amazing, but I'm getting ahead of myself here.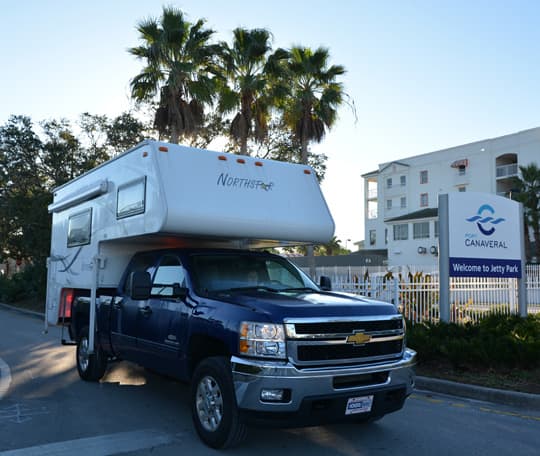 Above: Jetty Park Campground was the location of Operation Whisker Sneak
There's another story behind this story.  It starts with a certain animal, going to a certain campground, in what would certainly not be approved by said campground.  Get yourself to a secure location where no one can possibly see what you're reading.
Is the cone of silence down?  Okay, good.  Let's begin.
Operation Whisker Sneak
Some areas of Jetty Park do not allow pets.  After reading their literature and various signs around the park and campground, we weren't sure if that included the Inlet RV Camping area where we wanted to stay.
Lucky for us – Cough! – we don't have any – Ah hem! – pets.  Our Harley is more of a fur baby, a fuzz child, or a hair kid.  Heck, I don't know what he is, but he's certainly not a "pet".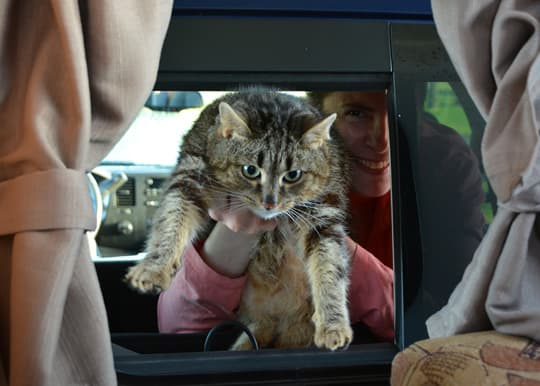 Above: Using the sliding and pass-through windows of the Northstar Arrow U during Operation Whisker Sneak
Naturally this situation called for the utmost discretion.  To transport the package (code name Potato Sack) from truck to camper, we utilized the electric rear sliding window in our truck and the removable pass through window on the Northstar.  In a completely unrehearsed maneuver, we snuck Potato Sack from truck to camper in one fell swoop.
For the next 24 hours we went dark; no texting, email, or phone calls were permitted in or out of the camper.  The Northstar's black out window shades were pulled shut and only the range hood light was permitted.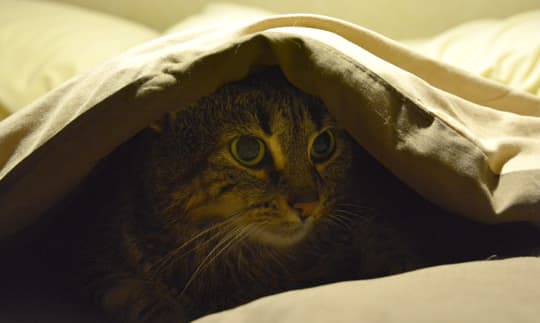 Above: Potato Sack keeping things on the QT
Potato Sack was instructed to keep his ears down, paws planted, and tail tucked.  For this to work, everything would have to go purr-fectly.
Ships That Pass In the Night