TCM explores San Antonio including The Alamo, River Walk, and the Spanish frontier missions.  We were also pumped and flushed to visit the world famous Toilet Seat Museum.

Generally speaking, Angela and I have learned to avoid major cities while truck camping.  Yes, truck campers are more maneuverable and smaller than just about any towable or motorhome alternative, but they're not cars and most public parking areas in major cities are designed for cars.  If you've ever tried to park a truck camper in a high-rise parking garage, you know what I mean (please don't).
That said, not all cities are a challenge with a truck camper.  Many mid-size and smaller cities and towns often have large parking lot areas perfect for truck camper rigs.  Some of these parking lots even have sites designated for RVs, not that we usually need them.
When we traveled to the Texas Truck Camper Rally this past April, we decided to make a side trip to San Antonio to visit The Alamo, River Walk, and San Antonio Missions National Historical Park.  The colonial missions date back to the 17th century and offer a fascinating opportunity to visit European architecture rarely seen north of the border or on this side of the Atlantic.
Truck camper friends, Jerry and Judy Funk, also told us about a Toilet Seat Museum in Alamo Heights, very close to the missions, and gave us a contact and phone number to call.  Evidently, the Toilet Seat Museum isn't open to just anyone, and you have to make reservations.  Time to make a phone call.
Ring.  Ring.  Ring.  "You have reached Barney and the Toilet Seat Museum.  Please leave a message."  Beep.
"Hello Barney!  My name is Gordon White and I'd like to visit your Toilet Seat Museum.  Please call us at… Thank you!"
I can't believe I just left that message.  This had better be good.
The Alamo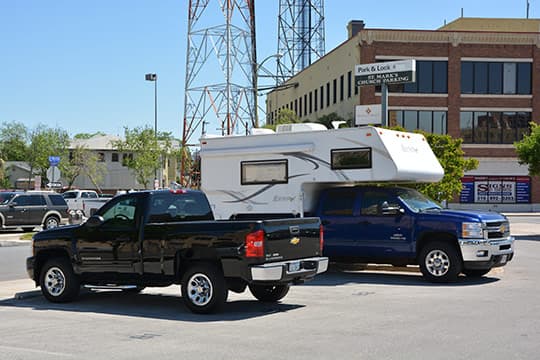 Above: Our 2014 Northstar 8.5 Arrow U rig parked in a San Antonio paid lot
Our original plan was to park our rig in a lot a few blocks from The Alamo and enjoy the day exploring The Alamo and nearby River Walk.  We found a paid lot a few blocks away, parked the rig, put our money in the meter, and started walking towards The Alamo.
On the way, neighborhood was just iffy enough to set off my admittedly suburban spidey-senses.  With our cat Harley in the camper, we tend to be a little more cautious about leaving our rig unattended.  Besides, there's no way to relax and enjoy what you're doing if you're worried about the rig and cat.
We came to this conclusion about two blocks from The Alamo, turned around, and drove the rig to Travelers World RV Resort campground a few miles away.  So much for my pitch on mid-size cities.  Time to adapt.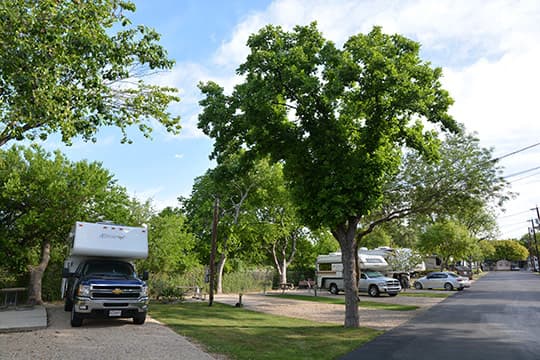 As it turned out, Travelers World RV Resort campground is also located in a relatively urban area, but felt much safer for the rig and our cat.  There were rows of Class A motorhomes and fifth wheels set-up for long term stays.  We even had a truck camper staying right next to us.  The grounds were lush with grass and trees, and the showers were clean.  Parked in site 15, this was exactly the San Antonio oasis we were hoping for.
Across the street from the campground, we were able to catch the 42 Roosevelt bus right back into town just a few blocks from The Alamo.  To The Alamo, take two.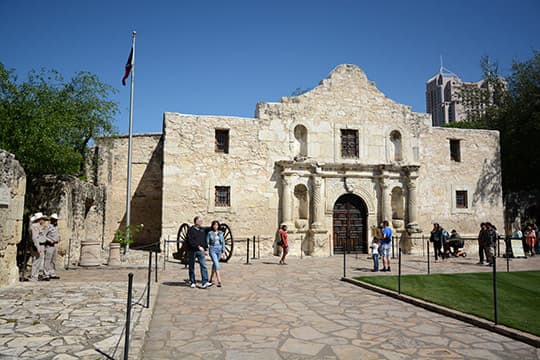 Most of us have seen The Alamo in pictures and movies throughout our lives.  The first time I remember being aware of the Alamo was when Pee Wee Herman went looking for his stolen bicycle in the Alamo's basement in Pee Wee's Big Adventure (1985).