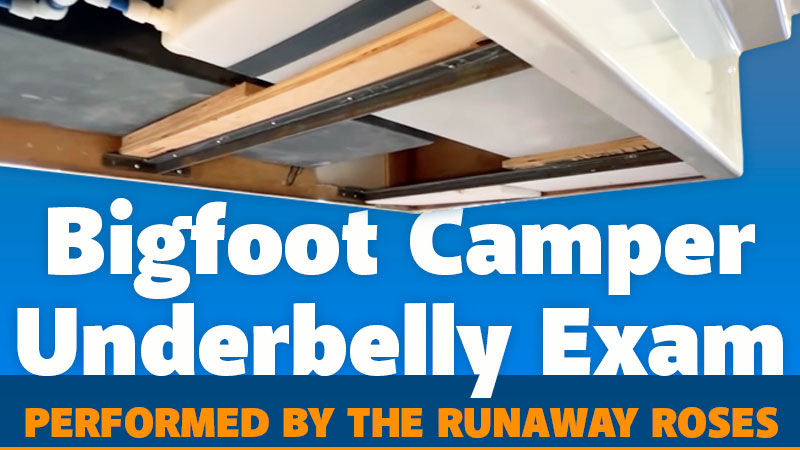 We have been to the Bigfoot factory in Armstrong, British Columbia three times, extensively reviewed their products, and interviewed more Bigfoot owners than we can remember, but we have never removed the fiberglass belly of a Bigfoot camper for an inspection.
In this video, the Runaway Roses remove the belly from their 2020 Bigfoot 10.4 for a thorough exam. They immediately discover the serious wood and metal supports that secure the holding tanks and the impeccable build quality that Bigfoot is known for. About halfway through the video, he breaks out the calipers and starts measuring thicknesses. Every shell and structural component he finds is beefy.
Some may be confused as to why Bigfoot would cut an access panel into the belly of their clamshell fiberglass truck campers. The reason is exactly what we see in this video; instant access to the holding tanks, tank sensors, and plumbing. If anyone has experienced an issue in their camper basement, you know how difficult it can be to access these vital systems and spaces. In often urgent situations, having relatively easy access provided by a removable belly panel is incredibly helpful. Nice work, Runaway Roses!
For more information about how Bigfoot truck campers are made, check out our Bigfoot factory tour. For more information about the 10.4, check our in-depth Bigfoot review. Click here to follow the Runaway Roses on YouTube.