Mark Hellwig, President of Hellwig Products, has become quite enamored with truck camping since we showed him how fun, free, and versatile the truck camping lifestyle can be during a truck camping trip in 2010.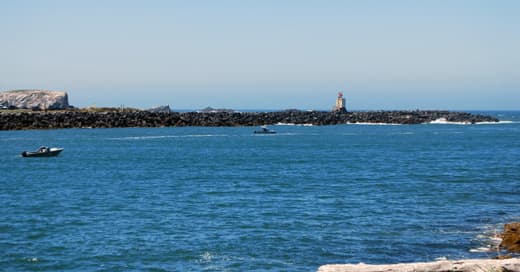 Above: A view of the Coquille River near Bullards Beach State Park
Since that time, Mark and his wife Rosemary have bought their own camper and enjoyed an increasing number of truck camping adventures.  Most recently, Mark and Rosemary joined their family and friends for an annual gathering at Bullards Beach State Park near Bandon, Oregon.  We talked to Mark about this truck camping adventure and asked for pointers about camping at Bullards Beach State Park.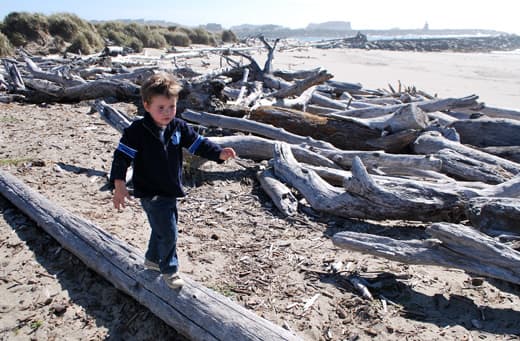 Above: Jensen enjoying the beach in Bandon, Oregon
TCM: How did this latest truck camping trip to Oregon come about?
Mark: My parents, and even their parents, were campers.  I grew up and was exposed to RVs of any kind, from tents to trailers.  It's natural for us to go camping.  My parents are still RVers.  They're camping in the Sierra, Nevadas right now.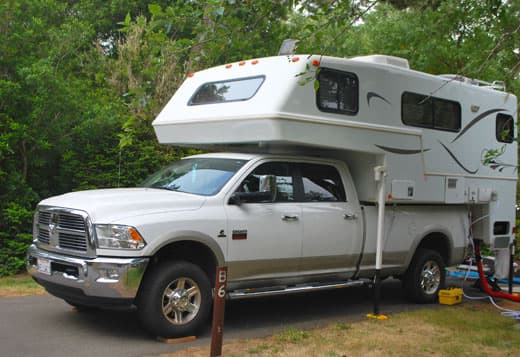 Above: Mark's truck camper rig
Our folks lured us into a trip to Bullards one sibling at a time.  It has turned into a small family reunion of twenty-five to thirty-five people.  We have had as many as forty people camping together.  This past year there were twenty-eight people.
We always have a great time, and enjoy the family and family friends that show up.   This past year we rented about a dozen campsites.  Our family is locked into the RV lifestyle.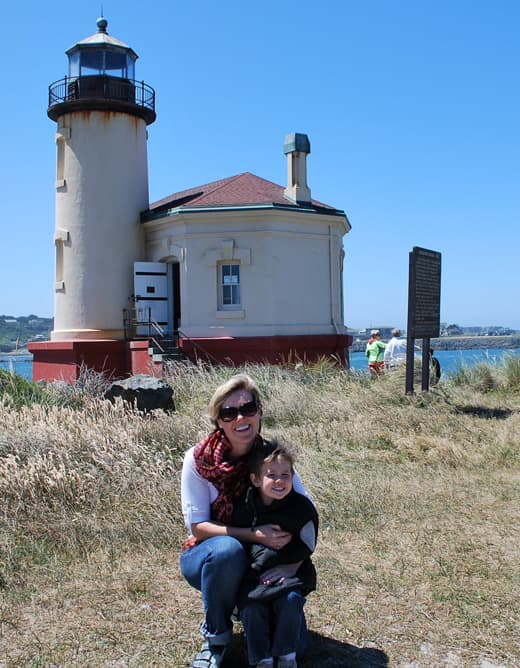 Above: Melanie and Jensen in front of the Coquille River Lighthouse
TCM: What is there to do in Bandon, Oregon?
Mark: There's a fantastic candy factory in Bandon called Cranberry Sweets and some nice eateries with seafood and local crab.  Bandon also has a lighthouse out on its point, which is a nice attraction.  You can throw a dollar in the kitty and get a tour.
For a nice bike ride, there's a beach about three miles from Bullards Beach State Park.  From the campground, you're about one and a half miles north of Bandon, so you can bike into town.
Bandon is also not too far from Coos Bay.  We go up there to do some of the crabbing out of Charlestown.  This past year, during low tide, some of the guys went out to Coos Bay and dug clams and brought them back to camp.
Primarily we go crabbing, mostly in the mornings.  We eat lunch on the boat and then come back after lunch at two to three in the afternoon.  We have large pots to boil the crab in, get the water boiling with Old Bay seasoning, throw in the crabs, and boil them up.
Everyone gathers for dinner and has a cold drink.  We cover the large picnic tables with newspaper, pile the crabs on the table and eat until we can't anymore.  Then, we'll roll up the newspaper and actually eat dinner.  There's no lack of eating indulgence in our camp.