Check out what Overland Explorer Vehicles, Four Wheel Campers, Alaskan Campers, Lance Campers, Scout Campers, Skinny Guy Campers, and Hellwig Products presented at the premier overland event of the year; Overland Expo West 2023. Truck campers were everywhere!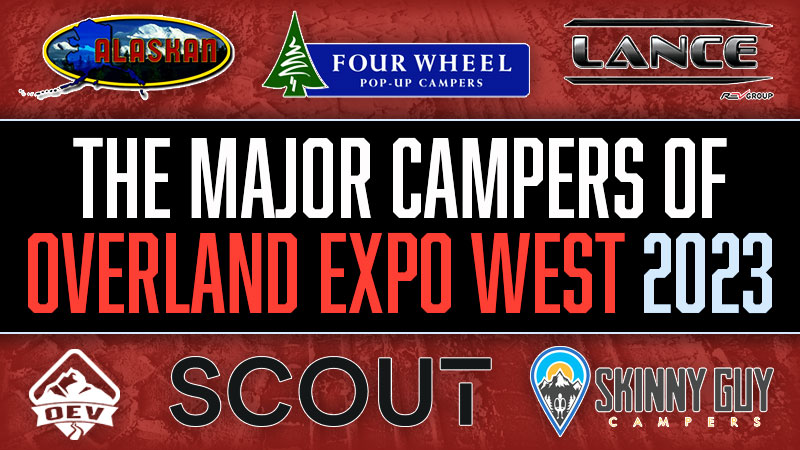 Ten years after we last attended Overland Expo West, we hardly recognized the event. Fort Tuthill Country Park was enormous; magnitudes bigger than 2013's Mormon Lake location. The manufacturer and vendor count was easily double or even triple what we experienced a decade ago, as were the camping areas and attendees.
As a result, much of the intimate feel of past Overland Expo West events was lost. In its place was more of everything, presented with a level of polish and sophistication that wouldn't be out of place at SEMA. Overland Expo West, as the saying goes, has grown up.
We arrived the Thursday before the show opened and, after a somewhat comedic series of misdirections, were escorted to a large wooded camping area. There amongst a myriad of extreme Jeeps, Toyotas, vans, tent trailers, and tents we parked our twenty-four-foot hard side non-slide truck camper rig.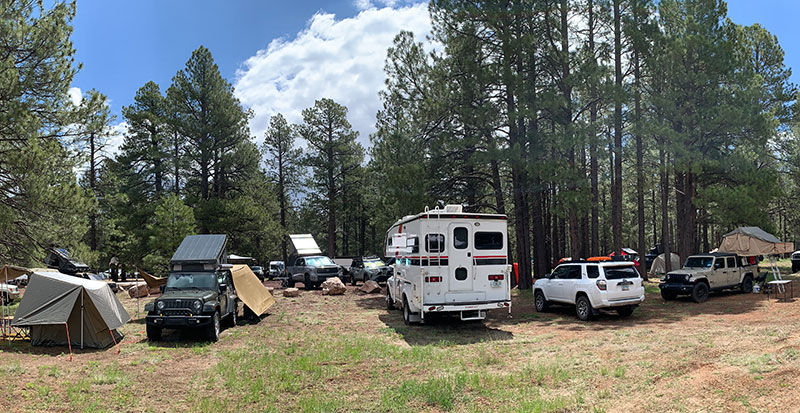 In our decidedly non-overland camper, I felt a bit like the kid who forgot it was Halloween. We camp off-road and off-grid, but our camper doesn't look overland.
Anyone got a Rotopax or shovel I can borrow? Maybe a Molle rack?
Meeting Overland Explorer Vehicles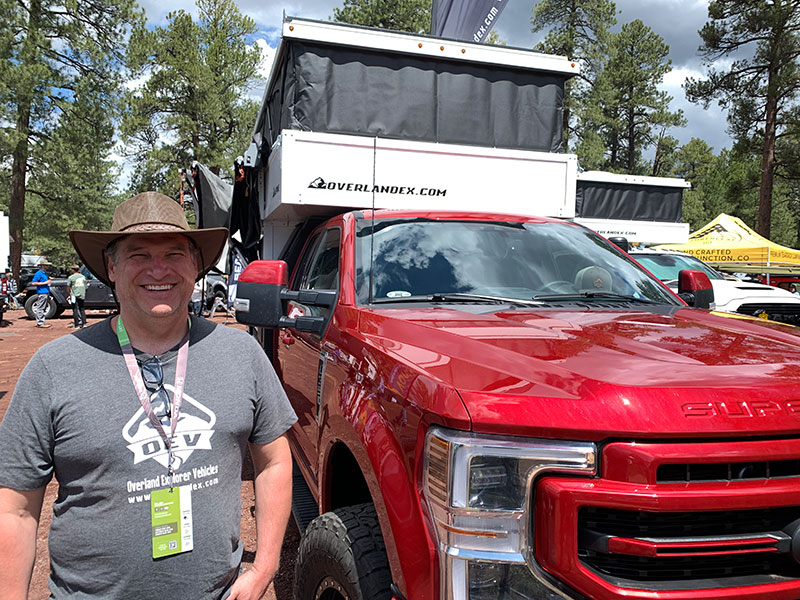 Above: Arnold Baker, Managing Partner of Overland Explorer Vehicles
Once settled in, Angela and I walked the exhibitor area to catch up with industry leaders, get the lay of the land, and check out some campers. Almost immediately we found Arnold Baker, Managing Partner of Overland Explorer Vehicles. This was the first time we'd met Arnold in person and I have to admit I enjoyed his surprise. As truck campers are prone to do, we'd made the decision to attend Overland Expo West last minute.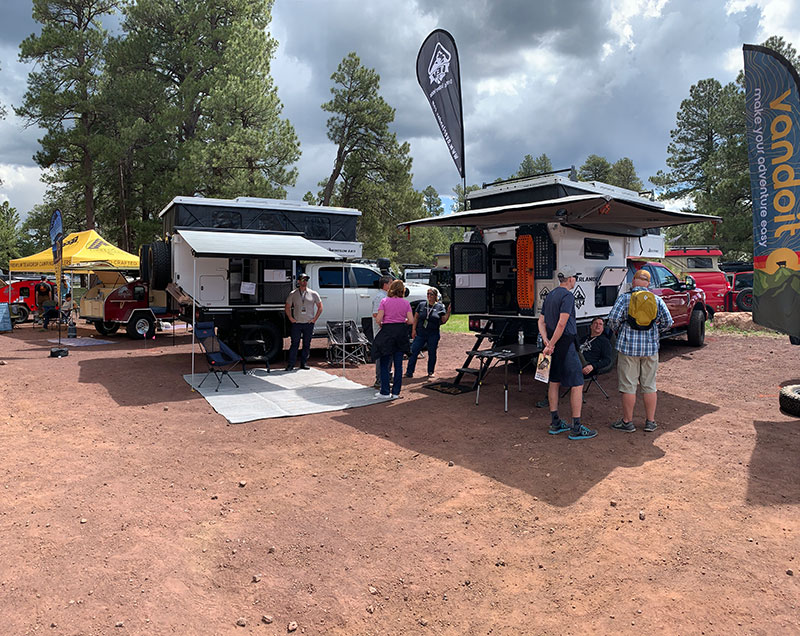 In his booth, Arnold showed us the OEV Alpine, 6.5-foot Aluma Tray, and Ford F-350 he'd driven from Red Deer, Alberta to Flagstaff, Arizona. That's roughly twenty-four hours of drive time. I don't know too many industry leaders with that kind of dedication, much less the passion and fortitude to camp in their products along the way, and at the Overland Expo. Like us, Arnold really loves this stuff.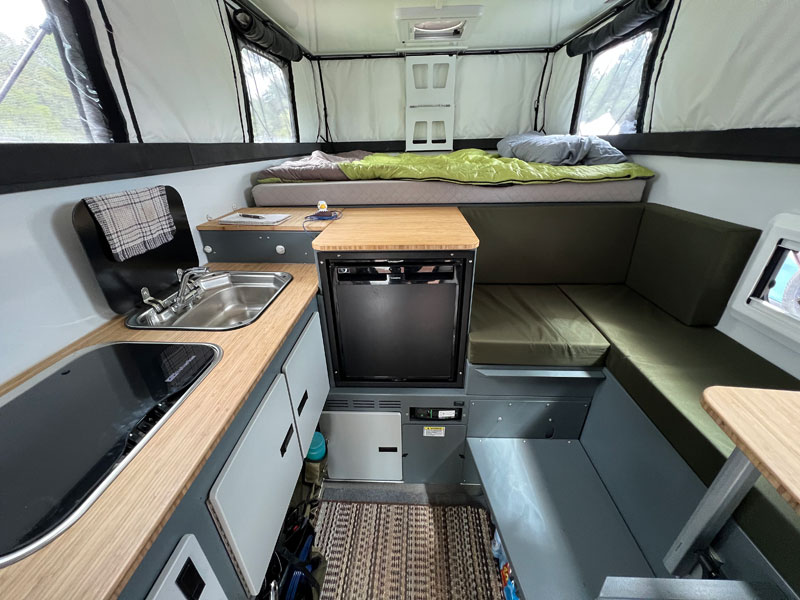 OEV's all-aluminum and composite build is a stand-out, but what really got my attention were the tight built tolerances, detail work, and overall fit and finish.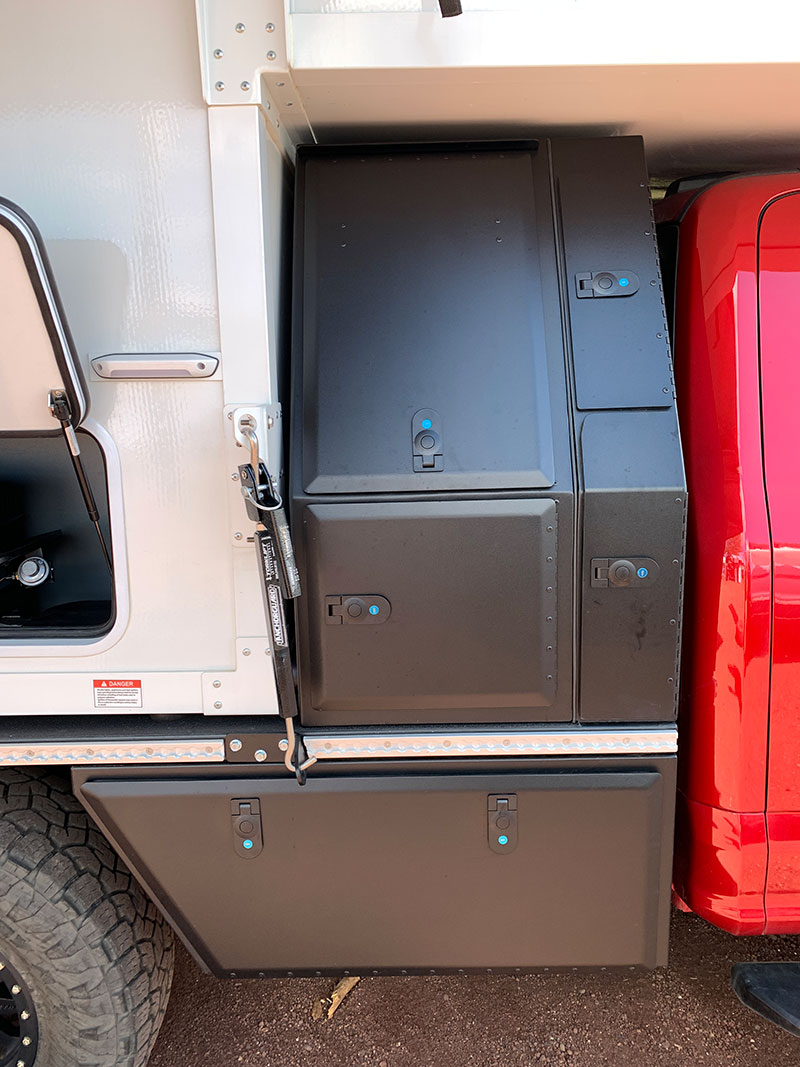 This carried over to the Aluma-Tray, which looks carved out of a solid block of aluminum and offers a stunning level of storage opportunities. "Too much," admitted Arnold when I made this observation, revealing that most of these compartments were empty. Can a camper have too much storage? No way.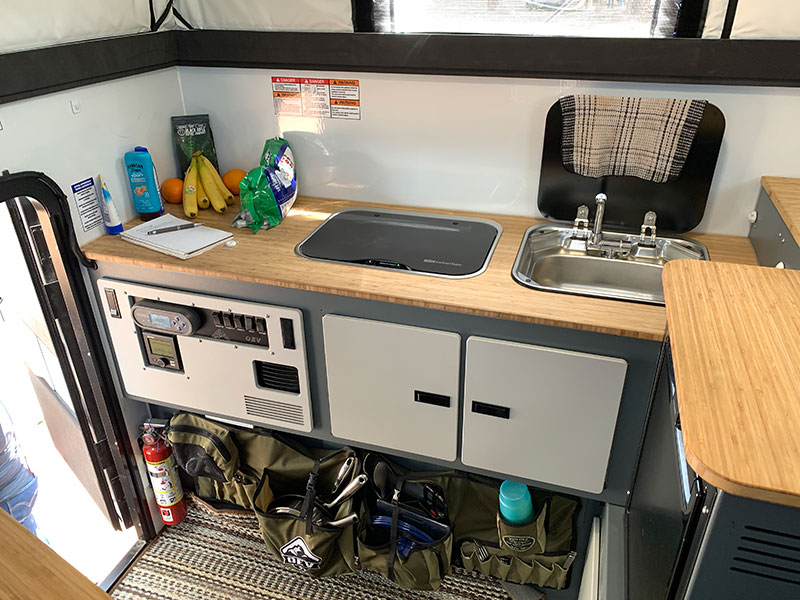 Above: Need evidence that Arnold was really camping at Overland Expo? That's bananas!
With white composite walls and grey aluminum cabinetry, OEV interiors often appear a bit cold in photography. In person, it's a different story. First, the bamboo countertops and Lagun furnished table are decidedly warm and domestic. Add the items that humans require for camping – pots and pans, clothing, towels, bedding, etc. – and the OEV interior is unmistakably inviting.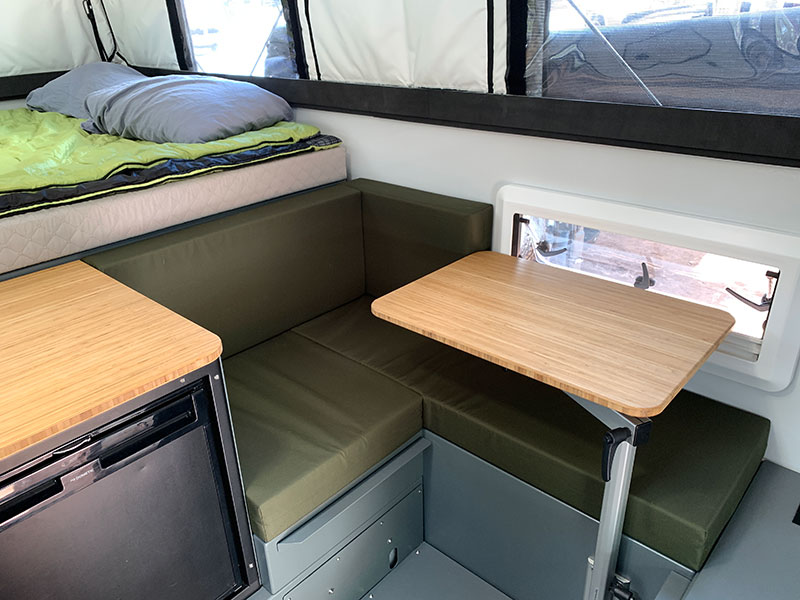 This is one more reason why you need to get off the phone or laptop and actually physically experience a camper before making a decision. You can read a lot more about OEV here, but I encourage you to put the phone or laptop down and go experience one in person.
Camp FWC
Across from OEV, Four Wheel Campers had a section devoted to their campers and customer rigs.
Nope. That doesn't do it. Let me try that again.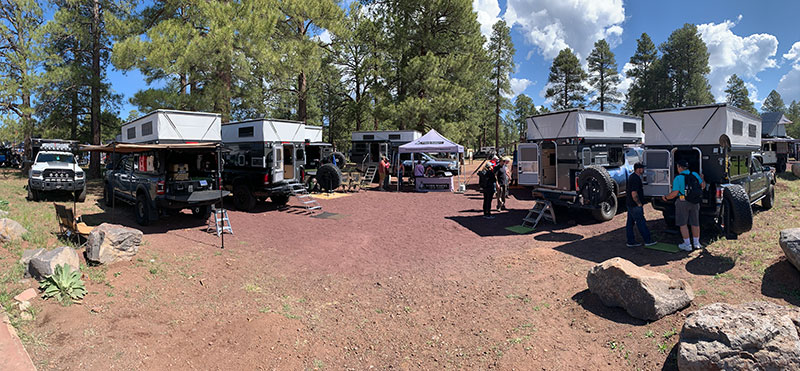 Across from OEV, Four Wheel Campers had a huge tract of land; a sprawling region brimming with factory fresh units and a couple of dozen (or more) customer rigs.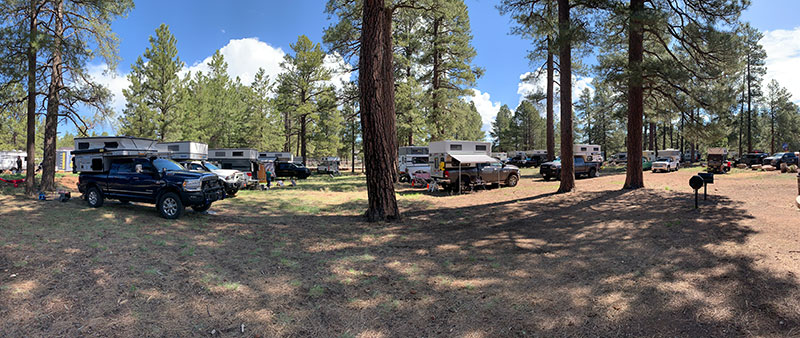 Walking into the Four Wheel Camper zone was like entering a show within the Expo, and man were they all having fun. Is this an Overland Expo booth, or a party?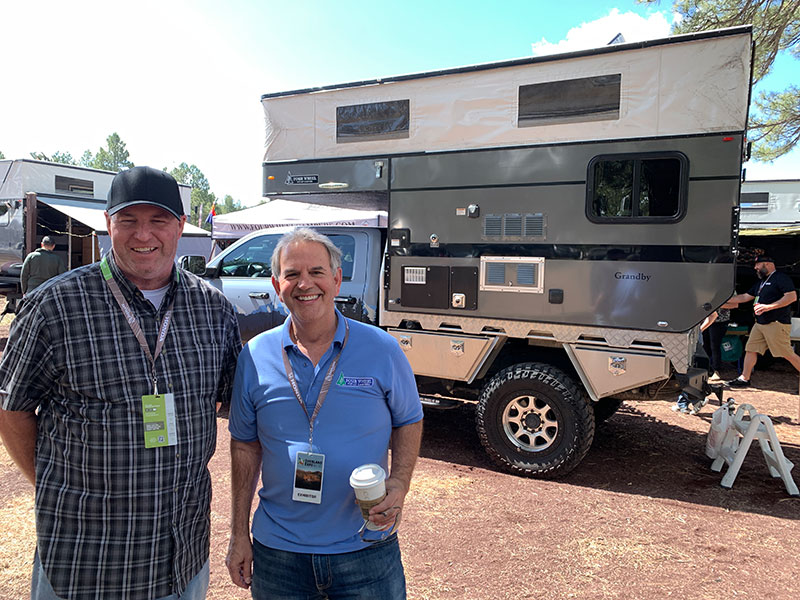 Above: Stan Kennedy, Brand Champion, and Robert Vogl, CEO of Four Wheel Campers
Standing at his post was Stan Kennedy, the undisputed Chief of Four Wheel Camper's history, spirit, and overall down-to-earth, enjoy-life vibe. He's also something of a knucklehead so we get along swimmingly. Takes one to know one, right?
As Angela and I explored the bounty of FWC units on hand, I was reminded why this iconic brand is just that; the fifty-plus-year legacy of aluminum framing and no-nonsense construction, the rugged lightweight build that screams off-road capabilities, the aesthetic that somehow complements every truck. I can't tell you how many Expo attendees told me that their overland dreams started with a Four Wheel Camper.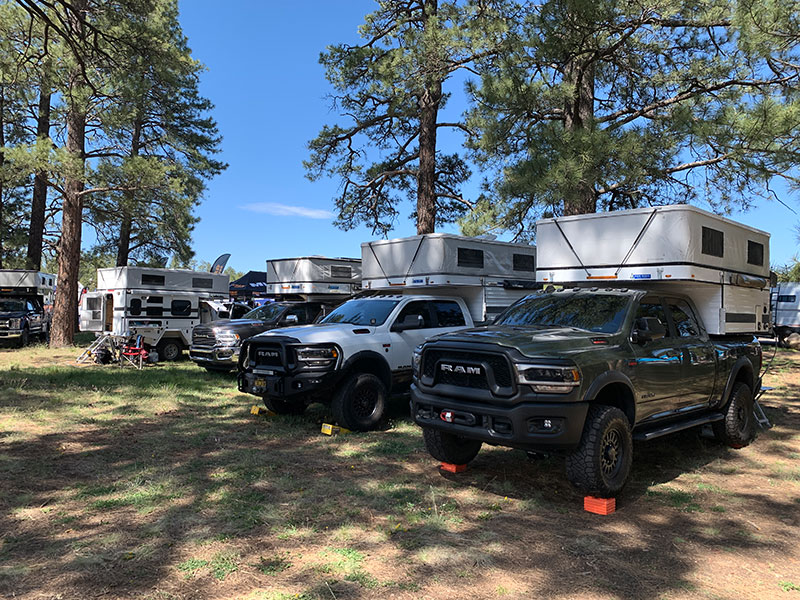 Another element of Four Wheel Campers that may not be obvious to those who are new to the brand is the evolution. Looking across the field of customer Four Wheel Camper rigs, it wasn't always obvious as to which FWCs were brand new, and which were a decade or two old. Yes, there was at least one on hand that clearly dated back to the 80s, but the others were similar enough to require close inspection.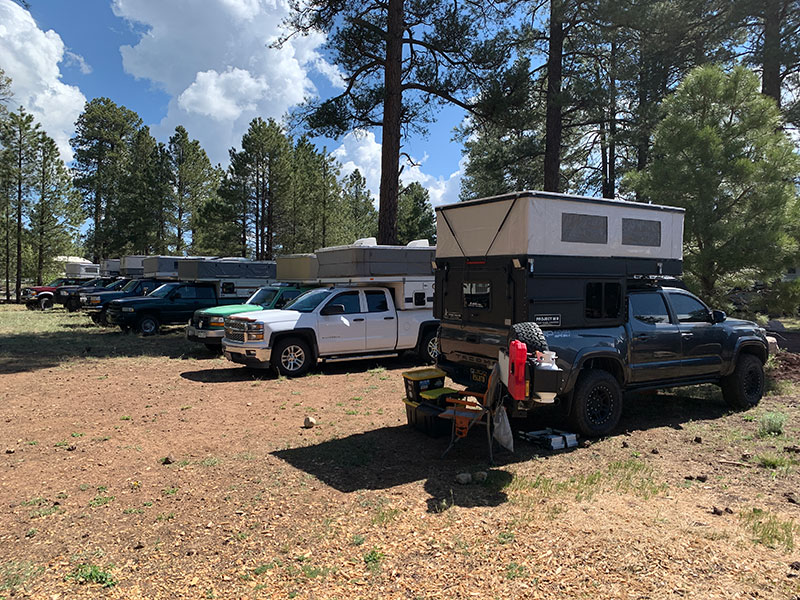 In that close inspection, you would notice that nearly every aspect of Four Wheel Campers has improved over time. The lift mechanism has gone from wood to composite. Soft walls have upgraded materials and stitching.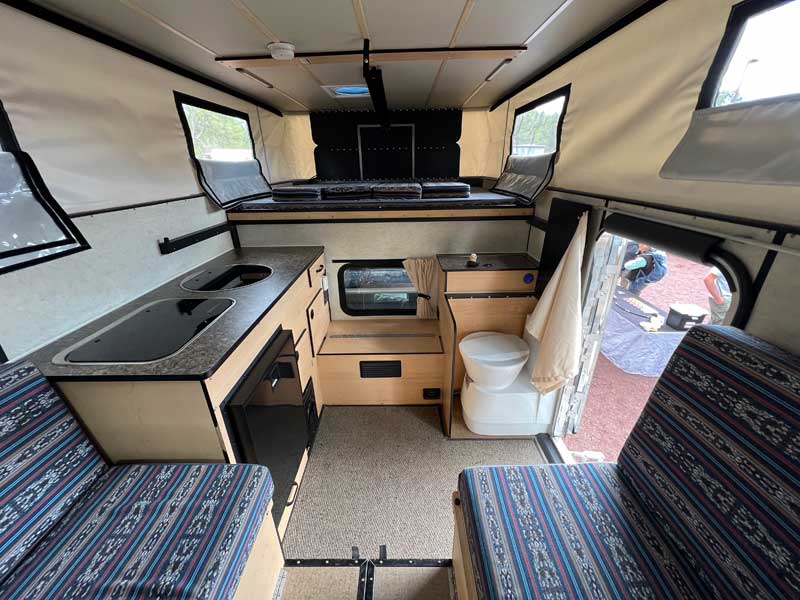 Above and Below: 2023 FWC Grandby Flatbed
Floor plans have benefited from customer feedback and become more comfortable, with more storage and better flow. Onboard plumbing and electrical systems have been overhauled several times as technology advances. It's all very subtle, but incredibly important to the final function and longevity of the product.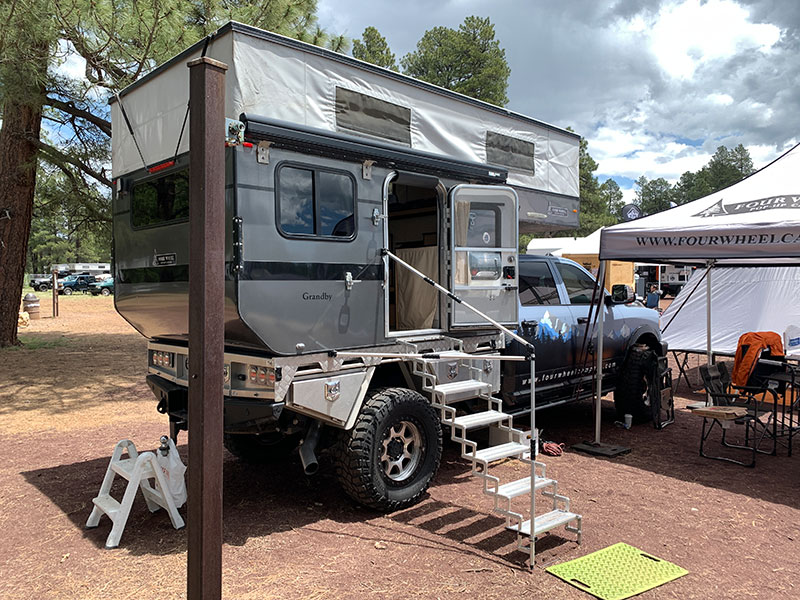 Overland Expo West is probably the best place (and annual moment) on Earth to experience and connect with the whole Four Wheel Campers enchilada. Where else can you get access to the FWC leadership team, FWC product line (on trucks), and the FWC community? It's like a Four Wheel Camper show and rally all in one. Still not convinced? Stop by after Expo hours when the party really starts. Good times.
Alaskan Campers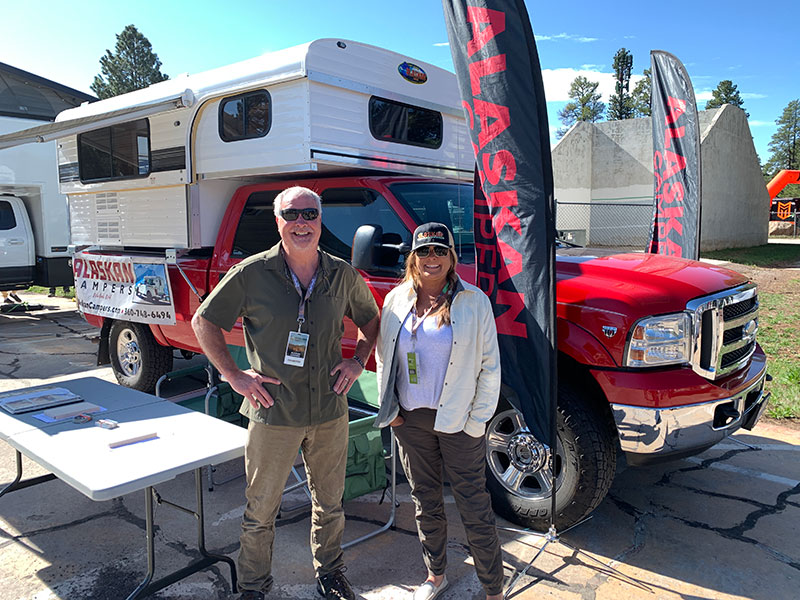 Above: Bryan Wheat, President, and Dorrie Benson, Office Manager of Alaskan Campers
The next morning we caught up with Bryan Wheat and Dorrie Benson of Alaskan Campers. Like Stan at FWC, Bryan and Dorrie are the go-to institutional knowledge keepers of another iconic pop-up truck camper brand. When we started TCM in 2007, it was Bryan and Dorrie who schooled us for days on Alaskan Campers at the factory. Got an Alaskan Camper question? You know who to contact.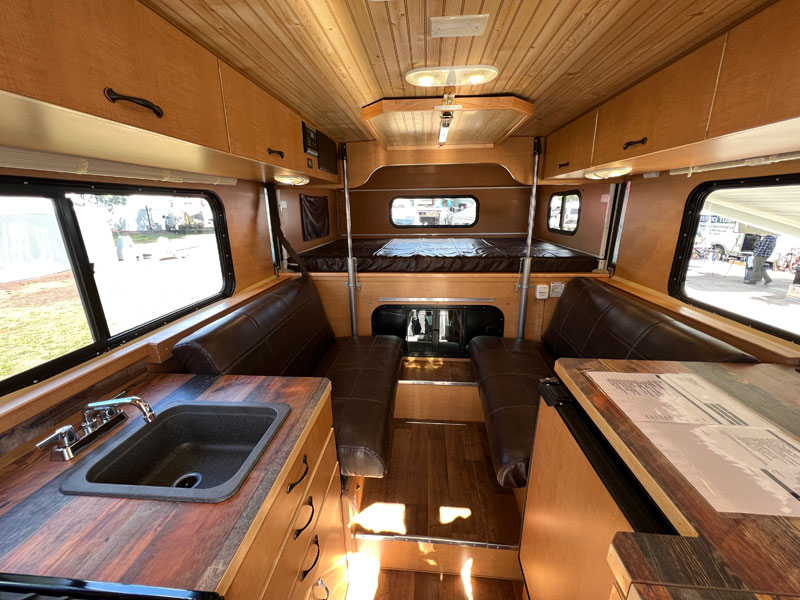 Above and Below: 2023 Alaskan 8-foot Front Dinette
Bryan and Dorrie brought an Alaskan 8-foot FD (Front Dinette) model to Overland Expo. This hard side pop-up cabover model isn't their most popular floor plan (that would be the Alaskan 8.5) but it showcases every ounce of what makes an Alaskan Camper unique and special; the hard-sided pop-up mechanism, the folding cabover walls, the hydraulic lift mechanism, and the equally classic and seductive Chris-Craft like interior. There is nothing on the market in the RV or overland marketplace quite like an Alaskan Camper. Alaskan is singular.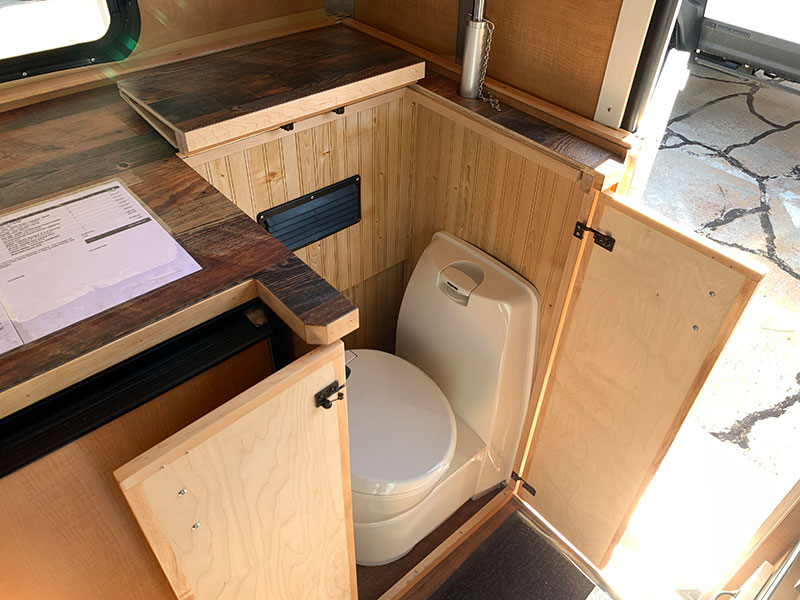 Above: The hide-away cassette toilet is a stand out Alaskan feature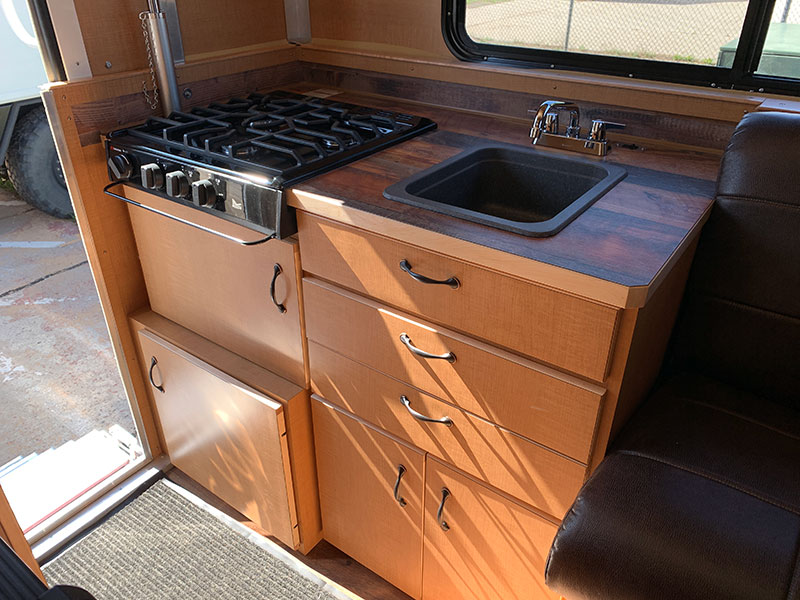 The overall method of Alaskan construction remains fundamentally unchanged since the first Alaskan Camper was completed in 1953. For 70 years, Alaskan Campers have been wood-framed, aluminum-skinned hard-side pop-up campers with essentially the same form, function, and utility. How many RV products can you name that remain relatively unchanged since the early 1950s? It's not a stretch to state that Alaskan is the Airstream of the truck camper marketplace.
At Expo, Alaskan's booth was well attended and characteristically low-key. Bryan and Dorrie were more than happy to let Earthroamer – less than 100 feet away – be the shiny object du jour. The overland fru-fru has never been Alaskan's scene. They make sensible hard side pop-up campers for people who want to camp off-road and off-grid. No funny business or laugh out loud price tag to match. Just a darn well-made camper to last the test of time.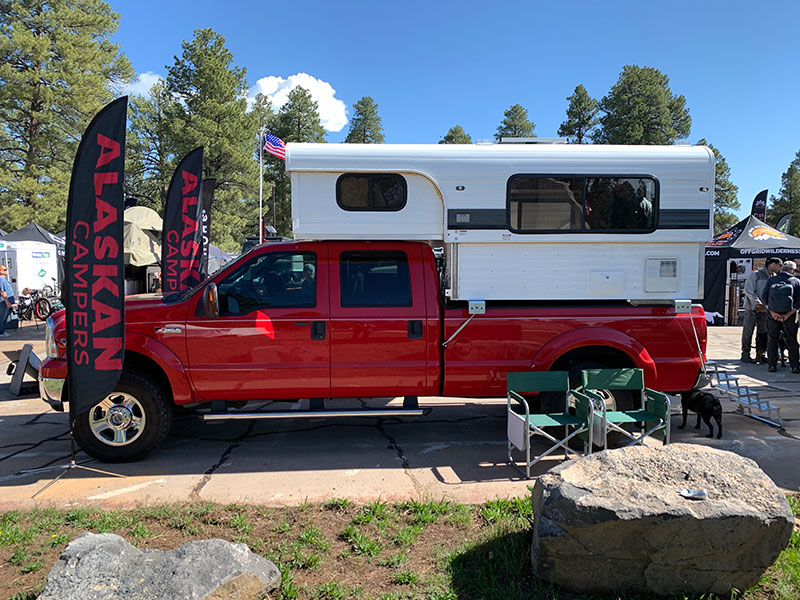 In 50 years, the Alaskan 8-foot model on display at Overland Expo has more than a fighting chance to still be on the road and camping. It will probably have a very different truck underneath it, but my bet is that it's somewhere out there thrilling its owner. How do I know this? I've seen at least a dozen still-camping Alaskan Campers older than me, and I'm 50. I'm not quite as hopeful about the all-in-one chassis-mount technology-stuffed Earthroamer, at $1.2M. Guess we'll find out in 2073.
Lance Travel Trail-Blazer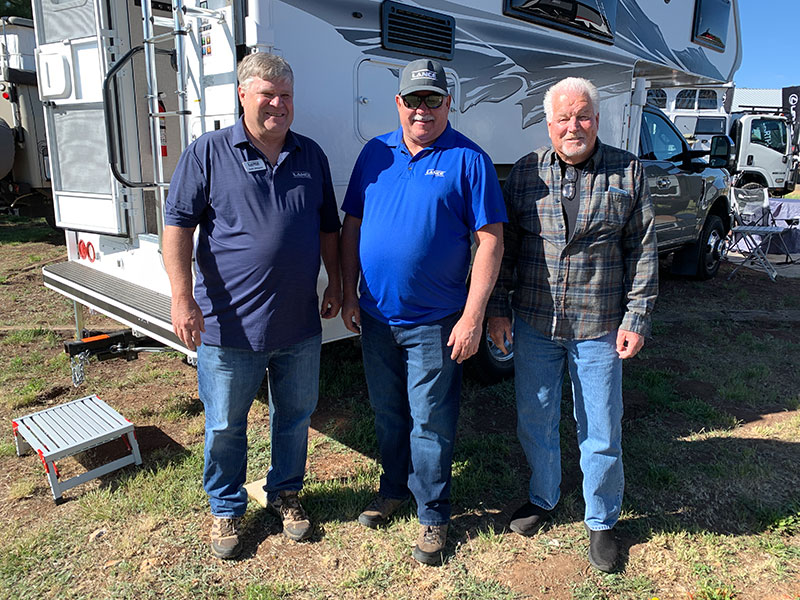 Above: Standing with a 2023 Lance 960 is Scott Almquist, National Sales Manager, Gary Conley, Director of Sales and Marketing, and Randy Hunter, Product Development Manager for Lance Campers
The Lance Camper booth was showcasing a 2023 Lance 960 and their all-new Enduro off-road trailer. As the Publisher of Truck Camper Magazine, I am well aware that writing about a travel trailer is asking to have not-exactly-fresh tomatoes thrown in my general direction. Please hold your vegetables as I unveil a future path for Lance truck campers in travel trailer form.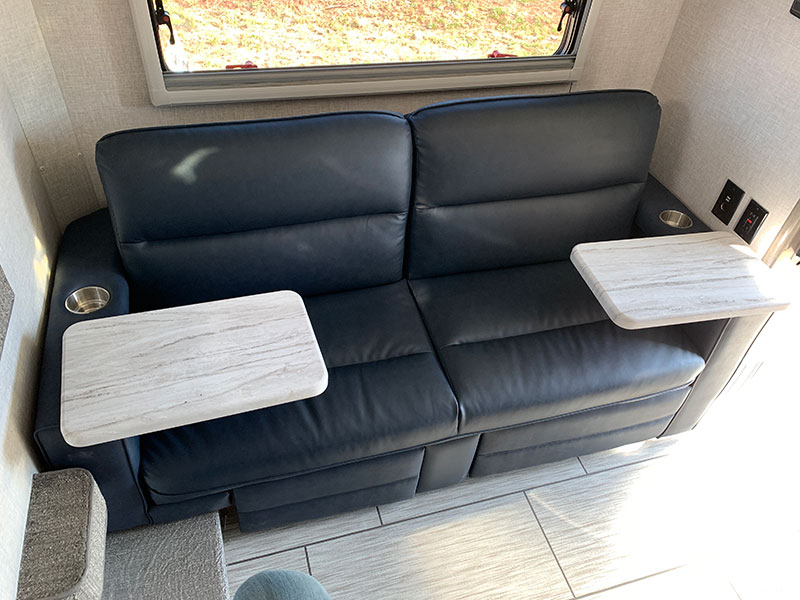 Above: The sofa option in a 2023 Lance 960
The Lance 960 featured the sofa option rather than the two swivel chairs. Having recently experienced the Lance 960 with the swivel chairs (in-depth review forthcoming), the sofa option is more versatile. Specifically, it has more seating area, two tables, and is at least as comfortable. My bet is that the sofa will be the more popular 960 configuration in short order.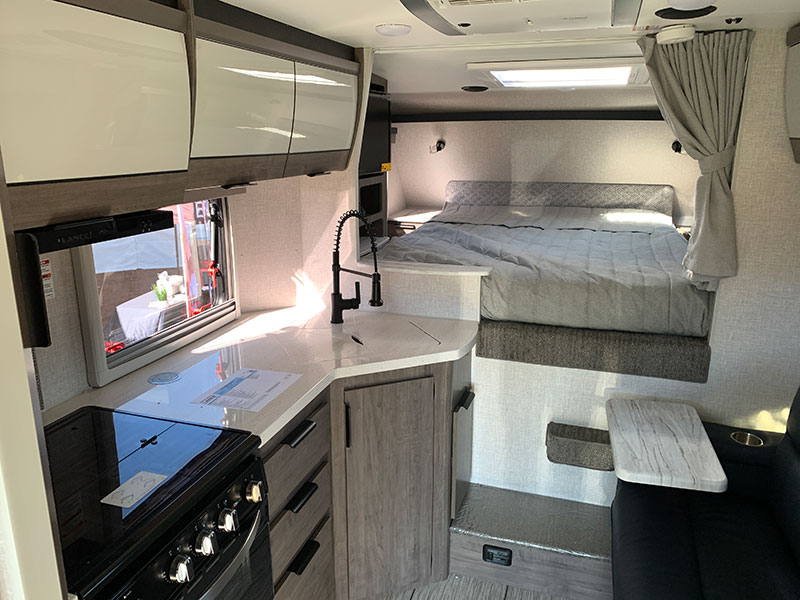 Above: The interior of the 2023 Lance 960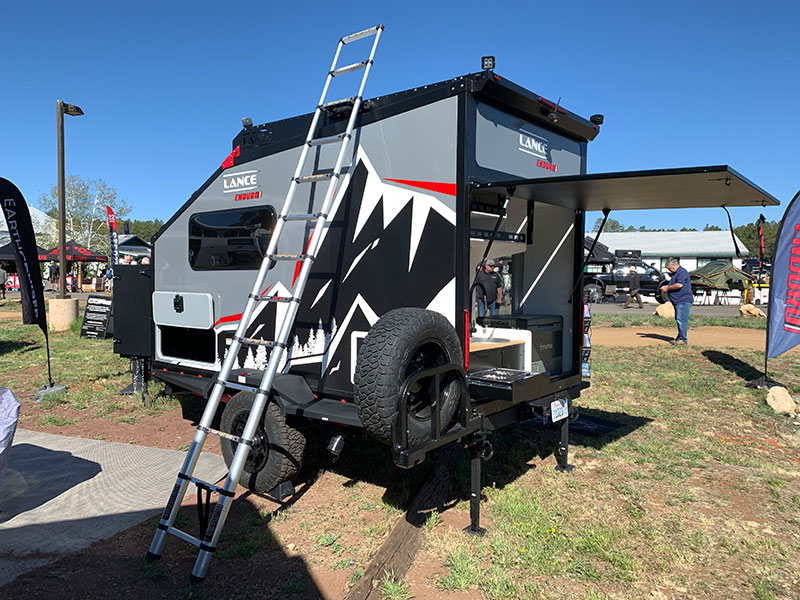 The star of the Lance Camper booth – as much as it pains me to write it – was the new Enduro 1200K trailer. Not only did the Enduro present Lance's take on the overland aesthetic and utility, but it featured Lance's latest approach to construction. Gary Conley, Director of Sales and Marketing, explained that the Enduro represents the next generation of wood-free LanceLock, aluminum and composite construction to achieve lighter weight and higher strength. When I asked if the Enduro also represented a future direction for Lance truck camper construction, he nodded.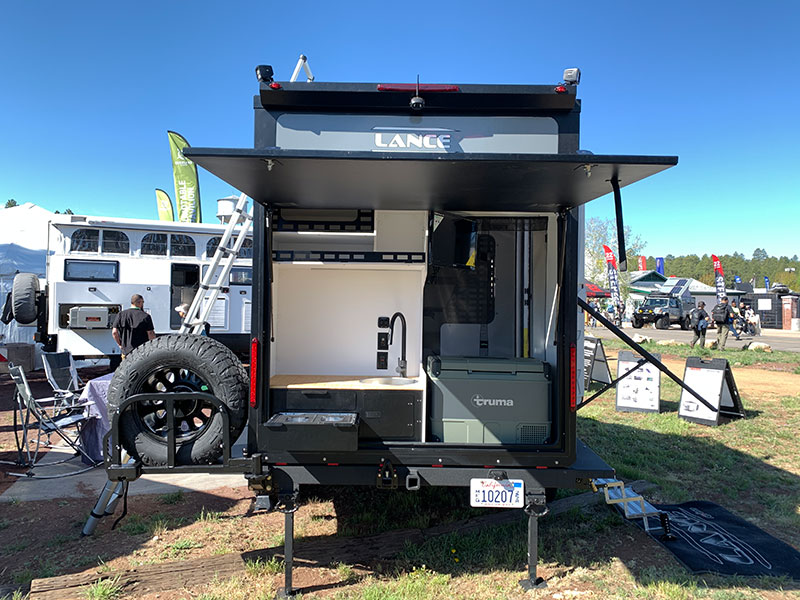 In an act of sheer bravery, Angela and I both checked out the Enduro in public at the Expo. Beyond the advances in weight-saving construction, the Enduro featured a number of details we haven't seen on a Lance Camper before; LED flood lights on all four corners, a portable Truma refrigerator, smart TV with portable JBL Bluetooth speaker, and bamboo tables and countertops. The Enduro is still a Lance, but there's no mistaking the new direction.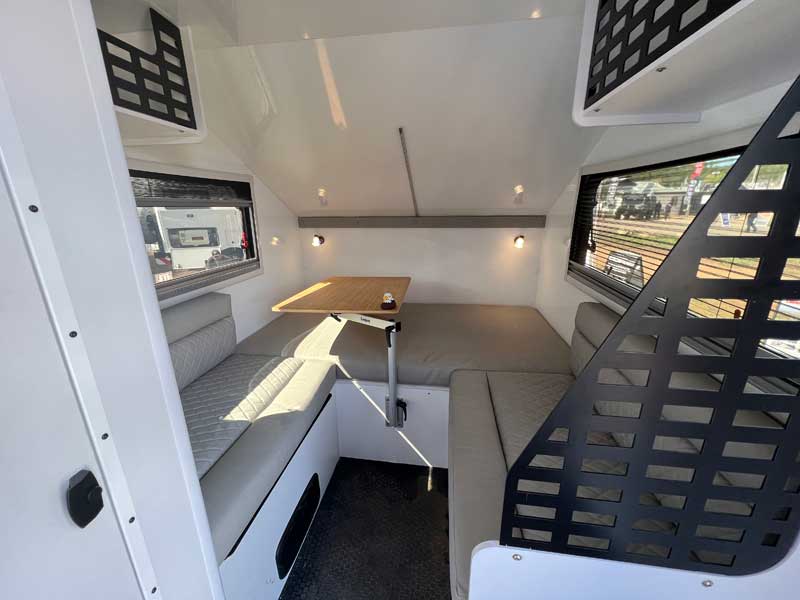 Above: The interior of the 2023 Lance Enduro 1200K trailer
Given the new model announcement patterns of the industry, we would not be surprised to see a Lance Enduro-esque truck camper at the Elkhart Open House this fall. Our fingers are crossed.
Scout Tuktut First Encounter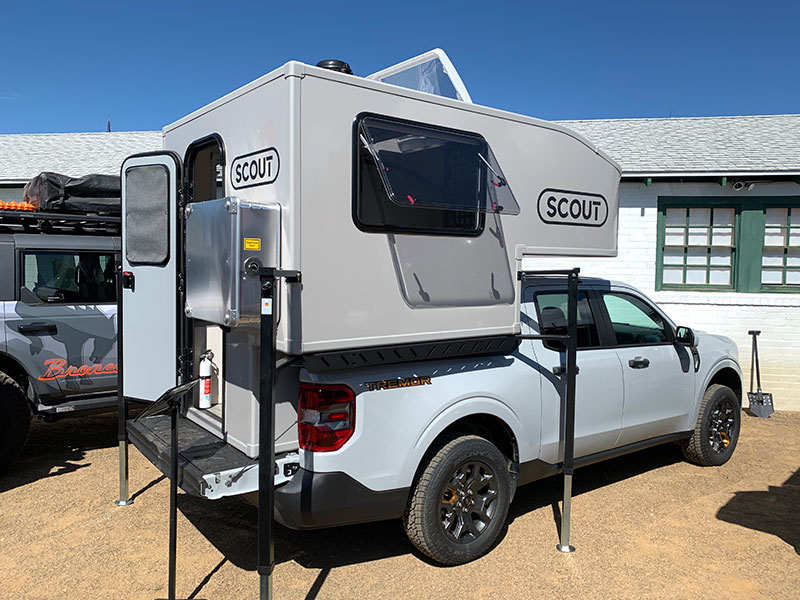 This is a first for Truck Camper Magazine. We announced the Scout Tuktut the morning before Overland Expo West, and saw the camper for the first time that afternoon. The Goose Gear/Scout booth was empty and the unit was locked, but there it was.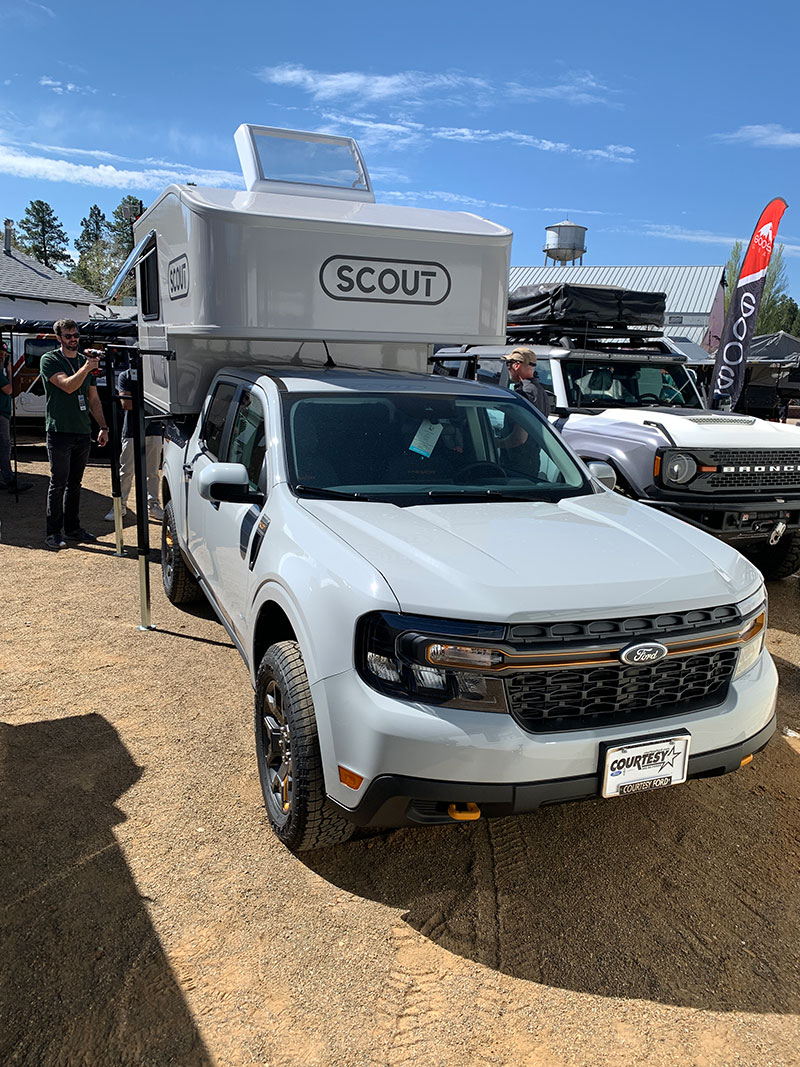 The next day we had another first in the Goose Gear/Scout booth; meeting David Epp, CEO of Adventurer Manufacturing. David became CEO shortly before Covid struck in 2020, and world circumstances and busy schedules hadn't permitted our introduction, until now. Needless to say, it was good to finally meet in person.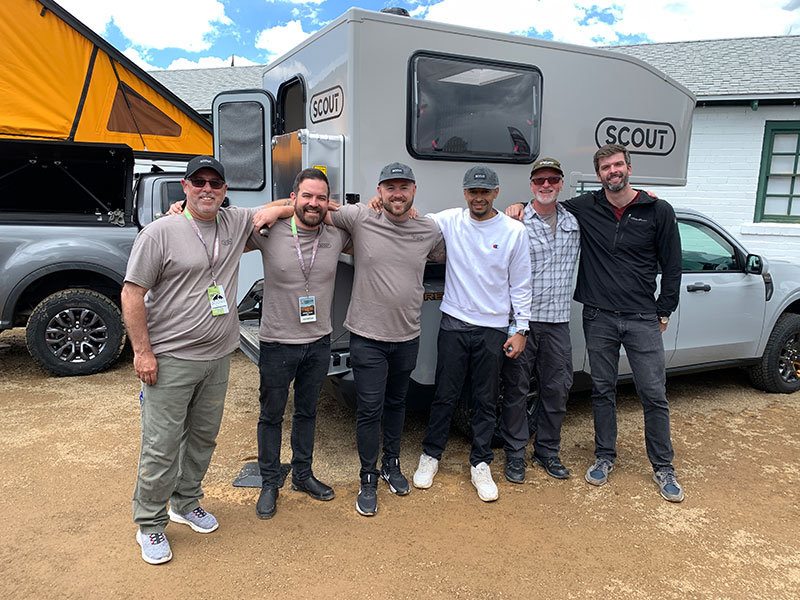 Above: The Adventurer Manufacturing leadership and design team
A few minutes later, David and the team asked me to check out the Tuktut. As I explored the Tuktut, the Adventurer fellas were gathered in a semi-circle outside the unit. Then David asked me point blank, "What do you think?" No pressure.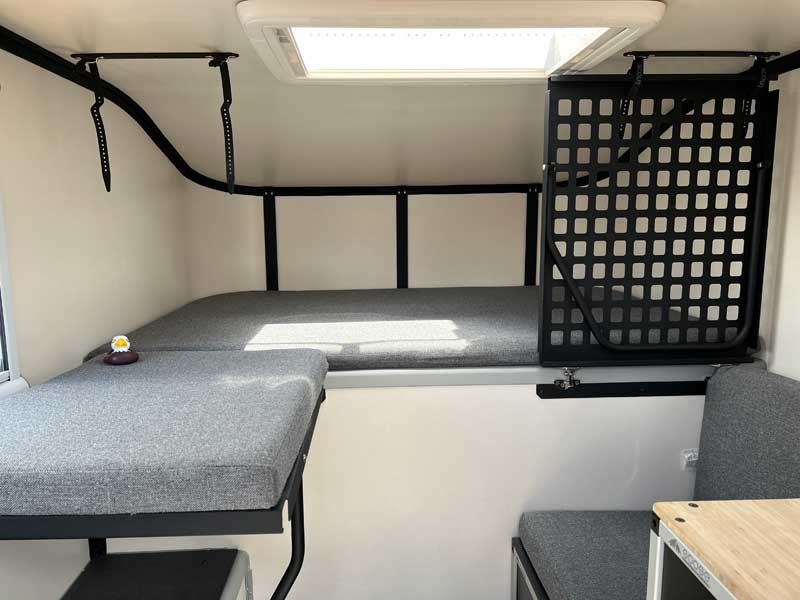 I'll tell you what I told them. First, it's amazing how much bigger it feels inside than it looks outside. This is a common phenomenon with well-designed small truck campers, and it was certainly true for the Tuktut. It's almost a magic trick.
Second, the Goose Gear products and their integration really works. If the Goose Gear name wasn't on the Goose Gear products, I would have no idea that the two companies had collaborated on the interior design. It's seamless and functional in a way I haven't seen from Adventurer or Scout before.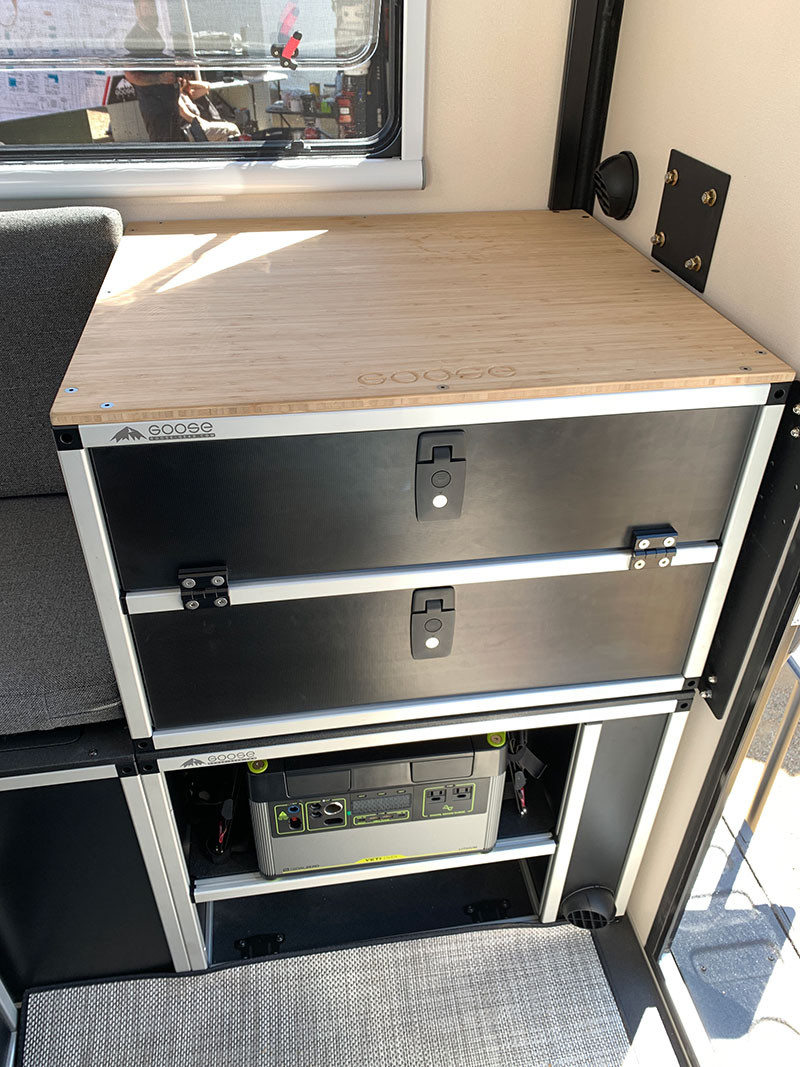 Putting on my reviewer hat for a second, I pointed out the portaledge system would keep couples from cuddling; a no-no in my camper. Perhaps more than any other RV type, truck campers are for couples, and that means cuddling. The Scout team uniformly agreed.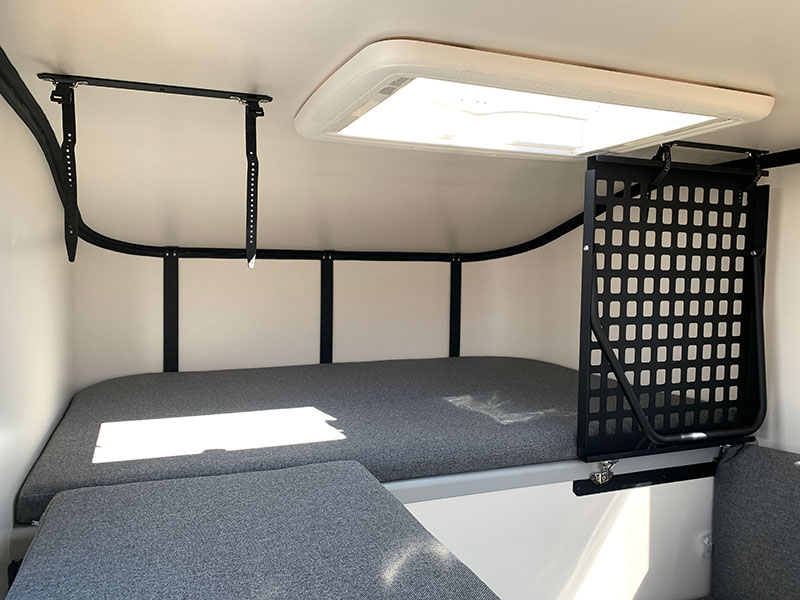 When the huddle broke, I returned to the Tuktut and looked at the tolerances, fit and finish and overall presentation. From what I saw, this is easily the best built Scout Camper I've ever seen. I can't confirm anything specific, but it looks like the Tuktut has taken the Scout concept a step forward in several directions; more modular, more advanced materials and construction, and the Goose Gear partnership. Call me impressed.
Skinny Guys Walk The Walk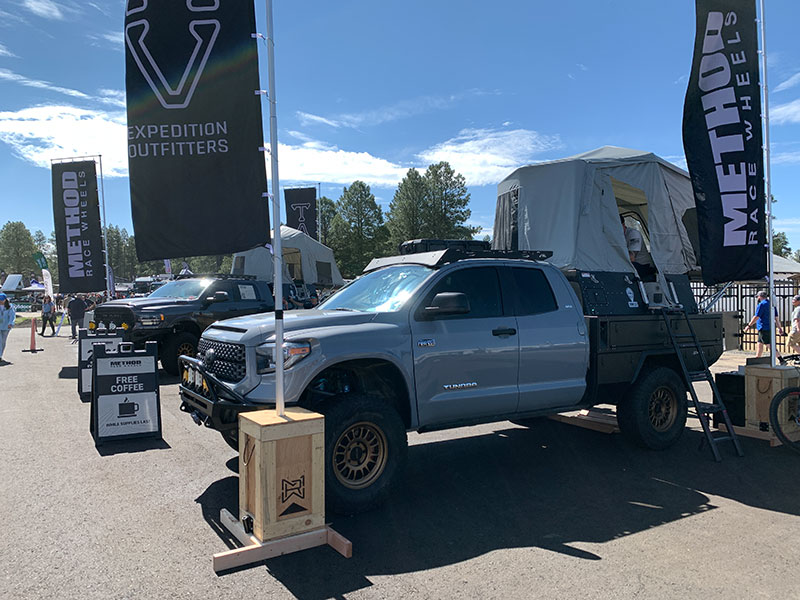 Skinny Guy Campers shared a booth with Tactical Expedition Outfitters (TAV). TAV had two Skinny Guy 6.5 rigs on display and a lot of overland gear and swag. What impressed us immediately was that the two of the TAV team members were staying on-site in their Skinny Guy campers. I know this because they said, "Oh, let me clean it up a bit" when I asked if I could photograph the interior of the campers.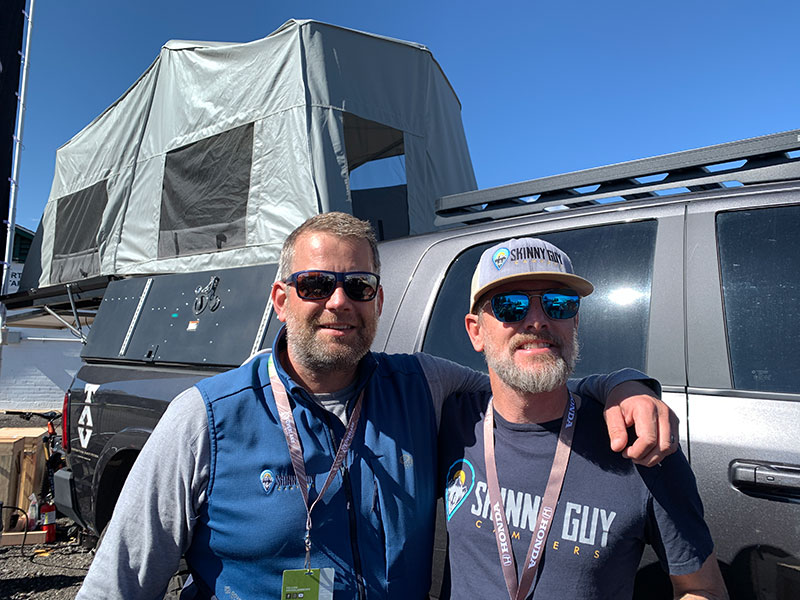 What impressed us, even more, was that both Jason Bontrager, CEO and Founder, and Donovan Fredrickson, Designer of Skinny Guy Campers, were also camping in their respective Skinny Guy campers in the Expo camping area. It's no secret that I've been known to cajole industry leaders and designers into camping in their own products. No cajoling needed here. These guys live what they design, build, and sell. I firmly believe that directly translates into better campers and better quality. Love it.
As was the trend at Overland Expo, this was the first time we met Jason and Donovan and we had a lot to discuss. Much of our conversation included future campers and announcements. I also asked for a Skinny Guy T-shirt. Hey, it fits.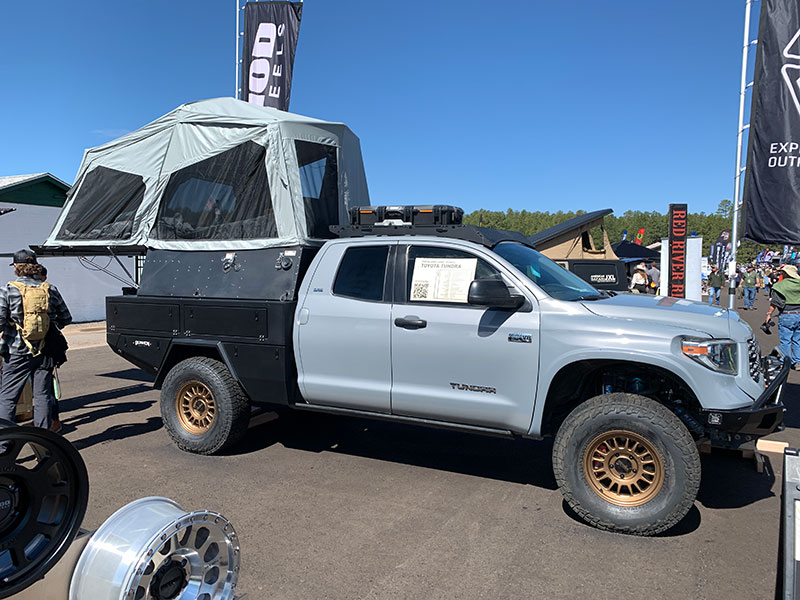 The Skinny Guy campers on tap were as rock solid as the 6.5 I explored at D&H RV last fall. Seriously, wrap your knuckles on a Skinny Guy camper and you're in for a surprise. You might think you missed the camper and hit the truck. They're that solid.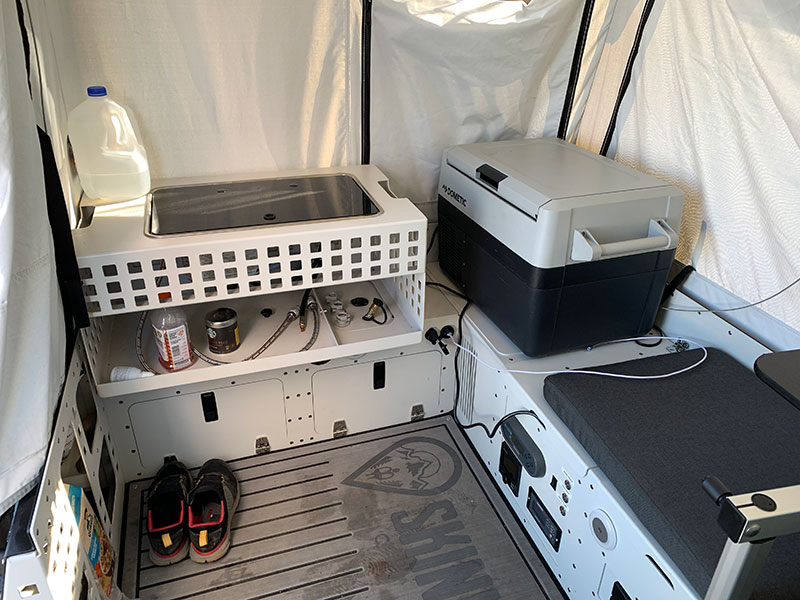 Above and Below: Proof the TAV and Skinny Guy teams were camping at the show
Pound for pound, Skinny Guy Campers pack in more features and amenities than any production RV I've ever seen. I'm talking a fresh water tank, sink, cooktop, refrigerator, battery system, inverter, insider shower, and a flush toilet in every model – even the 5.0. Read that last sentence again and look at the photos.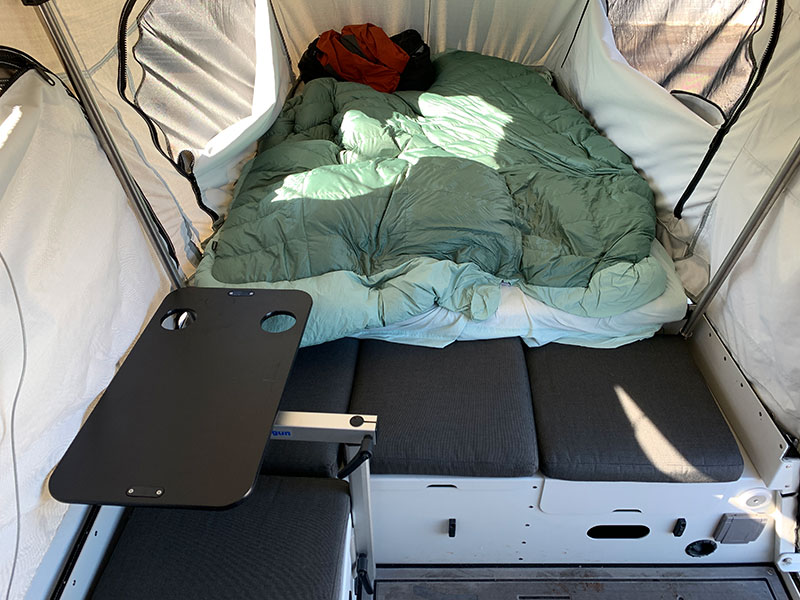 It's crazy what they've accomplished in a compact space. Think you can't have a fully-featured truck camper in your standard garage? Think again, and go see a Skinny Guy.
Hellwig Products Raises The Bar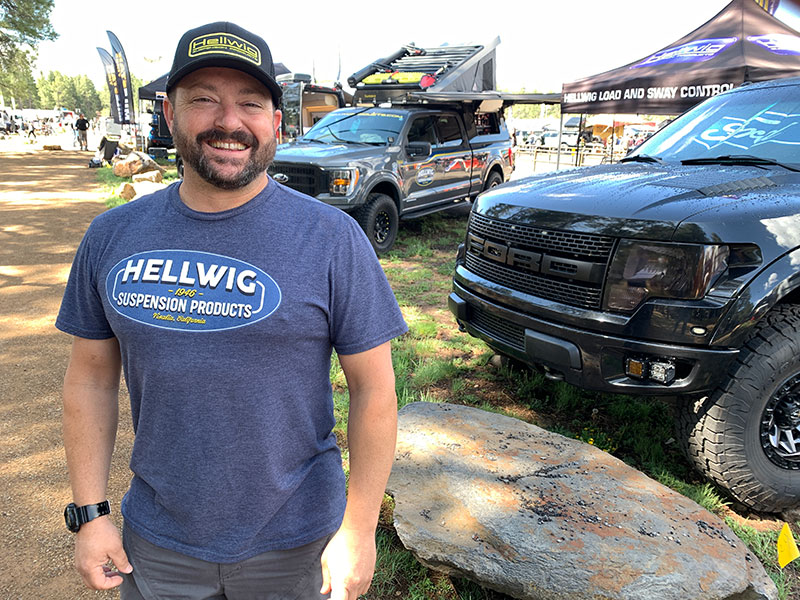 Above: Mike Hallmark, Marketing and Sales Manager for Hellwig Products
Mike Hallmark, Marketing and Sales Manager for Hellwig Products brought two tricked-out AT Overland Ford rigs that pushed the boundaries of my own truck camper definition. The AT Overland rooftop tent concept was everywhere at Expo, but few know that AT Overland was a very early adopter and innovator in that space.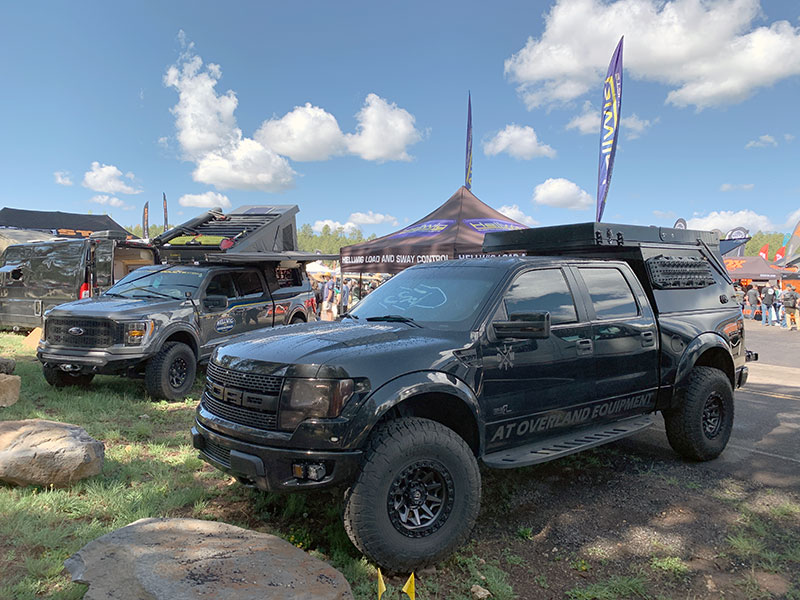 Above: The Ford / Hellwig / AT Overland rigs challenged my demountable definition
Technically, these 'campers' are demountable and pass my, "If it doesn't demount, it doesn't count" test, but lack the corner jacks to make the units easily field removable. Does my tried and true truck camper definition need an asterisk or an overhaul? Mike's rigs got me thinking.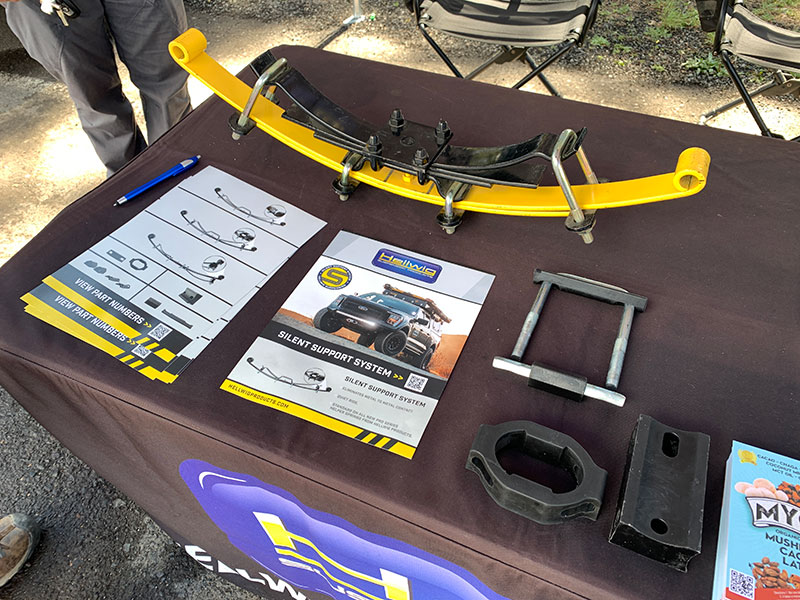 Mike had examples of Hellwig's renowned sway bars, helper springs, and silent support systems. We had a Hellwig sway bar on our 2013 Chevy 3500 and Lance 855S rig and that made a night and day difference to how that set-up handled. From that point forward, I would not want a truck camper without a serious sway bar. If you experience sway with your camper, take a hard look at Hellwig's truck camper focused Big Wig sway bar.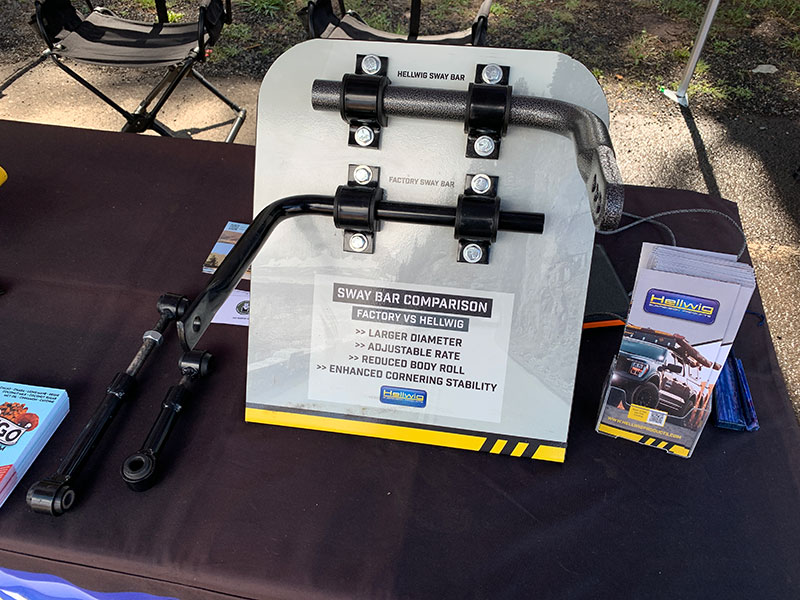 Mike told us about some upcoming rebate programs that we'll be featuring in Truck Camper Magazine over the next few months. He also shared his passion for his own truck camper set-up; aka, The Rule Breaker. If you haven't seen his built-for-SEMA truck camper, it's well worth checking out.
Next: Truck Camper Madness
Overland Expo West is simply overwhelming in its scope. There are far too many vendors, booths, amazing people, presentations, and events to see, meet, and experience. The event is only three days, but you would need three weeks to do every aspect on tap for true justice. Maybe more.
Angela and I walked the entire event a couple of times taking pictures of what things caught our attention, exploring truck campers in the camping field, and meeting readers by the dozen. By the time Sunday evening rolled around, we practically face-planted in our cabover.
The result of our expo exploration is a second article that can only described as nuts. We're talking new demountable truck camper brands, $1M chassis mounts, and products that we simply could not pass. Get ready for the most insane Overland Expo truck camper story we've ever published… coming Friday.