Hellwig Products and Lance Campers team up with Icon, Bushwacker, MagaFlow, Warn, Falken, Torklift International and more to build a Nissan Titan XD Cummins diesel rig for SEMA.  This thing is a rule breaker!

Hellwig Products and Lance Campers have assembled another over-the-top truck camping rig for the annual Special Equipment Market Association (SEMA) show.  This year, Mike Hallmark of Hellwig Products took the design lead and created what might be the coolest looking truck camper on the planet.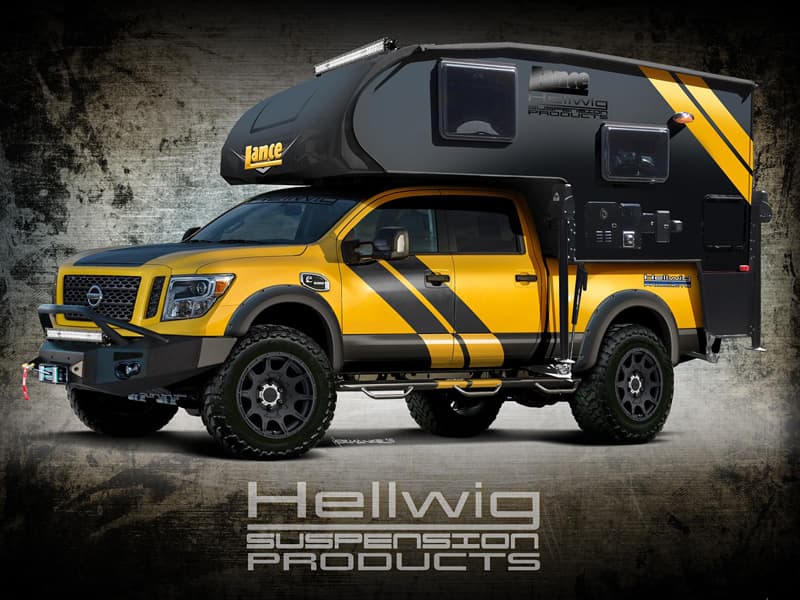 Looking like a cross between a gigantic yellow jacket and an extreme overland truck camper rig, this set-up is visually stunning.  Can you imagine pulling into a gas station, parking lot, or campground in this thing?  You'd have people taking pictures, asking for your autograph, and generally asking you endless questions from coast to coast.
Checking Out the Nissan XD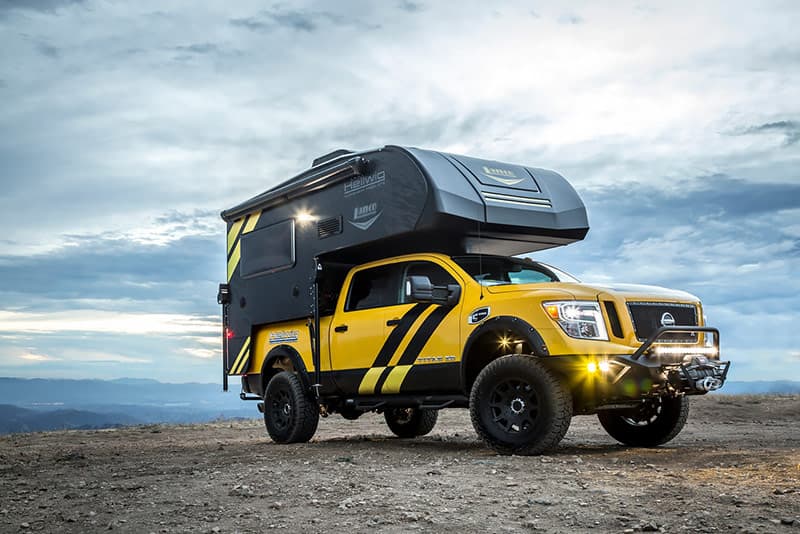 In 2015, Nissan launched a redesigned Nissan Titan, and the all-new Titan XD.  While the standard Nissan Titan remains insufficient for anything more than a bare-bones pop-up, the new Nissan Titan XD is another animal entirely – especially where it counts.
For starters, the Titan XD has a new heavier-duty ladder frame.  Inspired by their commercial vans, the frame is responsible for the increased payload offered by the XD, up to 2,500 pounds according to Nissan.
As compelling as the stronger frame is, it's the Cummins 5.0-liter turbo-diesel V-8 engine that really had the automotive press buzzing.  With 310 horsepower and 555 lb-ft of torque at 1600 rpm, this engine has folks from every corner of the pickup truck marketplace taking a very fresh look at Nissan.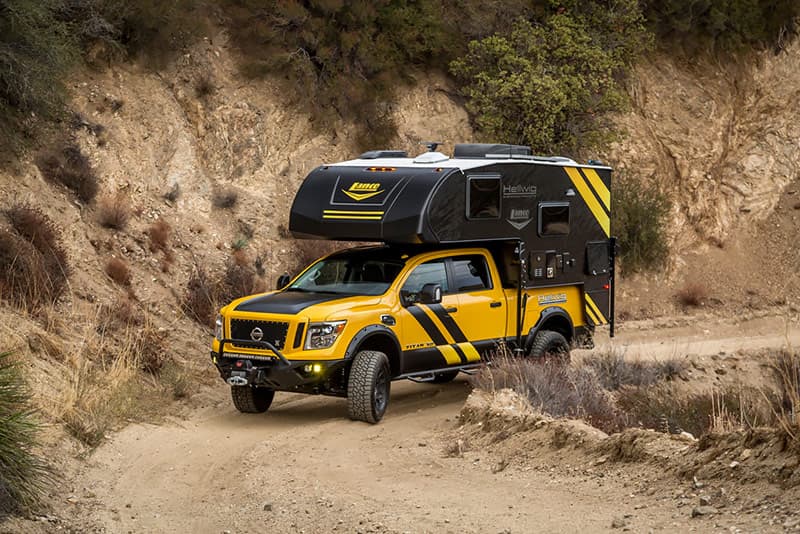 What has us even more excited is the potential of a gas-powered Nissan XD.  Take the same heavy-duty frame and mate it with a lighter gas engine and transmission (the diesel has a six-speed Aisin) we might be looking at payload numbers closer to 3,000 pounds.  With the right gas engine, that could be another game-changer.
An Overland SEMA Statement – To Go!
To get the behind the scenes story on this outrageous overland rig, we contacted Mike Hallmark of Hellwig Products, and Bob Rogers, Director of Marketing for Lance Campers.  First, we talked to Mike Hallmark.
Hellwig Products has been showing products and vehicles at SEMA for many years.  After showcasing a truck camper at SEMA, why are you showcasing another truck camper rig at SEMA this year?
Mike: We are taking a truck camper to SEMA again this year because the tow and haul marketplace is our bread and butter.  Last year we broke the mold with the F150 and Lance 650 combination and destroyed any notion that truck campers can't be cool.  This year for SEMA we wanted something to capture the eye.  I think we've done it.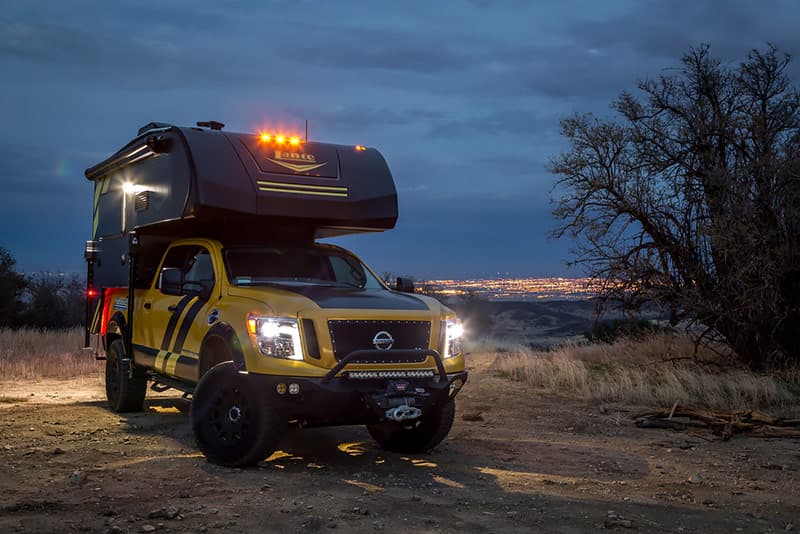 How was the Nissan Titan XD selected for this build?
Mike: The Nissan Titan XD is a different truck from anything else on the market right now.  Not only does it offer towing and payload capacity between a half-ton and a three-quarter ton, but it also features a new Cummins diesel engine.
We worked closely with Lance on the specifications of this rig.  The Nissan Titan XD offers up to 2,500 pounds of payload putting a loaded and wet Lance 650 within the payload limits of the truck.
For the record, that would be a 2-wheel drive base model Nissan Titan XD.  Tell us about the Big Wig air springs that were utilized for this build.
Mike: The Big Wig air springs have been out for about several years now.  They are a larger capacity 2800 pound air bag.  Since the bag has a higher volume, you can decrease the air pressure up to 40-percent.  Lower air pressure means you have a softer, more factory-like ride.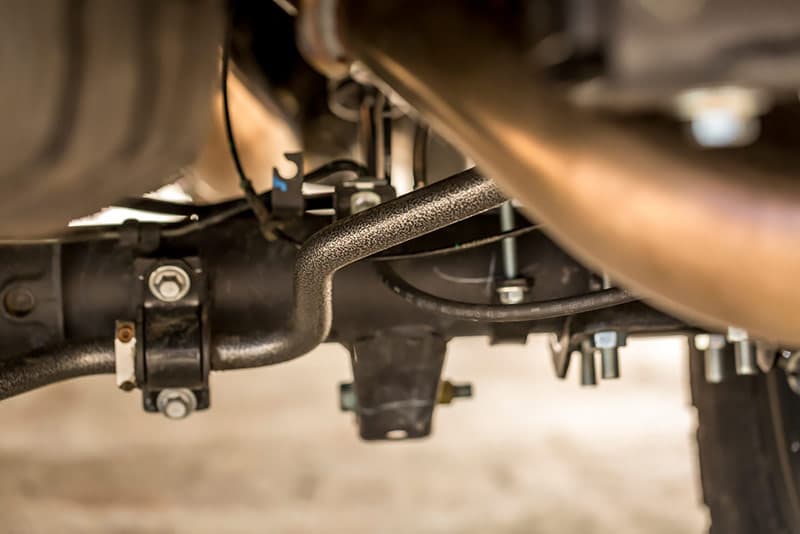 Is the Hellwig Big Wig sway bar on the Nissan Titan XD rig something you built special for SEMA?
Mike: The Big Wig sway bar for the Nissan Titan XD is an off-the-shelf component, just like all of the products and gear used in the SEMA build.
Are there any other Hellwig products on the Nissan Titan XD build?
Mike: For display purposes at SEMA, we have also installed Hellwig helper springs.
Typically, we do not promote using helper springs and air bags together.  When you have both air bags and helper springs installed, the result is a ride that's too stiff, and a suspension system that's not properly engaged.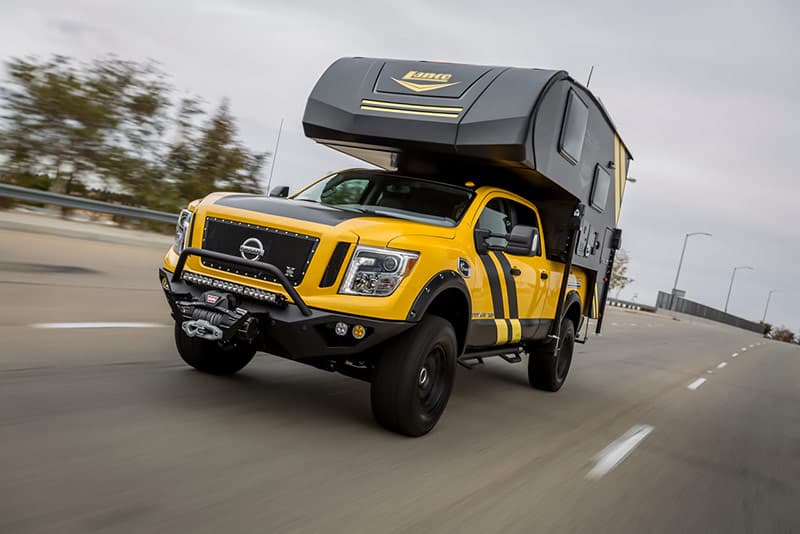 How is the rig getting to SEMA?
Mike: I will be driving it to SEMA.  For my drive from California to Las Vegas, the helper springs will be on their lowest setting – essentially disengaged.  Our helper springs are adjustable to dial in the support you need.  You can make your rear suspension tighter or looser depending on the preload you set when installing the Helper Spring kit.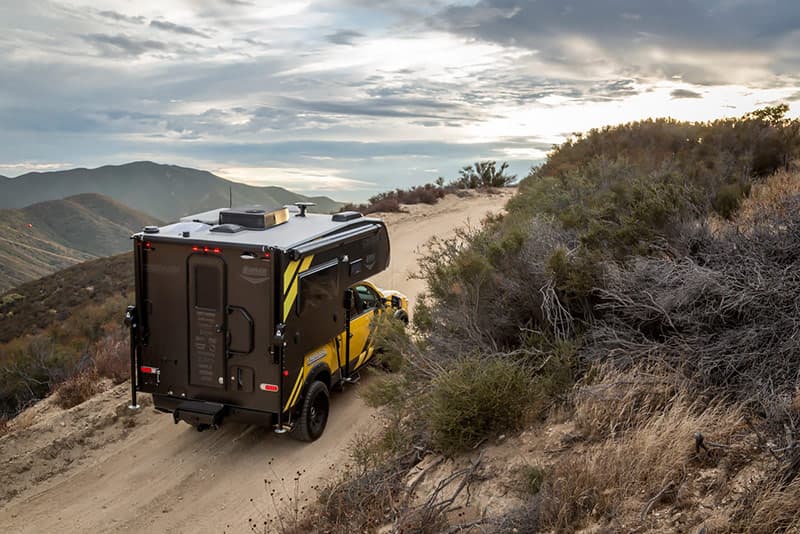 The Ultimate Overland Camping Vehicle
We are aiming for the ultimate overland camping vehicle with this rig.  With the exception of the more extreme dedicated overland camping rigs out there, this is as ultimate as you can get while still being able to use the truck like a pickup once the camper is removed.  The cool thing about this rig is that consumers can set up a Nissan Titan XD, match it to a Lance 650, and assemble their own version. This build can be easily purchased by consumers.
What excites me about this rig is that I've been able to manage the build and make changes as needed. One example is how we needed to change the front bumper system.  The first bumper we tried was not appropriate for off-roading.  It was too big and heavy.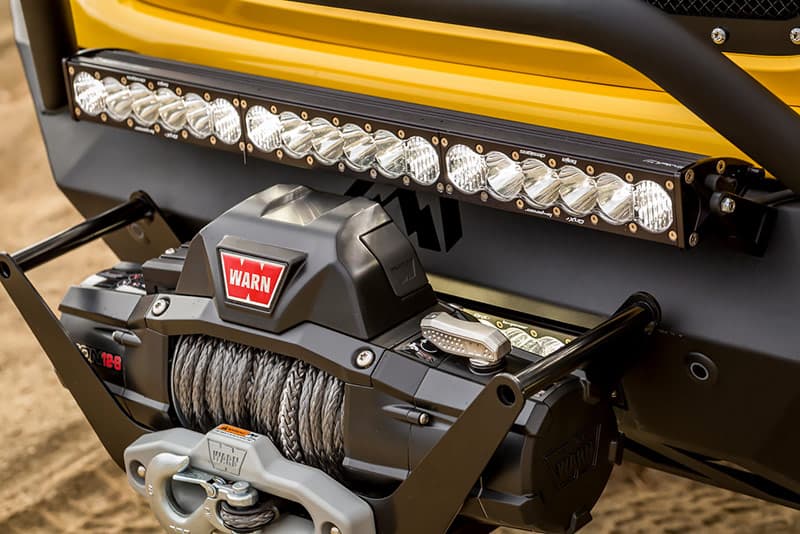 At that point, I made an executive decision to source a smaller, lighter bumper, but that bumper didn't support a winch.  To address this, we slightly modified the front bumper by adding a front mount hitch receiver to the frame.  This allows us to remove the winch for extra approach angle.  Consequently, we can also remove it and use it on the rear hitch.  Since this rig is designed for off-road use, that versatility is important.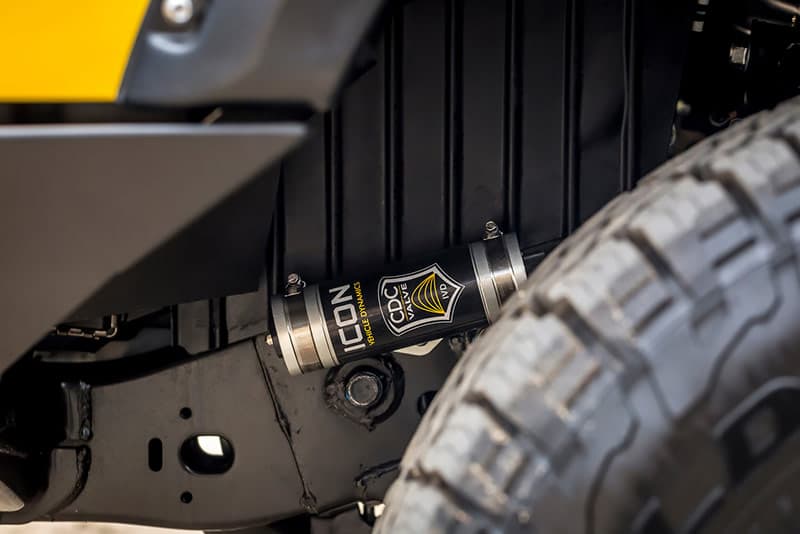 What is the total cost of the entire rig?
Mike: The Nissan XD had a lot of upgrades to improve its off-road and overland capability all while improving its on-road drive-ability as well.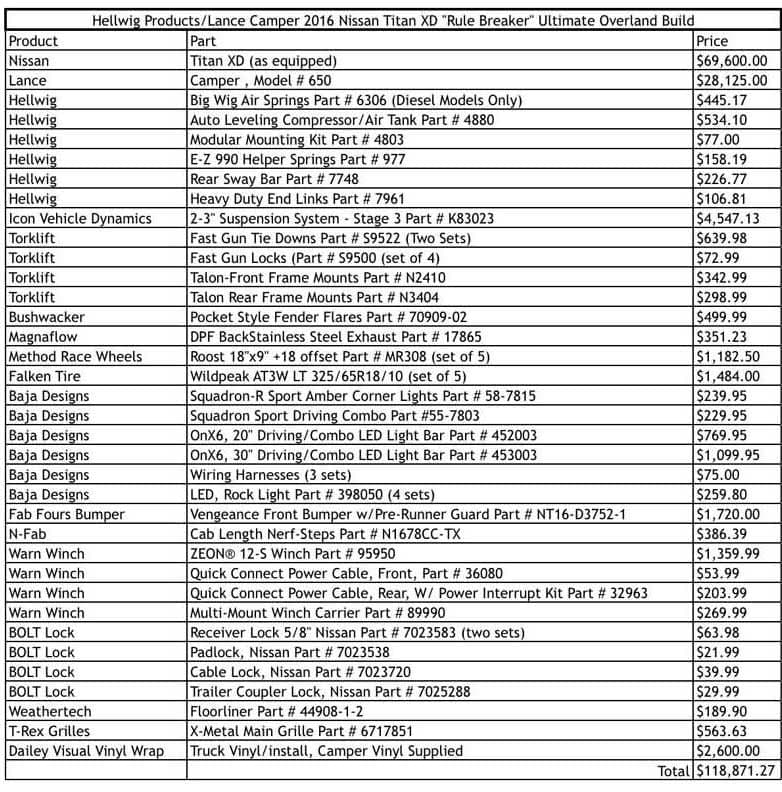 Above: The breakdown of the components used in the build, and their cost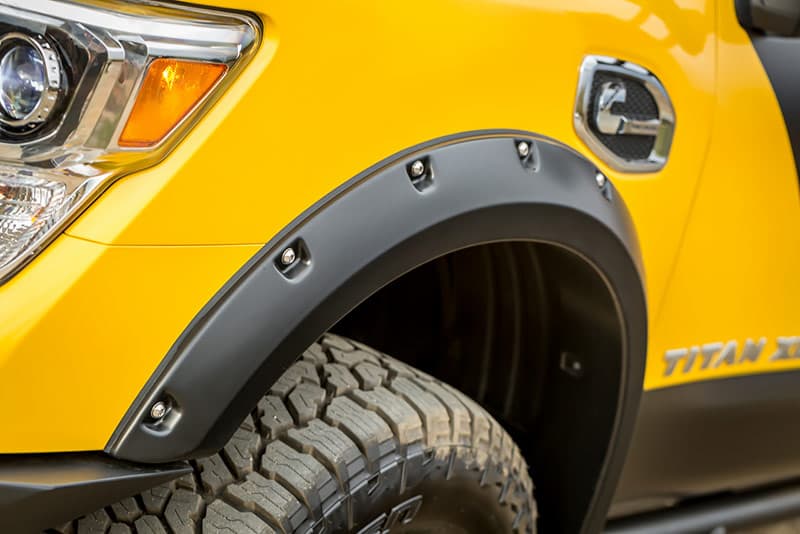 Bushwacker Pocket Style Fender Flares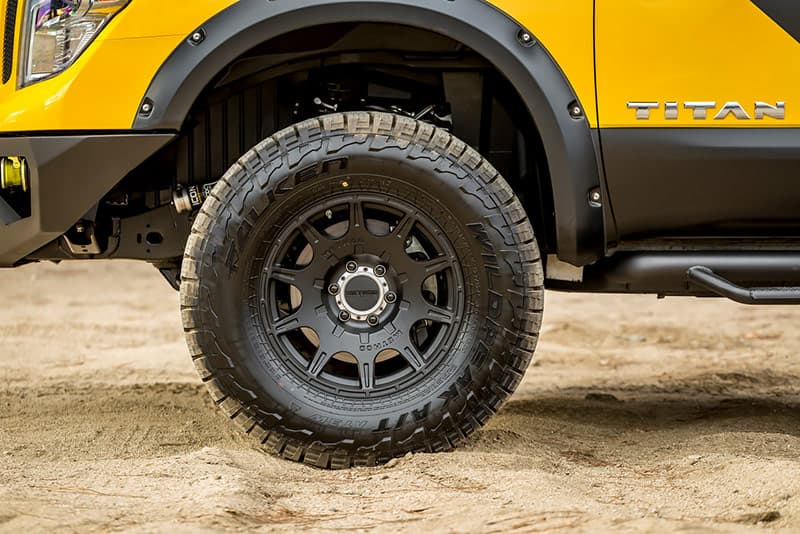 Method Race Wheels, Roost 18″x9″ +18 offset and Falcon Wildpeak AT3W LT 325/65R18/10 tires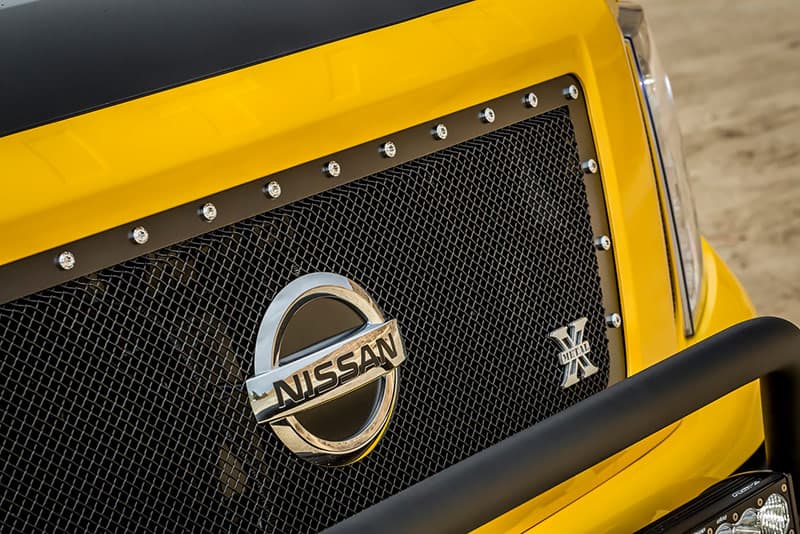 Trex X-Metal Main Grille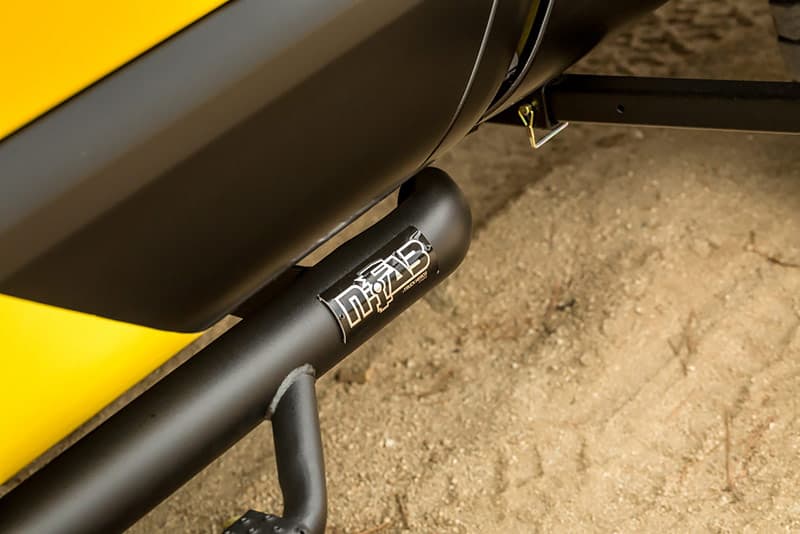 N-Fab Cab Length Nerf-Steps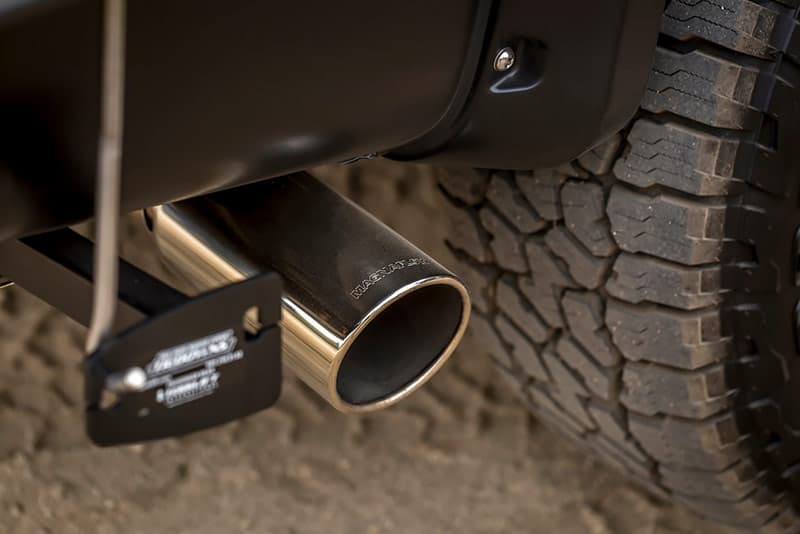 Magna Flow DPF Back Stainless Steel Exhaust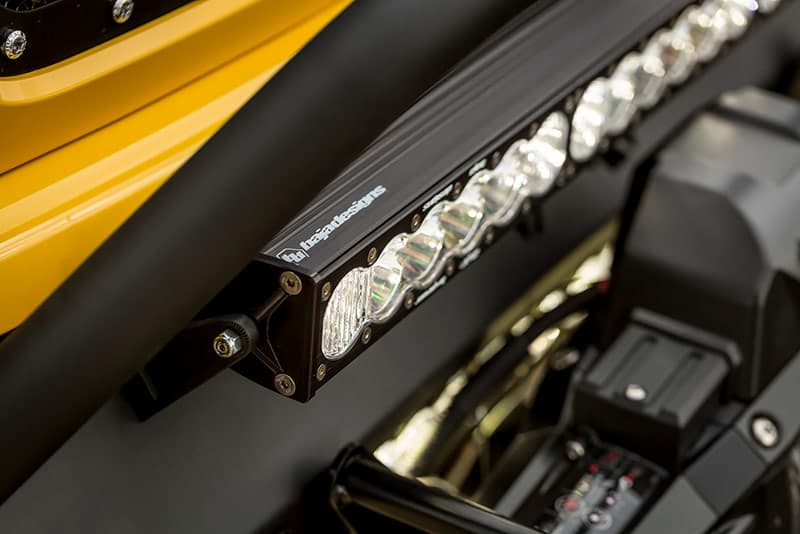 Baja Designs LED Light Bar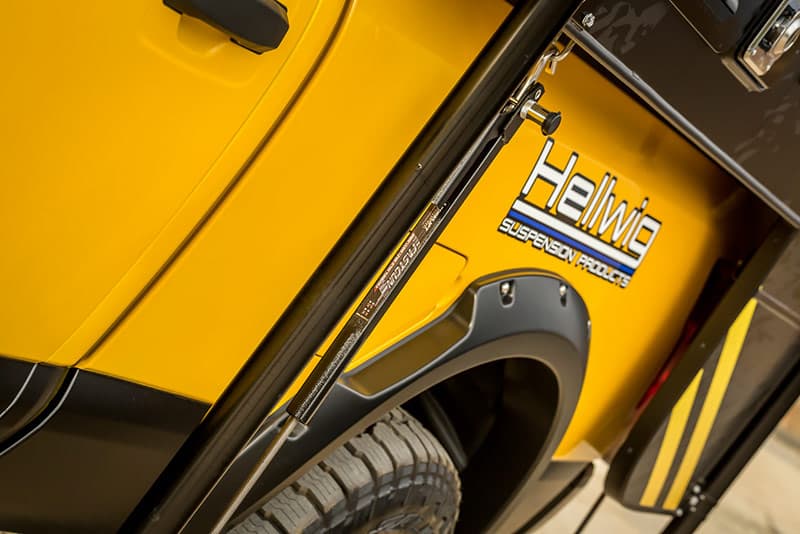 Torklift Talon Tie-downs and Fastgun Turnbuckles
Tell us about how LGE-CTS Motorsports got involved, and what they contributed to the build?
Mike: Sara Morosan and her team at LGE-CTS Motorsports installed all of the above-mentioned components and gear.  They did an incredible job helping us with this SEMA rig.  Working closely with them we were able to quickly and painlessly overcome obstacles such as the bumper and other minor design changes.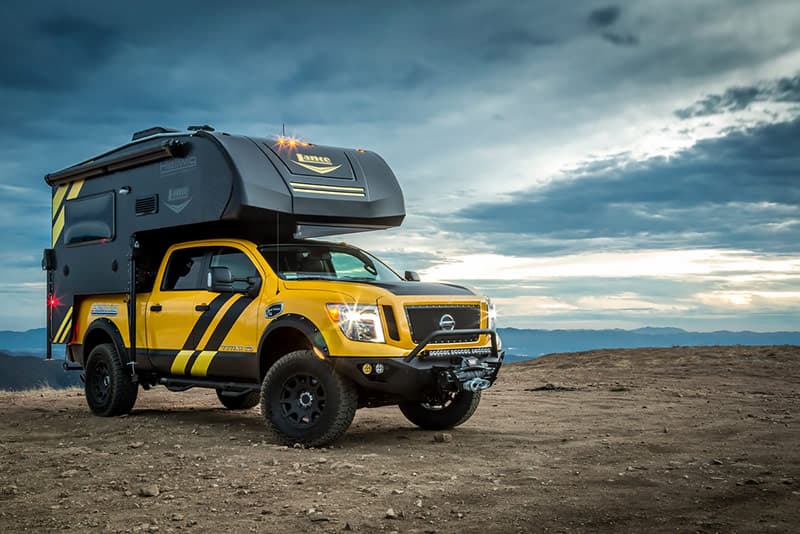 We will want to follow-up with you after SEMA to hear how the rig was received and get your feedback on driving the truck.  In the meantime, is there anything else you would like to add about this build?
Mike: Hellwig Products attended the first SEMA show in 1967.  It was in the basement of Dodger Stadium in Los Angeles.  Every year we try to push forward in new and exciting directions with our Hellwig showcase cars and trucks.
We're calling this truck and camper the Rule Breaker.  It's not breaking any legal rules, but it's shattering the old assumptions many folks have about truck campers.  This is a rig that you can have fun with and it stands out from the crowd.  It's not just a pretty showcase piece.  It's a fully functional overland rig.  Best of all, a consumer can build this rig with 100-percent off-the-shelf products.
I am very excited that the initial rendering of the rig reached almost 750,000 people and over 3,700 Facebook social media shares.  After SEMA, this rig will go to Overland Expo and other off-road rallies.  And we have another surprise about this rig to unveil at SEMA, but that news will have to wait.
Lance 650 For SEMA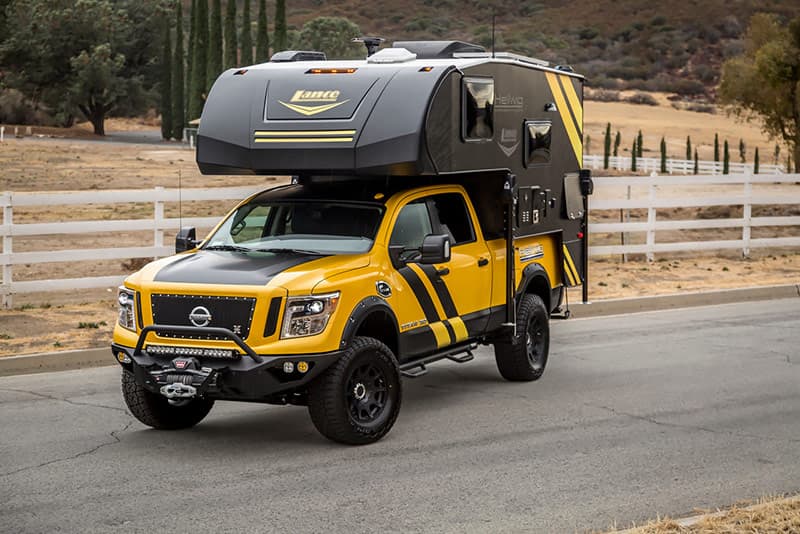 Other than supplying the camper, what was Lance Camper's involvement with the build planning and execution?
Bob: Last year, Lance Campers led the development of the SEMA truck and camper project with Hellwig Products.  We bought the truck, developed the build, designed the wrap, and installed the gear here at Lance Campers.
This year, Hellwig Products took the lead.  Hellwig purchased the truck, designed the build, coordinated the wrap, and saw the project to completion.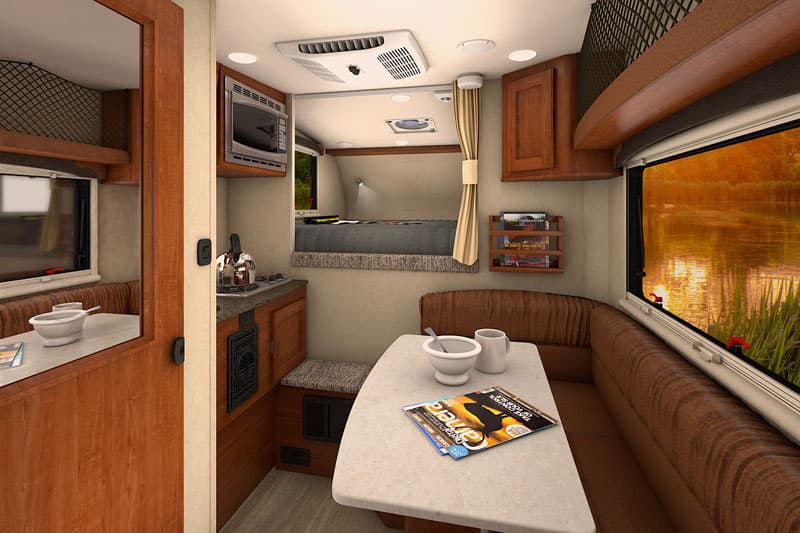 Above: The Lance 650 with the Roadster interior
We consulted on the project and supplied a Lance 650 to their design requirements.
We have a great relationship with Hellwig.  They have been an excellent partner and helped Lance Campers gain tremendous exposure at SEMA.  It's also really cool that Hellwig Products is a family-owned business, and that three generations of Hellwigs own Lance campers.
The exciting SEMA news for Lance this year is that our camper will be featured inside at Hellwig's booth.  Last year our rig was outside in a less-traveled area that's open to the weather.  This year we are showcased inside at Hellwig's primary display.  It's a much better position for Lance Campers.
Why is Lance Campers going back to SEMA?  
Bob: We have gotten the jump on truck campers at SEMA and I love that.  There are other RVs at SEMA, but it's a show that focuses primarily on automotive accessories.  That's why it's a truck and camper build that's on display.  That presentation works at SEMA.
SEMA is second in attendance only to CES (Consumer Electronics Show).  It has a huge turn out of the automotive industry and press.  The event is not open to the public, even though I think the outside area is open to the public on the last day.
With it being automotive industry and media, how can Lance gain dealers or consumer sales at SEMA?  Or is there another goal in mind?
Bob: Almost everyone attending SEMA is a "gear-head" with a heavy orientation towards trucks, and they are outdoor people.  That's what the SEMA market is, and we're approaching them by having our product in the show.  The attendees are also highly influential in the markets they represent.
After the show, automotive-oriented media outlets including four-wheel drive and off-road magazines will be doing product reviews on the Hellwig-Lance rig.  So it's an exposure and branding opportunity as well.
Was that your experience from last year?
Bob: Yes, we had an overwhelmingly positive response to last year's SEMA vehicle.  We got a ton of comments and shares on our Facebook page.  It helped to build our social media community.  We just shared Hellwig's most recent post about the build and we've had over 1,000 likes and dozens of comments.
How did the Nissan Titan XD get selected for this build?
Bob: The truck was Hellwig's selection.  They had already purchased that truck for their marketing efforts before we had agreed on the specific camper build.
Did you consult with them on the payload match?  The Nissan Titan is not a platform that's normally considered for a hard-side truck camper.
Bob: We talked about the weight of the camper and the Nissan Titan payload, and made sure it was able to handle it.  That said, the weight is going to be right at the payload limits of the truck.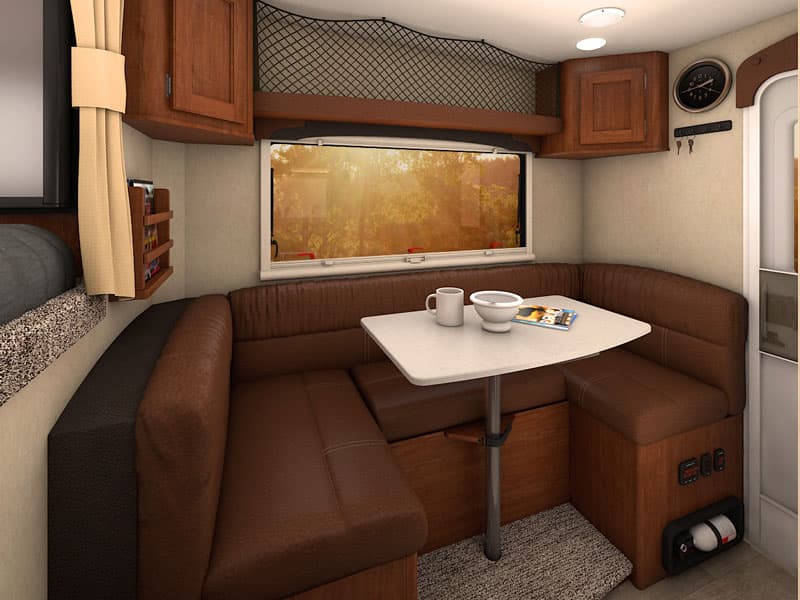 Above: The Lance 650 with the Roadster interior
Is the camper a stock Lance 650?
Bob: Yes, it is a Lance 650 with the Roadster interior.  The 650 is entirely stock on the inside.
On the exterior there is a vinyl wrap, a satin black molded front cap, and other black features; black vent covers, Atwood jacks. etc.  We also tinted the windows, used a black-out trim, and sprayed the moldings black.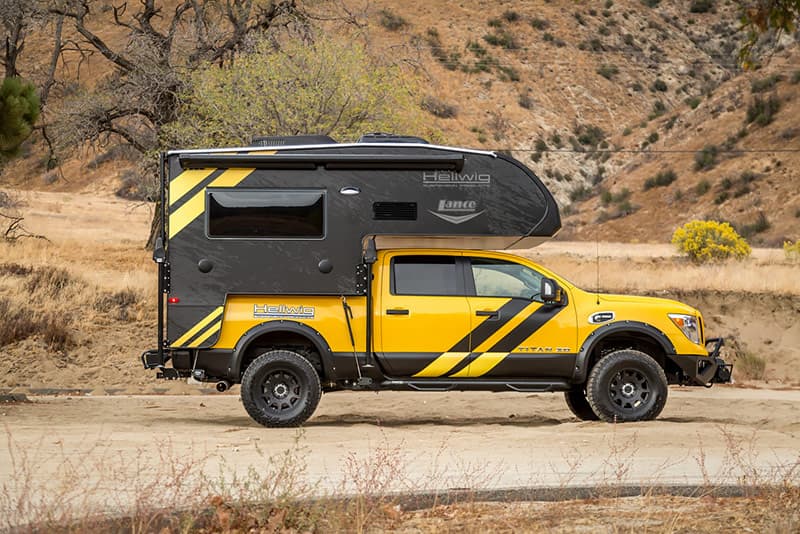 The exterior wrap was put on during construction; after the exterior walls are laminated and routed.  We learned to apply the wrap before assembling the unit when we built the Cruise America rigs.  By wrapping prior to assembly, the wrap comes out cleaner.  You don't have edges from cutting around the windows, doors, and other features, so the wrap looks cleaner.
You'll notice that the rendering shows a LED light bar on the top.  That's not on the camper.  Also, the Lance logo is a bit different on the final unit.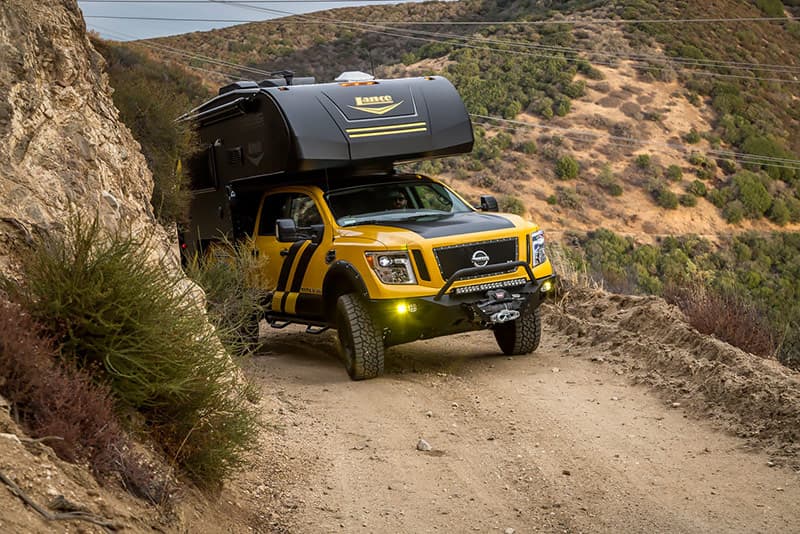 Is there anything else you would like to add about this SEMA build?
Bob: SEMA is a really exciting event and we love being a part of it.  For the truck camper segment, SEMA is a big opportunity.  To grow awareness of truck campers at SEMA and how cool they can be is huge.
The overland market at SEMA is growing.  That's why Hellwig targeted the rig as an overland vehicle.  Being in Hellwig's booth at the event is going to bring a lot of customers to the truck camper segment.  They might be looking at Sportsmobiles or Land Rovers, but they'll also be looking at truck campers.  I'm glad Lance Campers is leading the pack.
The Hellwig-Lance rig will be on display at the Hellwig Suspension Products booth (#34075) at SEMA from November 1-4, in the Upper South Hall of the Las Vegas Convention Center.
For more information on Lance Campers, visit their website at lancecamper.com.  For more information on Hellwig Products, visit their website at hellwigproducts.com.
Request a free brochure for the Lance 650 or the Hellwig suspension products on this rig.