Truck Camper Magazine reviews a 2019 Lance 650, a hard-side, non-slide, wet bath truck camper designed for short bed half-ton trucks.  Is this a full-blooded Lance Camper, or did they compromise too much to make a half-ton payload match?

Lance Campers debuted the Lance 650 in Truck Camper Magazine in October of 2015.  The new model was Lance's all-out assault on the elusive hard side, half-ton marketplace.
Many manufacturers have attempted to build a short bed, half-ton, hard side truck camper only to fail miserably when the final unit hit the scales too heavy.  So why did Lance think they could succeed where others had not?  Three things.
First, Lance had revolutionized their design and manufacturing process.  During the recession, Lance Campers invested heavily in computer-aided design, CNC equipment, and modern materials including Azdel composite and LitePly plywood.
These technologies and materials – combined with their 50-plus years of experience and innovations – allowed the Lancaster, California manufacturer to significantly tighten tolerances, save weight, and reduce costs.
Second, Lance started the 650 on a proven floor plan of an extinct make and model; the Six-Pac D650.  One of the most influential truck campers of the past 25 years, the Six-Pac D650 proved that a hard-side, short bed, fully-featured and self-contained truck camper could be payload and center of gravity matched with half-ton trucks.
Finally, Lance had a huge ace up its sleeve.  They worked with Ford Motor Company to special order an aluminum-bodied 2015 Ford F150 with the maximum possible payload capacity.  Lance seized on this new F-150 and purchased a half-ton with payload pushing into what had previously been three-quarter ton territory.
For the Lance 650 announcement, we predictably challenged Lance Campers on the half-ton payload compatibility of their new camper.  Gary Conley, Lance Camper's National Sales Manager was ready.  "We payload matched this camper to a 2015 Ford F150.  The truck is here at Lance, and it's a legitimate payload match."
Lance Campers had followed the exact strategy we recommend for matching a truck and camper; (a) find the truck camper you want to payload match, (b) calculate exactly what it will weigh wet and loaded with options and cargo, and then (c) custom order a truck with at least that much payload capacity – preferably more.  This simple step-by-step approach is explained in the must-read article, "How To Match A Truck and Truck Camper".
Lance had successfully designed, built, and matched a fully-featured hard side truck camper to a short bed half-ton truck.  That much is indisputable.  The question is did Lance make the right compromises to achieve the required half-ton short bed size, weight, and center of gravity objectives?  Let's dig into the 650, and find out.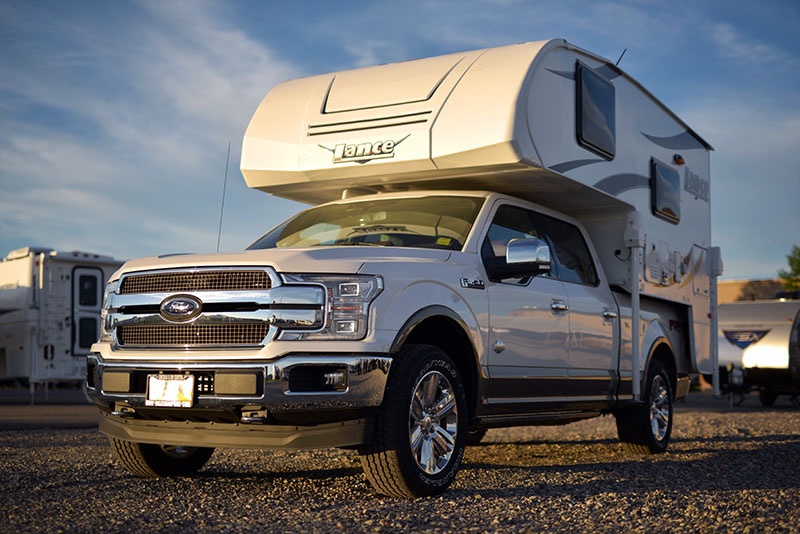 We reviewed a 2019 Lance 650 at RV Center Montana in Bozeman, Montana.  RV Center Montana was formally known as Bozeman Ford RV, and is owned by the same family that operates Bozeman Ford's dealership.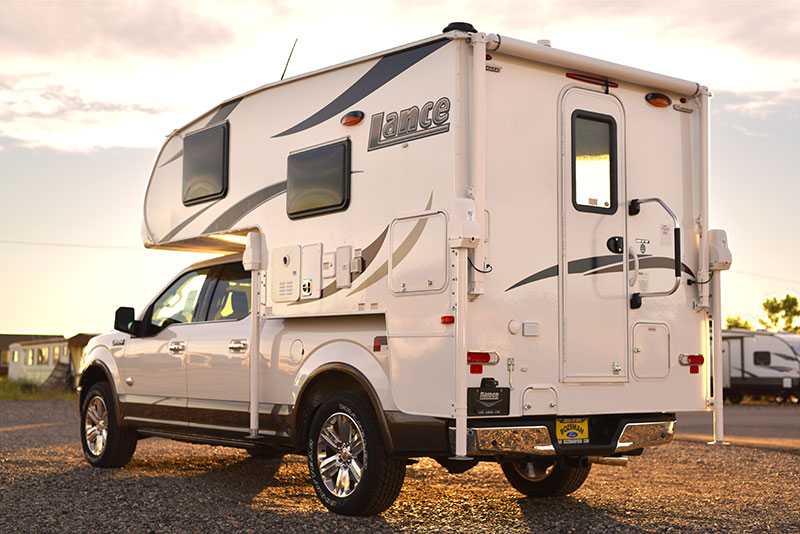 The connection with the Ford dealership created a unique opportunity to put a brand spanking new 2018 Ford F150 under the Lance 650.  Danton Wallin of Bozeman Ford graciously selected a F-150 and brought it to RV Center Montana.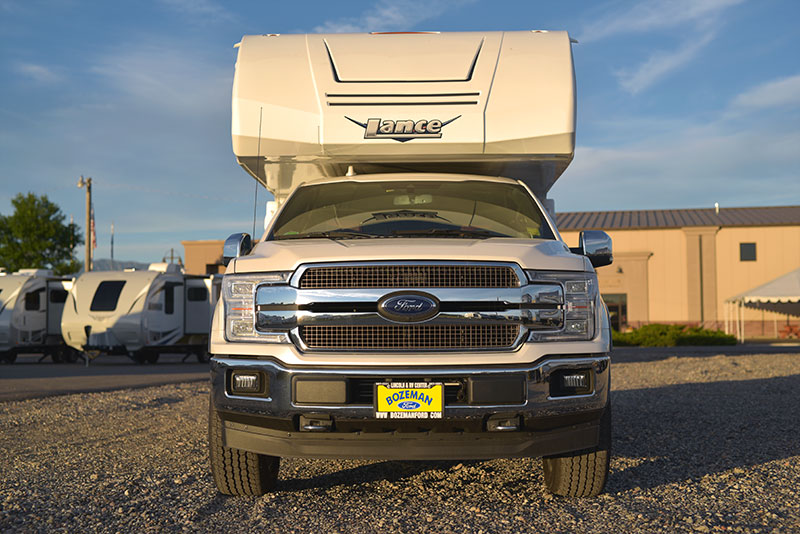 The 2018 Ford F150 sure showed the potential of this particularly good looking truck and camper combination.  Note how Lance drew from the F-150 sheet metal for the design of their 650 front nose cap.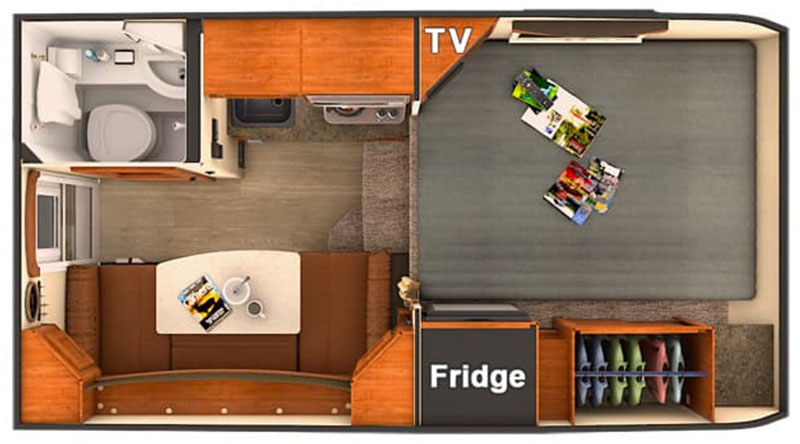 Floor Plan Evaluation
Stepping into the Lance 650 the camper gives no indication of being a design compromised for size or weight.  The main body of the camper feels exceptionally open and roomy.