Truck Camper Magazine reviews a 2019 Lance 650, a hard-side, non-slide, wet bath truck camper designed for short bed half-ton trucks.  Is this a full-blooded Lance Camper, or did they compromise too much to make a half-ton payload match?

Lance Campers debuted the Lance 650 in Truck Camper Magazine in October of 2015.  The new model was Lance's all-out assault on the elusive hard side, half-ton marketplace.
Many manufacturers have attempted to build a short bed, half-ton, hard side truck camper only to fail miserably when the final unit hit the scales too heavy.  So why did Lance think they could succeed where others had not?  Three things.
First, Lance had revolutionized their design and manufacturing process.  During the recession, Lance Campers invested heavily in computer-aided design, CNC equipment, and modern materials including Azdel composite and LitePly plywood.
These technologies and materials – combined with their 50-plus years of experience and innovations – allowed the Lancaster, California manufacturer to significantly tighten tolerances, save weight, and reduce costs.
Second, Lance started the 650 on a proven floor plan of an extinct make and model; the Six-Pac D650.  One of the most influential truck campers of the past 25 years, the Six-Pac D650 proved that a hard-side, short bed, fully-featured and self-contained truck camper could be payload and center of gravity matched with half-ton trucks.
Finally, Lance had a huge ace up its sleeve.  They worked with Ford Motor Company to special order an aluminum-bodied 2015 Ford F150 with the maximum possible payload capacity.  Lance seized on this new F-150 and purchased a half-ton with payload pushing into what had previously been three-quarter ton territory.
For the Lance 650 announcement, we predictably challenged Lance Campers on the half-ton payload compatibility of their new camper.  Gary Conley, Lance Camper's National Sales Manager was ready.  "We payload matched this camper to a 2015 Ford F150.  The truck is here at Lance, and it's a legitimate payload match."
Lance Campers had followed the exact strategy we recommend for matching a truck and camper; (a) find the truck camper you want to payload match, (b) calculate exactly what it will weigh wet and loaded with options and cargo, and then (c) custom order a truck with at least that much payload capacity – preferably more.  This simple step-by-step approach is explained in the must-read article, "How To Match A Truck and Truck Camper".
Lance had successfully designed, built, and matched a fully-featured hard side truck camper to a short bed half-ton truck.  That much is indisputable.  The question is did Lance make the right compromises to achieve the required half-ton short bed size, weight, and center of gravity objectives?  Let's dig into the 650, and find out.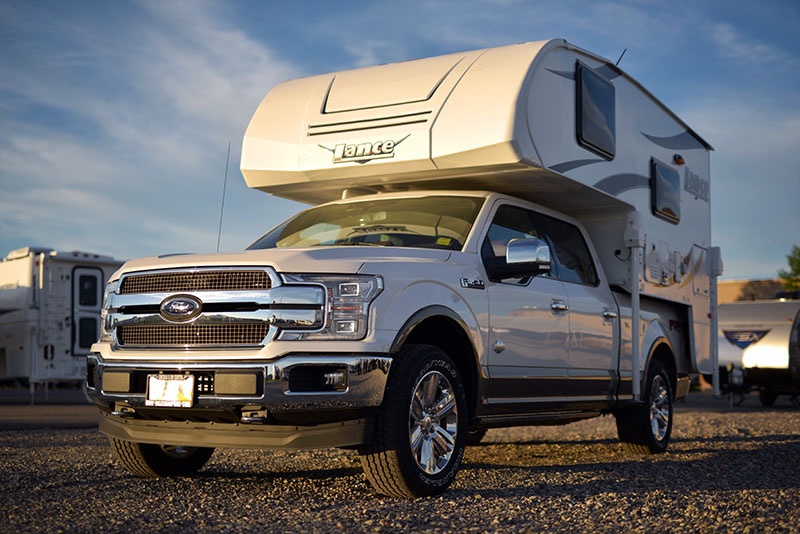 We reviewed a 2019 Lance 650 at RV Center Montana in Bozeman, Montana.  RV Center Montana was formally known as Bozeman Ford RV, and is owned by the same family that operates Bozeman Ford's dealership.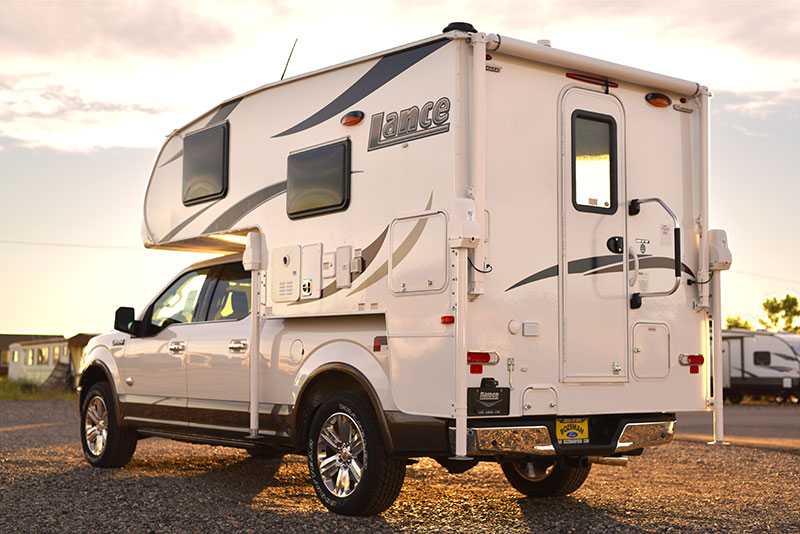 The connection with the Ford dealership created a unique opportunity to put a brand spanking new 2018 Ford F150 under the Lance 650.  Danton Wallin of Bozeman Ford graciously selected a F-150 and brought it to RV Center Montana.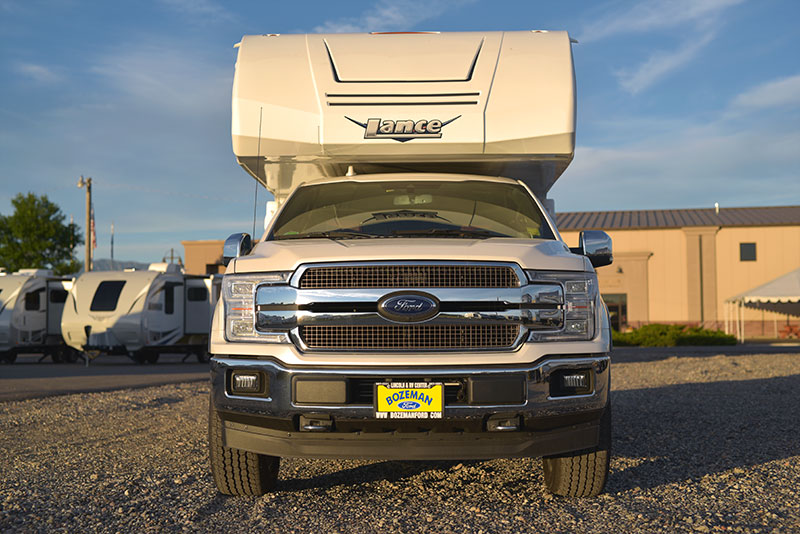 The 2018 Ford F150 sure showed the potential of this particularly good looking truck and camper combination.  Note how Lance drew from the F-150 sheet metal for the design of their 650 front nose cap.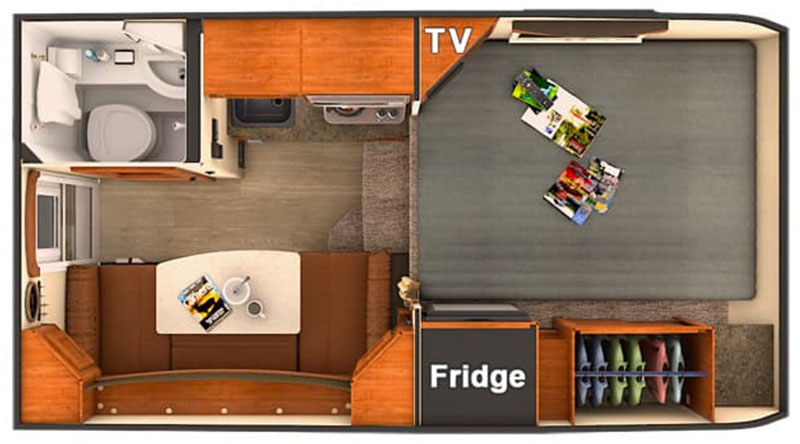 Floor Plan Evaluation
Stepping into the Lance 650 the camper gives no indication of being a design compromised for size or weight.  The main body of the camper feels exceptionally open and roomy.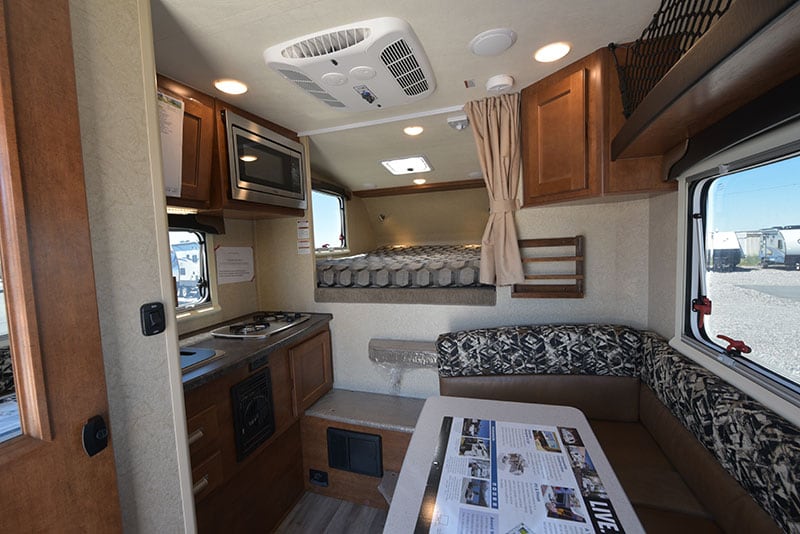 The Lance 650 wet bath is located in the rear driver's side of the camper and is constructed of ABS thermoplastic. Although ABS is not as durable as fiberglass, it's commonly used in exterior automotive and airplane manufacturing.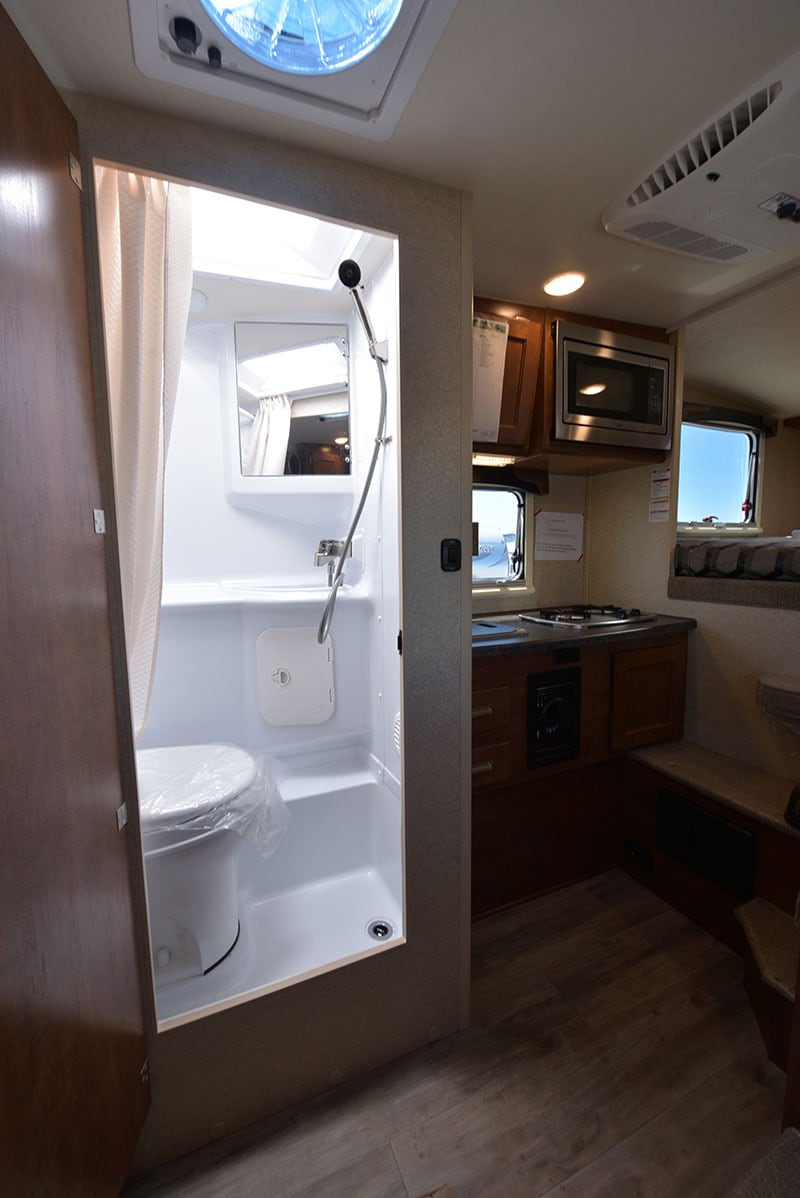 If properly designed and implemented, ABS offers more than enough strength for a truck camper bathroom application and offers significant weight and cost savings to a one-piece fiberglass stall.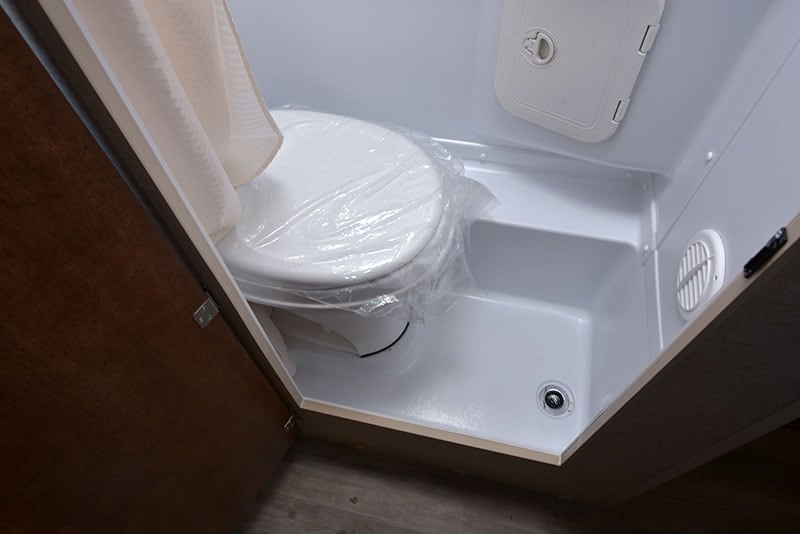 Unlike a one-piece fiberglass stall, an ABS bathroom is typically comprised of multiple assembled sections. Where those sections come together creates a seam that will need to be monitored.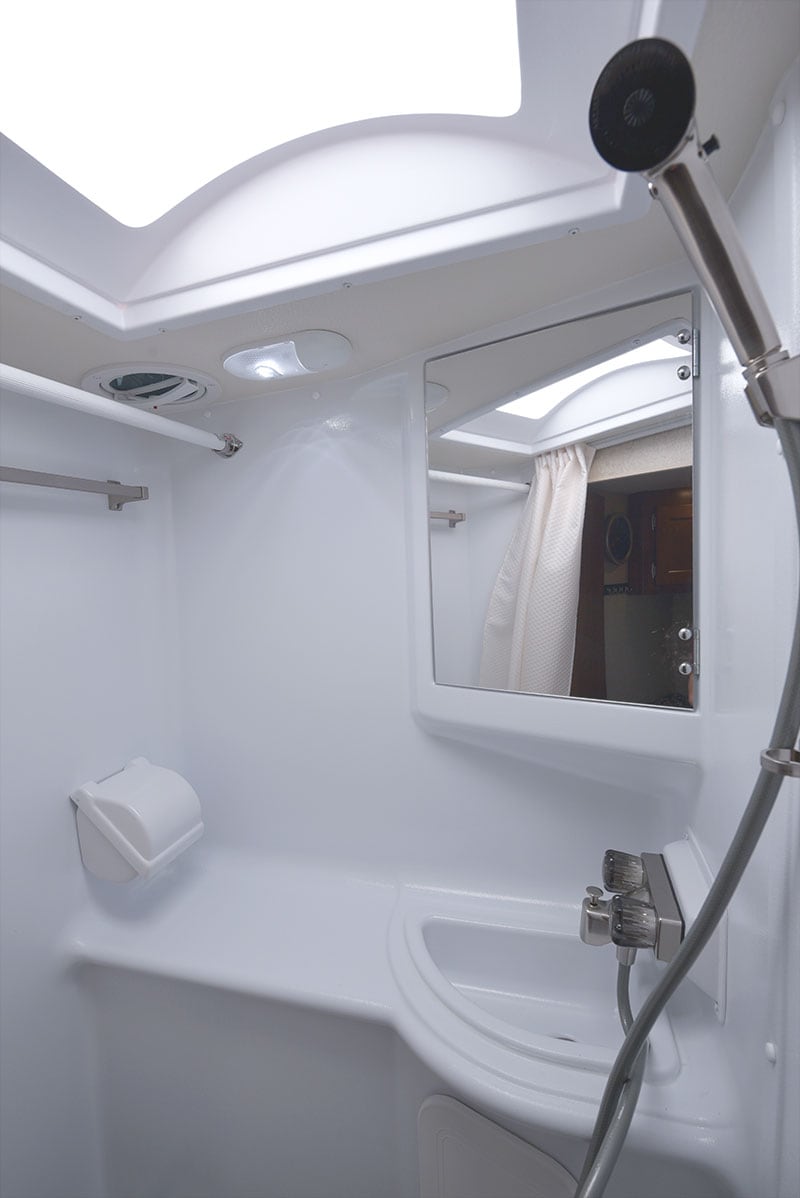 The lightweight wet bath design in the 650 was based on the wet bath of the Lance 815, a best-selling model from Lance's recent past. Starting with that proven design, Lance refined and maximized every element to create the largest and most fully-featured wet bath possible.
While it will never be mistaken for a spacious dry bath found in Lance's larger models, we found the wet bath had just enough room to be comfortable for sitting and standing.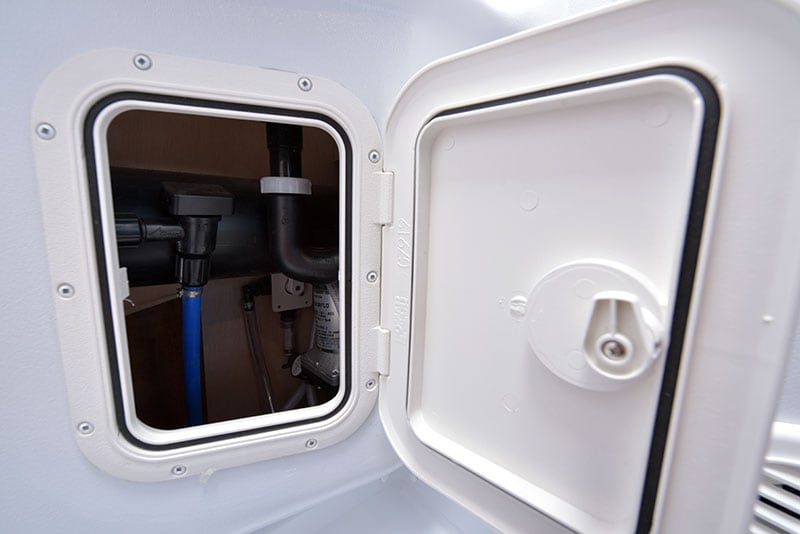 Immediately below the sink is a water-sealed compartment for accessing the plumbing, bypass valve (for winterizing), and water pump. This is a convenient location for the bypass valve, but changing a water pump in this location could be a challenge. It's doable, but there's not much room to maneuver.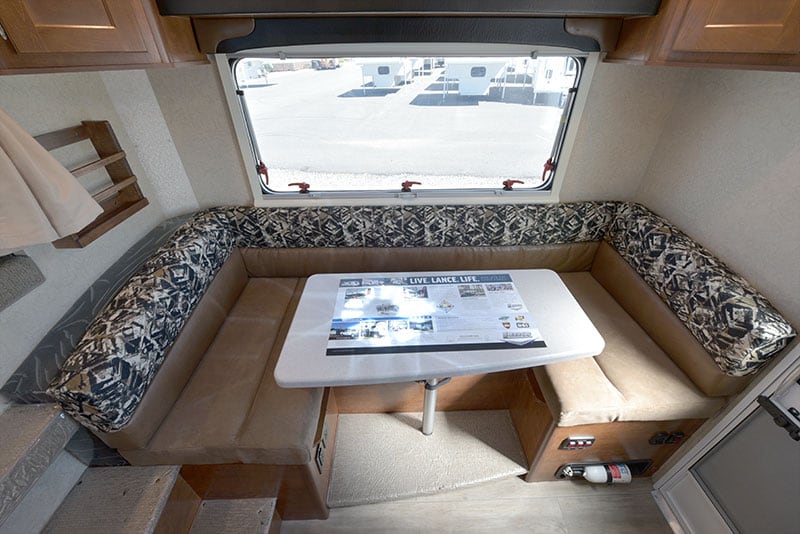 Two key elements that made the Six-Pac D650 a ground-breaking design were (1) the unusually large dinette created by (2) putting the refrigerator in the cabover.
Based on the Six-Pac floor plan, the Lance 650 took these design elements and gave the Lance 650 a huge 6-foot 4-inch U-shape dinette. There are many larger campers with dinettes smaller than what you see here. In fact, our 11-foot camper's dinette isn't this long.
The 6-foot 4-inch length means the 650 has an equally huge dinette bed area.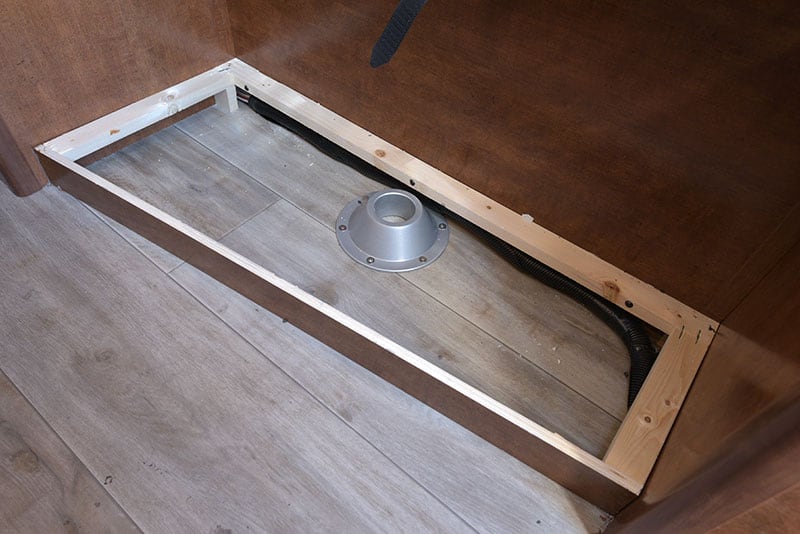 Where most dinette bed platforms utilize the table for the center support, the 650 uses a removable floor section. The removable floor section (removed in the above photo) comes from where your feet rest under the dinette. This clever design approach allows the table to be optimized as a table rather than compromised in a dual table bed-support role.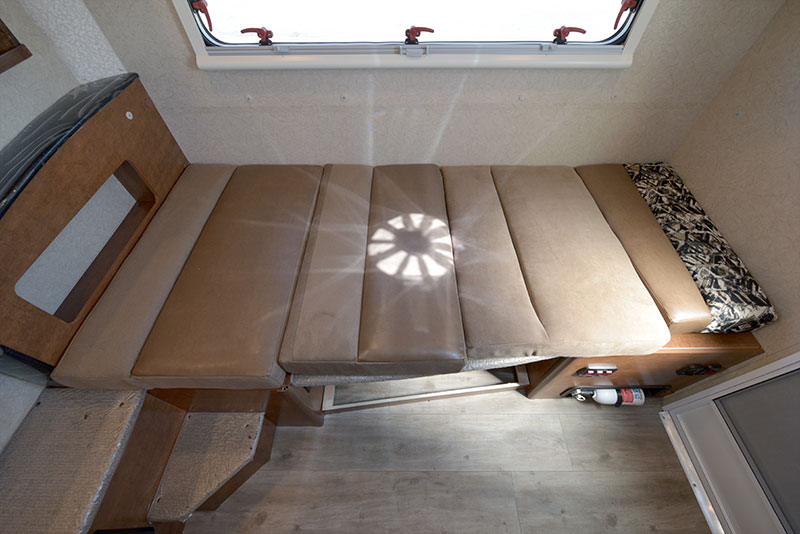 With the dinette cushions in place, the dinette bed is long enough for most full grown adults. Unless you're taller than 6'4", you can stretch out in comfort. This is a remarkably large bed for a fully-featured short bed truck camper.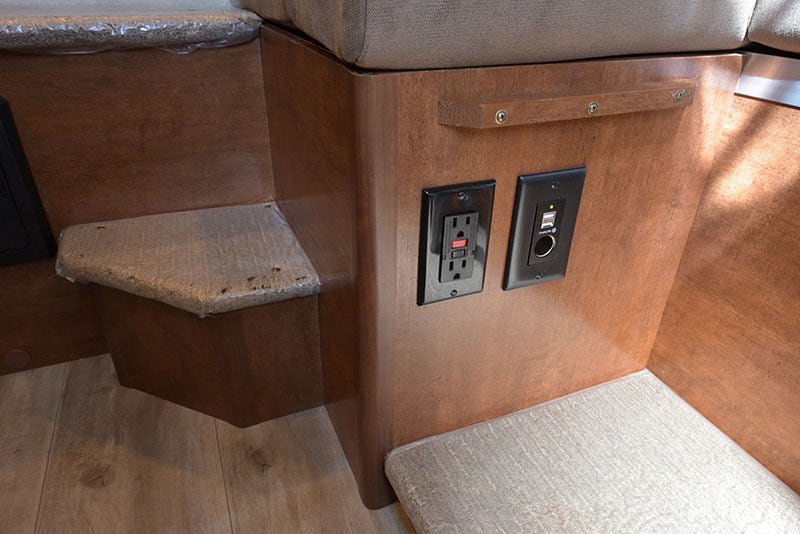 While we're in this area, we were very happy to find a full set of two 110-volt outlets, two 12-USB outlets, and one 12-volt outlet. These outlets are technically optional on the Lance 650, but we suspect many customers will want them in their unit.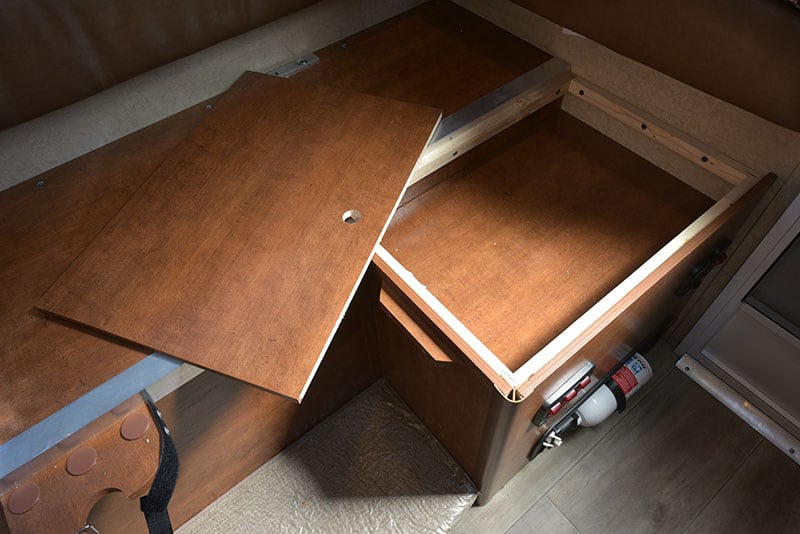 Under the forward-facing dinette seat is a small storage area. This would be a great place to store maps, brochures, and other flat items.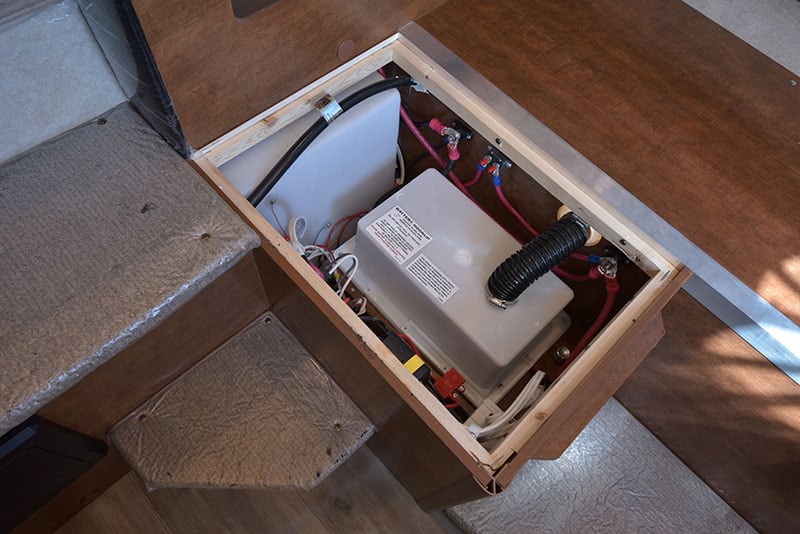 Under the rear-facing dinette seat is an enclosed and exterior-ventilated battery box for a single Group 27 battery.
Some readers might lament Lance's decision for an interior battery box with one battery. Keep in mind that these are exactly the kind of decisions that are required to hit the strict size, weight and center of gravity requirements of this model.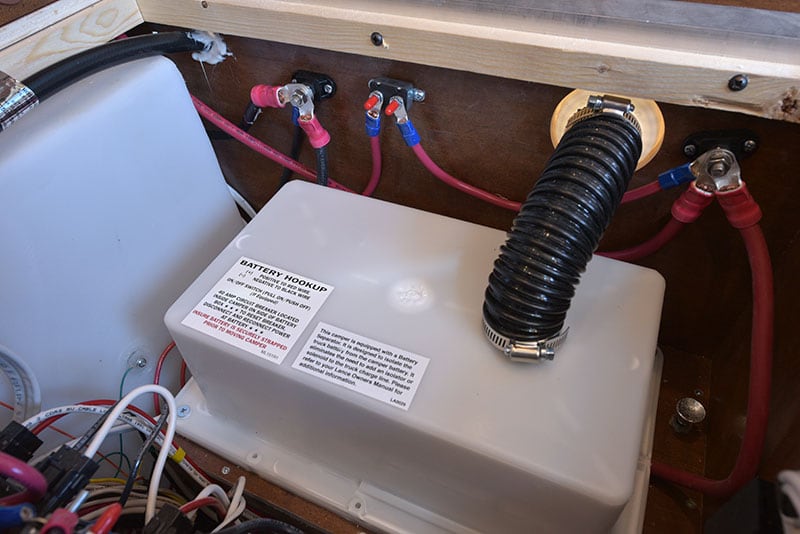 Taking a closer look inside the battery box area, we admired the well-executed wiring and the securely-clamped battery ventilation tube.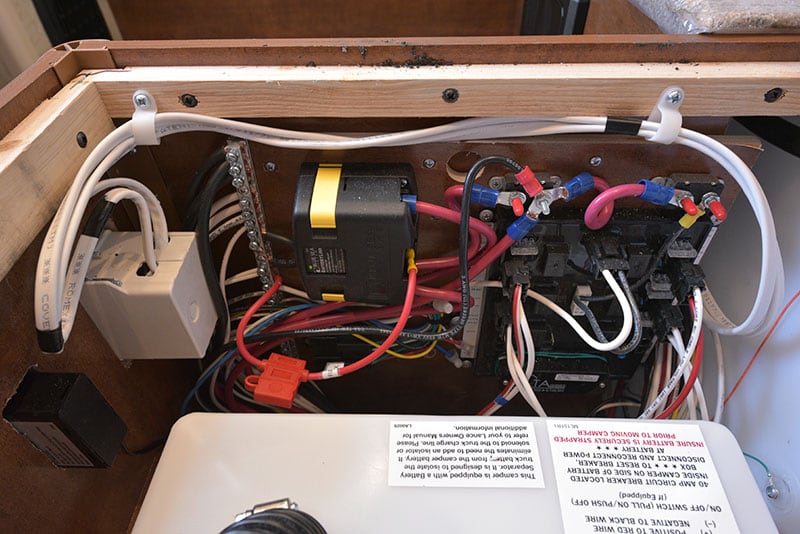 The wiring panel on the opposite wall of the battery box appears to have been preassembled on LitePly. This allows the panel to be built and tested prior to installation.
Preassembled modular components are something we are seeing more and more throughout the truck camper industry. In general, preassembly reduces time on the production line, improves quality control, and reduces cost. It also allows for a quick swap-out should something fail on the modular component.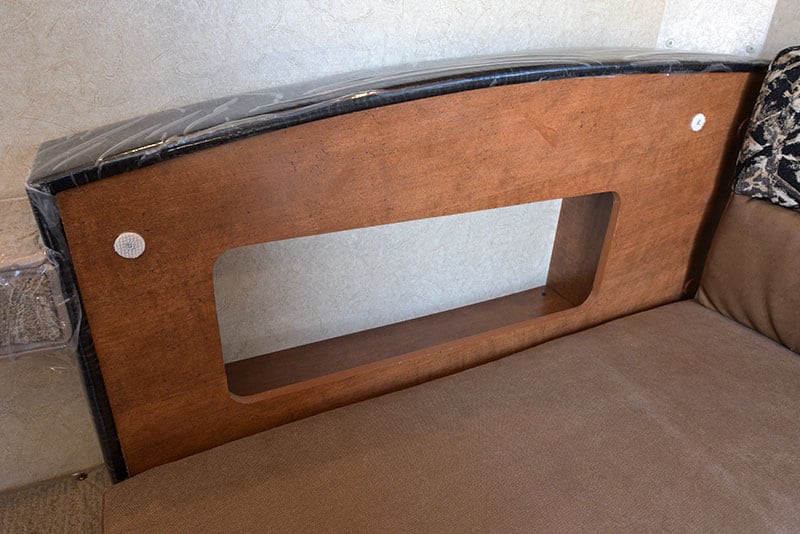 Behind the rear-facing dinette seat we found another storage cubby. I want to call to your attention to the perfectly rounded edges of this storage cubby, and the finished interior. This feature is normally hidden behind a seat cushion, but the Lance team took the time and effort to design, CNC cut, and finish it like a front-facing cabinet. Nicely done, not to mention a very useful storage space.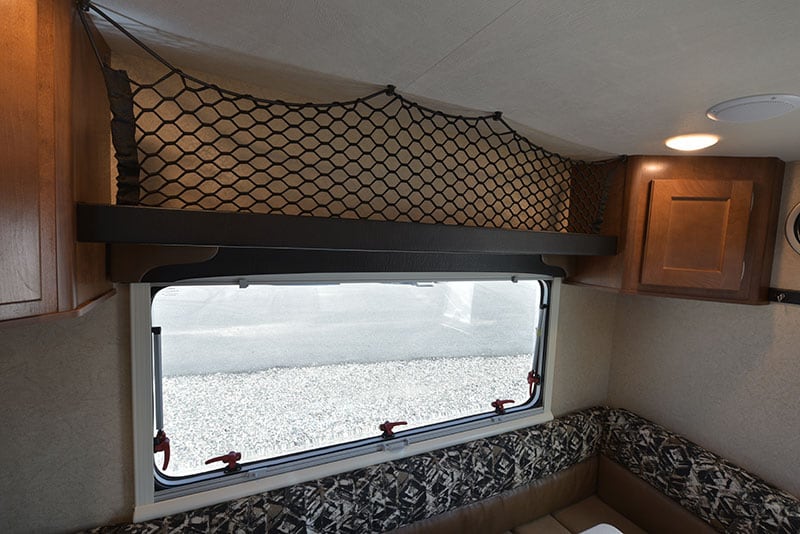 Above the dinette Lance has incorporated two corner cabinets and a long netted storage area. By using netting Lance is able to shave a few pounds off the total weight of the camper while retaining the storage function of this space. You have to save every ounce you can when you're shooting for an honest half-ton, short bed payload match.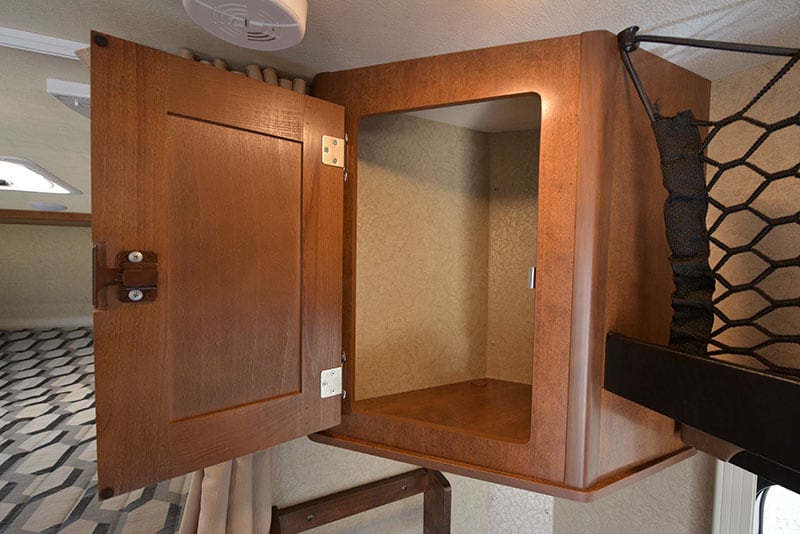 The rear-facing cabinet offers a good amount of storage. To save weight, the cabinet itself only has three sides; the door side, one side wall, and the floor.
To save even more weight, Lance opted to use 12-millimeter LitePly for the 650. The rest of Lance's truck camper line uses 15-millimeter LitePly, but I honestly did not perceive any difference when studying the 650's 12-millimeter cabinetry. Now that's a good compromise!
Lance also used their SolidWorks design and CNC equipment to eliminate the need for gimp throughout the unit. The CNC cut LitePly cabinetry goes right to the wall with tight tolerances.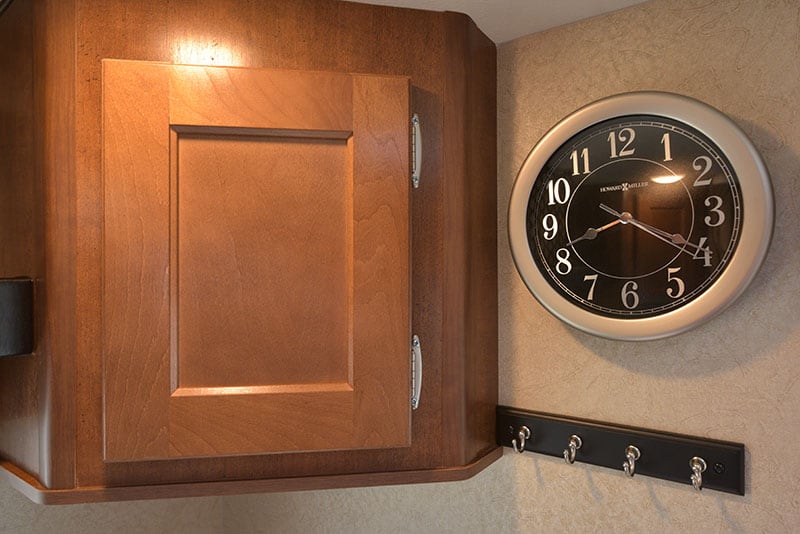 Lance installs an old-school hour, minute, and second-hand analog clock! Oh man, these things still exist? With a chrome bezel and black face, the clock adds a nice touch of class and functionality to what would otherwise be a blank wall space. Kids may have no idea what this round thing is (or how to read it), but anyone over the age of 30 will appreciate knowing the time at a quick glance.
Lance's key hooks always give me a giggle. Why? Right about the same time that Lance began to install key hooks they also debuted keyless entry.  I know, I know… folks still have keys. Heck, our new "keyless entry" and "stop/start" truck has a rather large key fob to contend with. Add to that the exterior compartment keys and various house keys and yes, we would love to have a nice set of key hooks in our camper.
Inside the forward-facing cabinet is an interior weight sticker including standard equipment, options, full water, and full propane. We want to commend Lance for having an interior weight sticker that gives the customer a more accurate wet-with-options weight.
For reasons that elude us, Lance does not include options less than 20-pounds on their interior weight sticker. The sticker states that the total weight of these not-included items could weigh up to 150 pounds. More on this later in the specifications and wet weight calculation.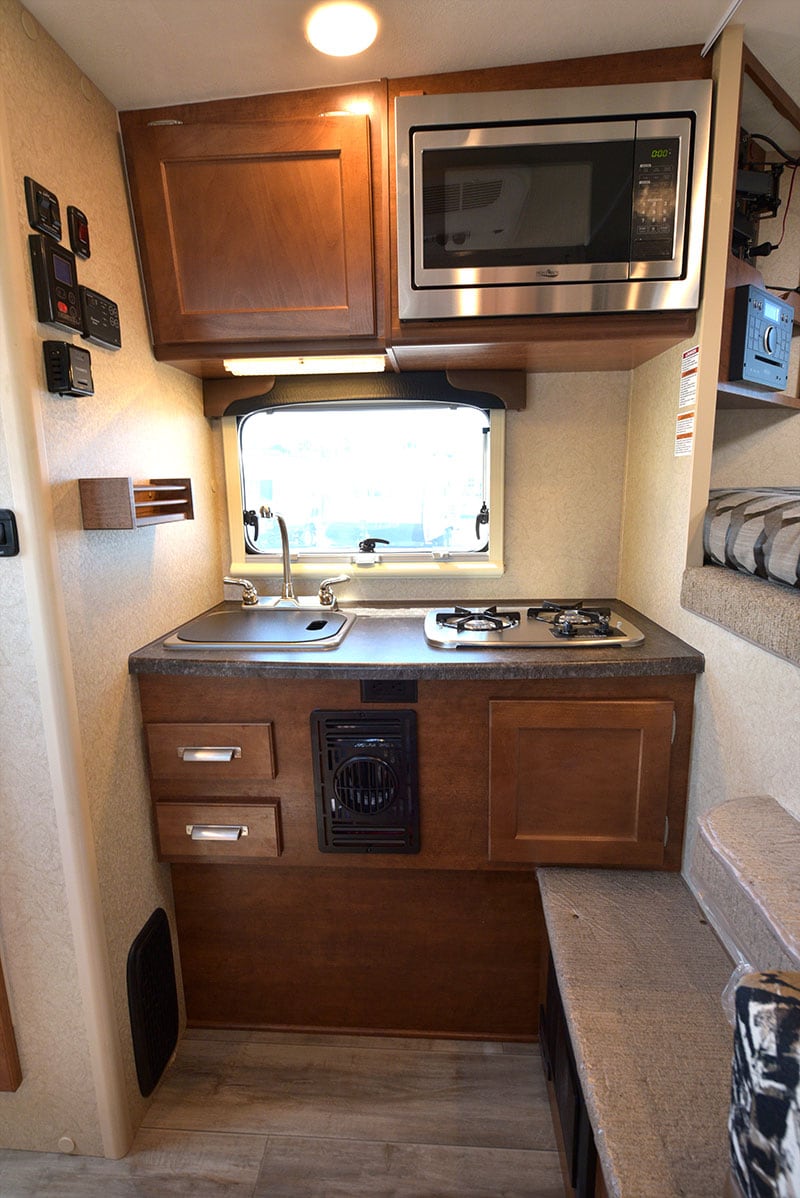 Between the wet bath and cabover on the driver's side is a tall and well-featured kitchen with a single bowl sink, two-burner propane cooktop, microwave, upper cabinet, two drawers, and a window for ventilation.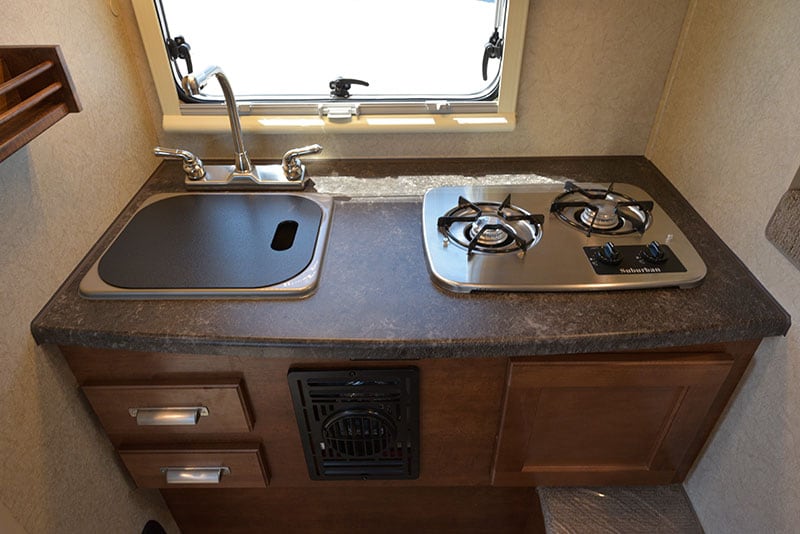 The available counter space in the Lance 650 is minimal, but should be enough for simple meals and the resulting minimal dishes and clean up.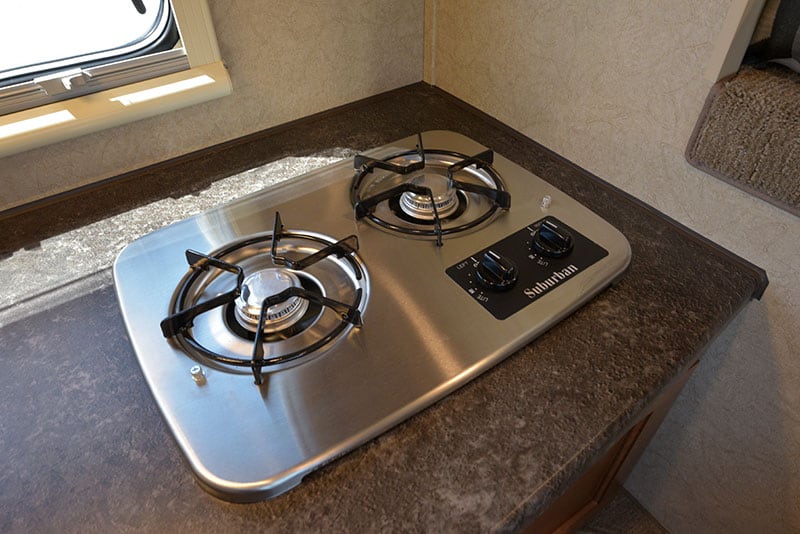 We have three burners on our camper's cooktop and can honestly say that we have never used the third burner. We use two burners at once on a semi-regular basis, but never all three. Angela would deeply miss her oven, but we could otherwise live happily with this two-burner cooktop.
Meal prep and dishes would require some careful planning. One could always use the dinette table for cutting vegetables and other ingredients. We often use the dinette table for meal prep in our camper – just to have more space.
For clean up, one could wait until the burners are off and cooled and place a cutting board over the cooktop to receive clean dishes before drying. Again, we do this in our camper using our cooktop cover and a dry dish towel. Adapt and conquer.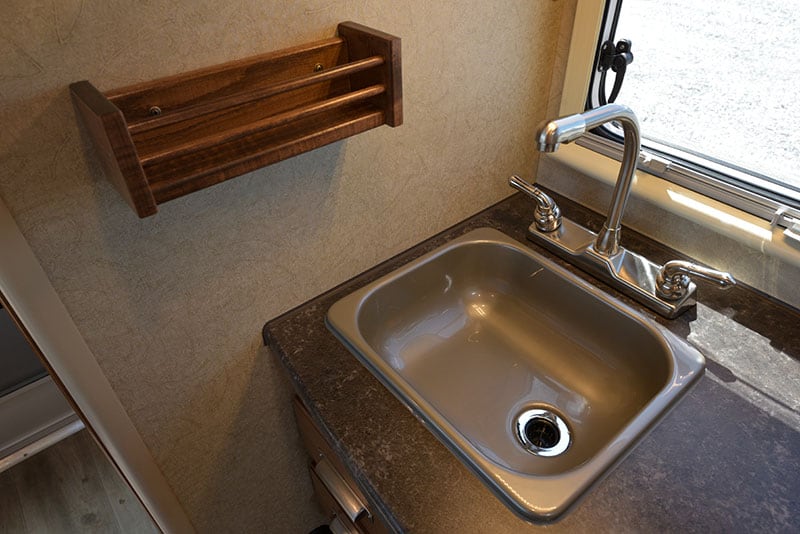 I guarantee there were fierce debates at Lance HQ about offering features like this optional spice rack (shown above the sink). When every ounce is being counted, options of every description can't be taken lightly.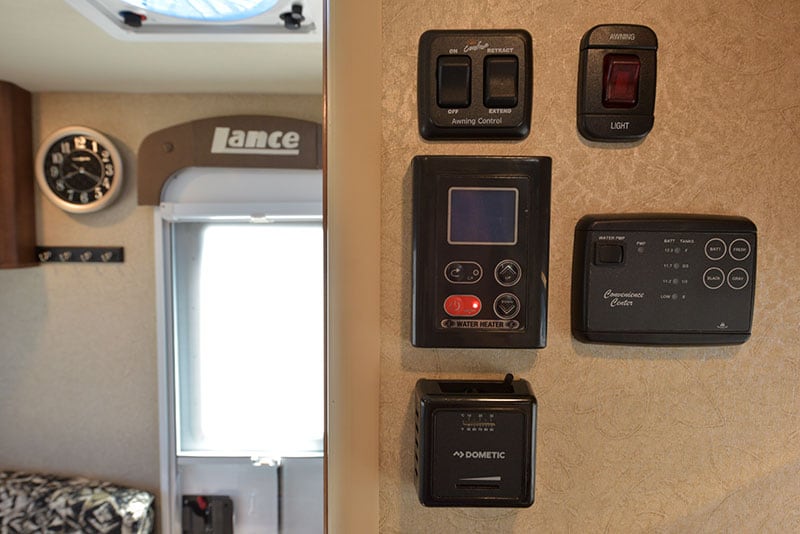 Above the spice rack is a swath of switches, monitors, and controls. Starting at the top left is the optional Carefree power awning controls and optional awning light. Below that is the tank and battery monitor with a water pump switch. At the bottom there's the Dometic thermostat and the tankless water heater controls are in the middle.
The central location of these controls is nearly perfect. I say nearly perfect because it would be nice to have the optional awning controls closer to the entry door, but it's tough to complain when the floor length is only 6-feet, 10-inches.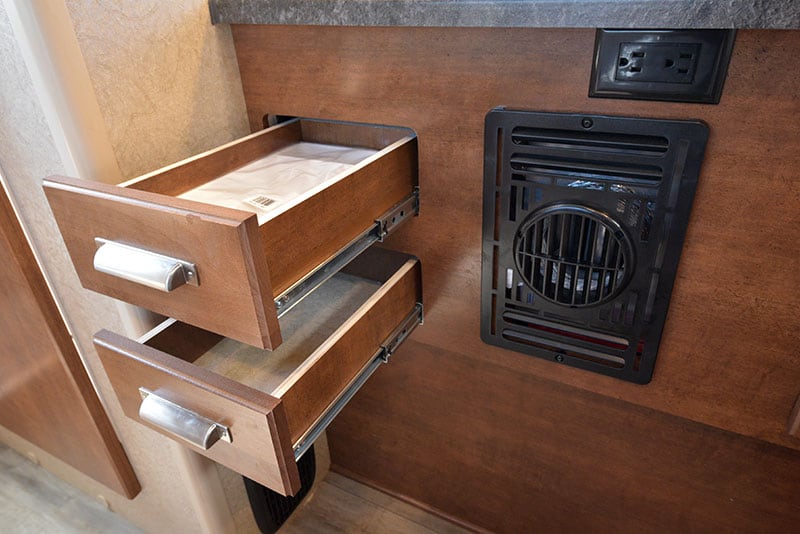 Lance provides two CNC-cut, LitePly-constructed kitchen drawers with steel ball bearing slides. The feel and precision of these drawers is top notch.
To the right of these drawers you'll notice the main heater duct. This mid-ship location should heat a camper the size of the Lance 650 in minutes. On those brisk mornings, fire up the 650's 18,000 BTU propane heater and you'll be toasty in no time.
Above the heat duct is a 110-volt outlet. This is a convenient spot for powering electric kitchen appliances including coffee makers. Just be careful to prevent water from running off the sink and counter top immediately above this location.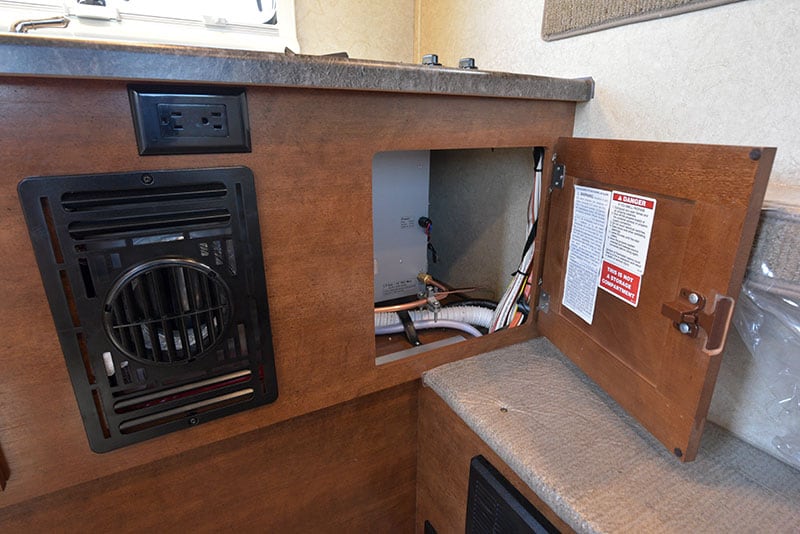 Under the two-burner cooktop is a large cabinet door. Behind that door is the backside of the tankless water heater and the related plumbing and electrical wiring. This is not a storage space, but is a welcome access port to the backside of this critical component.
Will the cunning mod makers among us make a bin that attaches to the back of the cabinet door to utilize the seemingly wasted space? Yes, they will, but they should be mindful of the heat radiated by the tankless heater.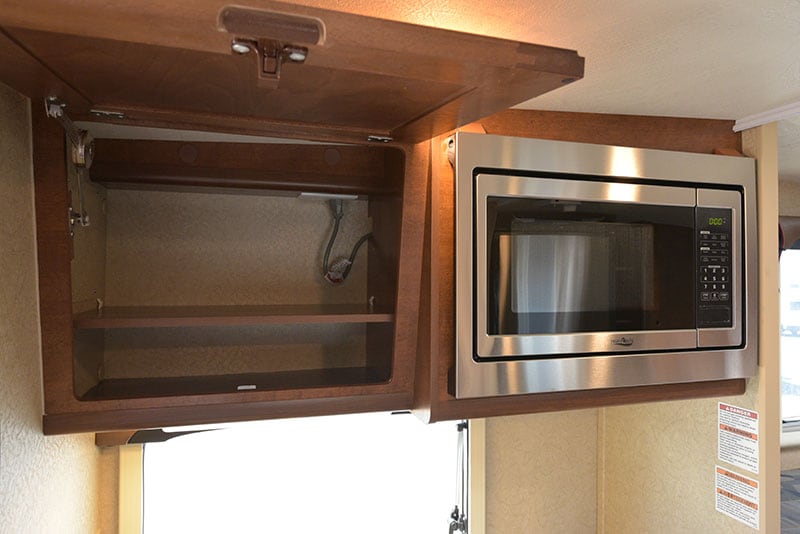 The Lance 650 under review comes with an optional microwave. From our 2017 hard side truck camper survey, we understand that over 73-percent of hard side truck camper owners want a microwave in their campers. However, when you add heavy options like a microwave, you risk compromising the integrity of the concept this camper represents.
You may be thinking, "Really? It's just a microwave!" Yes, but when you add an optional microwave, 10-foot power awning, air conditioner, and so on – those option weights start to add up. If you're serious about putting a Lance 650 on a half-ton, be mindful of the option weight.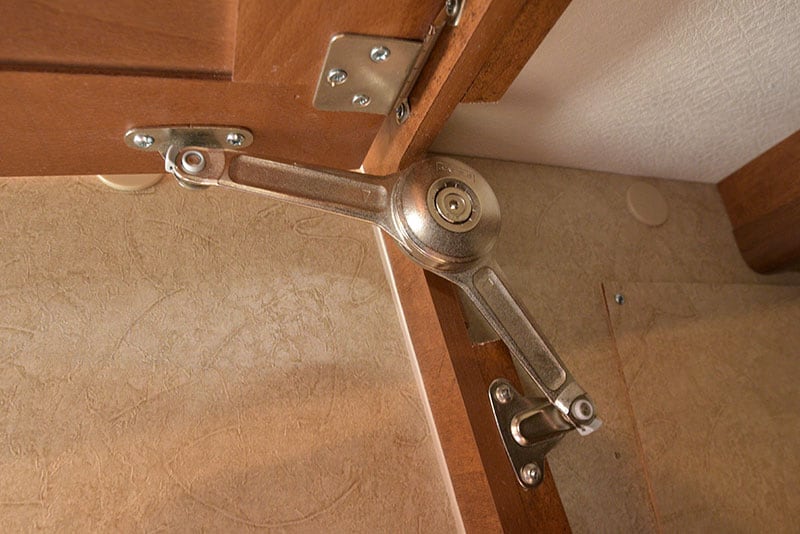 The upper cabinet opens vertically and holds itself with a metal friction hinge.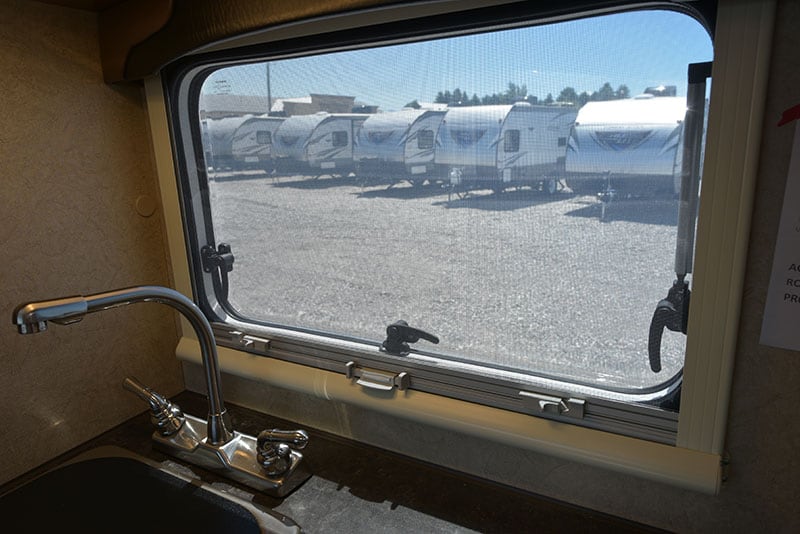 Before we leave the kitchen area, let's take a look at the European-style acrylic thermal pane windows used throughout the 650. Lance Campers selected these windows for the 650 because they are significantly lighter than traditional glass windows, plus they offer exceptional insulation, bulb seals, and the ability to open up to 90-degrees for ventilation.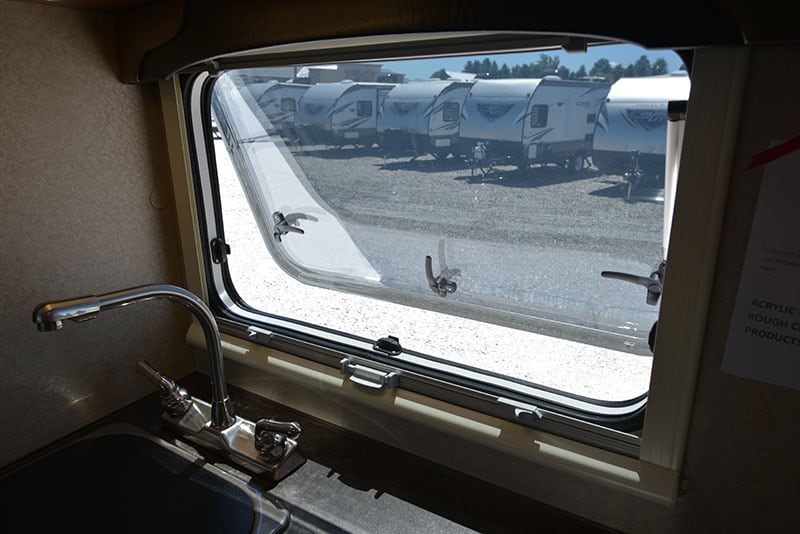 From experience, it takes some time to get the "feel" of the latches and holds that allow acrylic windows to open at various angles. Once you are familiar with how these windows open, you will enjoy the flexibility and impressive insulation they provide.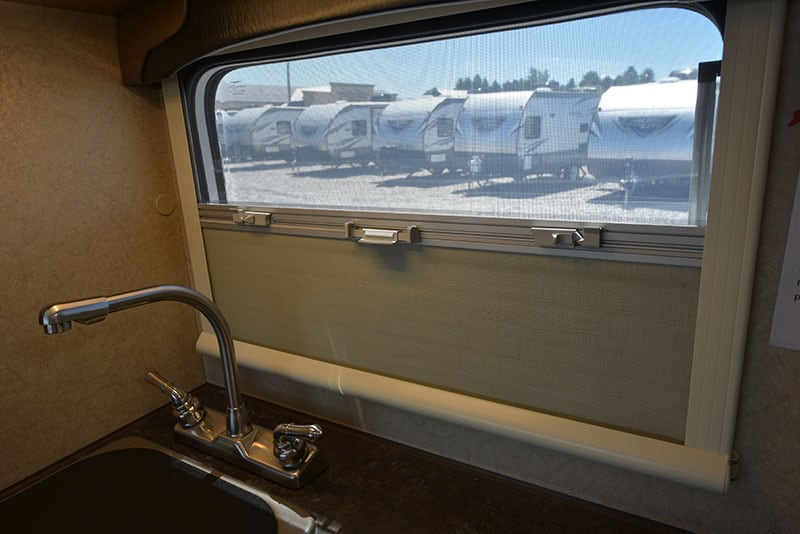 You will also appreciate the built-in pull-down bug screen and pull-up black-out shade. The combination of the two can be set at any height on the window. For example, you could have the back-out shade and bug screen three-quarters up.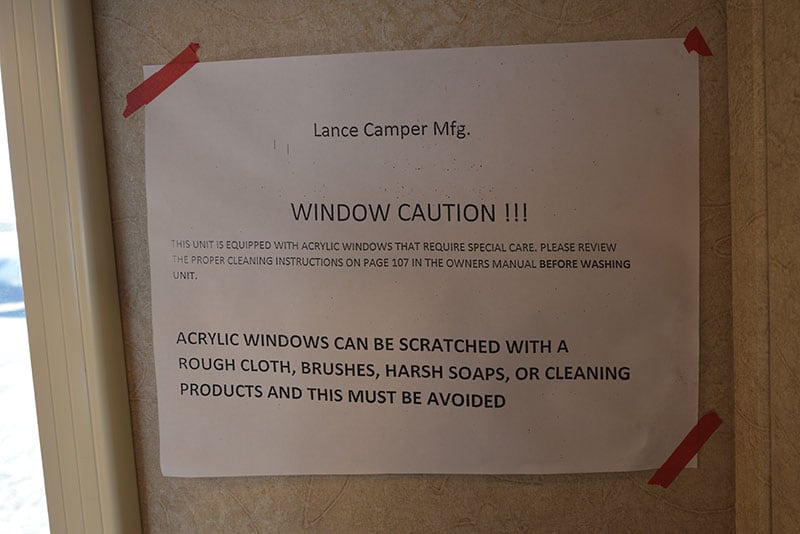 Just to the right of the window above there was a posted notice warning the customer that acrylic windows, "…CAN BE SCRATCHED WITH A ROUGH CLOTH, BRUSHES, HARSH SOAPS, OR CLEANING PRODUCTS AND THIS MUST BE AVOIDED".
We have heard of acrylic windows scratching from aggressive encounters with tree branches, but we have never heard of acrylic windows scratching from a "rough cloth" or "harsh soaps".  This is probably Lance Campers covering their proverbial tail pipes. I would not hesitate to own a camper with acrylic windows, but would certainly heed the care instructions Lance provides.
In October of 2016 we published a special report on, "Mobility and Truck Camper Design". The majority of the truck camper community is 55+ in age and talk to us frequently about their challenges with entering and exiting the camper and cabover. The special report urged the truck camper industry to focus on this rapidly emerging consumer need and improve the overall mobility of their products.
For their 2018 model year update, Lance incorporated cabover steps and handles into their truck camper products. In the photograph above, you can see the cabover steps in the Lance 650. We did not find a cabover handle, but the cabover side walls are there for possible hand grips. Overall this is an excellent design for comfortable cabover entry and exit.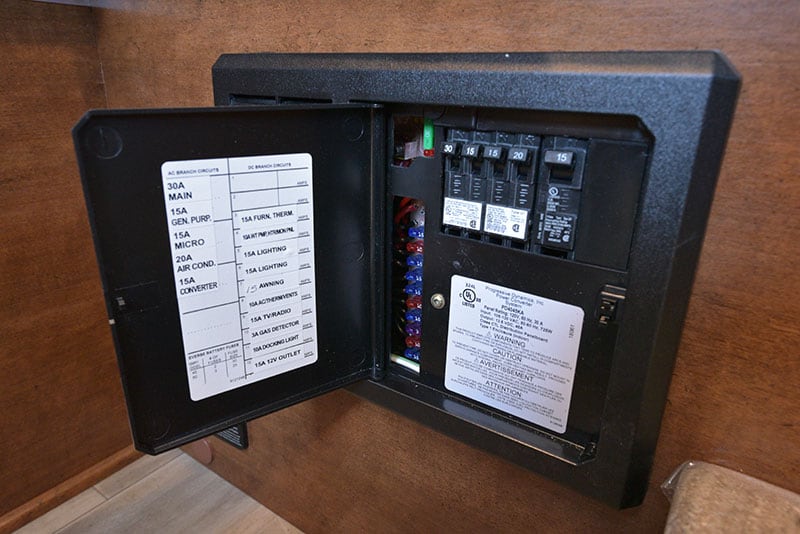 Under the main step up to the cabover is the fuse panel and breakers. This is a convenient location for a critical part of any truck camper.
I've said this many times but it warrants repeating; if you have an issue with your electrical system or components, always check your fuse panel and breakers first. A good number of the times the problem will be a simple blown fuse, or a switched breaker. Start here.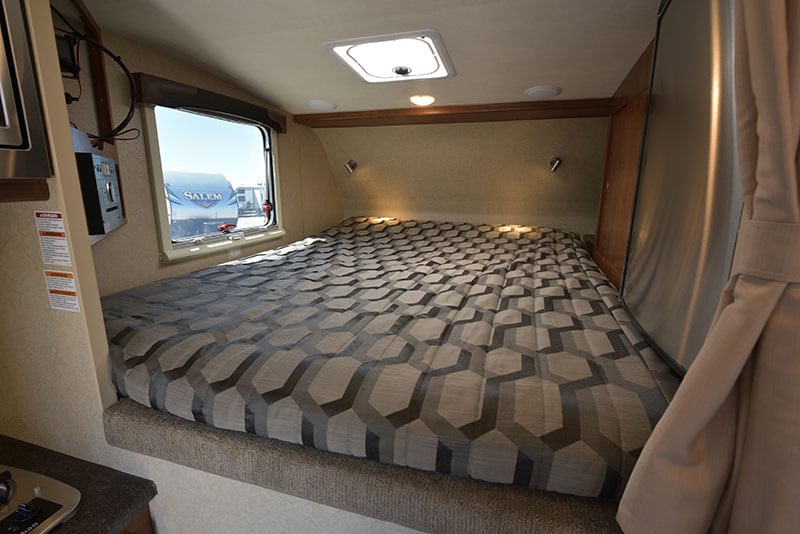 The cabover itself is bright and open. This is enhanced by weight and center of gravity requirements that didn't allow for a full set of cabover cabinetry.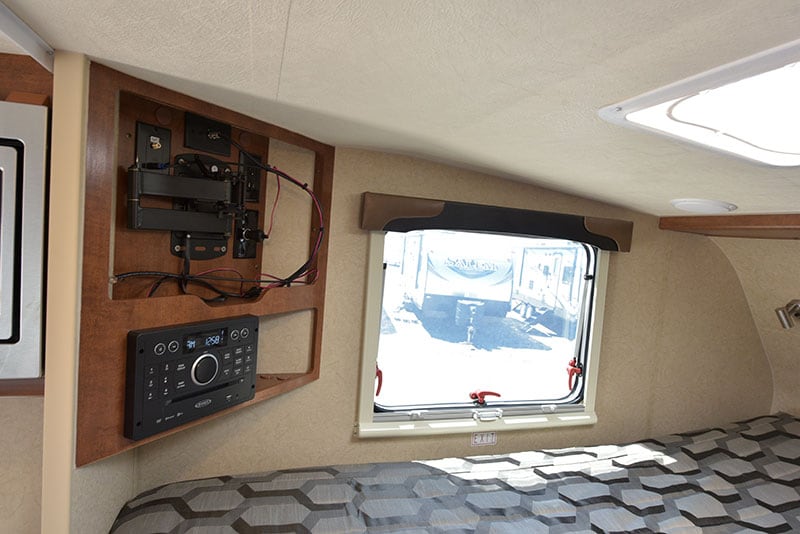 The driver's side of the cabover is particularly barren of storage opportunities. What it lacks in storage it makes up for with a large window, a 19-inch HDTV (not shown), and a fully-featured Jensen audio-video system.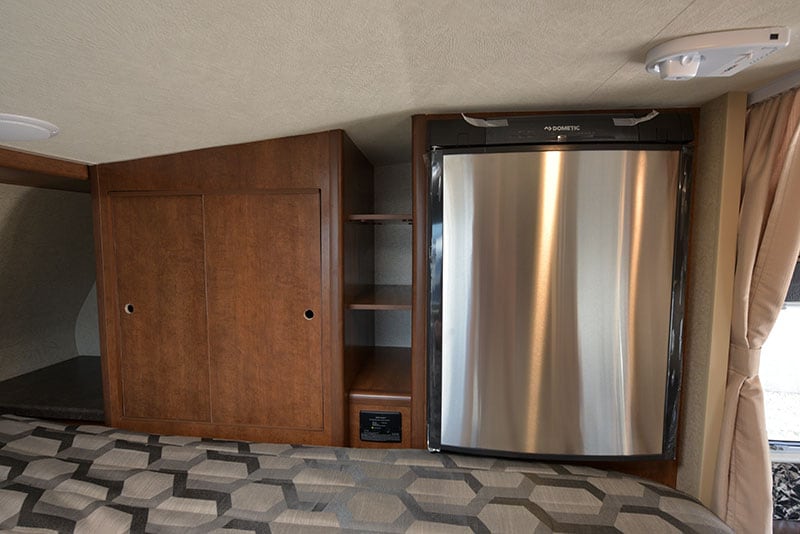 Turning to the passenger's side reveals the secret sauce from the original Six-Pac D650 design; installing a 3-cubic foot, 3-way refrigerator in the cabover.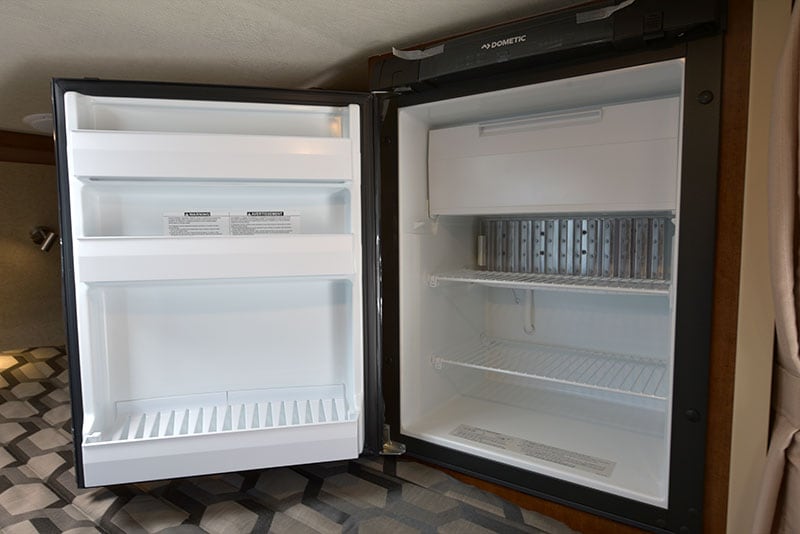 When I first saw a Six-Pac D650 back in 2007, I remember thinking, "A refrigerator in the cabover? Are they nuts?" It was then that Tom Hanagan, then President of Six-Pac Campers, explained that this location made the revolutionary D650 floor plan possible. Move that refrigerator to the main area and the entire design unravels. For the Six-Pac D650, and the Lance 650 it inspired (among others), it's all about placing the refrigerator in the cabover.
Lance took this inspired design idea and infused their SolidWorks acumen and precision CNC capabilities adding an intricate set of cabover shelves, a wardrobe, and nightstand.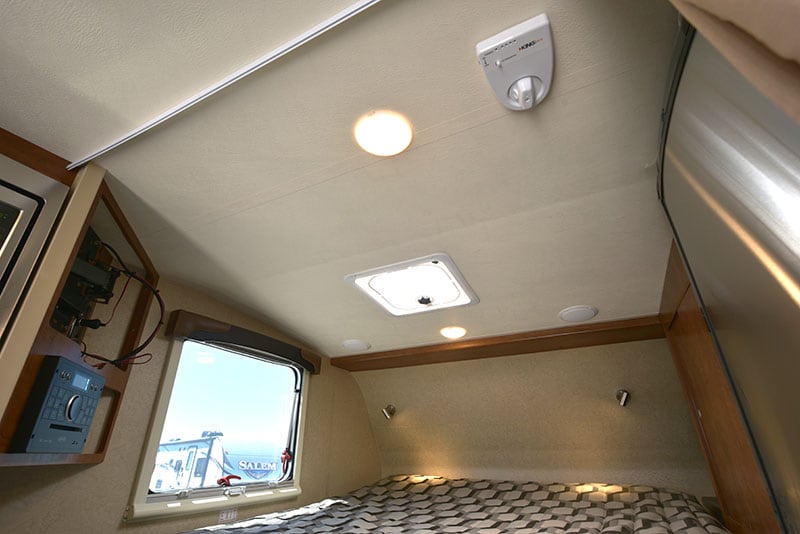 Looking up reveals two LED-lights (the 650 is all-LED), a standard King Jack antenna control, a roof vent with fan, two speakers, and LED reading lights.
The integrated vent and fan above the cabover is the type we more typically see in a camper's bathroom. Some may wish Lance had opted for a more powerful Fantastic Vent, but that would add additional weight.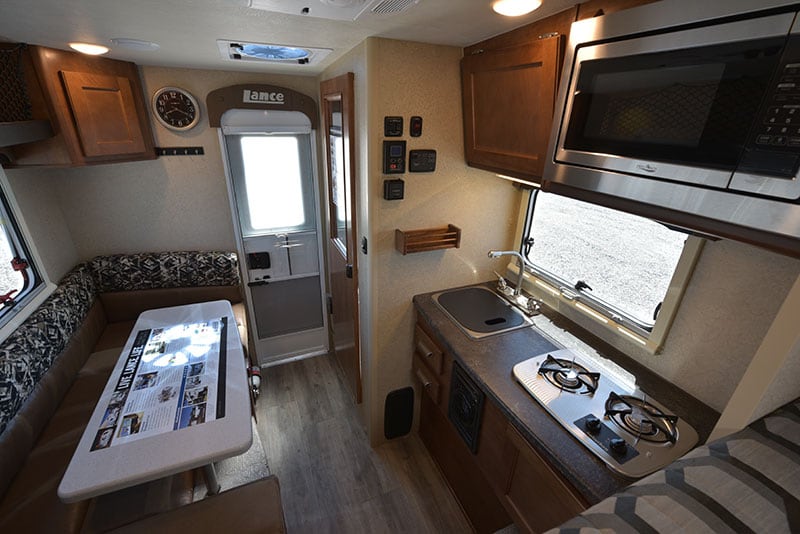 At the end of every review photoshoot I turn around and look back at the main living area of the camper. This is the view truck campers will have every morning as they ask themselves, "Where are we now?" I do that every day.
Despite the size, weight, and center of gravity requirements, the Lance 650 doesn't feel cramped or compromised. Far from it, this camper feels open and inviting, fully-featured, and ready for real hard side truck camping. This is quite an achievement for a camper that was designed from the ground up for a half-ton short bed truck.
Specifications
| | |
| --- | --- |
| Specifications | |
| Dry Weight | 1,694 pounds |
| Wet Weight* | 2,463 pounds |
| Floor Length | 6'10" |
| Overall Length | 15'6″ |
| Width | 86″ |
| Interior Height | 81″ |
| Exterior Height | 9'2″ |
| Center of Gravity | 21″ |
| Truck Type | Short Bed |
For our reviews, I frequently point out what should be common knowledge throughout the truck camper marketplace and community; exterior weight stickers are almost all universally wrong.
The reality is that most manufacturers post the weight of the camper without options. Worse, the "option" list can sometimes include vital elements like entry doors, slide-out rooms, and corner jacks. As a result the exterior weight stickers can be hundreds of pounds shy of the true weight.
Fortunately, Lance Campers does not play this game – at least not entirely. They post a base "wet" weight with without options on the exterior. I put "wet" in quotations because a true wet weight should also include the battery weight and some provisions for the owner's cargo.
Truck Camper Magazine readers know to always look for an interior weight sticker. And here's where Lance excels. Inside the forward-facing dinette cabinet is an interior weight sticker revealing the weight of this camper with, "FACTORY INSTALLED OPTIONAL EQUIPMENT". Now we're talking!
Taking a closer look at this interior weight sticker, this specific Lance 650 weighs 2,181 pounds with the installed options, full water, and full propane. Yes, they skipped the battery weight again, but that's easy to calculate. Conservatively add 65 pounds for a Group 27 battery and recalculate.
We could stop there if not for the following declaration further down the weight sticker, "THIS WEIGHT DOES NOT INCLUDE OPTIONAL EQUIPMENT WEIGHING LESS THAN 9 KGS (20 LBS) WHICH COULD TOTAL AS MUCH AS 68 KGS (150LBS)."
To the best of our knowledge, Lance Campers is the only truck camper manufacturer that uses this weight approach and language. Whatever the reason for this, it's easy to add 65 pounds for the missing Group 27 battery and 150 pounds for the mystery options. I would love to add less than the maximum 150 pound option weight, but Lance offers no choice. That brings the wet weight for this Lance 650, without cargo, to 2,396 pounds.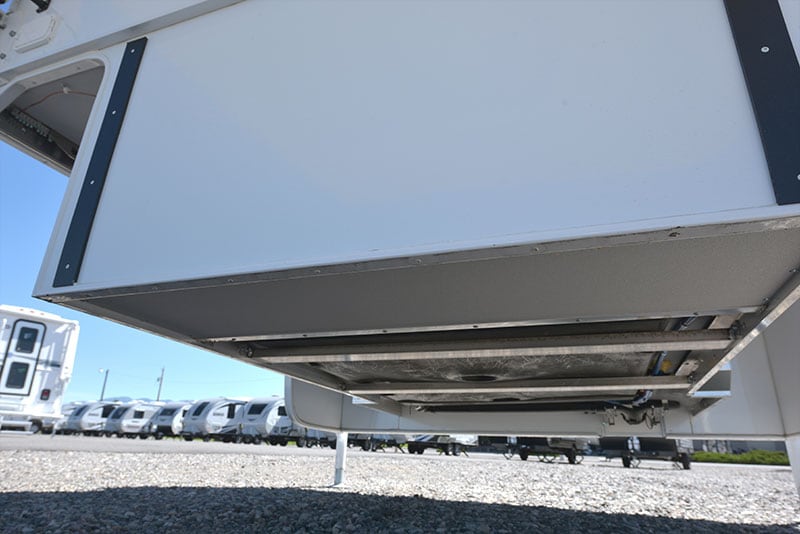 While I was photographing the exterior weight sticker I took a peek under the camper – and did a double-take. Nearly the entire underside of the 650 is open. You can literally see the holding tanks behind the aluminum cross-members. This is the kind of excruciating design decision that has to be made to hit a challenging weight and center of gravity target.  As always, we welcome Lance Campers to submit a Manufacturer's Response to explain this design decision – or any other element of this review.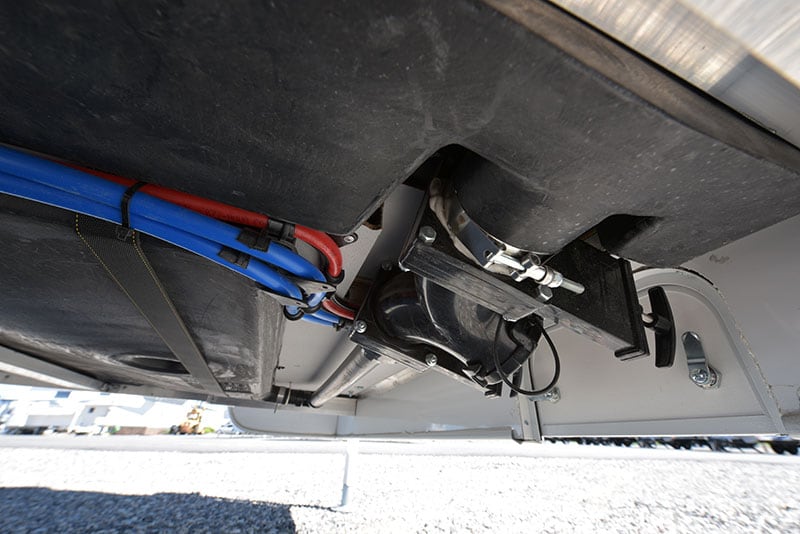 Having this area open compromises the Lance 650's capabilities for cold-weather camping. I would also check this area often for road debris and insect or animal nests, especially if it's been in storage.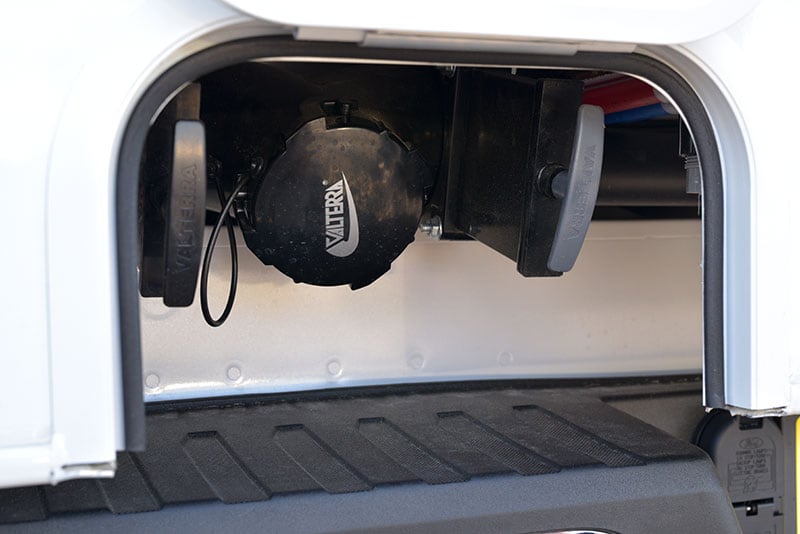 It would be reasonable to expect that the Lance 650 had a 6-foot five-inch floor length. Well, the Lance 650 actually has a 6-foot 10-inch floor length. Why didn't they call the camper the 610?
At 6-feet 10-inches, the Lance 650 was designed to be compatible with every currently available half-ton floor length; from super short 5-foot models to Ford's 6.8-foot "short bed".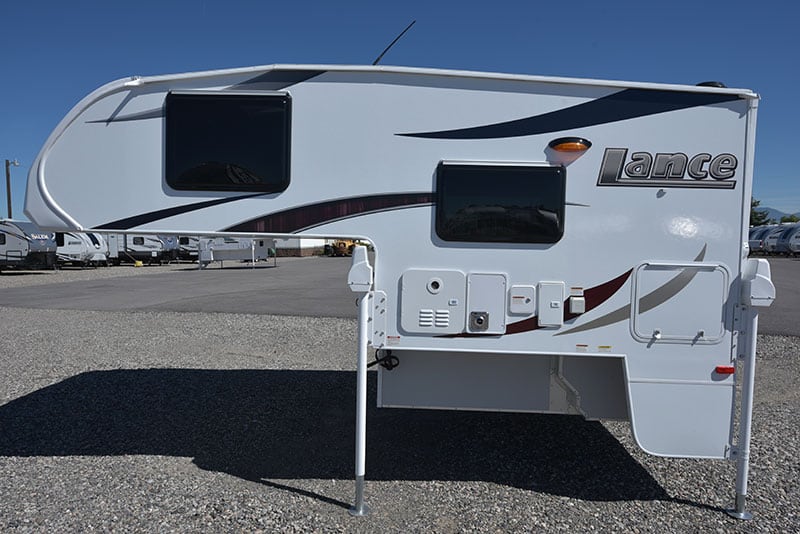 When we dug in and compared the length, height and width of the 650 to the rest of the Lance truck camper line we almost didn't believe what we discovered. For starters, the Lance 650 has a taller interior height (81-inches) than the double-slide 1172 (80-inches) or any other Lance Camper for that matter.
The 650 also has a taller exterior height (9'2") than any other Lance Camper.  It's remarkable that the lightest Lance has the tallest interior and exterior dimensions.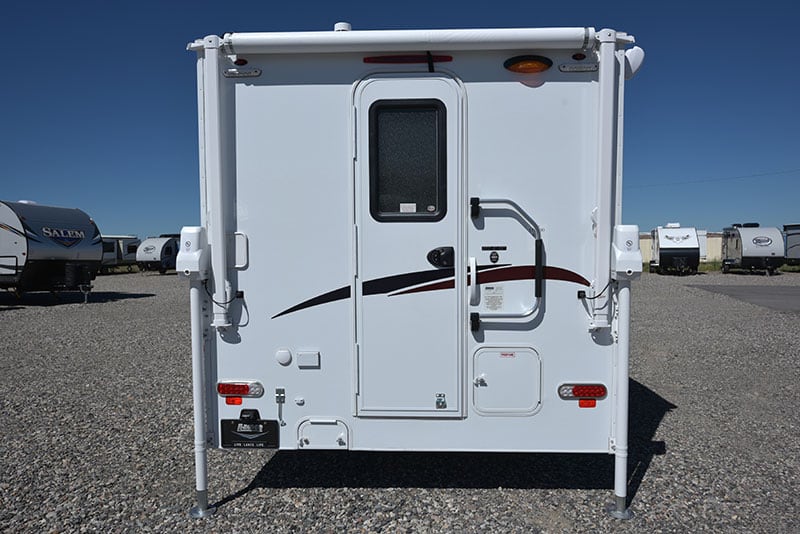 The 86-inch width of the 650 matches the 825 and 865 models. Compare that width to Lance's full-size campers at 96-inches.
Another place the 650 stands out from the rest of Lance's products is center of gravity. At just 21-inches from the front wall, the 650's center of gravity is one of the shallowest we've ever seen. Compare that to the 825 and 865 (32-inches), 850 (34-inches), and 855S (38-inches) and you begin to see how far forward the 650's COG really is located. Naturally this helps the 650 to be center of gravity compatible with the wide variety of short bed half tons Lance is targeting.
Capacities
| | |
| --- | --- |
| Capacities | |
| Fresh | 22 gallons |
| Grey | 15 gallons |
| Black | 16 gallons |
| Water Heater | Tankless |
| Propane Tanks | 20 pounds |
| Batteries | One Battery |
We have visited and toured Lance Campers four times over the past thirteen years. In fact, Lance Campers is the only company we toured before starting the magazine in 2007.
When we toured the Lance factory in 2010, Gary Conley showed us their custom molded holding tanks. Using SolidWorks, Lance had designed holding tanks that maximized the possible capacity for each model. Some of these uniquely shaped tanks even nested into each other to gain a bit more capacity or to save interior space.
This explains why a good number of Lance Campers have unique holding tank capacities from one another. For example, the 650 has 15-gallons of grey tank capacity where the 825 has 14, the 865 has 13, and the 855S has 25.
The 22-gallon fresh tank of the 650 is a full 8-gallons less than what's offered in every other short bed Lance Camper.  The Lance 825, 865, and 855S all offer 30-gallons of fresh.
Interestingly enough, the 650 actually exceeds the black tank capacity of several of its short bed stablemates. At 16-gallons of black tank capacity, the 650 beats the 825 at 14, and 865 at 13. The 855S pulls ahead with 25-gallons.
With 22-gallons fresh, 15-gallons grey, and 16-gallons black, we would be able to camp off-grid about two to three days with quick navy showers each day. The limiting tank capacity factory in the 650 is the grey tank. When that fills, you will need a dump station.
If we're not showering, and are extremely conservative with water use (paper plates, fast dish washing, etc.) we might be able boondock with these tanks for up to a week. Solo campers could probably stretch that even further. If no one is there to smell you, who's to tell?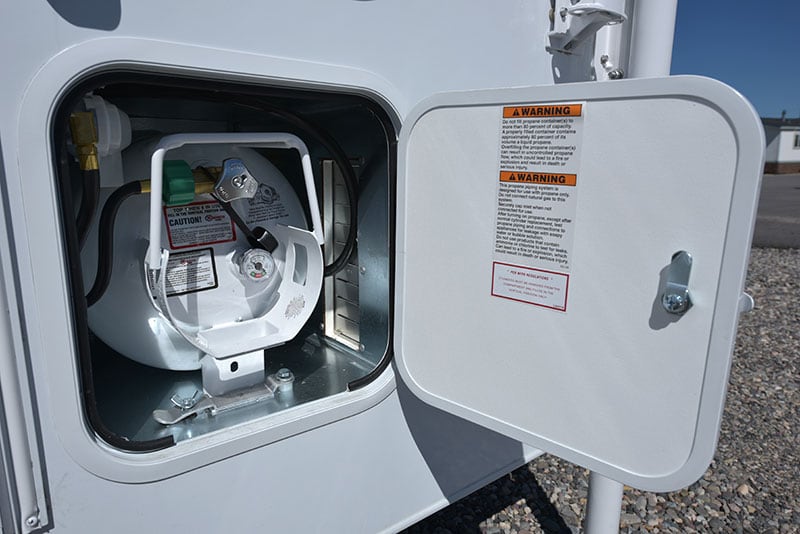 We conducted a "Propane Refill or Exchange" survey in May and the results and feedback completely changed my mind about the benefits of exchangeable 20-pound vertical propane tanks. Until that fateful poll, I had praised 20-pound vertical propane tanks for their exchangeable convenience.
The survey revealed that the overwhelming majority of readers not only never exchanged propane tanks, but had significant misgivings about the practice. With most readers refilling their tanks at propane filling stations, and having established concerns about exchanges, we no longer promote a preference for 20-pound vertical tanks. And you thought we couldn't learn new tricks!
The Lance 650 has one 20-pound horizontal tank. We would prefer two, but we're now officially cool as cucumbers with the horizontal tanks. Heck, we have two 20-pound horizontal tanks in our camper and they're fantastic.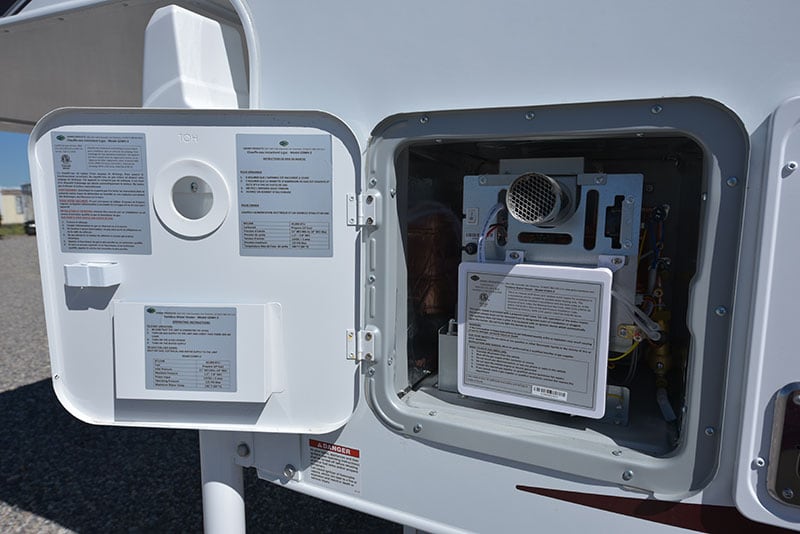 Selecting the Girard Products GSWH-2 tankless water heater for the 650 saves 50-pounds (6 gallons x 8.34-pounds per gallon) compared to a standard 6-gallon DSI water heater.
The Girard GSWH-2 is a third-generation product designed to offer "endless" hot water. The onboard micro-processor and user control panel was developed to allow owners to set the temperature between 95 and 124-degrees Fahrenheit.
At this time, we have no experience camping with the Girard tankless water heater. Our only issue without using the unit is the gas-only operation. We sure enjoy having the option to heat water with electric when we have shore power, but everything is a trade-off in truck campers.
Wet Weight Calculation
Using the standardized Truck Camper Magazine wet weight calculation, let's run the numbers on the Lance 650.
Base Dry Weight – special factory order only
Lance 650: dry weight, 1,694 pounds + 22 gallons fresh, 183.5 pounds + 20-pound full propane tank, 20 pounds + 1 battery, 65 pounds + stuff, 500 pounds = 2,462.5 pounds
Optioned Review Unit
You won't find a base Lance 650 unless you order it from the factory. Dealers order campers for stock with the options they believe customers want. In many instances, that means the campers you find at dealer lots are loaded to the hilt.
The 2019 Lance 650 under review had a good number of installed options adding a considerable amount of weight to the unit. These options include 12-volt/USB outlet in the dinette, Coleman 9000 BTU air conditioner, docking lights, Fantastic Vent, rear door awning, 10-foot power side awning with LED lighting, electric wireless jacks, keyless entry with key fob, swing-out entry assist handle, microwave oven, and magazine and spice racks.
To find the dry with options weight, we used Lance's inside weight sticker and backed out the water and propane weight. Then we ran the resulting number through our standard Truck Camper Magazine wet weight calculation.
Lance 650: dry weight, 1,977.5 pounds + 22 gallons fresh, 183.5 pounds + 20-pound full propane tank, 20 pounds + 1 battery, 65 pounds + stuff, 500 pounds = 2,746 pounds
Did you catch that? The options added 283.5 pounds to the dry weight. That's a lot for a camper that's attempting to payload match a short bed half-ton truck.
Truck Recommendations
For the debut in the Fall of 2015, Lance Campers accurately payload matched the 650 to a 2015 Ford F150 Lariat, 6.5-foot short bed, 4×2, Super Crew, 3.5L EcoBoost V6 with the Heavy Duty Payload Package and 18-inch wheels. That truck offered a remarkable 2,799 pounds of payload capacity, more than enough for the optioned Lance 650 the company was showcasing.
Nearly three years later, we were able to payload match the well-optioned Lance 650 under review with an almost identical half-ton truck; 2018 Ford F150 XL 6.5-foot short bed, 4×4, Super Crew, 3.5L EcoBoost V6 with the Heavy Duty Payload Package and 18-inch wheels. We selected the XL trim and four-wheel drive over the upscale Lariat package. Keep your chrome grille. We want to go anywhere!
With 2,870 pounds of payload, this specific 2018 Ford F-150 configuration would leave you with exactly 124-pounds of excess payload capacity to spare. That's a genuine half-ton truck you can order right now and have one heck of a nice truck and camper combination with the Lance 650.
Lance Campers has successfully built a fully-featured, fully-self contained, hard side truck camper that is payload and center of gravity compatible with a modern half-ton short bed truck. Yes, the truck choices are limited, but that's often the case with truck campers.
That's the good news. The bad news is that the well-optioned Lance 650 under review is not payload compatible with the lion's share of half-ton trucks on the road. In fact, most half-tons are lucky to have half the payload capacity this 650 needs.
But hold on a second. You can special order a lighter Lance 650 with less options. For example, if we back out the air conditioner, two awnings, and microwave from the review unit we can remove about 200-pounds of option weight from the 650.
Then you could limit yourself to just 250 pounds of cargo; food, clothing, and gear. Finally, travel with a half-tank of water to reduce the camper weight another 91.75-pounds.
By removing the heavy options, packing lighter, and traveling with less water you brought the wet, optioned, and loaded weight of the 650 down by 541.75 pounds. Now you need a half-ton with 2,204.25 pounds of payload capacity. That's still a challenging number for a half-ton, but many more half-ton configurations can hit that mark.
Another possibility is to match the Lance 650 with a three-quarter ton or one-ton truck, but that's not what the Lance 650 was designed for. The 650 was designed specifically for late-model half-ton trucks and will likely require a significant riser and forward spacer to fit a heavy duty truck.
For example, fitting the Lance 650 to a 2017 or 2018 Ford F-250 or F-350 requires a 3-inch platform and a 4-inch forward spacer.  If you have a three-quarter ton or one-ton truck in mind for the 650, make sure to take careful measurements before loading the camper.
The Verdict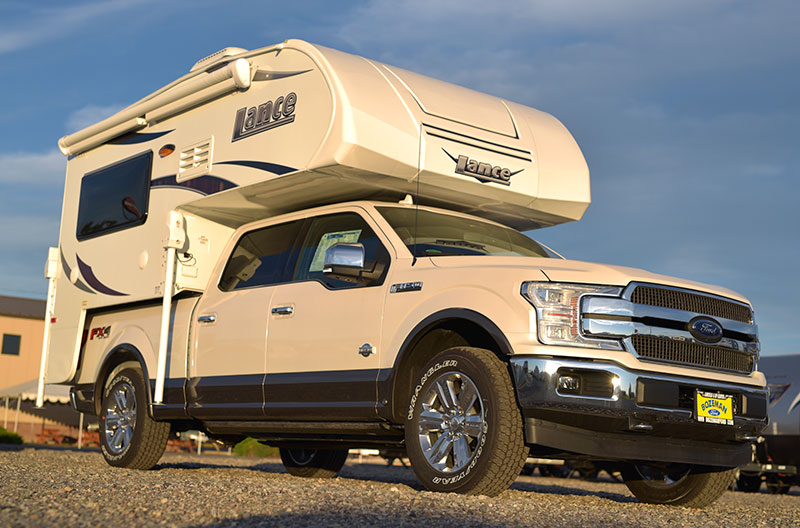 Towards the end of the Lance 650 announcement, Gary Conley, National Sales Manager for Lance Campers stated, "I don't want anyone to think the 650 is a just a stripped-down basic camper.  It's not.  It has many modern conveniences like a north-south queen-size bed, plenty of storage, an audio-video system with Bluetooth and HDMI, 12-volt USB charging ports, and more. The 650 may be lightweight as it is intended to be a half-ton truck camper, but it's still full of Lance flair."
That perfectly encapsulates what Lance has achieved with the 650.  It's a half-ton targeted camper – shorter in floor length and lighter than anything Lance currently offers – but it's still a full-blooded Lance Camper.  The fact that there's a specific half-ton Ford F-150 configuration (see Truck Recommendations above) that properly payload matches the 650 is nothing less than remarkable.
If I had a magic wand, the exact truck and camper combination described in the Truck Recommendation section would be loaded up and ready for sale at every Lance dealership coast-to-coast.  They would sell like hotcakes.
Unfortunately, that's not likely to happen.  As such, prospective Lance 650 buyers need to be very careful about payload matching and fit compatibility with this camper.  With popular options, the Lance 650 weighs more than most half-tons can properly handle.  Fit compatibility will also need to be carefully measured and confirmed before loading the unit.  Do not ignore either consideration with this camper.
Careful matching aside, my main concern with the Lance 650 is the exposed underside and holding tanks.  This defeats the Lance 650's suitability for camping in below-freezing temperatures and may not be appropriate for some off-road conditions; loose gravel, mud, etc.  I am hoping Lance responds to this review with an explanation for this design decision.
Some will note that I didn't have too many negatives about the Lance 650's interior.  Truth be told, that's because I love the interior design and execution of this camper.  Considering the weight and size limitations, it's a home run stem to stern.
We found some things to nit pick throughout the scope of this review, but honestly everything about this camper boils down to proper payload matching and fit compatibility.  The camper's floor plan, quality, and feature set are fantastic.  Make a proper truck match, and you will have an outstanding rig.
Inspired by the ground-breaking Six-Pac D650, the 650 is nothing less than a breakthrough product for Lance Campers.  If you're in the market for a lightweight, short bed, fully-featured truck camper, the Lance 650 deserves to be on your very, very short list.
Pros
Short bed half-ton compatible if carefully matched – see Truck Matching above
Fully-featured hard side in a compact and lightweight package
Huge 6'4" U-shape dinette, dinette table, and dinette bed
SolidWorks and CNC-cut materials result in high interior quality
Cabover steps provide comfortable cabover entry and exit
Lots of clever storage opportunities throughout the unit
Cons
Available options can put the weight beyond most half-ton trucks
Fit-compatibility needs to be carefully checked before loading
Rear underside and holding tanks are open and exposed
Roof is not a full walk-on roof requiring careful roof seal maintenance
Cabover has minimal storage – essentially none on the driver's side
Not everyone will like the refrigerator in the cabover – but it's the key
Model Information
2019 Lance 650
MSRP: $22,533
Warranty: 1 year limited warranty, 2 year structural warranty, appliances have their own warranties
Lance Camper Manufacturing
43120 Venture Street
Lancaster, CA 93535
Phone: 661-949-3322
Request a Lance 650 Brochure
Web: LanceCamper.com
Quality, Customer Service, and Long-Term Reliability
Truck Camper Magazine inspects all reviewed truck campers for design, material, and quality issues and reports what we find.  However, since Truck Camper Magazine reviews only brand new truck campers, our reviews do not address long-term quality, customer service, or reliability.
To learn about a brand's long-term quality, customer service, and reliability, Truck Camper Magazine recommends talking directly with truck camper owners at truck camper rallies and online via truck camper forums and truck camper owners groups.
Please be sure to balance your gathered feedback across multiple sources including direct correspondence with the truck camper manufacturers and your closest truck camper dealers.  If you are new to truck campers, please start with the Newbie Corner.