For years we have extolled the virtues and convenience of exchangeable 20-pound propane tanks. After 645 reader responses, that is about to change.
This week's Question of the Week was, "Do you refill your truck camper propane tanks, or exchange them?" We also polled the following propane question: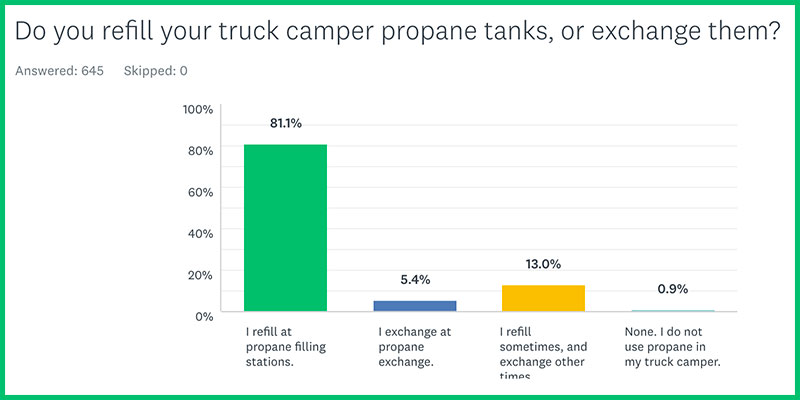 The above results have totally made me re-evaluate my recommendations for 20-pound vertical propane tanks. According to Truck Camper Magazine readers, 81.1-percent only refill their propane tanks. 13-percent refill or exchange, probably based on convenience. And only 5.4-percent strictly exchange.
In my camper reviews, I always celebrate 20-pound vertical propane tanks for their ease of exchange convenience. This may need to change for two reasons. First, very few truck campers actually exchange propane tanks.
Second, readers followed this survey question with some very good reasons about why they prefer refilling propane to exchanging tanks. These results mirror our own propane behaviors and beliefs.
Clearly it's time to stop pushing 20-pound vertical propane tanks just for their exchangeability. I do still prefer 20-pound vertical tanks for their weight and handling characteristics versus 20-pound horizontal and 30-pound tanks.
Recommended Propane Filling Locations
The propane filling recommendations broke down into two categories; brand name locations and generic locations.
The brand name location recommendations were U-Haul (31), Tractor Supply (17), Costco (16), Canadian Tire (5), and BJs (5).
The generic recommendations were fuel stations (45), local propane specialists (37), local hardware stores (20), RV campgrounds (19), feed stores (8), co-ops (7), and RV dealerships (7). Other locations with less than 5 recommendations were bait shops and military bases.
Propane Refill vs. Propane Exchange
Most readers prefer to refill propane tanks over exchanging propane tanks. This makes sense as not everyone has 20-pound vertical propane tanks that can be exchanged.
However, even among 20-pound vertical tank owners, there still is a preference for refilling versus exchanged tanks. The most cited reasons are the condition of exchanged tanks versus owned tanks, concerns over exchanged tanks not being full properly filled, and the higher cost of exchanged tanks versus filling.
Readers who prefer filling did mention that propane refilling stations are not always reliable, don't always properly check the expiration date and condition of the tanks, and don't always properly fill tanks.
Of those who do exchange, Walmart was the most popular place to exchange tanks with 11 recommendations followed by gas stations (6), Lowes (4), grocery stores (3), and Home Depot (2). Other named locations included local hardware stores, Sam's Club, and Walgreens.
Reader Feedback: Additional Perspectives
We read through the propane responses and pulled the comments that diverted from the above information, or offered unique perspectives and/or advice.
"I've been filling propane tanks for twenty plus years. I had my own 1,000 gallon pump station with a Neptune meter on it. It's what comes of being among the first to convert your trucks to run on propane, before it was the green thing to do! It's also what comes from operating a fleet of hot air balloons.
When I am without access to my own tank, it's a gamble. Few propane dealers have a clue. Exchanges are most always a huge rip-off. In theory you get a nice clean safety checked tank. I look for whoever is having a sale or most reasonably priced." – Matt Fen, 2006 Dodge, in between campers
"I understand your praise for truck camper manufacturers using 20-pound vertical tanks as you can get them exchanged, but I've had leaky valves on exchange tanks and have no idea how much propane is actually in the tank. It's like going to the gas station to fill up and only getting three-quarters of a tank." – Mark Joslin, 2006 Ram 3500, 2005 Lance 1181
"I never exchange because I don't want someone else's bottle." – Daryl Davis, 2014 Palomino SS-1500
"Propane exchanges might be convenient, but they are a rip off – especially if you exchange your new or recently tested tank for their used beat up tank. Our propane dealer only sells newly minted tanks. When our tanks reach their expiration date, I buy new ones. I also had a supplier tell me the exchange bottles are sometimes filled to only 65-percent capacity." – Mark B., 2017 Ford F350, 2017 Hallmark Everest