Lance Campers launches an all-out assault on the hard-side, short bed, half ton truck camper market with the all-new 2016 Lance 650.  Is that a tankless water heater?

We are very excited about something Lance Campers did for the 2016 Lance 650, and it has nothing to do with the camper itself.  Yes, we are impressed with Lance's new half ton truck camper, but that's not what has us ready to stand on our truck and cheer.
"We payload matched this camper to a 2015 Ford F150.  The truck is here at Lance, and it's a legitimate payload match," explained Gary Conley, Lance Camper's National Sales Manager.
What a concept!  Before launching their new camper, Lance Campers calculated the wet weight, bought a truck, and created a payload matched rig to show the public.
"Can you show us the GVWR sticker, tire and loading information sticker, and window sticker for the 2015 Ford F150?" we asked.  "We want to show our readers the exact configuration."
"You bet.  We'll send it over."
Upon close inspection, all of the numbers lined up.  Even when we started with a standard build weight and used our Lance Buyers Guide wet weight calculation, it still lined up, with payload to spare.  Lance Campers has indeed built a half ton truck camper that's a perfect match for a properly configured 2015 Ford F150.
Suddenly, the importance of this demonstration hit us.  What if every truck camper manufacturer properly matched their new models to a specific truck prior to launch?  And not just on paper, but with an actual truck including tie-downs, turnbuckles, and any necessary suspension equipment.
Showcasing a truck and camper match would not only legitimatize the new model, but simplify the pre-purchase research for the consumer.  Put another way, many folks who are interested in the new model will see the match, and buy the rig.  We know this because of how many folks bought a 2013 Lance 855-S and 2013 Chevy/GMC 3500 rig after our Payload Match Challenge series in late 2012.
Putting the F150 match aside, the other big story here is that Lance Campers is debuting an all-new model designed for the largest market in trucks; short bed half-tons.
Lance Campers believes they have the ultimate short bed, hard side, half ton truck camper solution.  If they do, the 650 will quickly become the most significant and exciting Lance Camper to debut in a long time.
To get to the bottom of what's up with the 2016 Lance 650, we talked to Gary Conley, National Sales Manager, and Randy Hunter, Product Development for Lance Campers.
The Lance 650 Rule Breaker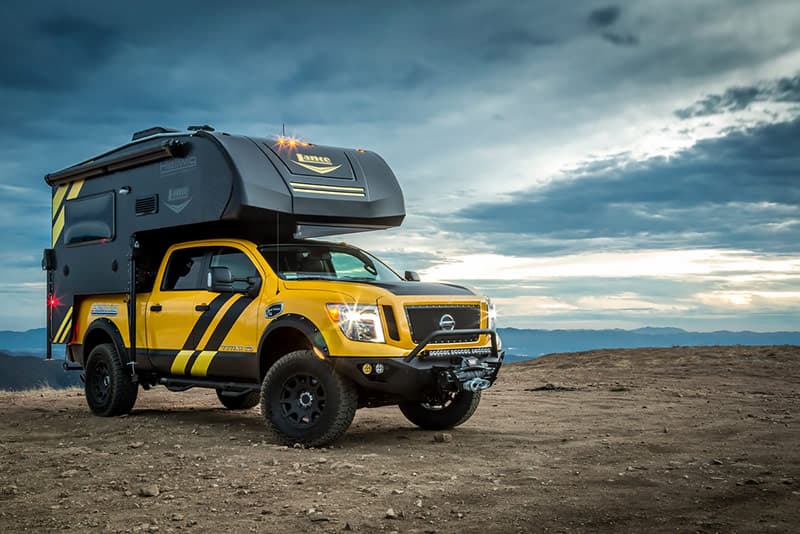 Lance 650 Camper Specifications
The 2016 Lance 650 is a hard-side, wet bath, non-slide truck camper for short bed trucks.  The interior floor length of the Lance 650 is 6'10" and the interior height is 6'9″.  Lance is reporting the dry weight of the Lance 650 at 1,640 pounds without options.  The Lance 650 is 1,800 pounds with standard build features; air conditioner, convenience package, awning package, microwave, 19″ LED TV, Fantastic Vent, electric jacks, rear awning, assist handle, and the four season package.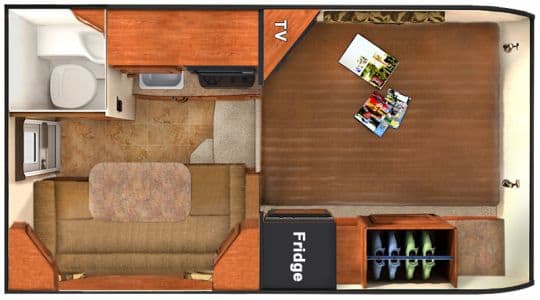 Above: A 3D floor plan of the 2016 Lance 650 – click to enlarge
The tanks in the 2016 Lance 650 are 22 gallons fresh, 15 gallons grey, and 16 gallons black.  The camper accommodates one battery and one horizontal twenty-pound propane tank.  The MSRP for a base Lance 650 is $19,858 and the MSRP for a standard build is $23,738.
Above: The Lance 650 mounted on an aluminum body 2015 Ford F150.
All photography was supplied by Lance Campers.  Click to enlarge the photos throughout this article.
TCM: Lance already has two light-weight, non-slide, short bed truck campers; the 865 (1,815 pounds dry) and 825 (1,726 pounds dry).  Now Lance is announcing a third short-bed non-slide truck camper with the 2016 Lance 650 (1,640 pounds dry).  Why is Lance focused on the short-bed non-slide truck camper market?