Lance Campers and Hellwig Products debut a project truck and camper rig with ten participating aftermarket off-road gear manufacturers.  This is the story behind the build, and its future implications.

Not everything that happens in Vegas stays in Vegas.  In fact, sometimes events in Vegas are specifically designed to be world-wide news.  Then again, sometimes things that happen in Vegas really are supposed to stay in Vegas, and still become world-wide news.  But that's another story, for another magazine.
Speaking of Vegas, the Specialty Equipment Market Association (SEMA) invites the automotive aftermarket industry to the Las Vegas Convention Center every third week in November.  The SEMA Show is widely regarded as the biggest and most important aftermarket automotive trade show in the world.
At the 2015 SEMA Show this past November, Lance Campers and Hellwig Products debuted a unique creation; a Lance 650 and 2015 Ford F150 Overland Edition tricked out with equipment from Torklift International, Yakima, Rigid Industries, Icon Vehicle Dynamics, Amp Research, T-Rex Grilles, Borla Exhaust, KMC Wheels, Toyo Tires, and Road Armor.
Lance Camper reported that the Overland Edition was a big hit at SEMA, but so what?  What we want to know is will the Lance Overland Edition stay in Vegas, or might there be a Lance 650 Overland Edition in the works?
While we're on the subject, were the aftermarket truck and camper upgrades worthy of consideration for real-world truck camper rigs?  Or, was this essentially just a marketing stunt designed to attract the attention of the automotive press?
Don't get us wrong, we love anything that brings more media and public attention to truck campers.  We just want to know if this Overland Edition is a sign of something more.
To get the full back story on this project rig and its future implications, we talked to Bob Rogers, Director of Marketing for Lance Campers, and Mike Hallmark, West Coast Sales Manager for Hellwig Products.  Mike's interview follows Bob's.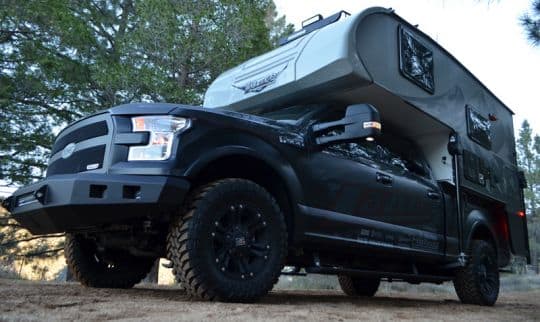 Above: The driver's side of the Lance 650 Overland Edition – click to enlarge
TCM: Why did you see displaying at SEMA as an opportunity for Lance Campers?
Bob: SEMA is the second largest consumer/industry show, second to the Consumer Electronics Show (CES) show with 130,000 participants involved.  It's like a candy store for gear heads with anything you can imagine for aftermarket cars and trucks.  My primary goal with the SEMA build was to raise awareness of and a desire for the Lance brand with this audience.
Personally and professionally, I love attending SEMA because I'm an auto enthusiast.  I worked eleven years at Nissan Motor Corporation.  My father retired from GM and my father-in-law from Chrysler.  I grew up in Michigan, and have always loved cars and motors.  SEMA has always been a part of my career and my personal life.
When I came to work for Lance two years ago, one of my goals was to get Lance Camper involved with SEMA.  The first year I was not able to get it done but, with the help of Melanie White and Mike Hallmark of Hellwig Products, Lance got in this year.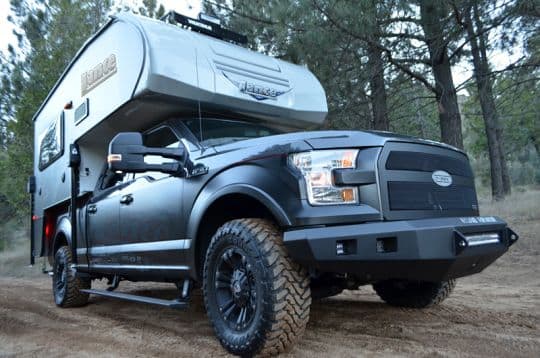 Above: The passenger's side of the Lance 650 Overland Edition with the AMP power step – click to enlarge
TCM: As you pointed out, SEMA is a massive show.  What was your strategy to make an impact on the SEMA universe?
Bob: Hellwig Products got us a prime spot outside, right in front of the main hall.  We were right next to the set for a show called Car Crazy that's hosted by Barry Meguiar, who owns Meguiar's wax.  They do a daily live feed from SEMA and have guests and famous car people attending.  We were next to the stage and people were constantly coming over and watching the show.  That prime location was a big part of our strategy for SEMA.
The reaction at SEMA was overwhelmingly positive from the 19 year old gear head to the 70 year old truck camper.  Everyone said, "Great job!".