Lance Campers and Hellwig Products debut a project truck and camper rig with ten participating aftermarket off-road gear manufacturers.  This is the story behind the build, and its future implications.

Not everything that happens in Vegas stays in Vegas.  In fact, sometimes events in Vegas are specifically designed to be world-wide news.  Then again, sometimes things that happen in Vegas really are supposed to stay in Vegas, and still become world-wide news.  But that's another story, for another magazine.
Speaking of Vegas, the Specialty Equipment Market Association (SEMA) invites the automotive aftermarket industry to the Las Vegas Convention Center every third week in November.  The SEMA Show is widely regarded as the biggest and most important aftermarket automotive trade show in the world.
At the 2015 SEMA Show this past November, Lance Campers and Hellwig Products debuted a unique creation; a Lance 650 and 2015 Ford F150 Overland Edition tricked out with equipment from Torklift International, Yakima, Rigid Industries, Icon Vehicle Dynamics, Amp Research, T-Rex Grilles, Borla Exhaust, KMC Wheels, Toyo Tires, and Road Armor.
Lance Camper reported that the Overland Edition was a big hit at SEMA, but so what?  What we want to know is will the Lance Overland Edition stay in Vegas, or might there be a Lance 650 Overland Edition in the works?
While we're on the subject, were the aftermarket truck and camper upgrades worthy of consideration for real-world truck camper rigs?  Or, was this essentially just a marketing stunt designed to attract the attention of the automotive press?
Don't get us wrong, we love anything that brings more media and public attention to truck campers.  We just want to know if this Overland Edition is a sign of something more.
To get the full back story on this project rig and its future implications, we talked to Bob Rogers, Director of Marketing for Lance Campers, and Mike Hallmark, West Coast Sales Manager for Hellwig Products.  Mike's interview follows Bob's.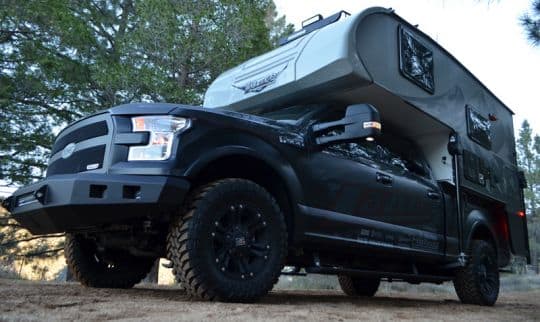 Above: The driver's side of the Lance 650 Overland Edition – click to enlarge
TCM: Why did you see displaying at SEMA as an opportunity for Lance Campers?
Bob: SEMA is the second largest consumer/industry show, second to the Consumer Electronics Show (CES) show with 130,000 participants involved.  It's like a candy store for gear heads with anything you can imagine for aftermarket cars and trucks.  My primary goal with the SEMA build was to raise awareness of and a desire for the Lance brand with this audience.
Personally and professionally, I love attending SEMA because I'm an auto enthusiast.  I worked eleven years at Nissan Motor Corporation.  My father retired from GM and my father-in-law from Chrysler.  I grew up in Michigan, and have always loved cars and motors.  SEMA has always been a part of my career and my personal life.
When I came to work for Lance two years ago, one of my goals was to get Lance Camper involved with SEMA.  The first year I was not able to get it done but, with the help of Melanie White and Mike Hallmark of Hellwig Products, Lance got in this year.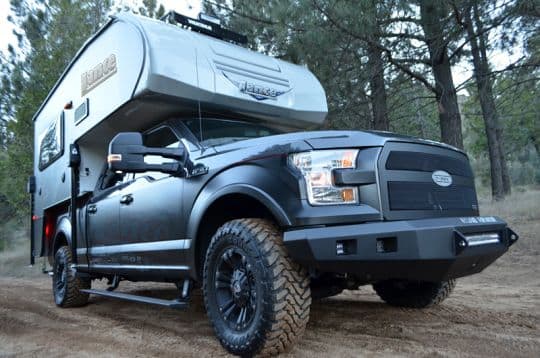 Above: The passenger's side of the Lance 650 Overland Edition with the AMP power step – click to enlarge
TCM: As you pointed out, SEMA is a massive show.  What was your strategy to make an impact on the SEMA universe?
Bob: Hellwig Products got us a prime spot outside, right in front of the main hall.  We were right next to the set for a show called Car Crazy that's hosted by Barry Meguiar, who owns Meguiar's wax.  They do a daily live feed from SEMA and have guests and famous car people attending.  We were next to the stage and people were constantly coming over and watching the show.  That prime location was a big part of our strategy for SEMA.
The reaction at SEMA was overwhelmingly positive from the 19 year old gear head to the 70 year old truck camper.  Everyone said, "Great job!".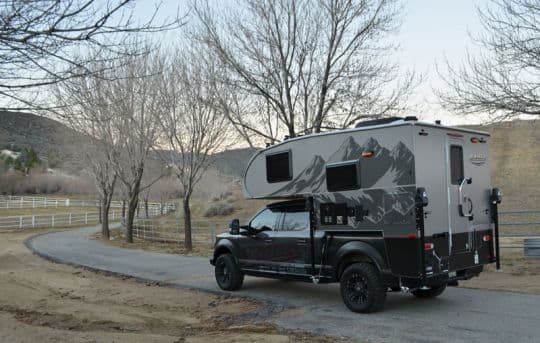 Above: The rear of the Lance 650 Overland Edition – click to enlarge
TCM: How did you connect with the aftermarket gear manufacturers who participated in the build?
Bob: Having been in the automotive and aftermarket business for awhile now, I have a lot of contacts of people that I have worked with along the way.
We put a proposal together that stated our goals and what the rig was going to look like. We sent it to the aftermarket product companies to see if they wanted to participate.  We received an overwhelming positive response.  No one turned us down.

Above: Torklift Fastguns and a Vomela wrap was used on the truck and camper – click to enlarge
TCM: Tell us about working with Vomela on the wrap.
Bob: Vomela is an industry leader with graphics.  I was at Fleetwood for nine years and we used them extensively for RV graphics.  Vomela did an unbelievable job to fulfill our design idea.  They took it and ran with it.
The camper is wrapped on the two sides and the rear.   On the truck, the wrap goes from the belt-line down to the bottom on both sides.  The tailgate was also wrapped for when the truck is unloaded.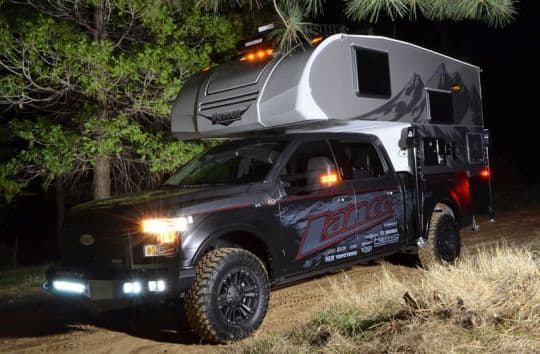 Above: The Lance 650 with graphics and LED lights – click to enlarge
The camper started without any Lance graphics or Lance logos.  We wrapped over compartments and then trimmed around the doors or anything that has to open.  It took five hours for the camper and three to four hours for the truck.
The wrap process is fairly standard whether it's a boat, car, truck, bus, or plane.  It's typically a four foot wide printer and you can go as long as you want and run the printed design north to south.  You would wrap it that way.
TCM: What does a wrap typically cost?
Bob: Depending on the size, you can get a wrap for $2,000 to $4,000 per vehicle, plus $800 to $1,000 to install it.  Motorhomes are much more than that and range from $7,000 to $8,000.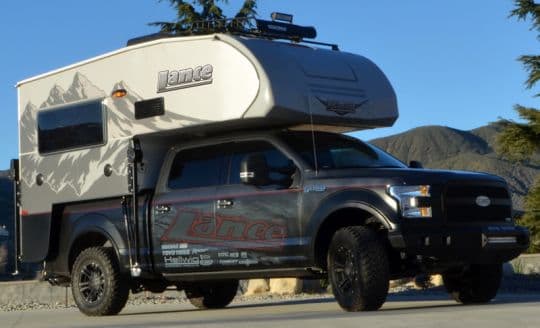 Above: The wraps on the Lance 650 and F150 cost approximately $6000 – click to enlarge
TCM: Is the applied wrap rugged enough to last for years on the truck camper, or is it temporary?  For example, can it withstand desert sun, Northeast winters, beach salt, and hurricane force winds from highway driving?
Bob: Wraps are typically for a marketing campaign that last a year or two.  After that time, they'll start weathering on a full wrap.  Partial wraps last a little longer.
You can get more durable materials that are more complex and last longer.  For example, on the truck there weren't as many cut-outs, so that should last longer.  Wraps can be designed with UV inhibitors, but they are not designed to last the lifetime of a camper.
TCM: That doesn't sound like a good solution for a production unit.
Bob: That was part of the discussion I just recently had with Vomela.  We asked them what would make sense for production and for the consumer as far as graphics.
Vomela is confident that we could get a similar look with the fiberglass color and the color of the components in a production version that has the durability of our current graphics.  We're investigating that right now.
TCM: Were there any interior modifications done to the 650 Overland Edition?
Bob: It was a 100% stock 650 on the interior.
TCM: What was the reaction to the rig at SEMA?
Bob: The reaction was overwhelmingly positive.  From the 19 year old gear heads, to a 70-year old who had owned multiple truck campers, everyone said, "Great job!".
TCM: Did you drive the rig out to Las Vegas from Lance Campers in Lancaster, California?
Bob: Jim Waters, our Marketing Coordinator, drove it there, and I drove it back.
TCM: How did the changes made to the truck change the performance and handling of the finished rig?
Bob: The modifications on the truck made a huge difference.  The truck camper rode well stock.  We were concerned about lifting it and what that change would do to the stability of the rig.

Above: Icon 1.75-3" Stage 5 suspension system – click to enlarge
We have an Icon 1.75-3" Stage 5 suspension system on there, which is a leveling system for the front end.  We took it up enough to level it with the rear.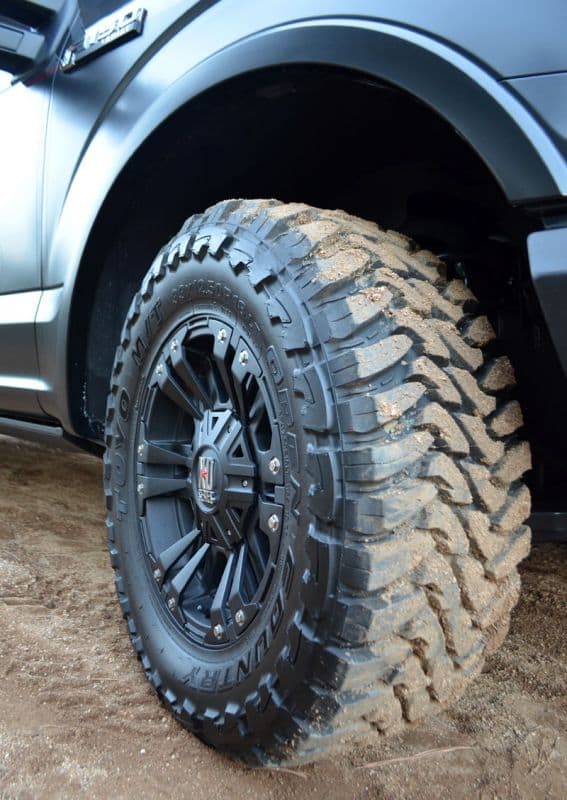 Above: KMC XD 822 Series Monster 2 18×9 wheels and Toyo 33×12.5 Open Country M/T tires – click to enlarge
We also added bigger KMC XD 822 Series Monster 2 18×9 wheels and Toyo 33×12.5 OPen Country M/T tires.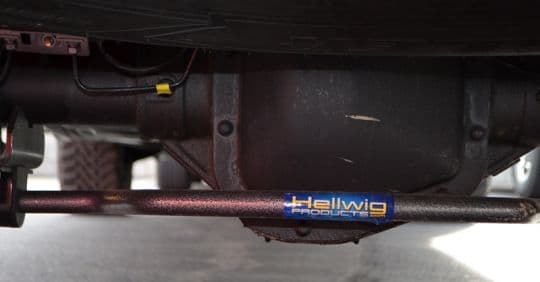 Above: Hellwig rear sway on the 2015 Ford F150 – click to enlarge
Hellwig put on their proven front and rear sway bars and ride control with the air bags.  That made the drive and handling excellent.  The Hellwig gear made a huge improvement.

Above: Torklift Talon tie-downs and Fastgun turnbuckles and Borla Cat-Back S-Type Exhaust – click to enlarge
Torklift International also provided support equipment.  We used the grey and black aluminum Talons.  It matched perfectly.  They're always a great industry partner.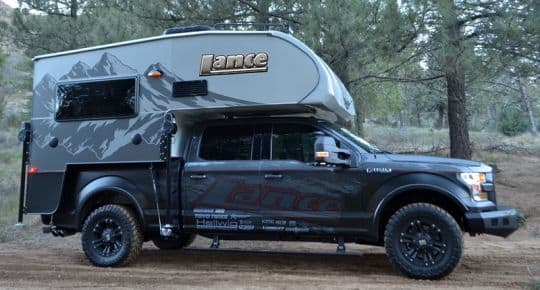 Above: The Overland Edition in its entirety – click to enlarge
All of those modifications made the rig handle awesome.  I loved driving back from the show.  With the suspension products it was so easy to maneuver around town.  I had some good wind coming through the Vegas area and it handled it really well.

Above: More modifications included (top row) Yakima Load Warrior Rack, Supports, Mounts, (middle row) Road Armor stealth non-Illuminator front/rear bumper and Rigid Industries LED Lighting, (bottom row) T-Rex Upper Class Series Grille – click to enlarge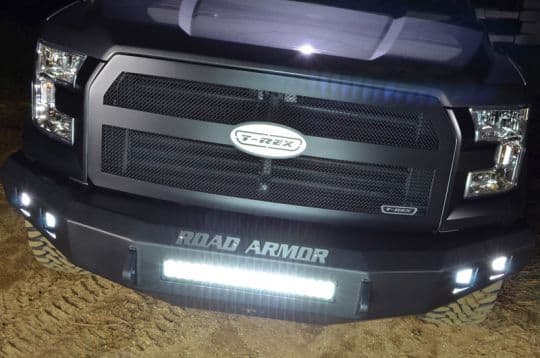 Above: The Rigid Industries LED Lighting and Road Armor stealth non-Illuminator front/rear bumper – click to enlarge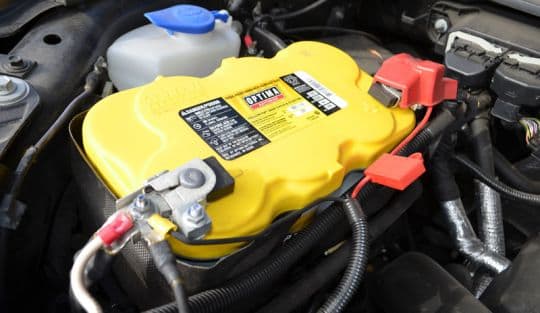 Above: An Optima D27F battery in the Ford F150 – click to enlarge
TCM: What would the Lance Overland Edition rig cost if a customer wanted to assemble one?
Bob: It would cost about $91,872 with the 2015 Ford F150 ($46,670), 2016 Lance 650 ($23,770), wrap ($6,000) and installed options ($15,432).
| | | |
| --- | --- | --- |
| Product | Part | Price |
| Ford | F150 | $46,670 |
| Lance | 650 | $23,770 |
| Hellwig | Front Sway Bar | $246.95 |
| Hellwig | Rear Sway Bar | $351.23 |
| Hellwig | Air Springs | $473.17 |
| Torklift | Talon Tie-Downs | $789.98 |
| Torklift | FastGun Turnbuckles | $312.99 |
| Yakima | Load Warrior Rack, Supports, Mounts | $1086 |
| Optima | Yellow D27F on Truck | $269.99 |
| Optima | Blue D34M on Camper | $249.99 |
| Toyo | 33×12.5 Open Country M/T Tires | $1069.72 |
| Rigid Industries | LED Lighting | $2109.86 |
| ICON | 1.73-3″ Stage 5 Suspension System | $1467.73 |
| T-Rex | Upper Class Series Grille | $800 |
| KMC Wheels | XD 822 Series Monster 2 18×9 | $976 |
| Borla Exhaust | Cat-Back S-Type Exhaust | $1230 |
| AMP | Power Step | $1200 |
| Road Armor | Stealth non-Illuminator front/rear bumper | $2798 |
| Vomela | Camper Wrap | $3000 |
| Vomela | Truck Wrap | $3000 |
| | Total Cost | $92,079.62 |

TCM: Wow, that's no longer entry level.  Of course most folks would stop at the truck and camper and required tie-downs, turnbuckles.  That would probably be somewhere around $75,000 with tax, etc.  Who installed all the gear, and how long did that process take?
Bob: Our Service and R&D departments put most of the mods on, and we contracted some of the mod installations locally, like the Borla Cat-Back S-Type exhaust.
We started planning the mods three months prior to the show.  By the time the rendering was done, it was a month of pulling things together.  The graphics got finished a few days before, but it wasn't quite as hectic as what you see on Overhaulin'.
Above: The Lance 650 Overland Edition and new Ford F150 – click to enlarge
TCM: Is the 2015 Ford F150 the same truck from the 650 debut article?
Bob: Yes, it was the same truck that we debuted the 650 with in Truck Camper Magazine.  It worked out great.  If we want to return the truck back to stock we can.  That said, we do have people wanting to buy the rig as it is right now.
For the next month, we will get as much exposure as possible.  After this Truck Camper Magazine article runs, we'll offer it to non-RV press.  We'll also take it to non-RV shows.  They are active outdoor shows that would be great to reach potential truck camper customers.
TCM: Can we expect to see a special edition Lance 650 Overland Edition similar to the project camper?  Or might variations on this theme become available in the future?
Bob: I think it's too early to tell, but we're having those discussions.  We're talking about the grey cap and the black accents.  With the graphics, we're working with Vomela to see if it makes sense.  There are no definite decisions yet.  As soon as we decide, Truck Camper Magazine will be the first to know.
TCM: After this experience, is Lance Campers considering more project builds, more partnership opportunities, and future SEMA unveilings?
Bob: If the project has merit, and the return on investment pans out, I would love to do more project vehicles and SEMA appearances.  I always like to try new and better things.
If we do get involved in SEMA next year, we'll invite Truck Camper Magazine out to join us.  The size of the show is mind boggling.
Above: The Lance 650 Overland Edition – click to enlarge
TCM: That would be fun.  Is there anything else you would like to add about the Lance-Hellwig Overland Edition build?
Bob: On Friday night at 5:00pm they start a parade of featured cars that goes from the convention center to a parking lot half mile away where SEMA Ignite is located with a huge tailgate party.  Lining the streets are bleachers and the public is invited to watch the parade of cars.
We participated in this parade.  In front of us was a tricked out Audi A8 worth over $200,000.  Behind us was a 1932 Ford Roadster.  When we went into the parking lot area, three bands were playing and they were taping the television show Overhaulin' with Chip Foose.  That was cool.
My focus for SEMA was to get exposure with the non-RV press.  I'm interested in getting the Lance brand out to camping prospects or outdoor prospects that are not necessarily reading the RV publications.  Believe it or not, there are a lot of people in United States and Canada who are RVing prospects who have never heard of Lance, especially in the Midwest and East Coast.
Throughout the show we did audio and video interviews.  We have seen five to six stories done with overland type magazines.  I think we'll continue to get that.  That was a big part of the goal.
Hellwig Products
For more information about Hellwig Products participation in the Lance 650 Overland project, we talked to Mike Hallmark, West Coast Sales Manager for Hellwig Products.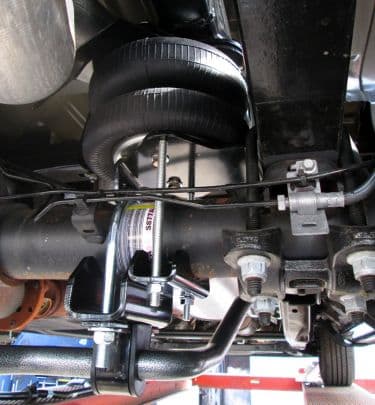 Above: Hellwig air springs and rear sway bar being installed – click to enlarge
TCM: What did Hellwig Products contribute to the Lance 650 Overland build?
Mike: For the Lance 650 Overland build, Hellwig Products supplied our 1.5-inch diameter front sway bar (part number 7704) and 1-inch diameter rear sway bar (part number 7743).  Both sway bars are manufactured from hot formed and heat treated solid 4101 chromoly steel.
The 2015 F150 does not come factory with a rear sway bar, so this upgrade made a drastic difference in drive-ability with the Lance 650 installed.  With the added vehicle height and weight of the truck camper, these large diameter sway bars keep body roll to a minimum, thus resulting in a safer, more enjoyable ride.   Our rear sway bar has three adjustment mounting points allowing Lance Camper to further tune the sway bar for this specific build.
We also added our rear air spring kit (part number 6115) to keep the back end from sagging.  We have a no saggy bottoms policy at Hellwig; cars and trucks exclusively (not to be taken out of context).  This air spring kit compliments the factory leaf spring configuration and can be adjusted by inflating or deflating the bags, depending on the added weight.
The right and left bags are isolated from one another so they can be used to help level the entire camping unit front to back and left to right.  A level load is critical to maintain driving characteristics.  Our air springs ensure the weight is properly distributed over the front and rear axle.
The Hellwig sway bars and Hellwig air springs improved the ride quality, control and the overall driving experience for the Lance 650 Overland build.  Our goal with this build was to support not only Lance's camper, but their journey.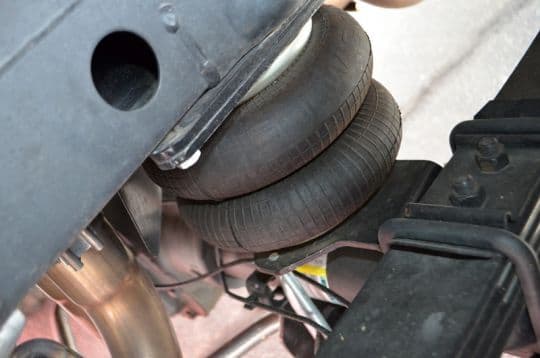 Above: Hellwig air springs on the 2015 Ford F150 – click to enlarge
TCM: What does Hellwig Products believe the opportunity is for truck campers at SEMA?
Mike: We believe SEMA represents a great opportunity to bring complimentary markets together.  A truck camper won't go far without a truck, and it's much nicer to sleep in a camper than on the ground or the bed of the truck.
SEMA is about pushing the envelope, and coming up with new ways to express individuality in regards to motor vehicles.  Many people have a great love for vehicles as well as camping.  Unfortunately, those same people often see campers as cumbersome heavy living boxes that limit the great outdoors experience.
Partnering with Lance on this F150-Lance 650 build allowed us to show people that you can have the best of both worlds.  The truck and camper were tastefully modified with function and utility at its core.  The rig was also visually appealing.  The combination of truck, camper, and modifications set this build apart from others at the show.  What excited us most about this build was the opportunity to show the cool side of camping life.
TCM: How was the finished Overland Edition received at SEMA?
Mike: Personally, I believe it was received very well.  I heard nothing but positive feedback from show goers, media, and other manufacturers.
In the past, SEMA has been all about the alterations to the vehicle itself.  This build showed the capability of the truck in action, as a complete package.  It also showed attendees and the consumer that SEMA builds can catch your eye, be practical, and be obtainable by a broad audience.