Truck Camper Magazine evaluates a 2016 Lance 850, a long bed, hard side, non-slide, wet bath truck camper.  Seven years running, is the 850 still competitive?  Let's find out.

Lance Campers debuted the Lance 850 in Truck Camper Magazine on November 19th, 2009.  The Lance 850 was developed to replace the 835, one of seven truck camper models Lance replaced or eliminated for 2010.
When we toured the Lance Camper factory in Lancaster, California later that summer, the evidence of even more change was everywhere.  This was not a company that had sat around during the dark recessionary years of 2008 and 2009.  On the contrary, the Lance management and engineering teams had taken full advantage of the economic slow-down, and pushed forward on all fronts.
As we explored the factory, we saw a manufacturer buzzing with cutting-edge technologies, state-of-the-art materials, and innovation.  For example, they had completely integrated their 3D Solidworks design process to take full-advantage of a growing fleet of CNC machines.  We detailed this and many other advancements in a must-read report for any Lance-enthusiasts, "Lance Camper Factory Tour".
The older units Lance was replacing in 2010 were a reflection of Lance's past.  Specifically, they were wood-framed, just as Lance Campers had been building since 1965.  The new models were 100% aluminum-framed and fully-laminated.  As Gary Conley, National Sales Manager for Lance Campers, explained during the Lance 850 introduction, "It's the end of an era.  Wood framing has served its time, and now we're off to something better."
In retrospect, the Lance 850 was a very important truck camper for Lance Campers.  It was the first camper to successfully synthesize all of their current thinking, and proof of concept that those ideas, materials, and production approaches would work.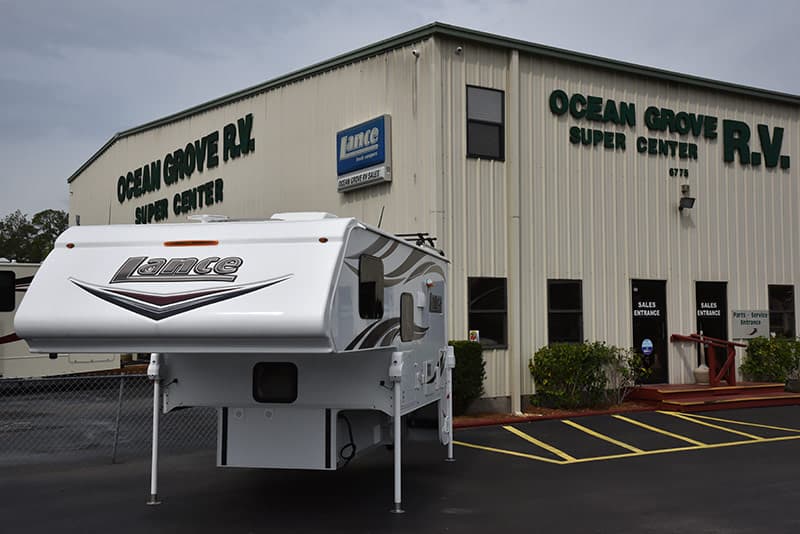 As the saying goes, that was then and this is now.  The Lance 850 has been in continuous production for almost seven years, a very successful run for any truck camper model.
The question is, how does the 850 measure up today?  Is it still a relevant model, or is the 850 overdue for the next sea change?  With our camera in hand, we went to Ocean Grove RV in Saint Augustine, Florida to find out.
Floor Plan Evaluation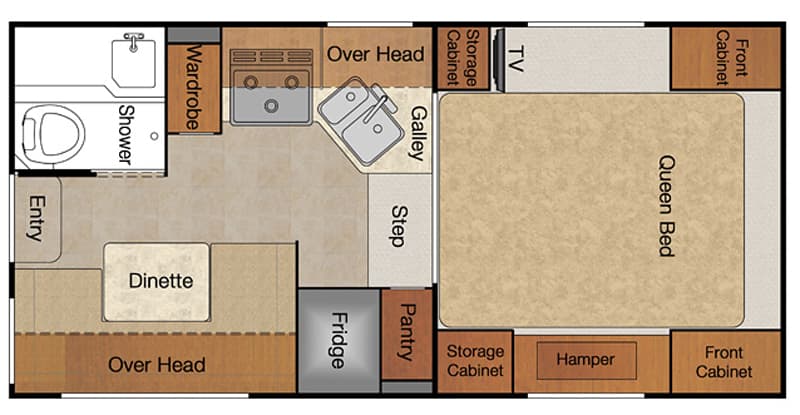 Folks who have owned a hard side truck camper built before the proliferation of slide-outs (mid-2000s) will probably see many familiar design elements in the 2016 Lance 850.  Looking at the floor plan, this is an old-school truck camper layout through and through; non-slide, rear wet bath, U-shape dinette, angled central kitchen, and a typical cabover cabinetry arrangement; two identical front cabinets, passenger's side hamper and closet, and driver's side floor storage.
Our first truck camper, a 2004 Lance 1030, had almost the exact same floor plan as the 2016 Lance 850.  As newbies to truck camping back then, we didn't appreciate the decades of refinement this proven floor plan benefits from.  The layout, storage, and flow of the camper just seemed right.
For the following floor plan evaluation, we are putting the historical perspectives aside and giving the Lance 850 a fresh look.  Starting from the back and moving forward, the rear wet bath is up first.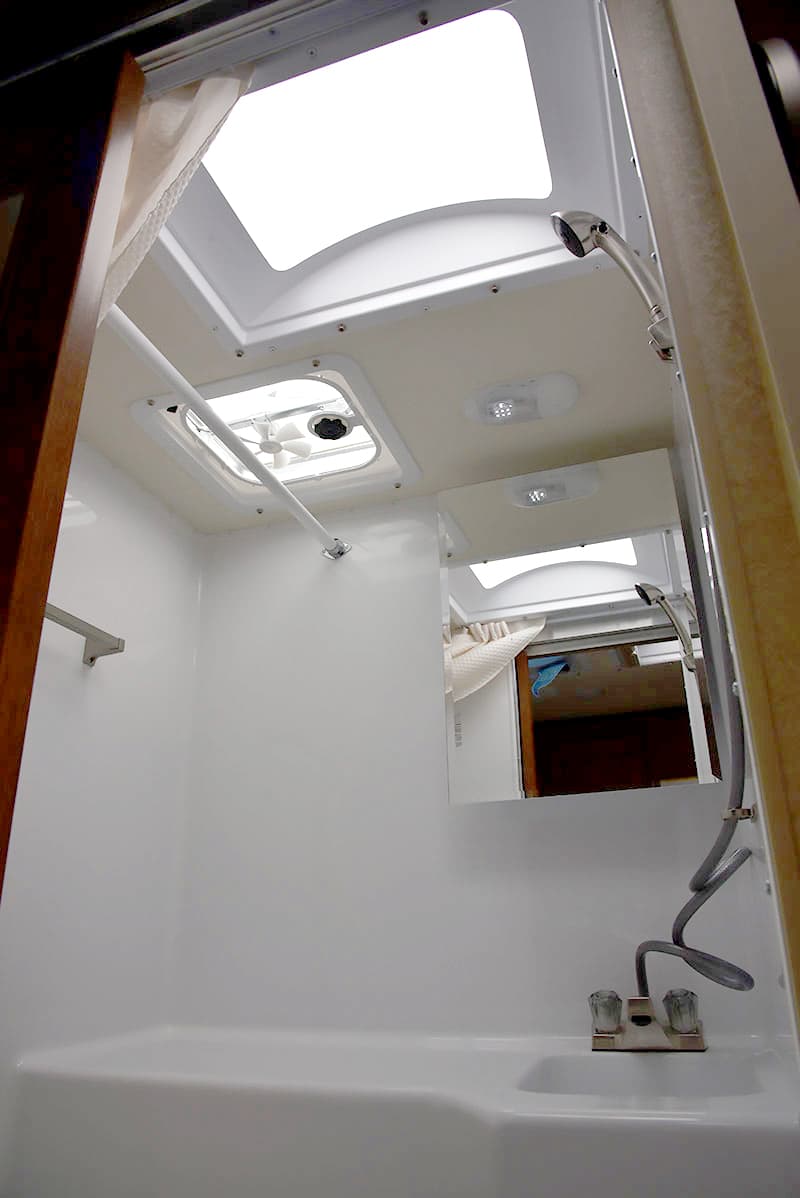 The one-piece fiberglass wet bath in the Lance 850 is all about function.  You get a flush toilet, sink, and shower with just enough room for each.  The dual pane skylight improves the headroom while bringing in natural light.  The towel rack and shower rod are great for drying towels and wet clothing.  The fan helps to keep air flow going, and offers a modicum of auditory privacy.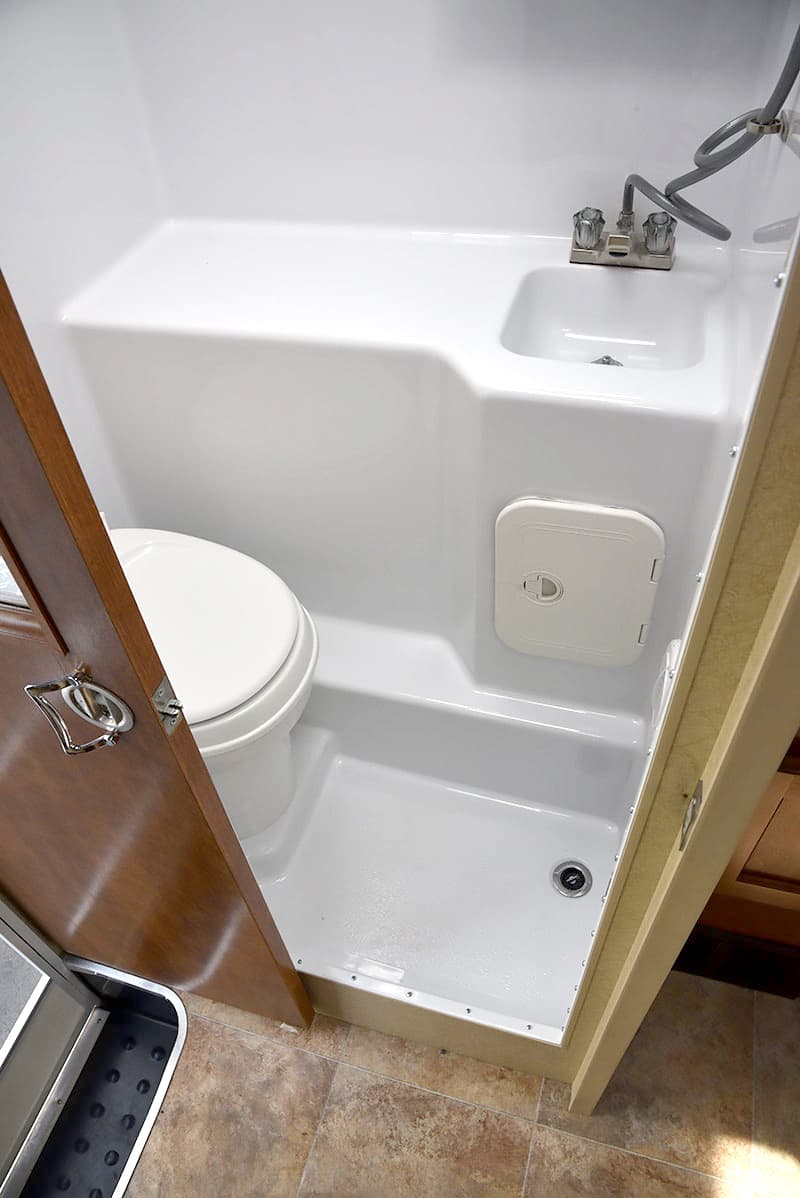 As with any truck camper, we strongly recommend sitting on the toilet and standing in the shower stall to make sure the wet bath offers enough toilet leg room and shower washing space to be comfortable.  Remember, you don't spend much time in the bathroom.  Lance could have made the wet bath bigger, but then you would be giving up precious interior living space.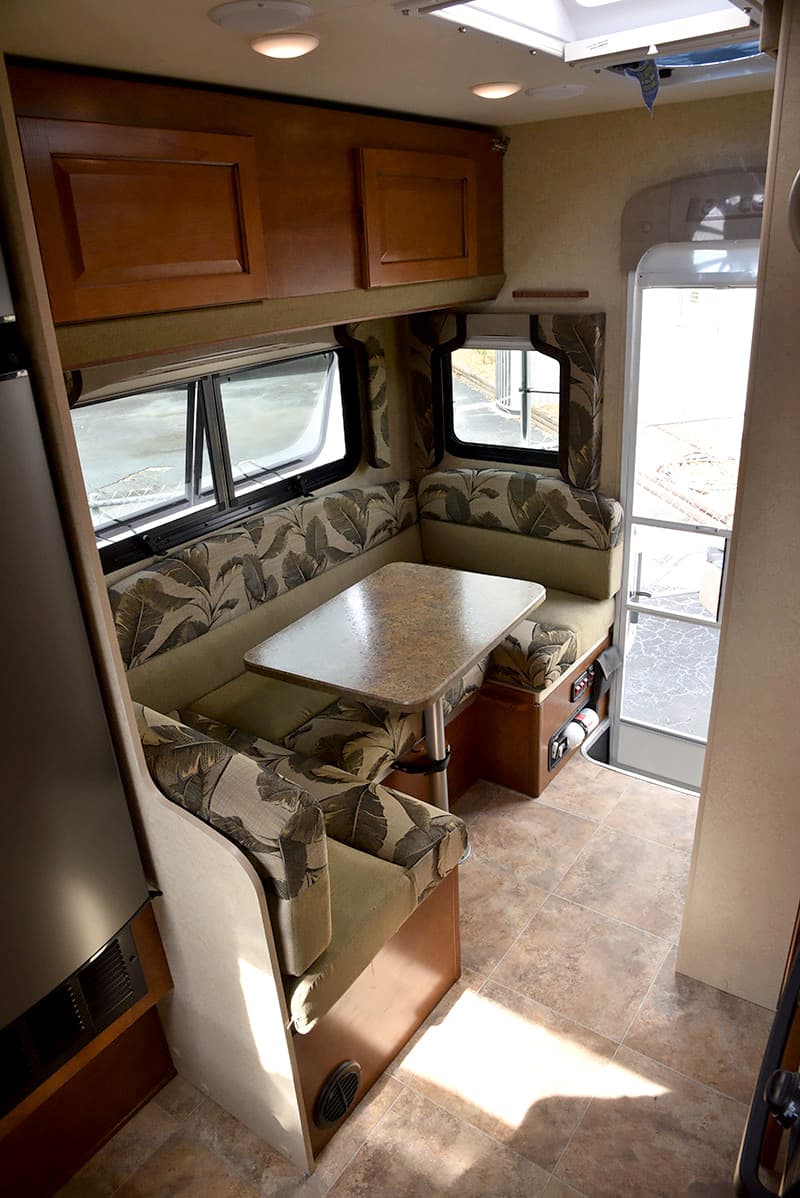 Above: Note the skylight, multi-speed Fantastic Fan, stereo speakers, and LED lighting above the U-shape dinette.
The Lance 850 features a rear U-shape dinette.  Our Lance 1030 had a very similar U-shape dinette and we found it very comfortable.  That said, we now prefer the leg room of full-booth dinettes made possible by wheel-well-height basements.  Of course a taller basement would mean more weight.  In truck campers, everything is a trade off.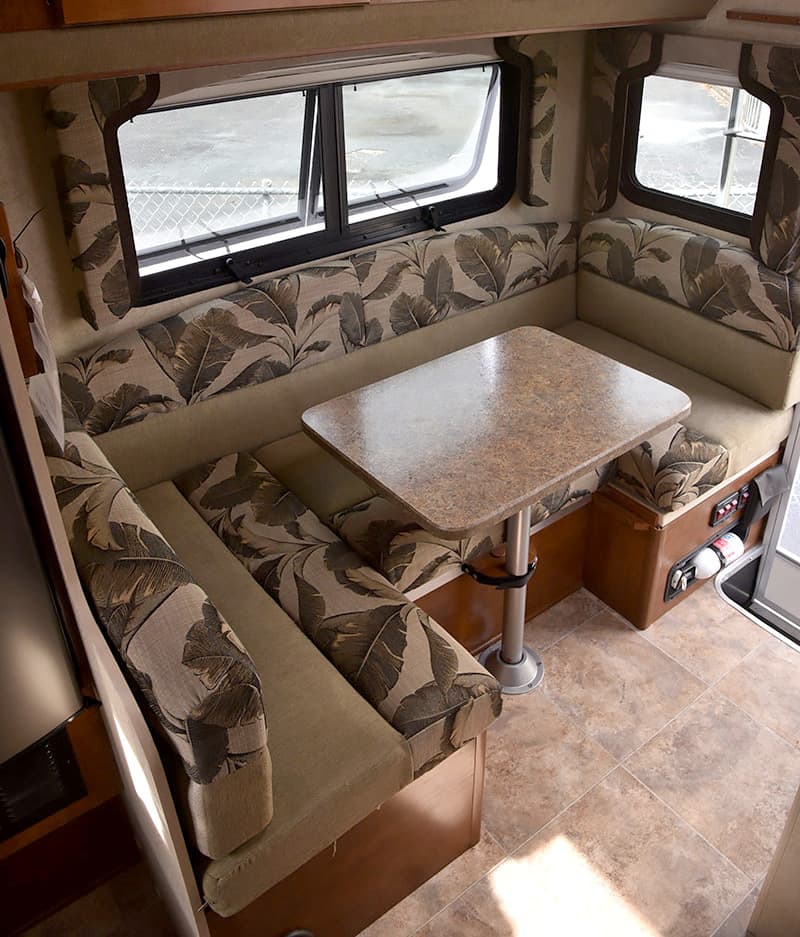 Above: All 2016 Lance Campers feature frame-less windows.  As you can see, the Jalousie-style frame-less windows crank out making them usable when it rains.
Most owners of this camper will be couples who will sit across from one another.  As such, I would love to see Lance offer an optional full-booth-size table.  Picture the stock table extending to the passenger's sidewall.  For meals, laptop use, or a game of cards, this larger table would transform the functionality of this dinette.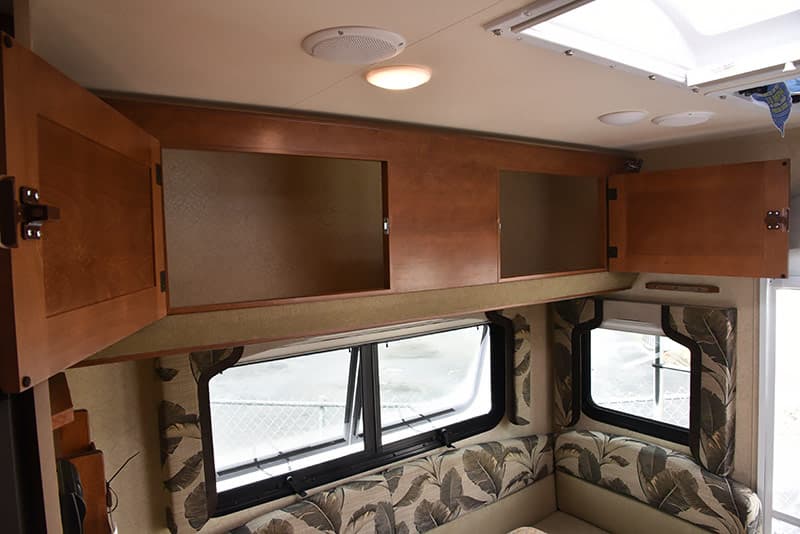 The overhead bunk and storage area is nothing less than fantastic.  Not only can it quickly become a place for junior to sleep, but it's a great place to keep sheets, towels, and clothing.  Others might keep fishing poles, hunting gear, or a metal detector in this space.  All too often, slide-out truck campers lose this storage area.  We couldn't imagine camping without it.

Above: Lance is using laminated exterior panels (Lamilux fiberglass, Azdel composite, and closed cell foam insulation) as their dinette seating panels.  These exceptionally strong and lightweight panels are CNC cut-outs from their sidewall construction process.

Above: The Lance 850 dinette converts into a bed.  The challenge is figuring out which of the seven cushions were needed to form the bed.  Hint: You only need four cushions.
We are big fans of Lance's new reversible cushions, a truck camper industry first.  With reversible cushions you can choose from two different fabric combinations, or change things up down the road.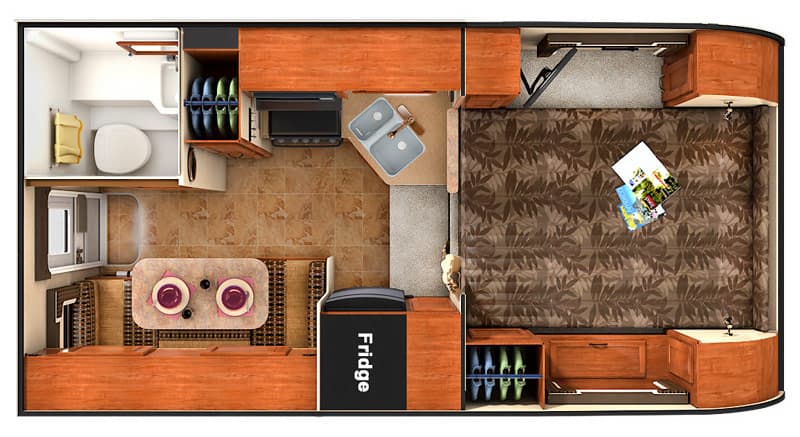 Above: The 3D floor plan above shows the storage opportunities in the Lance 850
Directly across from the dinette is a tall wardrobe for coats and hanging shirts.  We don't bring hanging shirts with us anymore and have long-since decided that storing coats on hangers is a waste of space.  Since we camp in mostly warm weather, coats can be folded and placed where we can reach them when needed.
That leaves wardrobes like this open to storage containers and shelving mods.  For example, a trip to the Container Store would likely yield a number of good options.  Fabric shoe racks anyone?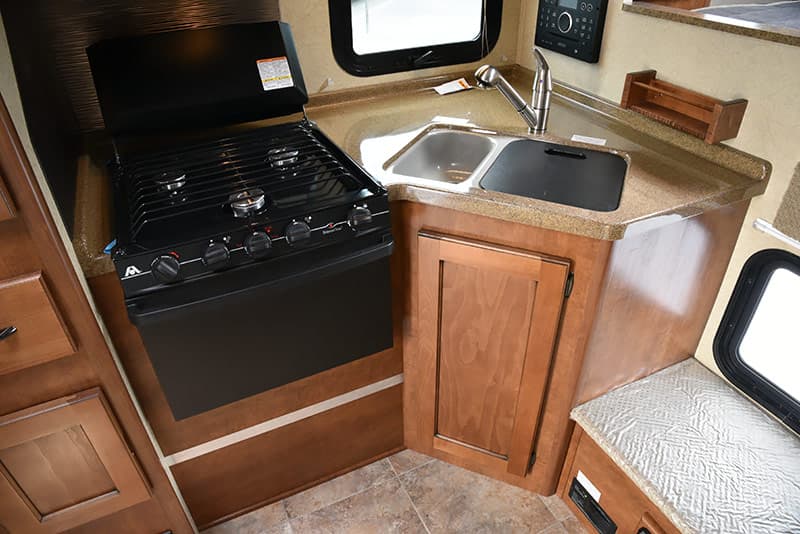 The kitchen counter space in the 850 is minimal.  The deep three-burner range oven and two basin sink take up almost all of the forward most counter surface area.  What's left are two triangle-shaped spaces to the left and right of the sink, and a larger area behind the sink.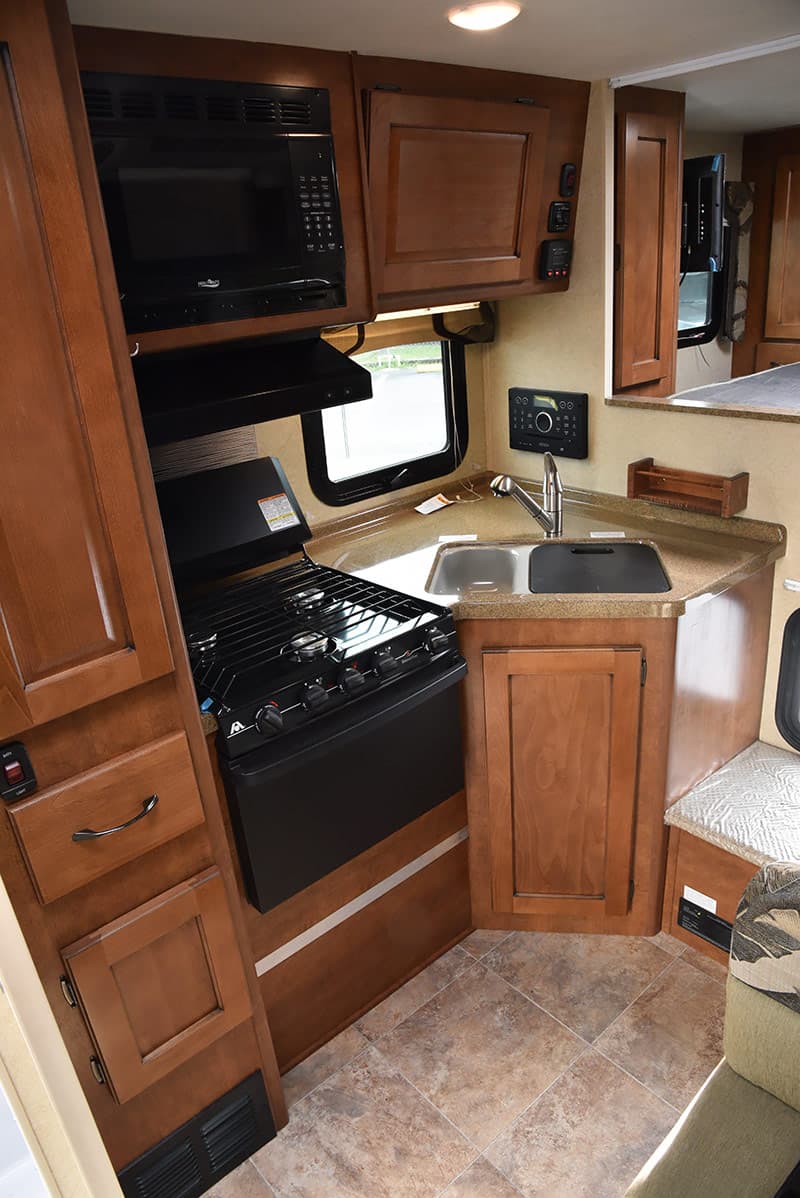 We had this exact same kitchen counter and appliance set-up in a 2013 Lance 855-S we borrowed in 2013.  In practice, the limited counter space didn't change our ability to cook and prepare meals, but we keep our road food extremely simple.  As Angela will tell you, I am notorious for making one pot dinners.
If you require counter space for cutting vegetables, mixing cake batter, or staging ingredients, the 850 kitchen may not meet your culinary requirements.  You might also be frustrated if you use a coffee pot, toaster oven, crock pot, or other cooking appliances while traveling.  We don't, and were fine with the limited counter space.
Ideally, Lance would offer an option for a smaller single bowl sink and two-burner range like what they chose for the 2016 Lance 650.  That approach would present significantly more counter space with less weight.  Of course not everyone would want to give up the oven, third burner, or the second sink.
If you opt for the optional microwave, overhead storage in the kitchen is limited to one cabinet.  On balance, Lance did include additional storage under the sink, a single drawer to the left of the range oven, and a three-basket pull-out pantry next to the refrigerator.  You can also use the oven to store pots and pans.
In short, an owner of a Lance 850 will need to be mindful of how they utilize their kitchen storage.  Bring only the dishes, utensils, pots, and pans you need and you'll do fine.  Truck camper storage is always a challenge best met with planning and efficiency.  Besides, this is the price we pay for demanding microwaves, three-burner range ovens, and two basin sinks in our truck campers.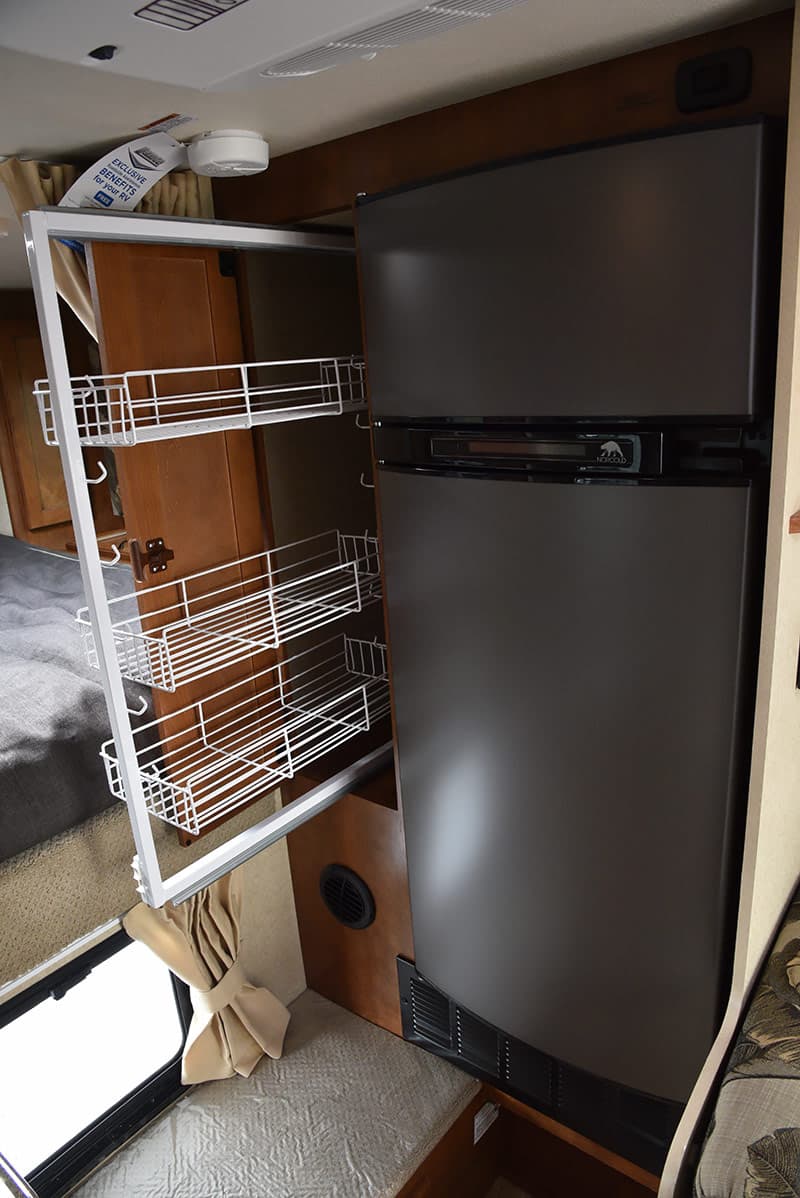 Above: The sliding pantry next to the 5-cubic foot refrigerator
The 5-cubic foot, 3-way (12-volt, LP, and AC) Norcold refrigerator in the Lance 850 features a separate refrigerator and freezer.  From experience, a 5-cubic foot refrigerator provides almost the same amount of practical food storage space as a 6-cubic foot refrigerator.  We have used campers with both 5 and 6-cubic foot refrigerators and haven't needed to adjust our food shopping habits much when using the 5-cubic foot models.  The slightly smaller freezer is the biggest challenge.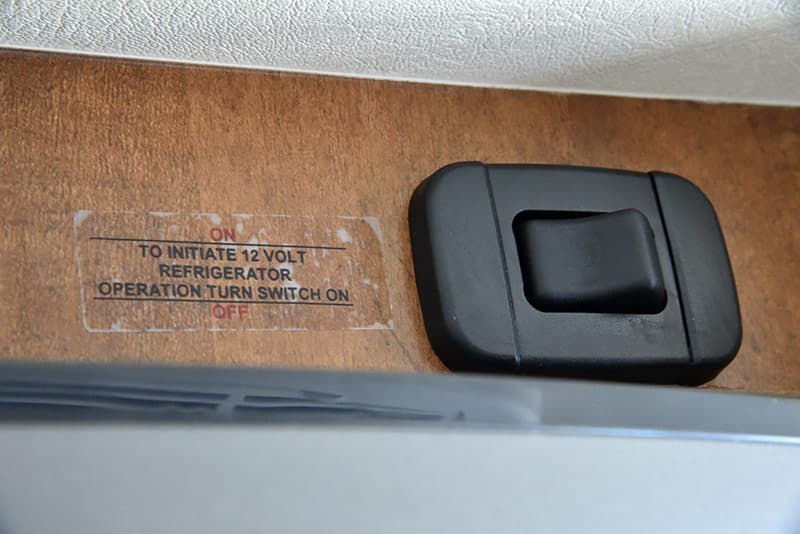 What was most interesting is the 12-volt switch over the refrigerator to prevent the 12-volt mode from accidentally draining your batteries.  Nice touch, Lance.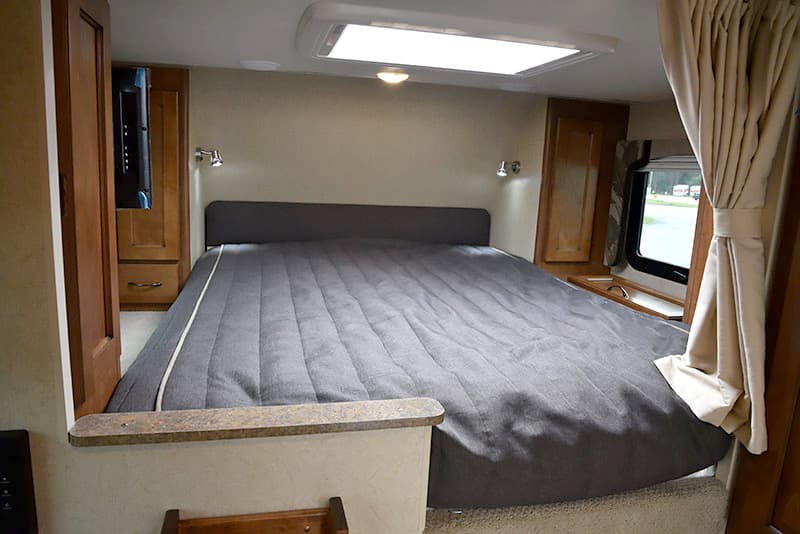 The north-south 60 by 80-inch queen-size bed will allow you to sneak past your snoring spouse to use the bathroom or get a 2:00am drink of water.  Not everyone has the same sleep schedule, so a north-south cabover is a real plus.

Above left: Driver's side of the cabover.  Above right: Passenger's side of the cabover.
The two sides of the cabover offer some excellent storage options.  On the passenger's side there is a front cabinet, hamper, and storage closet.  On the driver's side, there is a front cabinet and drawer, floor space, and a small storage cabinet.
For those who are concerned about marital harmony, the storage on both sides seems well balanced leaving couples the option to choose which side suits them best.  If you both choose the same side, try rock, paper, scissors.
Above left: The HDTV in the cabover.  Above right: The television swiveled out to the main living area.  Also note the tank monitors, power awning control, awning light, and stereo system.
Honestly, we love the cabover in the Lance 850.  It's attractive, well designed, has plenty of light from the Heki skylight and opposing windows, and offers an appropriate amount of storage.  What more could you want?
Specifications
| | |
| --- | --- |
| Specifications | |
| Dry Weight | 2,445 pounds |
| Wet Weight* | 3,350 pounds |
| Floor Length | 8'11" |
| Overall Length | 17'7″ |
| Width | 96″ |
| Interior Height | 76″ |
| Exterior Height | 8'6″ |
| Center of Gravity | 34″ |
| Truck Type | Long Bed |
Lance Campers reports the dry weight of the 2016 Lance 850 at 2,445 pounds.  This weight is based on a unit without options and is unlikely to be representative of a unit found on a dealer lot.  If you want a Lance 850 at this specified dry weight, you will need to special order the unit.
Most Lance 850 models will likely have 150 to 200 additional pounds with popular options; air conditioner, microwave, 10-foot power side awning, rear door awning, remote-controlled electric jacks, HDTV, day/night shades, Fantastic Fan, Heki skylight, removable pass-through window, etc.

Above: The Lance 850 roof.  Note the air conditioner, HDTV antenna, Heki skylight, and roof rack.
With an 8-foot 11-inch floor and a 34-inch center of gravity, the Lance 850 is designed for long bed trucks.  The exterior width is 96-inches (8-feet), the maximum width allowed for truck campers and RVs.  Unlike many of the truck campers that have debuted recently, the 2016 Lance 850 is not a candidate for a half-ton.
Interior height is 76-inches, or 6-feet 3.3-inches.  I stand at 6-feet 3-inches, so I had to be careful around the air conditioner.  That said, I quickly became accustomed to the ceiling height and found it comfortable.  It's interesting to note that the new Lance 650 has an 81-inch ceiling and the Lance 825 has a 77-inch ceiling.  Not all Lance ceiling heights are the same.
Truck Camper Magazine wants to continue to encourage Lance to mark the center of gravity on their truck campers.  As of now, they do not.
Capacities
| | |
| --- | --- |
| Capacities | |
| Fresh | 30 gallons |
| Grey | 20 gallons |
| Black | 18 gallons |
| Water Heater | 6 gallons |
| Propane Tanks | 2x 20 pounds |
| Batteries | One Battery |
The 30 gallon fresh, 20 gallon grey, and 18 gallon black tank capacities represent a good balance for an 8-foot truck camper.  If any of these three tanks will be a limiting factor it's the grey tank.
Our 2004 Lance 1030 had similar holding tank sizes; 33 gallon fresh, 15 gallon grey, and 15 gallon black.  With those tank capacities, we were able to go about 5 to 6 days without requiring a dump station.  If we filled the fresh tank when we dumped, we never ran out of fresh water.  The black tank was also plenty.  However, even with short navy showers and quick hand and dish washing, it was always the darn 15 gallon grey tank that filled up first.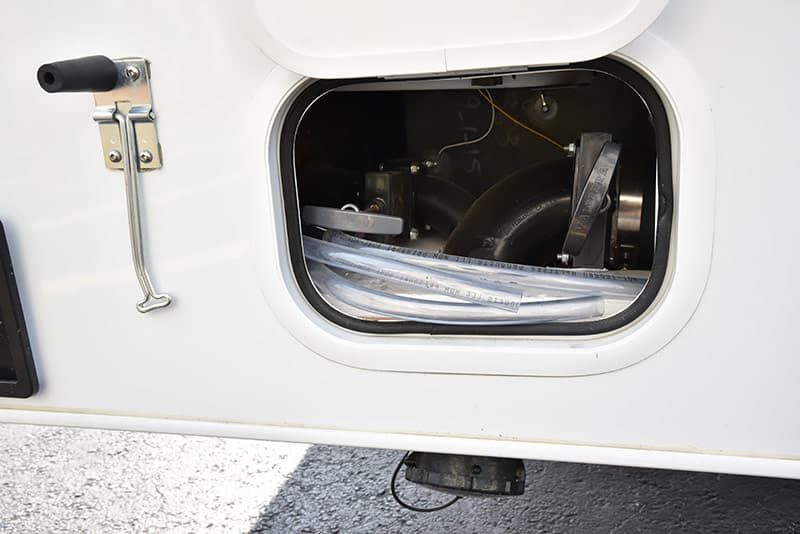 Above: The low water drains and dump area of the Lance 850
Based on this experience (we lived in the 1030 for six months), and the 5 additional gallons of grey offered by the 850, we believe we could go for 6 to 7 days with the Lance 850 before needing a dump station.  Your mileage may vary.
Lance could have made the 850 grey tank bigger, but that would have added weight.  Many of the compromises in a unit like the Lance 850 are often the result of the manufacturer's attempt to hit a weight target.  Like any truck camper, Lance 850 owners will quickly get in tune with their holding tanks and adjust their camping and dump station visits accordingly.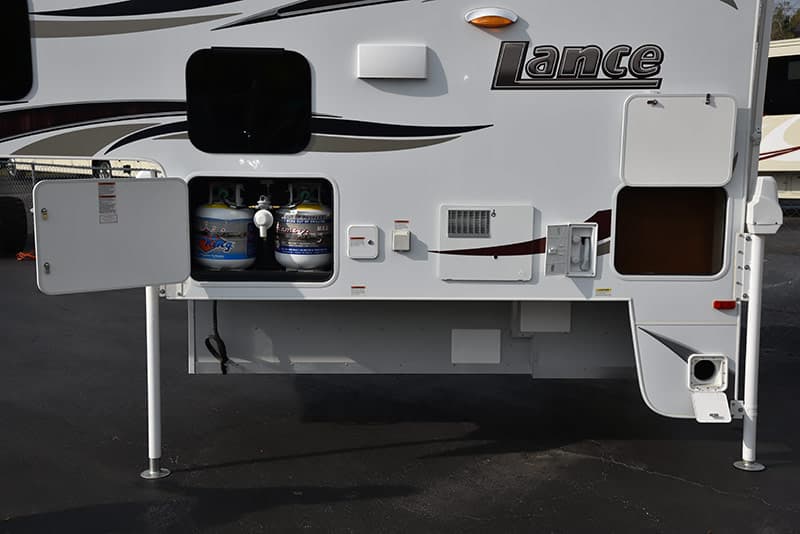 Above: Exterior driver's side features (left-to-right) include two 20-pound vertical propane tanks, fresh water fill, shore power connection, hot water heater, exterior shower, exterior storage, and sewer hose compartment
The 6-gallon hot water heater and two 20-pound vertical propane tanks are exactly what we like to see in a full-size hard side truck camper.  You'll have plenty of hot water for two extended showers, and enjoy the ability to exchange the propane tanks at thousands of hardware stores, grocery stores, and gas stations across the United States and Canada.

Above: The optional second vented battery box and battery in the step-up to the cabover.  Also note the battery disconnect switch and fuse panel in the picture on the right.
With all LED lighting, the standard single battery might be adequate, but we would strongly prefer the second battery option (as shown) for a unit this size.  The second battery will be very helpful to support the propane furnace fan in cold weather (a notorious battery drainer), water pump, and camper jacks.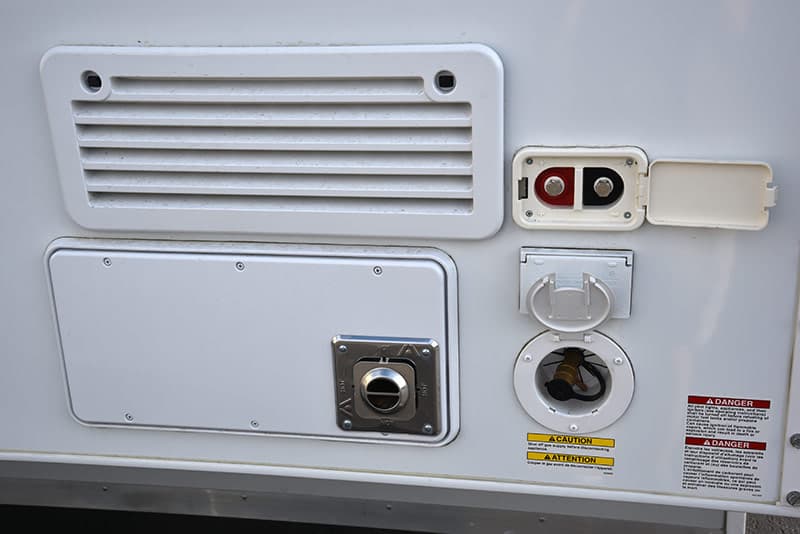 Above: On the passenger's side is the lower refrigerator vent, furnace, battery port, exterior cable connection, and exterior propane connection
Either way, we always recommend a solar panel to help keep your battery bank charged.  Unless you strictly camp at full hook-up sites, put the second battery option and solar panel system on your Lance 850 wish list.
Wet Weight Calculation
Using the standardized Truck Camper Magazine wet weight calculation, let's run the numbers on the Lance 850.
Base Dry Weight – special factory order only
Lance 850: dry weight, 2,445 pounds + 30 gallons fresh, 250.2 pounds + 6 gallon full hot water heater, 50 pounds + 2x 20-pound full propane tanks, 40 pounds + 1 battery, 65 pounds + stuff, 500 pounds = 3,350.2 pounds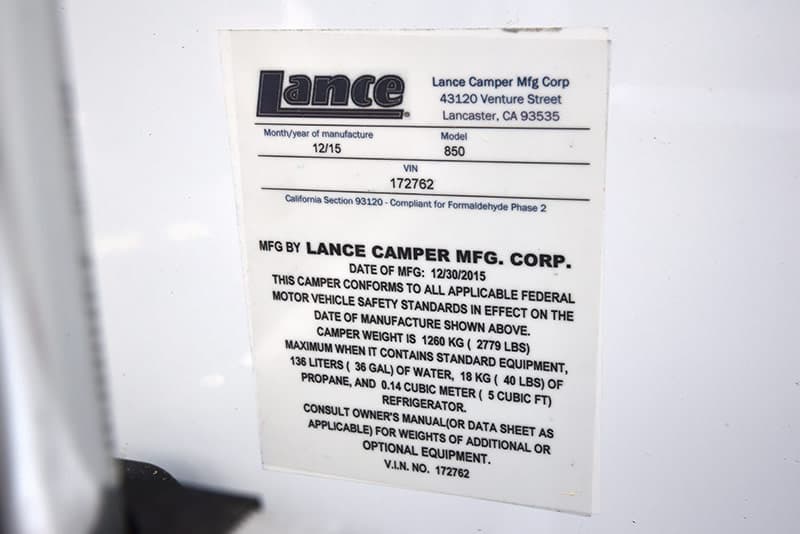 Above: The rear weight sticker on the rear of the 850 that TCM reviewed.  Note that the weight above includes water, propane, and a refrigerator, but does not include batteries or factory options.
Standard Build Options – most dealer orders
Due to the fact that the above factory dry weight is the lightest theoretical possible weight without options, we're going to add an additional 150 pounds for option weight; air conditioner, microwave, 10-foot power awning, upgrade to remote-control jacks, etc.  This is much closer to what a 2016 Lance 850 will actually weigh on dealer lots.
Lance 850: dry weight, 2,595 pounds + 30 gallons fresh, 250.2 pounds + 6 gallon full hot water heater, 50 pounds + 2x 20-pound full propane tanks, 40 pounds + 1 battery, 65 pounds + stuff, 500 pounds = 3,500.2 pounds
Truck Recommendations
3,500 pounds is right on target for a late model long bed one-ton truck.  Our 2013 Chevy Silverado 3500, crew cab, four-wheel drive, single rear wheel, V8 gas, short bed truck had 4,013 pounds of payload.  In long bed form, that same truck would have even more payload making it a perfect payload match for the Lance 850.  Add Torklift International Stable Loads to properly engage the overload springs, and hit the road to fun and adventure.
If you already have a truck, or have a specific truck in mind, you will need to run the numbers carefully.  3,500.2 pounds is very achievable, but most three-quarter and some one-ton long bed trucks fall short of this payload capacity.  This is specially true if a truck is older or includes heavy options like diesel engines, upgraded transmissions, four-wheel drive, and luxury packages.
Putting on my favorite broken record, the best course of action is to match the 2016 Lance 850 with a special ordered one-ton truck specified from the ground up for maximum payload capacity.
By special ordering your truck, you'll pay for the truck and options you need, not what the dealer happens to have on the lot.  And by getting the most payload possible given your requirements, you should have extra payload for towing toys, or upgrading to a larger camper in the future.  New trucks are very expensive.  Buy the one you'll need in the future.
It's also worth mentioning the price difference between a long bed 2016 Ford F150 and a long bed 2016 Ram 3500 6.4L HEMI gas is negligible.  In fact, many Ford F150s cost more than our well appointed Ram 3500 SLT 6.4L HEMI, 4×4, dually, crew cab, long bed (low-$40,000s), but a Ram 3500 will have significantly more payload capacity.  Some folks would never change brand preferences, but the increase in payload for essentially the same investment (or less) is hard to ignore.
The Verdict
After all is said and done, I am compelled to return to the fact that the 2016 Lance 850 is a time tested truck camper floor plan.  In the course of this review, I have criticized the Lance 850 for its limitations compared to truck camper designs that are almost all bigger, heavier, and less proven in the field.  While those criticisms have merit, they pale in comparison to the benefits of such a well balanced and proven layout.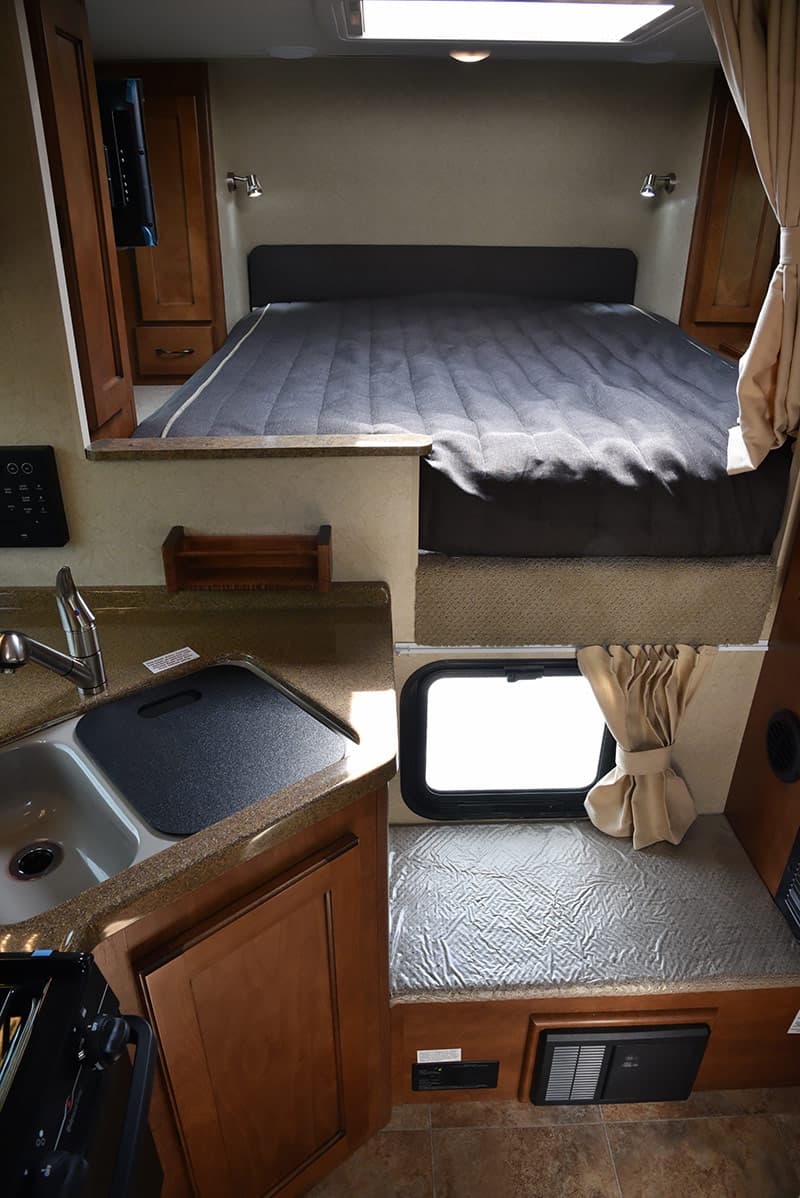 Even better, this proven design benefits from Lance's latest updates and innovations including a wrap-around TPO front nose cap, 100% aluminum framing, full exterior wall, roof, and floor lamination, and zero-tolerance CNC routing.  This camper may be inspired by vintage floor plans, but it's a thoroughly modern truck camper nose cap to rear ladder.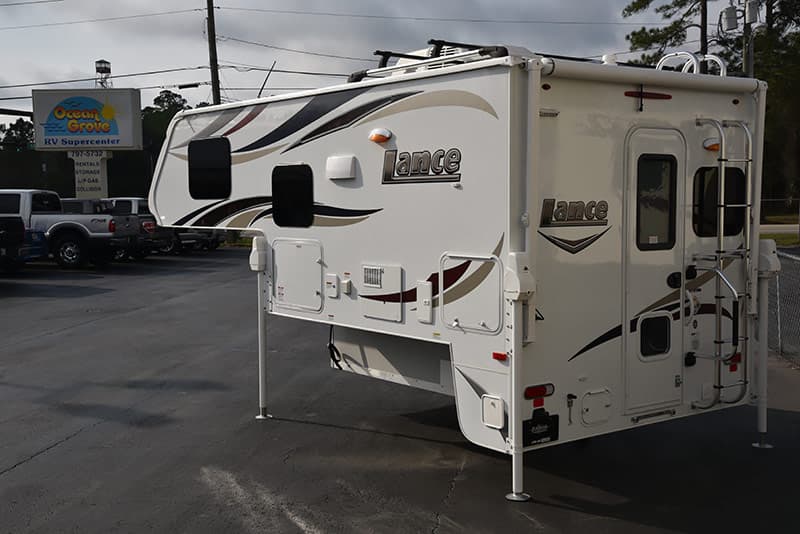 Above: The 2016 Lance 850 under review at Ocean Grove RV in St. Augustine, Florida
Anyone who is considering the Lance 850 is encouraged to visit your local Lance dealer and try on a few items.  Sit on the toilet and test the leg room.  Stand in the interior living area and shower and make sure there's enough ceiling height.  Have a look at the kitchen counter and refrigerator and make sure they're a good fit for your meal preparation requirements.  Finally, sit in the dinette and see if it's comfortable.
Chances are the cons listed below will not all be problems for you.  In fact, you might like the trade-offs the Lance team chose for the 850, as many have for the past seven model years.
Finally, we want to caution our readers not to overlook truck campers that aren't the latest and greatest.  Older floor plans that sell well year after year do so for a reason.  The Lance 850 isn't just a good example of a successful older design, but also represents decades of older campers that have been equally successful.  As the saying goes, what's new isn't always better.  Then again, I'm a guy who still listens to records.
Pros
Time tested and proven floor plan
Well balanced holding tank capacities
Large overhead bunk storage area
North-south cabover with queen-size bed
Excellent cabover storage
Three burner range oven and large two basin sink
Cons
Relatively small wet bath
Limited kitchen counter space
Limited kitchen area storage
Relatively small dinette and table
Making dinette into a bed is a puzzle
Standard single battery is limiting, but second battery is optional
Model Information
2016 Lance 850
MSRP: $27,180 (base)
Warranty: 1 year limited warranty, 2 year structural warranty, appliances have their own warranties
Lance Camper Manufacturing
43120 Venture Street
Lancaster, CA 93535
Phone: 661-949-3322
Request a Lance 850 Brochure
Web: lancecamper.com
Quality, Customer Service, and Long-Term Reliability
Truck Camper Magazine inspects all reviewed truck campers for design, material, and quality issues and reports what we find.  However, since Truck Camper Magazine reviews only brand new truck campers, our reviews do not address long-term quality, customer service, or reliability.
To learn about a brand's long-term quality, customer service, and reliability, Truck Camper Magazine recommends talking directly with truck camper owners at truck camper rallies and online via truck camper forums and truck camper owners groups.
Please be sure to balance your gathered feedback across multiple sources including direct correspondence with the truck camper manufacturers and your closest truck camper dealers.
If you are new to truck campers, start in our New To Truck Camping Corner.