Truck Camper Magazine evaluates a 2016 Lance 850, a long bed, hard side, non-slide, wet bath truck camper.  Seven years running, is the 850 still competitive?  Let's find out.

Lance Campers debuted the Lance 850 in Truck Camper Magazine on November 19th, 2009.  The Lance 850 was developed to replace the 835, one of seven truck camper models Lance replaced or eliminated for 2010.
When we toured the Lance Camper factory in Lancaster, California later that summer, the evidence of even more change was everywhere.  This was not a company that had sat around during the dark recessionary years of 2008 and 2009.  On the contrary, the Lance management and engineering teams had taken full advantage of the economic slow-down, and pushed forward on all fronts.
As we explored the factory, we saw a manufacturer buzzing with cutting-edge technologies, state-of-the-art materials, and innovation.  For example, they had completely integrated their 3D Solidworks design process to take full-advantage of a growing fleet of CNC machines.  We detailed this and many other advancements in a must-read report for any Lance-enthusiasts, "Lance Camper Factory Tour".
The older units Lance was replacing in 2010 were a reflection of Lance's past.  Specifically, they were wood-framed, just as Lance Campers had been building since 1965.  The new models were 100% aluminum-framed and fully-laminated.  As Gary Conley, National Sales Manager for Lance Campers, explained during the Lance 850 introduction, "It's the end of an era.  Wood framing has served its time, and now we're off to something better."
In retrospect, the Lance 850 was a very important truck camper for Lance Campers.  It was the first camper to successfully synthesize all of their current thinking, and proof of concept that those ideas, materials, and production approaches would work.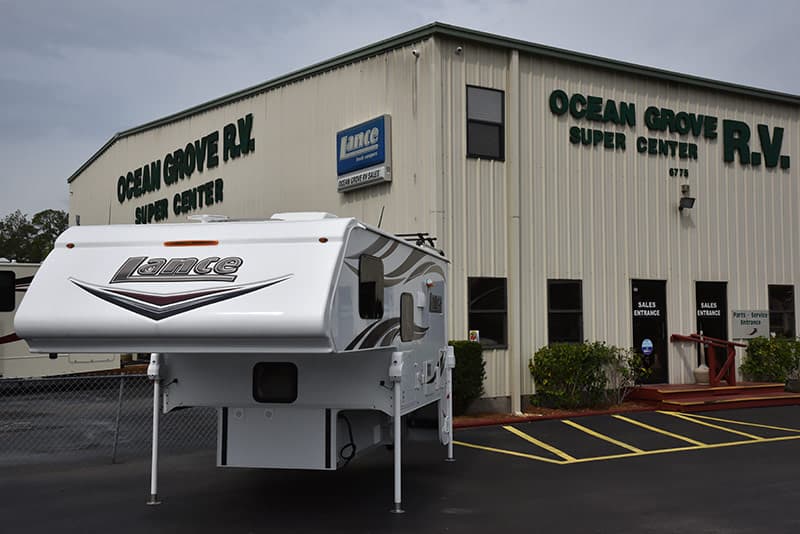 As the saying goes, that was then and this is now.  The Lance 850 has been in continuous production for almost seven years, a very successful run for any truck camper model.
The question is, how does the 850 measure up today?  Is it still a relevant model, or is the 850 overdue for the next sea change?  With our camera in hand, we went to Ocean Grove RV in Saint Augustine, Florida to find out.
Floor Plan Evaluation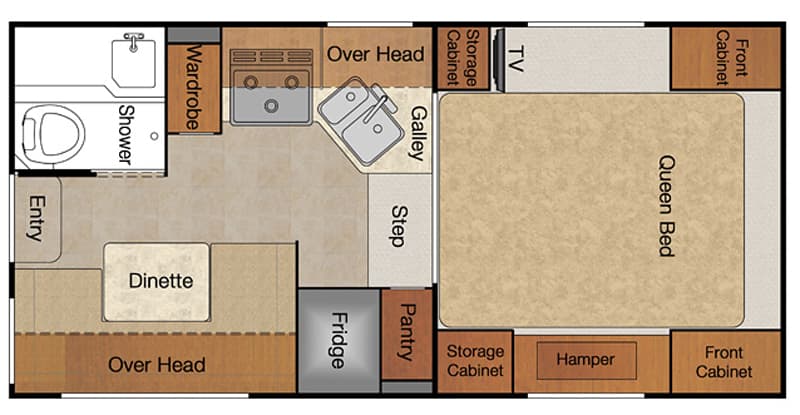 Folks who have owned a hard side truck camper built before the proliferation of slide-outs (mid-2000s) will probably see many familiar design elements in the 2016 Lance 850.  Looking at the floor plan, this is an old-school truck camper layout through and through; non-slide, rear wet bath, U-shape dinette, angled central kitchen, and a typical cabover cabinetry arrangement; two identical front cabinets, passenger's side hamper and closet, and driver's side floor storage.
Our first truck camper, a 2004 Lance 1030, had almost the exact same floor plan as the 2016 Lance 850.  As newbies to truck camping back then, we didn't appreciate the decades of refinement this proven floor plan benefits from.  The layout, storage, and flow of the camper just seemed right.
For the following floor plan evaluation, we are putting the historical perspectives aside and giving the Lance 850 a fresh look.  Starting from the back and moving forward, the rear wet bath is up first.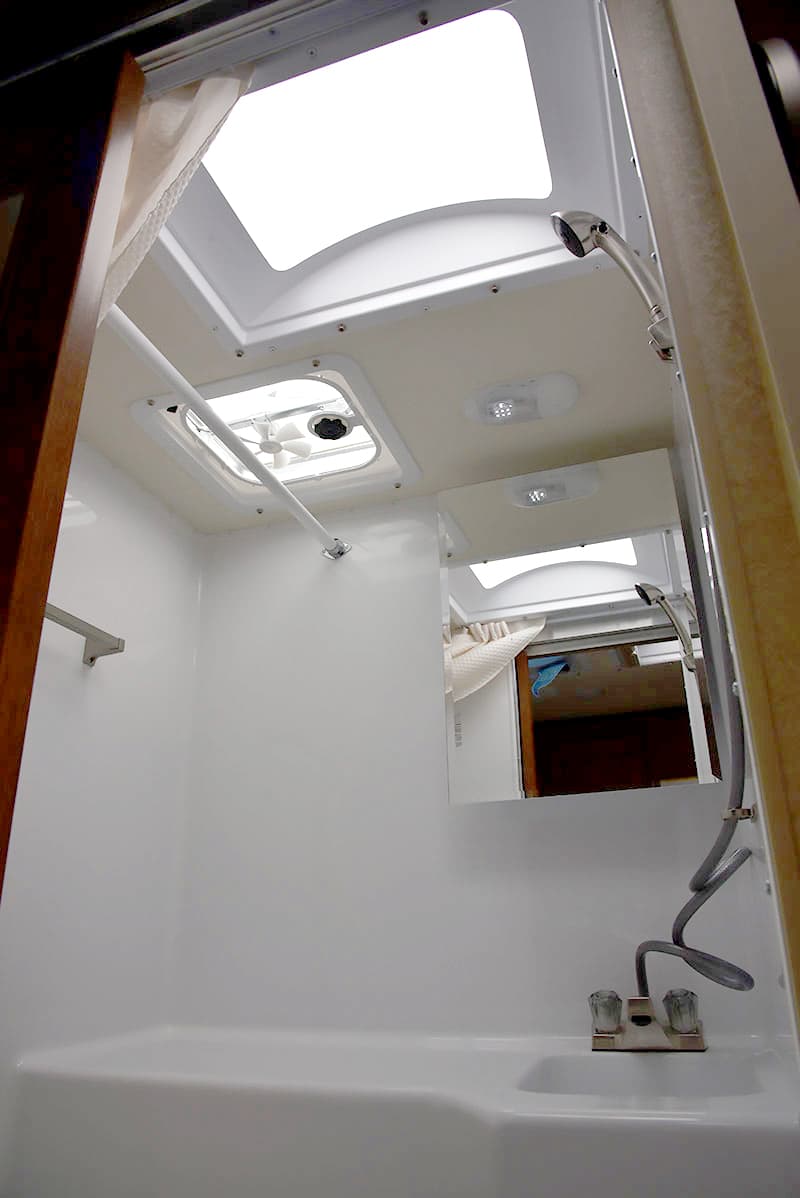 The one-piece fiberglass wet bath in the Lance 850 is all about function.  You get a flush toilet, sink, and shower with just enough room for each.  The dual pane skylight improves the headroom while bringing in natural light.  The towel rack and shower rod are great for drying towels and wet clothing.  The fan helps to keep air flow going, and offers a modicum of auditory privacy.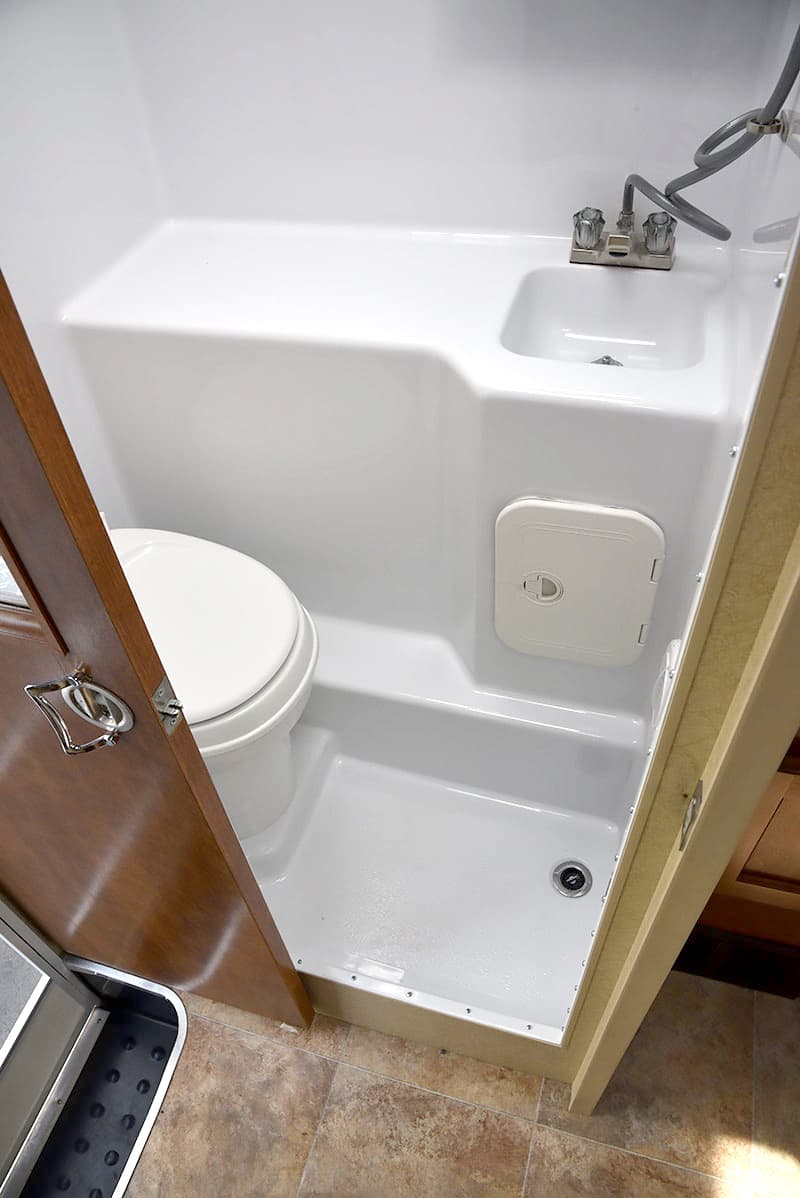 As with any truck camper, we strongly recommend sitting on the toilet and standing in the shower stall to make sure the wet bath offers enough toilet leg room and shower washing space to be comfortable.  Remember, you don't spend much time in the bathroom.  Lance could have made the wet bath bigger, but then you would be giving up precious interior living space.