Hellwig Product's Melanie White, Marketing Manager, and Dave Wheeler, Engineer, talk to us about their new Big Wig sway bar designed especially for the truck camper market.

It's not often that a gear company targets the truck camper market with a specific product.  When Melanie White, Marketing Manager for Hellwig Products, contacted us last spring, she told us that Hellwig was up to something big for truck campers.  She wouldn't tell us exactly what, but she had our attention.
When Melanie finally revealed the product was a sway bar, we were a bit skeptical that a sway bar could really make much of a difference for a truck camper rig.  Then we visited the factory and Hellwig's Dave Wheeler installed a sway bar on our rig.  Our truck already handled our 2010 Adventurer 90FWS well, but the Hellwig sway bar made it handle even better.  Immediately we noticed that the rig leaned less when entering highway on ramps and off ramps or turning corners.  In fact, it barely leans at all now.  Sway control?  You bet.
Now the question is how did Hellwig take a good product and tune it for the truck camper market?  To find out more about Hellwig's new Big Wig, we talked to Melanie and Dave.

TCM: Melanie, you're fourth generation at Hellwig.  What are your earliest memories of being at Hellwig?
Melanie: My earliest memory is Dad bringing us after hours to the office and letting us play with the phones.  It's kind of nostalgic now.  My sister and I would also pretend to drive the forklifts when Dad was working on a project out in the shop.
TCM: How old were you when your family got you involved with the business?
Melanie: It was after I graduated high school.  Each summer through college I would change over the files for the fiscal year.  I would do the jobs that other people didn't want to do.
TCM: When did you decide to make Hellwig a career?
Melanie: When I was twenty-six I came back to help with outside sales.  I was living in Northern California and we had customers there.  I also spent time in Sacramento, the Bay area, and Redding.  I made cold calls, got doors slammed in my face, and shed some tears.  I've gotten a thicker skin working in sales.
A few years later, my husband and I decided to move back to Exeter.  That's when I got more involved with marketing, sales, and everyday operations.
TCM: For his interview, your dad spoke fondly about your family's RVing adventures into the desert with quads and motorcycles.  What are some of your favorite early memories of RVing?
Melanie: Every summer he would take us on a vacation and we would have a great time.  All four of us girls and my parents would be in a trailer.  Our biggest trip was to North Dakota.  We went all over the place.  We traveled with my great-grandparents and  visited some of their relatives who still live there.  They had a farming operation.  It was always a little crammed with all of us, but we got to see a lot of places by RVing that we wouldn't have normally seen.  I remember my baby sister would sleep in the bathtub.
TCM: Do you go RVing with your family now?

Melanie: My husband and I enjoy RVing.  We are looking for a new RV right now.  We are not sure what to get, but after our time with you, we have started to think more heavily about the truck campers.  We haven't made up our minds yet.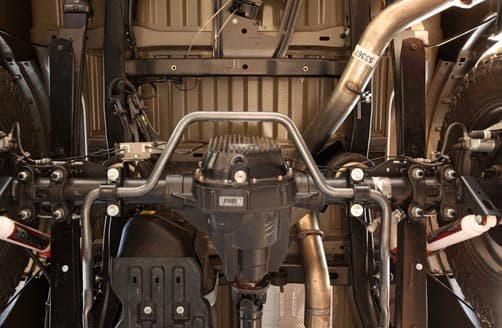 TCM: A truck camper would certainly be the wise choice!  Speaking of truck campers, let's talk about the new Big Wig.  What problems is the Big Wig designed to solve for the truck camper owner?
Melanie: The Big Wig is a load specific sway bar meant for someone who has a larger load and a higher center of gravity.  We came up with the idea specifically for the truck camper market.
TCM: Dave, tell us about the research and development process for the Big Wig.