The title humor may be a little thin, but what else do you call it when a 6'3", 160-pound Publisher steps into a 1,031-pound, 82-inch camper? Stretch out and enjoy a little light reading. Skinny Guy 6.5 first impressions ahead.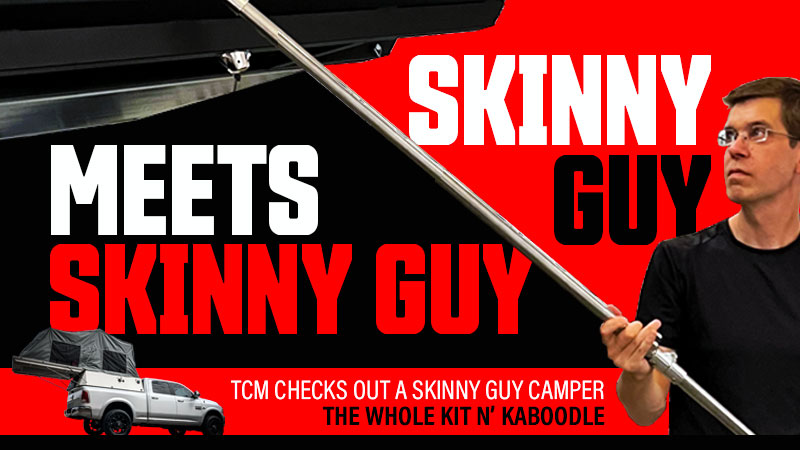 On Monday, September 26th, Angela and I evacuated from Port Charlotte, Florida as Hurricane Ian approached our home as an enormous Category 4. Safe in our truck and camper FEV, we pulled into D&H RV Truck Camper Emporium in Jacksonville.
Nestled behind about a dozen traditional truck campers was a make and model we had never seen before; a 2022 Skinny Guy 6.5. It was the perfect distraction for the moment.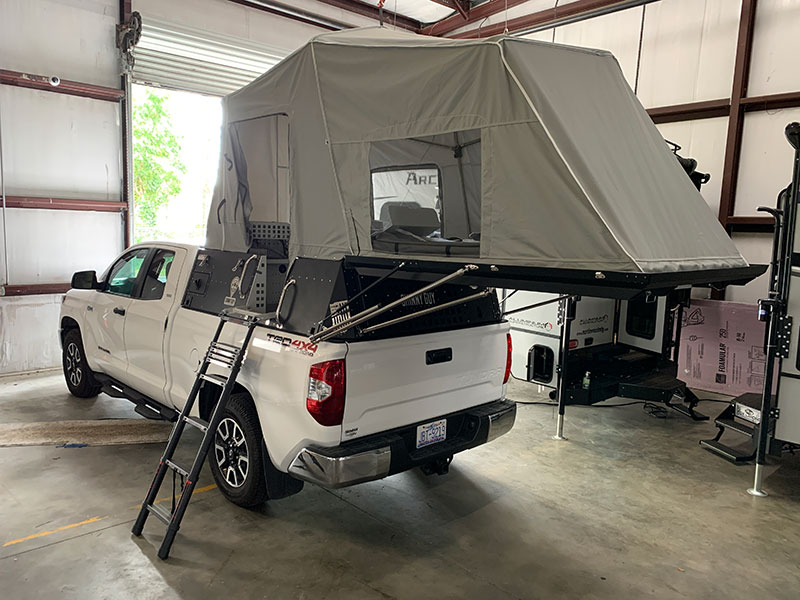 It was also something of a puzzle. Walking around the outside we knocked on the riveted aluminum body, released the metal compartment latches, opened the aluminum compartment doors, and explored their contained functions.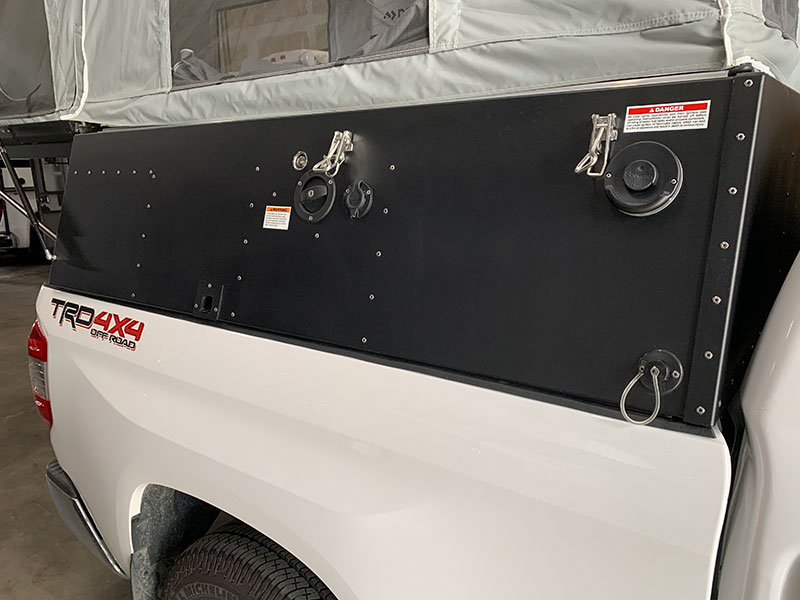 Above: Everything about the Skinny Guy 6.5 felt rock solid; practically military in its aesthetic and build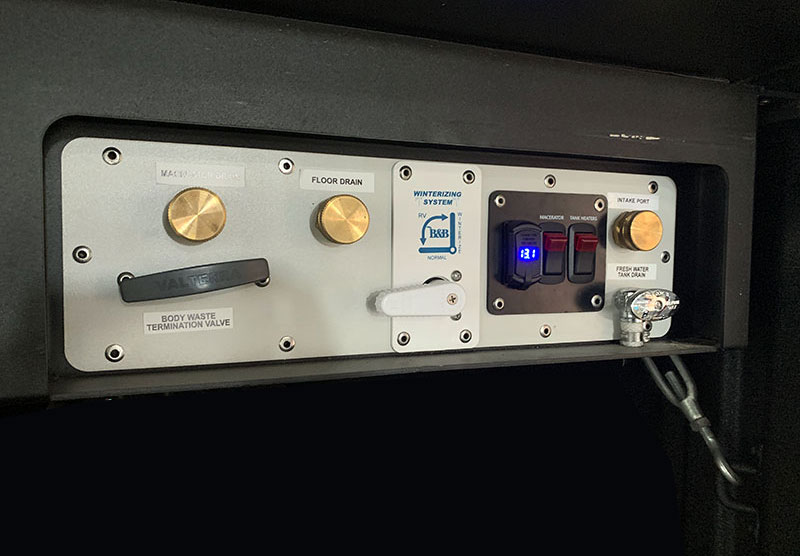 Around back we marveled at the control panel for the underbelly pump, macerator, tanks, and electric heater. Like many things on a Skinny Guy, this removable feature was unique in our experience and appeared far more developed and refined – and again, solid – than we anticipated. Even before we stepped foot inside, we could sense the time, attention, and seriousness of purpose put into this design.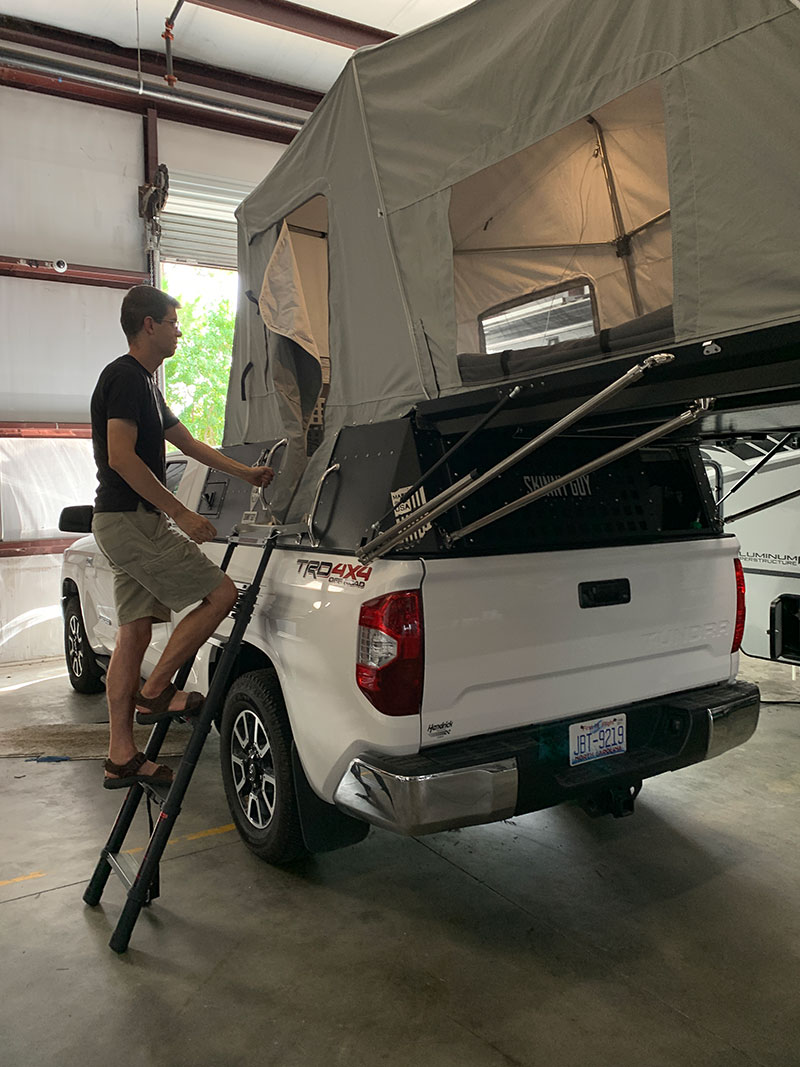 Mid-ship on the driver's side was a collapsible aluminum ladder to climb above the Toyota Tundra TRD and enter the unit.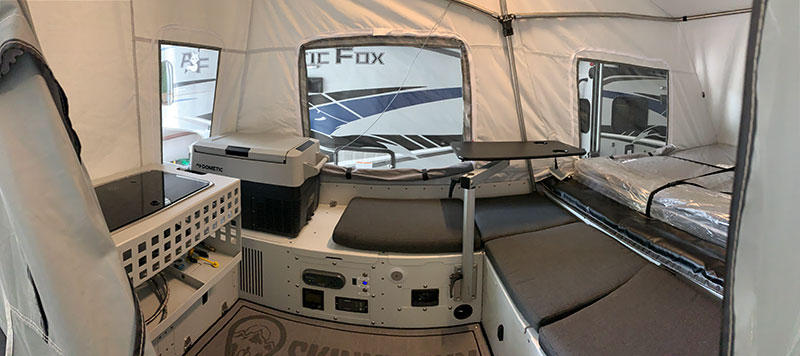 Above: The view from the side entry door
Once aboard, the sheer density of the interior and systems took a moment to fully absorb and sort. There were some familiar macro elements including a combination cooktop and sink, Dometic CFX-series 12-volt cooler-style refrigerator, and a Lagun table leg system. After that, we had some studying to do.
At that point, I was feeling the six hour drive and wanted to check the hurricane reports. The next day I would tackle the Skinny Guy head-on and go through each area of the camper section-by-section and feature-by-feature – set-up to take down. In the meantime, I needed to lie down before I fell down, and get the low down on what was going on back home.
Day Two
That morning the radar images of Hurricane Ian were nothing less than terrifying. I was very thankful to be more than 300 miles north of the projected landfall with something completely different to engage.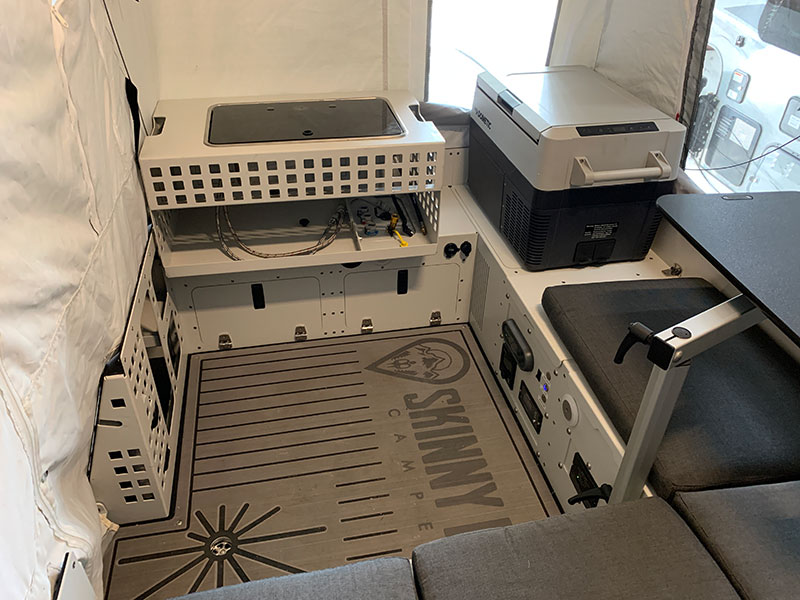 Above: The view from the rear bed area towards the front
All of the cabinetry you see in these photos is powder-coated and riveted aluminum. The square pattern is a MOLLE rack pattern. MOLLE stands for Modular Lightweight Load-carrying Equipment and it's become a trend in the Overland marketplace for its storage and attachment versatility. Using the MOLLE pattern throughout the Skinny Guy 6.5 also helps to reduce the overall weight of the unit.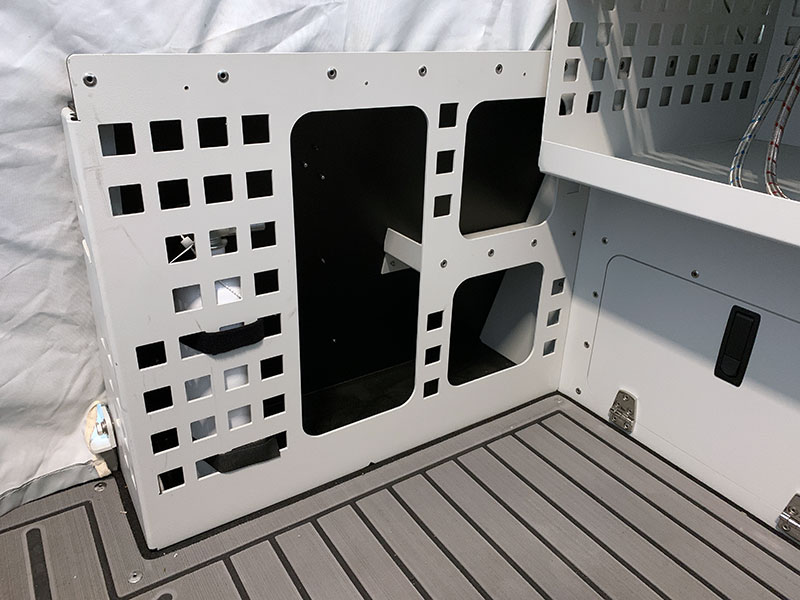 To the right of the entry door area is the first example of this aluminum MOLLE pattern cabinetry. Here we found a fire extinguisher and open cubbies. To the immediate right on the front wall are two latched aluminum doors that provide access to the tie-down system (left) and kitchen module connections (right). The right compartment could be used for storage, especially if it's contained.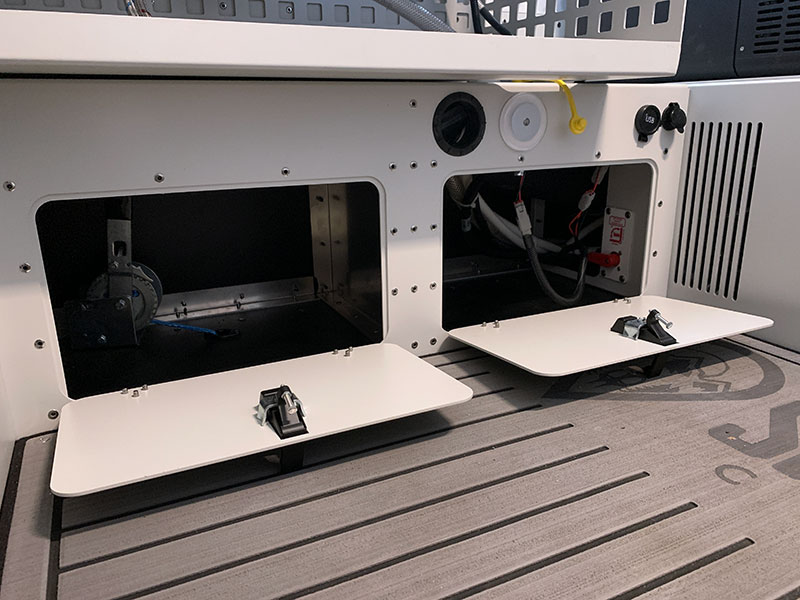 Above these doors, you'll find a heat duct and a round LED light we've never seen before. Hit that center metal button on the round LED and it puts out a surprising amount of light. Next to that are USB and 12-volt power ports.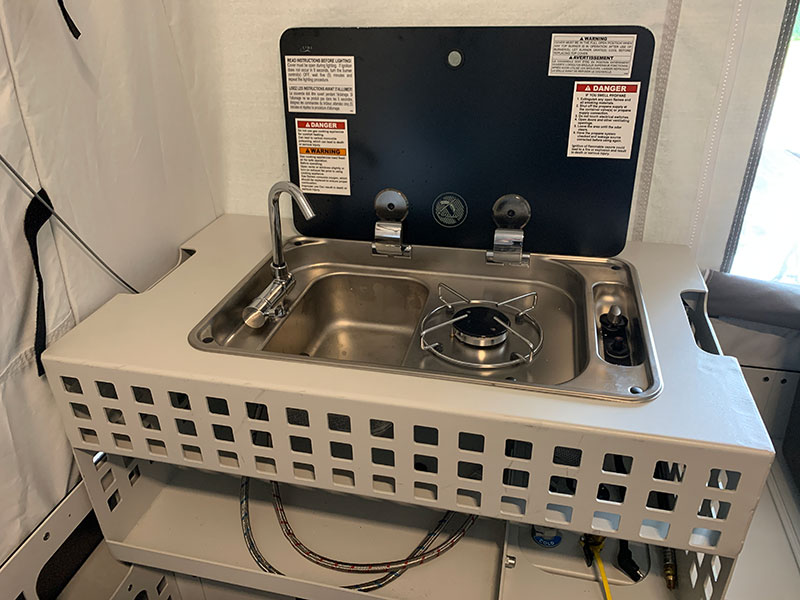 The kitchen module is a fully removable unit including the structure that holds the aforementioned glass-top combination sink and cooktop and the required plumbing and gas line connections. Underneath the combo sink and cooktop is a small storage area that includes a hand screw to secure the kitchen module into position and the connection ports (and water heater bypass) on the right side.
In person, the kitchen module is remarkably intuitive and the kitchen module itself is relatively light and easy to lift and maneuver. Note the convenient handles on either side of the module; another clever detail.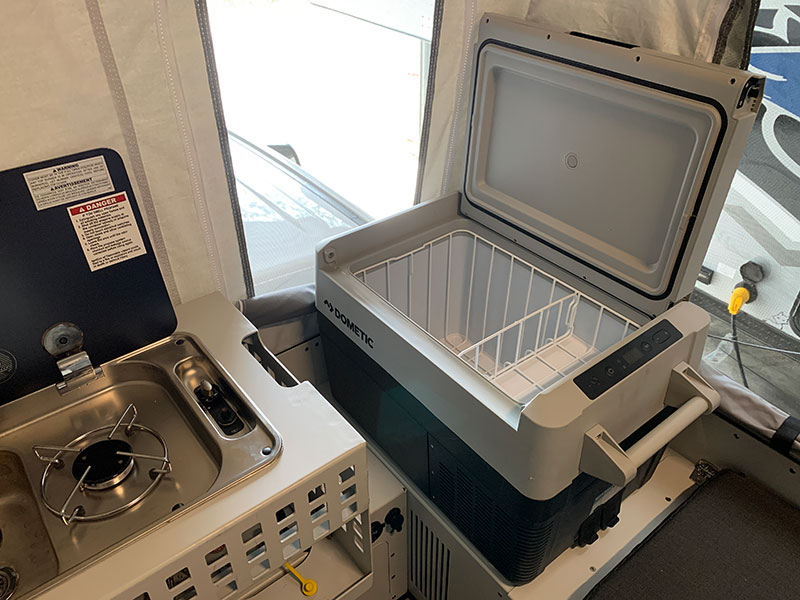 The Dometic CFF-series 12-volt cooler-style refrigerator is another modular and fully removable item.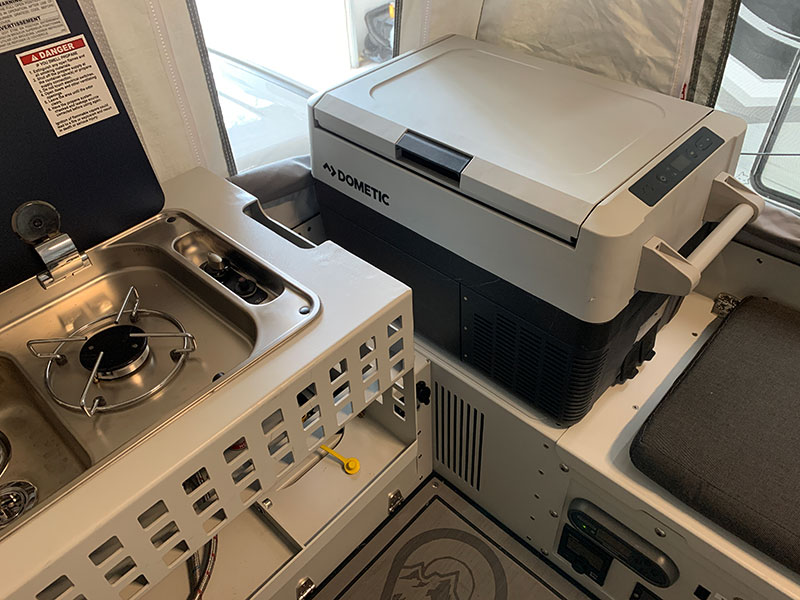 We own a Dometic CFX-45 and can vouch for its efficiency and reliability. This unit plugs into 12-volt or 110-volt power and works beautifully on a portable power station.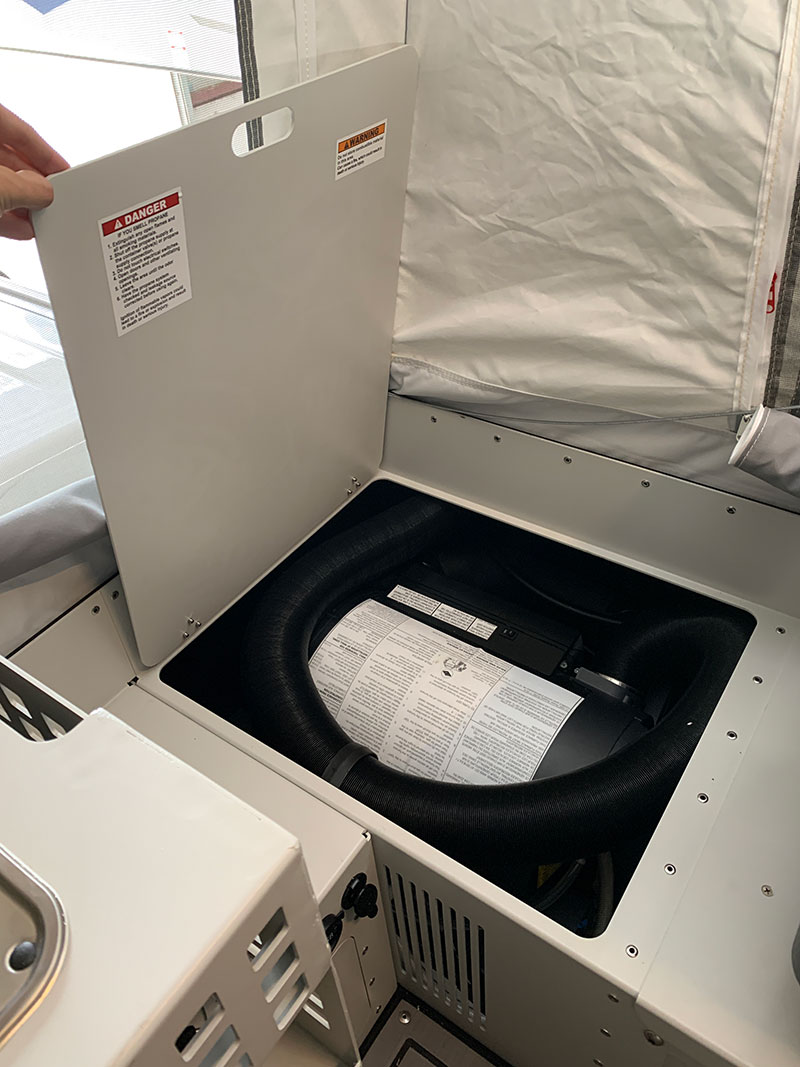 Removing the Dometic refrigerator revealed another aluminum riveted compartment containing the Truma Combi Eco. This is a 14,300 BTU furnace with an integrated water heater. You have to stop and remember that it's truly incredible to find an advanced and capable furnace and water heater in an insanely compact camper. For perspective, this same Truma Combi Eco unit is utilized in high-end hard side campers from other brands.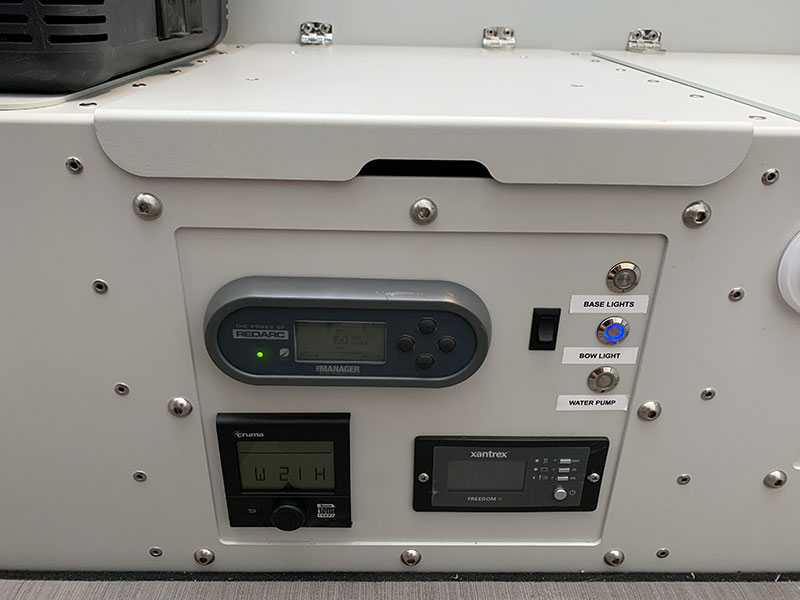 On the floor directly across from the entry door on the passenger's side is a control area including a Redarc 30 Manager battery management system, Truma CP plus control panel for the Truma Combi, Xantrex Freedom X Bluetooth remote panel, and lighted buttons to activate the base lights, bow light, and water pump.
The Redarc, Truma, and Xantrex are all arguably best-of-breed products, presented in a way that again recalls a military application. In my admittedly out-there imagination, this aluminum riveted control panel would not be out of place on a submarine or tank. "Match bearing and fire!"
Xantrex Freedom X 1000 sine-wave inverter
Above the control panel area is a lift-up aluminum compartment with a Xantrex Freedom X 1000 sine-wave inverter installed on the underside of the lid.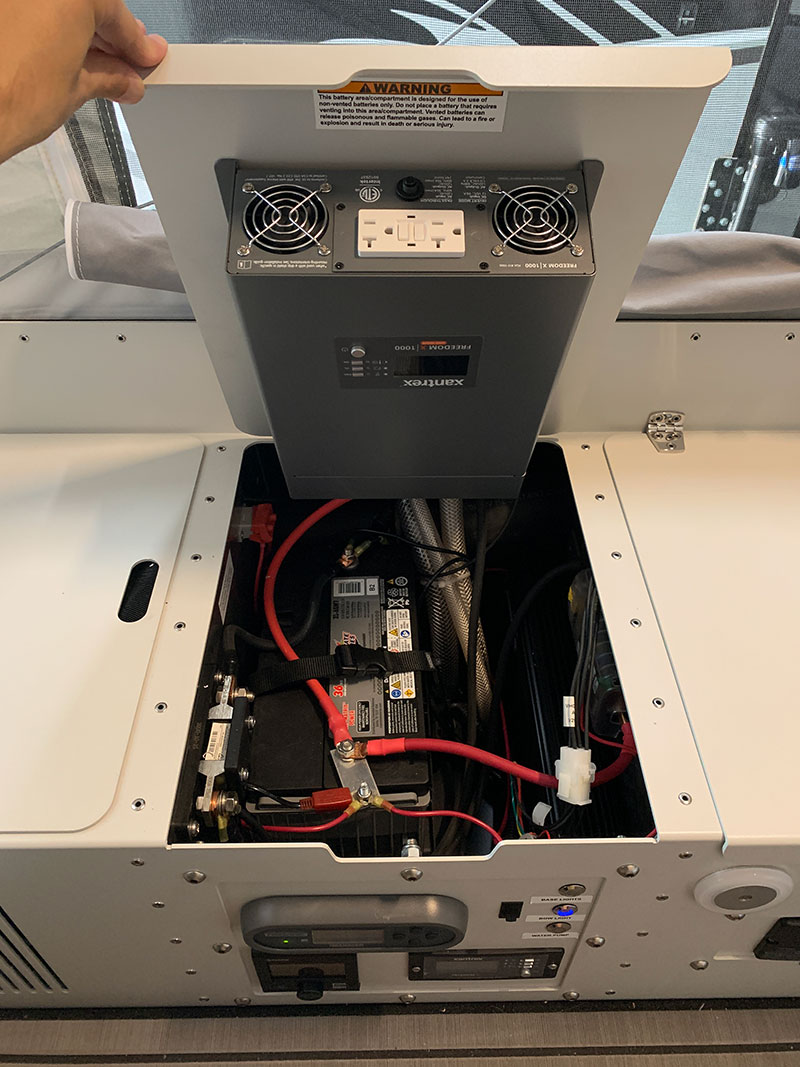 This is a 1,000-watt unit rated for extreme climate conditions (-4 to 140 degrees Fahrenheit / -20 to 60-degrees Celsius). The 110-volt outlets are positioned towards the front with a gap designed into the aluminum cabinetry for cords. Inside the cabinet was an Interstate Group 31 AGM battery. I would imagine some Skinny Guy owners will prefer a lithium battery for increased capacity, but we run Interstate Group 31 AGM batteries in our own camper and love them.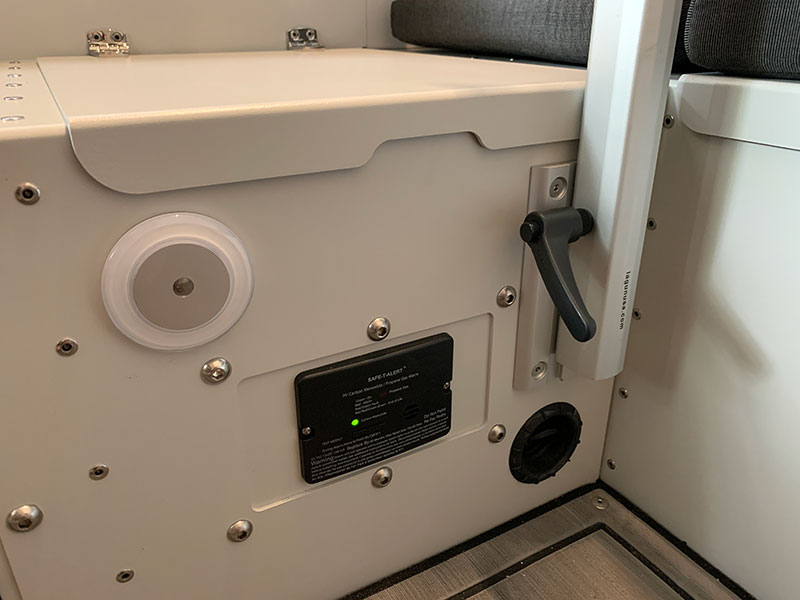 Staying on the passenger's side and moving back I found another LED light, a combination carbon monoxide, and propane gas detector, the mount for the Lagun table system, and another heat duct. The fact that this compact camper has ducted heat is another amazing detail. There are full-size hard side campers that don't have this feature.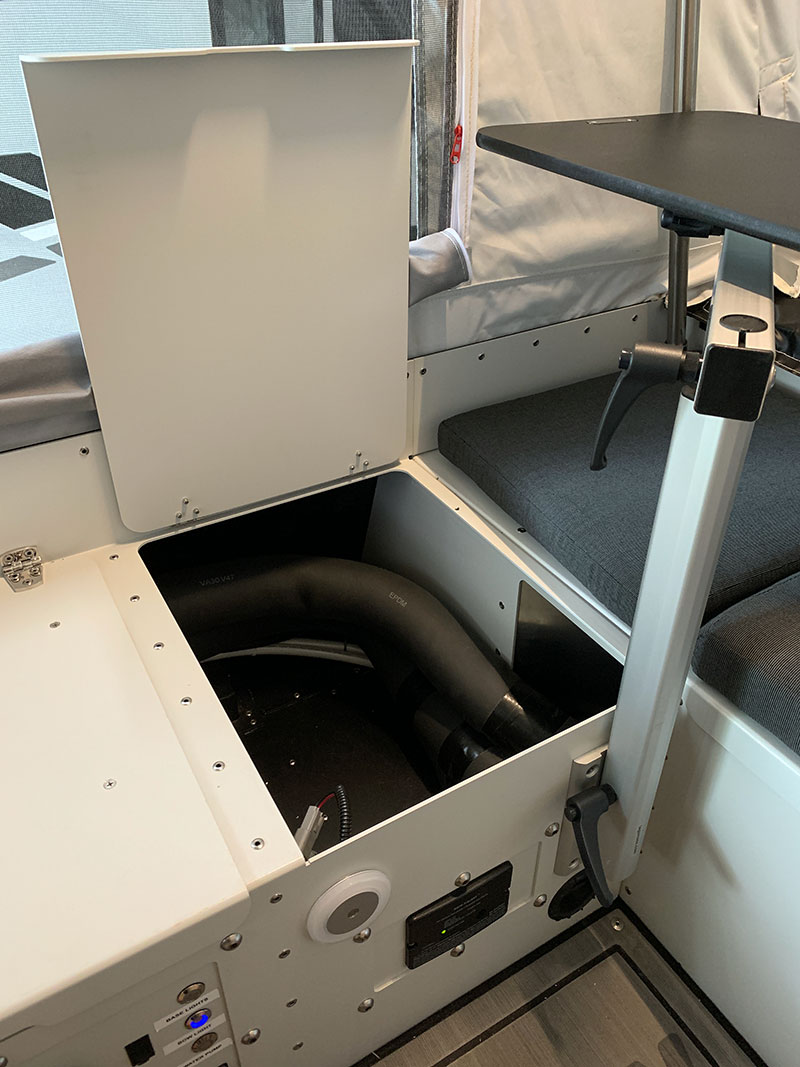 The lift-up aluminum compartment behind this area is mostly open for storage. Owners will need to be careful not to store anything in this location that could impact or damage the heat ducting and electrical wiring.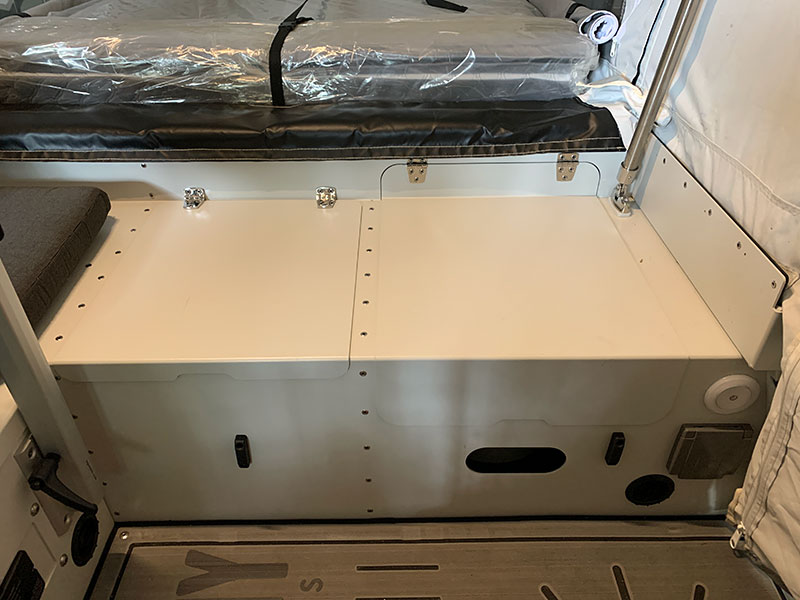 Turning towards the back of the unit, another lift-up aluminum compartment presented yet more storage.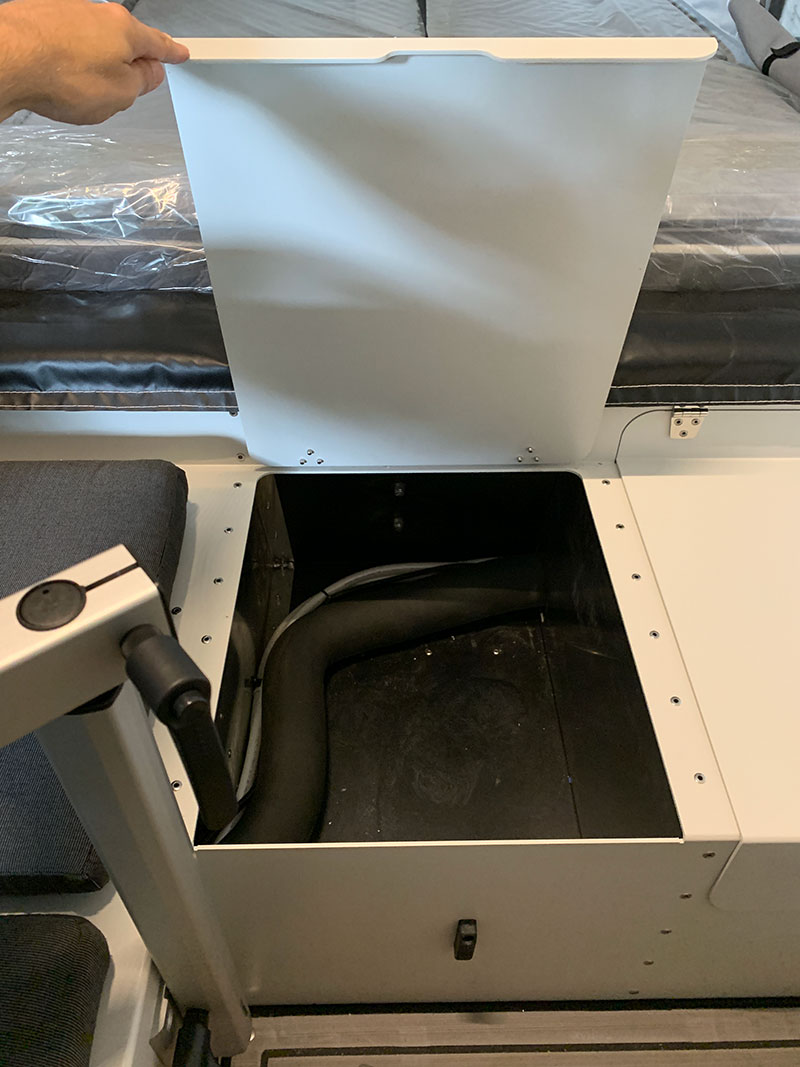 This compartment can fit the seat cushions, although they can remain in place during travel.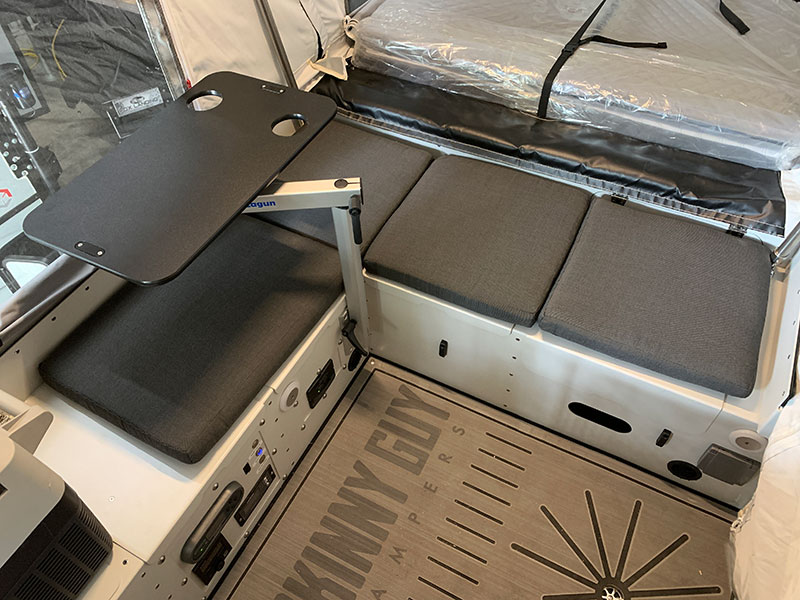 Behind lift-up compartment number four, we found a permanently installed RV flush toilet.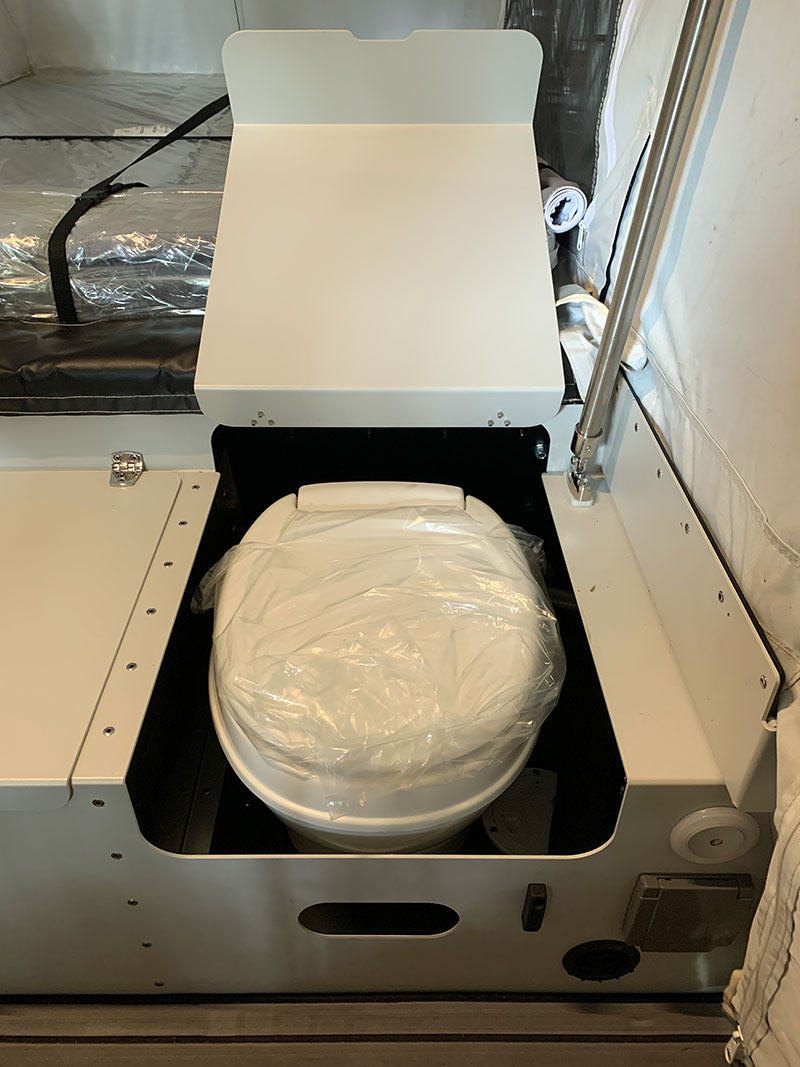 And if that's not impressive enough, the grey door on the right is a shower connection.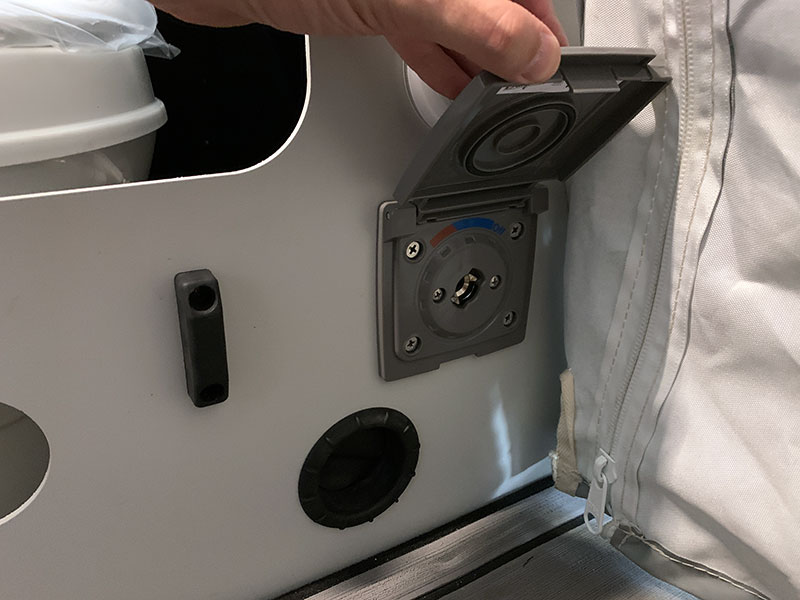 Oh, and I'm literally standing on the inside shower drain taking this photo. Put bluntly, anyone who thinks the Skinny Guy 6.5 with the Kit N' Kaboodle isn't a fully featured camper needs to re-examine their thinking.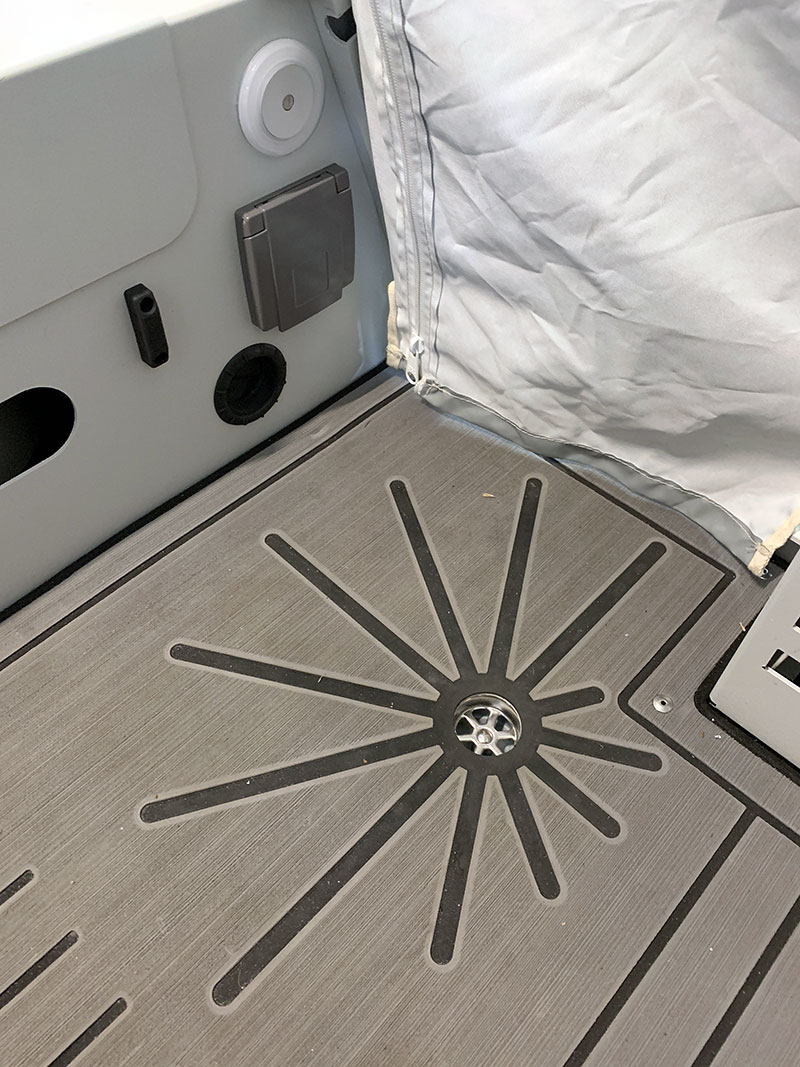 When we looked behind the scenes we found more evidence of a seriously well-made camper. High-quality components. Well-executed fittings. Nicely done.
Putting the seat cushions back, the same area we've been covering makes into a sizable dinette seating area. The Lagun table should be right-sized for most users and is easy to position where needed – or removed entirely.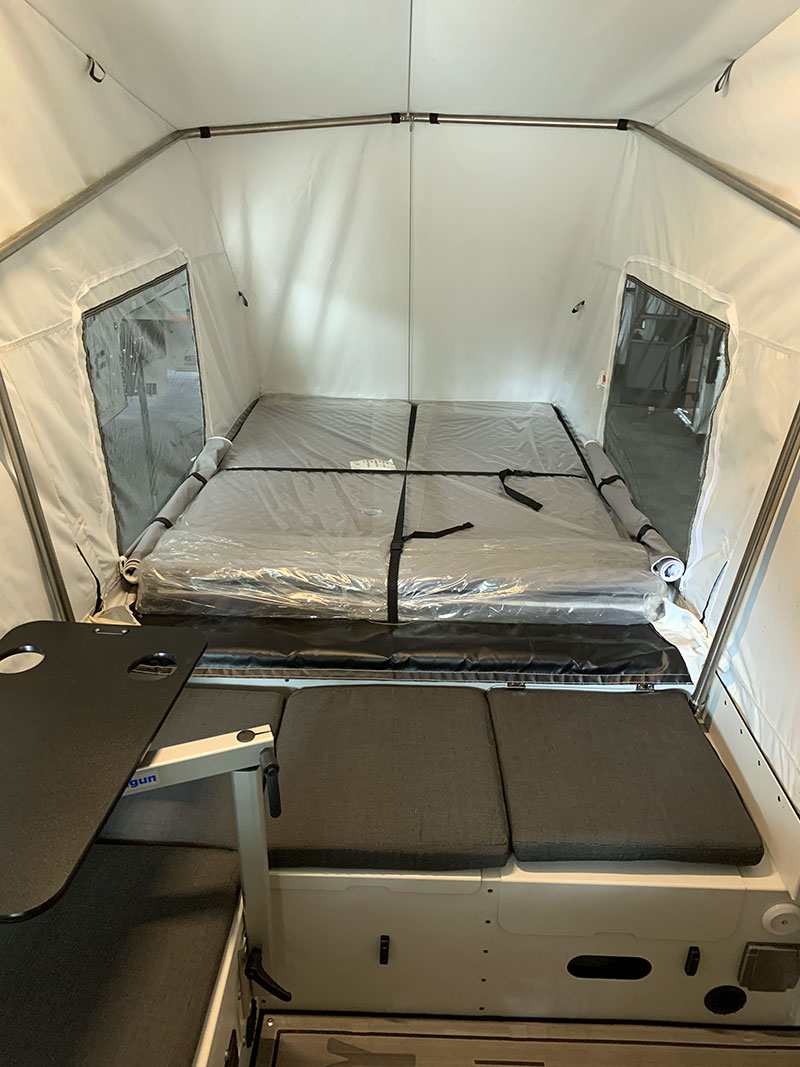 Admittedly, I was a little concerned about the next step. From the exterior, the cantilevered cabover looks precarious. How can that design possibly hold the weight of a skinny guy such as myself, much less two full-size adults? For the betterment of truck camper kind, and with the sheer bravery you've all come to know me for, I gently scooted my posterior onto the cabover. And survived.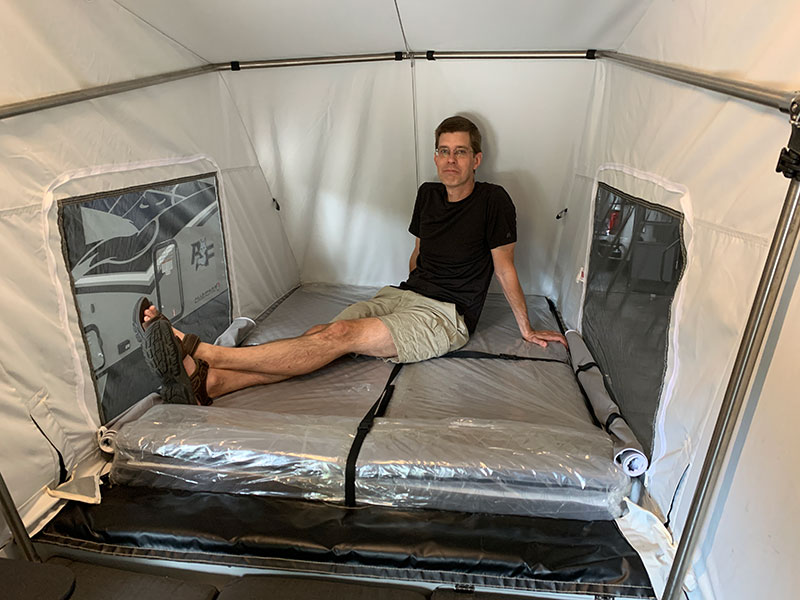 I am happy to report that the cabover was solid. Eventually, I relaxed and maneuvered toward the furthest point – maximizing my obvious display of courage. The cabover remained steady and unfazed. It literally didn't move. I have yet to sleep in a Skinny Guy cabover, but I now trust that it's rock solid.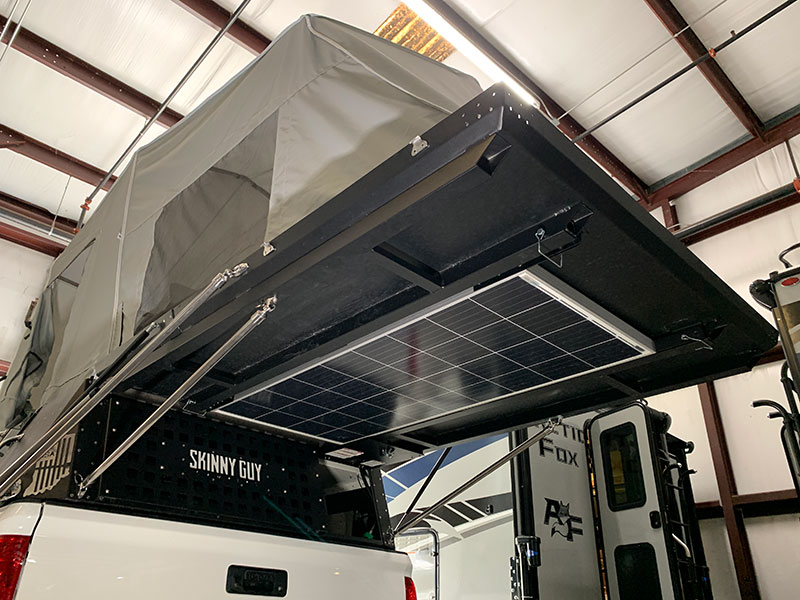 Travel Mode
Returning to the Skinny Guy after lunch, it was time to learn how to put the Skinny Guy into travel mode, and back open into camping mode. After all, this is the entire point of this camper; compact and nimble as a topper in travel mode, fully featured truck camper in camping mode.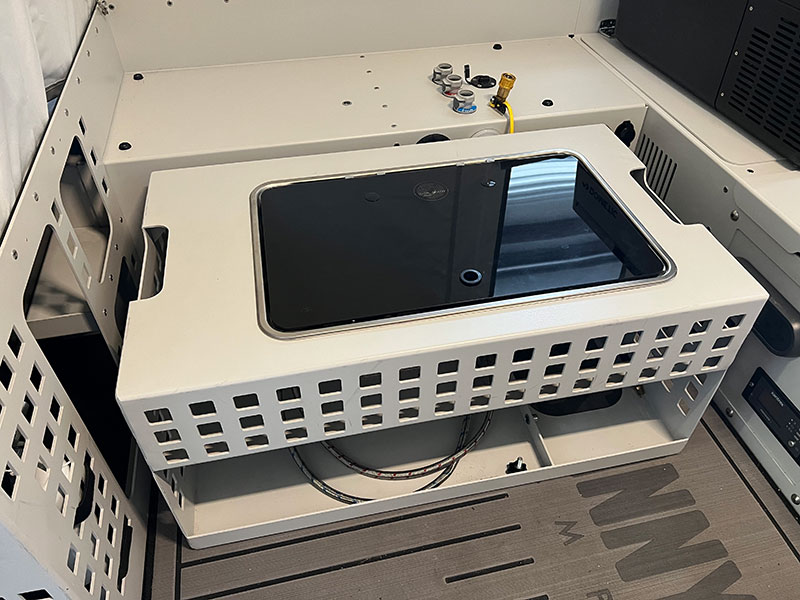 Above: The kitchen module in the travel position
As is often the case with pop-up truck campers, we started by preparing the interior. Unlike most other pop-up campers, that meant unhooking and unscrewing the removable kitchen module and placing it on the floor, placing the Dometic CFF-series 12-volt cooler-style refrigerator on the floor, and detaching the Lagun table leg and placing it on the floor.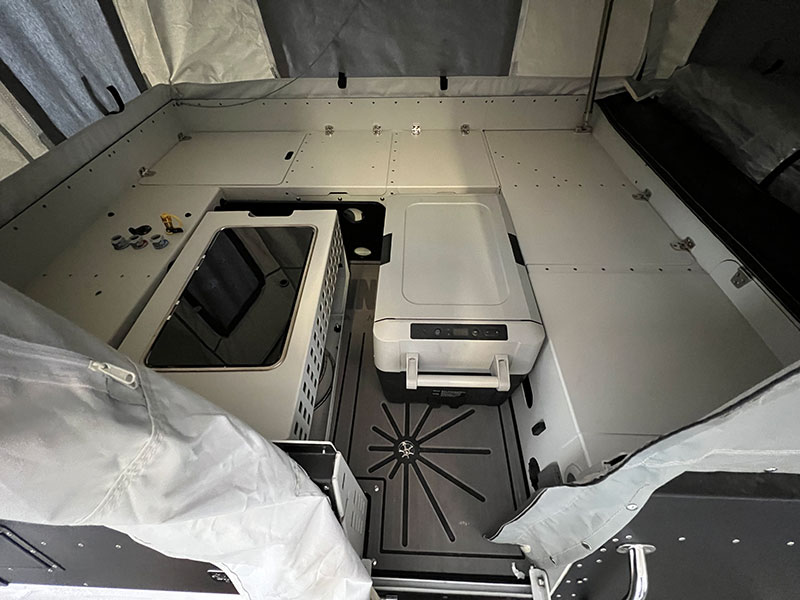 Above: The Skinny Guy interior in travel mode
Once those three items were positioned, I moved the cushions into the central lift-up storage bin and put the bed mattress into travel position. Overall, prepping the interior took less than five minutes, and I'd never done it before.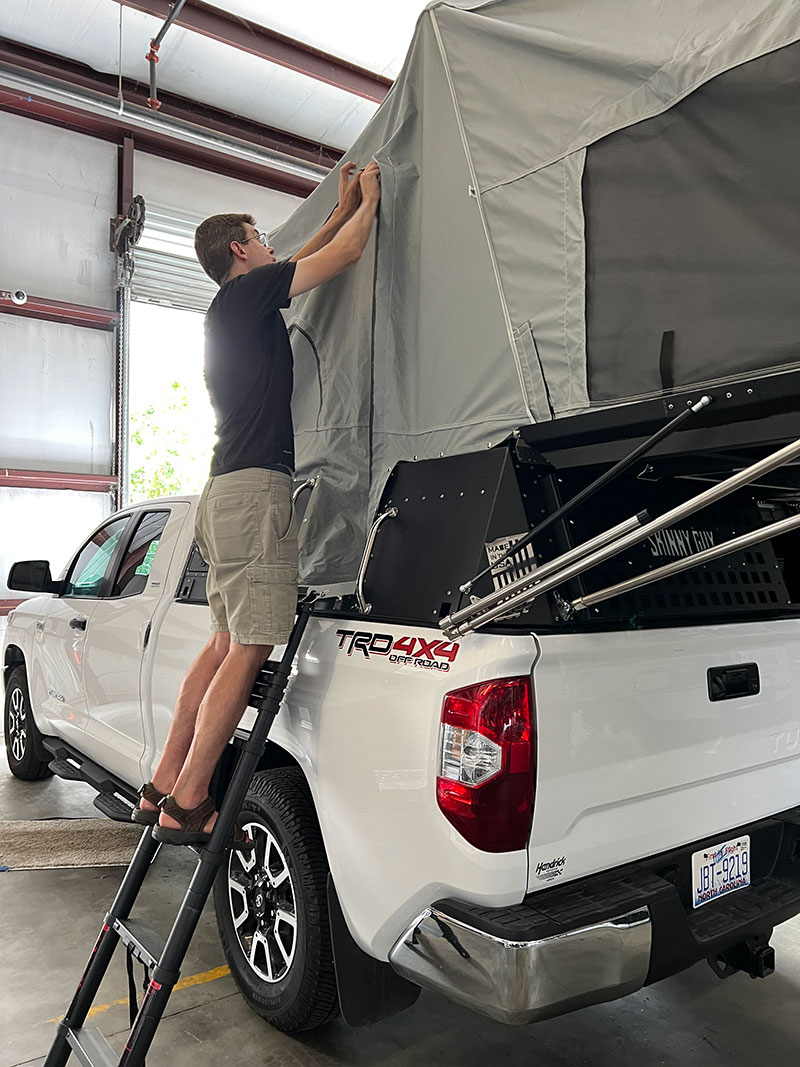 With the inside prepped, I zipped up the windows, unlocked the interior slide-up tent bows, fully unzipped the door, unsnapped the tenting on the driver's side, and exited the camper.
Back on terra firma, I detached and collapsed the aluminum ladder and unhooked the stowed push rod under the driver's side rear cabover. It took some practice to unhook the push rod. Once you understand it, it's easy, but I recommend having a Skinny Guy dealer or rep show you how it works.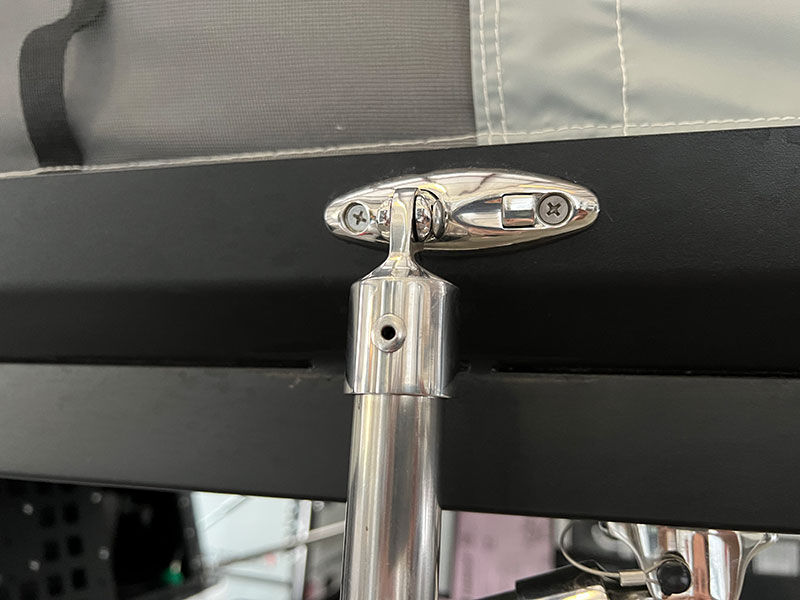 Above: The latch for the push rod
With the push rod detached, I then detached the rear cabover support bars.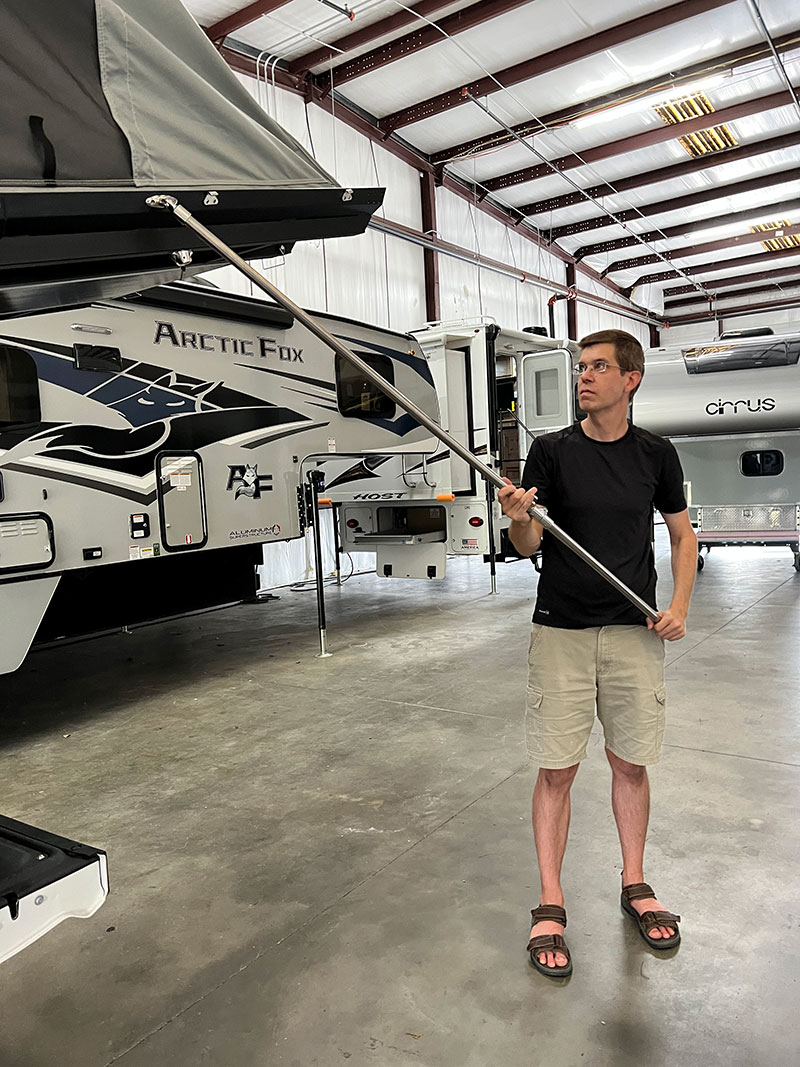 Now the real fun begins. The push rod attaches to a center point on the cabover allowing you to push and then move the cabover section up and over the main unit – and then lower it down. It's a touch awkward at first, and then easy.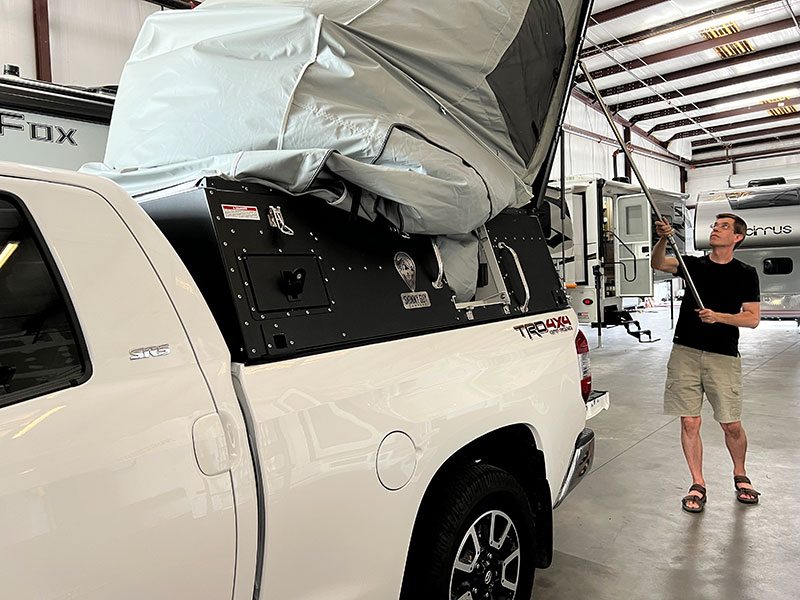 We were all by ourselves and managed to figure it out between Skinny Guy's YouTube page and a quick verification phone call to Justin. The call went something like, "We did this and this. Are we doing it right? We are? Okay, good!"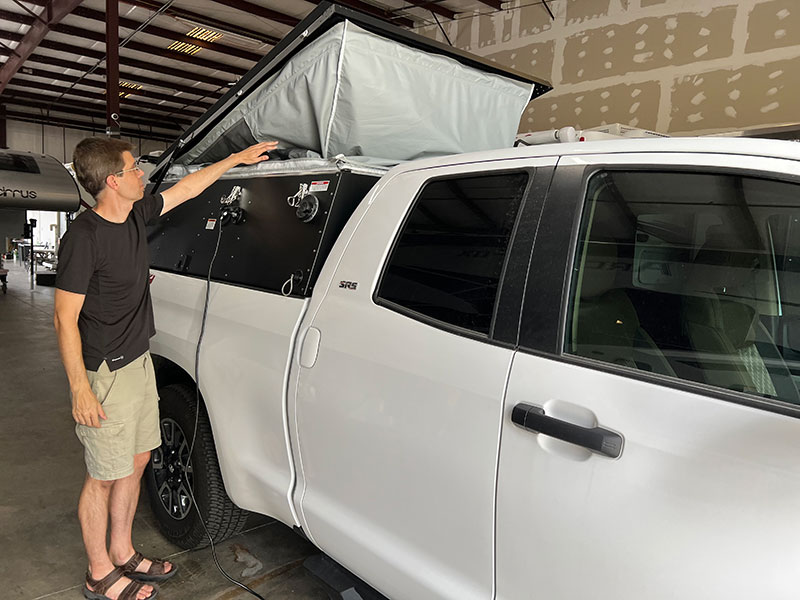 With the cabover roof now down over the main section, we put the aluminum metal travel door on and proceeded to latch the four latches; two on either side.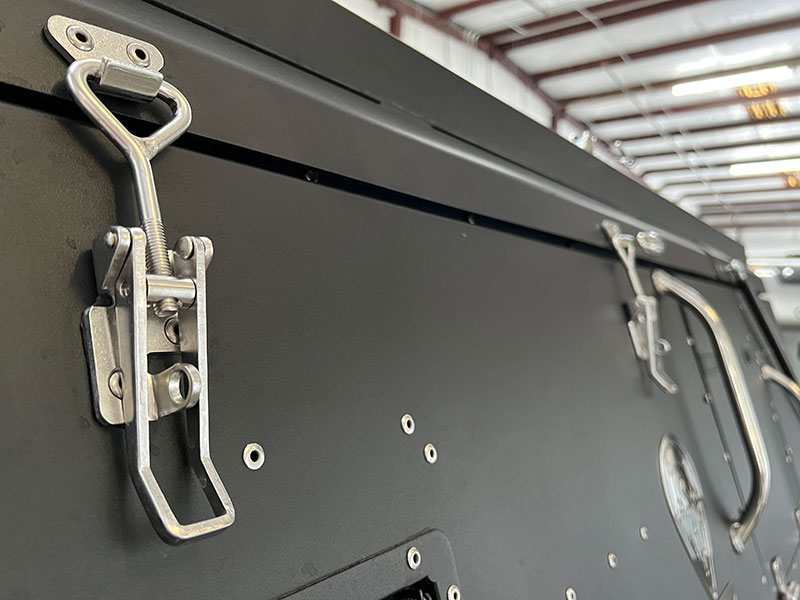 There was some minor futzing with the tenting material, but no more than usual with a pop-up camper.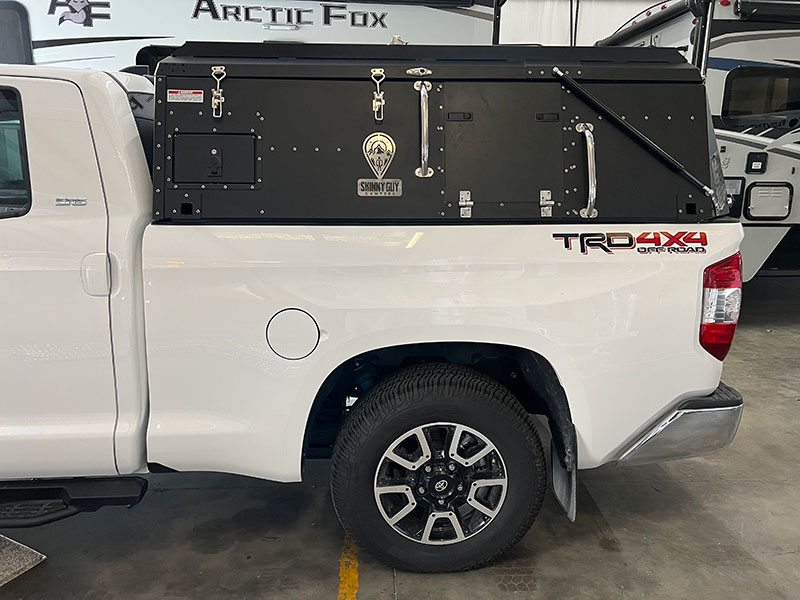 If this were our unit, I'm sure we would be able to set-up and break down the unit in less than five minutes.
Final First Impressions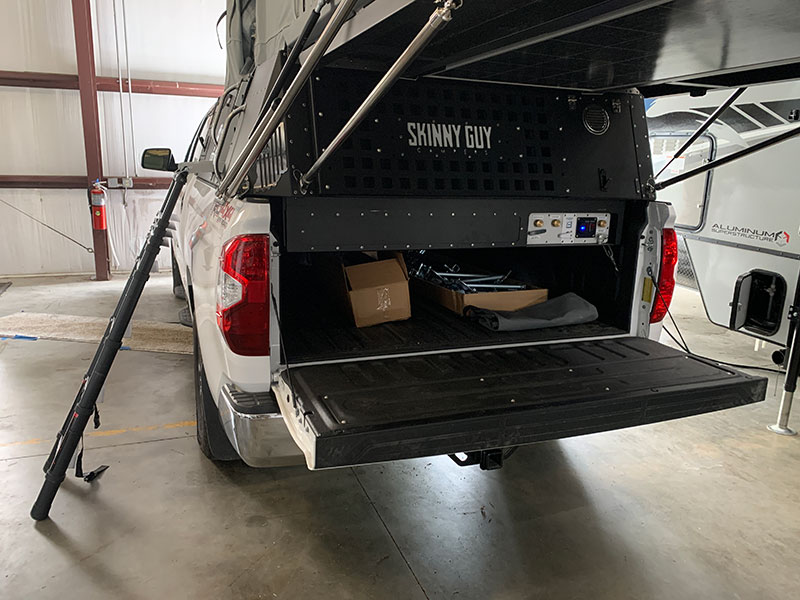 Perhaps more than any other truck camper in my experience, the Skinny Guy 6.5 with the Kit N' Kaboodle challenged my expectations. I had approached the Skinny Guy thinking it would be a clever newcomer with a lot of promise. I came away fully impressed with its intricate and refined design, exceptionally robust build, and game-changing features and capacities for anything near this size and weight. The Skinny Guy 6.5 does not come off as a first-generation product. If anything the Bristol, Indiana company emerges out of the gate set to disrupt the pop-up category, or create a new one.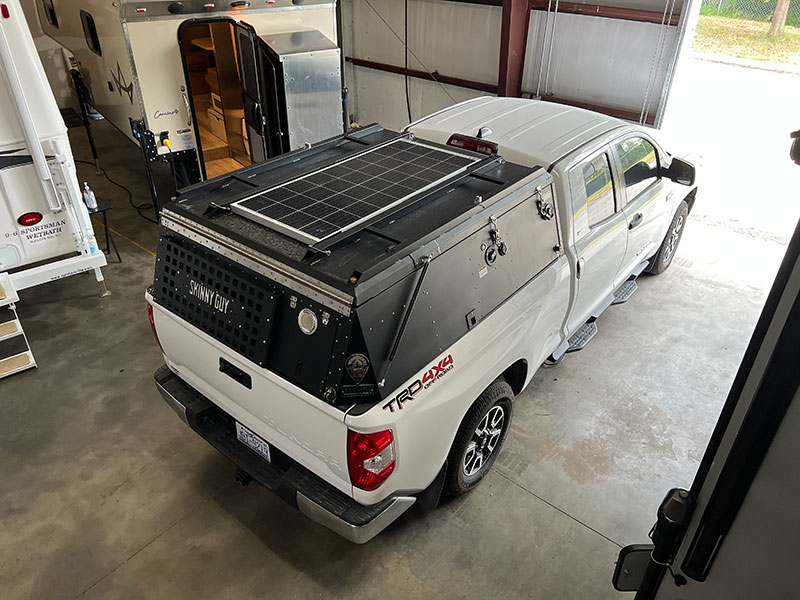 What excites me the most about this camper is the truly go-anywhere capability it offers in travel mode. We talk a lot about the ability to reach places other RVs cannot with a truck camper, but the Skinny Guy takes that up a notch and goes places many other truck campers cannot reach. Even popular pop-up cabover campers do not present the go-anywhere capability of this topper-sized camper in travel mode.
And when you get there, you have an essentially full-featured truck camper. Just to recap, the Skinny Guy 6.5 Kit N' Kaboodle has a sink, cooktop, refrigerator, furnace, water heater, battery, inverter, flush toilet, inside shower, and an extended sleeping area. Name one production camper that's this compact and has all of those features. It doesn't exist.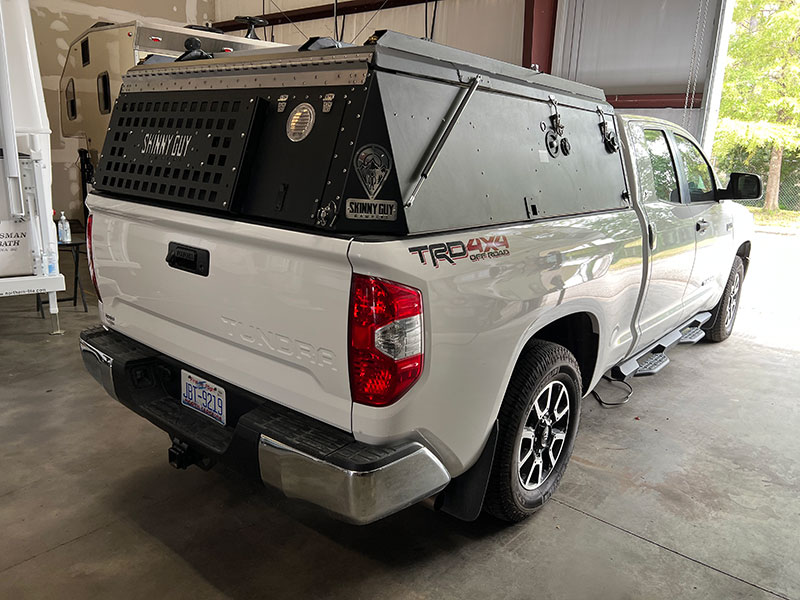 That doesn't mean the Skinny Guy will be a run-away success. Like any product that challenges norms and reinvents what's possible, it can take time for the buying public to recognize and embrace it. And there are some very formidable competitors that forgo the extreme compactness and sheer density of features the Skinny Guy provides, and offer tried-and-true alternatives. They just can't go everywhere a Skinny Guy can go, and mostly don't offer the same level of features and amenities when you get there. And I would add nobody is building the riveted aluminum body and structure Skinny Guy has forged. It's a tank.
For more information on Skinny Guy, visit their website at SkinnyGuyCampers.com.  Click here to request a free Skinny Guy brochure.