Adventurer Manufacturing debuts the all-new 2024 Scout Tuktut, a hard-side, non-slide cabover truck camper that sets a new paradigm for small size, low weight, and customization possibilities. What exactly is a Scout Tuktut? It's entirely up to you.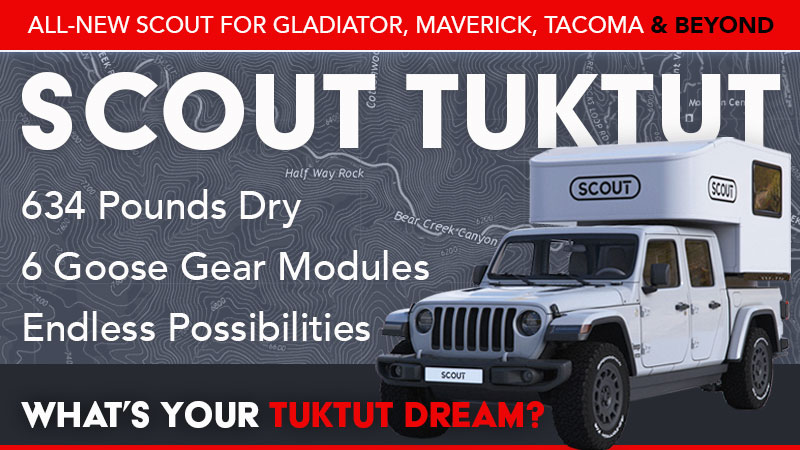 The all-new Tuktut is not just another Scout model. Hold that thought.
Since launching Scout in March of 2020, Adventurer Manufacturing has debuted three different versions of their ground breaking modular concept; the Kenai, Olympic, and Yoho. Each of these models targeted a specific category of trucks – by size and weight – to build out the Scout portfolio.
With the Tuktut (inspired by Canada's Tuktut Nogait National Park), Scout is taking their ground breaking modular concept even further. First, the Tuktut is smaller and lighter than the Yoho. When we say smaller, we're talking about fitting the Jeep Gladiator, Ford Maverick, and the 5-foot bed models of the Ford Ranger and Toyota Tacoma. And when we say lighter, the Scout Tuktut weighs in at 634 pounds dry. That's 300 pounds lighter than the Scout Yoho.
After reporting that dry weight, David Epp, CEO of Adventurer Manufacturing, asked us if we knew of another production hard side cabover truck camper – in history – that was lighter. There certainly isn't a hard side cabover in our Buyers Guide that's lighter, nor do we know of another make or model in history that weighed less.
Feather weight aside, the Scout Tuktut also takes the Scout concept to the next level of modular possibility and customization potential. Where the Scout Kenai, Olympic and Yoho came standard with a healthy list of fixed features installed at the factory, the Tuktut is presented as a blank canvas on which the owner can create the exact camper they want. Take that idea a synapse further and the Tuktut allows the owner to build out the camper to fit the available payload their truck offers, and tweak center of gravity for safety and ultimate off-road performance.
If the story ended there, we would have a record-setting hard side cabover camper weight and a new extreme in modular customization, but Scout has taken the Tuktut even further. Working with renowned overland outfitter, Goose Gear, Scout is debuting six Explore Series modules that can be configured in multiple ways inside the Tuktut. For the more DIY members of the Scout community, Adventurer Manufacturing is also releasing an upfitting guide to showcase not just the potential of what you can do with a Tuktut, but how.
To dig deeper into the Tuktut and what it means for Scout, we talked to David Epp, CEO of Adventurer Manufacturing.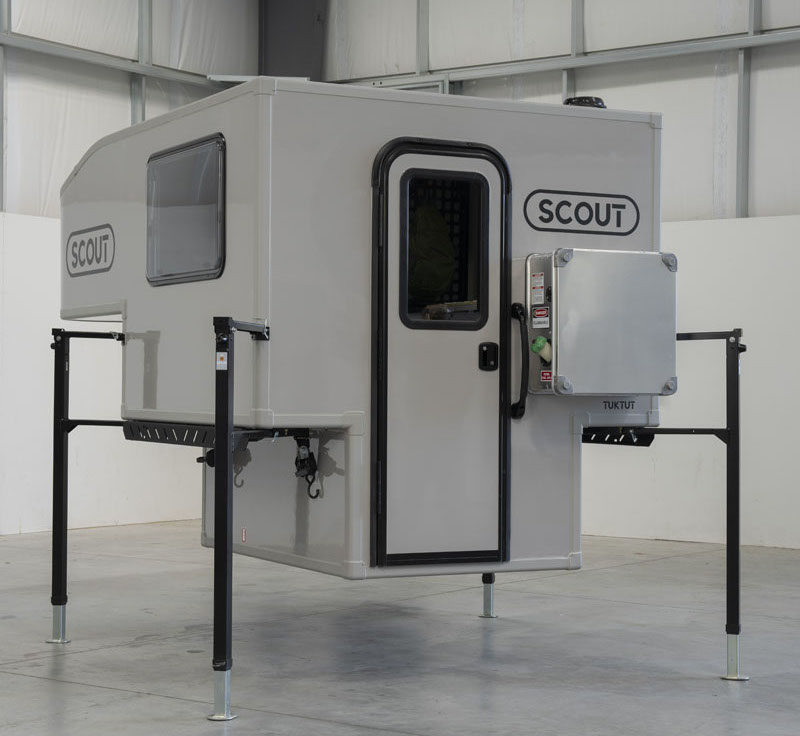 Above: The demounted Scout Tuktut and its removable Happijac corner jack system
2024 Scout Tuktut Specifications
The 2024 Scout Tuktut is a hard-side, non-slide truck camper made for mid-size and compact mid-size trucks. The interior floor length of the 2024 Scout Tuktut is 59 5/8 inches, the interior height is 72 1/4 inches, and the exterior width is 72 1/4 inches.
Adventurer is reporting the base weight of the Scout Tuktut to be 634 pounds.  The base MSRP for the Scout Tuktut is $16,500 USD (minimalist base model). Click here to request more information about the Scout Tuktut.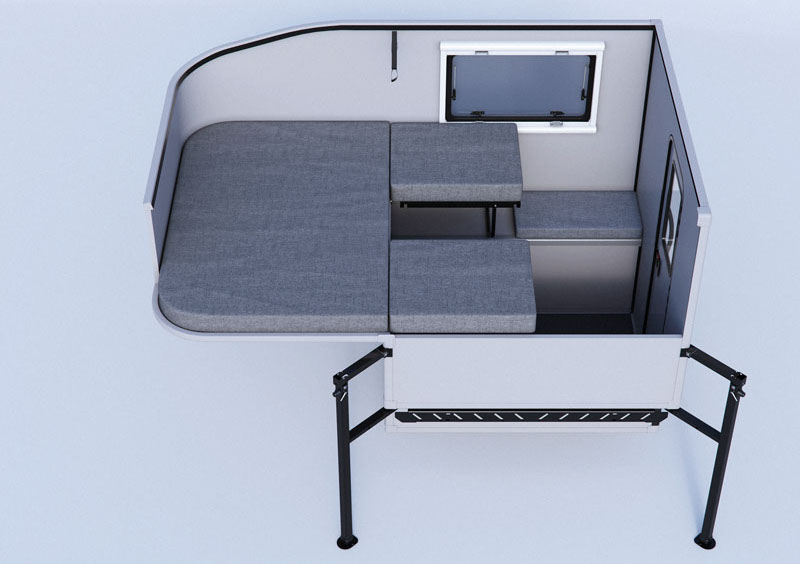 Above: The floor plan of the 2024 Scout Tuktut
Scout was already a basic and modular camper concept. Why are you going even more basic and modular with the Scout Tuktut?
First, we wanted to come up with the lightest and smallest cabover camper ever built. Second, we wanted to offer the ultimate flexibility for customization. Third, we envisioned an option for the compact and mid-size truck category that truly complements vehicle payload and off-road capability.
The Tuktut's design inspiration came directly from multiple sources including our Scout community and our history. That set our drive to bring new and more flexible solutions to the market.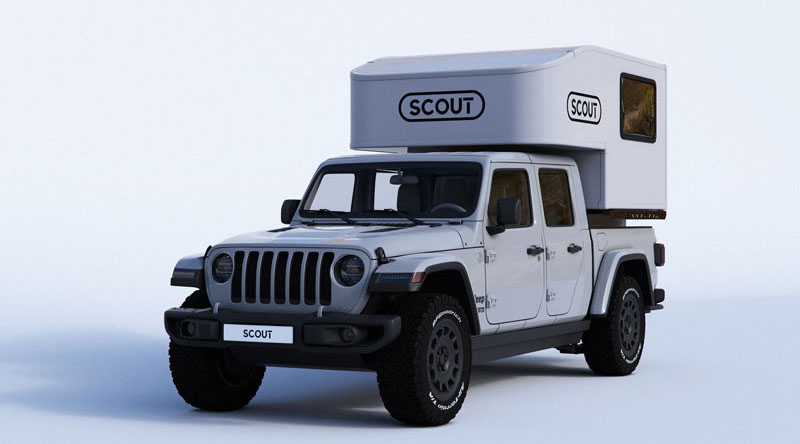 Above: The Scout Tuktut with the Jeep Gladiator
What trucks are you targeting with the Tuktut?
We were going after mid-size and compact trucks; everything from a Ford Maverick to a Jeep Gladiator. We really wanted to make sure that the size and weight of the Tuktut complement the truck's design and wouldn't impact a truck's ability to travel on and off-road. The Tuktut will also fit on the five-foot box Toyota Tacoma and Ford Ranger.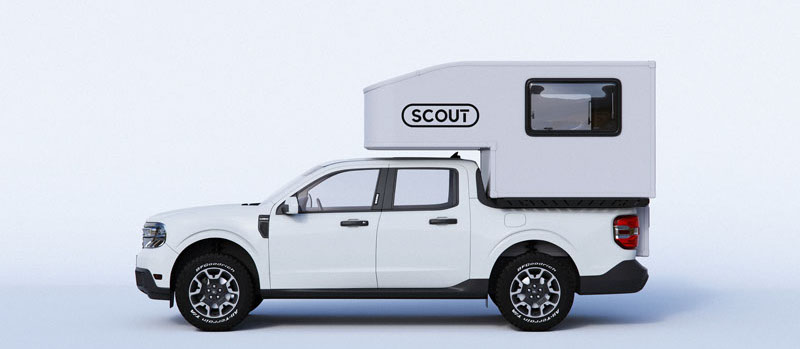 Above: The Scout Tuktut with the Ford Maverick
With the Tuktut, how are you accommodating the limited payload offered by mid-size trucks?
We stripped out things to maintain flexibility in build out options and to accommodate those with payload constraints. That's where we wanted to take the Tuktut to the next level. Again, we wanted to provide owners with the ultimate flexibility. They are not just getting a shell with this new Scout model. We put a lot of thought and effort into the high-quality options and upfitting possibilities.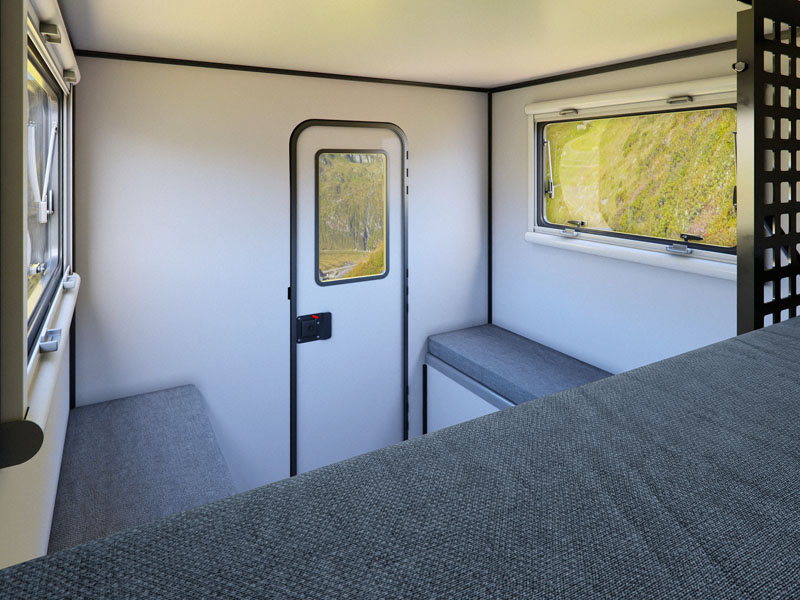 Other than the aluminum and composite camper structure, what is standard on the Scout Tuktut?
The Scout Tuktut comes standard with a 22-inch entry door with clear glass window and snap cover, entry assist bar, thermal pane windows with screens and solar reflective shades, outdoor performance fabric cushions, ratchet tie-down system, 47.5-inch by 69.6-inch mattress, and a wood-free full aluminum and composite construction.
There are no batteries, tanks, plumbing, or wiring in the camper. It's literally meant to be a blank canvas you can turn into your personal masterpiece. That could be as simple as adding a cooler and sleeping bag and going camping. Or it could be turning the Tuktut into a fully-featured camper.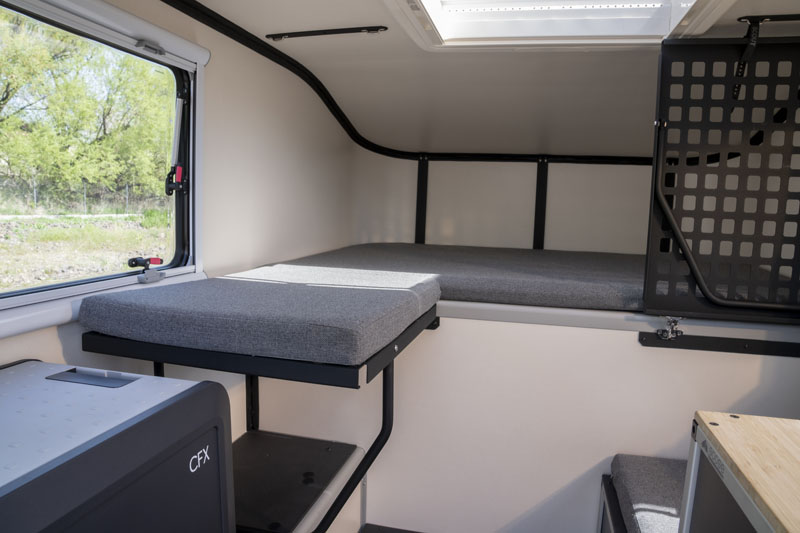 Above: The portaledge bunk extension creates an 80-inch north-south cabover in the sleeping position (left) and offers Molle pattern storage in the stow position (right)
Options for the Scout Tuktut include removable camper jacks, bilateral bed rail runners, and the powder-coated portaledge bunk extension system. The portaledge bunk extensions create 80-inches of sleeping space and offer creative storage solutions in the stow position with the Molle design. The bed rail runners give you additional mounting capability on the exterior, and also just look good.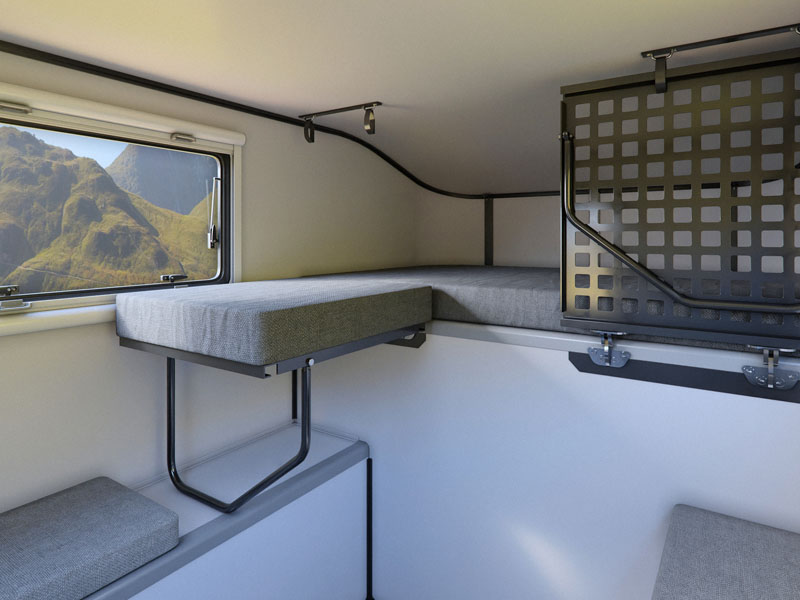 To illustrate the Tuktut's potential, we are providing a simple upfitting guide showcasing what's possible. We're very excited to see what our customers do with their Tuktut campers.
The upfitting guide is a really cool idea. Does it give specific ways to build out the Tuktut?
Yes. With the guide, Tuktut owners will receive general guidance and do's and don'ts, to support a successful camper upfit. By using our upfitting guide, the quality, and integrity of the Tuktut are maintained and consumers will have a positive ownership experience. There are many important questions addressed to support that experience.
We also partnered with Goose Gear which is well known and has a very strong reputation with modular storage systems. With everything we do, we are mindful of quality and excited to partner with Goose Gear with some great build solutions.
"With everything we do, we are mindful of quality and excited to partner with Goose Gear with some great build solutions."
How did the partnership with Goose Gear come together?
Last summer I had the chance to meet and spend time with Brian Fulton, Founder of Goose Gear. We had a fireside chat and explored options and potential solutions for the Scout brand. After getting to know Brian it was clear that Goose Gear truly valued quality and customer experience. Both Adventurer and Goose Gear are American made and family-run operations which made this a natural fit.
After our initial meeting, I reached out to Brian and we started talking through different options and solutions. Since then we have been working collaboratively with Goose Gear on the design of the Tuktut. Dave Catron, our Lead Project Engineer, worked on developing the Goose Gear and Tuktut integration.
What exactly is Goose Gear offering for the Scout Tuktut?
With Goose Gear, you get a wide range of configurations with a minimal number of products. We will be showing different layouts and configurations with the six Goose Gear Explore Series modules we are offering. The Goose Gear Explore Series are made with 6063 aluminum alloy with T6 tempering for significantly increased strength, reduced weight and corrosion resistance.
We approached the Tuktut and Goose Gear modules by thinking about what people need when they go camping. When you go camping, you need water, heat, shelter, and electricity for light. With that list, we went about designing and developing the modular possibilities of the Tuktut.
With Goose Gear, it starts with a base plate on the floor of the unit. There's another base plate for the off-sets where the seats are installed on the side. From there, modular cabinets can be installed to the Goose Gear base plate.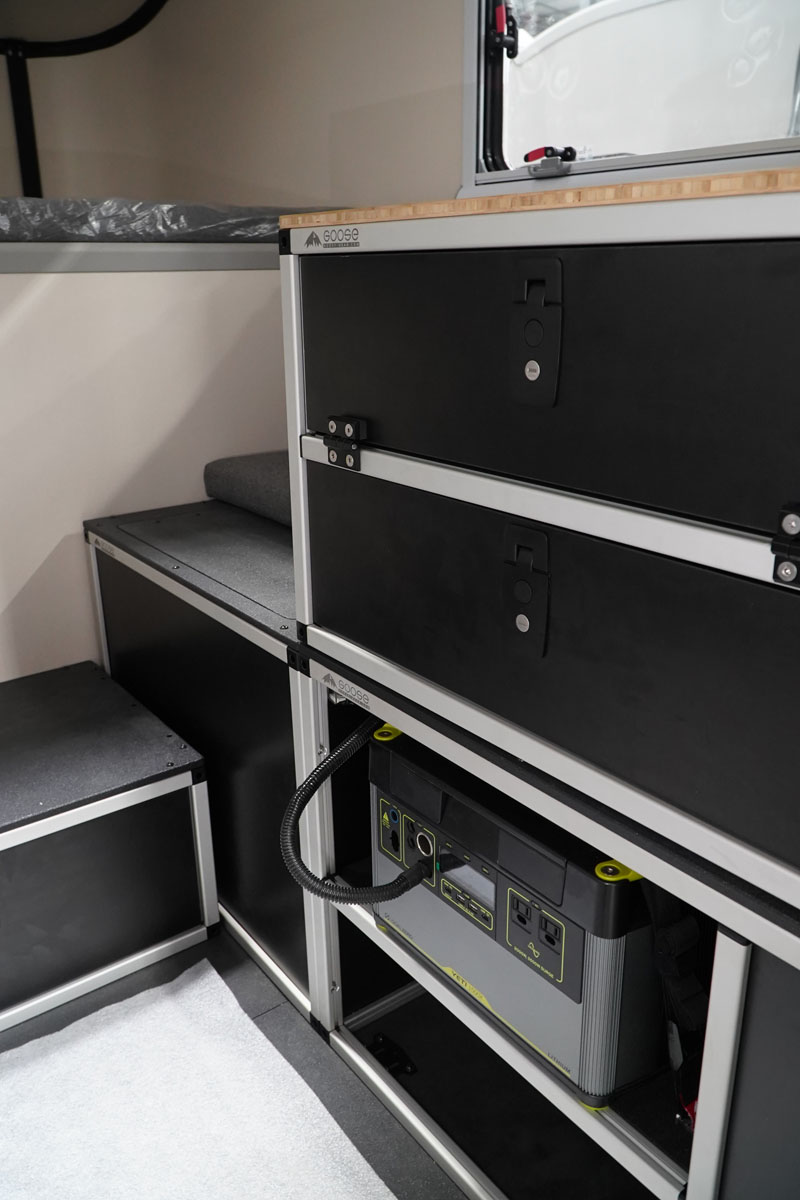 Above: The Goose Gear Power Module with a Goal Zero portable lithium power station
We are maintaining the driver's side as a bench seat. On the passenger's side, you have ultimate flexibility with the Goose Gear modules. One is a Utility Module with a top hatch. There's a Power Module, where you can put a Goal Zero portable lithium power station, or modify it for a Bluetti.
There are also Redarc systems or GP Factor products including modular power systems using Redarc.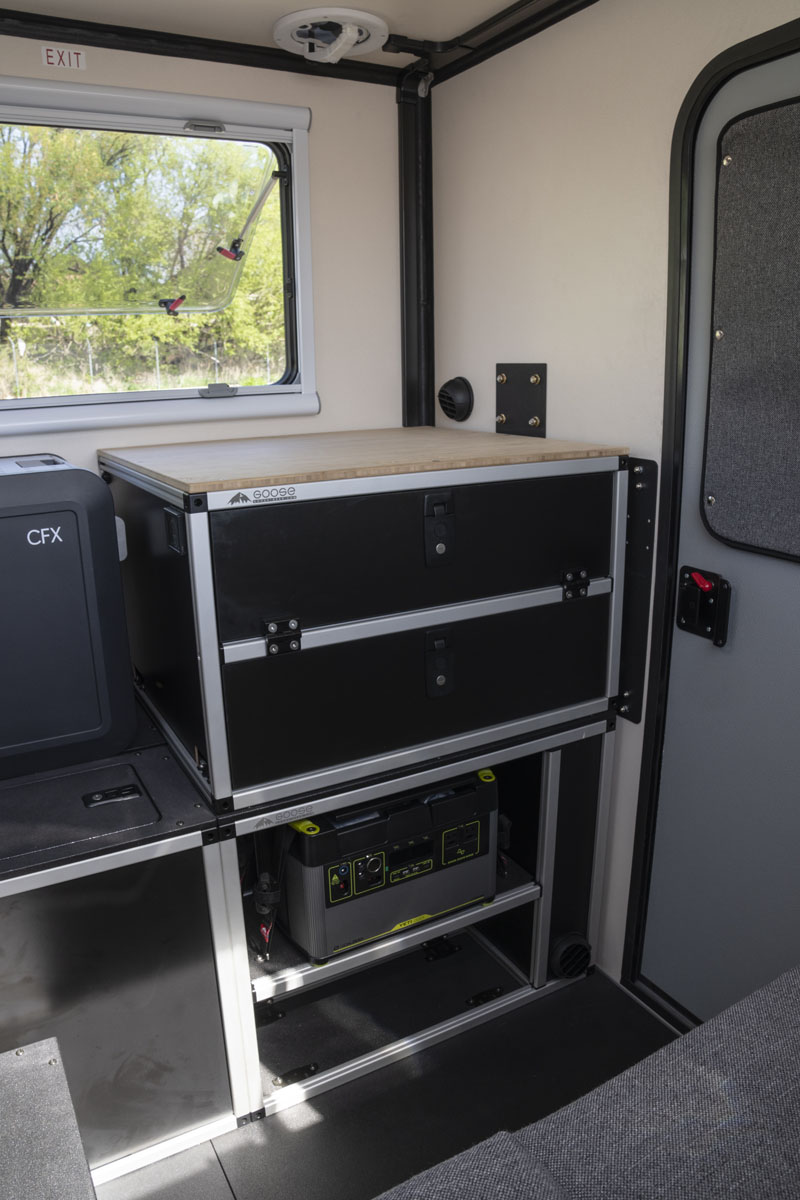 If you want a water system, you can install a couple of Dometic GO Hydration Water Jugs. Or, if you want a custom water tank, you can plumb it into the Scout Utility Module. There is a Galley Module with a bamboo top. Below the bamboo top, the Galley Module has a door face for pots and pans, and below that there is a drawer.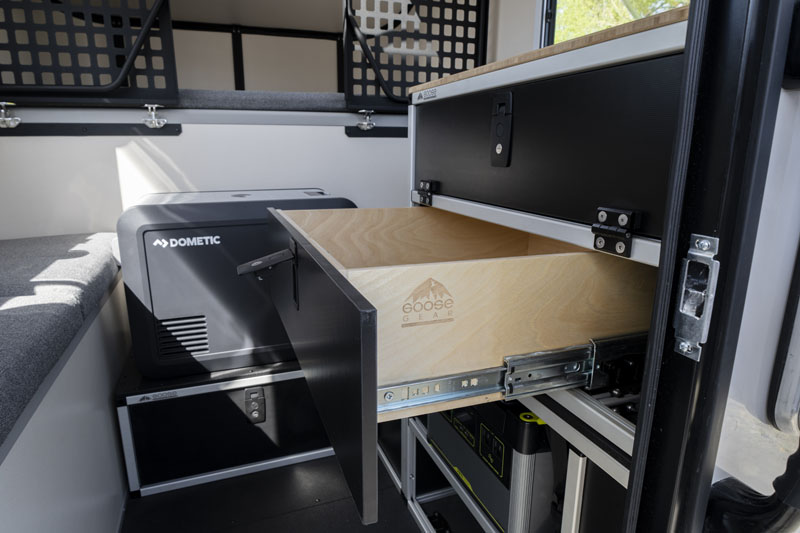 With the bamboo top, if you want a sink, you cut a hole and drop it in. Then you can run plumbing out. It's all designed to be flexible.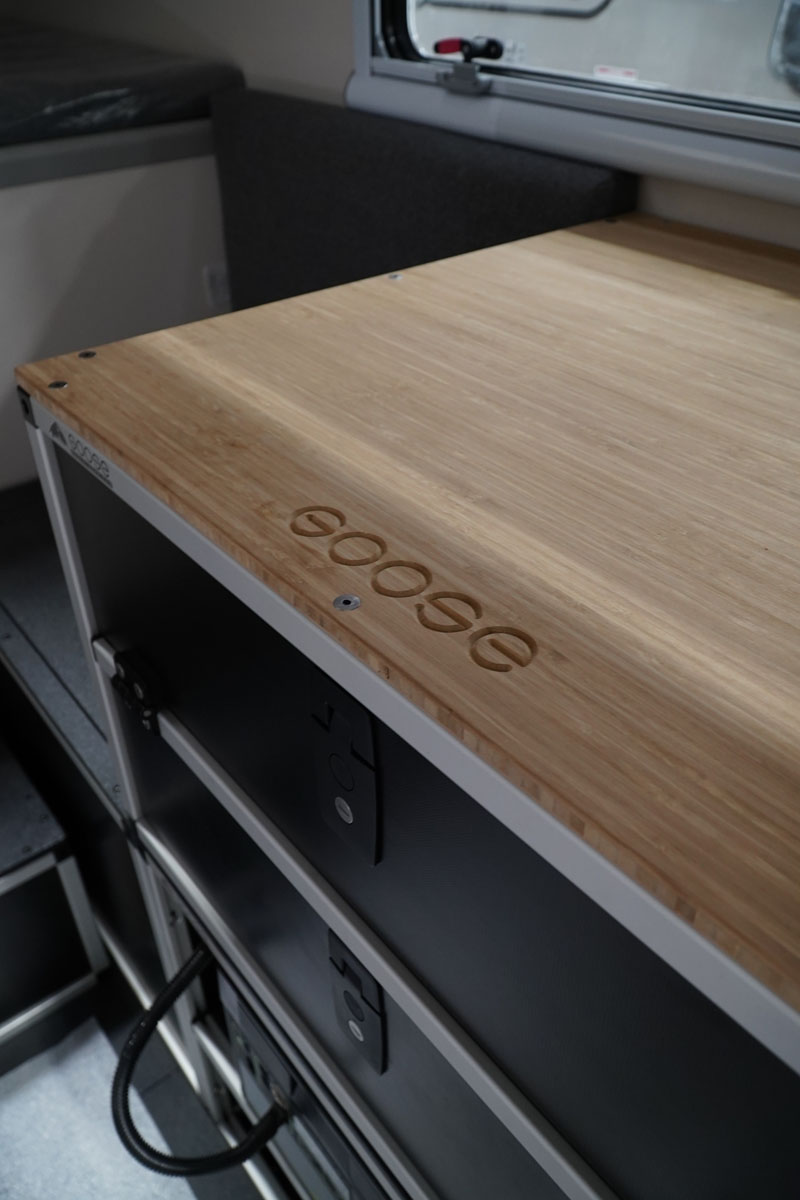 How is the base plate attached to the camper?
We worked with Goose Gear and have a specific fastening solution for the Scout Tuktut. Brian came out to Adventurer Manufacturing and spent time with Dave Catron and the team to ensure that we have a quality solution.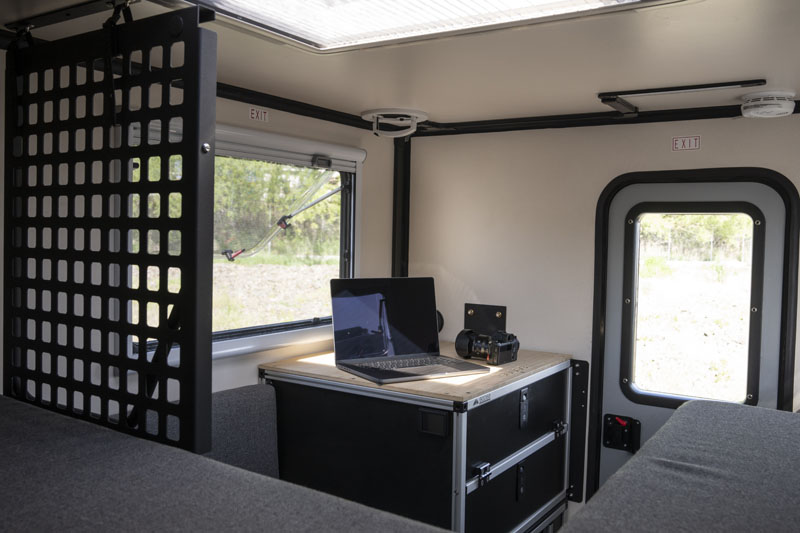 Do Scout Tuktut owners order the Tuktut Goose Gear modules from Adventurer Manufacturing, Scout dealers or Goose Gear?
There are three options. First, if you pick up your Tuktut from a Scout dealer, we are offering the Goose Gear modular systems through dealers. Second, if someone wants to buy a Scout Tuktut and then build out the camper as they go, they can buy the Goose Gear modules from our dealers or Goose Gear dealers. And third, you can pick up a Tuktut from our Scout factory in Yakima, Washington and we will facilitate the Goose Gear modules from the factory.
Are you going to offer a Scout Tuktut camper with the works; every factory option and Goose Gear module?
That is available. You would place your Tuktut order through our sales team, website, or one of our dealers. They will have all the options and modules installed at pickup. If you're picking up the Tuktut from our factory, we can also have all your options and Goose Gear modules pre-installed through our onsite service.
A lot of the concept of Tuktut is making an attainable camper. You don't need to have the full package today. You could start with a base system, like a base plate and galley system, and from there you might want to add the utility and drawer modules. You can add as you go.
The build-out flexibility also gives you a wide range of use cases and requirements. If you want a specific weight range, and you have a certain payload requirement, you can build your Tuktut based on that. With traditional campers with their fixed floor plans and features, that's simply not achievable. The Tuktut concept puts the power in the hands of the consumer to do what they want and need.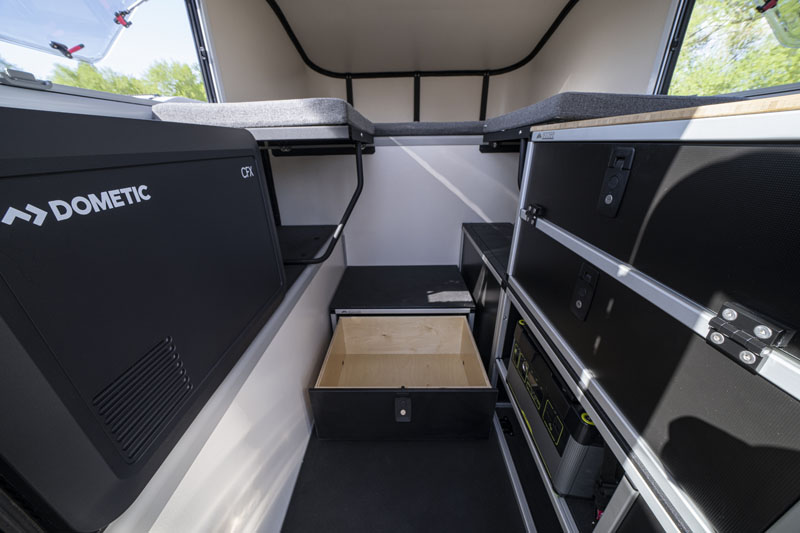 Above: The Scout Tuktut loaded with options and Goose Gear modules
Are Scout Tuktut owners locked into Goose Gear modules?
No. You can build your Tuktut out however you want. If you want to go to a van builder, or upfitter, and put in a custom interior, you can absolutely do that. If you want to DIY your own interior, you can absolutely do that. Part of the concept was to make sure we had an upfitter guide for the DIY Scout customer. There is a framework to guide you to success.
Is there a roof top tent option on the Tuktut? That's been a signature Scout feature.
No. With the mid-size trucks we are targeting, adding another 150 to 200 pounds for a roof top tent doesn't make sense. Maybe we'll explore a single-person tent, but that's not the direction at this point.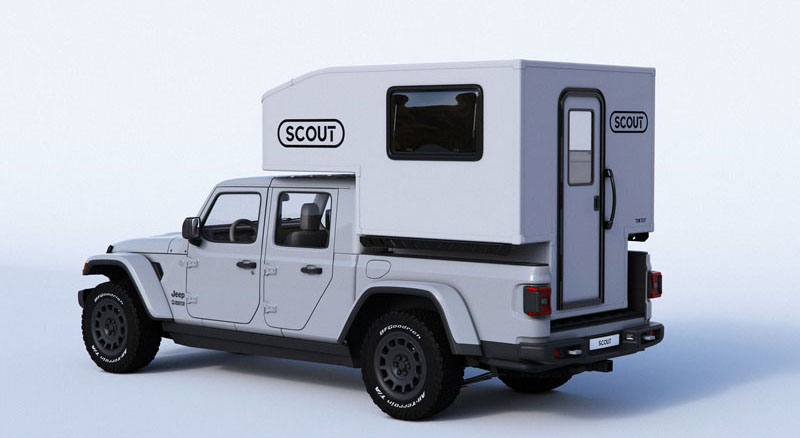 What does the 2024 Scout Tuktut weigh with standard build features?
The dry base weight of the Scout Tuktut is 634 pounds. That includes two clearview windows with screen and shade, a rear entry door, and an assist bar.
On the Tuktut unit we built out, we installed the diesel heater and every single Goose Gear module plus the portaledge, skylight, power fan, and interior lights, and it was just over 1,000 pounds dry.
What is the center of gravity on the 2024 Scout Tuktut?
The center of gravity was an important piece of the Tuktut concept. We wanted to make sure the Tuktut would accommodate the load ranges of the vehicles we are targeting. The base Tuktut we built is 20-inches from the front wall. However, how you configure and upfit the Tuktut will directly impact the center of gravity. The center of gravity can be significantly moved when the base weight starts at 634 pounds and people start adding their own options.
All truck camper owners should have awareness of load range. As a truck camper owner or future owner, make sure that you take the time to understand what your truck can handle. Then you can determine how to outfit and load your camper for safe travel. You need to understand payload capacity and center of gravity.
"We are building a camper that's attainable, and it allows you to build as you go or build it yourself."
What is the MSRP for the 2024 Scout Tuktut with standard build features?
The MSRP is $16,500 USD for the minimalist (base) Scout Tuktut.
Overlanding and RVing have been luxury items, but that often comes at a cost. With the Tuktut, we wanted to build something more attainable. The pricing goes into the concept of the design. We are building a camper that's attainable, and it allows you to build as you go or build it yourself. Six months or a year after purchase, you can add more modules.
Whether you buy a Scout or a competitor's product, it's important to buy local and support North American jobs. That helps to drive down costs because of the reinvestment in a domestic team and manufacturing processes.
What is the warranty for the 2024 Scout Tuktut?
All Scout campers, including the Tuktut, come with a three-year structural warranty. If you follow the upfitting guide, the three-year structural warranty still applies.
When will the 2024 Scout Tuktut be available?
Pre-orders for the 2024 Scout Tuktut start now (May 17th) at scoutcampers.com. Deliveries will begin in mid-August.
We will have the Tuktut at Overland Expo West this weekend in the Goose Gear booth. I'll be there with several other teammates including Claus, Stuart, Dave, Ryan, and Matt to support the Tuktut. Our friends at Tiny Rig will have the Scout Yoho, Olympic, and Kenai on display. The Tuktut will also be in Oregon at Overland Expo Pacific Northwest from July 7-9, 2023.
There will be a Tuktut on display at Adventurer Manufacturing in Yakima, Washington. If you want to see it and can't make the Expos, you can always see it there.
Will you be expanding the Tuktut concept into the other Scout models? For example, will there be a Tuktut version of the Kenai, Olympic, and Yoho?
That is to be determined, but it's something we may consider.
Is there anything about the 2024 Scout Tuktut that you would like to add?
Everything about the Scout Tuktut goes back to the concept of ultimate flexibility. The Tuktut empowers our customers to do what they want with their camper. It's also empowered Adventurer Manufacturing to partner with more North American companies that believe in quality.
"The Tuktut empowers our customers to do what they want with their camper."
Are there any other new model announcements coming from Scout Camper in 2023?
Right now the Tuktut is the only new model for Scout this year.
Scout brand just turned three in March of 2023. Where do you see the Scout brand in the next three to five years?
We want to build the strongest community of campers out there. That is going to be built on the foundation of service. We are building trust and equity in the Scout brand. We want to stand true to that. We want to look after our owners. Coming up in June, we are going to kick off Scout owner meet-ups which we are excited about as we continue to make investments back into our community.
To learn more about Scout campers, visit their website at scoutcampers.com.  Click here to request information about the Scout Tuktut.