Adventurer Manufacturing pushes the envelope of hard side camper design, materials, and construction with the all-new Scout brand.  From composite panels to removable components to a roof-top pop-up bed system, Scout represents a bold and ambitious leap forward. Introducing the Scout Olympic truck camper!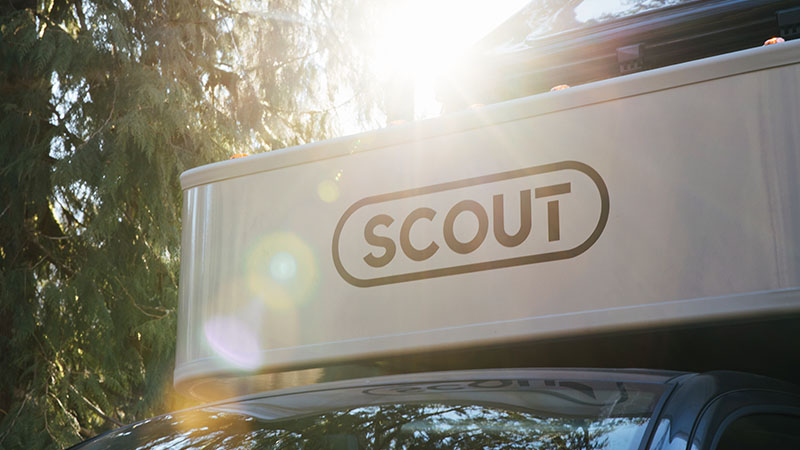 Sometimes you need to start with a blank page to solve a new product development challenge.  Traditional design and manufacturing methodology, tools, and materials provide essential background and experience, but no workable solutions.
If a true product breakthrough is going to happen, it has to come from completely new thinking – fresh designs, out-of-the-box manufacturing methods, cutting-edge tools, and state-of-the-art materials.
For teams with successfully established management and manufacturing cultures, genuinely new approaches can be extremely difficult to accept and adopt.  After all, why change what's working?
The answer is a time-tested business mantra, "Disrupt your business or someone else will."  In the RV marketplace, this translates to, "Make better and more innovative products or your competitors will."
Perhaps more than any other RV manufacturer we have witnessed, Adventurer Manufacturing understands and embraces this mantra.  For irrefutable proof of their unrelenting commitment to self-disruption and continuous innovation, one needs to look no further than the 2019 Adventurer 901SB 50th Anniversary Edition.
Not only did the 901SB's forward-thinking design go on to win Truck Camper Magazine's Readers' Choice Award for Best Truck Camper of 2018, but it also went on to transform the entire Adventurer and Eagle Cap line-up for 2020.  The results propelled both brands to new heights.
So what happens when a company that fully embraces disruption and innovation tackles the elusive ultra-lightweight, hard side, half-ton compatible truck camper opportunity?  Something very exciting indeed.
The Beginning of Scout Truck Campers
Once again starting with a truly blank page, the Adventurer Manufacturing team has developed an all-new design representing a radical departure from any production camper on the market today.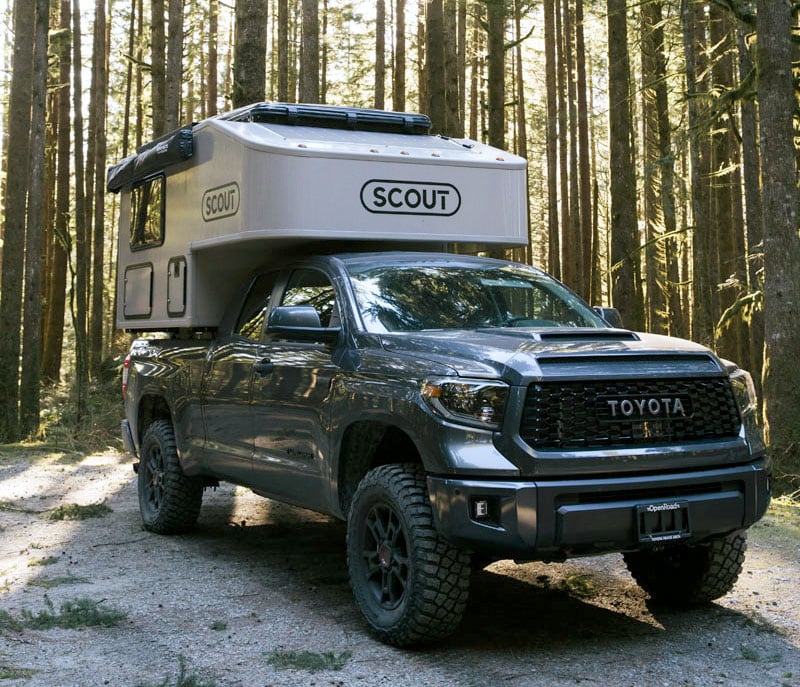 First, Scout campers are constructed from marine-grade, high-density, polyurethane and fiberglass composite panels to create a frameless exoskeleton.  To be clear, there is no wood or frame in the body of a Scout truck camper.  It's 100-percent constructed using composite panels including the sidewalls, floor, roof, and wing walls.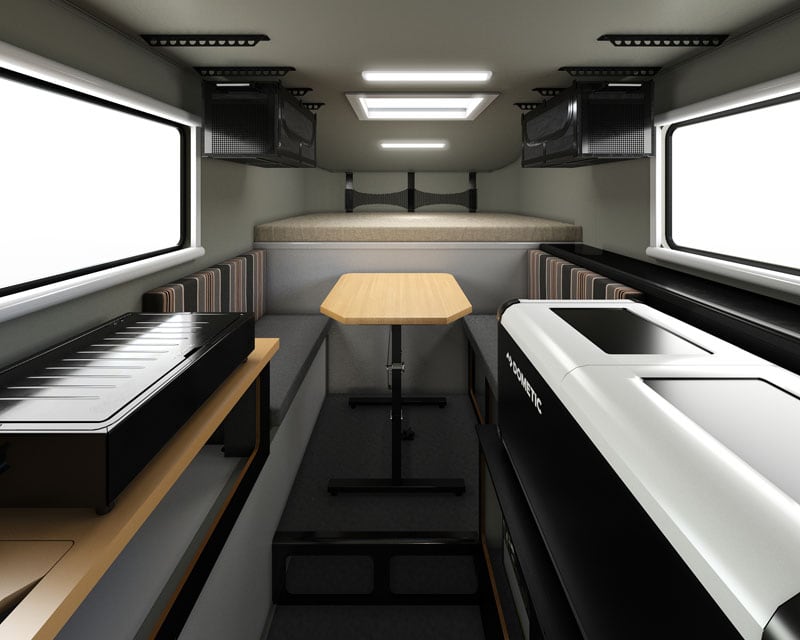 Second, nearly every feature and component in a Scout camper is removable, portable, and multi-purpose.  This includes a portable fresh water system, portable lithium battery system and inverter, portable 12-volt compressor refrigerator, portable propane cooktop, and a new set of removable jacks developed by Happijac specifically for Scout.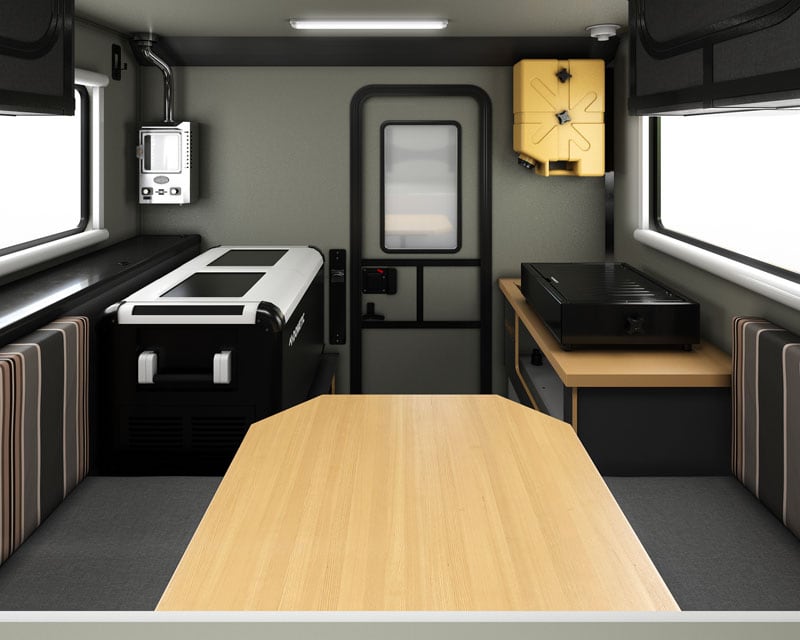 Third, Scout features an optional Roost roof-top pop-up tent system that's accessible from a hatch inside the unit.  Not only does this give the first iteration of the Scout the potential to sleep up to six, but it also allows owners an entirely new option; sleep inside in the cabover, or sleep on the roof in a pop-up style tent room.  Oh, how we absolutely love that idea.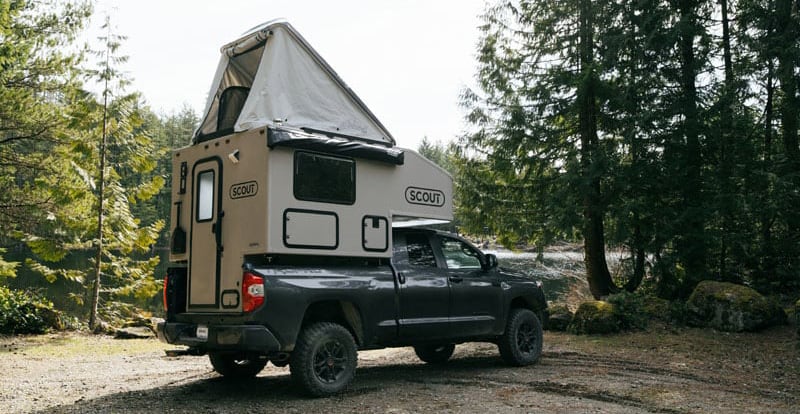 There's more – much more – but nobody could better articulate the Scout concept and final result than Adventurer Manufacturing's CEO, David Epp.  To get the complete back story on the Scout brand and first production model, we contacted David for an exclusive in-depth interview.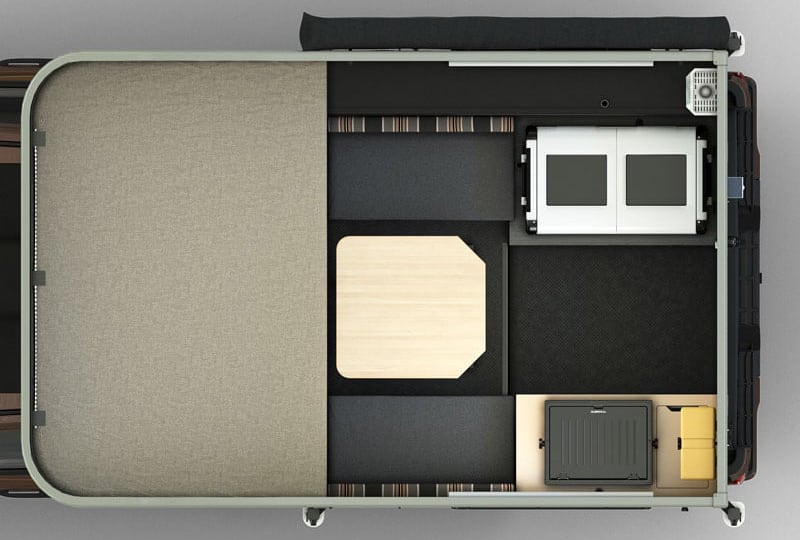 Above: The 2020 Scout Olympic 6.5 floor plan
2020 Scout Olympic 6.5 Specifications:
The 2020 Scout Olympic 6.5 is a hard side, non-slide truck camper made for short or long bed trucks.  The interior floor length of the 2020 Scout Olympic 6.5 is 71″, the interior height is 78.25″, and the center of gravity is 27″ from the front wall.  The 2020 Scout Olympic 6.5 has a 4.9-gallon fresh tank, no grey tank, and an optional 2.6 gallon Dometic portable toilet.  It has a Goal Zero Yeti Lithium 1000 battery and two 5-pound propane tanks.
Adventurer is reporting the base weight of the Scout Olympic 6.5 to be 1,133 pounds.  The base MSRP for the Scout Olympic 6.5 is $19,980 US.  Click here to request more information about the Scout Olympic 6.5.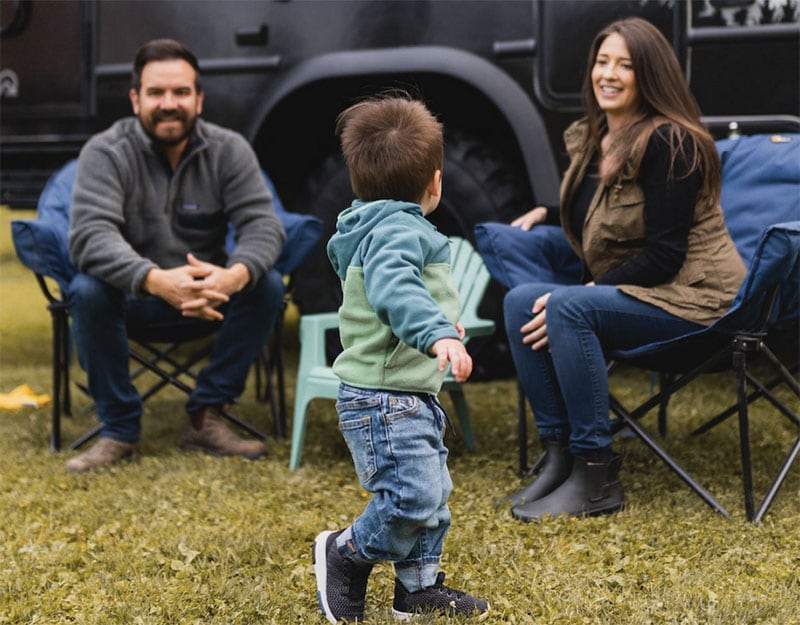 Above: David Epp with his wife, Caitlin, and son, Hunter
Before you tell us about the new Scout brand and camper, tell us about yourself and how you got into the RV industry.
I was born into the RV industry.  It's generational for me.  Some of my earliest memories are of RV manufacturing.  It's always been exciting.
When I was growing up, my grandfather, Erdman Epp, was President of Adventurer Manufacturing.  He was a very particular man and always wanted things done right.
When I was six or seven years old my grandfather had me sweeping the paved yard at the Adventurer factory.  He showed me how he wanted it done and consistently checked in to make sure I was doing it properly.
As most kids would experience, boredom set in when sweeping a two-acre lot, and I would look for ways to get the job done faster.  Sometimes he pointed out how I was bypassing his technique and I would have to start over from the beginning. Looking back, I see that he was teaching me an important lesson.
As I got older, I took on several positions on the production line including installing windows and insulation.  When I was in Grade 11 I did my RV Technician Apprenticeship.  In my third year of the apprenticeship, I jumped into RV sales.  From sales, I worked my way into management, and then to dealership management.  At the dealer level, I have done everything from washing units to service to parts.
Even I as a grew up working in the business, I wasn't reporting to my father or grandfather.  I was reporting directly to my manager.  That taught me to appreciate the impact each of us has on the product's quality and customer experience.
"I have always been drawn back to manufacturing.  The buzz and energy of manufacturing is unlike anything else in the RV business."
Last year you became the CEO of Adventurer Manufacturing.  Given the over half-century of family history in the company, what was that experience like?
Having the experience from the ground up in manufacturing and managing a large team on the dealership side, moving back into manufacturing as the CEO of Adventurer Manufacturing felt natural.
Manufacturing and design are in my DNA.  Having the capability to influence the design, quality, and overall product direction has been amazing.  And I was very thankful to have a great general manager and management team already in place.
The biggest lesson from my grandfather and father is the importance of a strong foundation.  Adventurer Manufacturing has a remarkably strong foundation and team.  This foundation is even more important when facing challenging times.  It's great to have that foundation to build from and modernize.
As a concept, Scout is something of a departure from traditional truck camper design and marketplace thinking.  How did Scout develop at Adventurer Manufacturing?
Everything starts off with a need.  There is a strong need in the marketplace for a high quality, exceptionally lightweight and highly versatile truck camper.  It started with that.
From there we put a lot of effort into understanding the market and our potential customers.  A lot of thought was put into the concept development for Scout.
We also didn't want to take anything away from our foundational brands; Adventurer and Eagle Cap.  Scout represents a different market segment from where those two brands are, so it's complimentary.
Are you making any changes at the Adventurer Manufacturing factory to support production capacity for Scout?
We are making big investments in new equipment including two CNC machines.  One CNC machine is focusing on small part production.  The other CNC machine is routing sidewalls.  These machines bring a new level of precision, accuracy, quality to all of our brands.  They also increase our efficiency and capacity.
We have also added 20,000 square-feet to the far end of the Adventurer Manufacturing factory.  This expansion allows us the space to create two separate production lines.
In the past, manufacturing motorhomes has interrupted our truck camper production for our dealer base.  With the new CNC machines and expansion, we have the capacity and ability to run two separate lines and produce truck campers year-round.  That will be a significant benefit for our truck camper dealers and customers.
Lastly, we have a great team at Adventurer Manufacturing, and we are growing.  We have recently added in additional support in IT, sales and marketing, and we have plans to continue this growth in customer service and production once we get back up and running.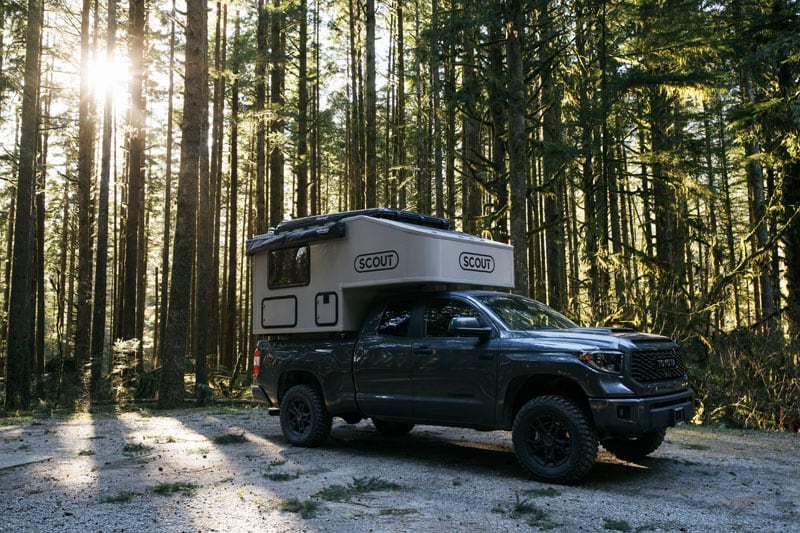 The first Scout model is the Scout Olympic 6.5, a hard-side, non-slide truck camper designed for mid-size short bed trucks.  What truck make and models are you targeting for the Scout Olympic 6.5?
The Scout Olympic 6.5 targets the smaller half-ton trucks all the way up to full-size trucks.  This includes trucks like the Toyota Tundra, Nissan Titan, Ford F-150, Ram 1500, Chevrolet, and GMC 1500.  The Scout Olympic 6.5 will also fit all the box sizes from the 5.5-foot box length all the way up to the 8-foot bed.
I personally bought a Toyota Tundra with a 6.5-foot box for a Scout Olympic 6.5.  That's the rig featured in the photos and it's a great set-up.  Compared to the Ford F-350 long box I was driving, the Tundra TRD is very agile and maneuverable and you feel like you could go anywhere you want.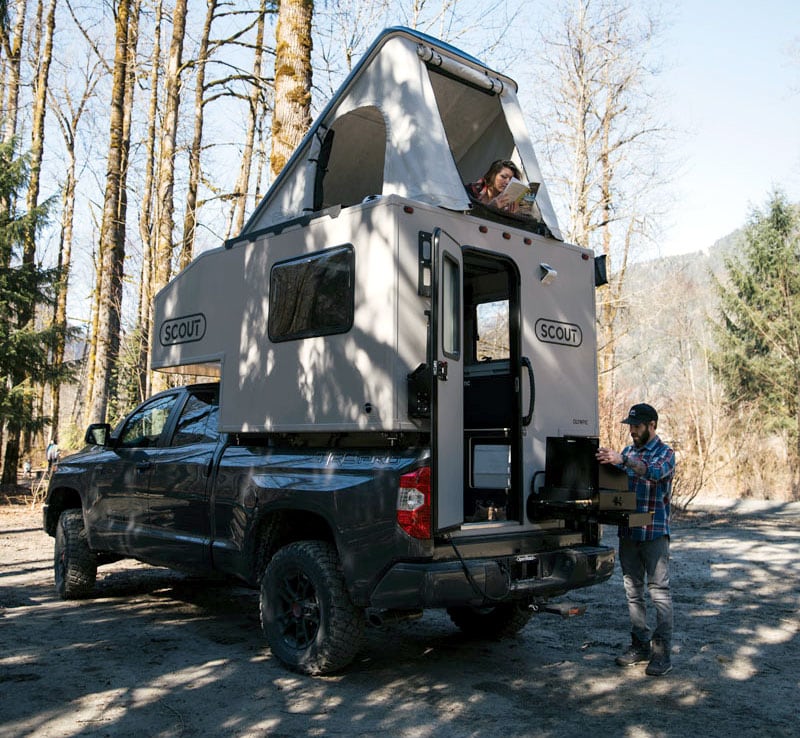 Do you believe the Scout Olympic 6.5 has achieved true payload compatibility with the mid-size short bed trucks?
The base dry weight of the Scout Olympic 6.5 is 1,133-pounds.  That's within the payload capacity of the great majority of truck configurations.
That base dry weight includes a 160-watt solar panel, friction-hinge door, dinette, entry door assist bar with bottle opener, lightweight acrylic insulated windows with solar reflective shades, two 5-pound propane tanks, fire extinguisher, gear locker, Compass marine flooring, wood-free hybrid construction, LED light strip, LifeSaver portable water storage with charcoal filters, Goal Zero Yeti 1000 lithium power station with a built-in inverter, ratchet tie-down system, solar porch light, solar panel vent, and a stainless steel sink.
What is the center of gravity for the Olympic 6.5?
The center of gravity for the Scout Olympic 6.5 was measured the same way we measure all of Adventurer Manufacturing's truck campers.  We utilize a bar at the factory and locate the balance point.
The center of gravity on the Scout Olympic 6.5 is 27-inches from the front wall.  This met our goal to COG match super short bed trucks.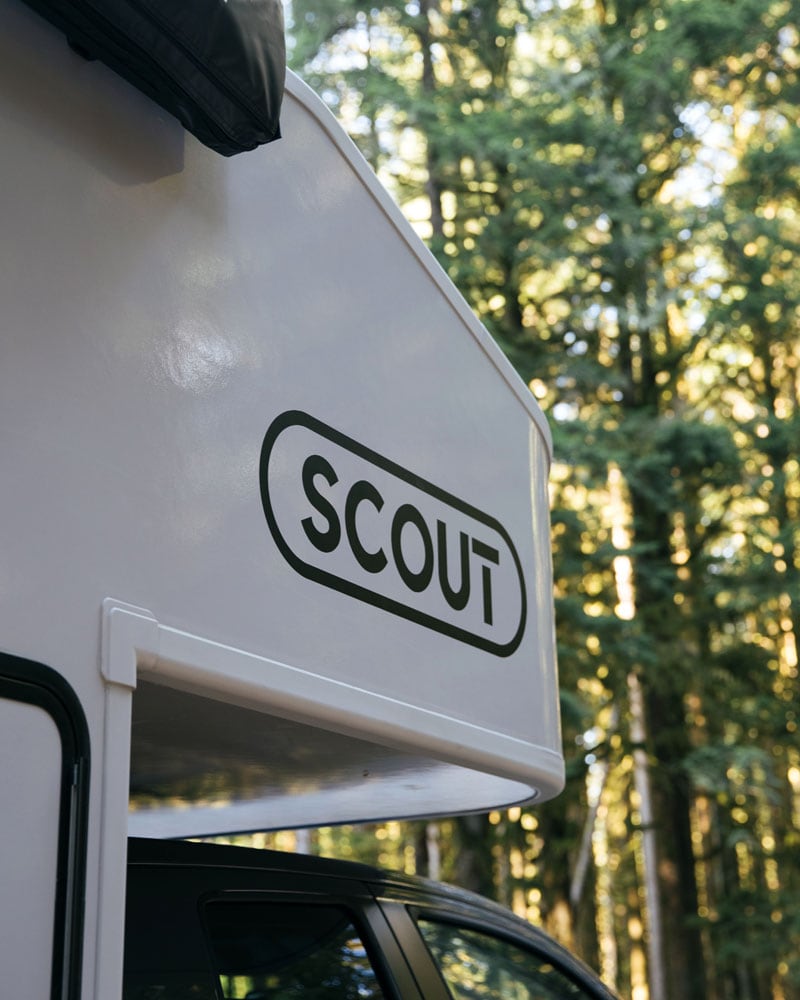 What materials did you use to frame and build the Scout with?
We took a step back when we designed the Scout and explored new possibilities.  Specifically, we explored opportunities to decrease weight and decided wood-free composite structural panels were the way forward.
By utilizing structural panels in a frameless exoskeleton, we are able to dispense a significant amount of weight while improving the long-term integrity of the unit.
There are multiple parts to this structural panel approach.  We source the panels and extruded aluminum moldings through a partner, and then use a hybrid construction approach to accomplish our design.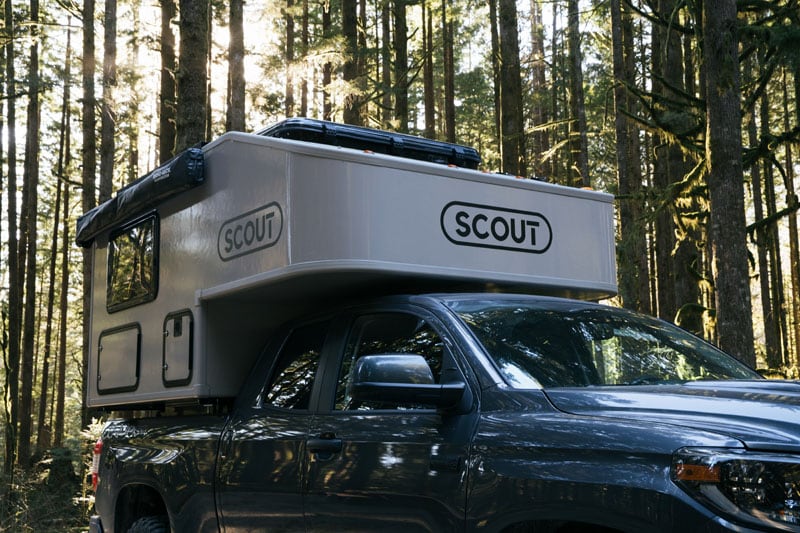 The sidewalls and horizontally-rounded front nose appear to be one seamless piece.  How did you achieve that?
That's part of our new hybrid material and technique approach.  There are multiple elements that went into that front nose and the materials we employ to make it.  It's like a puzzle the way structural panels and other elements assemble and bend.  The exact materials and methods we use are a trade secret.
Compared to the TCC (Tru-Composite Construction) used in Adventurer and Eagle Cap, this is a whole new and separate construction approach.
We really took a step back and looked at everything with a clean slate.  If we didn't hit the low-weight target, we wouldn't hit the market opportunity.  To accomplish that, we had to take a very different and innovative approach.
Are the Scout's sidewalls, floors, and roof all laminated?
Yes, the sidewalls, wing walls, floor, and roof are all laminated polyurethane foam structural panels.
Other than weight savings and strength, another important benefit of structural panels is the elimination of thermal bridging.  On a cold morning, you can see the aluminum framing on the exterior of a traditionally built camper.  That's the result of thermal bridging.  This thermal bridging is not a factor with structural panel construction.
Another huge advantage of the structural panels is that you can mount things practically anywhere.  The overland community likes to personalize their rigs and add gadgets.  With the structural panel construction of the Scout, you can mount MaxTrax or brackets for recovery equipment anywhere you want.
A friend and I installed a DMOS shovel on my Scout.  With the mount and structural panel, it's super secure.  As the shovel is relatively heavy, we bolted it through with a rubber gasket.  It's not going anywhere.
Could this new composite structural panel approach make it to Adventurer and Eagle Cap products?
I can't say at this point, but we're always looking to drive our development further for all of our products.  Every brand we offer has its place and market segment.  We want to maintain that differentiation.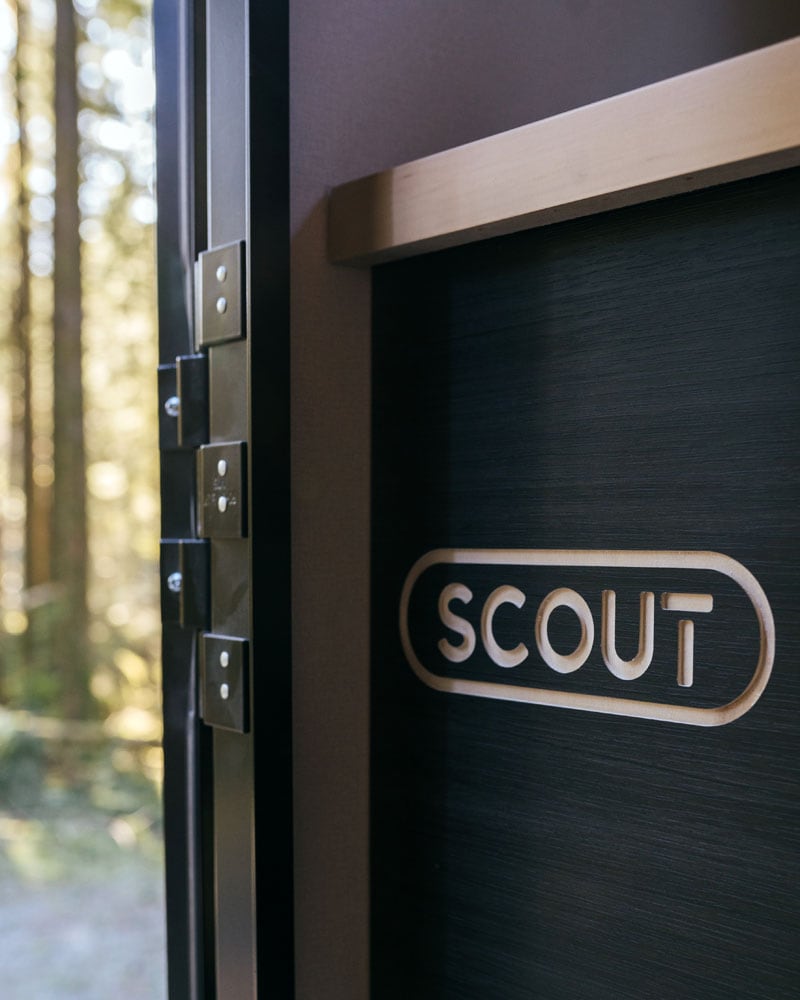 To be clear, there is absolutely no wood in the construction of a Scout camper?
There is no wood in the structure.  The only wood is in the CNC routed cabinets.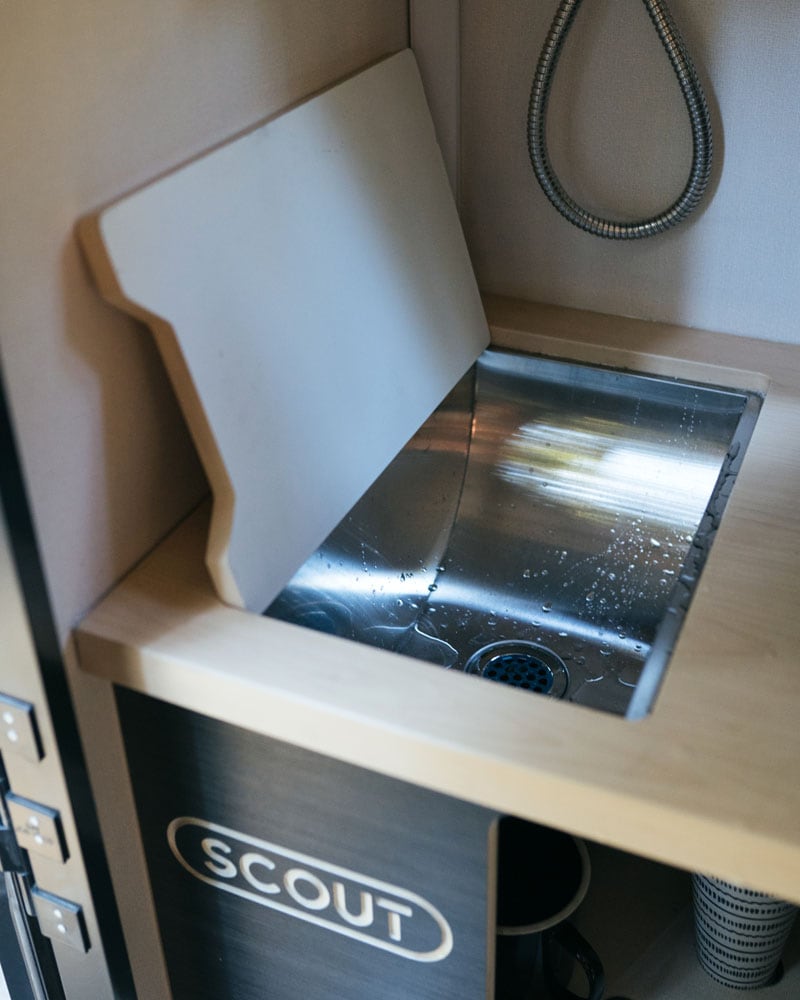 The plywood cabinets were designed after what you find in high-end homes.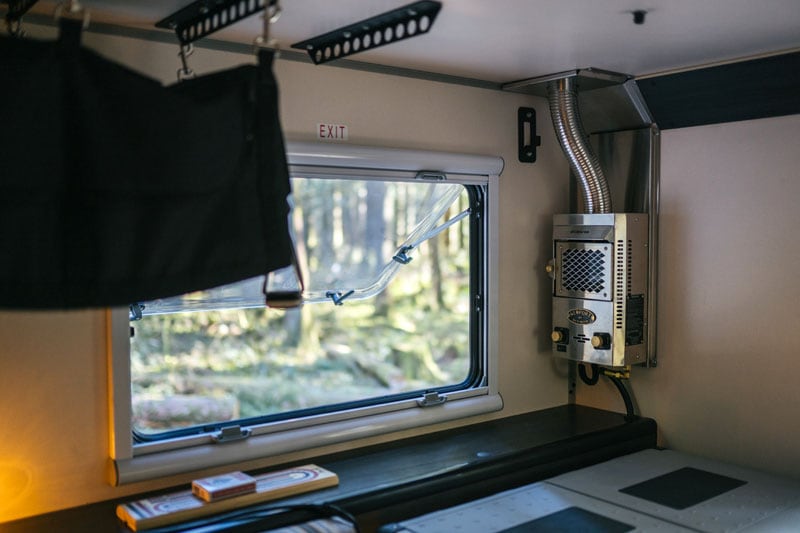 Why did you choose to employ acrylic insulated windows for the Scout?
The big reasons are weight and simplicity.  The acrylic windows we chose helped us hit our weight target.  The built-in screens and sunshades simplify the window installation and overall design.
We call them clear view windows because they give a crystal clear view of the scenery.  They're also superior for cross-ventilation and airflow.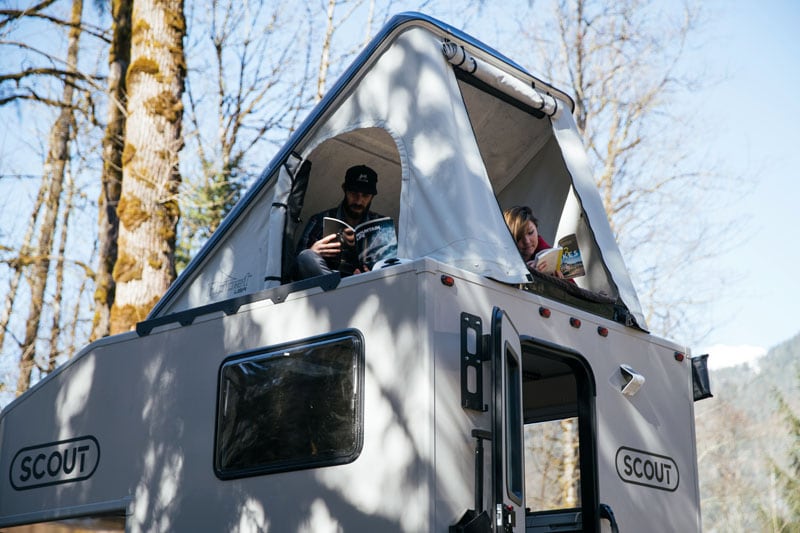 The Roost roof-top pop-up tent is very interesting.  What's the story behind that feature?
One limitation that holds back families from purchasing truck campers is lack of sleeping capacity.  If you have a larger family, the Roost roof-top pop-up tent opens up the possibilities.  It also gives couples the option of sleeping in the cabover, or in the pop-up tent area.  It's the best of both worlds – hard side and pop-up truck campers.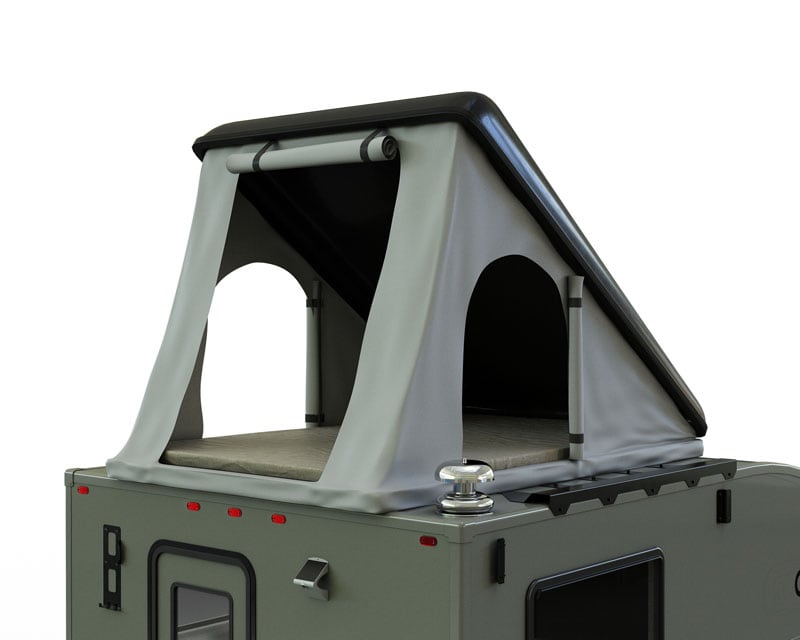 The Roost is accessible from inside the unit through an access hatch, or from the exterior via a ladder.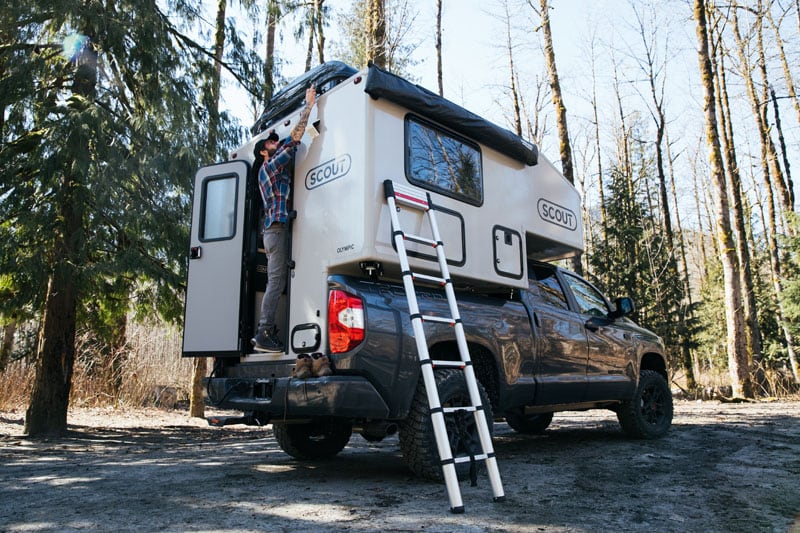 To deploy the Roost's bed, you just unclip two safety clips, remove a pin, and two gas struts lift it open.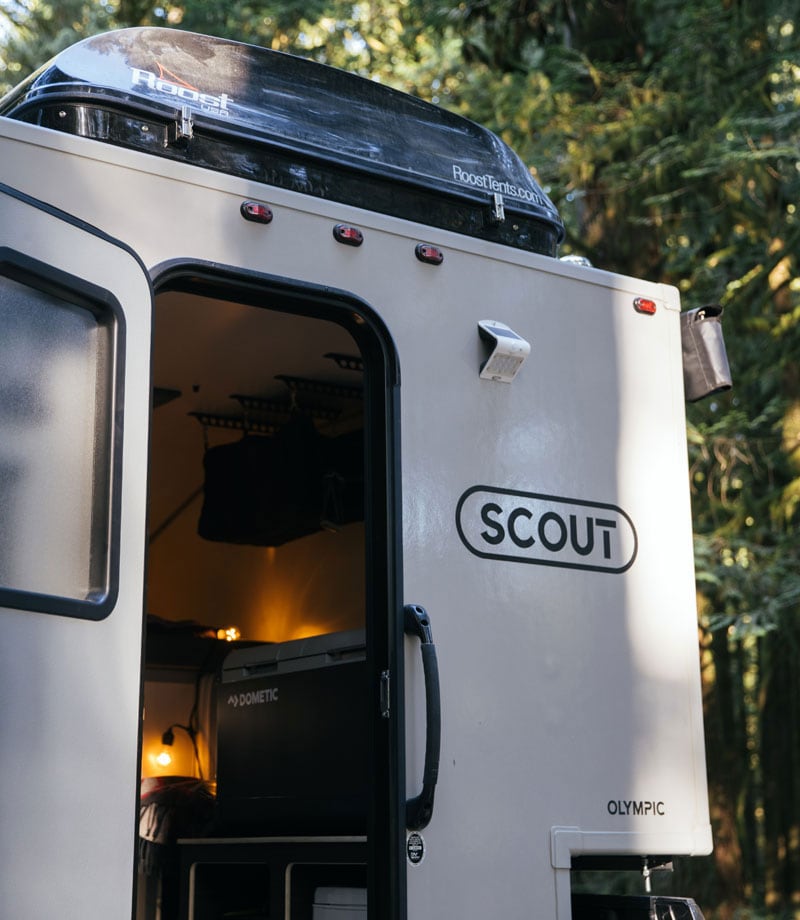 Above: Safety clips on the Roost Rooftop Tent
Another great feature of the rooftop tent is that it doubles as additional storage.  You can easily remove the mattress and use this for carrying additional gear like skis or snowboards.
In the information submitted to Truck Camper Magazine, it says the corner jacks are removable, "to lower travel weight and gain maneuverability".  How did you make the jacks removable?
We partnered with Happijac to co-design a new quick-release removable jack system for the Scout.  By making the jacks removable, we reduce 120-pounds from the camper.  Once the camper is loaded, the owner can leave the jacks at home.
Some owners will choose to permanently affix their Scout to their truck.  Others will prefer to keep their jacks attached for loading and unloading versatility.  By making the jacks removable, we give them that option.
Can the Scout be used demounted with the removable jacks installed?
Yes, it can.  We always recommend using a stabilizer system if you intend to use a camper off the truck, but there are no issues using it this way.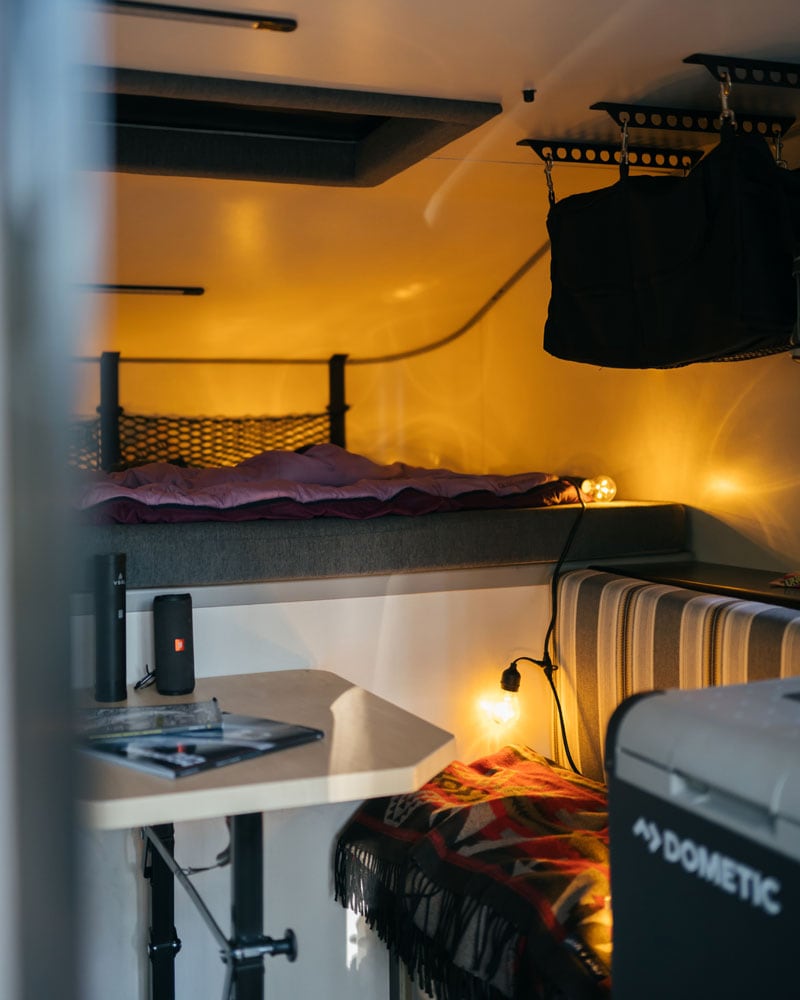 Tell us about the interior cabinetry and countertop materials, fabrics and decor.  How did you choose the materials, colors, and the overall interior look?
As we have successfully done with our Adventurer and Eagle Cap lines, we partnered with MB Designs in Yakima, Washington to develop the interior decor of Scout.
MB Designs was able to take our Scout brand guidelines and run with them.  We wanted a northwest outdoor vibe for Scout and selected local vendors when possible.  For example, we chose a fabric by Pendleton Woolen Mills of Portland, Oregon.  The resulting interior look is exactly what we were hoping for.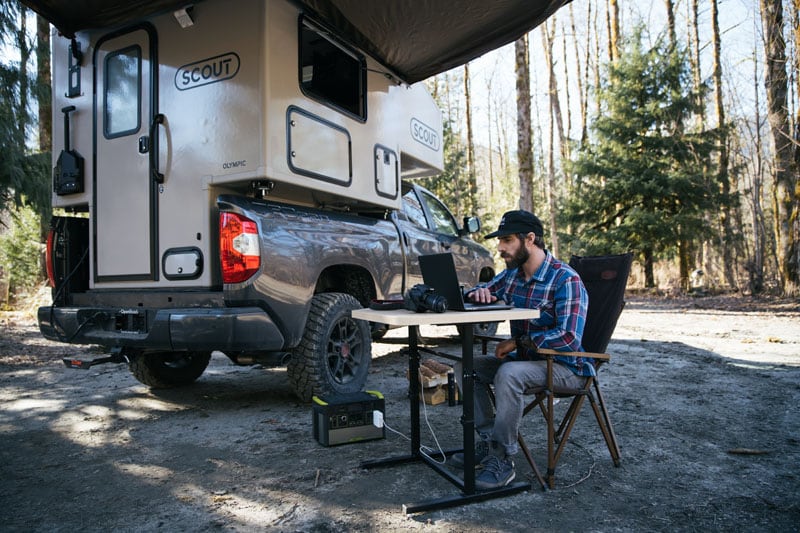 Above and below: You can remove the table from inside the camper and use it outside
Detachable and removable components are a significant part of the Scout concept.  What's the thinking behind this approach?
With traditional RVs, all of the components are built-in and have a single purpose.  By focusing on removable components, we allow Scout owners to invest in their outdoor lifestyle as a whole.
Removable and portable components can be used for outside living and adventure experiences well beyond truck camping.  For example, you can take a 12-volt refrigerator out of the Scout and use it for a tent camping trip.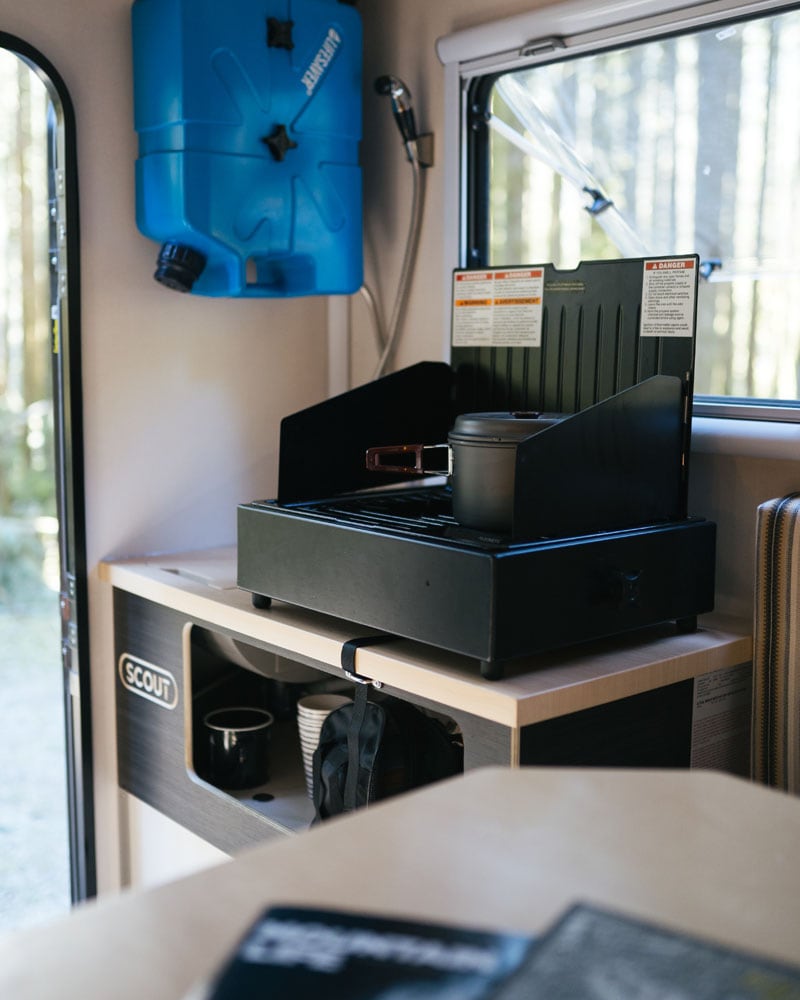 Above: The table-top cooktop and 4.9-gallon jerry can with fresh water
Besides, potential Scout owners may already own a 12-volt refrigerator, a table-top cooktop, or another portable camping appliance.  They can use their current multi-purpose outdoor lifestyle products with the Scout.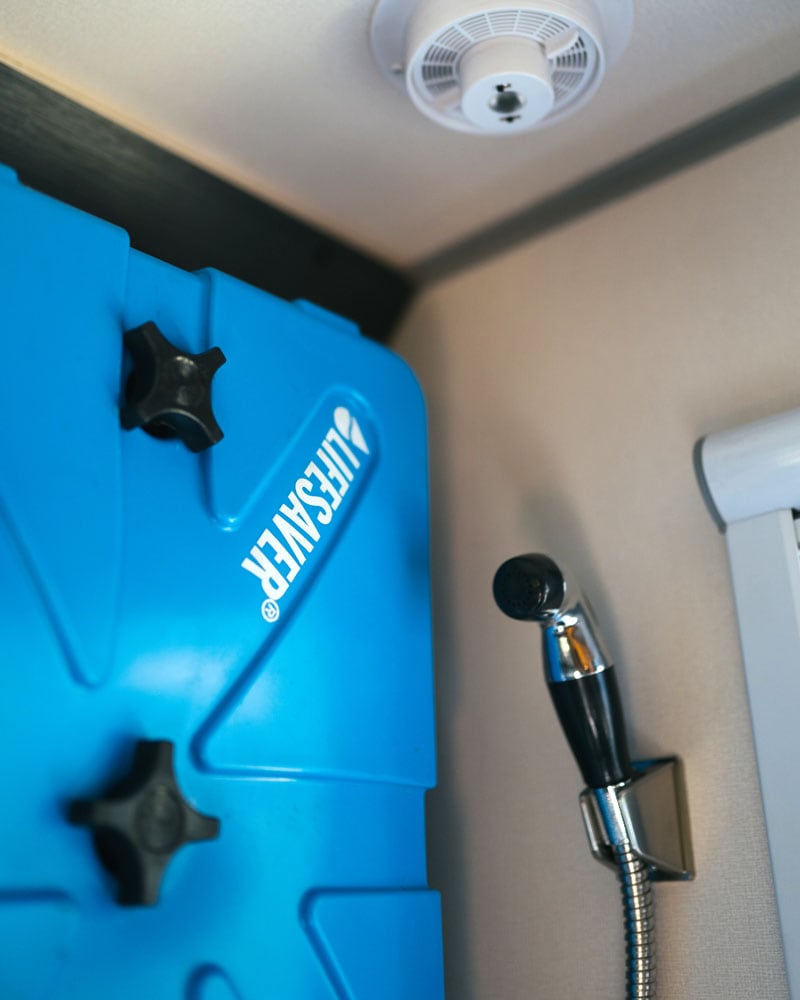 Why did you chose the gravity-fed detachable water storage and filtration system instead of a traditional fresh tank and water pump?
The detachable LifeSaver portable jerrycan system was chosen for simplicity.
During our research, we found that most small truck campers have small built-in fresh tank capacities.  By utilizing LifeSaver portable jerrycan, we allow Scout owners to determine how much water they want to bring with them, and eliminate the need for plumbing, a pump, and power.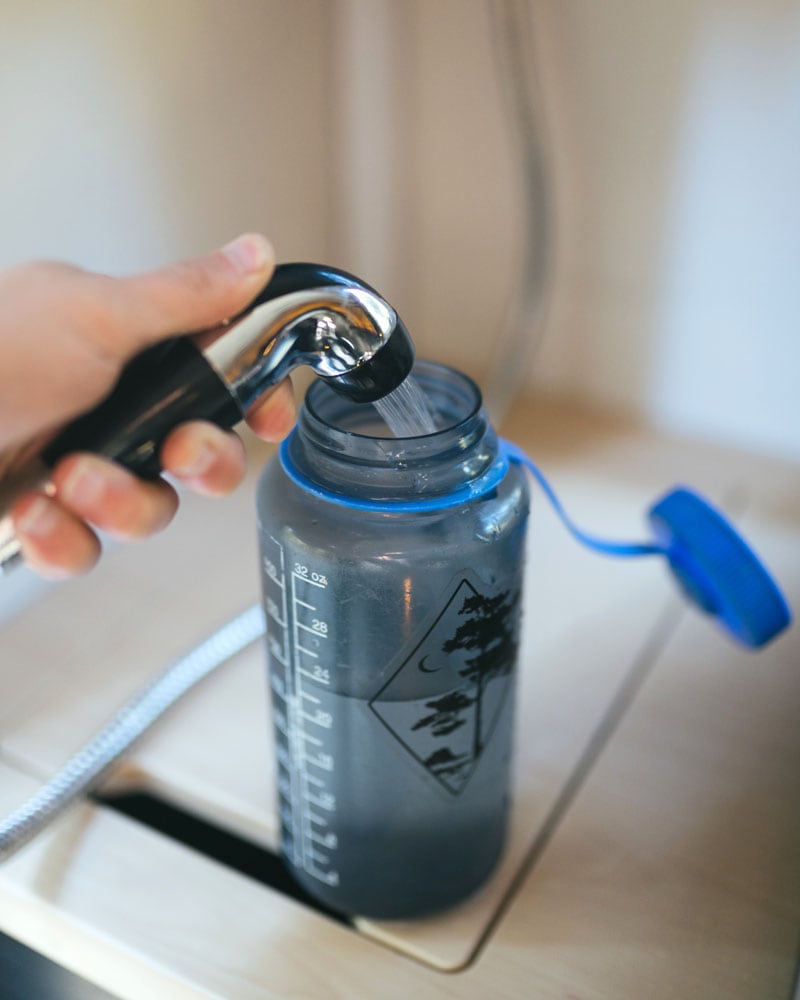 The detachable gravity-fed system is also extremely lightweight compared to an installed fresh tank, plumbing, pump, and battery bank.  The LifeSaver system also offers charcoal water filtration that can filter up to 10,000 gallons of filtered water.
Another benefit of this approach is simple winterizing and de-winterizing.  To winterize, just unscrew the water tank from the wall, walk outside, and pour it out.  To de-winterize, just screw the water tank back to the wall.  That's it.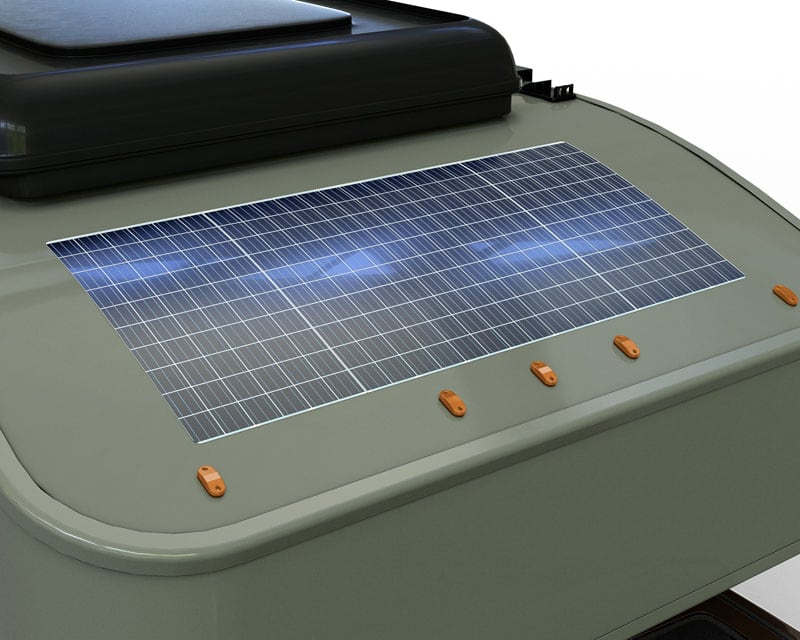 The Scout Olympic 6.5 comes with a standard built-in a 160-watt monocrystalline solar panel.  Why did you choose a built-in rather than a portable panel?
We debated the idea of a portable solar panel, but decided it was more convenient and beneficial to have it always set-up and ready to charge.  You can be parked in a grocery store parking lot and have it charging without thinking about it.
The Olympic 6.5 is our first Scout model and we are looking forward to learning from the feedback of customers.  If the built-in solar panel isn't something people want, it would be an easy change in future models.
Does the built-in 160-watt solar panel connect and charge the Goal Zero Yeti Lithium power station?
Yes.  The panel is wired to an MPPT (Maximum Power Point Tracking) solar controller to the Goal Zero.  The Goal Zero is the power source of the camper, so it needs to be connected to the solar panels to charge and power the unit.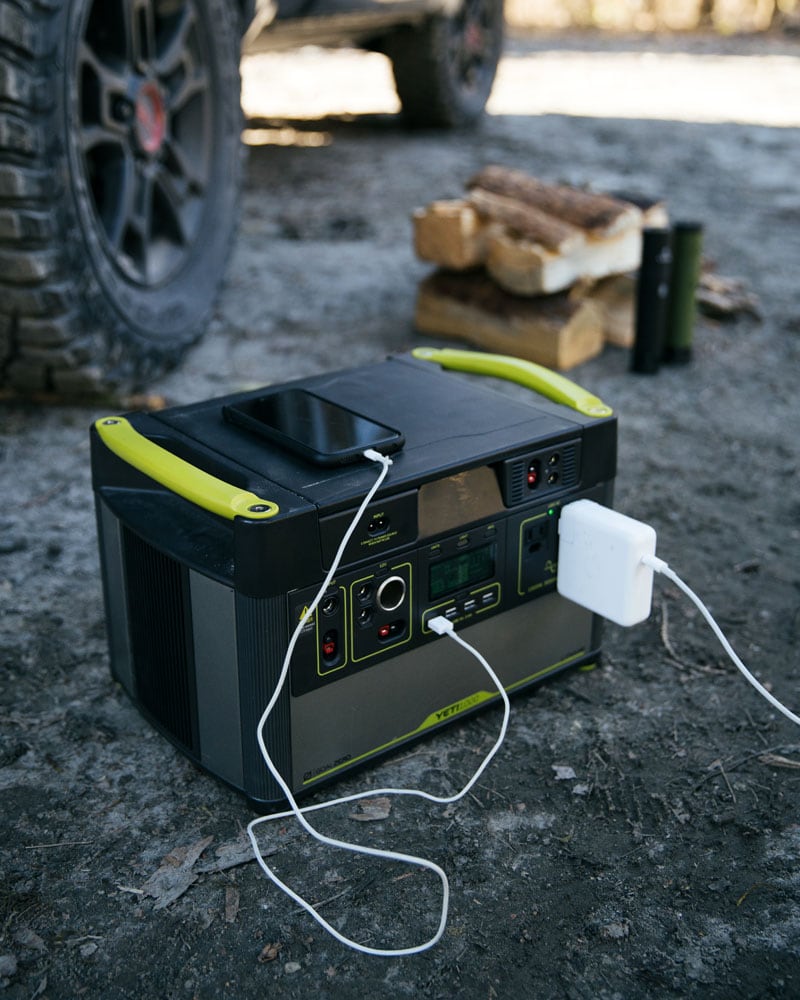 We have enjoyed the use of a Goal Zero Yeti Lithium 400 in our truck camper rig for years.  How did you decide to use a Goal Zero Yeti Lithium 1000 potable power station for the entire power needs of the Scout?
If offers the exact kind of versatility we were after with the Scout line.  By utilizing the Goal Zero Yeti Lithium 1000 portable power station, we give Scout customers the ability to take the camper battery outside, set up a laptop on the portable table, and work from anywhere.
This approach also eliminates the need for a built-in generator, large battery bank, or large inverter.  The Goal Zero powers everything in the camper and charges from the built-in solar panel.  You can plug in the refrigerator into it – inside or out.  It's not fixed.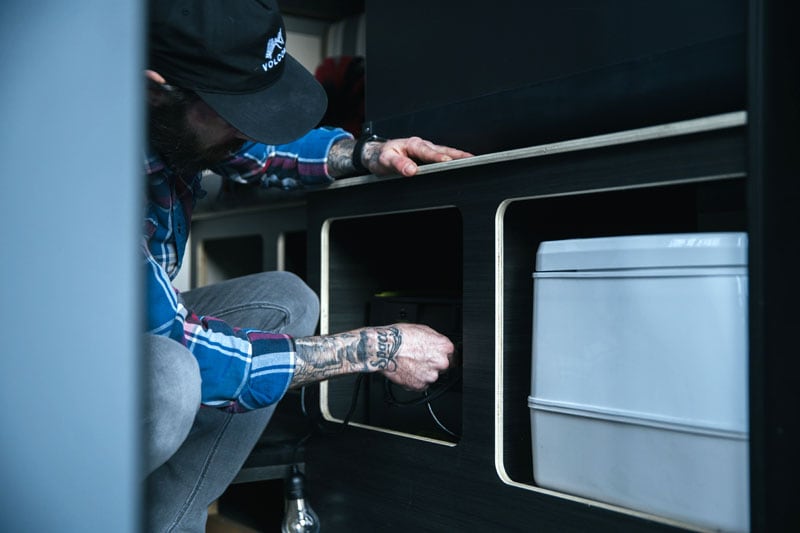 Above: Goal Zero goes in the left opening and the porta-potty in the right opening
The Goal Zero resides in a specific place in the back of the camper, just below the Dometic refrigerator-freezer.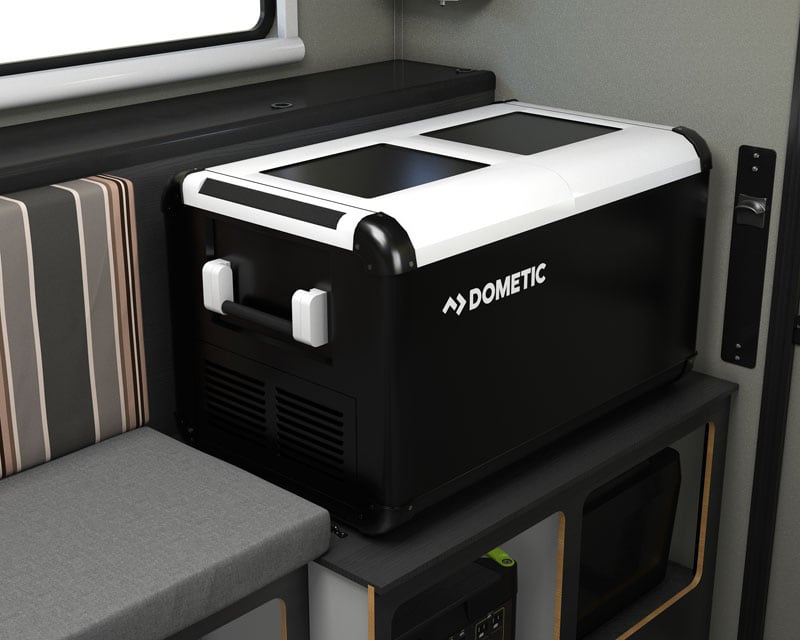 Like my grandfather, I believe everything should have a place and purpose.  Otherwise, why have it?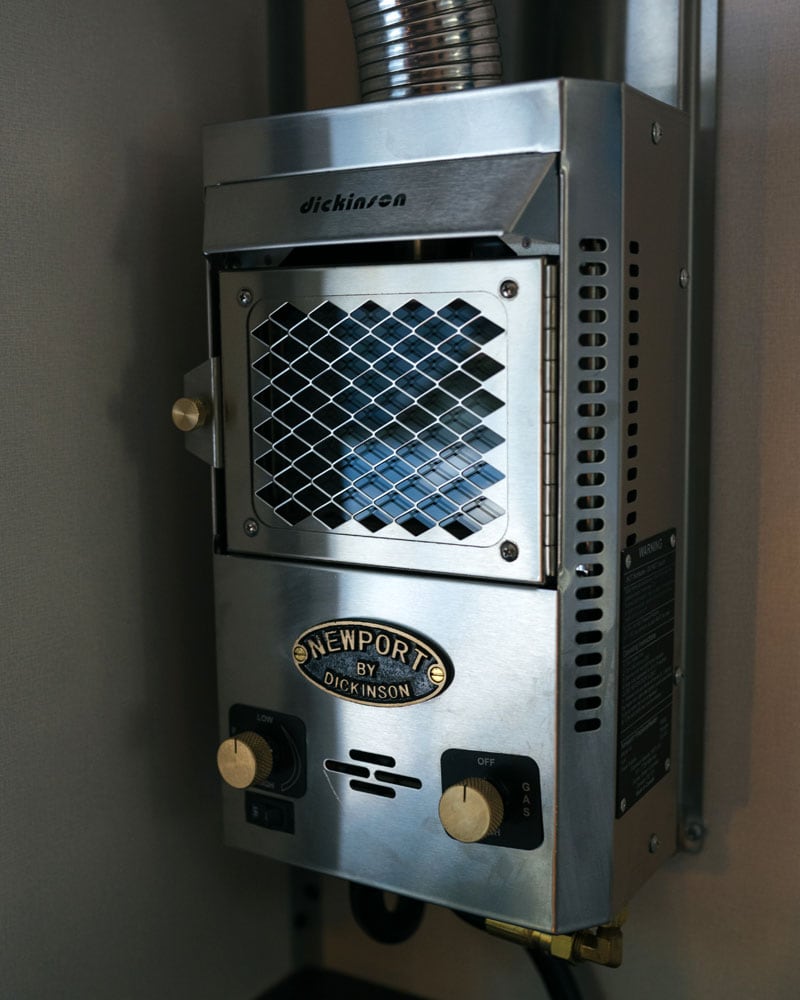 Tell us about the optional Dickinson Marine Newport P9000 propane fireplace and Camco Olympian Wave 3 catalytic heater.
Both heating systems are optional.  Scout customers can pick one or the other, or choose not to have a heater if they don't need one.
The Dickinson unit is something that I pushed for hard because it's such a nice feature.  It gives you a fireplace-like ambiance and a cozy warm feel.  It's also direct-vented outside, provides a super dry heat, and does not require power.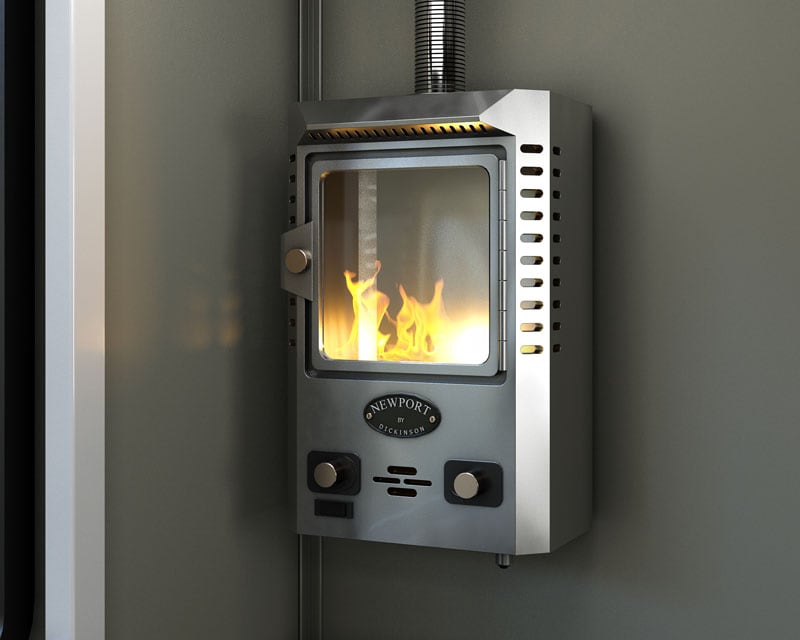 It's also exceptionally efficient.  One pound of propane will run the unit for 5.5-hours at 4,000 BTU.  From experience, it will make the camper toasty in no time, and keep you toasty too.  It's been quite successful in the marine industry and is often used in sailboats.
The Wave 3 catalytic heater is also very popular, efficient, and works well.  It's also portable, which may work better for some Scout customers.  The Wave 3 is not direct vented and requires ventilation for safety.  We have designed venting to allow for this and all you need to do is remove the caps.
The price of the Wave 3 option is $488.  The price of the Dickinson Marine Newport P9000 propane fireplace is $1,268.
There is very good value in the Dickinson because of our buying power.  On the Dickinson website, the P9000 is $1,301, but you get it installed and vented for less. I believe for a heating option, the Dickinson is the route to go.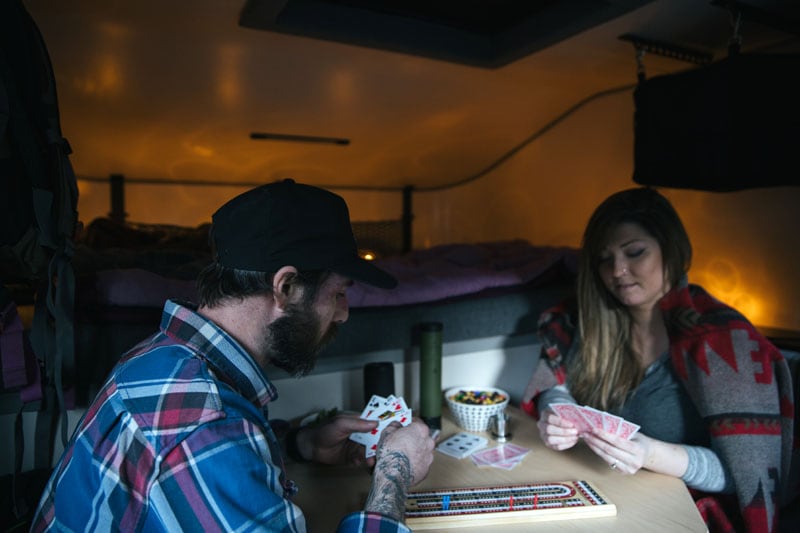 Were there many iterations of the Scout Olympic 6.5 during development?
We have a great product development team.  There was only a need to build one prototype, but we went through a lot of designs during the conceptual stages.  That's when we were throwing ideas together and trying lots of different approaches.  Through that process, we determined what was negotiable in the design and brand strategy, and what wasn't.  From there, engineering developed drawings that became the prototype.
Once the prototype was built, we went through the final refinements to ensure the best experience possible for our customers.  We refined things like where the various features were mounted.  Small changes added up to big improvements.
Why did you decide not to include a bathroom?
That decision was based on our weight target.  We would love to make a bathroom out of helium, but we can't.  For the Scout, if a feature wouldn't work within the confines of our weight target, it was eliminated.
In the Olympic 6.5 we have an option for the porta-potty.  There are also some cool options for exterior bathrooms.  If you look up 23Zero, they have a nice outside bathroom enclosure that should work well with the Scout.  We also have upcoming options for portable hot water showers.
Why does the Scout Olympic 6.5 feature an east-west cabover?
Again, that's a decision based on keeping the weight down.  The longer and larger the camper, the more weight you add.
For folks who might prefer a north-south cabover, we are looking at an extendable bed option similar to what you find in some pop-up truck campers.  That would give you a larger bed in the same overall camper length.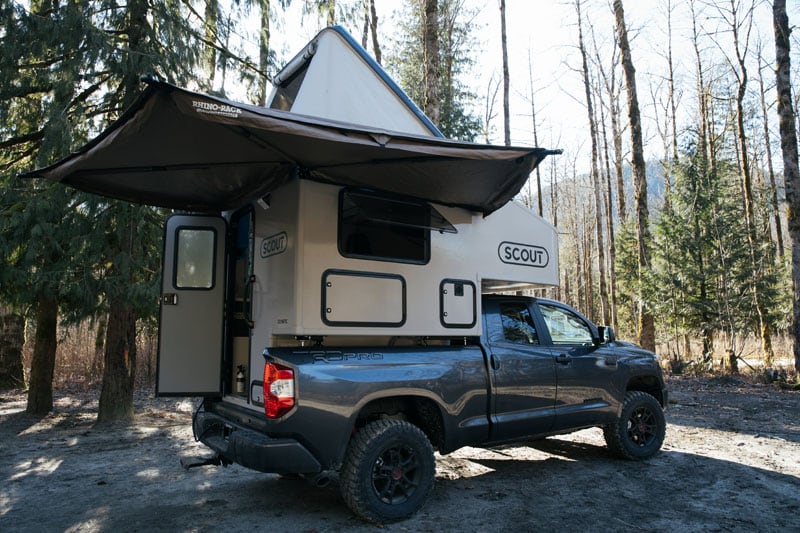 Above: Optional Rhino Rack Batwing awning
What options are available for the Scout Olympic 6.5?
Options are Roto Pax, Roost rooftop tent, Rhino Rack Batwing awning, removable camper jacks, portable indoor/outdoor gas cooktop, portable Dometic toilet, hanging storage backs, Gear Locker roll out tabletop with storage, the Dometic refrigerator-freezer with Wifi, and the heating options I mentioned above.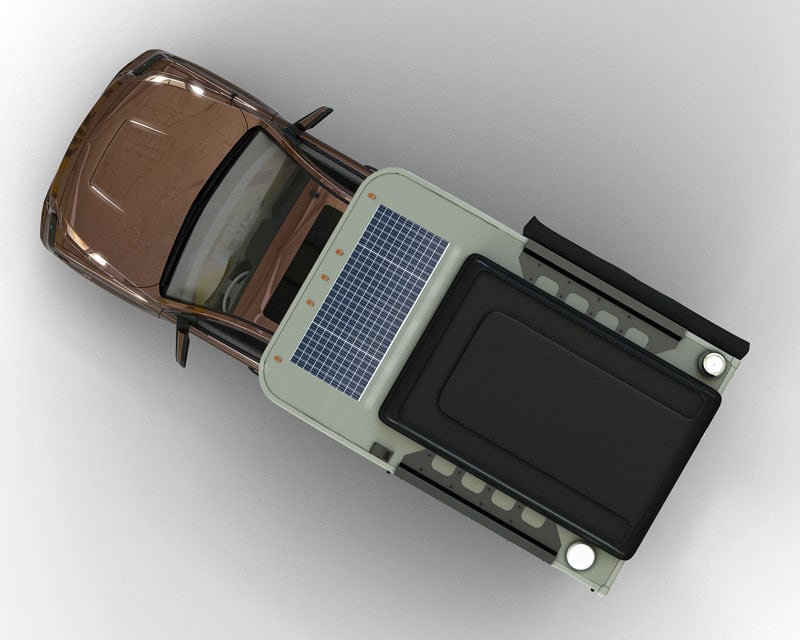 Can you get an air conditioner for the Scout?
For now, we are not offering an air conditioner model.  That decision goes back to our minimalistic approach and preference to not have features built-in.
Built-in air conditioners require a significant amount of power.  That puts a high demand on batteries and inverters, or necessitates being plugged into a generator or shore power.
We are looking into portable air conditioner options for customers who need that option.  In the meantime, the large windows provide a lot of cross-ventilation and the solar off-grid exhaust fan pulls through a good amount of air.
How many propane tanks does the Scout have?  And what size are they?
The Scout Olympic 6.5 has two 5-pound propane tanks located in an external vented compartment.  Because there is very little propane demand in the Scout, we decided on the smaller propane tanks.  They only need to support cooking and heat.
The propane fittings on these tanks are standard, so they can be filled anywhere.  Owners could also bring additional 5-pound propane tanks if they needed additional capacity.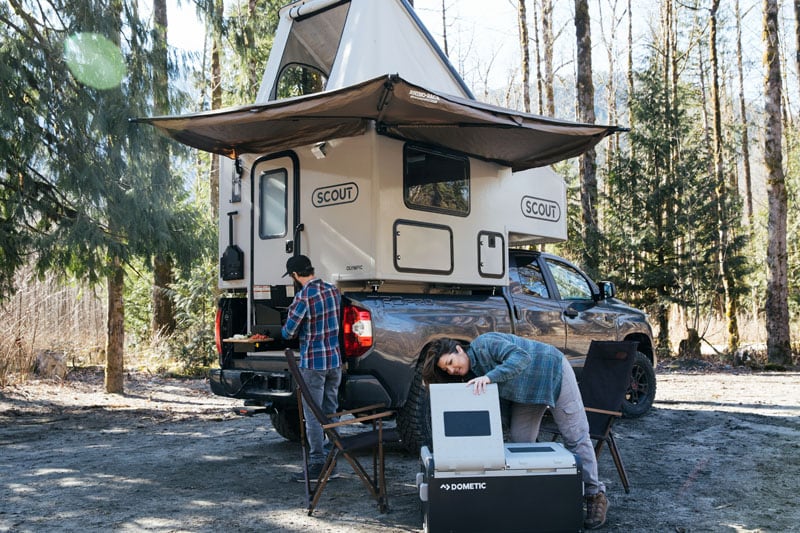 What is the entry step system for the Scout?
Scout owners have many options for entry steps, but we recommend a set of EZ Hitch Steps.  We have tried a Reese step, but it's only a single step.  EZ Hitch Steps have three steps with different departure angles to suit your set-up and preferences.
Will Scout truck campers be sold factory direct or through dealers?
Scout truck campers will be sold through dealers.  Right now, we are in the process of setting up Scout dealers and welcoming new dealer inquiries.  We are partnering with some of our current Adventurer Manufacturing dealers to carry the Scout Olympic 6.5.
We are not going to flood the market with Scout truck campers.  Instead, we are taking a slow and controlled approach and will build as many as the consumer demands.  Our goal is to build what our customers want.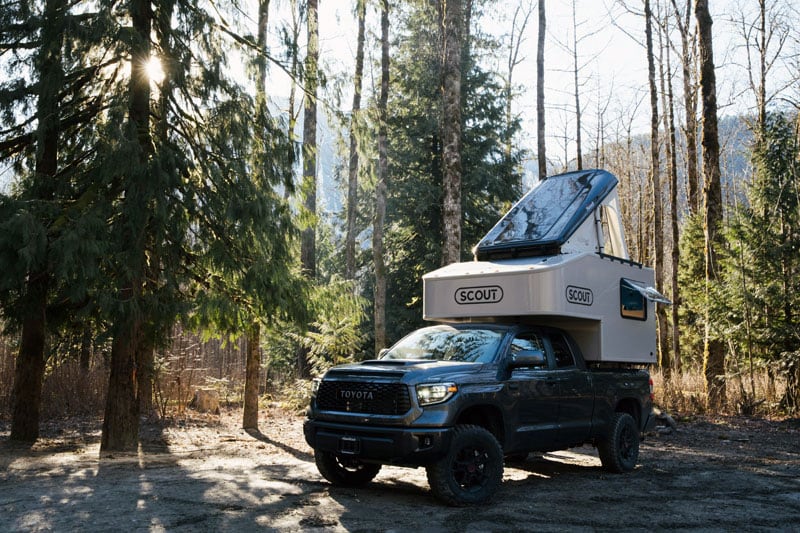 When will Scout Olympic 6.5 be available?
On May 4th we may be back up and running at Adventurer Manufacturing.  If we are, we will be starting on Scout Olympic 6.5 production right away.  With that timeline, we could see the Scout available before the end of May.  As we are seeing a high level of interest, it won't be long before we sell out of our initial build dates.
Can we expect to see more Scout models debut this year?
Yes.  We have two more models set to debut in 2020.
The Scout Yoho will be the next model.  It will be a 5.5-foot floor plan making it ideal for small-midsize import and domestic trucks.  We are targeting a base weight of 900-pounds for the Yoho, which will follow a similar design and approach as the Olympic, but will not feature the rooftop tent due to the reduced weight capacities of the smaller trucks.
The Scout Kenai is also planned for a 2020 launch.  Designed for full-size half-ton and larger trucks, it will feature a wet bath.  The Kenai will also feature a ski and gear locker on the back.  There will be some fun details about that model that we'll announce closer to the release date.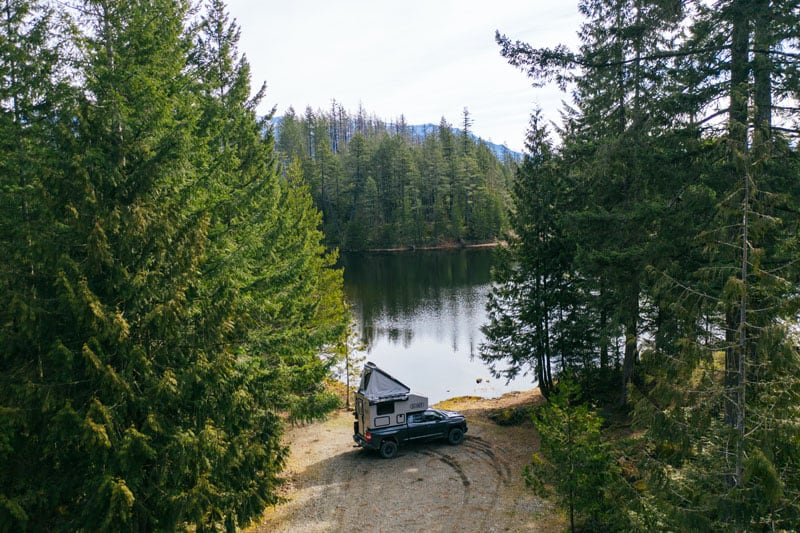 Will there be more Scout models after that?  Maybe a Scout Banff?
It's certainly possible, but not in the plans yet.
Will we ever see a Scout truck camper with a slide-out?
Not for the Scout.  The Kenai will be the biggest Scout – at least for now.  I can see two campers in the 8-foot floor plan size in the future, but no bigger.
What is the warranty for a Scout truck camper?
Scout truck campers will have the same warranty as all Adventurer Manufacturing products; a three-year structural warranty.  All appliances have their own warranties.
If someone has a warranty claim for a Scout truck camper, can they go to an Adventurer or Eagle Cap dealer for warranty service?
Our customers will have the full support of Adventurer Manufacturing to assist them in anything they need.  We have great dealer partners in the field.
What is the base MSRP of the 2020 Scout 6.5?
The base price of the Scout is $19,980 USD.
What is the MSRP of a fully-optioned 2020 Scout 6.5?
A fully-loaded Scout adds about $10,000.  That includes the Roost roof-top pop-up tent ($4,680), the Dickinson Marine Newport P9000 ($1,268) and every other option.  All totaled, a fully-loaded 2020 Scout Olympic 6.5 is just under $30,000.
What would that fully-loaded Scout Olympic 6.5 weigh?
My Scout is a fully-loaded Olympic 6.5.  With every option, it weighs 1,684-pounds dry.
We are working on an online build-your-own system for Scout.  This would allow customers to option a Scout and calculate what it would weigh and cost.  For example, the Roost roof-top tent is 260-pounds and the removable jacks are 120-pounds.
Has the development of Scout impacted the design thinking for the Adventurer and Eagle Cap truck camper brands?
There are always some key takeaways and learnings that can be applied in other areas.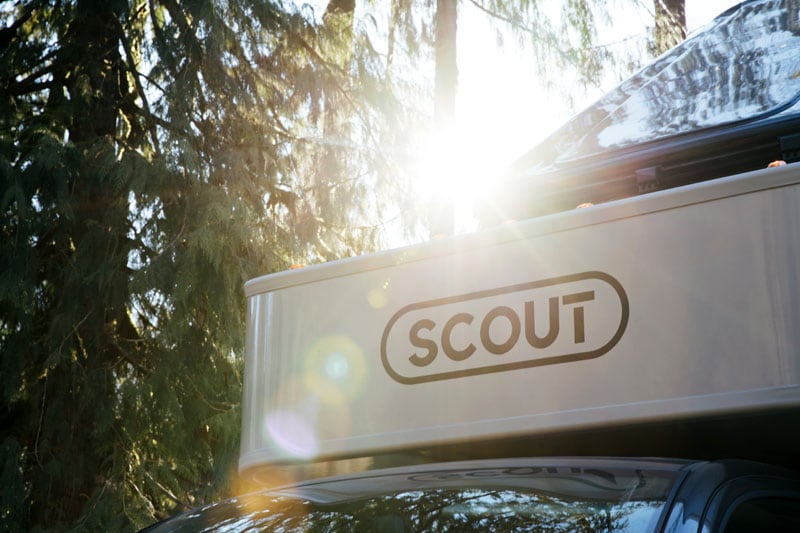 Where do you envision the Scout truck camper line in five years?
Our customers will guide us.  There's a lot of potential for Scout.  Adventurer is our foundational brand, but Scout will become a big part of what we do.
A big thing for me is continuing to focus on our customers, partnerships, and community.  Ultimately, the community is what influences our direction.
Have you taken a Scout Olympic out camping?
Unfortunately, I haven't.  We have spent a lot of time in it, but no overnights. Recent events have precluded camping, and it was -10 degrees during our photoshoot.  That was a good test of the Dickinson heater.  It kept our models and marketing team nice and toasty inside the camper.
How is Adventurer Manufacturing doing through the coronavirus situation?
It is of utmost importance to follow the protocols set by the authorities and stay safe as a team and community.  We are happy to report that we are supporting our entire Adventurer Manufacturing team through this.
Our management team is working remotely from home; customer service, marketing, sales, engineering, and accounting.  Dealer partners are able to work with us via phone calls and emails.  We are implementing more channels of communication, and launching a new blog on our website amlrv.com.
We recently wrote our first blog titled, "How to Keep Adventuring During the Pandemic".  It's our way to try to influence positivity and inspire our community.  Adventuring does not have to stop because of the pandemic.  We can adventure in our backyard, reminisce about past adventures, or clean our rigs for the next outing.
It's been encouraging to see our team and community come together.  We are all eager to put this in the past and get back to work.  In the meantime, the management team is still in operation – remotely – while we do what's necessary to be safe.
Above: The Scout brand introduction video featuring the 2020 Scout Olympic 6.5
One of the highlights of my day recently is when my young son, Hunter, ran to me and said, "I want to watch the big house".  He calls the Scout the big house, and he wants to see the Scout video we made.  Being in quarantine has been challenging, but time with my family has been great.
To learn more about Scout campers, visit their website at scoutcampers.com. Click here to request a free Scout brochure.