Adventurer launches their next generation of truck campers with two-tone exteriors, all-new interiors, new jacks, new LED lighting, all Dometic appliances, a moon roof and more.  Three Adventurer models are out and three more are on the way.  It's a big year in Yakima.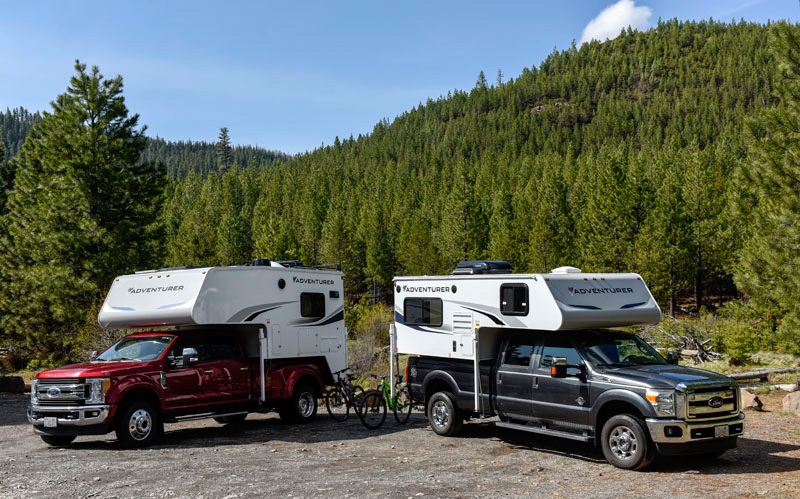 Above: 2020 Adventurer 86FB and 80RB
This past November we reported on a number of major new equipment purchases and production processes underway at Adventurer Manufacturing.  Combined with an company-wide implementation of 5S Lean Manufacturing and an aggressive factory reorganization, these changes were laying the groundwork for significant leaps in production, quality and capacity at the Yakima, Washington manufacturer.
While the management team was mum on details, it was clear that something big was brewing.  Dave Frampton, General Manager for Adventurer Manufacturing, was particularly fired-up.  As he took us through the plant, his excitement about the new TigerStop TigerSaw, Biesse Silco SK4 and many other new equipment and process upgrades was unmistakable.  It's been a long time since we've seen a major truck camper manufacturer with that kind of enthusiasm for pushing forward.
Six-months later it should be no surprise that Adventurer Manufacturing is practically exploding at the seams with 2020 product news and updates.  For starters, they have an all-new two-tone exterior with fresh graphics and a sharp new Adventurer logo.
On the inside, Adventurer stepped it up with two all-new interiors including just about every material and color.  The new interiors are further enhanced by an exclusive with Dometic appliances and a new cabover moon roof.  Oh, and last year's Adventurer interiors are history.  And so are three Adventurer models.
If that was all the news coming out of Yakima, we would still have an important story – but there's more.  Later this year Adventurer Manufacturing will debut not one, not two, but three all-new Adventurer models targeting the half-ton market.  That's right – three!
All of this comes on the heels of last August's Adventurer 901SB 50th Anniversary model, itself an audacious vision for where Adventurer Manufacturing is going as a company.  The 901SB went on to win Truck Camper Magazine's Readers' Choice Awards for Best Truck Camper of 2018.  The importance of that design will become even more apparent when you absorb Adventurer's changes for 2020.  They weren't kidding when they said the 901SB was the future.
To get to the bottom of all the 2020 Adventurer changes, we talked to Greg Tucknies, National Sales Manager for Adventurer Manufacturing.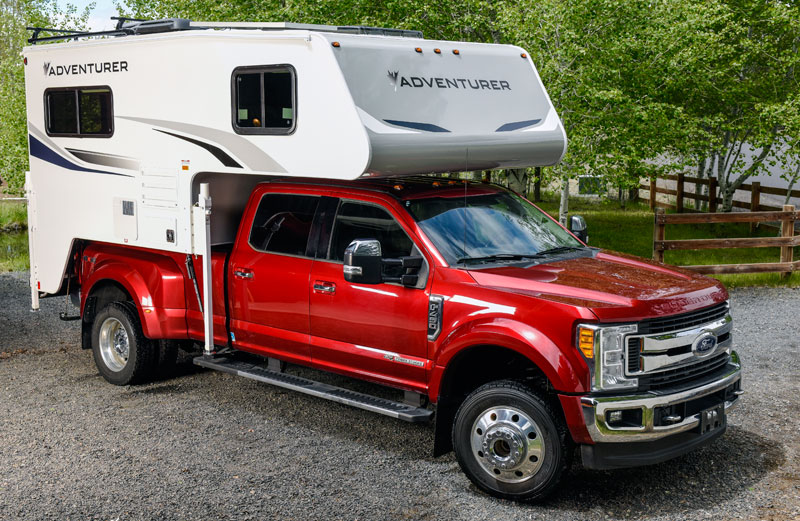 Above: A 2020 Adventurer 86FB on a Ford F450
Before we talk about all the model year updates for 2020, let's talk about the three models being discontinued; 80GS, 80S, and 116DS.  Why are these models being discontinued?
The Adventurer 80S missed the weight target for half-ton trucks.  The final production 80S was better suited to three-quarter tons.  That was not the marketplace opportunity we were after, so we discontinued the 80S since those truck owners typically upgrade to our 86FB and 89RB models.
We are coming out with an all-new mid-sized and half-ton focused truck camper line this summer.  As part of that effort, there are some very exciting material and design innovations in the works.  We are going to hit the half-ton target this time.
The Adventurer 80GS has been hanging on since the introduction of the 80RB in late 2013.  With the new line coming out mid-year, we decided it was time to pull the plug on the 80GS.
The Adventurer 116DS had a unique and open floor plan.  The downside of that model was the wet bath.  People who want a double-slide truck camper want a dry bath.  We will likely redesign the 116DS style floor plan in the future but, for now, it's being discontinued.
When can we expect to see the new mid-sized half-ton focused Adventurer truck camper line?
We will be debuting the new line in Truck Camper Magazine within the next 60 to 90-days.
This new line is unlike anything on the market now and will be as big of a leap forward as the Adventurer 901SB was last year.  There are a number of new and innovative structural technologies going into these new campers.
You certainly have our attention.  Speaking of the 901SB, Adventurer is putting the 901SB into production for 2020.  Originally the Adventurer 901SB was a 50th Anniversary Edition limited to just 60 units.  Have those units all sold?
There are still about thirteen 901SB 50th Anniversary Edition on dealer lots.  The 50th Anniversary Edition models have features that no other Adventurer or Eagle Cap have, or likely will have.  They are a truly a limited edition.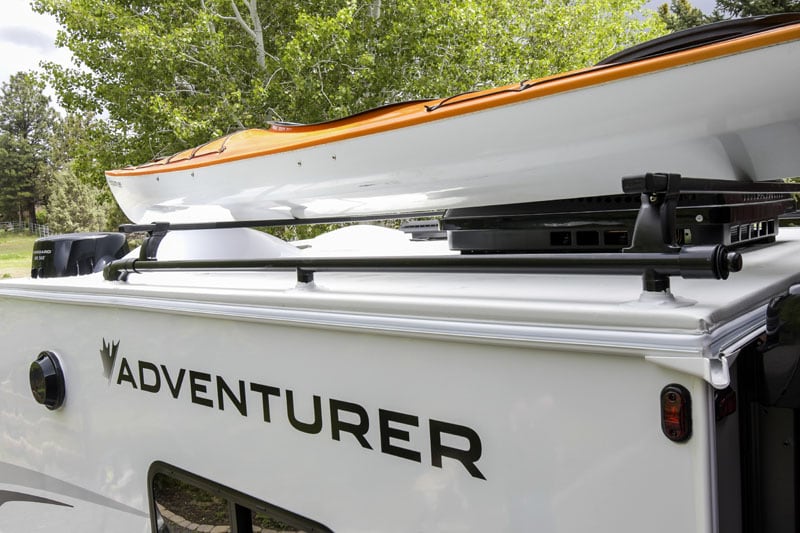 Above: The Maggie Roof Rack is now offered on the 901SB
What differentiates a 2020 Adventurer 901SB from the limited 901SB Anniversary Edition?
First, the 2020 Adventurer 901SB does not have the long list of standard options the Anniversary Edition has.  The Anniversary Edition came loaded with options, many of which are unique to the model.  Customers can order the 2020 production version with the options they want.
Second, the 2020 Adventurer 901SB will feature the new Adventurer interiors.  The new interiors offer a very different but similar look than what we showcased for the Anniversary Edition.
There are many other differences.  The touch screen in the Anniversary Edition has been replaced with more traditional Adventurer switches and monitors.  The track LED lighting in the Anniversary Edition will be featured in the 2020 Eagle Cap line, but is replaced with our new for 2020 LED lighting in the production 901SB.
The power bunk in the Anniversary Edition is now an option for the production 901SB.  We also offer the Maggie Roof Rack from the production Adventurer line instead of the Limited Edition 80/20 rack design.
The only thing that's exactly the same is the floor plan and that it's being built with all aluminum framing.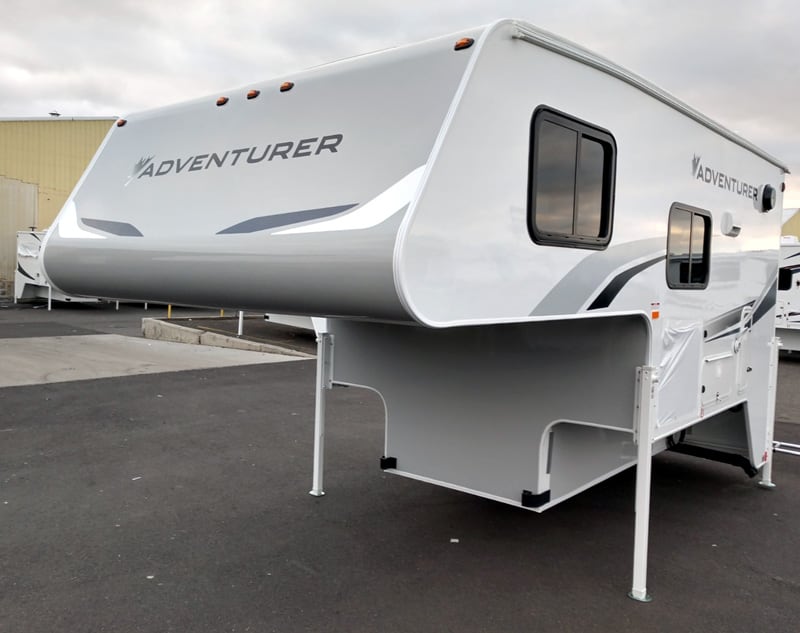 Above: The new two-tone look features grey Lamilux 4000 on the front and back, and white Lamilux 4000 on the side walls
Let's talk about the 2020 Adventurer model year updates.  The new two-tone exterior look is clearly inspired by the Adventurer 901SB but takes that aesthetic to another level.  What's the thinking behind this new look?
It really stemmed from the 901SB survey Truck Camper Magazine did for us after the 901SB Anniversary debuted.  We were concerned about the exterior grey color, but it was extremely well received by your readers.
The head of our engineering team, Shawn Matthews, suggested a two-tone look.  To see how that worked, we built the last 2019 Adventurer rental fleet model with a two-tone design approach.  Then we tweaked it.
The final result looks really sharp, crisp and new.  It also really stands out on a dealer lot, and driving down the road, it definitely looks like a new camper.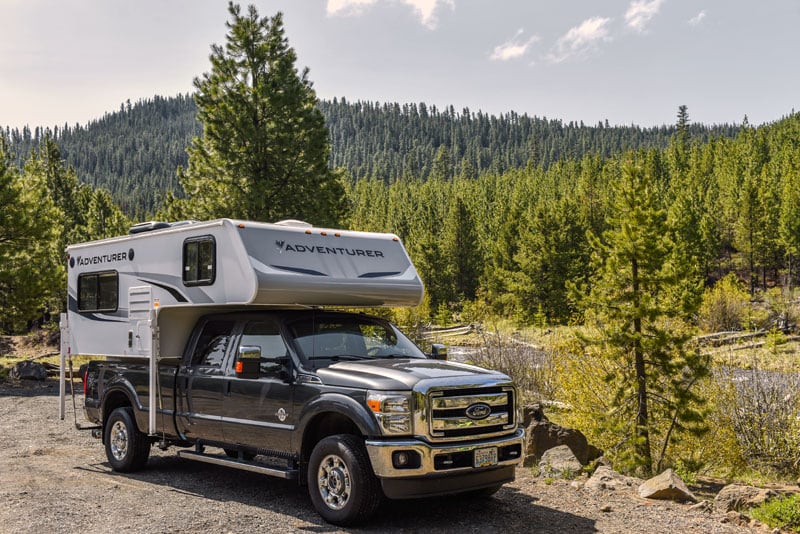 Is the two-tone exterior still Lamilux 4000 fiberglass?
Yes, it is still Lamilux 4000 fiberglass.  The color is in the gel coat.
We stayed with Lamilux 4000 because it's a thicker fiberglass with more gel coating.  Lamilux 4000 is literally twice the thickness of some competing fiberglass products.
The gloss is also very bright and does not deteriorate or yellow in the sun. Lamilux 4000 is also easier to clean and maintain.  We have been using it for years for both Adventurer and Eagle Cap.
While we're talking about this new exterior, talk to us about the new Adventurer logo.
We want to let everyone know that we're looking forward.  We are essentially building for the future.  That process kicked into overdrive with the 901SB and continues here everyday.  We wanted the new Adventurer logo to stand out.  It's a statement that we are moving forward.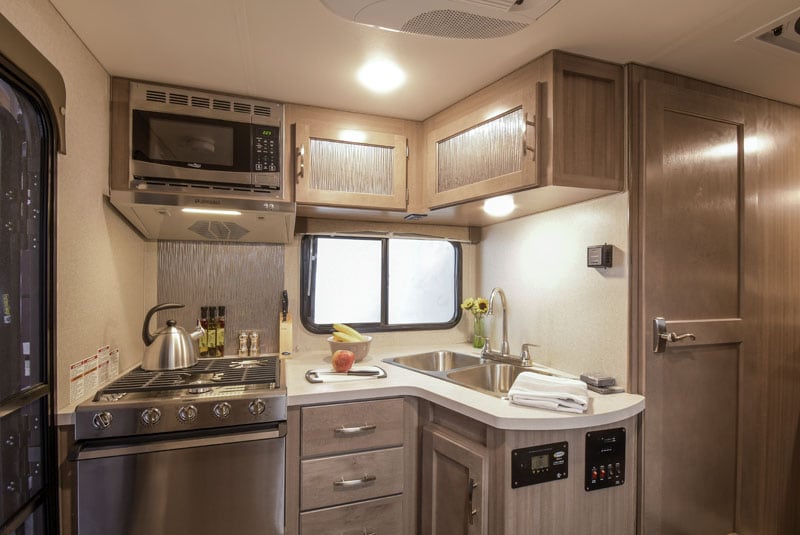 The 2020 Adventurer interiors have been completely re-imagined with new cabinetry wood, wall board and flooring.  Are these just new colors, or is the quality of the materials different?
We have improved both the quality and colors of the materials.  We had great success with M.B. Designs and their vision for the 901SB interior.  They specialize in residential design.
For our 2020 campers, we asked them to do a complete makeover of Adventurer and Eagle Cap interiors.  We asked them to start with a clean slate.  As the first 2020 Adventurer models roll off the line, we couldn't be more pleased with what they've accomplished.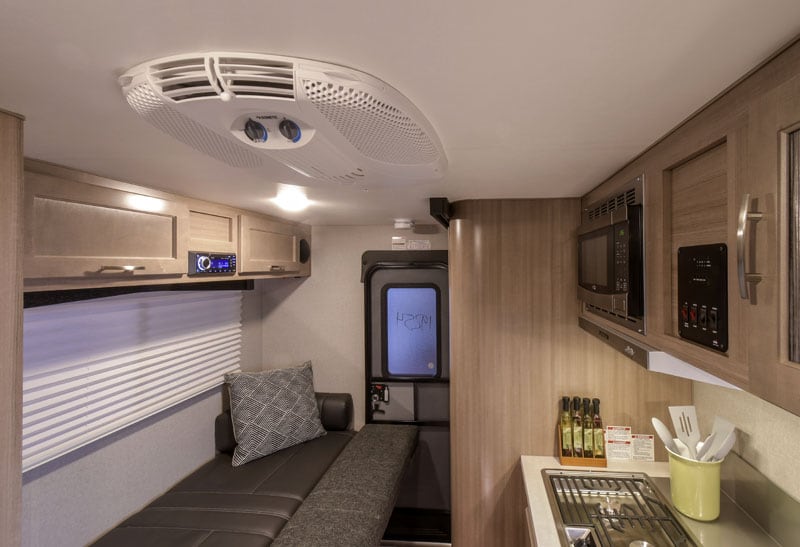 Above: 2020 Adventurer 80RB's dinette made into a bed; note the stitched cushions with the new Dark Night decor
We also upgraded the materials.  For example, there is a special padding material in the dinette cushions that gives the new stitching an automotive-look and feel.
We are also using flame-retardant fabrics.  These fabrics are far above the required code, and cost considerably more, but they are safer for our customers.  To the best of my knowledge, we are the only truck camper manufacturer using flame-retardant fabrics.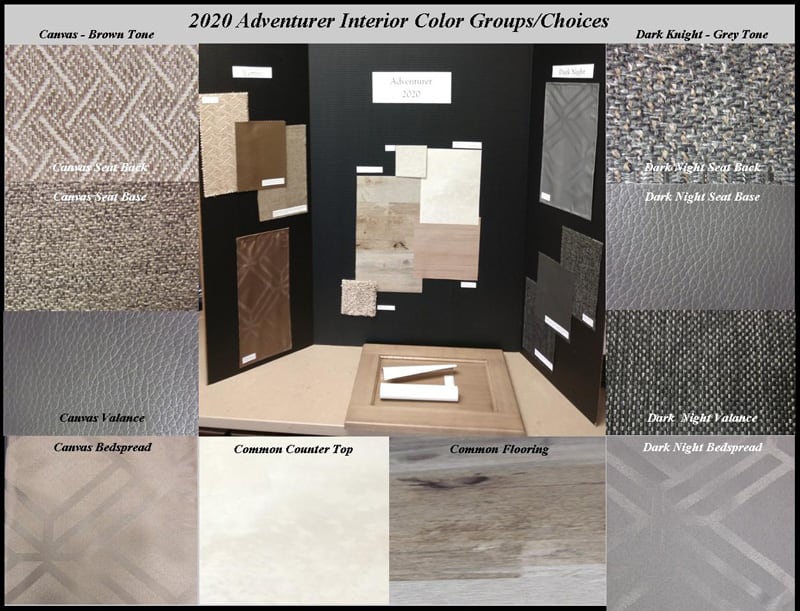 Everything in our 2020 campers has changed; the countertop colors, flooring, wood panels, wall panels, faucets, and hardware.  Even the inserts in the cabinets match the refrigerator inserts.  It's all tied in.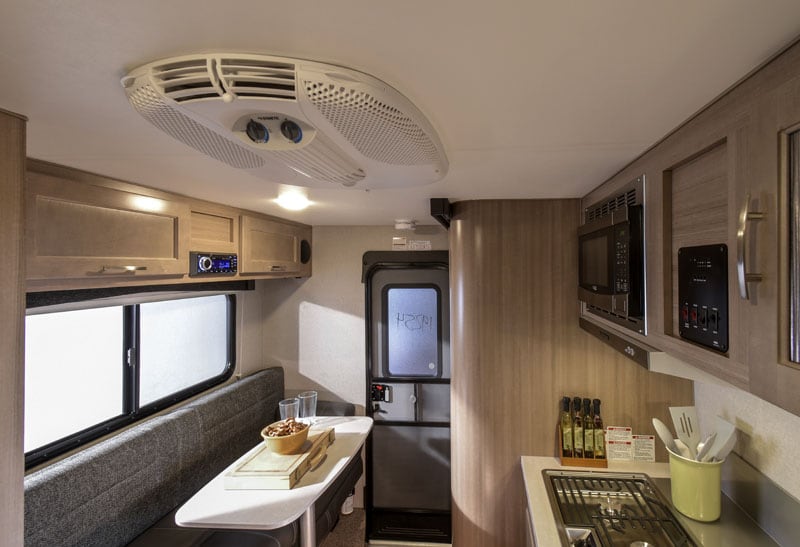 Above: New Dark Night decor in the Adventurer 80RB
Adventurer is adding two new interiors for 2020; Canvas (brown tone with fabric/fabric dinette cushions) and Dark Night (grey tone featuring faux leather dinette seat base and fabric back).  Are you continuing the 2019 interiors as well?
Actually, no.  All of the 2019 interiors are being discontinued.  This year there are only two interior options for Adventurer; Canvas and Dark Night.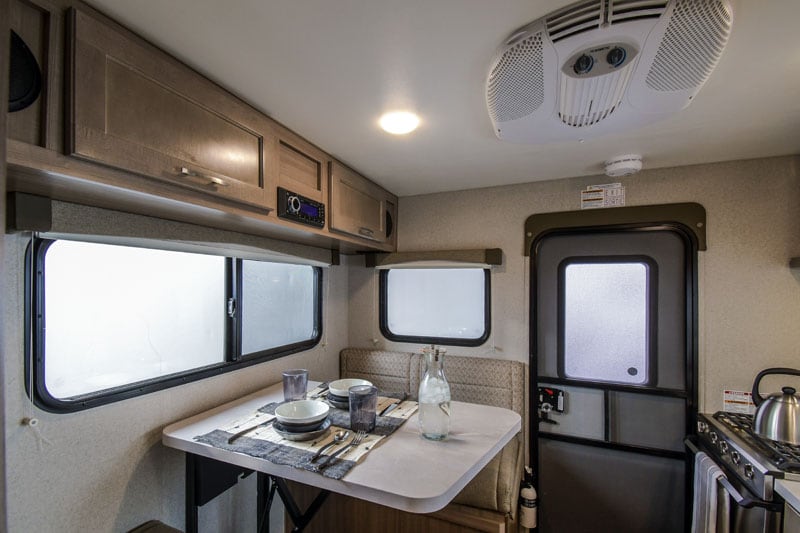 Above: New Canvas decor below in the Adventurer 86FB
We limited the Eagle Cap interiors a couple of years ago to two and it worked out well.  Both decors have been popular.  With that success, we are offering just two interiors for Adventurer in 2020.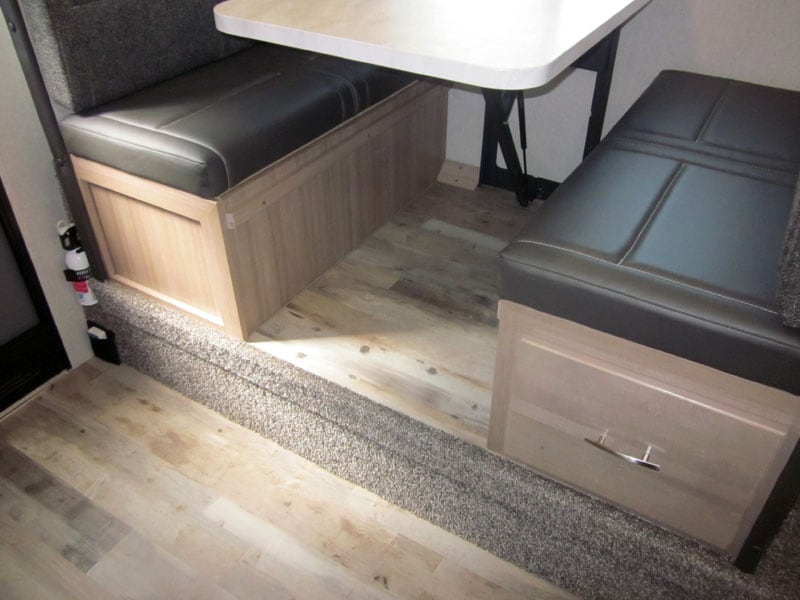 Above: New dinette flooring and dinette cushions in Dark Night
The 901SB featured some very impressive stitched faux leather seats.  Has this dinette seating style been adapted for the rest of the Adventurer line?
That's exactly what we did this year for both brands.  The cushions are pillowed and have accent colored stitching.  They are extremely comfortable, and aesthetically in a different league from our previous dinette cushions.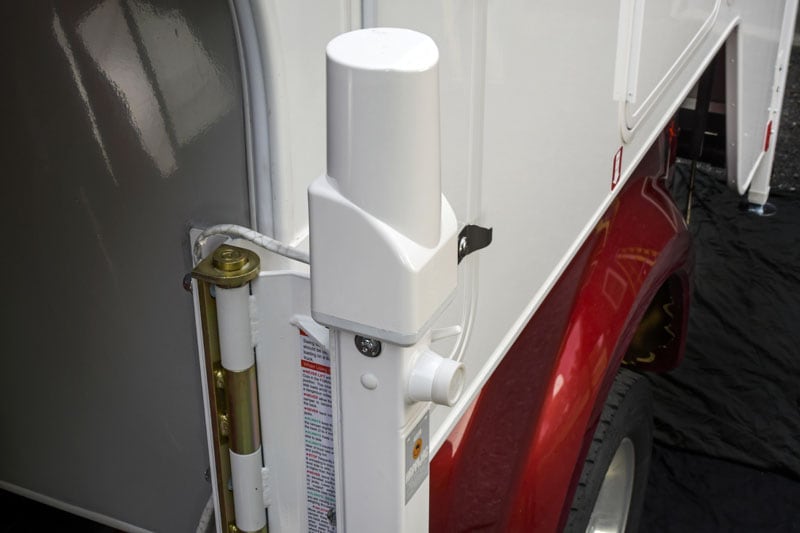 The 901SB was the first truck camper to feature Happijac's new vertical motor design camper jacks.  Now you're launching them on all 2020 Adventurer models.  How have the new jacks performed in the field so far?
The first thing we've noticed from the 60-units in the field is that we haven't had the motor issues that would happen from time to time.  Previously, Happijac would sometimes get a bad batch of motors.  With the integration of Happijac and Lippert, they have made a better jack.
The new jack also has a cleaner and more modern look.  It is supposed to be more serviceable in the field, but we haven't had to test that yet.  So far, we haven't had any warranty complaints.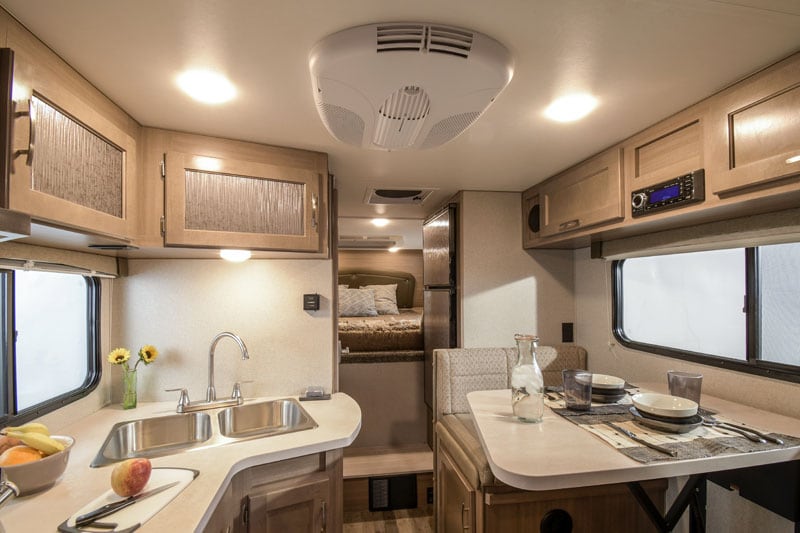 Above: The round LED lighting with a glass fixtures in the Adventurer 86FB
Tell us about the new Adventurer LED lighting that's being brought over from the Eagle Cap line.
Since 2015, the Eagle Cap line has featured round LED lighting with a glass fixtures.  These same fixtures have been employed in high-end motorhome applications.  Our own team once used a similar LED light in Alpine coaches back at Western Rec.  They were a lot more expensive then, and not as good.
The round LED lights have a clean and fresh look.  Since we got away from the touch screen and LED track in the 901SB, these low-profile round LEDs gave us the design presentation we wanted.  They're also more price appropriate for an Adventurer product.  The Adventurer brand needs to remain a value leader.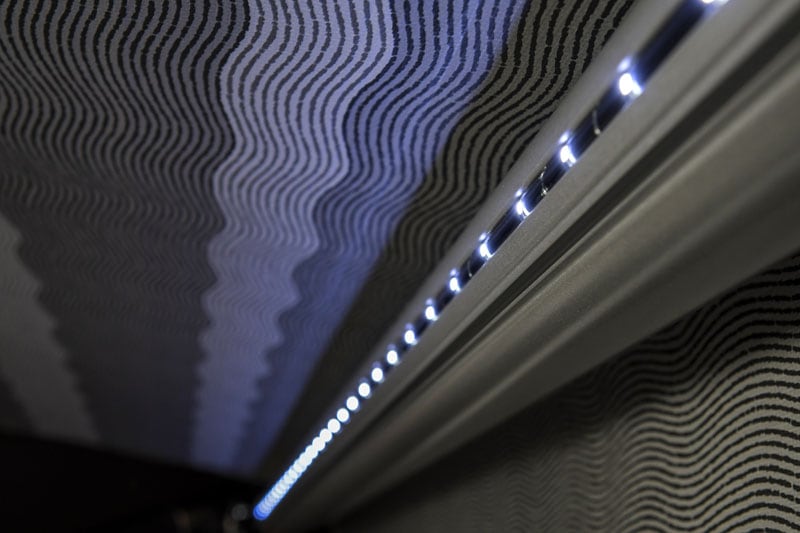 Above: LED lights in the awnings
For 2020, Adventurer is exclusively using Dometic appliances.  Why Dometic?
Dometic appliances have a higher-end look while providing better service and quality to the end user.  That was the goal in negotiating a deal with Dometic.  As part of the agreement, we were even able to get a high end cast iron cooktop grate like the 901SB Anniversary Edition had.
Above: Dometic cooktops and ovens are featured in 2020 Adventurer Campers
As a manufacturer, we can get better pricing, more serviceability and a better warranty by working with one supplier.  It's also a big advantage for our customers. Adventurer owners will be able to go to a Dometic service center for service for every appliance in the unit.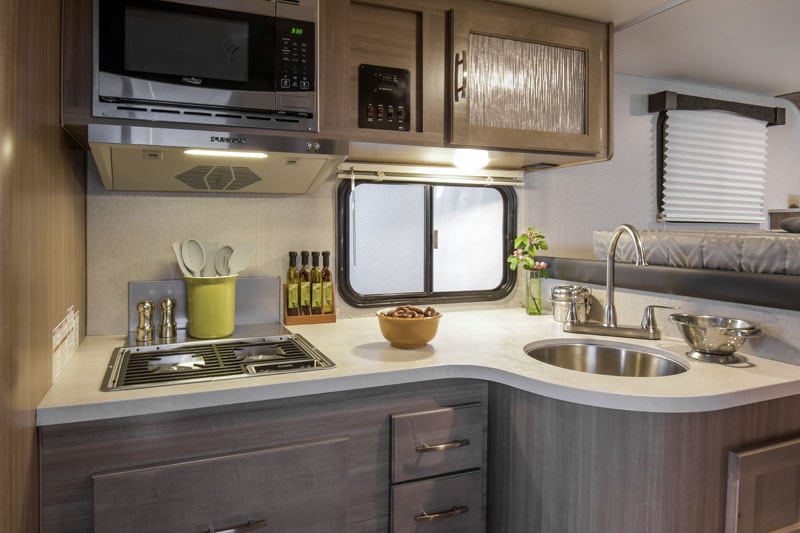 One item that's not Dometic is the Furrion hood/vent with LED lighting.  Was that brought over from the 901SB?
Yes, that was another element we first featured in the 901SB.  It has a modern look, a better exhaust fan and a brighter built-in LED light.  It offers a lot of improved features for the 2020 Adventurer owner.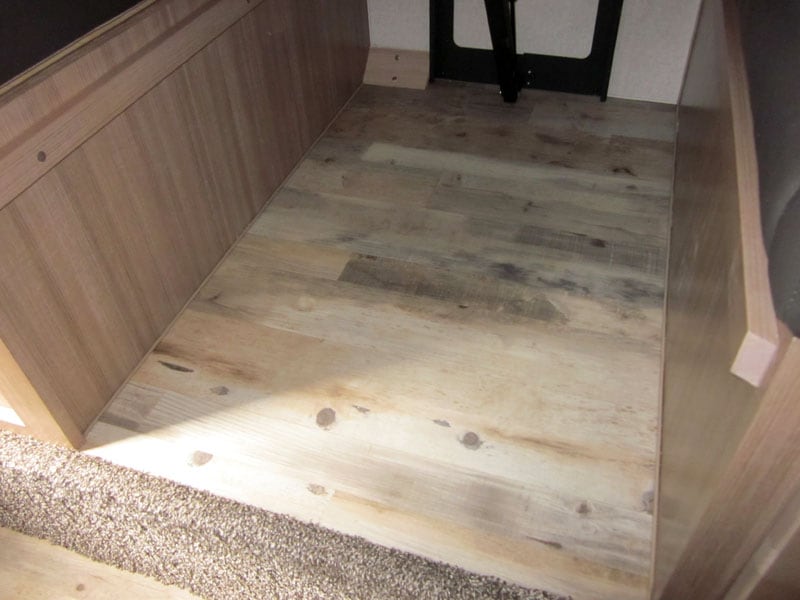 Above: Commercial-grade linoleum under the dinette
In the 2020 line, Adventurer is replacing the carpet with flooring under the dinette.  What is this material, and why are you making this change?
People have asked us many times to remove the carpet from our units, especially on our rental side.  Carpet also tends to date everything.  Even in their homes, people are moving toward tile, laminates, and hardwood.
Under the dinette is now the same commercial grade linoleum that we feature on the main floor.  No more trying to clean the carpet from shoes, pets and food spills.  You can literally sweep the linoleum clean.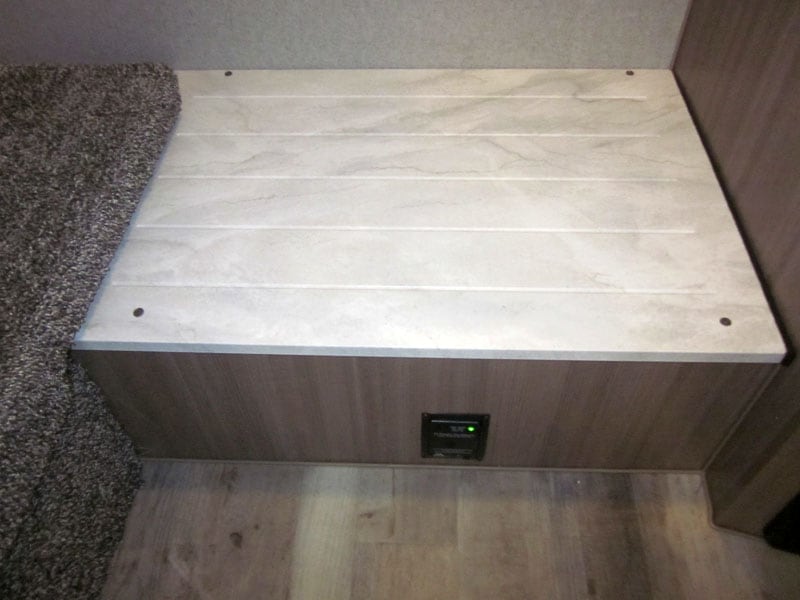 Are you completely removing carpet from the Adventurer interiors?
The cabover floor will stay carpeted for padding.  The step up to the cabover bedrooms has been changed to the same material as our countertops for a more modern finished look.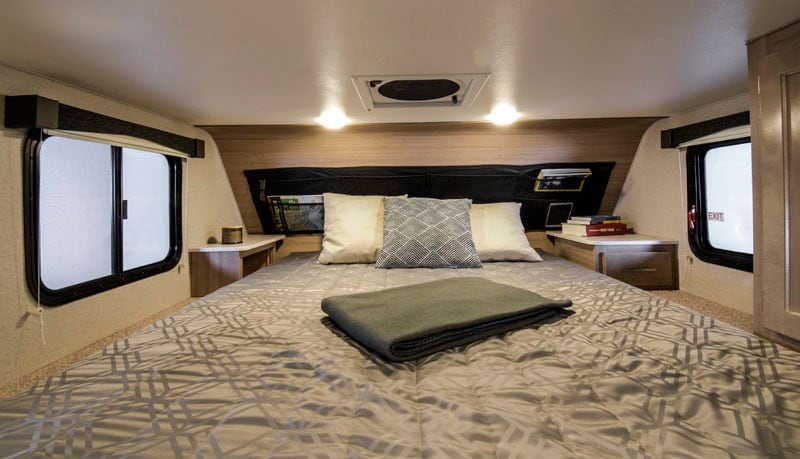 Above: The 80RB with the new double density foam mattress
Tell us about the new mattress and why it's an improvement.
When M.B. Designs presented their design for the 901SB Anniversary Edition, they asked us why we were using bedspreads.  They recommended integrating the decor into the mattress design.  It cost a bit more money, but that cost came down as we worked with the manufacturer and increased our purchase volume.
The new mattress features double density foam for more comfort and a longer lasting product.  That's a huge win for the Adventurer customer.  We took the money out of bedspread and put it into a more comfortable mattress.  It's a big plus all the way around.
Above: Hengs moon roofs are now standard in Adventurer Campers
For 2020, Adventurer is discontinuing Heki skylights and replacing them with Hengs moon roofs.  Heki skylights have been a popular feature for many years.  Why are you making this change?
The problem with Heki skylights is the availability of parts.  For example, Heki handles sometimes break.  The time frames to get those parts is considerable.  Dealers were stocking extra Heki parts because no local importer would keep them stocked.
When Hengs came out with their moonroof, it offered a nicer screen and shade.  It also has an easier latch and mounting system.  The new latch system is more positive and clamps into the entire roof structure.  There is no concern of it popping open, even when a camper is mounted backwards for shipping.  Overall, it's a much better product.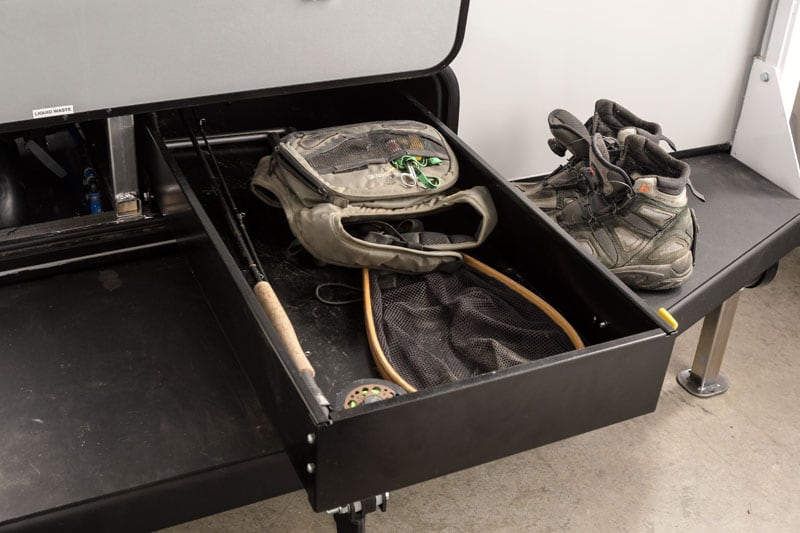 Above: The new ball-bearing metal basement trays
All basement model Adventurers are getting a new ball-bearing metal basement tray.  What is the advantage of the metal tray?
It's an improvement because of the ball-bearings.  Plus it's self-latching.  It slides in and out so that you can get to everything in the tray.
With the old plastic basement tray, both hands were tied up just pulling it out and holding it.  Because of the rollers, all you have to do with the new metal tray is undo the latch and it rolls out.  It's much easier to use.
Going from a plastic tray to a metal tray seems like a heavy change.
We understand the importance of keeping the weight down.  The new metal tray is actually only a half-pound heavier than the plastic tray.  That's possible because it's made from a thin formed sheet metal.
We've been looking at something like this for years and found a lighter weight version.  We have the new metal tray built special for us.
There are other metal basement trays in the industry that are made of thick steel.  Those are considerably heavier than our new tray and that can cause center of gravity issues.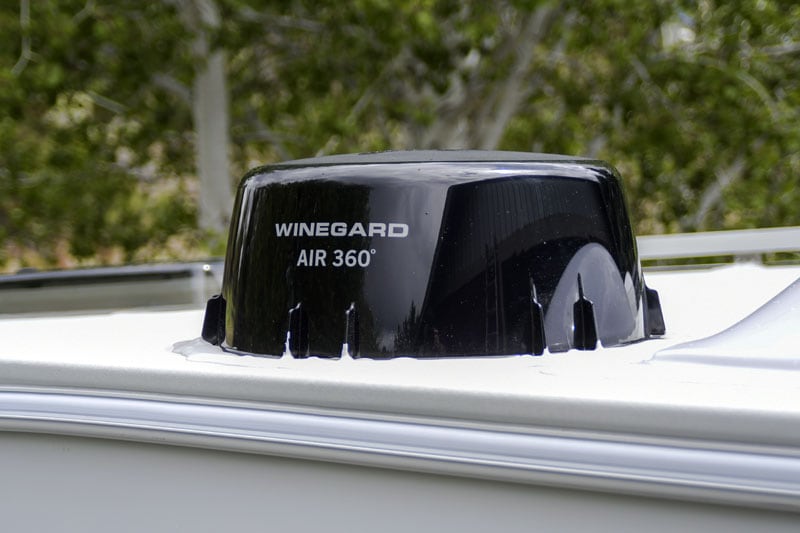 Above: Winegard Air Digital Antenna
Adventurer has experimented over the past few years with a different digital TV antennas.  For 2020, you're going with a new domed dual TV/radio antenna.  How is this an improvement?
Last year's model was a tree limb catcher.  We had numerous warranty and service issues because it was easy to brush something and damage the antenna.  That was a big part of the decision to look for something better.
The new domed antenna is the Winegard Air 360, a low profile dome design and will not catch tree limbs or other brush.  It also has digital television and digital radio capabilities built in.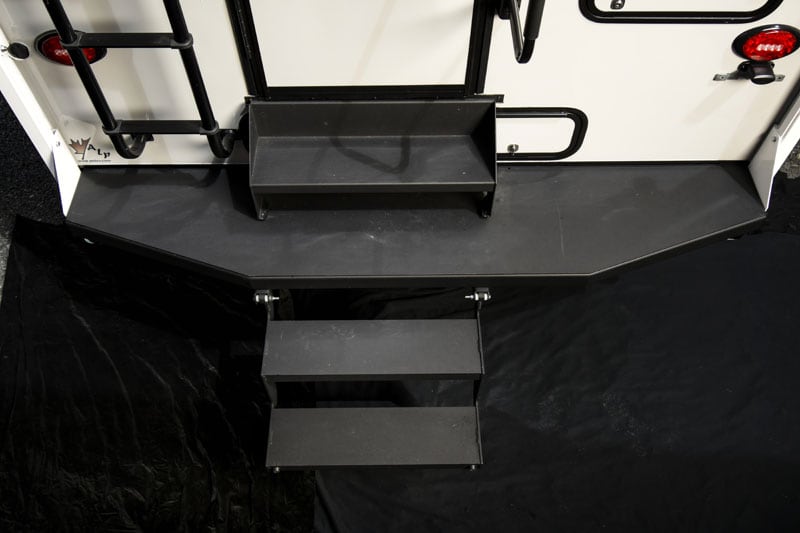 The Comfort Step Bumper has been one of Adventurer's most popular features and led the industry towards porch-style bumper systems.  For 2020, the Comfort Step is powder coated black in non-skid.  Why black?
With the 901SB Anniversary Edition, we went to the black finish to better match the exterior look of that unit.  Plus, the back wall of 2020 Adventurer models is grey.  The back awning, handles, and everything on the back of the campers is now black to match that color.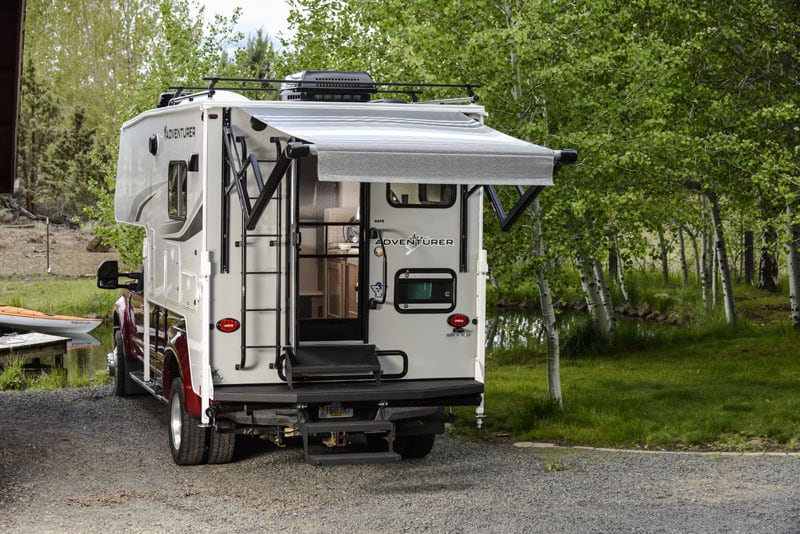 We also went to a non-skid powder coat on the bumper.  Not only does that work better than the skid material we were applying previously, but it keeps our production costs down.  The non-skid is a big plus across the board.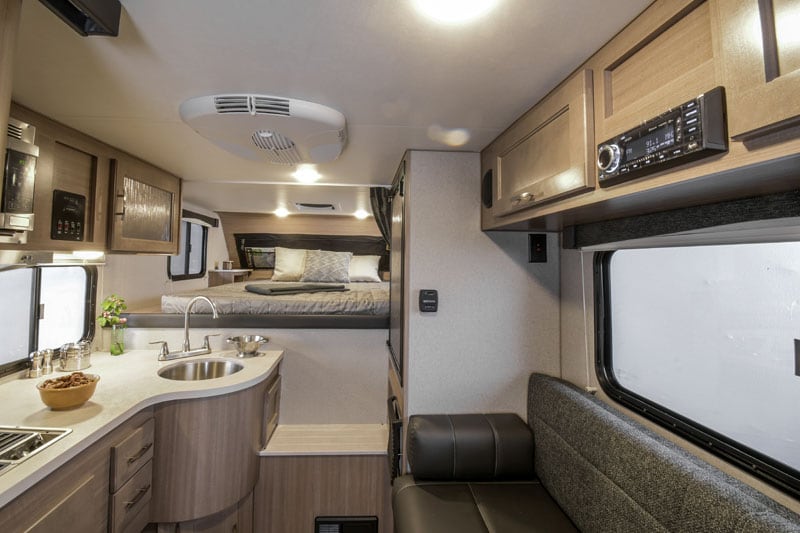 Above: Adventurer 80RB's interior
The 80RB has undergone its own list of changes for 2020; a new cooktop, Phat ladder, and a shortened dinette and arm rests for easier access.  Plus the Camper Caddy is now standard.  With the 80GS and 80S now discontinued, what is it about the 80RB that makes it a survivor?
From day one, the Adventurer 80RB has been a popular model.  It fits so many full-size trucks from super-short to short-bed to long-bed.  It's actually our number one selling model and has increased in sales each and every year.
When you walk inside it seems like a big camper with a north-south bed, roll-over sofa-lounge, and full wet bath.  It's a universal camper and that's why I believe it's so popular.  The 80RB is in a category to itself.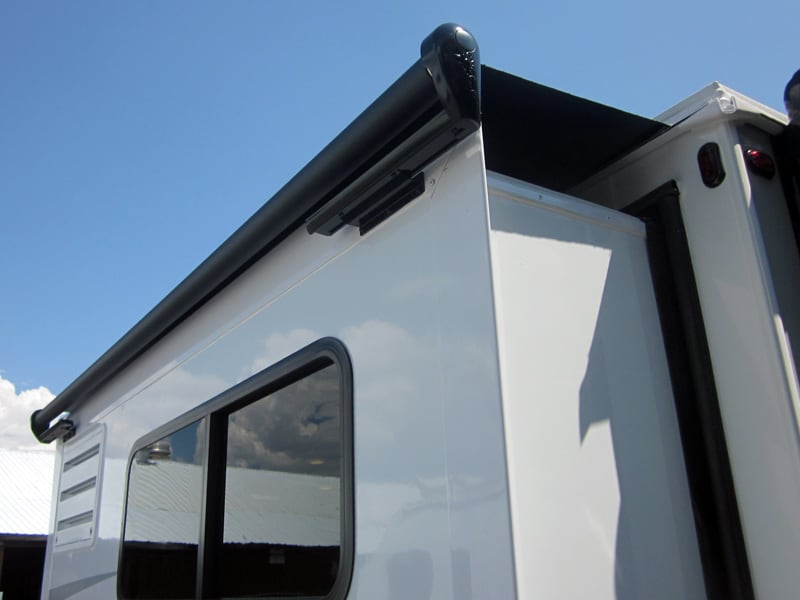 The 89RBS and 910DB are getting slide toppers as standard for 2020.  Do all Adventurer Manufacturing slide-out models now have slide toppers standard?
They actually always had them, but they were optional.  That said, 99.5-percent were ordered with the slide-topper option.  For production efficiency, slide-toppers are now a standard feature and included in the base weight and price of these units.  They were always standard on our Eagle Cap line.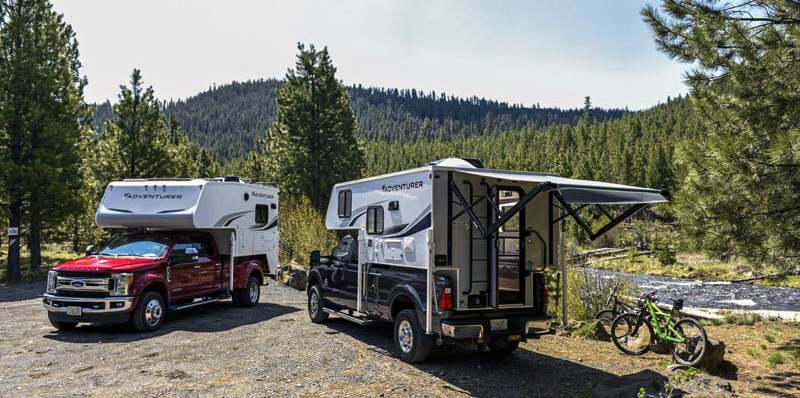 A subtle but important change is making the RVIA code tag standard.  It seems odd that the sticker was previously not standard.  What's the story behind this change?
We think it's important to promote that Adventurer Manufacturing builds to RVIA (Recreational Vehicle Industry Association) safety codes.  Not all manufacturers build to RVIA safety codes.  Without the RVIA sticker, buyer beware.
There are RVIA inspectors here every month who are looking for errors that are not to code.  They also help us to provide a better solution.  It's a benefit to build to code.
We know that dealers and customers don't want to pay $63 for a sticker, but we want people to understand that we want to build to safety standards.  From now on we are going to promote the benefits of RVIA codes and inspection, but the cost of the tag will be included as standard.
Is Adventurer Manufacturing raising its prices for 2020?
Yes.  For all Adventurer models, it's an average of a 3-percent increase.  Every material and component we purchase has gone up in price from our vendors.  We have experienced aluminum and wood price increases because of the tariffs.  We have off-set those increases through production and purchasing efficiencies.  The Dometic agreement is one example of that effort.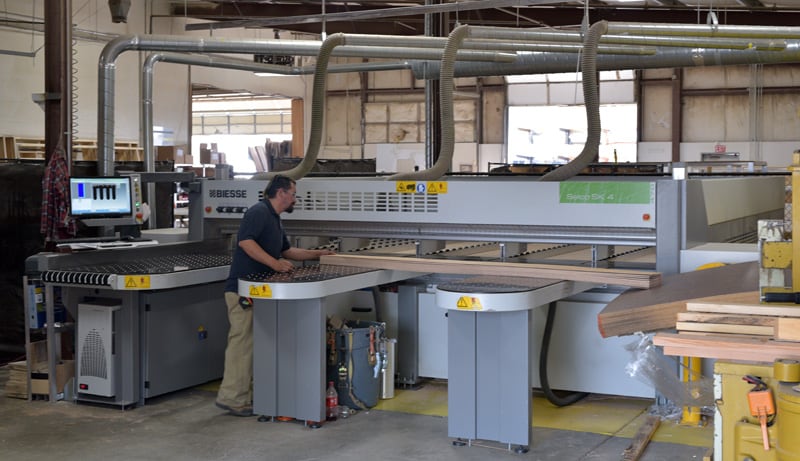 Last November we published an Adventurer Manufacturing article highlighting some significant equipment and process improvements at the factory.  Have there been any additional changes in 2019?
We're close to finalizing a significant construction addition to our plant.  We're adding 40-percent more square footage to the plant, and new equipment.  It's a major expansion for us.
Dave Frampton, our General Manager, has done an excellent job of maximizing what we can do with minimal space.  We are building more units than ever in this building.
Currently we are looking for new dealers.  In the last few years we have rejected 39 dealers because of capacity restrictions, but we are now ramping up and will be accepting new dealers.
From an employee standpoint, they see that the ownership is putting money into an expansion and new equipment.  It makes them realize there is a pride of ownership and that Adventurer LP is a good place to start working because we're successful as a company.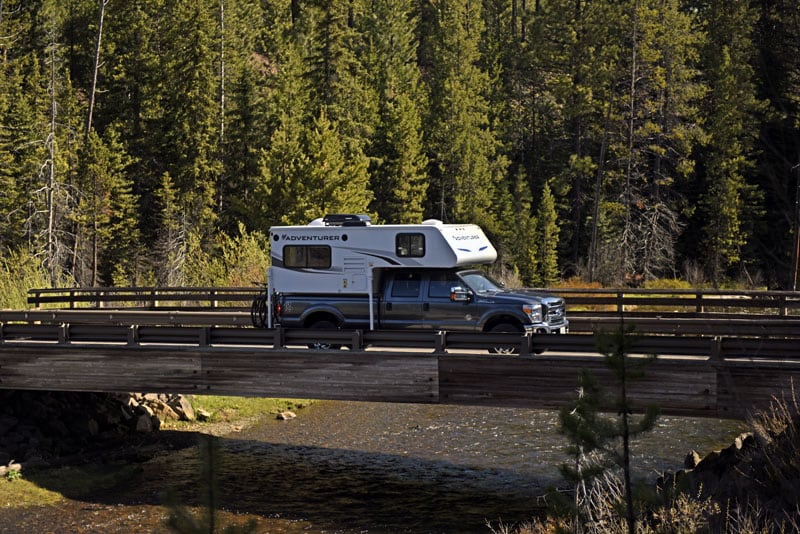 We want to be even more innovative moving forward which is why we will be debuting a new and exciting new camper line later this year.  We will also have Eagle Cap updates announced shortly.
To learn more about Adventurer campers, visit their website at adventurercampers.com.   Click here to request a free Adventurer brochure.