Truck Camper Magazine evaluates the 2016 Adventurer 80RB, a short or long bed hard side, non-slide, wet bath truck camper.  Is the 80RB truly a half-ton compatible truck camper?  Let's find out.

Adventurer debuted the Adventurer 80RB in Truck Camper Magazine in September of 2013.  The then new Adventurer 80RB replaced the Adventurer 80W, a floor plan that had been a popular floor plan for many years and was in need of modernization.  The proliferation of half-ton 5.5-foot "super-short" truck beds also necessitated a new design.
When we interviewed Greg Tucknies, National Sales Manager for Adventurer Manufacturing, he left no doubt about the trucks Adventurer was targeting, "…the 80RB will honestly fit in the modern half-ton marketplace.  The weight and center of gravity came in exactly where we wanted it to be making it a safe match for most late model half-ton trucks."
When we pressed Greg on how Adventurer hit their weight target for the Adventurer 80RB, he explained, "We changed the cabinets to a lighter weight structural wood.  We used our proprietary TCC construction and lamination with light-ply plywood and Azdel composites."
He went on to explain how they literally weighed and evaluated every material and component that went into the unit.  They also used CAD design to find even more opportunities to reduce weight.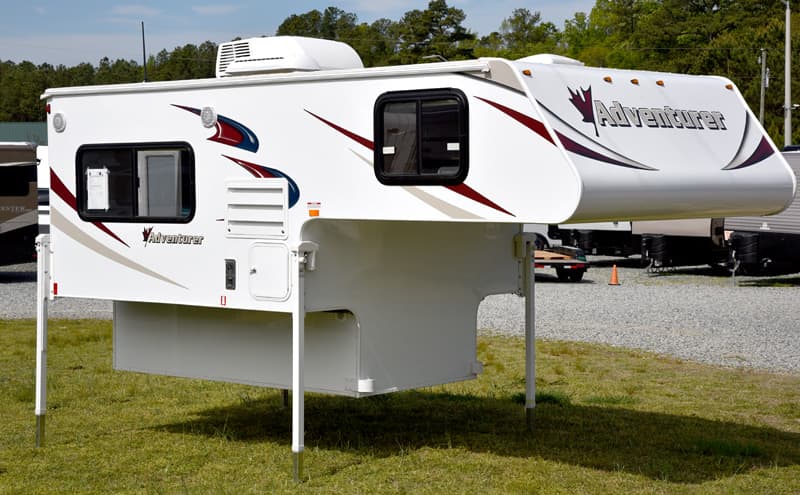 Adventurer 80RB Standard Features
Even with this aggressive focus on weight, the Adventurer 80RB offers a healthy list of standard features including a high gloss Lamilux 4000 fiberglass exterior, wet bath with flush toilet and shower, north-south queen-size bed, roll-out sofa bed, all LED lighting, and a four-cubic foot refrigerator.  In the multiple times we have examined an 80RB, we have been impressed with the level of quality materials and the overall feel of the unit.
All of this sounds great, but the devil – as they say – is in the details.  For this review, we take an in-depth look at the 2016 Adventurer 80RB floor plan, specifications, and capacities.  We also give the light weight camper a heavy weight reality check.
For this Adventurer 80RB review, we traveled to D&H RV Center in Apex, North Carolina.  Is the 80RB the right truck camper for you?  Let's find out.
NEXT – Adventurer 80RB Floor Plan Evaluation  |  VERDICT – 80RB Pros and Cons