Truck Camper Magazine evaluates the 2016 Adventurer 80RB, a short or long bed hard side, non-slide, wet bath truck camper.  Is the 80RB truly a half-ton compatible truck camper?  Let's find out.

Adventurer Campers debuted the 80RB in Truck Camper Magazine in September of 2013.  The then new Adventurer 80RB replaced the Adventurer 80W, a floor plan that had been a popular floor plan for many years and was in need of modernization.  The proliferation of half-ton 5.5-foot "super-short" truck beds also necessitated a new design.
When we interviewed Greg Tucknies, National Sales Manager for Adventurer Manufacturing, he left no doubt about the trucks Adventurer was targeting, "…the 80RB will honestly fit in the modern half-ton marketplace.  The weight and center of gravity came in exactly where we wanted it to be making it a safe match for most late model half-ton trucks."
When we pressed Greg on how Adventurer hit their weight target for the 80RB, he explained, "We changed the cabinets to a lighter weight structural wood.  We used our proprietary TCC construction and lamination with light-ply plywood and Azdel composites."  He went on to explain how they literally weighed and evaluated every material and component that went into the unit, and used CAD design to find even more opportunities to reduce weight.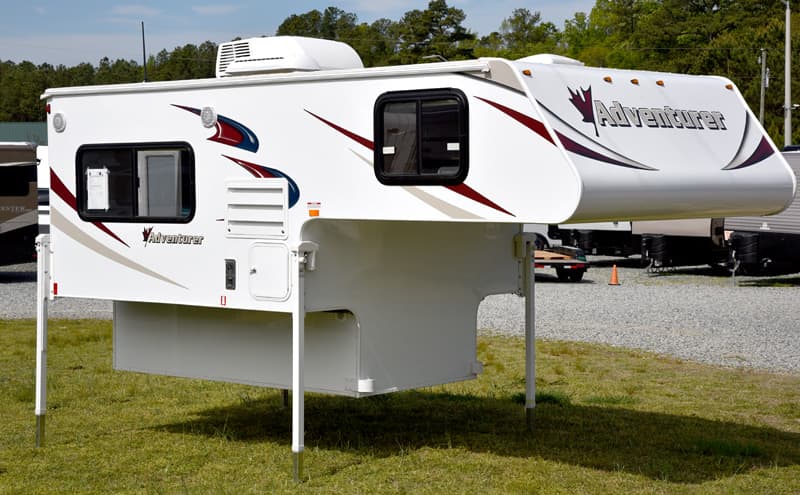 Even with this aggressive focus on weight, the Adventurer 80RB offers a healthy list of standard features including a high gloss Lamilux 4000 fiberglass exterior, wet bath with flush toilet and shower, north-south queen-size bed, roll-out sofa bed, all LED lighting, and a four-cubic foot refrigerator.  In the multiple times we have examined an 80RB, we have been impressed with the level of quality materials and the overall feel of the unit.
All of this sounds great, but the devil – as they say – is in the details.  For this review, we take an in-depth look at the 2016 Adventurer 80RB floor plan, specifications, and capacities, and give the light weight unit a heavy weight reality check.
For this review, we traveled to D&H RV Center in Apex, North Carolina.  Is the Adventurer 80RB the right truck camper for you?  Let's find out.
Floor Plan Evaluation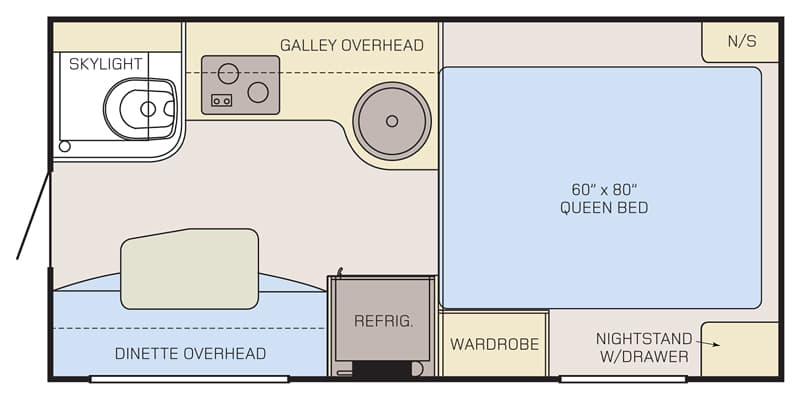 For readers who don't know our personal bias, we generally prefer hard-side non-slide truck campers.  Slide-outs open up an incredible amount of floor space and offer floor plan possibilities that would otherwise be impossible, but they also add weight, reduce interior and exterior storage, challenge structural integrity, and require routine maintenance.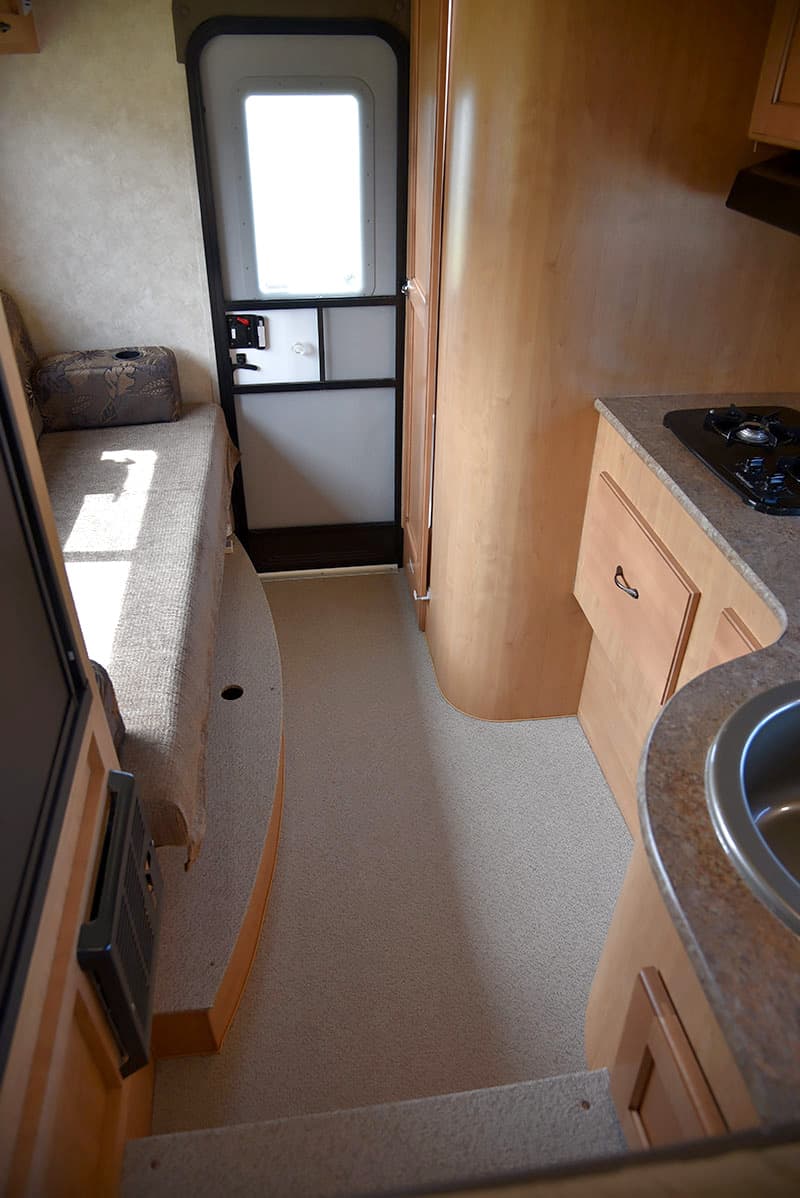 Above: Computer aided design (CAD) is evident through the interior curve lines and utilization of space in the Adventurer 80RB
With that stated, it's little wonder that we were instantly attracted to the Adventurer 80RB.  The floor plan demonstrates a strong understanding of time-tested and proven old school truck camper design while embracing the possibilities of modern CAD, materials, appliances, and manufacturing.
It would be fun to send an Adventurer 80RB back in time, say to the 1970 National RV Trade Show, and have the founding truck camper fathers see how their design influence echoes into the future.  If we only had 1.2 gigawatts.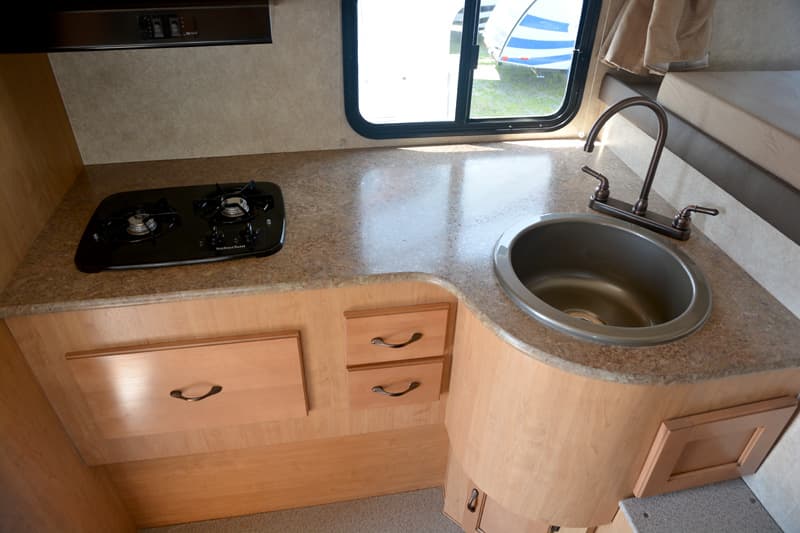 Above: Two-burner cooktop, round sink, and plentiful counter top space
Looking at the floor plan, I am first struck by the sheer volume of counter space in the galley.  The 80RB has more food preparation area than many multi-slide campers.  I also think the choice of a two-burner cooktop and round sink is perfect for a unit this size.  As someone who has cooked many a meal in a truck camper, I have never used more than two burners.  Then again, I am not a gourmet chef by any measure.
Above: The 80RB kitchen offers both drawers and cabinets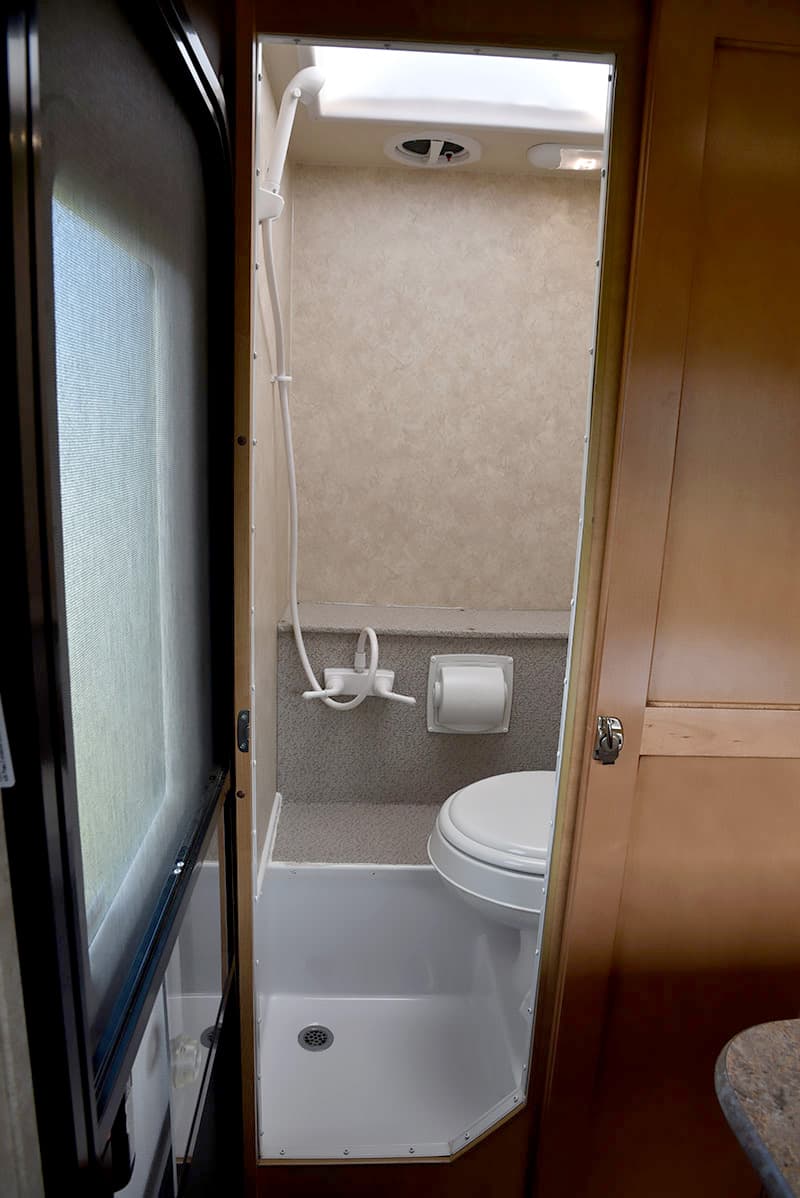 Above: The wet bath on the driver's side rear of the 80RB
All that counter space means the wet bath is relatively small.  It's literally standing or sitting room only.  However, if given the choice between more counter space and more food storage or wet bath space, I would go for more the former.  After all, most of us don't spend that much time in the bathroom.
Anyone considering the 80RB should sit on the toilet and stand up in the bathroom with the door closed to see if they're comfortable.  Since it's a wet bath, the shower area is already bigger than most dry bath showers, and the toilet should have plenty of room for anyone who doesn't play for the NBA.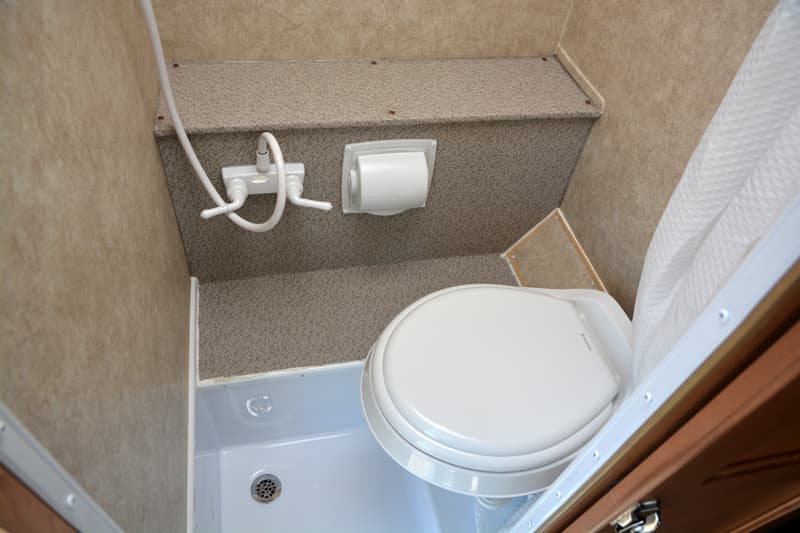 Above: There is no sink in the wet bath of the 80RB
One feature that's missing from the wet bath is a sink.  This means you're washing your hands and brushing your teeth in the kitchen sink.  We have long-term tested campers without bathroom sinks and, while we adapted, found the omission annoying.  For example, you need to keep the kitchen sink clear of dishes and sponges while using the kitchen sink for hand washing and toothpaste.
To be fair, this is exactly the kind of design decision that keeps the Adventurer 80RB in the half-ton compatible weight and center of gravity category.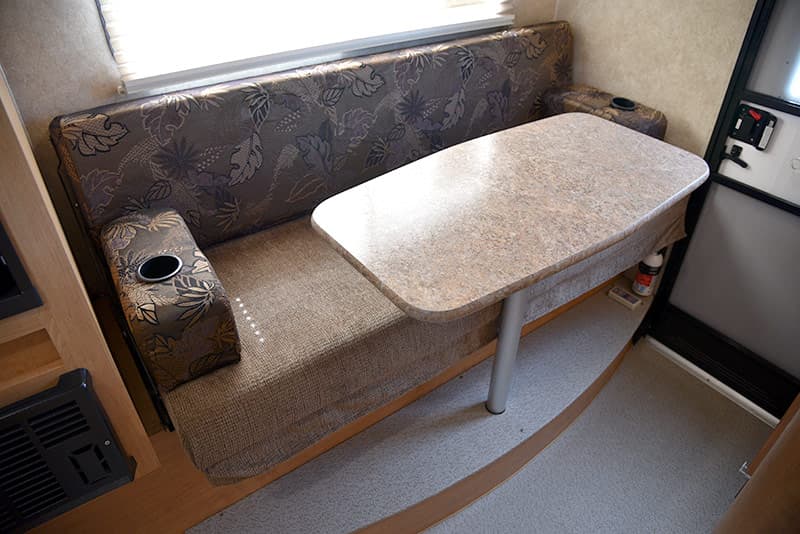 Above: The Adventurer 80RB roll-over sofa and table
Is that a sofa?  Yes it is!  That makes the Adventurer 80RB a genuine sofa camper.  The roll-over sofa quickly pulls down into a bed and pushes back up into a sofa.  With this approach, you lose the face-to-face dinette that many (including us) prefer, but you gain a place to sit comfortably and watch television, read, or just relax.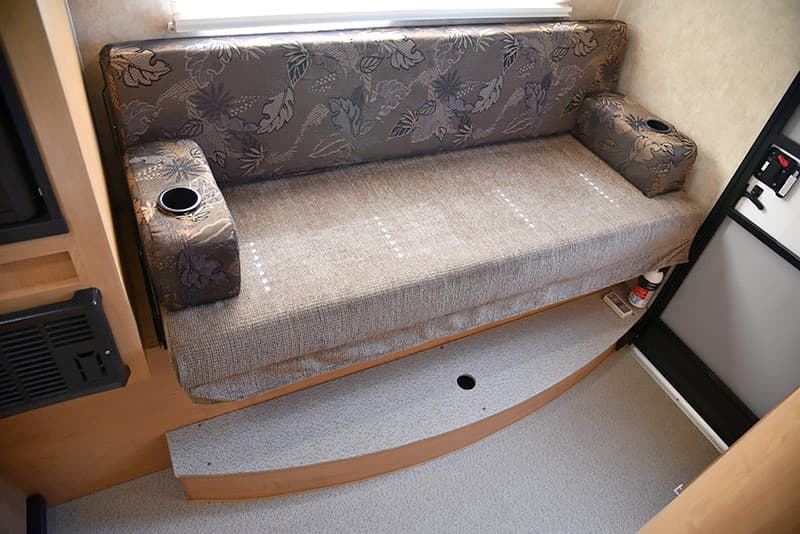 Above: The 80RB is a sofa camper.  The table and table leg are easily removable.
We have a face-to-face dinette in our camper and use it every day for meals and work, but boy do we wish we had a sofa to relax after hours.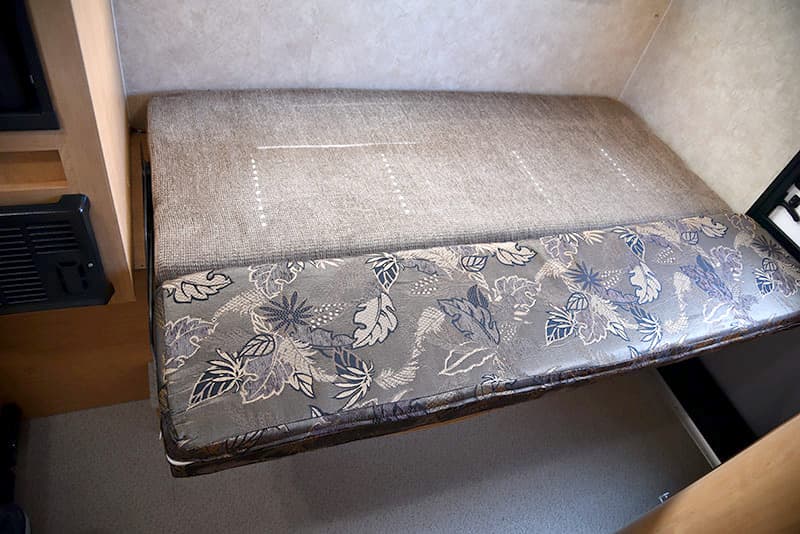 The roll-over sofa and table is a smart dual-purpose solution.  If we didn't work full-time in our camper (with dueling laptops and paperwork), we would prefer this dinette and sofa solution.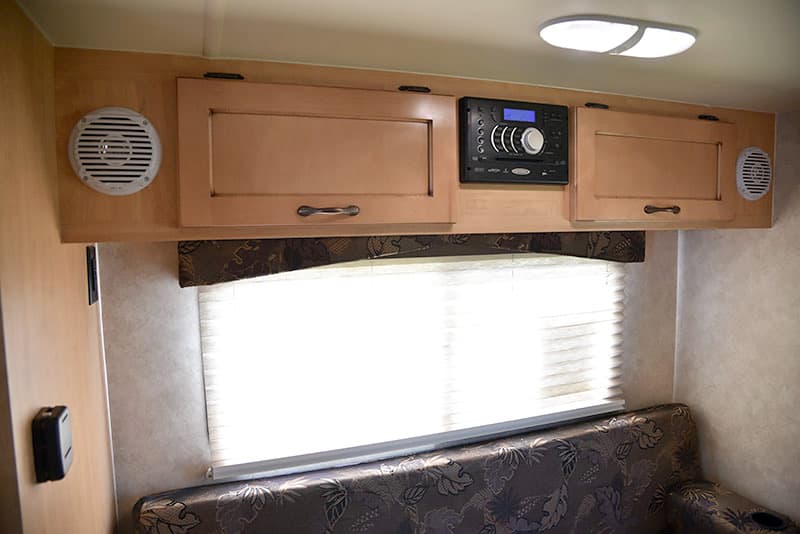 Above: Storage, speakers, and AM/FM CD/DVD stereo with Bluetooth above the roll-over sofa
Above: Four cubic foot two-way refrigerator
Between the dinette and the cabover bedroom is a four cubic foot two-way refrigerator.  For a camper this floor length, this is a perfect-sized refrigerator; a smart balance between capacity and weight.
For most couples, four cubic feet should be enough storage for about a week's worth of cold food.  You may have to store some of your beer outside the fridge.  Just don't forget to replace a cold beer with a warm beer.  Warm beer is no fun.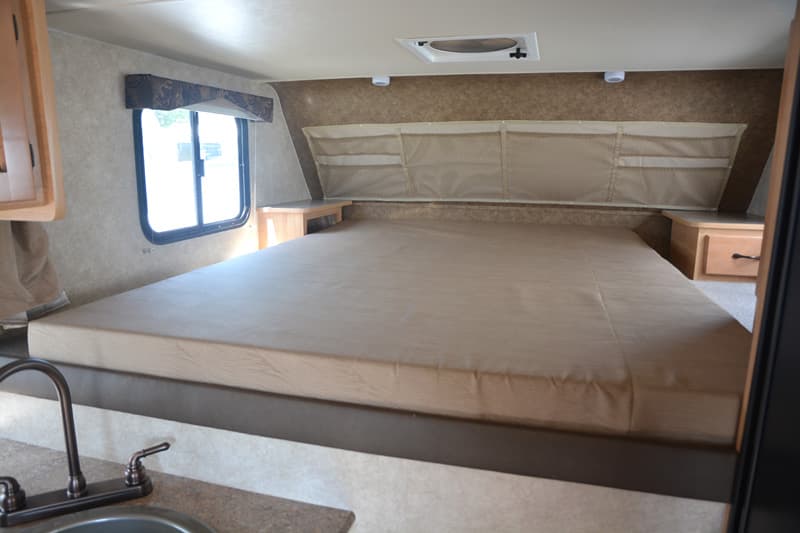 Above: North-south queen-sized bed
Having a north-south queen-sized bed in a light-weight hard side is a knock out.  The north-south configuration means you can get out of bed without waking your spouse or cat.  Everyone goes truck camping with a cat, right?
Above: Storage in the cabover.  The left photo is the driver's side, and right photo is the passenger's side
Most of my concern for the 80RB cabover is with the storage and the storage equality.  The cabover bedroom has minimal cabinetry (to save weight), and favors the person sleeping on the passenger's side.
In my house, disproportionate storage opportunities in the cabover can cause marital disharmony.  Of course clothing and other cargo can be stored on the floor of the cabover on the driver's side, but not everyone wants to air their laundry.
The nightstands on either side of the bed are a nice residential-style touch and would be very handy for smartphones, books, and glasses.  We also keep our truck key FOB next to the bed so we can hit the alarm button should any knuckleheads cause trouble.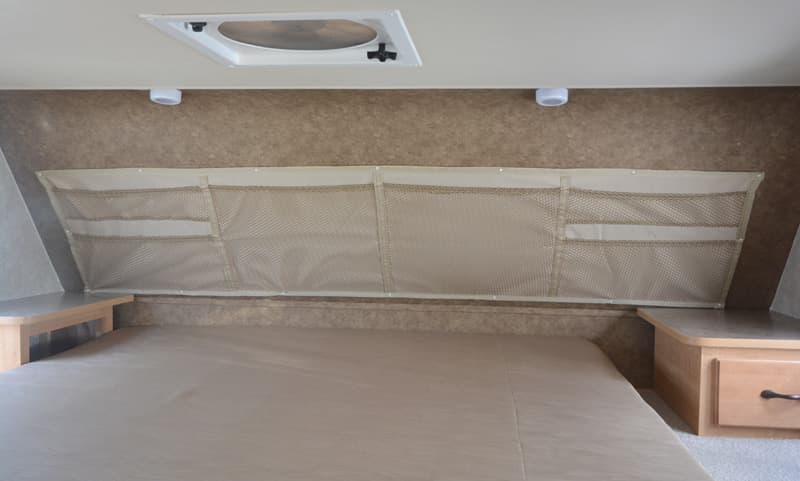 Above: The Camper Caddy storage pouch is against the front nose of the cabover
Perhaps in recognition of the lacking cabover storage, Adventurer offers an optional zippered storage pouch – called a Camper Caddy – for the front cabover nose wall.  As someone who likes things put away (Angela calls me a neat freak), I'm not sure if I'd like this solution, but I'm sure we would find a use for this clever storage area.
Off the top of my head (literally) I can see the Camper Caddy being used for reading materials, an iPad, and maybe some maps.  Others might be more adventurous and fill the open net with various undergarments.  That's your call.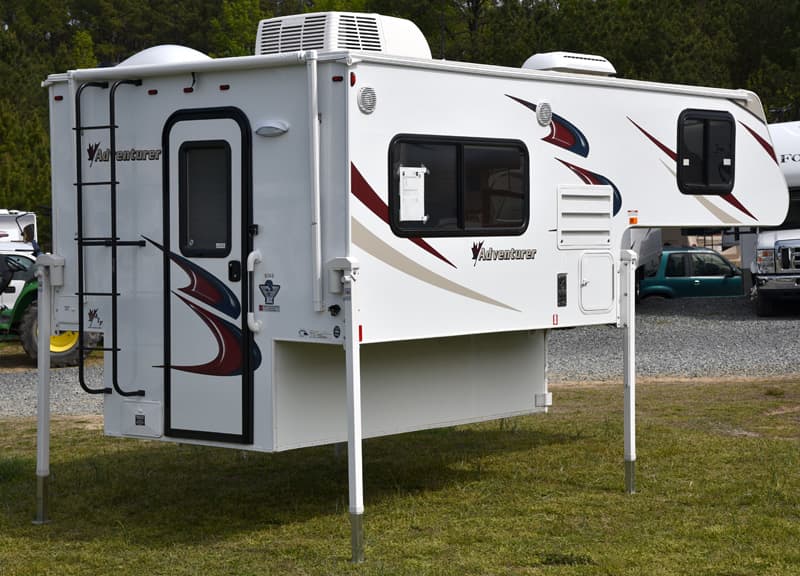 Above: There is no rear overhang on the Adventurer 80RB
One macro design detail that cannot be seen in the floor plan is how the Adventurer 80RB doesn't have a rear overhang.  While this is an excellent design approach for towing applications, it requires the use of scissor steps.  Scissor steps took an enormous leap forward in quality and safety in 2010 with the introduction of Torklift International's GlowStep series, but not everyone is comfortable lifting, installing, and using scissor steps.
Specifications
| | |
| --- | --- |
| Specifications | |
| Dry Weight | 1,757 pounds |
| Wet Weight* | 2,467 pounds |
| Floor Length | 8'0″ |
| Overall Length | 15'10" |
| Width | 90″ |
| Interior Height | 80 5/8″ |
| Exterior Height | 96″ |
| Center of Gravity | 27.5″ |
| Truck Type | Long or Short Bed |
Adventurer physically weighs every camper at the end of their production line and writes that exact weight on every unit and records it in a factory log.  We have witnessed this routine in action at the Adventurer Manufacturing factory on two separate occasions (in 2010 and 2015).
Adventurer lists the dry weight of the 2016 Adventurer 80RB at 1,757 pounds.  Due to the above mentioned practice, we are extremely comfortable with the accuracy of this weight.  That said, the 1,757 pound dry weight represents a base camper that would have to be special ordered by a customer.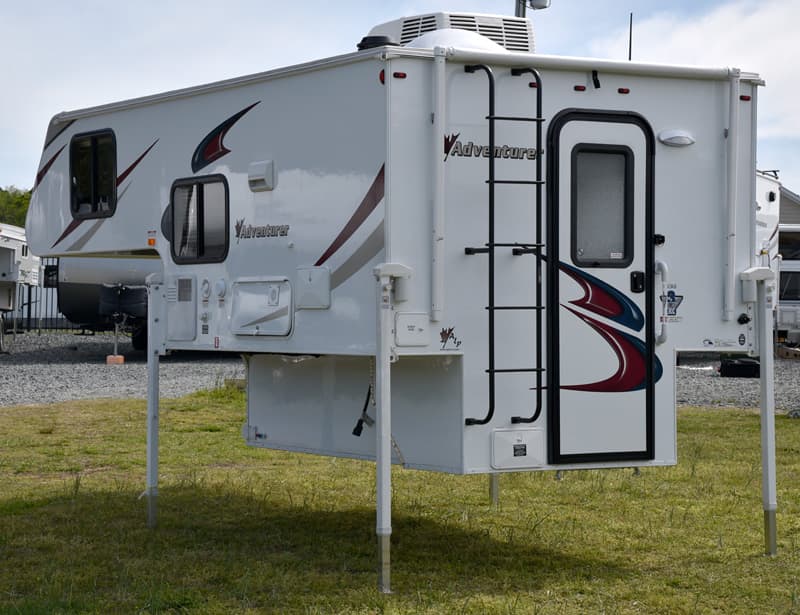 Nearly every dealer-ordered 80RB comes with a list of popular standard-build options.  For the 80RB, the standard build options are a rear awning (22 pounds), the Camper Caddy (3 pounds), and the AM/FM/CD/DVD/Bluetooth stereo system (8 pounds).  These standard build options bring the dry weight of the 80RB to 1,790 pounds.
To find the actual dry weight with options of the 80RB under review, we used Adventurer's online Build Your Own system.  Using the system, we added the options found on the 80RB under review including an air conditioner (82 pounds), awning (22 pounds), Camper Caddy (3 pounds), electric jack remote upgrade kit (20 pounds), and AM/FM/CD/DVD/Bluetooth stereo system (8 pounds).  We also added the optional 4-step scissor step system (24 pounds) as nearly every 80RB will require it.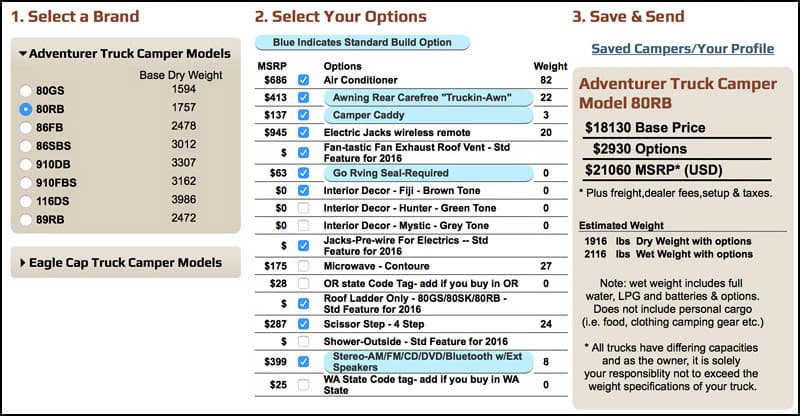 Above: The dry weight of the 2016 Adventurer 80RB under review was calculated using the Adventurer's Build Your Own system.  This screen capture shows the results.
With the addition of these options, the final dry weight of the 80RB under review was 1,916 pounds, an increase of 159 pounds over the base dry weight.
Above: The Adventurer 80RB is 90-inches wide
Even though the 80RB is a 5.5-foot super-short bed compatible unit, the remaining specifications (camper width and height) are close to full-size, or better.  The width is 90-inches, about 6-inches narrower than Adventurer's larger units.  If I had to guess, I would say this is yet another way the Adventurer team kept the weight down.  With truck campers, every inch of floor length and width costs weight.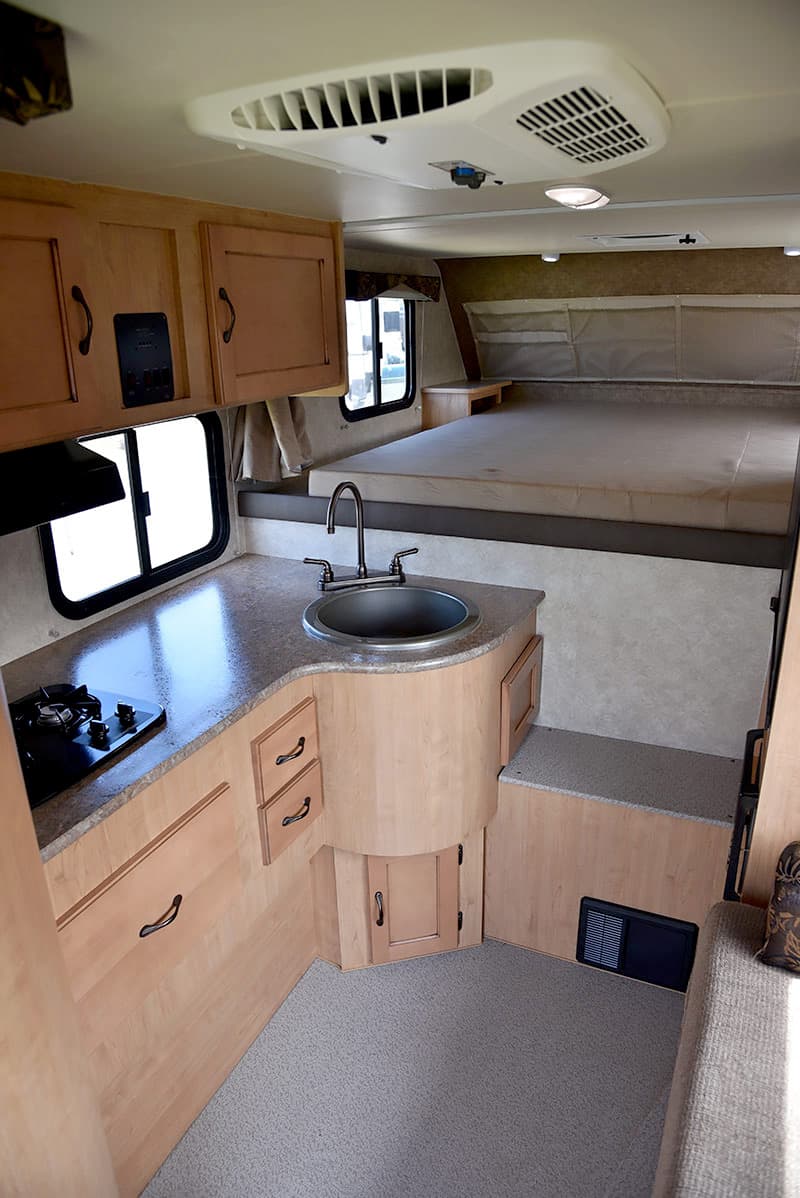 Above: The interior height in the 80RB is 80 5/8 inches
The interior height is 80 5/8-inches, which is actually 2-inches taller than Adventurer's larger units.  Looking the design, it's probably a smart bet that the refrigerator caused this higher roof anomaly.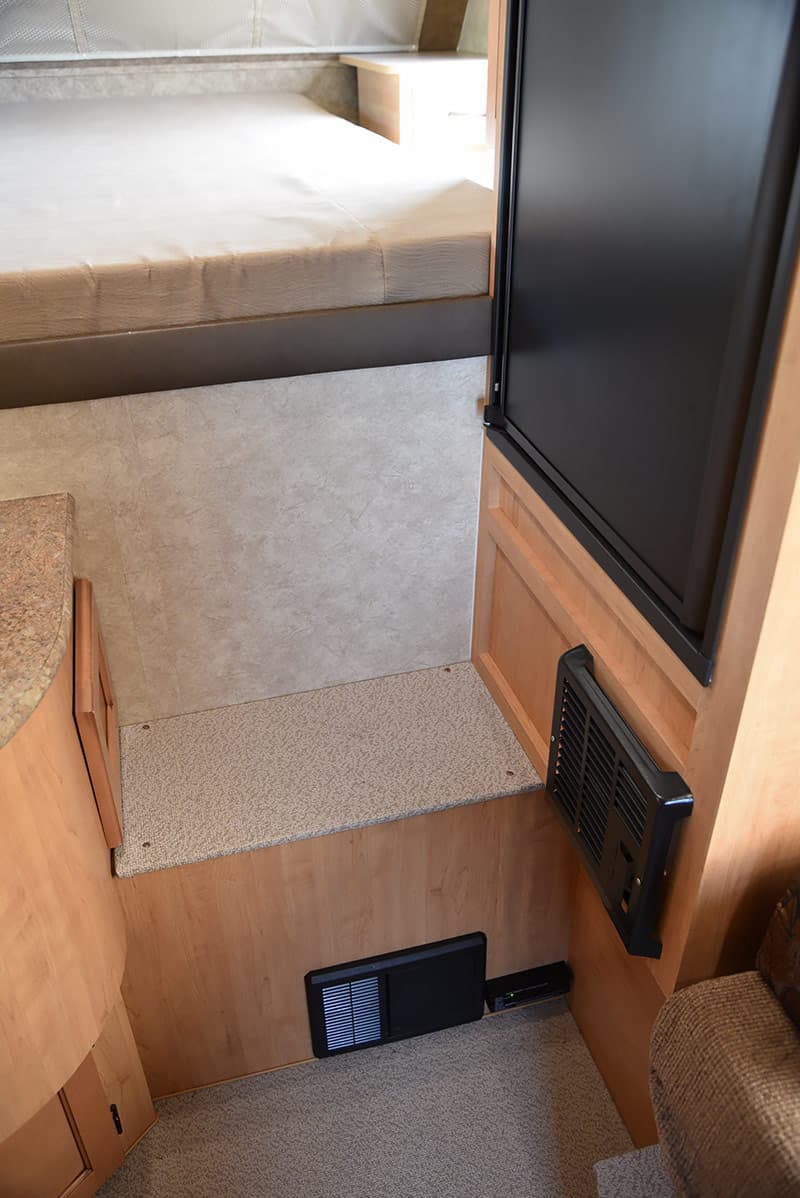 Above: The step-up to the cabover is relatively high and should be considered prior to purchase
I stand over 6-feet tall, so the additional ceiling height would be appreciated, especially for standing where the optional air conditioner is installed.
At 27.5-inches, the center of gravity seems to good to be true.  Using the modern CAD, materials, and appliance choices mentioned earlier, Adventurer really hit the COG mark.  The result should be impressive handing and control on properly matched rigs.
Capacities
| | |
| --- | --- |
| Capacities | |
| Fresh | 11 gallons |
| Grey | 6 gallons |
| Black | 7 gallons |
| Water Heater | 4 gallons |
| Propane Tanks | 20 pounds |
| Batteries | One Battery |
To explain the tank size decisions Adventurer made for the 80RB, Greg explained, "…we were focused on the half-ton market for the 80RB and needed to keep the holding tank weights in check.  The 80RB has the same size tanks as the 80GS, another very popular model for Adventurer."
There's no way to sugar coat the relatively limited holding tanks in the Adventurer 80RB; 11 gallons fresh (15 with full hot water heater), 6 gallons grey, and 7 gallons black.  For couples who know how to conserve water use, this is probably enough holding tank capacity for 3-4 days.  If you require anything more than a one minute Navy shower, it may only be 2 days.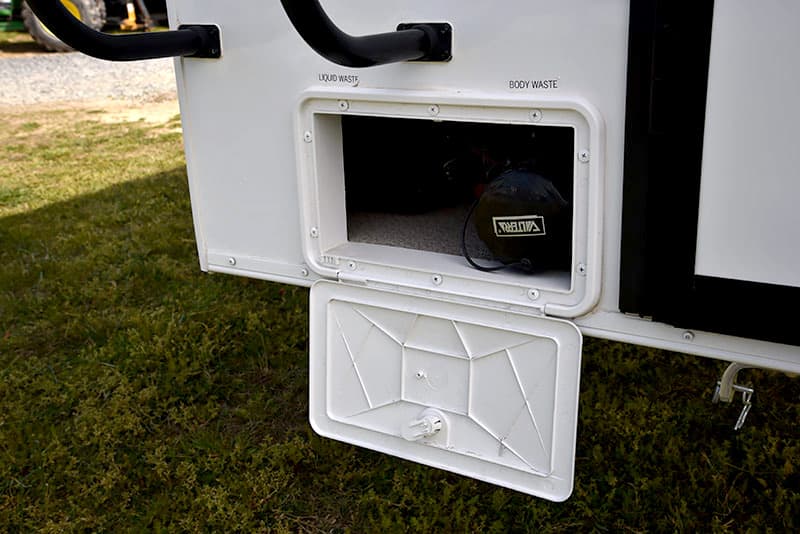 Above: The dump valves in the 80RB are on the driver's side rear of the camper
For the full hook-up campers among us, the tank limitations are nearly meaningless.  Connected to city water and dump, you can use all the fresh, grey, and black water you need.  The small holding tanks would be sufficient when traveling from hook-up site to hook-up site, and the occasional off-grid overnight.
If you drink bottled water, bird bath, and pee behind trees, you could stretch these tanks to a week, or more.  This recalls a now infamous Question of the Week titled, "Boondock 'Till You Stink".  Boondock stinkers, you know who you are.
The 4 gallon hot water heater is 2 gallons shy of what we see in most campers, but I don't see that as a limitation.  It may be too much information, and mentally paralyzing for those with a visually oriented imagination, but I have taken hundreds of showers in truck campers over the past decade.  In none of those experiences have I ever run out of hot water, including extended back-to-back showers while connected to full hook-ups.
In fact, I've often wondered why we all have such enormous hot water heaters at home when a 6 gallon hot water heater does the trick.  The 4-gallon hot water heater in the 80RB is 2-gallons smaller than we are accustomed to, but it should be plenty for two 2-3 minute back-to-back showers.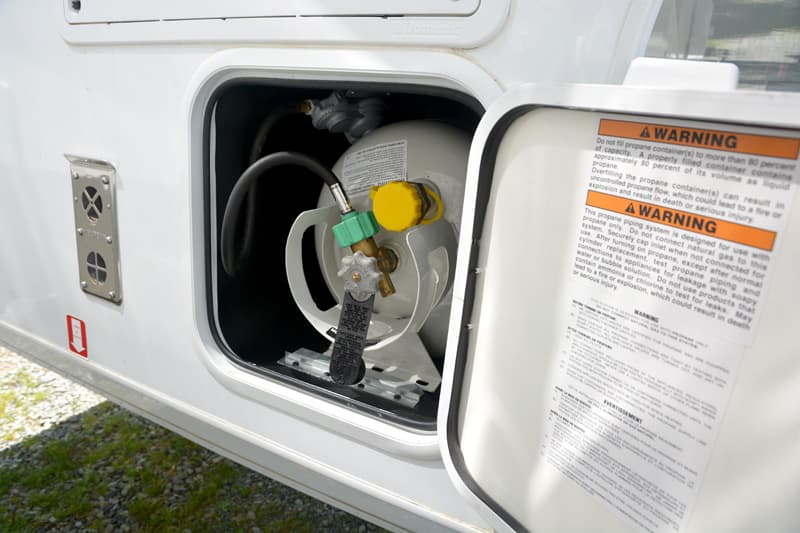 Above: The Adventurer 80RB has one 20-pound horizontal propane tank on the passenger's side
To save weight, the Adventurer 80RB has one 20-pound horizontal propane tank.  This would take some getting used to for us as we always refill our propane tanks when one tank has run dry, and we're about a week into the next.  Having one tank means you need to keep mental tabs on your propane use, and refill before the furnace and refrigerator go out at 2:15am on a cold Sunday night in the middle of bloody nowhere (not that that's ever happened to us).
Further complicating this challenge is the fact that the 20-pound propane tank is horizontal, not the more common vertical type.  This means you cannot exchange the tank like you can for a vertical cylinder, but will rather need to fill propane filling stations.  We have 20-pound horizontal propane tanks in our camper and are quite accustomed to finding propane stations, but it's certainly something to be aware of.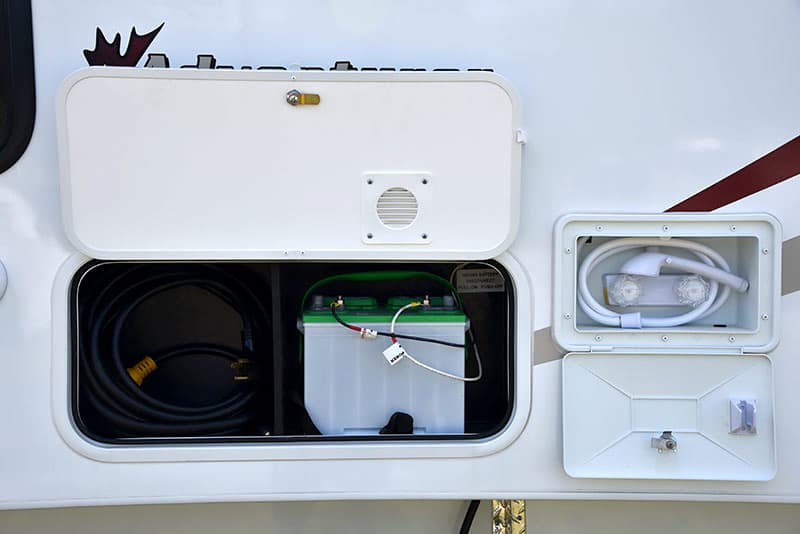 Above: A single Group 24 battery in the 80RB
The single battery gives me pause.  Even with the incredible 10-to-1 efficiency offered by the 80RB's all-LED interior lighting, there's still a long list of 12-volt thirsty equipment in this unit.  While the 12-volt stereo, television, and detectors are a minimal draw, the furnace fan, water pump, jacks, and fans (when left running) can drink a single battery dry if you're not careful.
If we purchased an Adventurer 80RB, I would get the biggest and best AGM battery that would fit, and a 100-watt or better solar system.  Then I would start looking for another place to store a 12-volt battery.  As an example, Torklift International's Hidden Power could be the perfect solution.
Again, the full-hookup crowd can ignore these warnings.  When we're on full hook-ups, we use a portable electric heater to save propane, and an electric hot water heater element (highly recommended).  Plugged into 15 or 30-amp electric, the single battery obviously doesn't matter either.
Wet Weight Calculation
The base dry weight of the Adventurer 80RB is 1,757 pounds, about 150 pounds lighter than the 80W floor plan the 80RB replaced.  At 1,916 pounds, the 80RB under review includes all of the standard build options and an air conditioner and electric jack remote upgrade kit.  Only the microwave (27 pounds) is not included.
In essence, the almost fully-optioned 80RB under review weighs about the same as the base dry weight of the 80W it replaces.  That's impressive.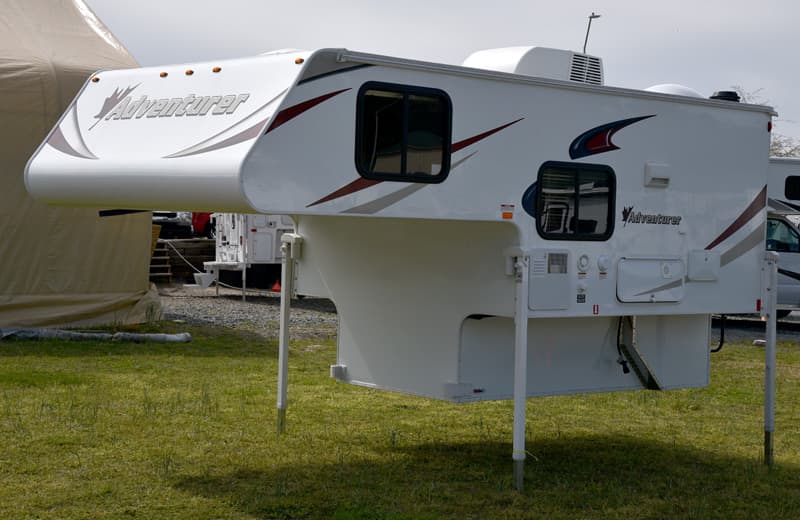 Using the Truck Camper Magazine standardized wet weight calculation, let's run the numbers on a base dry 80RB, a standard build 80RB, and the almost fully-optioned 80RB under review.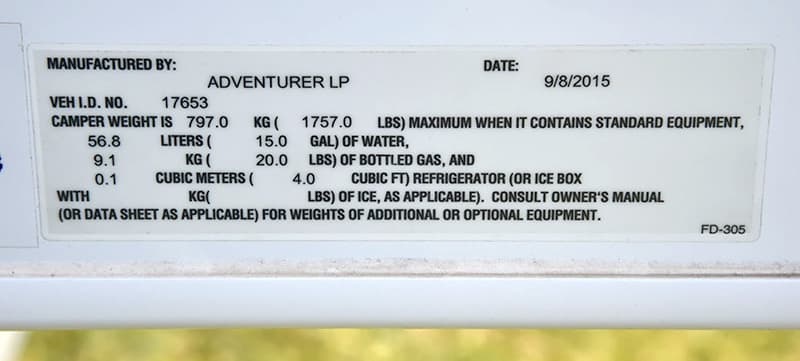 Above: The external weight sticker on the 80RB under review.  The camper weight listed is the base dry weight, and does not include water, propane, or options.
Base Dry Weight – special factory order only
Adventurer 80RB: dry weight, 1,757 pounds + 11 gallons fresh, 91.7 pounds + 4 gallon full hot water heater, 33.4 pounds + 20-pound full propane tank, 20 pounds + battery, 65 pounds + stuff, 500 pounds = 2,467.1 pounds
Standard Build Weight – what most dealers order
Adventurer 80RB: dry weight, 1,790 pounds + 11 gallons fresh, 91.7 pounds + 4 gallon full hot water heater, 33.4 pounds + 20-pound full propane tank, 20 pounds + battery, 65 pounds + stuff, 500 pounds = 2,500.1 pounds
Adventurer 80RB under review – Every option but the microwave
Adventurer 80RB: dry weight, 1,916 pounds + 11 gallons fresh, 91.7 pounds + 4 gallon full hot water heater, 33.4 pounds + 20-pound full propane tank, 20 pounds + battery, 65 pounds + stuff, 500 pounds = 2,626.1 pounds
Truck Recommendations
Those are some impressively low wet weight numbers for a fully-featured hard side truck camper.  Unfortunately, that doesn't mean you can shirk your truck and camper matching math responsibilities.
Even at these low numbers, it could be a challenge to properly match the 80RB to a half-ton truck, especially a fully-optioned 80RB like the one under review.  It absolutely can be done, but you will almost certainly need to special order a new truck to ensure it has the required payload.
Most half-ton trucks on the road and on dealer lots have no more than 1,800 pounds of payload.  We recently visited a Ford dealer with over two dozen aluminum-bodied F150s.  Even though we know you can order an aluminum-bodied Ford F150 truck with about 2,800 pounds of payload (enough for the 80RB under review), not one aluminum-bodied F150 on that lot exceeded 1,800 pounds of payload.  In fact, many of the F150s had under 1,500 pounds of payload.  Always, always, always check the yellow payload sticker inside the drivers door before buying a truck for a truck camper rig.
Having special ordered our last two trucks, we can verify that it's not only possible, but easy to order a payload-optimized truck.  Another benefit of ordering a truck is that you get the exact specifications, options, packages, interior, and color you want.  There's no money wasted on things you don't need or want.  The downside is that you have to wait for the truck upwards of two to three months, and you might not get all of the advertised discounts.
The safer assumption would be to match the 80RB to a three-quarter ton or one-ton truck.  If you're looking to tow with the 80RB, you will almost definitely need a three-quarter ton, or better.
A buyer should also be aware that the 8-foot floor length of the 80RB will stick out about 2.5-feet from the back of a 5.5-foot short bed.  At 27.5 inches, the center of gravity should be forward of the rear axle, but you might find the appearance awkward, or just not like the idea of the camper extending that far past the truck's bed.  On long bed trucks, the 80RB won't allow you to close the tailgate, but the unit will fit completely inside the truck's bed.
If you can, my strongest recommendation is to go for a long bed one-ton truck.  Yes, a one-ton is ridiculous overkill for the 80RB, but it's exactly what you'll want when your ready to upgrade to something bigger and heavier – like the Adventurer 89RB – or discover that you can't live without a 20-foot bass boat and trailer.  A long bed will also give you more truck camper model options to choose from.  When buying trucks, it pays to think ahead.
The Verdict
The Adventurer 80RB offers a very smart floor plan at an attractive weight, center of gravity, and price.  The sofa offers residential-style seating comfort, something many truck campers lack.  The ample kitchen counter space – another 80RB feature that's often missing in truck campers – should appeal to almost everyone who prepares meals while truck camping.  And the north-south queen-size bed will keep the peace with sleeping spouses and tabby cats.
For folks who primarily camp at full hook-up sites, the small holding tank capacities, single battery, and single 20-pound horizontal propane tank in the 80RB will not be a limitation.  Boondockers accustomed to conserving water, power, and propane, may also be a good fit for the 80RB.  Everyone else needs to carefully think about the limited capacities of the 80RB before proceeding.
For the consumer who insists on matching a truck camper with a half-ton truck, and has the where wherewithal to special order a new truck to make that match work, the 80RB is an excellent candidate.  That stated, we always recommend buying more truck than you need for future campers and/or towing.
Overall, we remain very impressed with the Adventurer 80RB.  The old-school floor plan meets modern design, materials, and construction approach has created a real winner.
Pros
Low weight and forward COG makes half-ton truck match possible
Impressive kitchen counter space
It's a sofa camper
North-south cabover with queen-size bed
No overhang on long bed trucks
Excellent interior height for tall folks
Cons
No sink in the wet bath
Limited cabover storage
Single battery requires conservation
Single horizontal propane tank requires filling and propane-level awareness
Limited holding tank sizes
Unit will extend 2.5-feet from 5.5-foot beds
Model Information
2016 Adventurer 80RB
MSRP: $18,130 (base)
Warranty: Transferable 1-Year Bumper-To-Bumper, and 3-Year Limited Structural
Adventurer Manufacturing, ALP
3303 West Washington Avenue
Yakima, WA 98903
Phone: 509-895-7064
Request an Adventurer 80RB Brochure
Web: www.amlrv.com
Quality, Customer Service, and Long-Term Reliability
Truck Camper Magazine inspects all reviewed truck campers for design, material, and quality issues and reports what we find.  However, since Truck Camper Magazine reviews only brand new truck campers, our reviews do not address long-term quality, customer service, or reliability.
To learn about a brand's long-term quality, customer service, and reliability, Truck Camper Magazine recommends talking directly with truck camper owners at truck camper rallies and online via truck camper forums and truck camper owners groups.
Please be sure to balance your gathered feedback across multiple sources including direct correspondence with the truck camper manufacturers and your closest truck camper dealers.
If you are new to truck campers, start here.