The Adventurer 80RB Verdict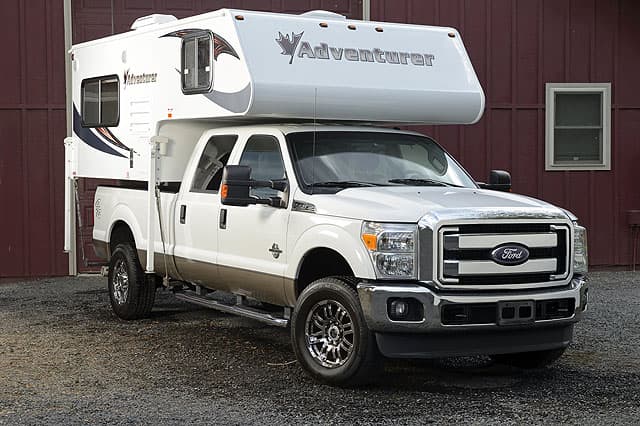 The Adventurer 80RB offers a very smart floor plan at an attractive weight, center of gravity, and price.  The sofa offers residential-style seating comfort, something many truck campers lack.  The ample kitchen counter space – another 80RB feature that's often missing in truck campers – should appeal to almost everyone who prepares meals while truck camping.  And the north-south queen-size bed will keep the peace with sleeping spouses and tabby cats.
For folks who primarily camp at full hook-up sites, the small holding tank capacities, single battery, and single 20-pound horizontal propane tank in the 80RB will not be a limitation.  Boondockers accustomed to conserving water, power, and propane, may also be a good fit for the 80RB.  Everyone else needs to carefully think about the limited capacities of the 80RB before proceeding.
For the consumer who insists on matching a truck camper with a half-ton truck, and has the where wherewithal to special order a new truck to make that match work, the 80RB is an excellent candidate.  That stated, we always recommend buying more truck than you need for future campers and/or towing.
Overall, we remain very impressed with the Adventurer 80RB.  The old-school floor plan meets modern design, materials, and construction approach has created a real winner.
Adventurer 80RB Pros
Low weight and forward COG makes half-ton truck match possible
Impressive kitchen counter space
It's a sofa camper
North-south cabover with queen-size bed
No overhang on long bed trucks
Excellent interior height for tall folks
Adventurer 80RB Cons
No sink in the wet bath
Limited cabover storage
Single battery requires conservation
Single horizontal propane tank requires filling and propane-level awareness
Limited holding tank sizes
Unit will extend 2.5-feet from 5.5-foot beds
Adventurer 80RB Model Information
2016 Adventurer 80RB
MSRP: $18,130 (base)
Warranty: Transferable 1-Year Bumper-To-Bumper, and 3-Year Limited Structural
Adventurer Manufacturing, ALP
3303 West Washington Avenue
Yakima, WA 98903
Phone: 509-895-7064
Request an Adventurer 80RB Brochure
Web: amlrv.com
RETURN TO – The Complete Adventurer 80RB Review
Quality, Customer Service, and Long-Term Reliability
Truck Camper Magazine inspects all reviewed truck campers for design, material, and quality issues and reports what we find.  However, since Truck Camper Magazine reviews only brand new truck campers, our reviews do not address long-term quality, customer service, or reliability.
To learn about a brand's long-term quality, customer service, and reliability, Truck Camper Magazine recommends talking directly with truck camper owners at truck camper rallies and online via truck camper forums and truck camper owners groups.
Please be sure to balance your gathered feedback across multiple sources including direct correspondence with the truck camper manufacturers and your closest truck camper dealers.
If you are new to truck campers, visit the Newbie Corner.