Adventurer Manufacturing revolutionizes their production processes with new equipment selected from around the world.  The efficiencies and capabilities of this equipment are shaping the future of Eagle Cap and Adventurer truck campers.

Imagine you're the owner of a truck camper manufacturer in 2018.  Demand for your products is at record high levels.  So are your material and labor costs.  These trends show no sign of letting up and are starting to stress your production team and profit margins.
To state the obvious, your job as is to increase production while improving quality and profits.  If you had a magic wand you would build a new factory and hire more team members, but neither option is possible at this time.  For one, you can't find enough qualified people to hire.  For two, there isn't the land to expand your current facility, and commercial real estate prices in your area are through the roof.
So what are you going to do?  In two words; new equipment.
We stopped by Adventurer Manufacturing this past August to see their all-new 2019 Adventurer 901SB 50th Anniversary Edition.  Dave Frampton, General Manager for Adventurer Manufacturing also wanted to show us some significant factory changes and new equipment purchases.
As Dave explained it, the new equipment was making a major impact in production, quality, and overall efficiency.  Working with the entire production and management team, he had already expanded, reorganized, and maximized the facility (including instituting 5S Lean Manufacturing company-wide) and was now aggressively launching best-of-breed technology and CNC equipment to push Adventurer's production and quality envelope forward.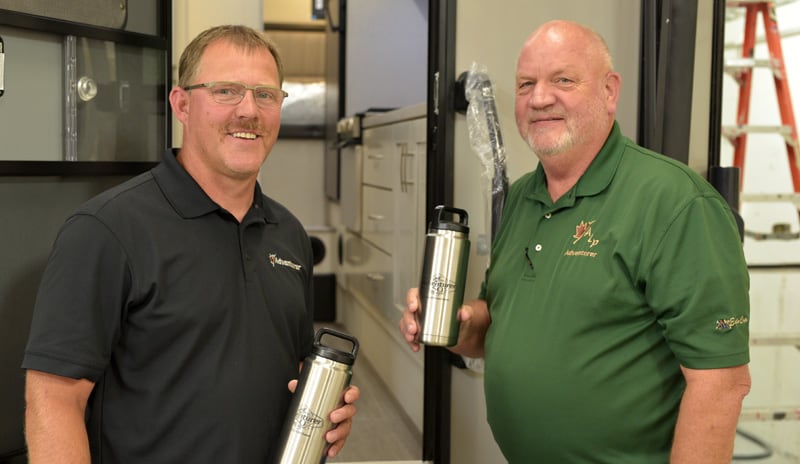 Above: Dave Frampton, General Manager, and Greg Tucknies, National Sales Manager with Adventurer's 50th Anniversary Yeti bottles
The synergy of all of these changes is what really had Dave excited.  The expansion, reorganization, 5S/Lean, and new equipment and technology was not only improving production, quality, and profits, but it was also unleashing new possibilities for truck camper design.
With our camera and notebook in hand, Dave took us through the Adventurer Manufacturing factory and presented the new equipment, explained why it was selected, and how it was making an impact.  We started at the new TigerStop TigerSaw.
TigerStop TigerSaw
TigerStop was founded in 1994 by a successful manufacturing entrepreneur who became frustrated at the inefficiency he saw on his own wood processing process.  Headquartered in Washington State, TigerStop was launched to automate cutting, boring, and machining lumber.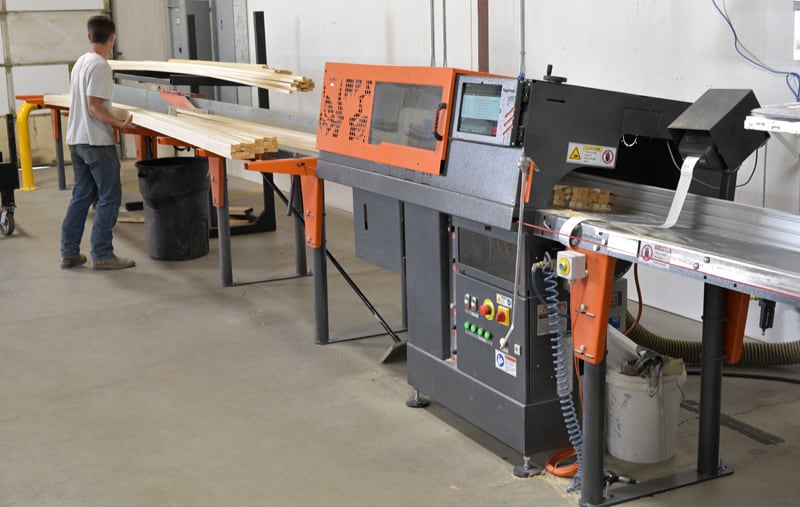 For their lumber processing needs, Adventurer Manufacturing selected TigerStop's TigerSaw automated push feed saw station.  The TigerSaw is specifically designed to increase yield and accuracy.  That means more processed material from less lumber at a higher quality.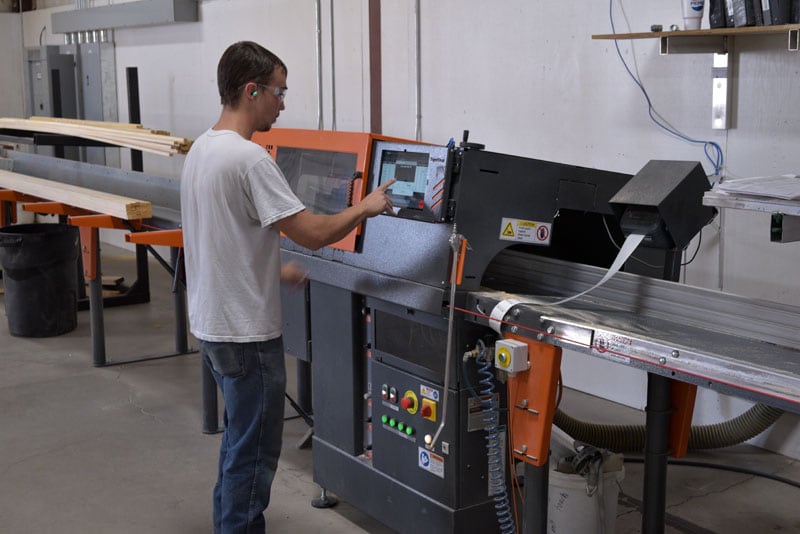 Once a cut list has been loaded from CAD into the TigerSaw, the operator brings the required lumber to the system.  When the operator initiates the cut on the system's touchscreen, the TigerSaw accurately measures and cuts the material.  This all happens in a few seconds.
It was impressive to see how much lumber the TigerSaw could cut with a single pass.  Dave explained that they can now process eight pieces of lumber simultaneously where they had been limited to three.  That's a 166-percent increase in efficiency.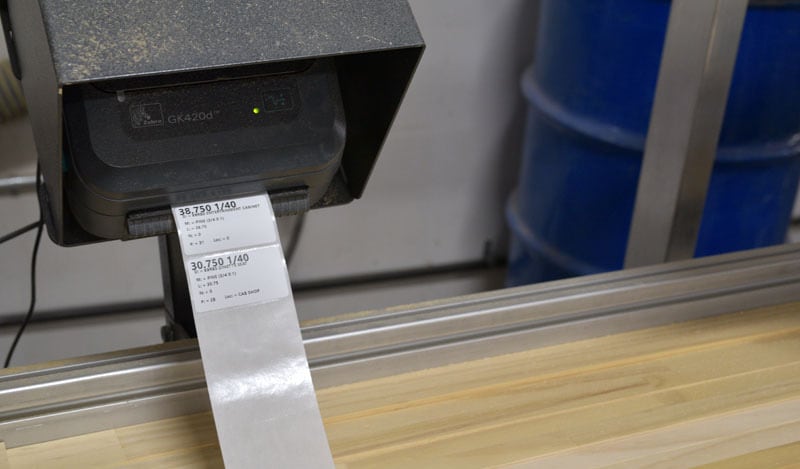 Adventurer Manufacturing added a label printer to the TigerSaw that automatically generates labels for every processed material the system produces.
We watched as Adventurer team member, Kenny Morgan, pulled the labels from the printer and applied them to the materials as they were completed.  The label printer was right where it needed to be for minimal motion.  The labels include a part number, camper model, material type, material dimensions, and more – all designed to further improve internal tracking and efficiency.