Continuing on the 2015 "Never Seen That" tour, TCM lands at Adventurer Manufacturing in Yakima, Washington and gets a bird's eye view of the new Eagle Cap Camper production line.

Welcome to the next installment of Truck Camper Magazine's "Never Seen That" tour.  On this tour we are visiting camper and gear factories we have never seen, and bringing you our exclusive reports.
Wait a minute!  How is it possible that TCM never visited Eagle Cap, a major truck camper manufacturer?  Haven't we visited every truck camper company from the Atlantic to the Pacific, at least twice, over the past eight years?
Yes, we have.  And no, we have not.
In 2007 and 2010, we visited Eagle Cap in La Grande, Oregon.  Less than three months after our visit in 2010, Adventurer Manufacturing purchased Eagle Cap and brought the company to Yakima, Washington.
This wasn't a big deal initially as Adventurer Manufacturing faithfully re-created every aspect of Eagle Cap's original design and manufacturing process – material for material, floor plan for floor plan – with a few exceptions they openly detailed in various articles here in Truck Camper Magazine.
Then something dramatic happened in July of 2014.  Adventurer Manufacturing announced that Eagle Cap would become a bird of a very different feather.  Every aspect of Eagle Cap campers had been re-examined, challenged, and pushed forward by the Adventurer Manufacturing team.  The next generation of Eagle Cap would be rolling off the line for 2015.
With this announcement, we needed to see the new production line, and get in tune with how Adventurer Manufacturing is building Eagle Cap.  You can't do that from the East Coast.  You have to get into the factory, talk to the team, and experience the production line in person.
In July we pulled into Adventurer Manufacturing in Yakima.  From the outside nothing looked all that different.  That would soon change.
Click on the photo thumbnails throughout this article to enlarge.
Walking around the Adventurer Manufacturing plant, we would have been hard pressed to say anything new was going on inside.  That is until we saw the rows of 2016 Eagle Cap truck campers out back.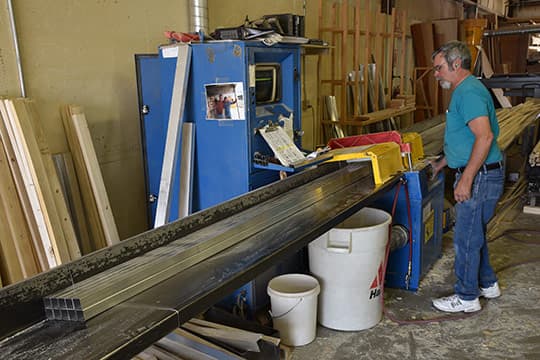 We started our factory walkthrough where wood and aluminum are brought into the plant.  There we found Marvin Kern right we we left him in 2010.  Marvin manned this same computer controlled cutting table at Western RV, and probably cut the aluminum and wood for our 2004 Alpenlite 1100.
Have I mentioned how much I enjoy the intense squeal of aluminum being cut?  Let's just say the florescent green ear plugs Marvin is wearing aren't a fashion statement.  At least not entirely.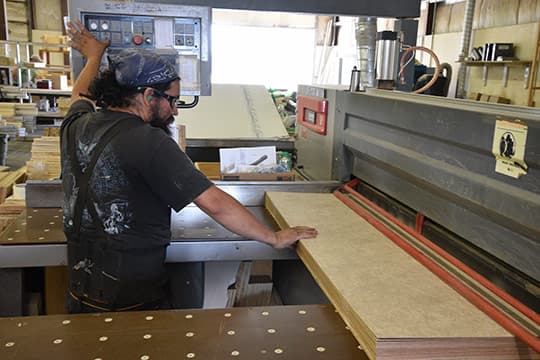 About fifteen feet from where Marvin is waking the dead, Omar Jimenez was using a computer controlled system to precision cut wall board.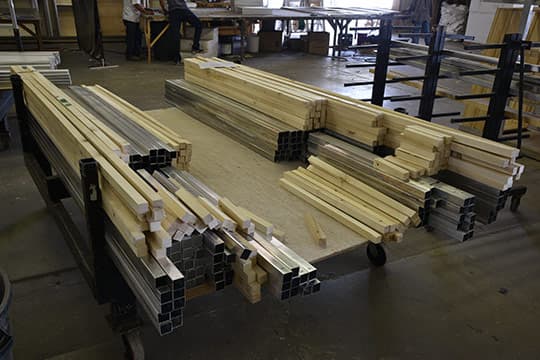 To give screws a solid and secure bite inside the Eagle Cap aluminum frames, Adventurer Manufacturing stuffs their aluminum frames with wood.  We see this conservative structural approach at almost every hard side truck camper manufacturer that frames with aluminum.
Eagle Cap campers are aluminum framed and TIG welded.  Here you see the Adventurer Manufacturing welding team, Miguel Silva and Derek Polley, TIG welding the full length of the adjoining aluminum.  Adventurer's management later explained that TIG welding takes longer than tack welding, but produces a significantly stronger weld.