TCM reviews the 2012 Adventurer 86FB and talks to Greg Tucknies, National Sales Manager for Adventurer Manufacturing.

For 2011, we debuted the "Our Experience" series which blends a personal truck camping adventure story with a full on truck camper review.  To date we have published "Our Experience" reviews on the Lance 1050S, Wolf Creek 850, Northstar Escape Pod 750, Palomino Maverick Max 2902, and Travel Lite 1000 SLRX Ultra.  With each "Our Experience" story, we have honed our reviewing craft and pushed the "Our Experience" concept further.  Before this year is out, one more experience story is on the way.
The problem with the "Our Experience" series is time and money.  These articles require a week or more away from our normal work flow.  In short, it's not practical to do more than a handful of "Our Experience" stories each year.
So how do we do more camper reviews without blowing our budget or throwing our aggressive publishing schedule out the window?  The answer is simple, review the campers where we find them; at dealerships and RV shows.  These reviews will not be as in-depth as the "Our Experience" series, but they will allow us to review many more campers.  With that, let me introduce to you our new series, the "First Look".
The subject of our very first "First Look" is the 2012 Adventurer 86FB.  We published a "New Camper" announcement for the Adventurer 86FB back in April but we finally saw the camper for the first time last month.  While we looked the camper over, we hatched the idea for the "First Look" series.  We also decided a follow-up with Greg Tucknies, Adventurer Manufacturing's National Sales Manager, was in order to get more information on their extensive changes for 2012.  Based on what we saw, there hasn't been an idle hand at Adventurer in 2011.  Contact Adventurer about the 86FB.
First Look: 2012 Adventurer 86FB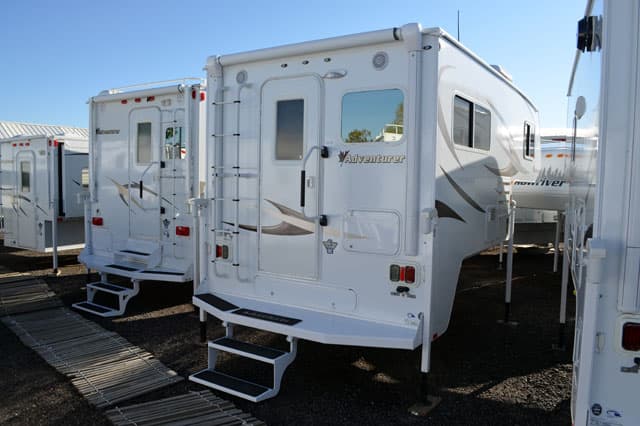 One of the disadvantages of giving our impressions of a camper from a dealer lot is that we can't take it somewhere and properly photograph its exterior.  This was the best shot I could get.  You can see the electric awning, ladder, Comfort Step, and Happijac jacks.  It's a good looking camper.
The outside of 2012 Adventurer 86FB is very clean and well laid out.  We didn't have any trouble finding all the usual exterior amenities and we both liked the tasteful but understated decals.  The front nose is filon wrapped and no longer features a fiberglass cap.  As long as the exterior seals are well done by Adventurer and well maintained by the consumer, I don't have a problem with the change away from the fiberglass end cap, especially at this price and weight point.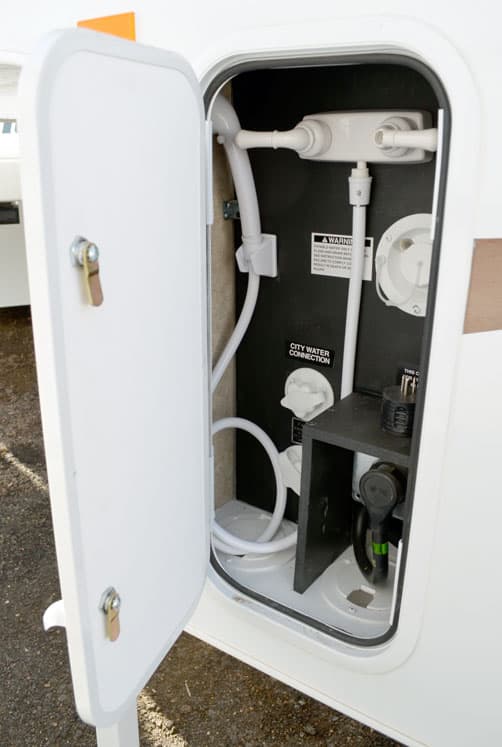 Angela and I wish every camper could have a service center like this.  As the photograph shows, the 86FB has the outside shower, water fill, city water connection, and electrical connection all in one place.  Other manufacturers have done similar multi-purpose compartments, but it's great to see Adventurer add the service center to the 86FB.  We even like the cable and hose pass-throughs that allow the cables and hoses to exit the bottom of the compartment and the compartment door to be kept closed.  Very slick.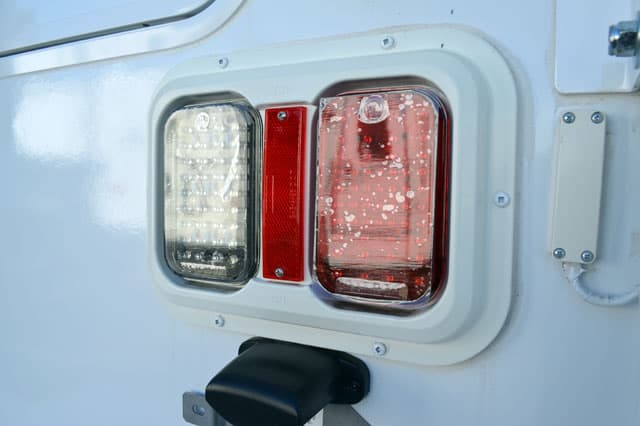 The whole industry has gone batty with LED fever.  For 2012, Adventurer has caught the LED bug and changed all of their exterior lights to LED.  Here you can see the rear LED tail lights.
When we had our 2010 Adventurer 90FWS, it was the Comfort Step aluminum bumper system that always stole the show.  Whether at rallies, campgrounds, or gas stations, people would come up to the camper to share their praise for the steps.  After they had the opportunity to use the Comfort Steps they were even more impressed.  The steps look and feel like residential style steps and make entering and exiting the camper a pleasure.
Thankfully, Adventurer has put their Comfort Step system on the 86FB.  If you own this camper, get ready to do a little of your own show and tell as people come up to compliment and test the steps.
When I opened the rear compartment door and saw how clean, neat, and orderly the dump facilities, plumbing, holding tanks, and wiring looked, I was ecstatic.  To be honest, the 2010 90FWS did not show nearly as well.  Even better, the dump valves are easy to reach and color coded (if you can call black and grey colors).  If this is any indication of the production quality changes at Adventurer, we are impressed.
On our 2010 Adventurer 90FWS, you also had to remove a step to access the rear compartment where the dump valves were.  This was a real pain in the butt and I even managed to break the compartment door once when I absentmindedly used it as a step coming out of the camper (long story).
For the 2012 Adventurer 86FB, Adventurer has removed the step.  This is great as it makes accessing the dump facilities much easier and faster, but it also makes the final step-up into the camper a little tall.  I don't think this is a big deal (the final step-up is not much higher than the Comfort Steps), but it's something to be aware of.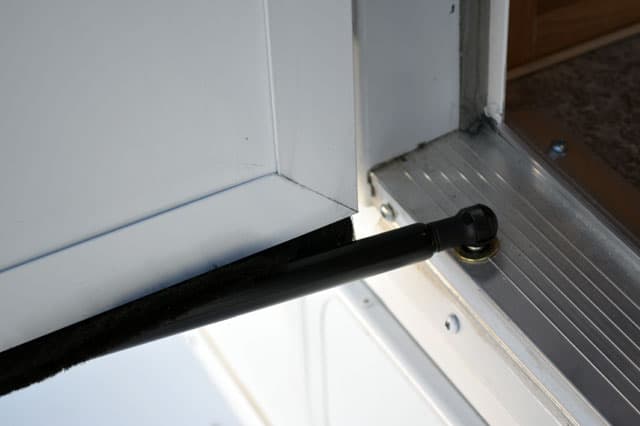 Often little details add up to big improvements.  For 2012, Adventurer has added a gas strut to hold the entry door open.  As someone who uses campers in all kinds of environmental conditions, this is a very welcome detail.  On a windy day, the 86FB door would stay open.  If we parked on a slant, the 86FB door would stay open.  And the 86FB door doesn't need one of those fragile latches to hold itself open.  Perhaps, in use, there would be a negative about a gas strut on the rear door, but I can't think of one.  Nice addition Adventurer.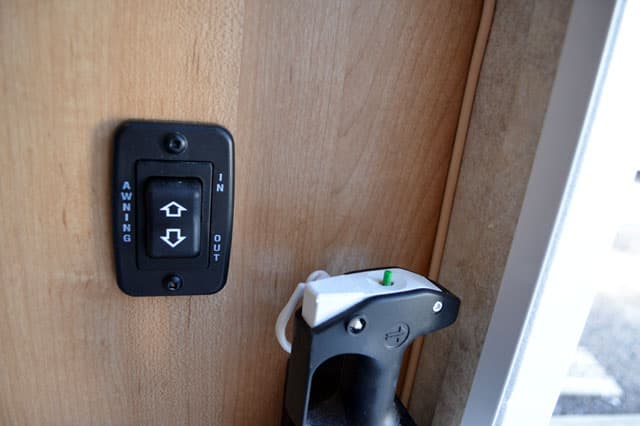 If you missed the comment earlier, the 2012 Adventurer 86FB features an electric awning.  Just inside the back door is the switch to extend or retract the awning.  As someone who doesn't like the fuss of manually extended awnings, having an electric awning with the switch right at the back door entry way would probably make me actually use awnings.
For the record, we have borrowed five campers from the industry over a one year period each and never once used an awning.  We always return the campers with the awnings still tied up as they delivered them.  Having an electric awning so easy and convenient to use might change that.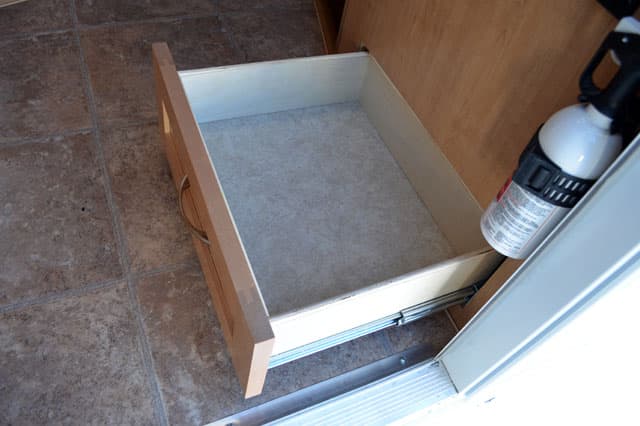 Just inside the back door, there's a drawer where you could keep the camper jack remote among other things.  It's a neat place to see a drawer and I'm sure 86FB owners will put it to good use.  I also liked seeing the steel drawer roller guides.
The view when you enter the 2012 Adventurer 86FB is that of an open, well laid out camper with a narrow hall leading to the cabover bedroom.  For a non-slide camper, this means the camper effectively has two distinct rooms.  The floors, cabinets, counters, dinette table, and fabrics are warm, work well together, and are all relatively neutral.
The dinette is a home run.  It's attractive, comfortable, functional, and features storage under the seats.  The dinette table is a dream dinette allowing the dinette to be easily converted into a bed.  The shape of the table maximizes the size of the dinette while not crowding the camper.  For a non-slide dinette in a small camper, this is nice work.
Above the dinette is storage and the CD/DVD entertainment system.  The Jensen entertainment system is a big improvement from the stereo we had in the 2010 90FWS.  I especially appreciate the USB and auxiliary in for an iPod.  The alarm clock function is also welcome.
The kitchen in the 2012 Adventurer 86FB is a compact but highly functional kitchen.  I really like the design and storage opportunities.  The cabinetry is a light but warm color and has a clean and modern aesthetic.  Everything seems to be exactly where it should be.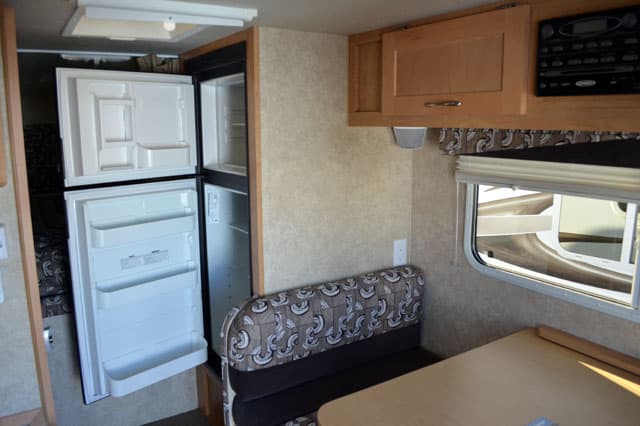 The six cubic foot refrigerator is enough to hold food for at least a week for two people.  The skylight just over the refrigerator keeps the hall between the main interior and cabover from getting too dark.
The fully-featured wet bath in the 86FB is well designed and quite large.  The nearly full-width skylight really adds to the sense of size and improves the height.  One detail that caught our attention was the use of the small fan on the side.  We used one of these fans in another camper and found it to be a small wonder; quite powerful and effective.
Storage in the overcab is good with a mirrored wardrobe on the driver's side and a horizontal compartment on the passenger side.  Perhaps we're in the minority here, but we would prefer to see a more traditional approach to storage in the overcab where both sides had horizontal compartment and a smaller closet cabinet.  We would also prefer a window on the driver's side or at least a Heki skylight.  Campers who prefer camping in colder weather will probably applaud the lack of overcab windows, while others, like us, like to have the visibility and sense of space at least one more window would provide.  Don't fence me in.
Overall Impression
It's no secret that we like hard-side non-slide truck campers.  It may not be as widely known that the floor plan of the 86FB is very similar to our favorite truck camper floorplan; mid-bath, rear kitchen, and full-booth dinette.  Let's just say that the 2012 Adventurer 86FB is, by far, my favorite Adventurer model.
I would like to see the overcab storage change and a window added, but that's my biggest concern about what is clearly an outstanding floor plan and design.  If you're in the market for a short or long bed wet bath truck camper, the 86FB deserves to be on your list.
Contact Adventurer about the 86FB.
Adventurer Manufacturing Changes for 2012
The following is an interview with Greg Tucknies, National Sales Manager for Adventurer Manufacturing, about the 2012 changes to Adventurer truck campers.
TCM: What has changed at Adventurer for 2012?
Greg: Adventurer is the number one selling truck camper brand in Canada and has been for many years.  Since our move from Canada to Yakima, Washington in the Spring of 2008, we have become a prominent truck camper manufacturer in the United States as well.  Due to lower property costs, labor rates, and a more favorable situation with the exchange rate in the United States, we were able to reduce the costs of our campers by 11-15% across the board.
For 2012, we have made even more progress in our efforts to be a value leader in the truck camper marketplace and to reduce the weight of our products.  Practically everything in our campers has been significantly improved for 2012.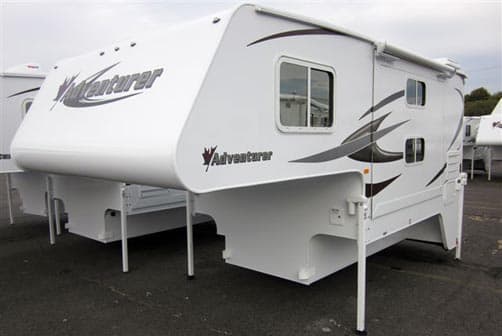 Above: The new Adventurer graphics for their 2012 models
TCM: What has Adventurer changed for 2012 on the exterior of its campers?
Greg: The first thing people will notice is our new graphics.  While the new graphics are not as bold as some other manufacturers, they give the Adventurer line an updated and appealing aesthetic.  It's a very nice change.
We have upgraded our ladders to TopLine's Phat Ladder for all Adventurer truck campers except for our small eight foot models.
Above: The new camper guides for their 2012 models
Perhaps a more exciting innovation for 2012 is our new camper guides.  Our camper guides taper in to help you load a truck camper inside the wheel wells.
TCM: Are those the camper guides that Rob Rapose has been developing for a few years?
Greg: Yes they are.  They work well and are now standard on all Adventurer truck campers for 2012.
We also added a three-eighths inch rubber pad on the bottom of all 2012 models except for the eight-foot models.  The rubber pad is non-slip and helps to keep a camper in place.  Before you needed to add a rubber mat in your truck bed.  Now it's built onto your camper.
After careful consideration, we have deleted the roof rack on all of our camper models.  We want to make our campers as maintenance free as possible.  Eliminating the roof rack eliminated a lot of holes in the roof.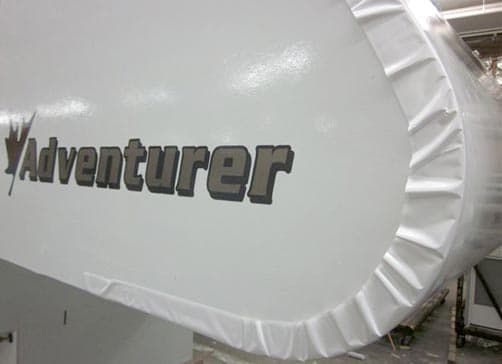 Above: The nose wrap sealing process
Speaking of less maintenance, we also eliminated the front nose fiberglass cap for 2012 and now use a full nose G3 Fiberglass wrap for all models.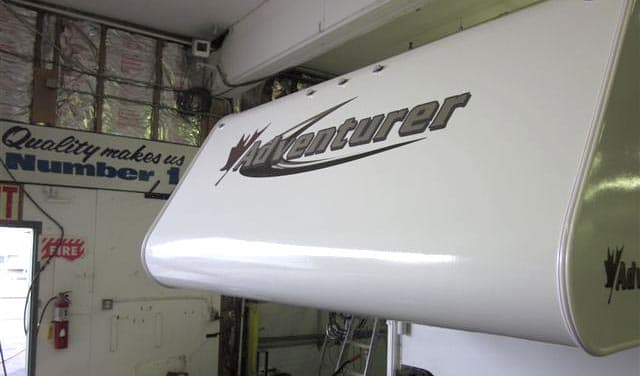 Above: The front nose with the new nose wrap
The result is a front nose aesthetic that is smoother, cleaner, and more automotive in style.  More importantly, we have added full insulation to the front nose and have employed major improvements to our front nose sealing processes.
We also have been able to reduce about 75 to 127 pounds from each model this year.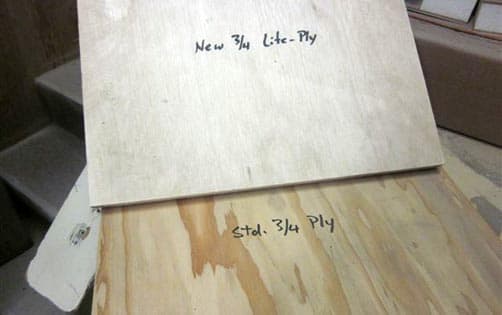 Above: The Lite Ply and standard plywood
TCM: Wow.  How did you take that much weight out of each camper?
Greg: It was a concentrated effort by the whole Adventurer team.  We changed to Lite Ply plywood, which is 40% lighter than three-quarter inch plywood and is a stronger structural material.  We often show identically sized pieces of Lite Ply and three-quarter inch plywood to guests who tour our factory.  The difference isn't subtle.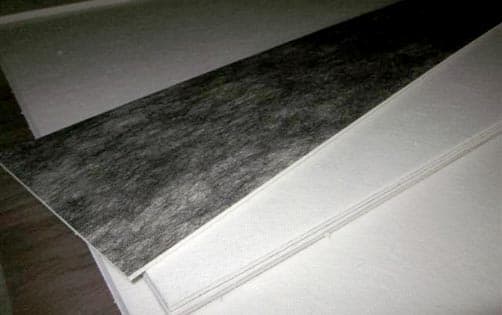 Above: Azdel front and back
TCM: No, it's not.  We've seen Lite Ply and it is impressively light in the hand compared to more traditional plywood.  Are you also using Azdel?
Greg: Yes, that's another material we're using to reduce the weight in our campers.  We are replacing the Luan plywood in our sidewalls with Azdel, a thermoplastic composite that is impervious to water.  We used Azdel in limited applications for 2011, but we're using it across the board for 2012.
Another advantage for Azdel is that it allows for a tighter bond with our TCC® lamination system.  With our change to Azdel, we lose about 60% of the weight compared to using Luan plywood.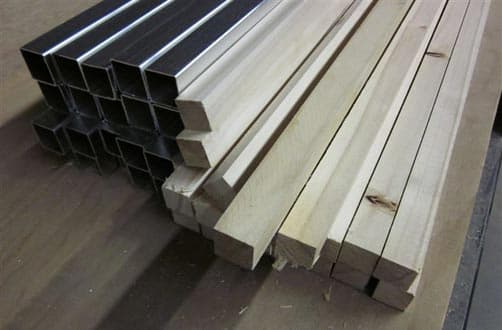 Above: The Albus inserts are on the right and aluminum tubing is on the left
We also changed the pine or fir wood inserts in our anchor points to a wood called Albus.  Albus gives us stronger anchor point, and it gives us about 35% weight reduction.  Albus is a fast growing farmed product, so we're not wasting natural resources.  Albus can be quickly replenished and replaced.
TCM: Where does Adventurer learn about new materials and weight reduction techniques?
Greg: Dave Frampton, Adventurer's Product Development Manager, and Dave Catron, our Engineer, are constantly looking at new products, materials, and techniques.  They look for the latest and greatest, but wait until it becomes price effective and refined.  We also do a lot on testing new products, materials, and processes before implementation.  We need to make sure the things we're evaluating will last for many years to come.
TCM: How about the interior changes for Adventurer for 2012?
Greg: We have three all new fabric choices, camel, platinum, and creekside, with a two tone combination designed by our interior designer.
We changed the interior wood cabinetry color to be a little darker.  It's a Melrose Maple, which is a medium maple tone.  In the past we've gotten comments about the wood color in Adventurer campers being too light, so we now have the Melrose Maple.
We've now added Ozite fabric to the ceiling and sleeper floor, which improves both insulation and sound absorption in the camper.
The stereo is also new for 2012.  We are using a Jensen AM/FM/CD/DVD stereo with a built in selector switch for the interior or exterior speakers.  It also has iPod connections and USB connections.
We went from a fifteen inch to a nineteen inch twelve volt television.  Using a 12-volt television means  no  need for an inverter to use the television allowing longer battery life.  Jensen has set up a customer quality assurance program called "Peace of Mind" with twenty-four hour customer service.  If there's a problem that's not an adjustment or user error, they will ship you out a new stereo or television with shipping included both ways.  They've really put together a nice program for us.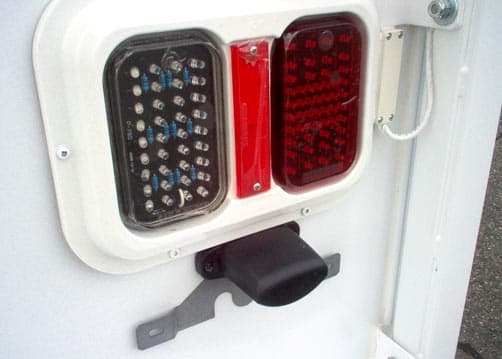 Above: Kaper II LED lights on the exterior
TCM: That is a nice program.  At Five Star RV, we saw that Adventurer has gone to LED exterior lighting for 2012.
Greg: Yes, for 2012 we've changed to Kaper II LED lights on all of our exterior lights tail, backup, clearance and even our patio lights are now LED.
TCM: Kaper II?
Greg: Kaper II is a new manufacturer in the industry out of Kelso, Washington.  They are a close supplier for us and have different colors and tones of LED lights.  We get good pricing from Kaper II, and changing to LED lighting made sense for increasing Adventurer's value.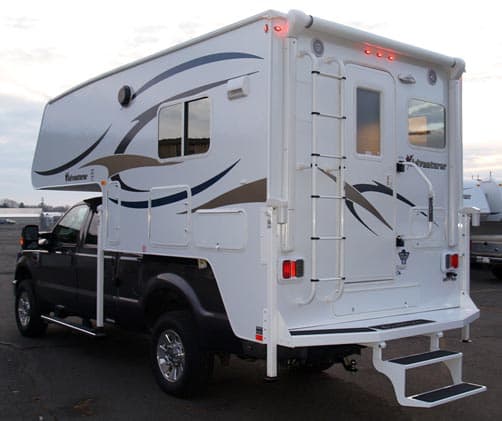 Above: The LED lighting on the rear of an Adventurer 86FB

TCM: Are you still going through and updating the older (pre-move) Adventurer models or has that process been completed?
Greg: This year we've converted everything to our United States build.
TCM: Any other changes to existing Adventurer models?
Greg: Our 80GS now has an electric slide instead of a manual slide.  It slides in and out easier and seals much better.  The electric slide on the 80GS has been a very nice addition for 2012.  Most importantly, at 1,466 pounds dry weight, there has been no net weight gain.  We were able to save weight through our 2012 material changes.
One of the past concerns with the 106DBS was that the dinette slide was not deep enough.  Now we have a deeper slide which gives you more floor space in that model.
In the 950B, our bunk model, we changed the dinette configuration.  Customers wanted a little more counter space and storage, so we also changed the galley design.  It's now angled like the 86FB.
The thing I'm most excited about for 2012 is that we were able to hold our pricing.  On average, we only went up .8% (eight tenths of one percent), with all of these changes and the added features.
TCM: Since our first visit to Adventurer in 2007, the company has used both aluminum and wood framing in its campers.  Is that still the approach in 2012?
Greg: That's correct.  With our TCC® lamination and construction process, the structure inside the laminated walls is relatively insignificant.  We don't see the wood or aluminum being of structural interest or value.  The key is our TCC® process, not the framing material.  That's why we offer the same three year structural warranty no matter how it's framed.
TCM: Are you using CNC beyond just cutting your raw aluminum and wood materials?
Greg: We're still on the fence about the value of converting to CNC for routing sidewalls.  CNC has some benefits, but has significant cost factors as well.  When I worked at Western Recreational Vehicles, we had CNC routers.  The problem was that sometimes they would get tweaked and it would throw everything off.  We are looking at that technology.  We're even looking at some robotics, but we are doing our due diligence first.  We need to keep our costs and our product costs down to remain a value leader in the marketplace.
TCM: Any changes to the quality control process at Adventurer?
Greg: Yes, our quality assurance process has changed quite a bit.  Brad Boyle is now our Quality Assurance and Warranty Administrator Manager.  Miguel Garcia, who you featured in our 2010 factory tour, is also still on quality assurance.  We also have a new guy who is being trained by Brad to cover our other production line.
Jim DeBord and I on the sales side of it are also out there routinely spot checking the campers and we are the ones responsible for setting the standards for quality assurance.  Our dealers have been telling us that each camper load keeps getting better and better, that's the true gauge when the dealer and customer are making those types of comments.  We are striving to be the number one camper brand in both countries.
TCM: Are any models being discontinued for 2012?
Greg: The 90FWS and 85WS are the only two models that are discontinued for 2012.  The 86FB has been our best seller in 2011 and replaces both of those older models.  We are running thirty to forty 86FB campers at a time.  The 86FB totally hits the mark with a large wet bath and a face-to-face dinette.  It's hitting the mark across the board.
TCM: It is a very impressive floor plan if you're looking for a hard-side, non-slide, wet bath camper.  It's certainly up our alley.  Is Adventurer hiring?
Greg: Yes.  We are hiring as many quality team members as we can find for our production team.  We have a very stringent screening process and background check.  Recently we've been hiring fifteen to twenty people a week.
I'm finishing up our sales projections for next year right now.  In 2011, if we don't sell another unit, we will have a 39% increase with Adventurer truck campers.  Next year our projection is that we'll be up another 43% over this year.  That's just in truck campers.
We're growing and getting better.  I think Adventurer is the best kept secret out there. We're really excited.  We are welcoming new dealers.  Come see us in Louisville at spot 1520.
TCM: That's all good news for the economy.  We'll see you in Louisville for more up close time with the new 2012 Adventurer product.  Thanks Greg.
Greg: You're welcome.