Starting with a clean slate, the 2012 Adventurer 86FB is a completely fresh design for Adventurer.  We also welcome Greg Tucknies to the Adventurer team and wish Burk Morgan well in his future endeavors.

Most new camper designs are evolutionary.  The manufacturers start with an existing model and make incremental improvements to develop an updated and refreshed camper.  This approach ensures that the qualities of the existing camper model are maintained while small changes in materials, production methods, appliances, and accessories are implemented.
There's a lot to be said for evolutionary design, but it can also be frustrating for camper designers who see so much potential.  With the radical advances in three-dimensional computer modeling, composite materials, and other modern production tools, the reasons to start from a blank page are compelling.  To the camper designer, the opportunities are obvious, but the will of management to leap towards the future and take a expensive risk is often, and understandably, cautious.
When we talked to the design and management teams at Adventurer about their new 86FB, they were very excited.  The 86FB is the first camper designed from scratch by the United States based Adventurer team.  Based on the positive feedback we're had from Adventurer dealers and their customers on the 86FB, we hope this new model is a sign of what's to come from Yakima.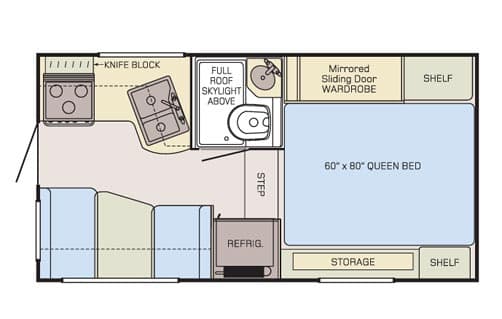 2012 Adventurer 86FB Specifications:
The 2012 Adventurer  86FB is a hard side, non-slide, wet bath truck camper that fits on a long or short bed truck.  The interior floor length of the 2012 Adventurer 86FB is 8'6″ and the interior height is 78″.  The exterior length is 15'11" and Adventurer is reporting the dry weight of the camper at 2,312 pounds without options.  The fresh  water  tank in the Adventurer 86FB is 38 gallons.  The camper accommodates two batteries and two twenty-pound propane tanks.  See the below interview for details on pricing and availability.
TCM: Does the 2012 Adventurer 86FB replace a camper in Adventurer's line?
Burk: No, it's completely new and an addition to our Adventurer truck camper line.  It's actually a completely different 8'6" floor plan for us.  We think there's an opportunity and need for a lightweight non-slide out floor plan in the eight-foot size category.
TCM: What trucks is the 86FB targeted for?
Burk: For the 86FB, we were targeting the low 2,300 pound range, dry and without options.  We achieved this.  The 86FB is designed for three-quarter or one-ton trucks and can fit long beds or short beds.  Additionally, the 86FB can accommodate a generator in a short bed or long bed configuration.  Normally an eight-foot class camper will only fit a short bed truck with a factory installed generator.
Most non-slide eight and a half foot campers have very small bathrooms.  Not the 86FB.  The bathroom in the 86FB is the same size bathroom that's in our nine foot eight inch 980RDS.  We want to attract more people to truck campers and having a comfortable bathroom in an eight and a half foot camper is one way we're doing that.  This camper is absolutely all new in that regard.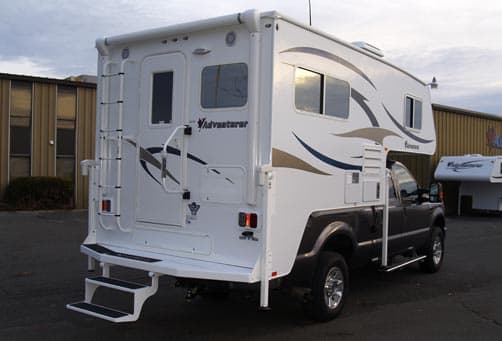 TCM: Tell us about the design and development of the 86FB.  Did you start with a clean slate?
Burk: Yes.  As a team, we sat down and asked ourselves, "What are the issues and items we want to attack with this new camper?".  They were low weight, the size of the bathroom, improving the storage, the addition of basement storage, and increasing the size of the holding tanks.
When you look at a lot of our floor plans, they're forward baths because of the many weight distribution advantages of moving the weight forward.  We also like the facing booth dinette in an eight foot camper without a slide.  The 86FB is very similar to our 90FWS in a smaller size and weight.
Dave Frampton, our Product Development Manager, can give you more perspective on the design and development.  Let me get him for you.
Dave: All of our current non-slides were rear baths.  We wanted a large front bath and a facing dinette.  So, we designed an 8'6" camper with a full walk in bath and facing dinette.  The floor plan really makes this camper stand out.  When you walk into the 86FB, it will explain itself.  It's wide in the rear, has great seating, rounded edges, and rounded counters.  There's lots of counter space.  We're excited to get customer feedback.  I think it will be a strong camper for us.
TCM: Is the Adventurer 86FB wood framed or aluminum framed?