Starting with a clean slate, the 2012 Adventurer 86FB is a completely fresh design for Adventurer.  We also welcome Greg Tucknies to the Adventurer team and wish Burk Morgan well in his future endeavors.

Most new camper designs are evolutionary.  The manufacturers start with an existing model and make incremental improvements to develop an updated and refreshed camper.  This approach ensures that the qualities of the existing camper model are maintained while small changes in materials, production methods, appliances, and accessories are implemented.
There's a lot to be said for evolutionary design, but it can also be frustrating for camper designers who see so much potential.  With the radical advances in three-dimensional computer modeling, composite materials, and other modern production tools, the reasons to start from a blank page are compelling.  To the camper designer, the opportunities are obvious, but the will of management to leap towards the future and take a expensive risk is often, and understandably, cautious.
When we talked to the design and management teams at Adventurer about their new 86FB, they were very excited.  The 86FB is the first camper designed from scratch by the United States based Adventurer team.  Based on the positive feedback we're had from Adventurer dealers and their customers on the 86FB, we hope this new model is a sign of what's to come from Yakima.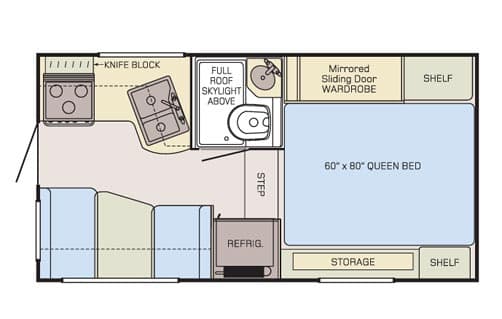 2012 Adventurer 86FB Specifications:
The 2012 Adventurer  86FB is a hard side, non-slide, wet bath truck camper that fits on a long or short bed truck.  The interior floor length of the 2012 Adventurer 86FB is 8'6″ and the interior height is 78″.  The exterior length is 15'11" and Adventurer is reporting the dry weight of the camper at 2,312 pounds without options.  The fresh  water  tank in the Adventurer 86FB is 38 gallons.  The camper accommodates two batteries and two twenty-pound propane tanks.  See the below interview for details on pricing and availability.
TCM: Does the 2012 Adventurer 86FB replace a camper in Adventurer's line?
Burk: No, it's completely new and an addition to our Adventurer truck camper line.  It's actually a completely different 8'6" floor plan for us.  We think there's an opportunity and need for a lightweight non-slide out floor plan in the eight-foot size category.
TCM: What trucks is the 86FB targeted for?
Burk: For the 86FB, we were targeting the low 2,300 pound range, dry and without options.  We achieved this.  The 86FB is designed for three-quarter or one-ton trucks and can fit long beds or short beds.  Additionally, the 86FB can accommodate a generator in a short bed or long bed configuration.  Normally an eight-foot class camper will only fit a short bed truck with a factory installed generator.
Most non-slide eight and a half foot campers have very small bathrooms.  Not the 86FB.  The bathroom in the 86FB is the same size bathroom that's in our nine foot eight inch 980RDS.  We want to attract more people to truck campers and having a comfortable bathroom in an eight and a half foot camper is one way we're doing that.  This camper is absolutely all new in that regard.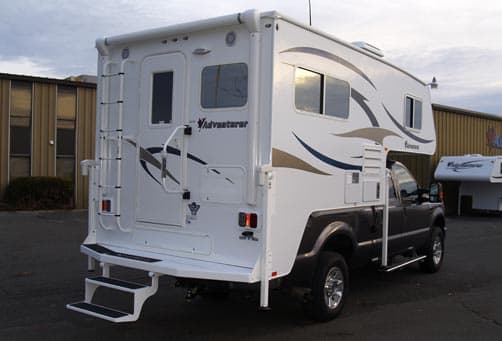 TCM: Tell us about the design and development of the 86FB.  Did you start with a clean slate?
Burk: Yes.  As a team, we sat down and asked ourselves, "What are the issues and items we want to attack with this new camper?".  They were low weight, the size of the bathroom, improving the storage, the addition of basement storage, and increasing the size of the holding tanks.
When you look at a lot of our floor plans, they're forward baths because of the many weight distribution advantages of moving the weight forward.  We also like the facing booth dinette in an eight foot camper without a slide.  The 86FB is very similar to our 90FWS in a smaller size and weight.
Dave Frampton, our Product Development Manager, can give you more perspective on the design and development.  Let me get him for you.
Dave: All of our current non-slides were rear baths.  We wanted a large front bath and a facing dinette.  So, we designed an 8'6" camper with a full walk in bath and facing dinette.  The floor plan really makes this camper stand out.  When you walk into the 86FB, it will explain itself.  It's wide in the rear, has great seating, rounded edges, and rounded counters.  There's lots of counter space.  We're excited to get customer feedback.  I think it will be a strong camper for us.
TCM: Is the Adventurer 86FB wood framed or aluminum framed?
Burk: We use wood and aluminum framing in the 86FB.  There's wood stuffed aluminum in certain areas.  We're also using composites which drive the weight down and the strength up.  It's a hybrid approach where we put the right materials in the right place.
We are still using our Tru-Composite laminated construction.  We use aluminum framing in areas where we think we should for strength and weight.  We also use strips of steel in walls, ceilings, and floors for additional strength when attaching cabinetry.
There's another facet that needs to be discussed here, value.  We look at the parts and material list for a camper and work to drive down our costs.  Labor hours are another critical area where we can drive down costs to produce a camper that's more in line with consumer expectations.  As an industry, we need to move the price of truck campers to be more in line with the price of travel trailers.  Without being price proximate with other similar RV types, often times we lose an opportunity to demonstrate the value a truck camper offers.
Dave: Each material we use has a specific application.  The wood allows for superior mechanical fastening, the aluminum is light weight, and the composites are very light weight.  We know these materials and their properties and put the best material in the best spot.  We also have to look at where the loads and stresses are.  With the 86FB, we don't have the stress of a slide-out, so we can design it accordingly.  It was all driven on what material fit the bill the best.
TCM: Were there any surprises during the design and construction of the Adventurer 86FB?
Dave: Every process has surprises.  This one went pretty cleanly.  We had a solid model to start with and knew what floor plan we wanted.  We always have challenges to make sure we are code compliant.  This camper went through straight to production without an issue.
TCM: Other than the floor plan, what distinguishes the 86FB from the Adventurer 810WS?
Burk: For the past few weeks, I've been selling all of our floor plans side-by-side at RV shows.  All of them feature different price points and attract different buyers.  It really comes down to floor plan preferences.  For example, the 86FB has a forward bath and the 810WS has a rear bath.  The 810WS has a traditional U-shape dinette where the 86FB has a facing booth style dinette.  That's why those two campers can co-exist in our camper line.
It also comes down to the size of the holding tanks.  In the Adventurer 86FB, you have 38 gallon fresh, 31 gallon grey, and 31 gallon black tanks.  The 810WS has 34 gallon fresh, 24 gallon grey, and 18 gallon black.  Obviously, the new 86FB is a real improvement in tank capacities.
For weight, the base 810WS is about 130 pounds heavier than the 86FB, but it's also 4" longer.  Both campers continue to sell very well.
TCM: Does the 86FB feature the exterior service center that is also designed into the new 980RDS?
Burk: Yes, there is an exterior service center in the Adventurer 86FB.  It's a little different in configuration and a little smaller in size.  The service center in the 86FB has an outside shower, the fresh water fill, city water connection, and a 110-volt cord that's permanently attached.
The 86FB also has a dual side-by-side battery compartment instead of a front-to-back compartment on a slide-out tray.  The batteries are now much easier to access and take up less space on the inside of the camper, which gives you more interior storage.
TCM: Can you get the Comfort Step bumper on the Adventurer 86FB?
Burk: The Comfort Step is available for the 86FB as an  option.  We left it as an option because some people want to tow and won't want the longer hitch extension that would be necessary with the Comfort Step.
Another improvement with the 86FB is the access to the optional exterior propane Bar-B-Que quick disconnect.  It's mounted at chest level for easier access and is less susceptible to being coated with road grime than when it is mounted low near the rear of the camper.  The 86FB also has heated basement storage, even though the basement is a bit narrower from top to bottom than other models.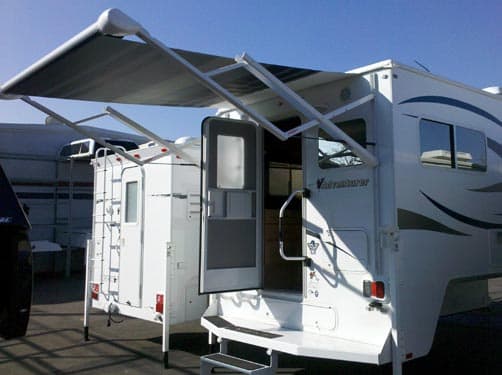 TCM: Tell us about the 12-volt awning shown in the photographs.
Burk: The Adventurer 86FB has an optional 12-volt power awning.  It's currently the only camper in production from any manufacturer that has this option.  To roll out the awning, you push a button.  You don't have to fiddle around with a handle, reach up to grab a strap, yank something out, and adjust the legs.  It's all automatic.
The awning also features a rain dump using gas struts.  On a normal pull out awning, if you leave your rear awning open in the rain, the fabric will drop and fill  with water.  With the 12 volt awing, the water will get to a particular point where the side will collapse, dump the water, and go back into shape.
Another nice feature of the Adventurer 86FB are the solar reflective windows, an Adventurer trademark.  Solar reflective windows will reflect a high percent of UV radiation to keep the interior cooler and provides more privacy.  Thermal pane solar reflective windows are an option.
In the cabover area, there's a sliding double-door wardrobe which has tons of storage.  Like your 90FWS now, the 86FB features a Dream Dinette set up that eliminates the center post or outside table leg that takes away legroom.  It's also easier to make into a sleeping area since the table simply glides down a track attached to the sidewall and into position.  The dinette is angled to allow for a wider walking area between the galley and dinette area and the bedroom and bath area in the camper.  In the mid-section near the cabover there's an overhead skylight that opens up the area and gives a lot of natural light.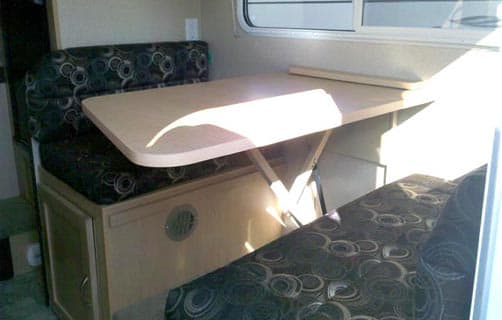 TCM: The Dream Dinette is really nice and it's popping up in more and more camper models.  What is the reported dry weight for the 86FB?
Burk: 2,312 pounds is the base dry weight.
TCM: What is the MSRP for the 86FB?
Burk: $18,830 without freight and including standard features, which is very competitive with travel trailers.
TCM: Is there anything we didn't ask that you want included?  Maybe you have another update on Eagle Cap?
Burk: As for Eagle Cap it is now in production and the first units, Eagle Cap 850s, are coming off-line this next week.  Stay tuned for the debut exclusive of the "New Eagle Cap" truck campers!
And one last note, with a heavy heart, I want to let you know that Friday, April first was my last day at Adventurer LP.  My full-time attention is now required in a business venture in which I am involved here in my adopted hometown of Yakima, Washington.  I have joined with a partner in an auto care services company.
Although I will no longer be directly connected to the RV Industry on a daily basis, I will remain forever connected and interested in what's going on in this dynamic industry that I have been a part of for many years.  Through my tenure at companies in both the wholesale and retail sides of the RV business, I have been extremely fortunate to have worked with many great mentors and professionals that have become great lifelong friends.  To all, thank you!
I am indebted to the team at Adventurer LP for providing a positive and supportive work environment.  The team here is one of the best, and will continue to innovate and provide recreational vehicles central to the success of our dealer partners and of great value to the consumer.
Greg Tucknies will now be the contact for all sales and marketing related issues.  Most of you know Greg.  He has been involved in the RV Industry at both the retail and wholesale levels for many years and joined our team at the end of 2010.  He is a very welcome addition, has a great passion for success, and will do what it takes to help the team at Adventurer and Eagle Cap attain their sales goals with new and innovative products in the future.
TCM: We'll certainly miss working with you Burk.  And good luck in your new venture!  We have already begun working with Greg and look forward to debuting the new Eagle Cap 850.  Thank you Burk!
Burk: You're welcome.  And I'll keep in touch.