For 2020, Eagle Cap launches an all-new exterior, two new interiors, a new entry door, new LED track lighting, new roll-out basement tray and more.  One Eagle Cap model is out, and another is on the way.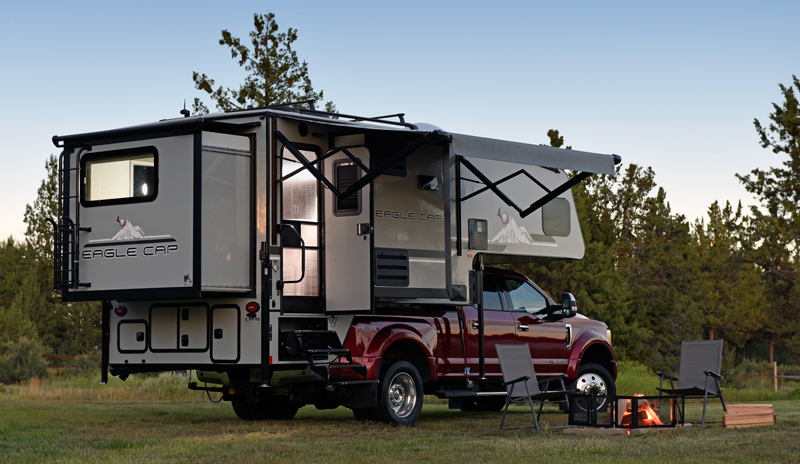 Above: 2020 Eagle Cap Camper, all photos courtesy of Adventurer LP
When you see a 2020 Eagle Cap in the future, chances are it will be a triple-slide.  How do we know this?  Because over 80-percent of Eagle Cap's production consists of their 1200 and 1165 triple-slide models.  When it comes to triple-slide truck campers, nobody builds more units than Eagle Cap.  They are the undisputed world-leader in triple-slide truck camper production.
What's even more interesting is that the Eagle Cap 1200 triple-slide is currently tied with the Adventurer 80RB non-slide as Adventurer Manufacturing's top selling truck camper models.  To have a high-end luxury triple-slide unit tied with a value-priced non-slide unit is remarkable.  It also demonstrates the range in design and market focus at work in Yakima, Washington.
Speaking of work, Adventurer Manufacturing is going full tilt.  Not only have they completely updated the interior and exterior for both their Adventurer and Eagle Cap lines for 2020, but they're also preparing a set of significant new camper announcements for later this year.  Oh, and they are extensively expanding their plant to increase production.  For anyone interested in the truck camper marketplace, Adventurer Manufacturing is a company to watch.
To get the details on the 2020 Eagle Cap changes, we talked to Greg Tucknies, National Sales Manager for Adventurer Manufacturing.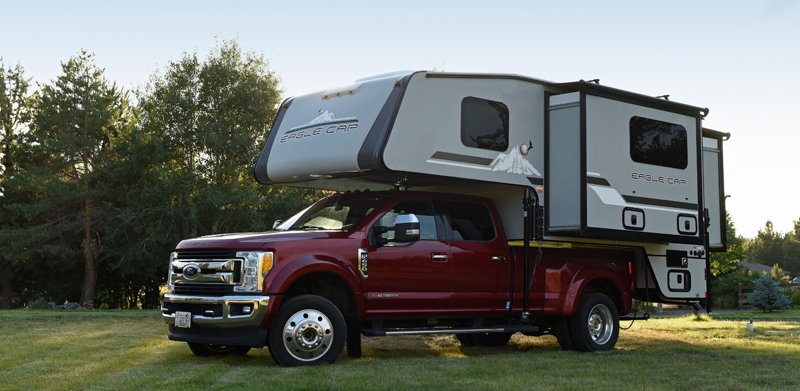 For 2020, Eagle Cap is discontinuing the 960.  This will leave Eagle Cap with only one single-slide model; the 811.  Are you planning more single-slide models for Eagle Cap?
It's all market driven.  Eagle Cap buyers overwhelmingly choose the long or short bed 811 versus the long bed only 960, or they go bigger and purchase a double or triple-slide.
The Eagle Cap 960 was also hindered by its wet bath.  We saw the same issue with the Adventurer 116DS.  People who want bigger truck campers want dry baths, and more room.
Customers who want a 10.5-foot floor plan generally go for a multi-slide model.  In the Eagle Cap line, they mostly want the 1165 or 1200 triple-slide.  Eagle Cap double and triple-slide models also have a 102-inch wide body for the maximum possible floor space.
Before this interview I was looking over the total units ordered by our dealer network for 2020.  The Adventurer 80RB has been our number one seller, but it's now tied with the Eagle Cap 1200 triple-slide.  The Eagle Cap 1200 has seen a big surge in popularity and has overtaken the 811 as the number two seller.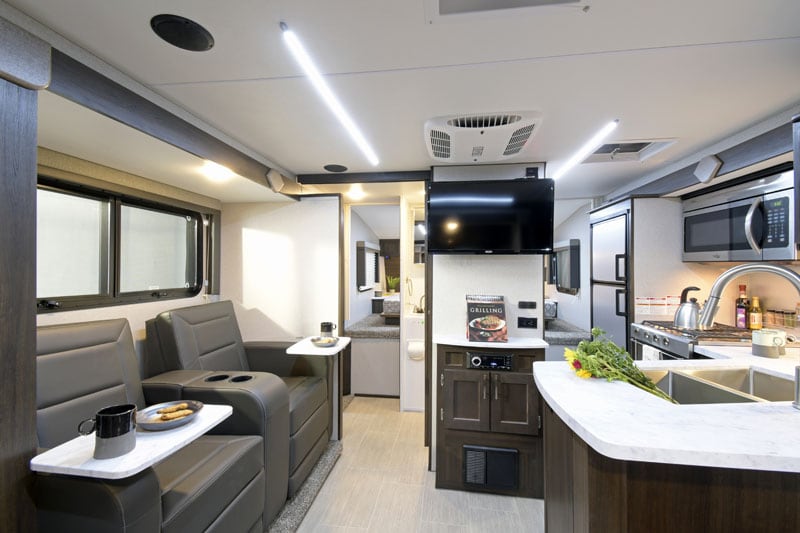 Above: The interior of the Eagle Cap 1200 with the new Steel Desert decor
That's interesting.  Why do you think the 1200 has surged in popularity?
The Eagle Cap 1200 has evolved into a spectacular triple-slide truck camper.  The main attraction has always been the dual-side entry into the bedroom, but numerous refinements and annual model year updates have made the 1200 into a true show stopper.
Multi-slide truck camper buyers are also discovering what sets Eagle Cap apart from the competition.  Eagle Cap triple-slides have 2-inch walls and 2×2 and 2×4 aluminum framing.  That not only gives Eagle Cap thicker walls than the competition, but superior structural strength and insulation quality.
Our units are also way ahead in engineering and cost up to $10,000 less.  When you build a better unit, at a higher quality, price it significantly lower, and have more dealers for support across the country, you sell more units.  And the Eagle Cap 1200 has a king-size bed with under bed storage.  The list goes on.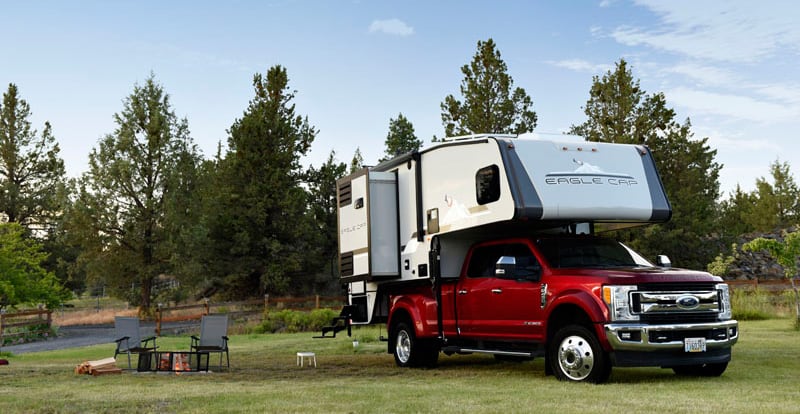 The most obvious 2020 Eagle Cap change is the all-new grey and black exterior color and graphics.  What's the thinking behind this new look?
The exterior look and graphics on Eagle Cap campers hadn't changed from 2015 through 2019.  For 2020, Eagle Cap customers and dealers asked us for a new look.
The new grey exterior gives the 2020 Eagle Cap line a fresh and modern style.  We also completely updated the 2020 Eagle Cap interiors as well.
Updating the exterior and interior for both Adventurer and Eagle Cap has been a massive undertaking, but Engineering, Purchasing and our incredible production team pulled it off.
The 2020 Adventurer updates have been very well received.  Customers are buying the 2020 models over the discounted 2019s because they strongly prefer the new look.  If the initial response to the 2020 Eagle Cap line is any indication, we expect that trend to continue.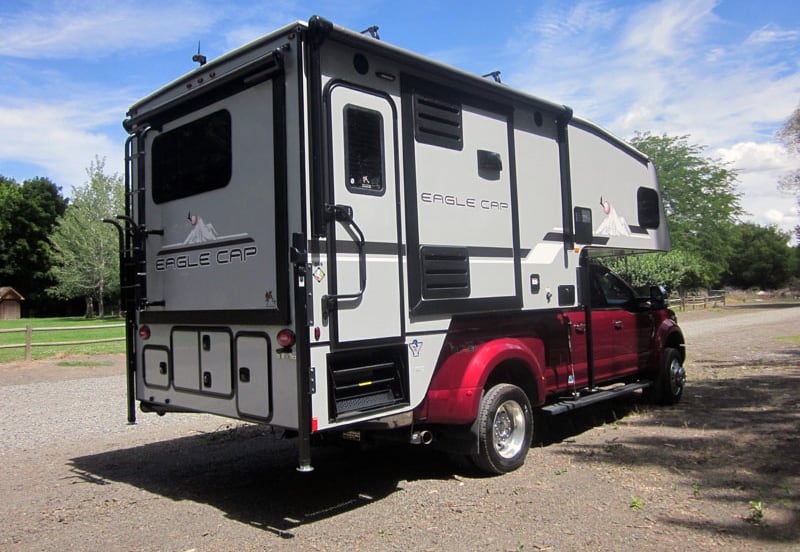 The 2020 Eagle Cap grey/black graphics look very similar to last year's Adventurer 901SB.  How much was the 901SB an influence on the new Eagle Cap exterior?
The biggest reason we decided to make the 2020 Eagle Cap exterior grey was the 901SB's success with a grey exterior.  Truck Camper Magazine readers also supported the grey exterior in the survey you conducted last year.
Are you still using Lamilux 4000 for the Eagle Cap line?
Yes, we are using Lamilux 4000 for the 2020 Eagle Cap line.  It just has a grey gel coat instead of white.  The trim and molding is black to accent the grey Lamilux 4000.  The Happijac jacks are also black to compliment the new look.
Is the new two-tone nose cap made from the same material?
Yes, the front nose cap is still one-piece molded fiberglass.  Unlike the plastic nose caps our competitors are using, molded fiberglass is extremely durable.  It won't flex in the wind and can take bird or tree impacts.
We use 3M Extreme Seal to completely seal the screw holes on the nose cap.  In addition, we use time tested and proven butyl tape as a secondary seal.  We actually employ a six-step sealing process for all of our truck camper products.  Our seals are second to none.
Most of our management team and a good percentage of our production team worked at Western Recreational Vehicles prior to working here.  At Western Rec, we learned how to properly design, produce and seal a nose cap on high-end Class-A motorhomes and fifth-wheels.  That high-end process and mind-set continues here at Adventurer Manufacturing and is part of everything we do here.
We actually struggle when we try to build a product that's more affordable.  That's the challenge of the Adventurer camper line.  With the Eagle Cap line we build whatever we want – the best of the best.  After our Western Rec experience, that's second nature to us.  There's a reason why Eagle Cap is perceived as the best slide-out camper out there.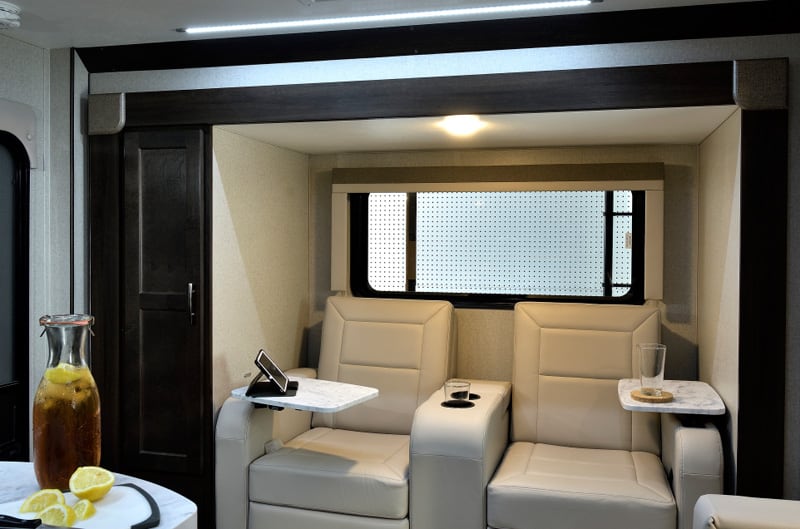 Above: Theater seating in the Toffee Latte decor
Eagle Cap is announcing two new interiors for 2020; Toffee Latte (light brown tone) and Steel Desert (grey tone).  Are you continuing any 2019 Eagle Cap interiors?
No.  Everything from 2019 is gone.  We discontinued all of the 2019 Eagle Cap interiors and are going exclusively with the two brand new 2020 interiors; Toffee Latte and Steel Desert.
We have a very successful relationship with M.B. Designs here in Yakima, Washington.  They not only design all of our Adventurer and Eagle Cap interiors, but specialize in high-end homes.
Before they came up with the new 2020 Eagle Cap interiors, they went to three different RV shows and looked at various high-end motorhomes and fifth-wheels.  They even looked at one-million dollar Class A motorhomes for ideas.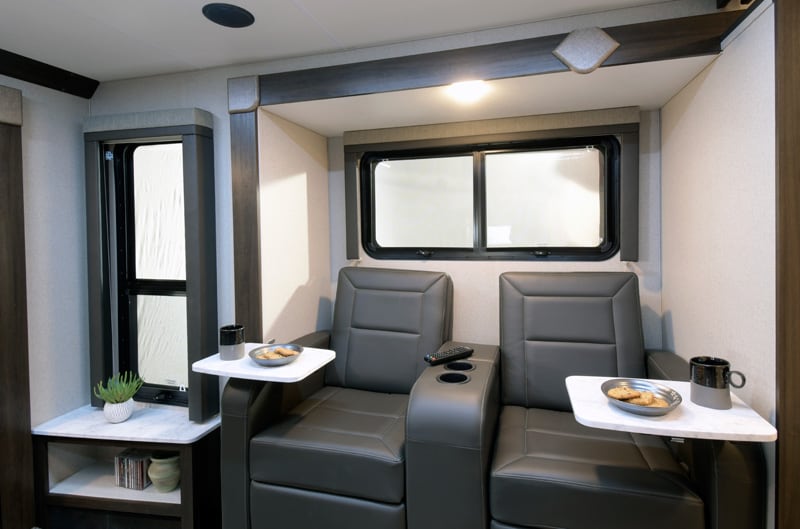 Above: Theater seating in the Steel Desert decor
They combined those inspirations with trends from high-end residential home building.  That's where they got the right combination of color, texture and materials for the 2020 Eagle Cap line.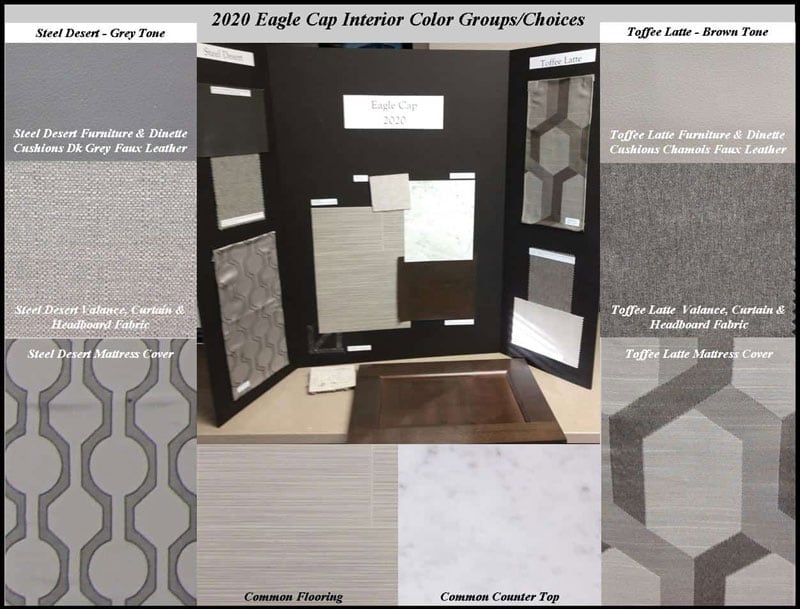 We are very excited what M.B. Designs has developed and can't wait for our dealers and customers to see these new interiors in person.  They're incredible.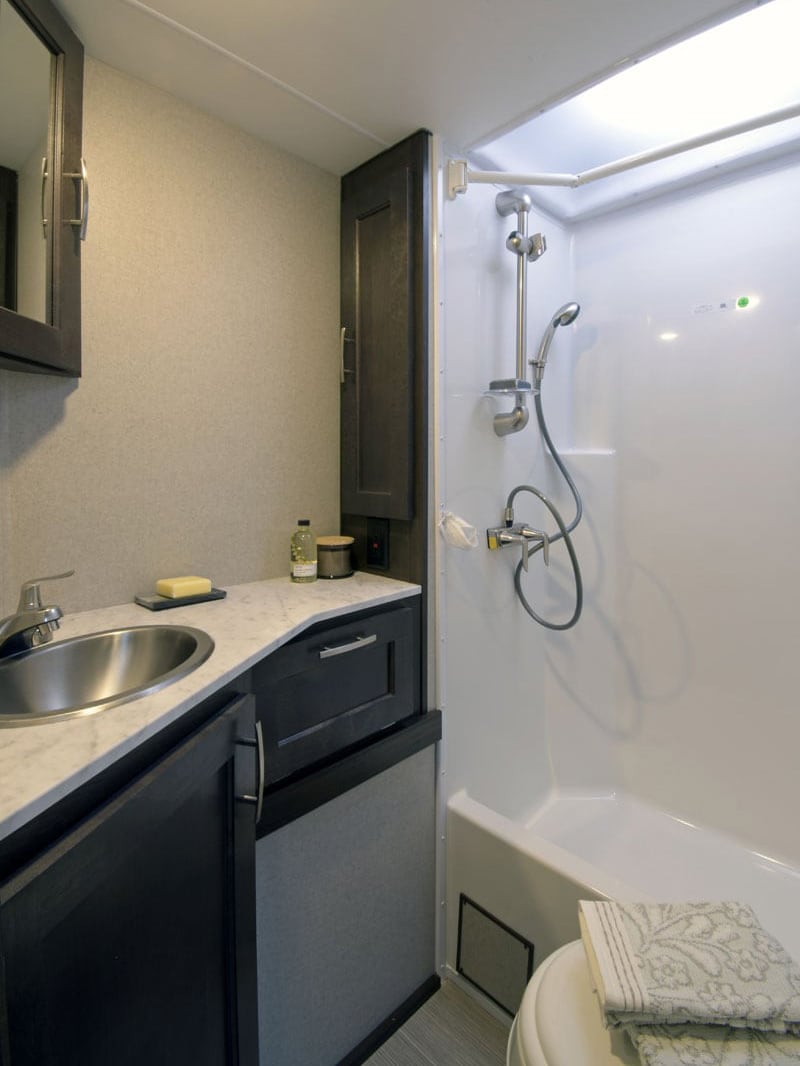 Are you just changing the wood, wall board and floor colors, or are you also updating the materials?
We are using the same types of materials from the same vendors, just in different colors.  The interior color groups are also full Faux leather. There is no fabric.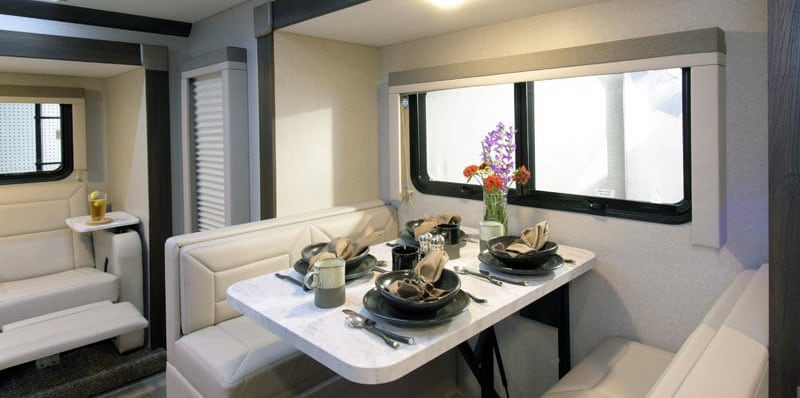 The leathers look rich and elegant.  We have even upgraded the cushions by going to a higher quality double-density foam.  That change was born out of the 901SB development.  The pillowed stitching gives a sharp interior look.  We even changed the theater seating to have a squared off different look.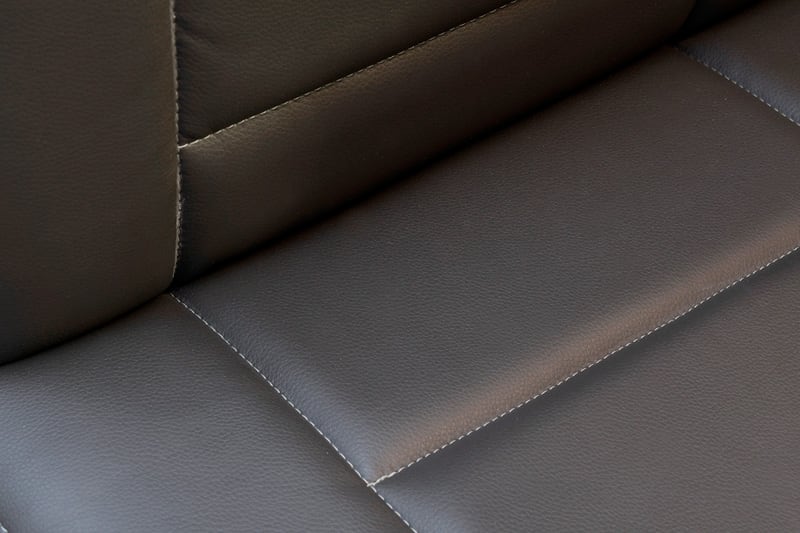 Above: The stitching on the new cushions, shown in Steel Desert
M.B. Designs literally took the entire decor and tied it all together.  For example, the refrigerator and upper cabinets have the same inserts.  The 2020 interiors have a much more sophisticated look than anything we have done before.  They really hit the mark.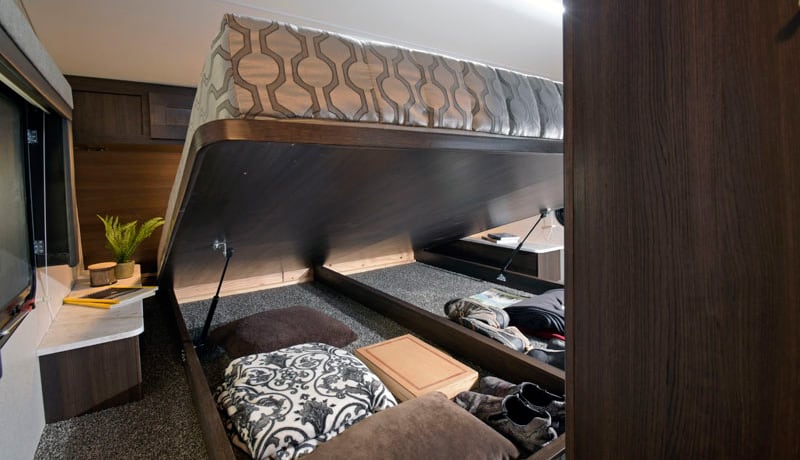 The 2020 Eagle Caps are getting a new double-density mattress with designer fabric.  Is that the same mattress and fabric that's going into the 2020 Adventurer line?
It's is same double-density mattress, but each decor gets a different fabric.  The quality of the new mattress is in a different league from what we were able to offer previously.  Plus the fabrics tie-in the mattress perfectly with the new interiors.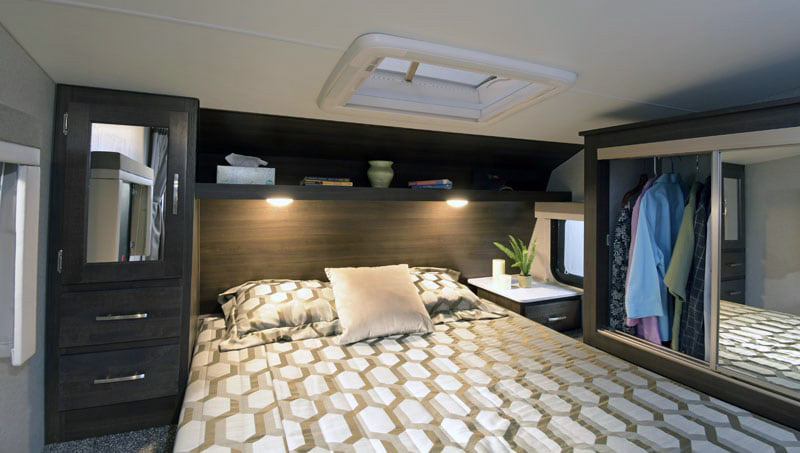 All of this is part of the M.B. Design look that's exclusive to Adventurer and Eagle Cap.  They don't work with any other RV manufacturer.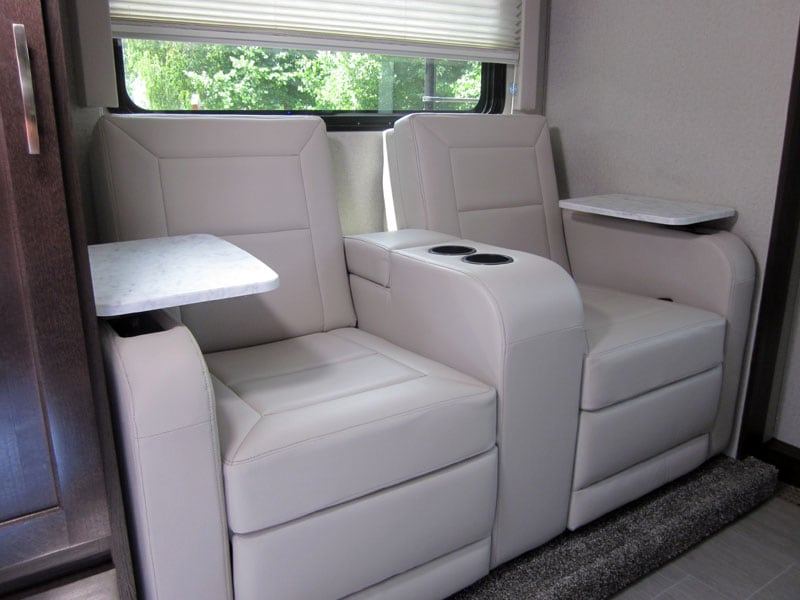 Above: Stitched theater seating in the new Toffee Latte decor
Both interiors feature faux leather furniture and cushions in the plush and stitched automotive-style showcased in the 901SB.  Where is this new-style furniture being produced?
The plush and stitched furniture and cushions are made for us in Canada.
None of this happens a month before a model year update.  We are working one to three years out on truck camper design changes.  It's a very involved process, especially when it involves outside vendors and service providers.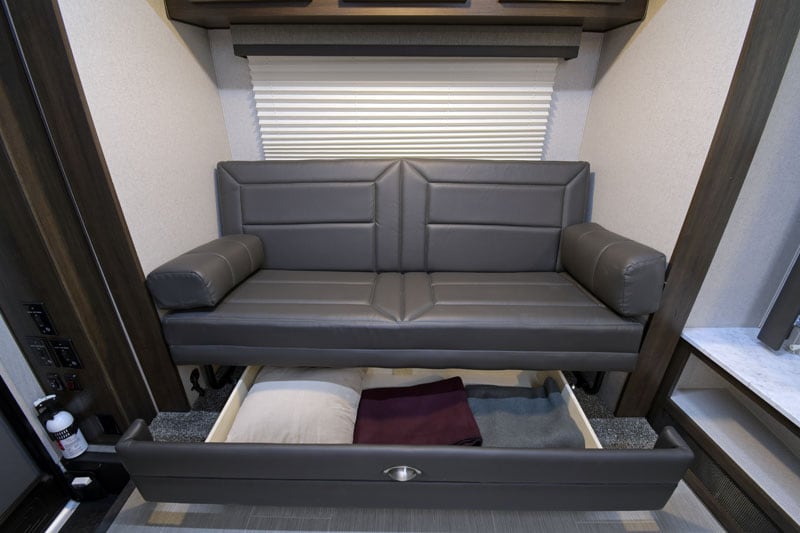 Above: Stitched sofa seating in the new Steel Desert decor
The Eagle Cap updates list the Happijac 4820 vertical motor jacks as the new standard jack system.  How are these new jacks an improvement?
The big change is the direct drive vertical motor.  It uses less power to operate.  A vertical motor design also means that water is not to be dripping on to the motor.
The 4820 is also a heavier-duty jack for more weight capacity.  For maintenance, the 4820 features a cleaner design that is easier to service in the field.  Long term the 4820 will be a much stronger and better jack overall.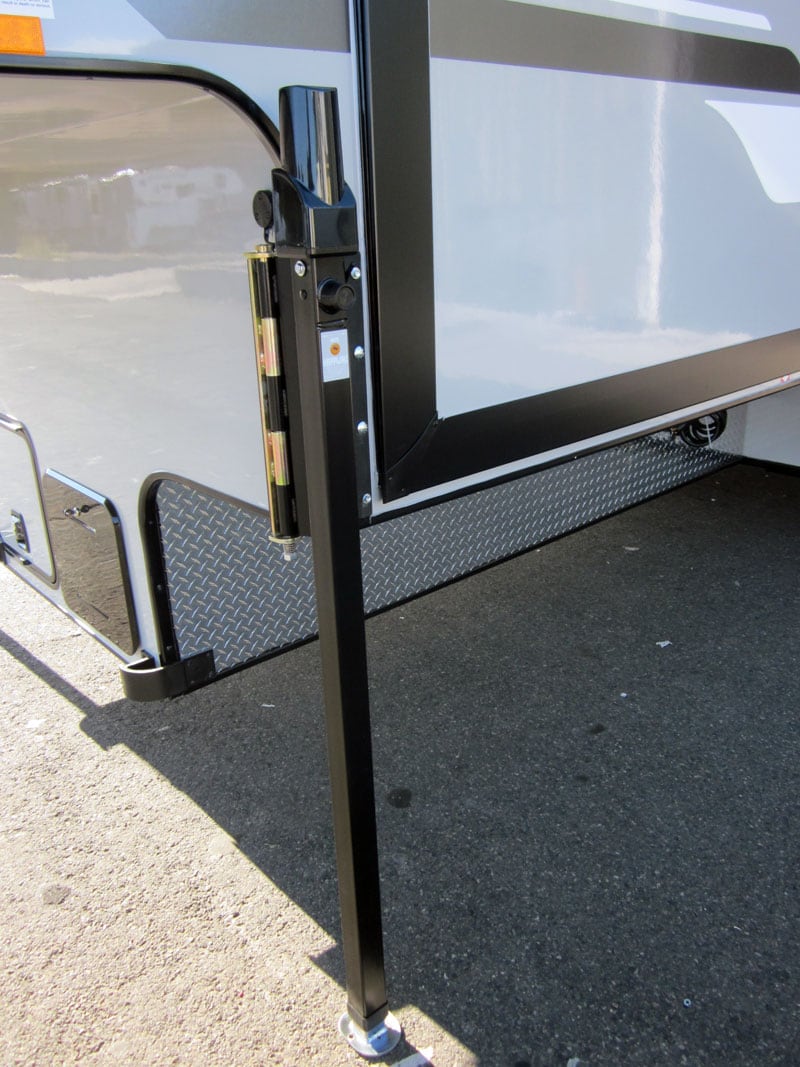 What are the capacities of the jacks?
The capacity is 2800-pounds per jack.  All Eagle Caps have the Happijac 4820s as standard.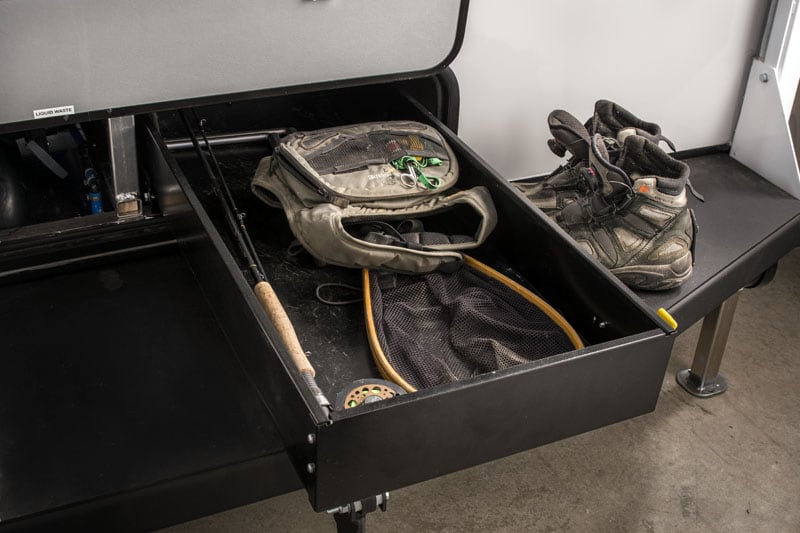 Happijac is also supplying 2020 Eagle Cap models with a ball-bearing lightweight metal basement tray.  Is this another element inspired by the 901SB?
Yes, it's essentially the same basement tray we debuted in the the 901SB.
Some of our competitors have long offered heavy steel basement trays.  While they generate a lot of "oohs" and "ahhs" at RV shows and dealer showrooms, they also add a significant amount of weight to a unit.
Depending on the length and width, these steel trays can be well over 100-pounds.  That amount of weight significantly alters a camper's center of gravity and can adversely impact how a rig handles on the road.
Happijac responded with a strong but lightweight design made from stamped sheet metal.  It's the best of both worlds; robust metal, easy to roll-out, and exceptionally lightweight.  Believe it or not, this feature has been in the works for six years.  It's way ahead of the other designs.
What is the actual weight of the new tray?
25-pounds.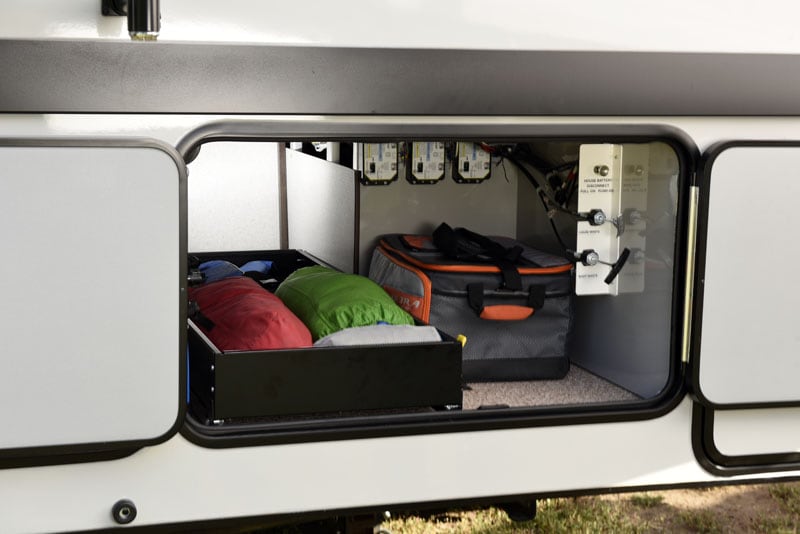 Above and below: The Eagle Cap 1165 and 1200 get a tray on one side and a cargo area on other side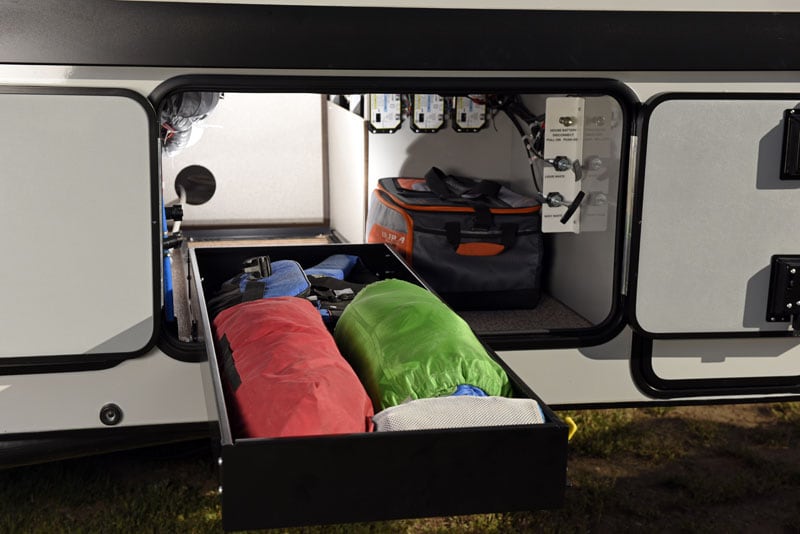 We have a long plastic storage tray in the basement of our project camper.  Isn't that what Eagle Cap had before?
Yes, we had a long plastic tray that you pulled out.  As you know, you have to pull it out with one hand and hold it with the other.  The new metal tray rolls out smoothly and holds itself.  It's a big improvement.
In the Eagle Cap 1165 and 1200, the rear basement area was just a cargo bay.  Now in the triple-slide models you get a tray on one side and a cargo area on other side.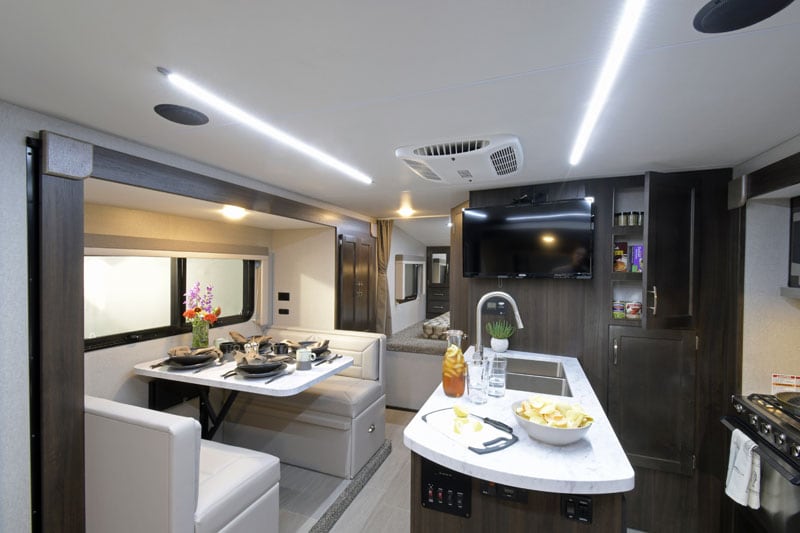 Above: LED track lighting in a 2020 Eagle Cap 1165 with the Toffee Latte decor
Another 901SB inspired update is the new LED track lighting with dimmers.  This is a major change that alters the entire look of the interior, and the overall operation and functionality of the light.  How did you make the decision to move forward with this direction?
The reaction to the track lighting in the 901SB was exceptional.  People especially liked that it was dimmable.  We wanted to provide dimmable LED lighting in all 2020 Eagle Caps.  It's the first time we've offered dimmable LED lighting, other than the 901SB.
It's not the same track lighting that was featured in the 901SB.  The new track lighting is dimmable separately in the bedroom, galley and dinette areas.  There is one dimmer control for the galley and dinette.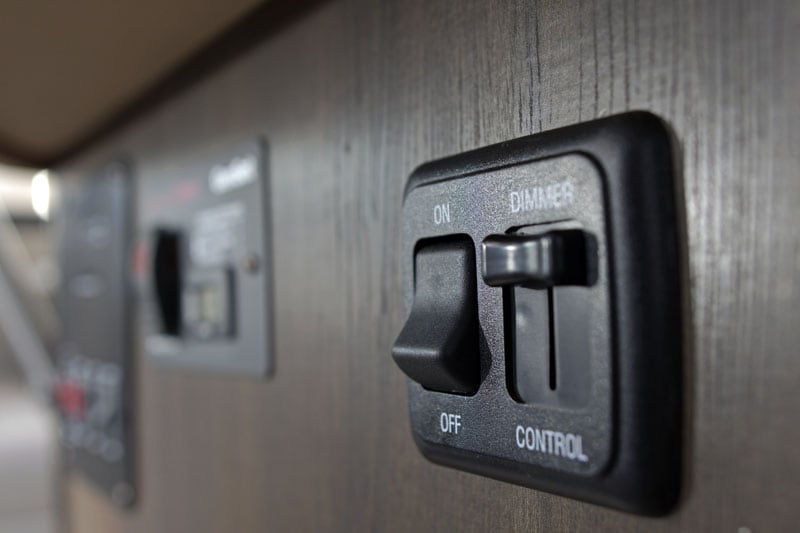 A lot of the updates for Eagle Cap came from an overland motorhome we designed.  That product was patterned off the Earthroamer market and retails for well over $200,000.  Many of the high-end features we found during that design process, including the new dimmable LED lighting, were carried over into the 2020 Eagle Cap line.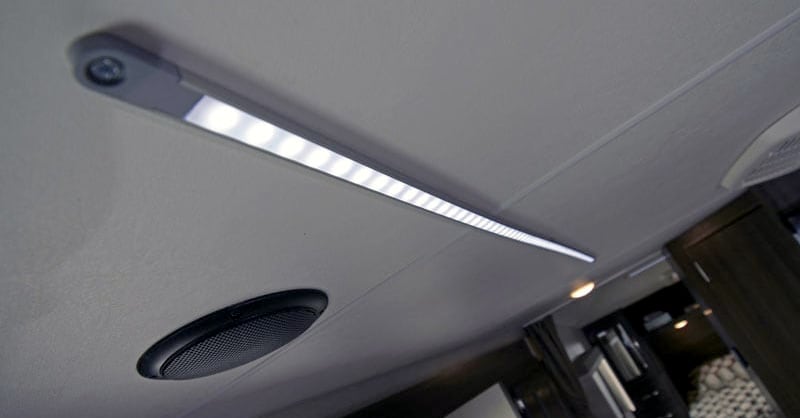 Is the lighting system one continuous lighting track, or is it physically separated?
The track lighting consists of separated smaller tracks.  It's not one track like the product we used in the 901SB.  By using smaller tracks throughout the unit we are able to get efficiencies up and the prices down.
The new lighting is very low profile.  It almost lays flat on the ceiling and it has individual controls.
Are you also including individual lighting areas and spot lighting?
Yes.  The lighting in the Eagle Caps is a hybrid of track and area or spot lighting.  There is individual puck lighting in the slides, by the sink and cabover.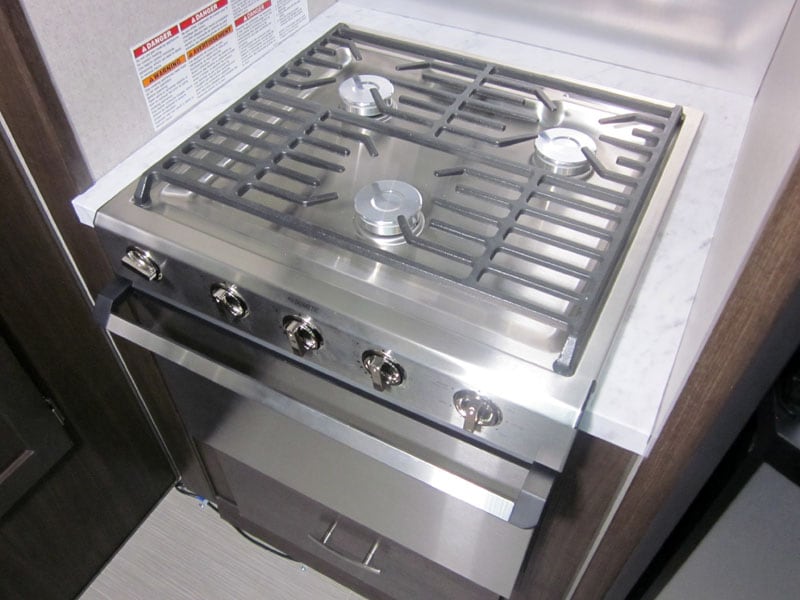 Adventurer Manufacturing announced a major new partnership with Dometic to supply all-Dometic appliances throughout your product lines.  How has this new partnership impacted the Eagle Cap line?
It has allowed us to use higher-end appliances in our campers across the board.
One example is the cast iron grates on the stove. M.B. Designs looked at the stamped steel lightweight flimsy cooktop cover that we were using before and said, "That looks cheap and cheesy".  They love the new iron grate cooktop.
What other appliances in the 2020 Eagle Cap line are from Dometic?
The cooktop stove, oven, furnace, water heater, refrigerator, and air conditioner are all Dometic.
Having all Dometic appliances also means you can find one service center for any appliance service issue.  This is an important long term benefit for our customers.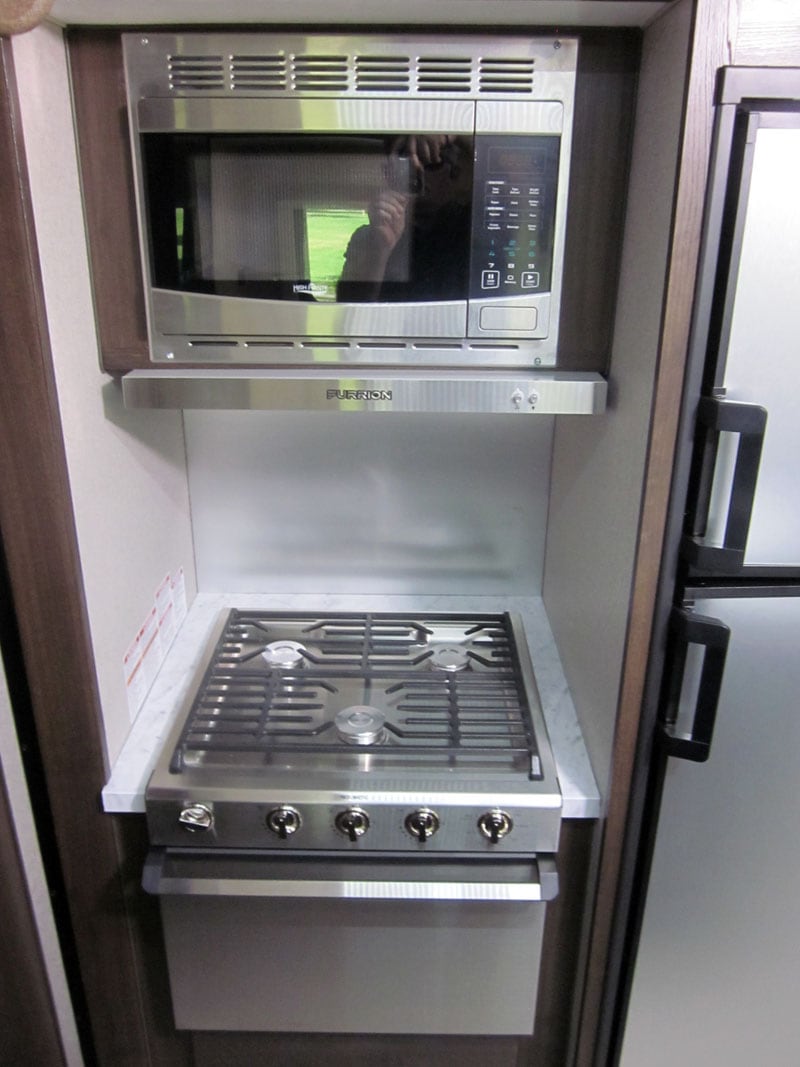 In addition to the Dometic appliances, Eagle Cap is going with a new Furrion and range hood.  Does the Furrion match well with the Dometic appliances?
The M.B. Design team saw that range hood on high-end motorhomes and told us that it was better than what we were using.  We had seen it in the past at vendor shows, but it didn't register as something we should use until the M.B. team recommended it.
It's classier and more residential in style.  The side benefits are that it has a better LED lighting and better venting.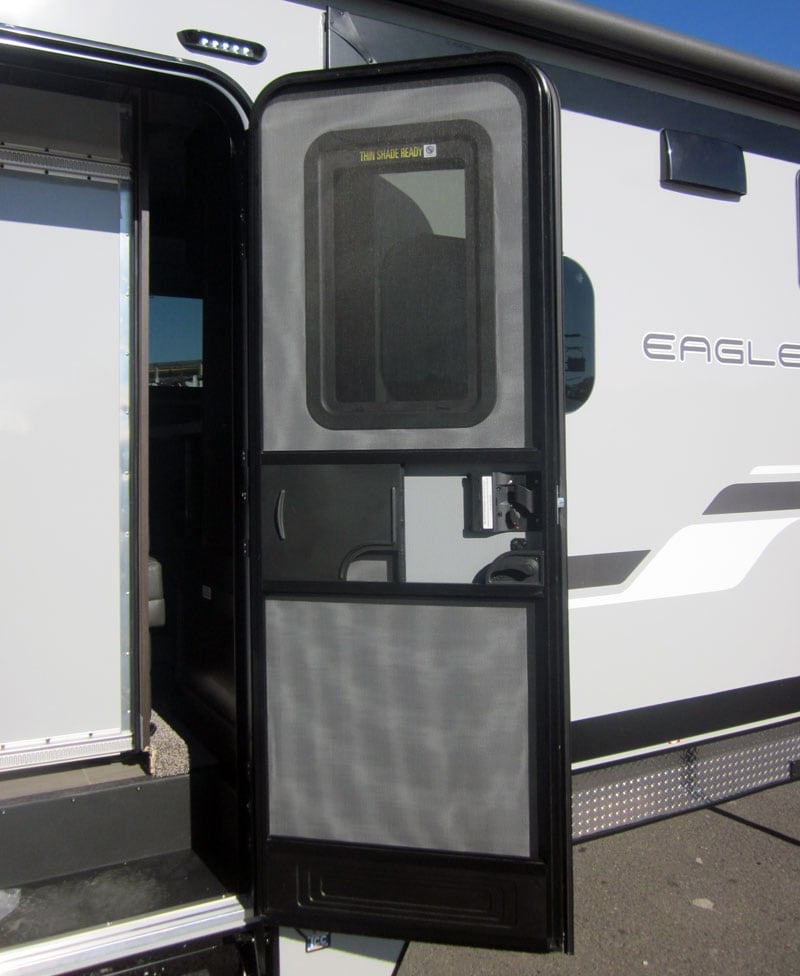 Above: The new door with a tinted frameless window, built-in shade, and color coordinated screen door and interior door color
Another significant update is the new entry door design with tinted frameless window, built-in shade, and color coordinated screen door and interior door color.  Is this new door from a new vendor?
It is a new door offered by Lippert Industries.  It was introduced to us by Lippert on one of their visits to our plant when they showed us some new products.
Their timing was perfect since we were making these major changes to Eagle Cap.  The new door is just one more great addition to the new Eagle Cap campers.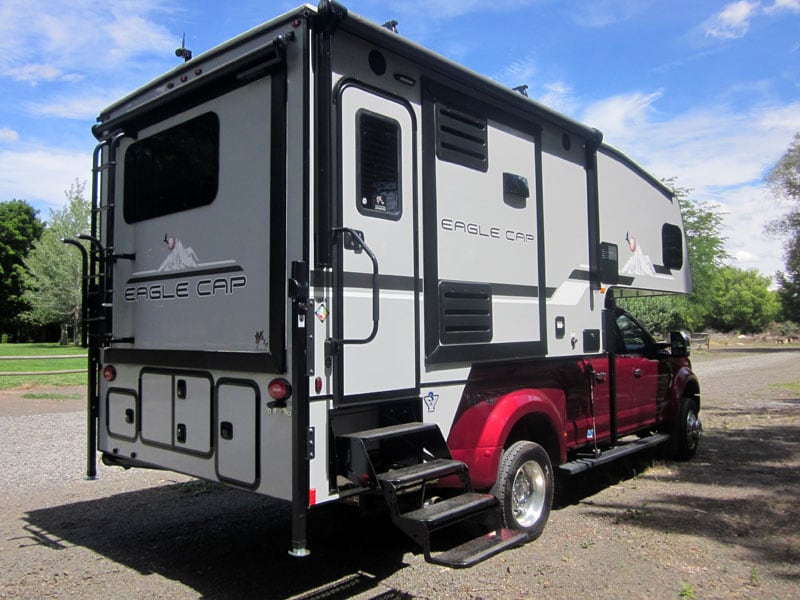 Is it the same size and weight as the previous door?  Does it have the same lock?
It is about the same weight, and is the same 26-inch width, which is the widest entry door in the industry.  There is an upgraded screen door design, handle and closure, and it does still come with a keyless lock.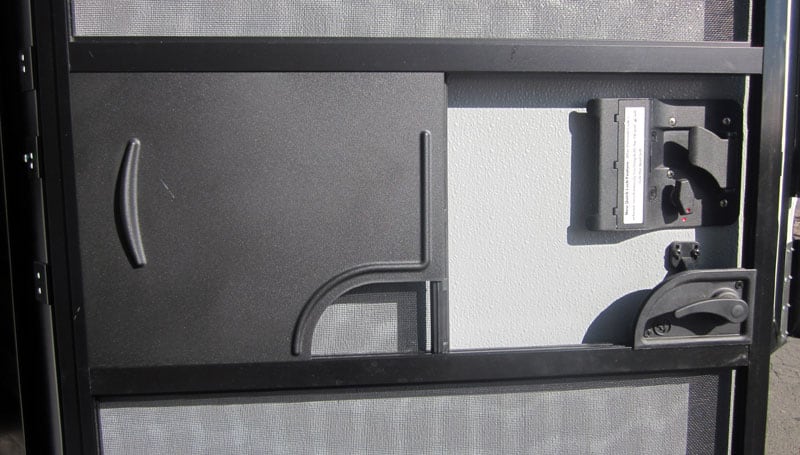 Above and below: The slider where the door lock is located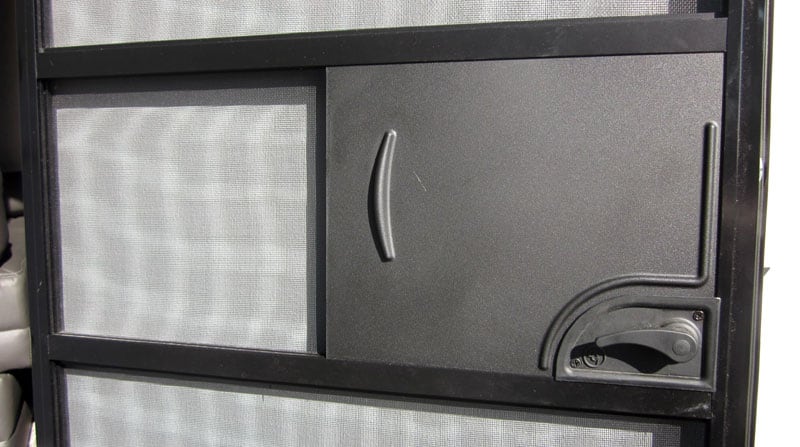 The interior panel is color matched to the exterior color.  When the door is open at a campsite it matches the new exterior color scheme.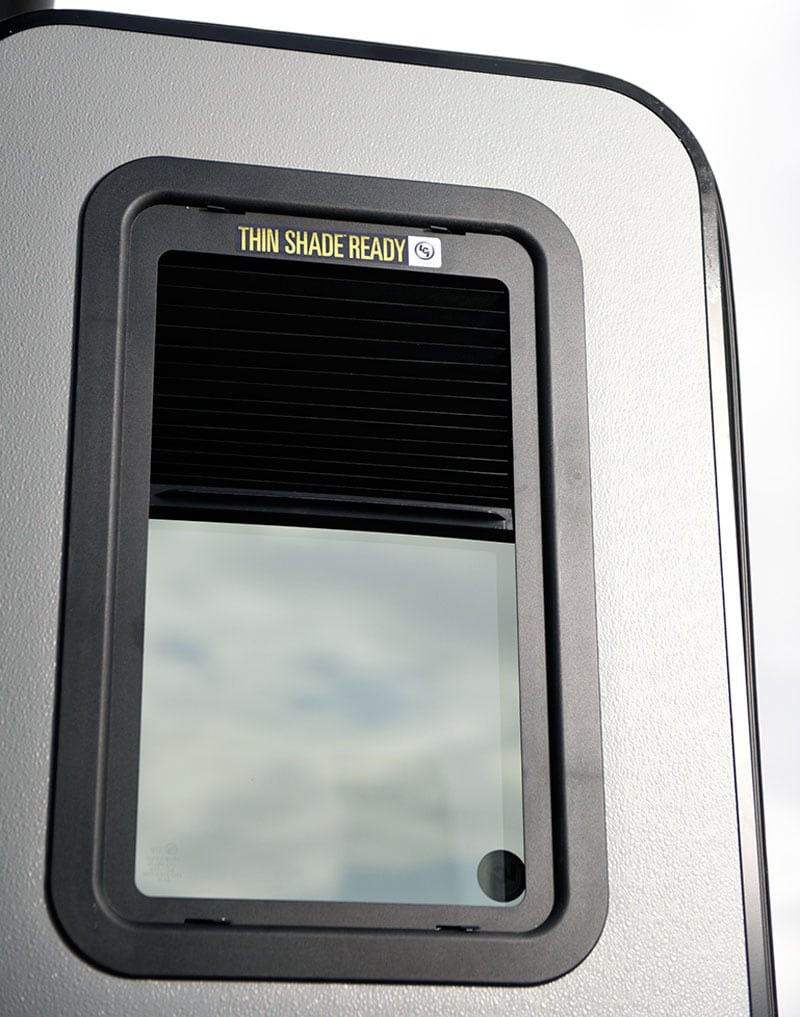 It also includes a frameless window that is tinted for easy viewing for security and it has a built-in shade to close off when you want privacy.  It is really cool new door design that I think customers are going to enjoy.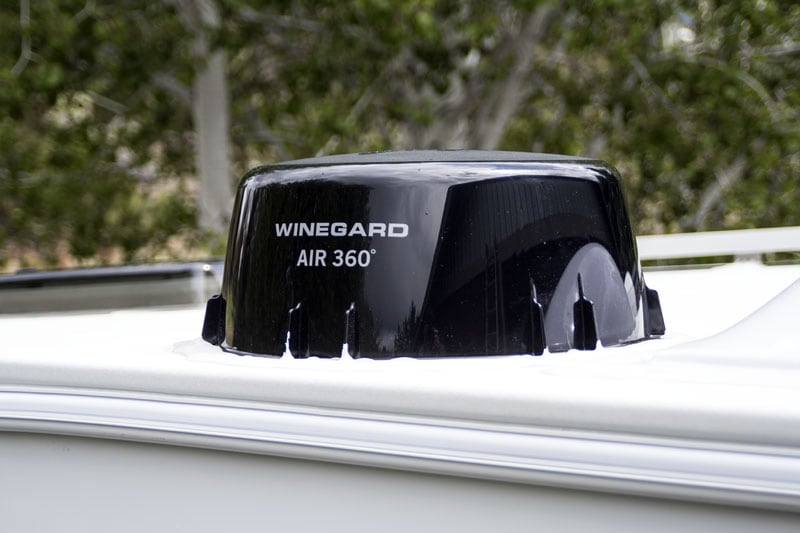 For 2020, you're changing the television antenna to a low-profile domed dual RV/radio antenna.  What were you using in 2019, and why is this better?
Two years ago the antenna was a flat antenna hidden behind a wall.  If the camper was turned in a certain direction you might not get reception.  Because of that feedback, we changed to a omni-directional disk antenna.  That antenna looked odd and caught tree branches.
This past year we looked at different options and found a domed-style antenna from Winegard.  It's a much better looking unit with better reception and no risk of catching trees.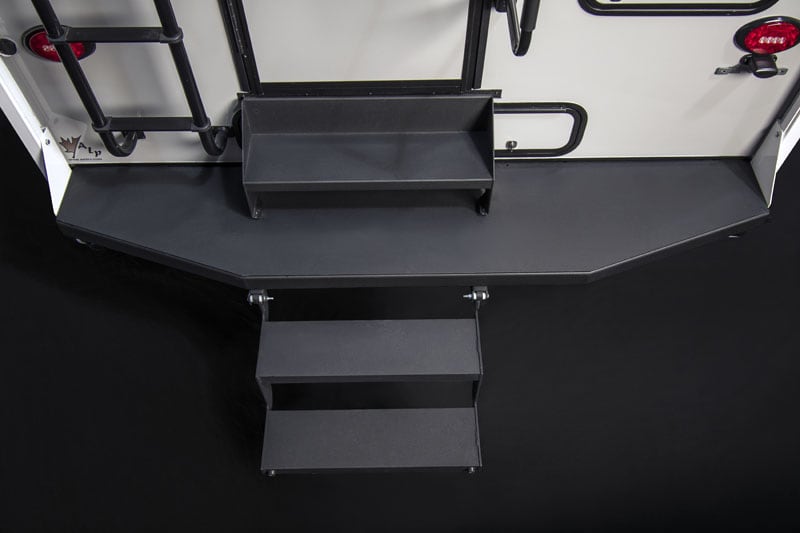 The 2020 Eagle Cap 811 is getting some model-specific changes.  The Super Step and Comfort Step are now powder coated in non-skid black.  The Camper Caddy is also now black.  And there's a new PJ cabinet design.  What is a PJ cabinet?
The PJ cabinet is the passenger's side full length bedroom cabinet.  It's the long cabinet in the cabover where people typically stick PJs, socks, and/or underwear.
We call that a hamper, but PJ cabinet is a good description.
Yes, it's also called a hamper.  The look of the cabinet is different than anything we've done in the past.  Before we made padded lids and fabric.  This new style uses the same top as our kitchen counters.  It's a really clean look.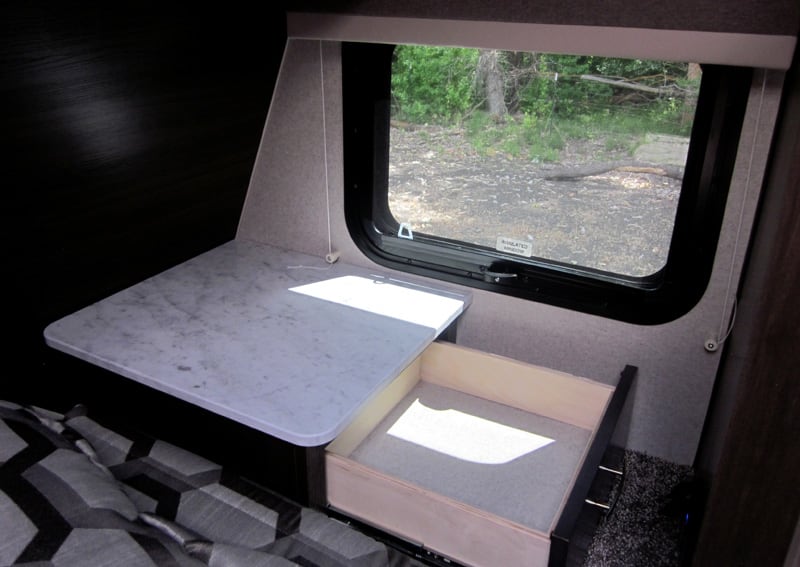 We're using the same material for the step up to the bedroom because it's so durable as a countertop.  We have been very pleased with it.
At first we were hesitant because people liked the molded countertop and sinks.  Then we went to stainless steel sinks and the new countertop two years ago and we haven't had one customer ask about the old sinks.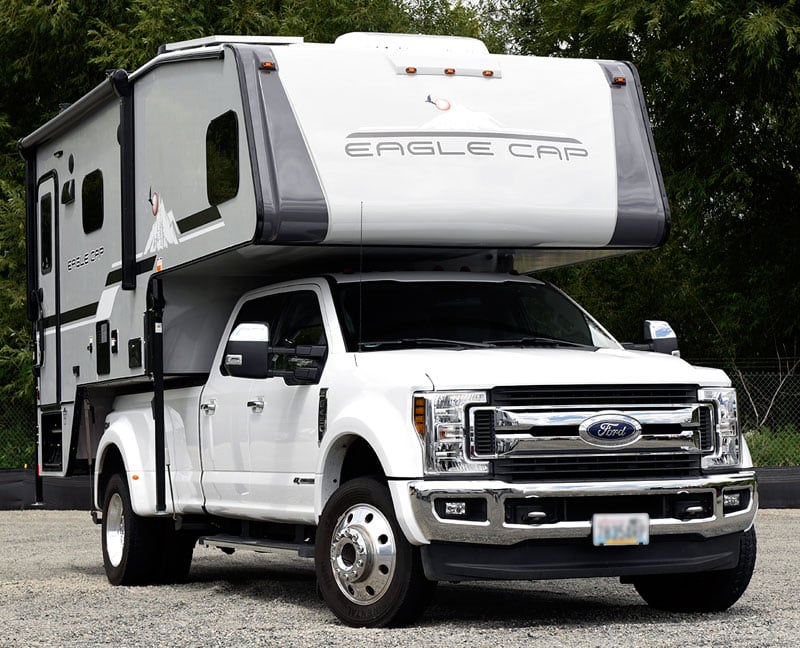 Are there any new Eagle Cap models set to debut later this year?
Yes. As we mentioned with the Adventurer updates, we discontinued the 116DS.  Now we are thinking about the 116DS floor plan in an Eagle Cap format.  We may evolve 116DS with a dry bath and/or make a brand new triple-slide.  Who knows?  Either way, we are expecting a new Eagle Cap model later this year or early next year.
Are you increasing Eagle Cap prices for 2020?
Yes.  Initially we had told dealers we were estimating a 7 to 10-percent price increase due to tariffs and labor costs.  Fortunately, through negotiations with companies like Dometic and other vendors and service providers, we were able to keep our price increase to 2.5-percent overall.  That's all good news.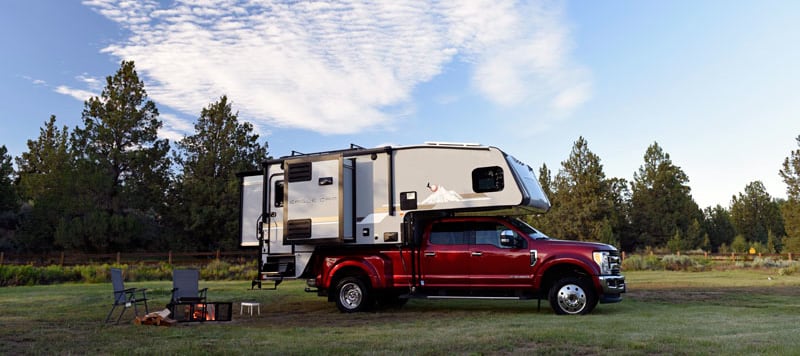 Is there any other news for Eagle Cap or Adventurer Manufacturing?
I want to point out that Adventurer Manufacturing actually updates campers when we tag them as 2020 products or for any new model year.
Other manufacturers will just change the date to make the campers have a 2020 on them.  They are no different from the 2019s.
They have started selling 2020 products, and have now made 2019 campers obsolete on the dealer lots even though they are identical.  Then they make the actual updates later in the year.  So, a 2020 by another brand does not necessarily mean that it actually has any model year updates.
Adventurer Manufacturing has a designated date for our model year change.  For us, if it's a 2020 or new model year, it's defined.  A new model year is a new camper design.  We feel that's important.
We only do a running change if something has been discontinued.  We make all of our changes at once which makes it more impactful.  Also, when you're buying a 2020 Adventurer or Eagle Cap, it's truly a 2020.
We believe we build the greatest truck camper out there for innovation, technology and design.  We have a premier triple-slide line.  The 1200 and 1165 triple-slides were 75-percent of all of Eagle Cap's sales in 2018.  This year, the 1200 and 1165 will be at least 83-percent of all sales.
That information tells us that Eagle Cap is really distinguishing itself in the market.  The Eagle Cap 1200 YouTube video is our number one viewed video.  And it's just going to get better from here.
For more about Eagle Cap Campers, visit their website at amlrv.com.  Click here to request an Eagle Cap brochure.