Truck Camper Magazine reviews an Eagle Cap 1200, a hard side, dry bath, triple-slide camper.  Adventurer Manufacturing claims this is the biggest and the best truck camper available.  TCM puts that bold statement to the test.

Be sure to also check out Adventurer's response to this 1200 review.
Adventurer Manufacturing debuted the Eagle Cap 1200 in Truck Camper Magazine on October 13, 2015.  For the debut, Greg Tucknies, National Sales Manager for Adventurer Manufacturing, announced that the 1200 would not replace another Eagle Cap model, and was indeed an entirely new floor plan for the luxury hard side brand.
From the ground up, the Eagle Cap 1200 was designed to maximize floor space, storage, and luxury features.  "Eagle Cap customers have been asking us for a bigger camper, with access to the bedroom on both sides, and a California King bed.  Customer requests directly drove this floor plan," stated Greg for the debut.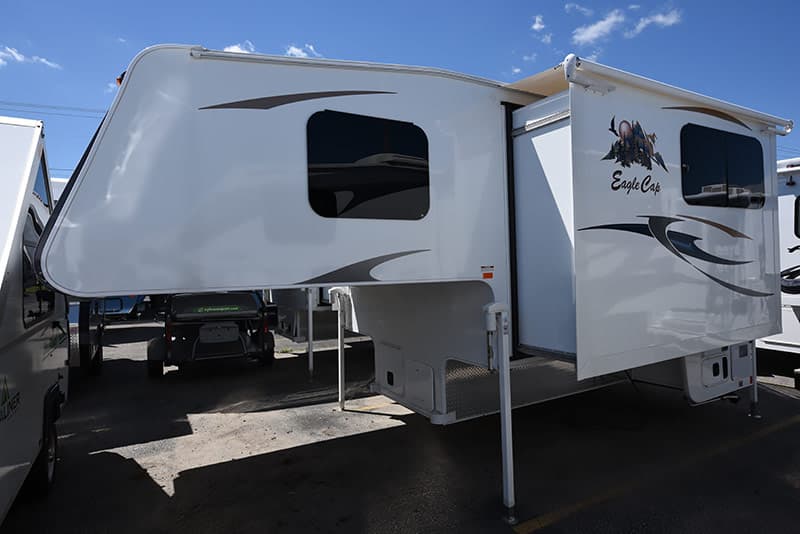 Above: The Eagle Cap 1200 triple-slide camper under review at Princess Craft Campers in Round Rock, Texas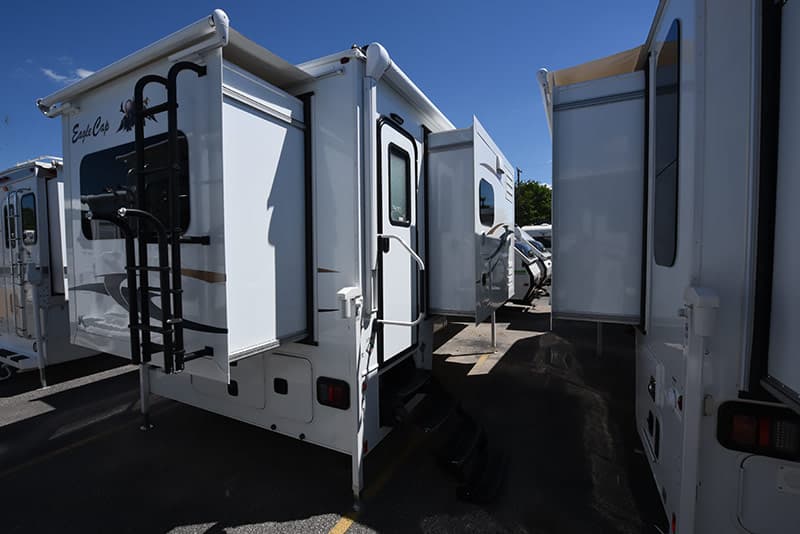 The 1200 was built on the same 24-inch above-the-rails basement as the popular Eagle Cap 1165 with some important tweaks to the holding tanks to improve center of gravity and basement storage.
Perhaps the most unique feature of the 1200 design are the free standing table and chairs in the rear slide.  The removable table and chairs arrangement is common in fifth wheels and motorhomes, but had never been attempted in a truck camper.  Greg explained, "With a free standing table and chairs, the customer gains a lot of versatility compared to a traditional built-in dinette."
The kitchen features a peninsula and significantly more counter space than the Eagle Cap 1165.  Greg added, "The kitchen in the 1200 features a significant increase in counter space.  In fact, the depth of the kitchen counter and cabinetry created an inaccessible space that we split into interior and exterior storage."  The kitchen also features a slide-out pantry and a 30-inch convection microwave more commonly found in motorhomes and fifth wheels.
The dry bath in the 1200 is another show stopper.  With a pocket door, large wardrobe, drawers, and a dressing area, it's a contender for the largest dry bath in the truck camper marketplace.
Greg summed up the 1200 with a bold statement, "If you like to cook and entertain, or just want the biggest and best truck camper on the market, this camper is for you."  That's quite a claim!  On paper the Eagle Cap 1200 is definitely impressive, but is it truly the biggest and the best?  Let's put this camper to the test.
Floor Plan Evaluation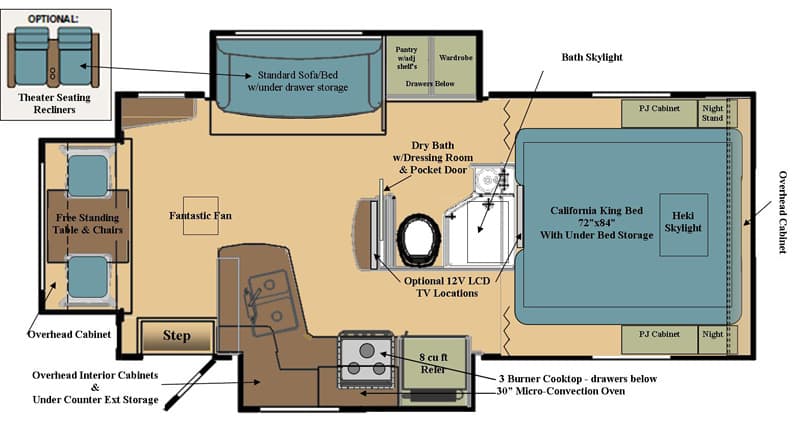 Above: The floor plan for the Eagle Cap 1200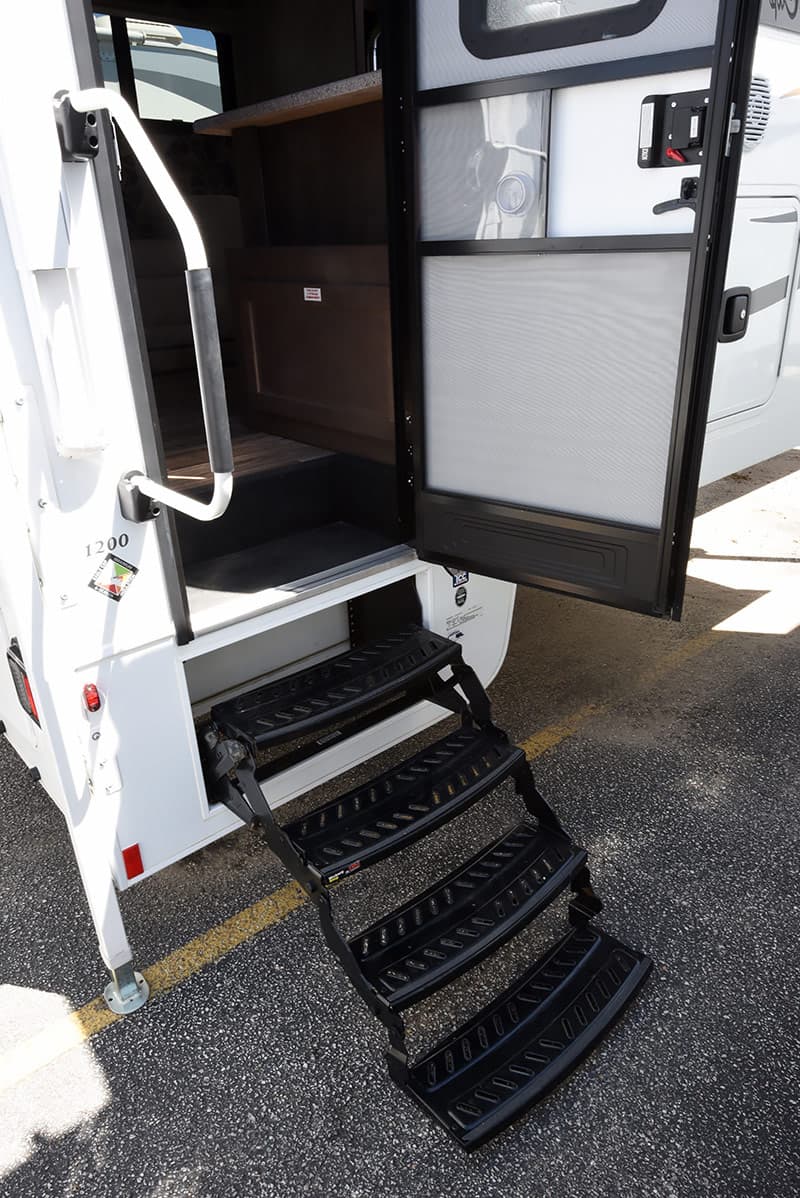 There are six steps up to get into the Eagle Cap 1200 before reaching the camper's floor.  The 1200's four-step metal push-in, pull-out Hickory Step system provided a solid footing.  The climb is helped by a large assist handle.  All in all, this a comfortable step up.
Anyone with mobility issues should keep in mind that truck campers are almost always shown lowered to the ground.  Once loaded on a truck, the first step would be higher, sometimes significantly.  To see this for yourself, ask your dealer to raise the camper to a loaded height, and judge your step comfort accordingly.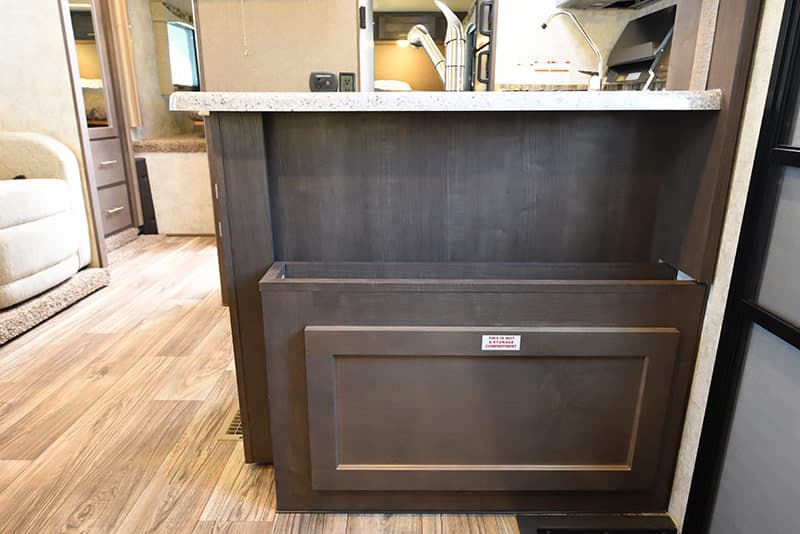 After ascending into the camper, the first thing I noticed was a compartment labeled, "THIS IS NOT A STORAGE COMPARTMENT".  It is unclear if this is just a faux-cabinet panel or access for system maintenance.  As you can see, there is no handle or screws.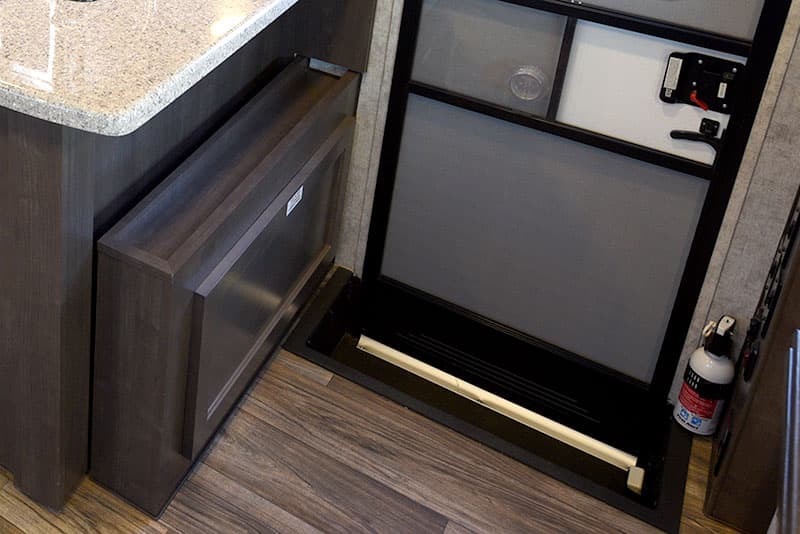 The top of this mystery cabinet has a convenient storage nook for keys, flashlights, dog leashes, and other entry door area items.  Day to day, this storage nook would be very handy.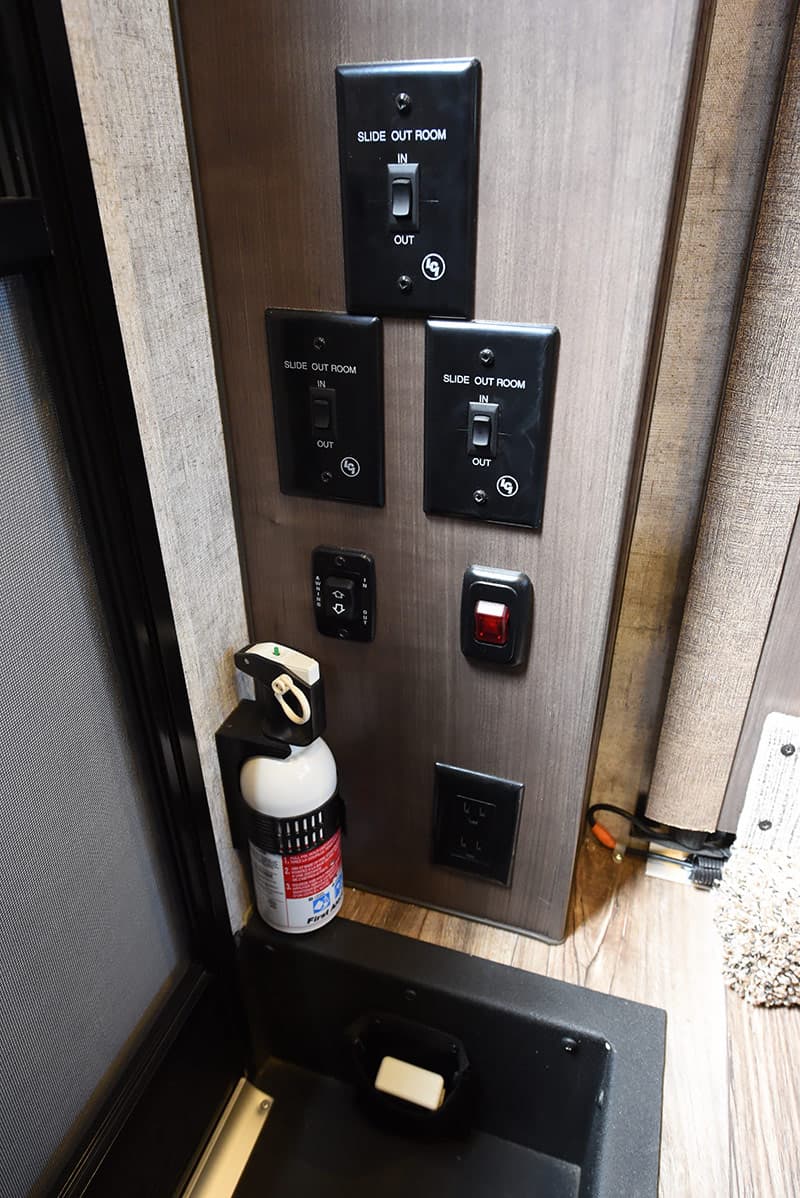 Directly across the entry doorway are a variety of controls including three activators for the the slide-out rooms, the power awning rocker, an interior light switch, and a 110-volt outlet.  The slide activators are required every time you enter the camper because you cannot get into the 1200 with the slide-outs in, much less access the centrally-located dry bath.
Owners need these controls as low as possible and as close to the entry door as possible.  This allows you to walk up the steps, unlock the door, open the door, activate the slides, and (once the slides have stopped) enter the unit.  Eagle Cap has put the right controls in the right places here.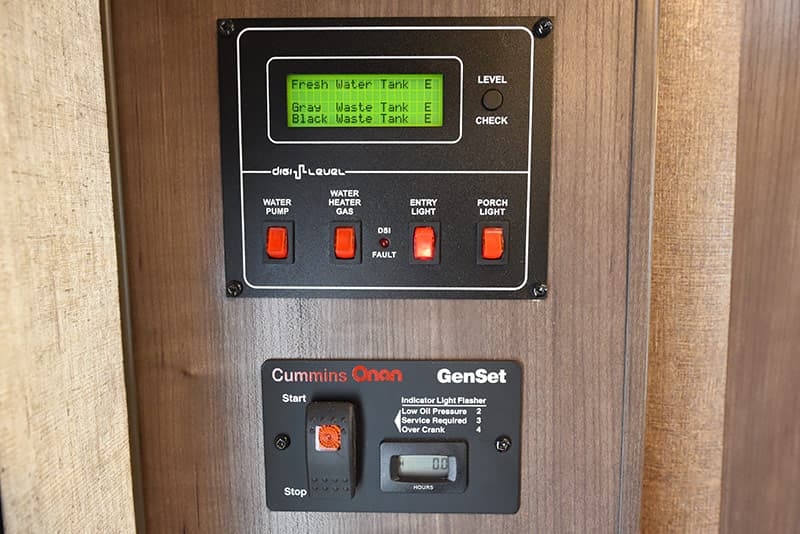 Immediately above the slide-out activators is the optional Cummins Onan generator switch and hour meter.  Above the generator switch is the standard Digi-Level panel with battery monitor, tank monitor, water pump switch, gas water heater switch, energy light, and porch light.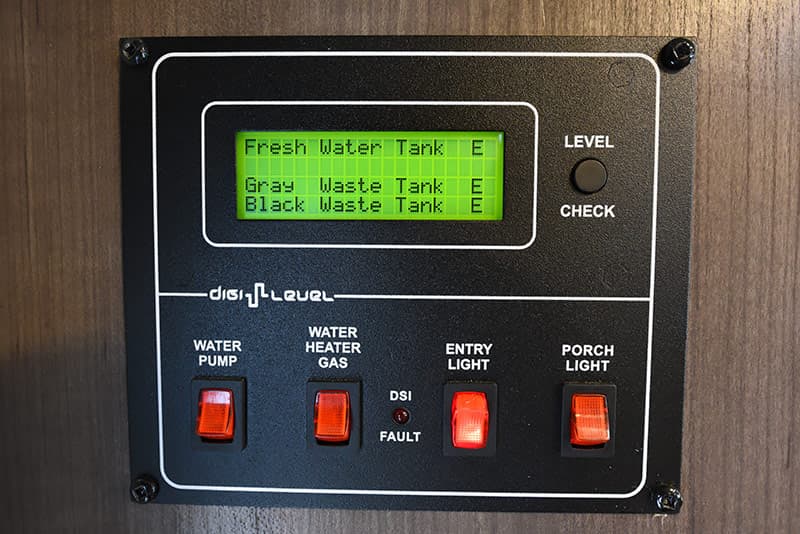 The Digi-Level system features probe-less tank sensors designed to be more accurate than traditional RV tank sensors.  The system is a pleasure to use and offers a simple and clear presentation.  You just press the "Level / Check" button on the right and it cycles through the screens for tanks and battery levels.  Love it.
We have a probe-less tank sensor system in our camper and find it to be much more accurate than normal tank probes that get clogged and give wildly inaccurate readings.  We applaud Adventurer Manufacturing for using a probe-less system for their Eagle Cap line.  It's time the whole truck camper industry moves in this direction.
Ideally the Lippert slide-out activators would also have a control panel as nice as the Digi-Level system.  Having three staggered wall plates works fine, but a single panel would be a neater installation, and would likely take less production time.  These days, every minute on the production line matters.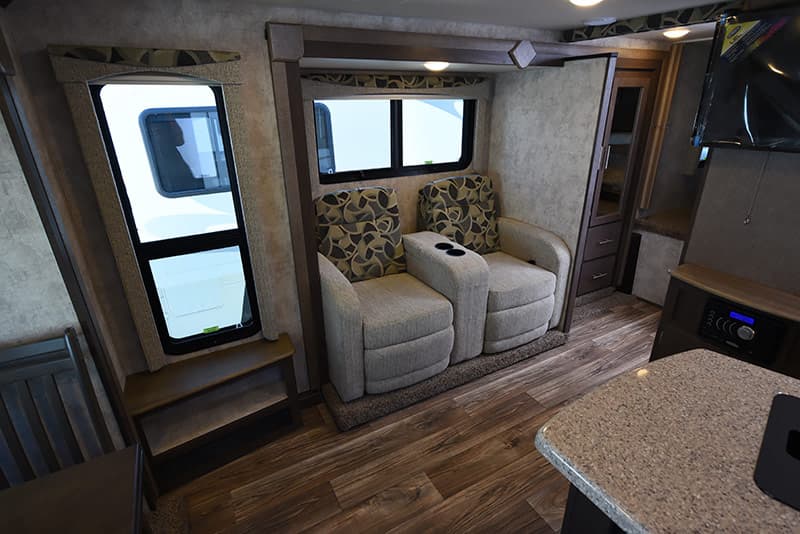 Now that we're inside the 2017 Eagle Cap 1200 and the slides are out, let's have a look.  Oh man, look at this camper!  The above photograph shows the view (and I mean view) from the entry door of the Eagle Cap 1200.  Are we in a small apartment, or a truck camper?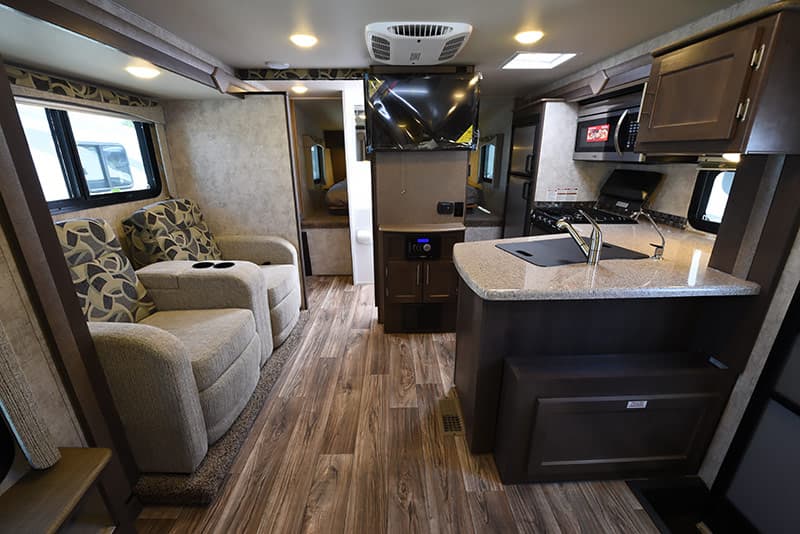 Turning towards the front of the camper reveals an expansive living environment.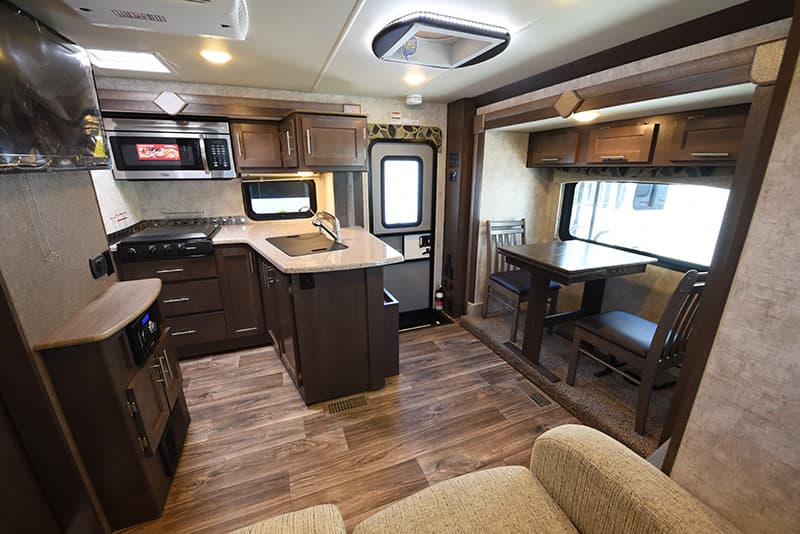 The sense of space in the main area of this triple-slide camper is breathtaking.  In this photograph you can see the entry door, table and chairs, kitchen peninsula, and enormous floor.  I have seen hundreds of small motorhomes and travel trailers that don't have anything near this kind of interior space.  Just wow!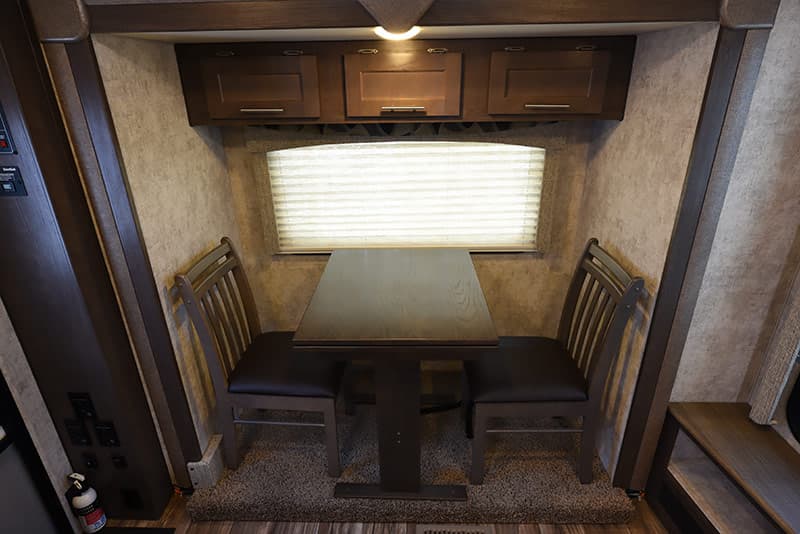 The free standing table and chairs look more like a private two-top restaurant booth than anything I've ever seen in a truck camper.  Even better, the table was solid, sturdy, level, and didn't budge when I leaned on it.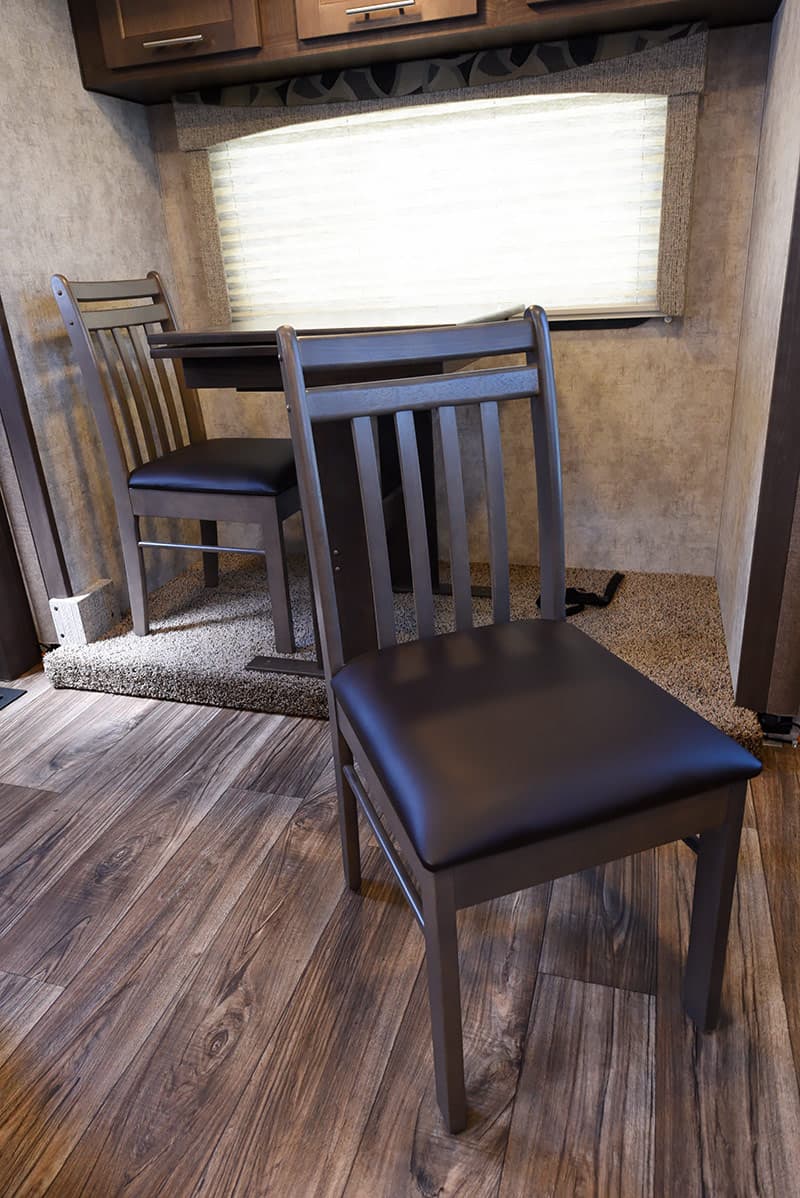 The chairs really are free standing.  I pulled one out of the slide room to evaluate it.  Like the table, the chair was strong, sturdy, and comfortable.  Before I experienced a Eagle Cap 1200 in person I assumed the chairs would be light and minimal, but it's actually the opposite.  They might not be super fancy, but the build quality of these chairs would not be out of place in a residential dining room.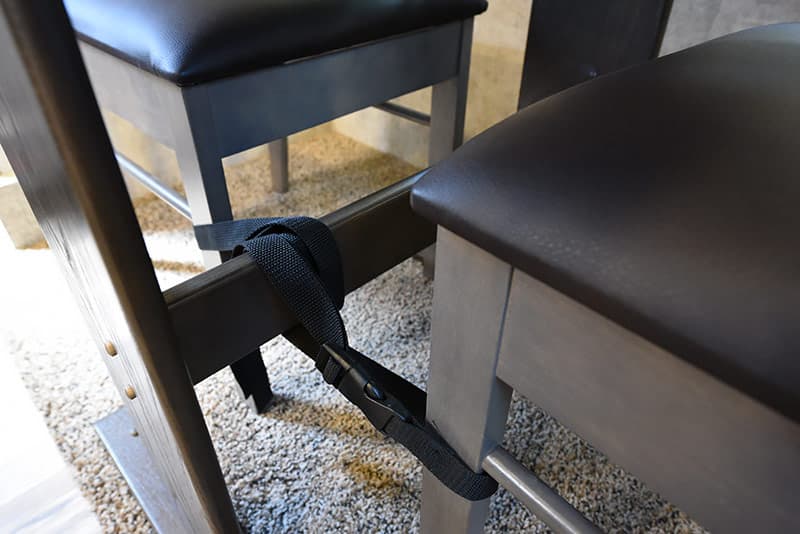 It honestly took me a few minutes to wrap my head around this table and chair set up.  Wouldn't the chairs just fly around when you were driving?  Was a free standing table and chairs really a practical alternative to a traditional dinette?
The first question is answered with some straps under the table that secure the chairs into position for travel.  If you really hit the breaks the chairs might fall over, but they're not going to fly into to the camper.
The second question was easy.  Yes, a real table and chairs is as good or better than a traditional dinette.  We have all had meals and worked on tables like this.  We have all sat for extended periods of time on chairs like this.  A table and chairs may be uncommon in a truck camper, but it's quite natural otherwise.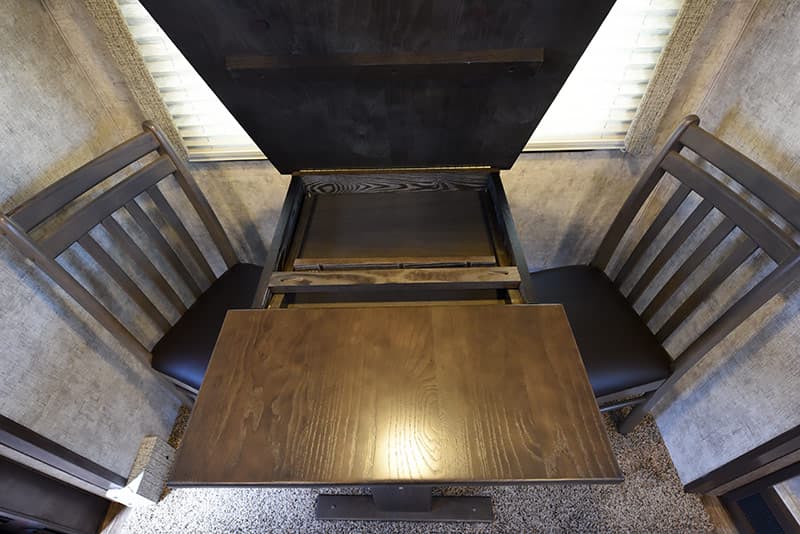 The table in the Eagle Cap 1200 has a nifty trick up its sleeve.  Lift up the top panel and a second panel expands the table by about 40-percent!  Now we're talking.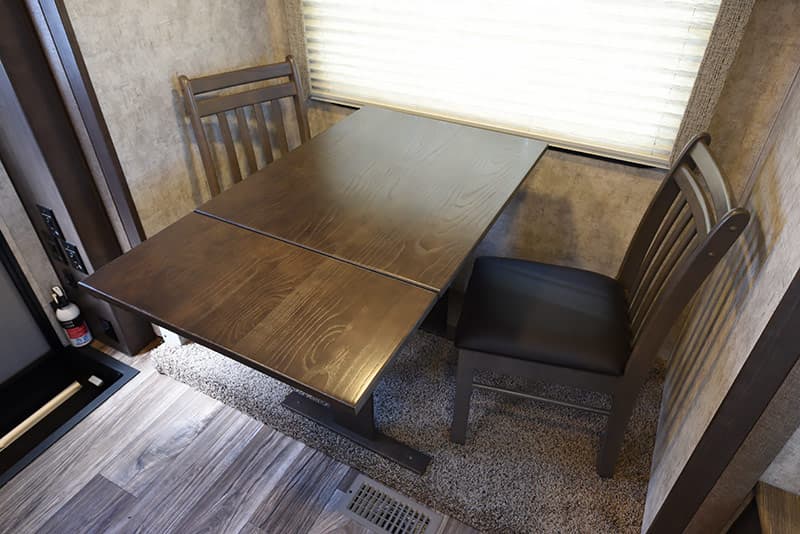 The expanded table is about as big as most full-booth dinette tables.  This is plenty for meals, maps, and laptop work.  The ability to instantly expand the table is a very clever and useful feature.  Need more space for a fierce round of Mexican Train or Chicken Foot dominoes?  You got it.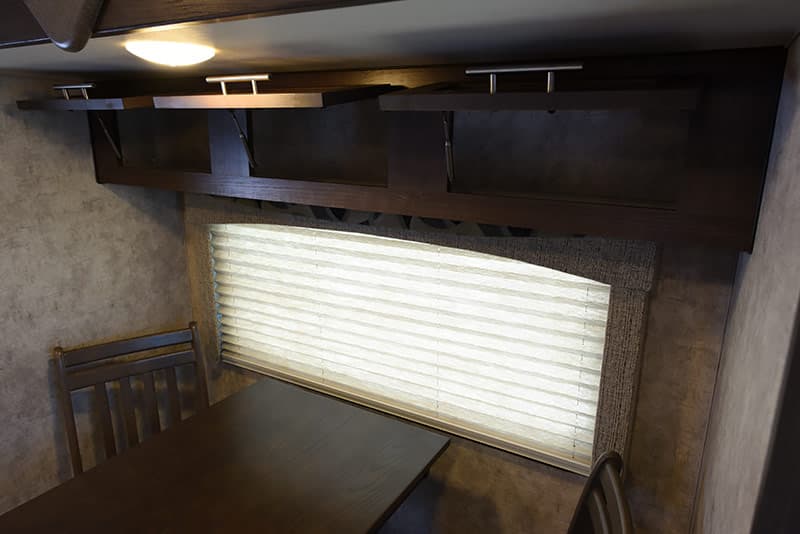 Above the table and chairs are three small pull-up cabinets with struts that hold the doors up and shut.  Since the table and chair area itself lacks the under seat storage typically found in a full-booth dinette, this storage is especially welcome.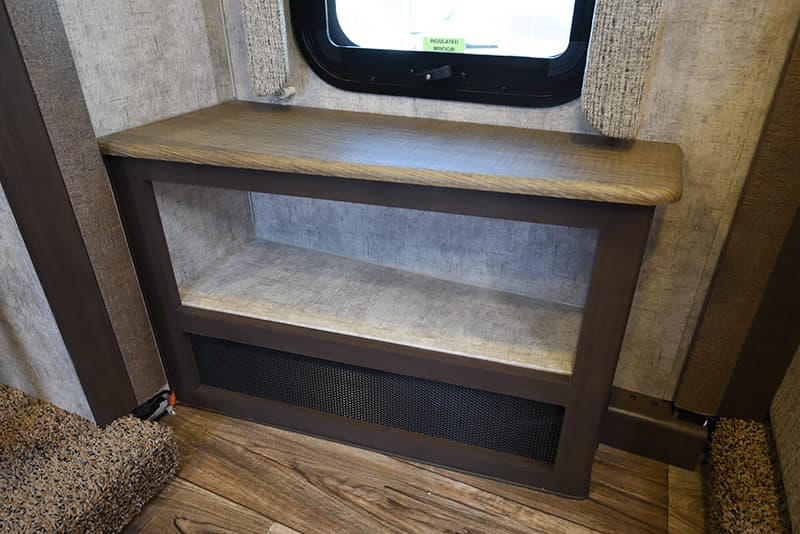 As is this corner storage table and nook.  It's as if the team at Adventurer Manufacturing said, "The table and chairs are neat, but Gordon at TCM is going to knock us on storage.  Let's put something in the corner to shut him up."  I have their factory bugged so I know this happens.
Having a table top surface is great, but you would have to remember to remove items from this area prior to travel.  Hold on… Angela has an idea.
You could put Con-Tact Extra Thick Grip non-slip shelf liner on the bottom shelf and keep things from moving.  We use grippy shelf liner in our camper to great effect.  She also believes the same shelf liner could work on the top shelf, but I have another idea.
We have never tried it, but Quakehold museum putty is designed to keep things in place on flat surfaces during an earthquake.  It's cheap and (at least theoretically), would keep items from moving while you drive down the road.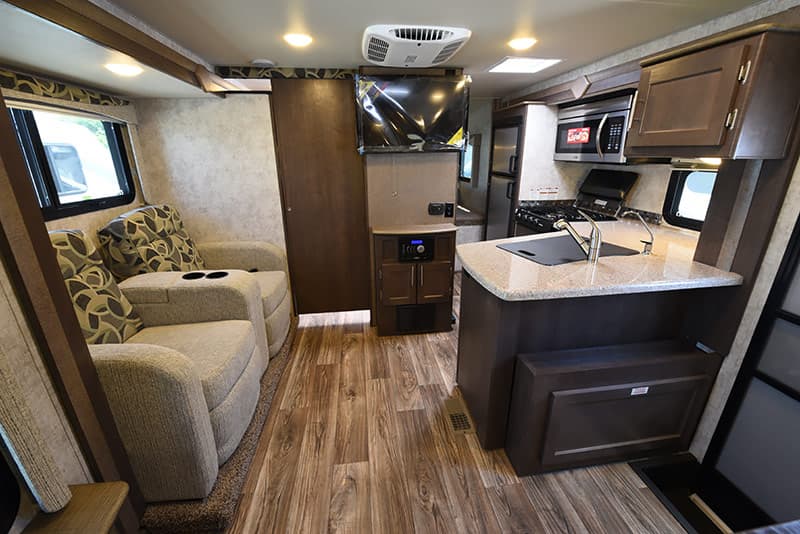 The HDTV in the main living area of the 1200 is directly viewable from the table and chairs.  The screen is a bit far, but it's perfect for viewing from the theater seating or sofa on the driver's side slide room.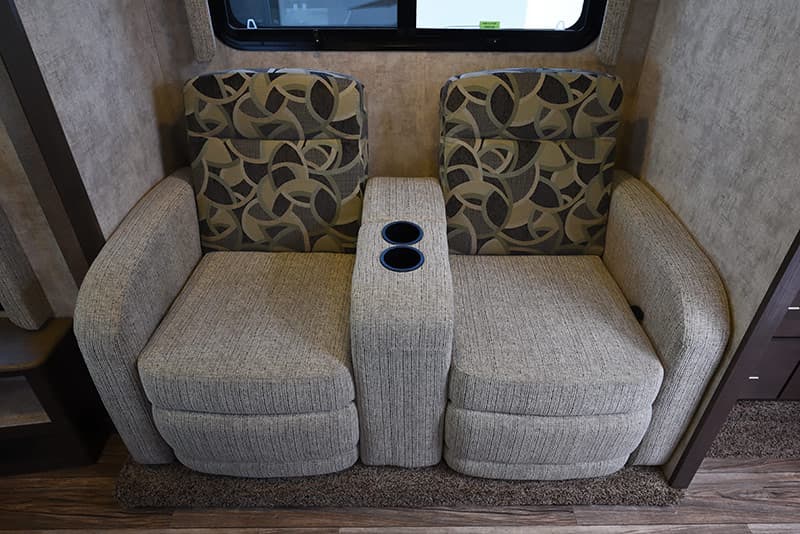 And here's where the review almost ended.  The moment I sat in the theater seating chairs, eased back, and put my feet up, I was done.  No more pictures for today.  I'm going to take a five minute nap.  Maybe ten…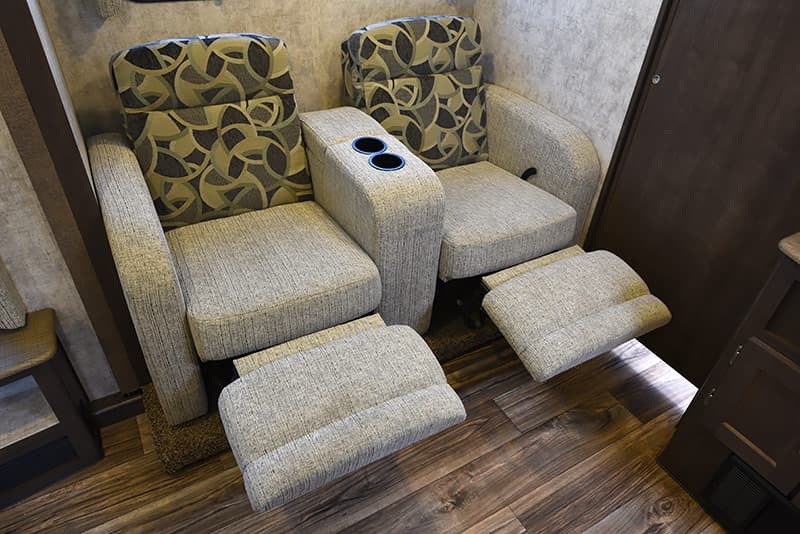 I don't think there's a more comfortable chair in all of truck camper-dom.  This is it.  As I reclined in that chair, I started to calculate if our truck could handle the weight of the 1200 (unfortunately, no).  I bet a lot of people buy Eagle Cap campers after sitting in their reclining theater seating.  You've been warned.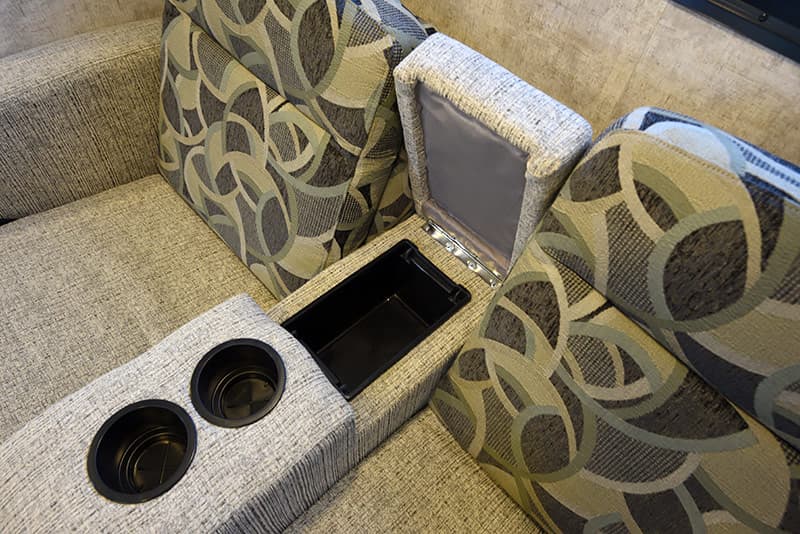 True to their theater seating names, there's a pull-up storage area and two drink holders.  The storage area is too small for most remote controls, but it would be perfect for USB chargers, reading glasses, and other similarly small items.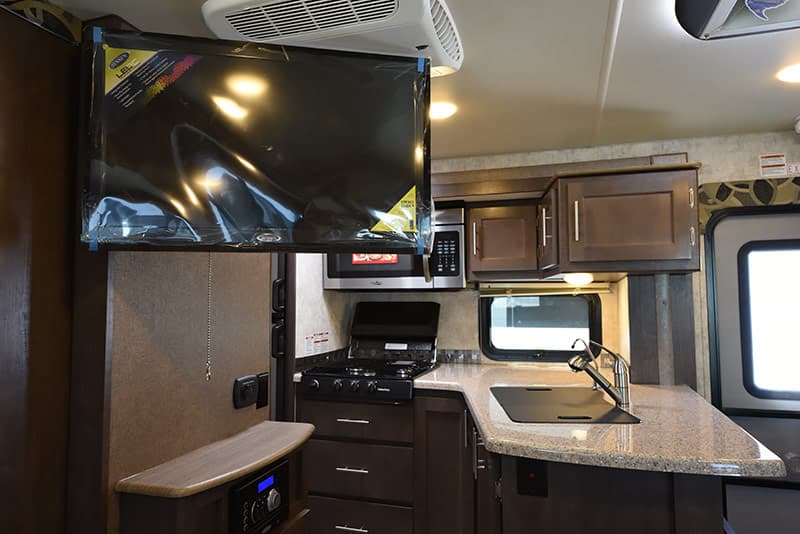 What good are theater seats without a big screen?  Adventurer Manufacturing put a 32-inch screen just a few feet away.  Get the popcorn!  It's movie time.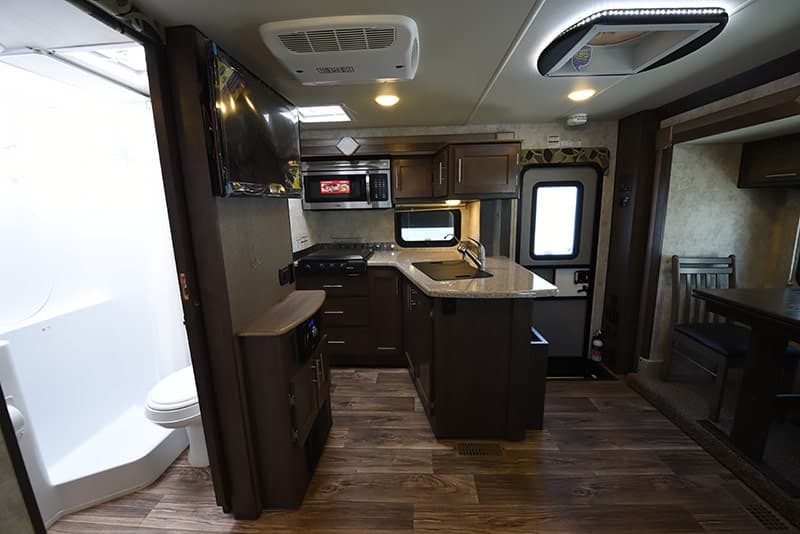 But first, please close the pocket door on the bathroom.  From the theater seating, you have a direct line of sight into the throne room.  Some folks might not care about this peeking potty, while others will be particularly displeased.  The answer?  Shut the door, and press play.
Half way through everyone's favorite 80's guilty pleasure, Caddyshack (It's in the hole), that second Gosling's Ginger Beer calls.  Fortunately the commute to the bathroom is about two feet.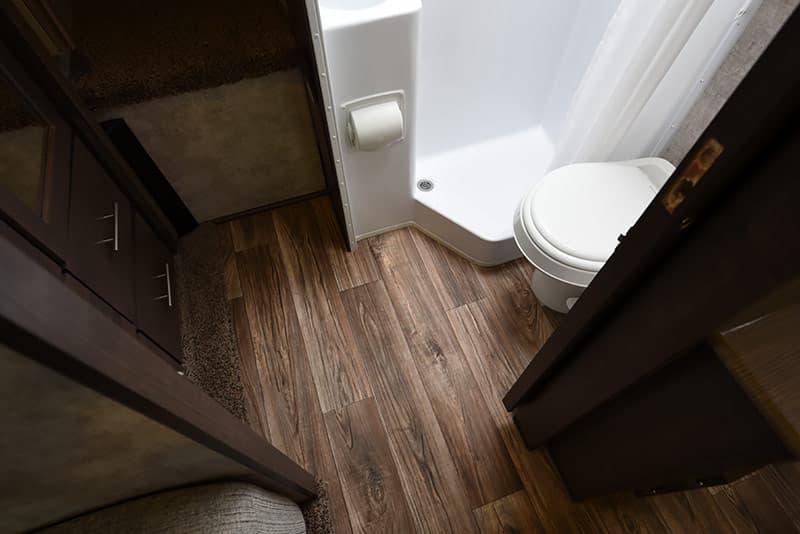 And what a room!  Usually with truck campers the word bathroom should be in quotes, but not the monster dry bath in the 1200.  There are hotel rooms in Tokyo that are smaller than this – seriously.  Just look at the floor space.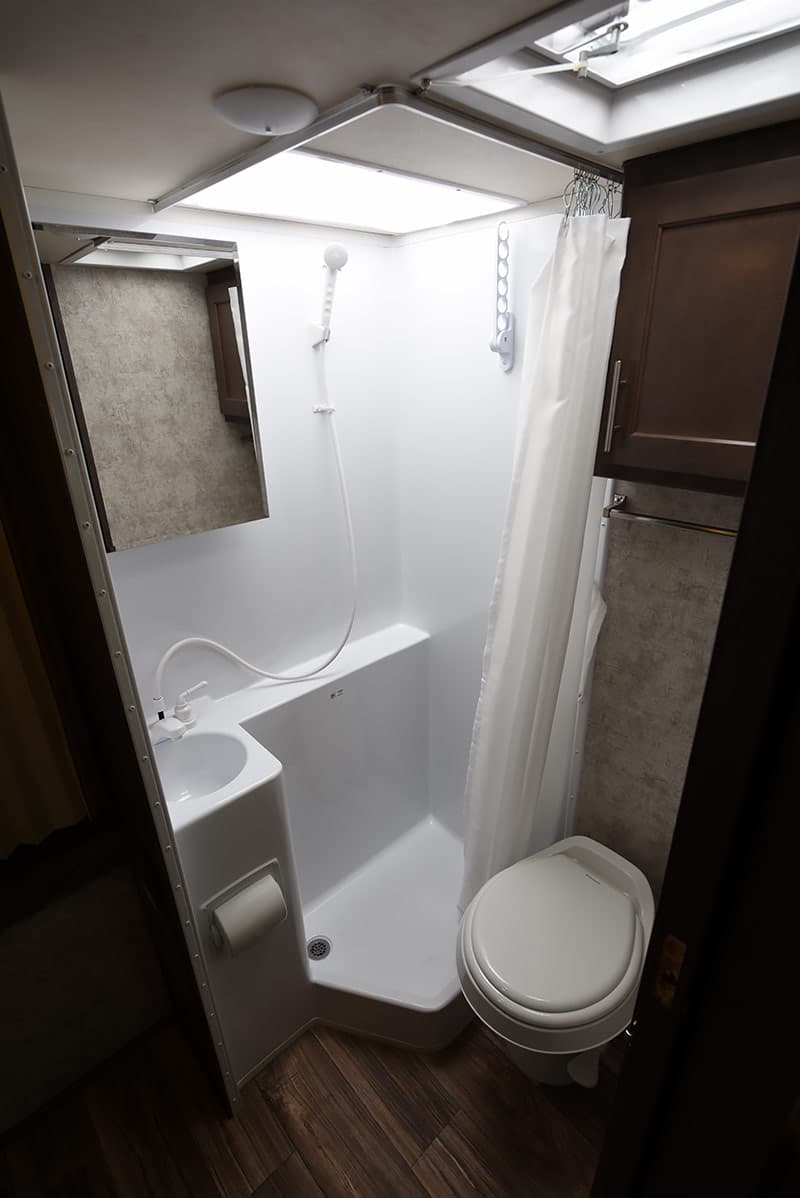 The dry bath is comprised into two distinct rooms; the bathroom, and the dressing room.  The bathroom has a one-piece fiberglass shower stall that incorporates the sink.  This is a clever and extremely efficient design.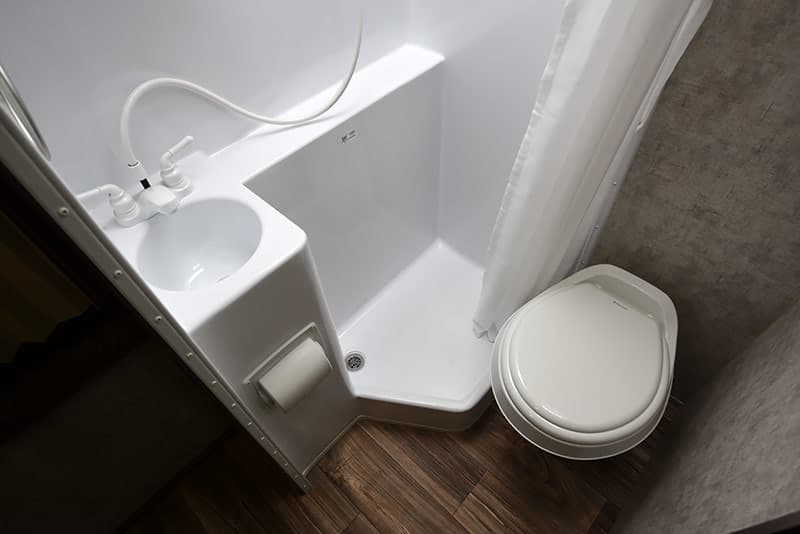 The shower pan is big enough for standing and washing.  The sink is big enough for teeth brushing and shaving.  The porcelain toilet has enough leg room for Plastic Man.  And the enclosed toilet paper holder is in exactly the right spot.  All high marks.
The one caveat here is where folks are supposed to put toiletries down.  When I'm in the bathroom (sorry about that visual) I like to have a place in the sink area to put my toothbrush, toothpaste, hair brush, and deodorant.  There is some counter space here, but not much.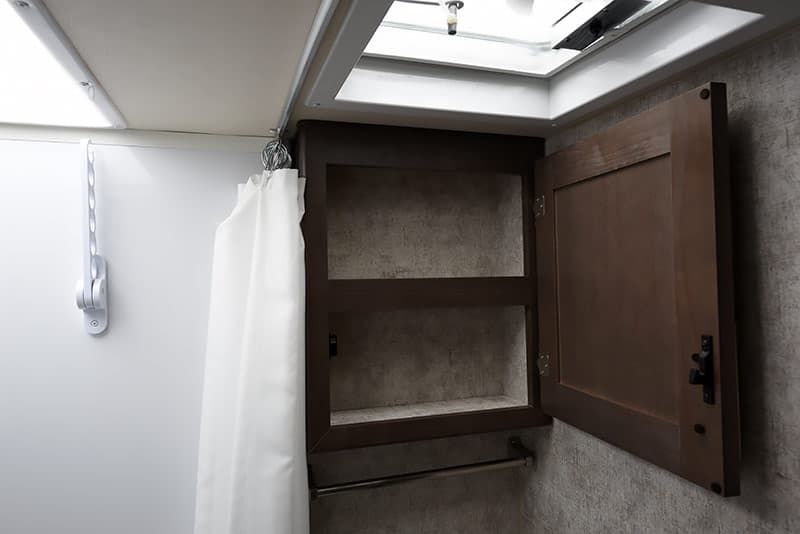 The vanity above the toilet would certainly help.  If I opened this cabinet I could have all of my items within arm's reach of the sink.  That would work fine.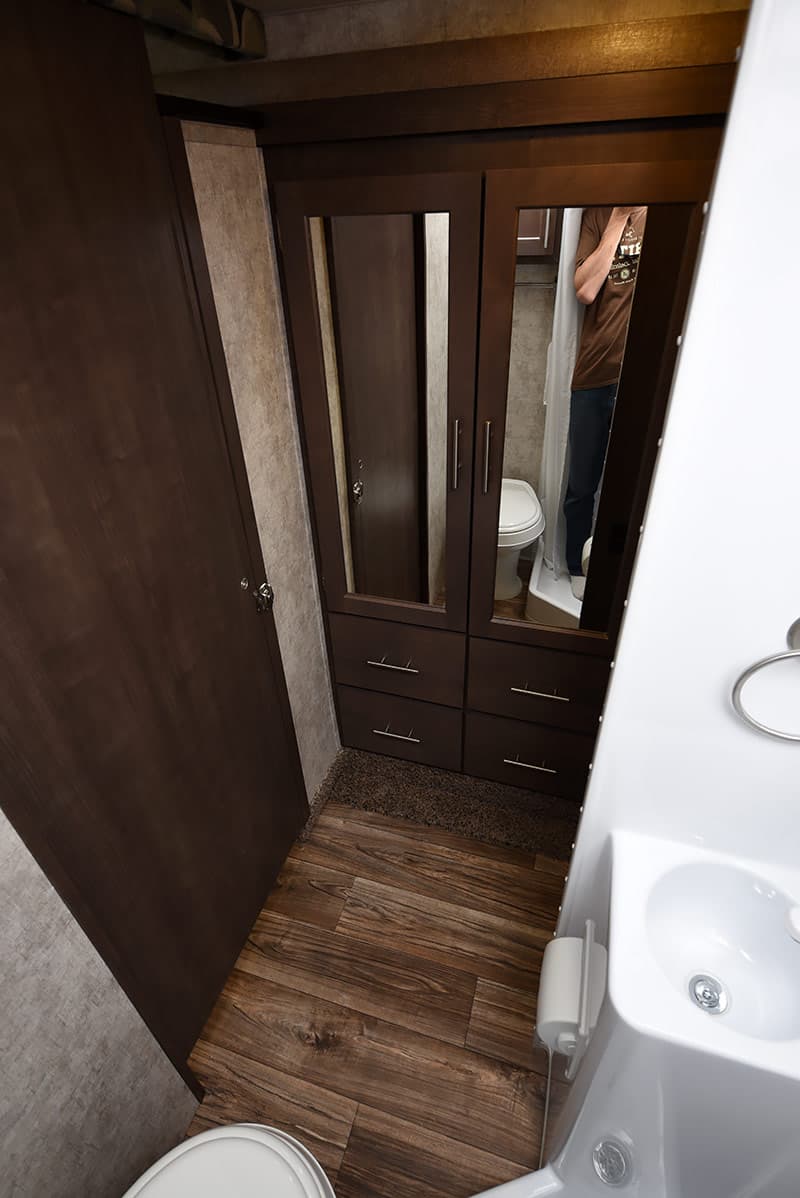 The second area in the dry bath is the dressing room.  The dressing room features a floor to ceiling mirrored closet and dresser drawers.  Wait, what?  A floor to ceiling mirrored closet and dresser drawers – in a truck camper?  The hits just keep coming.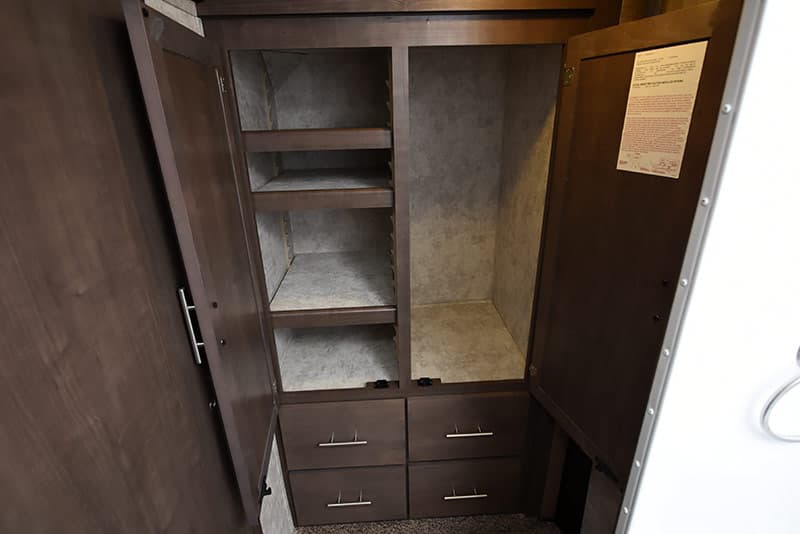 The double doors open to reveal a hanging clothes closet on the right and adjustable shelving on the left.  The shelving is storage perfection for towels, T-shirts, jeans, and sweatshirts.  The hanging closet is exactly right for coats, dress shirts, summer dresses, and pants.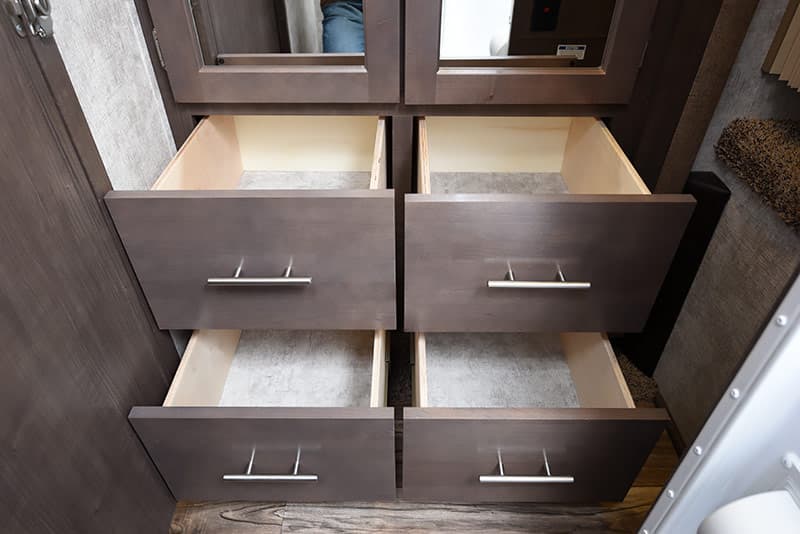 The pull-out drawers seem tailor-made for his and hers sock and underwear drawers.  Stepping out of the shower and having your towels and clothing immediately accessible is unbeatable.  Most of us don't have this kind of convenience at home.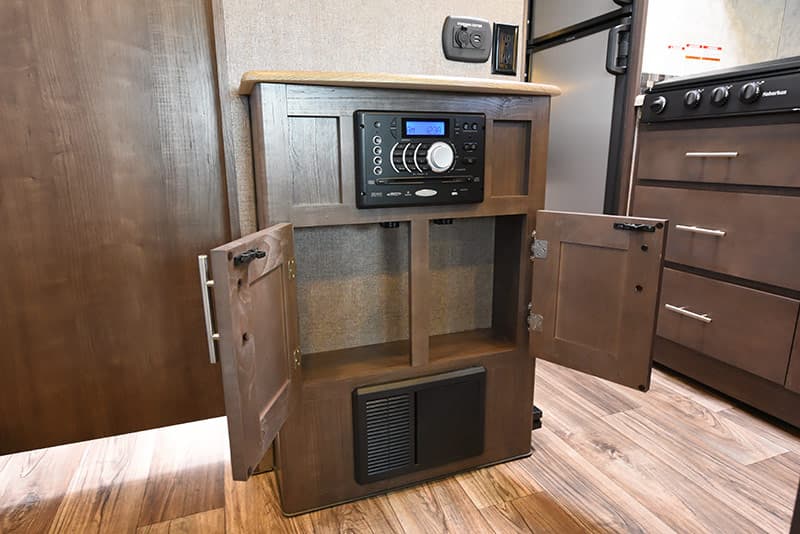 Stepping out of the dry bath and back into the main camper area, the front wall has more than just a 32-inch HDTV.  A cabinet below the television features a table top, DVD audio-video stereo system, two-door storage area, and the main fuse panel.  Having the fuse panel in an easy to access area like this is important.  All too often a truck camper electrical problem starts and ends in the fuse box.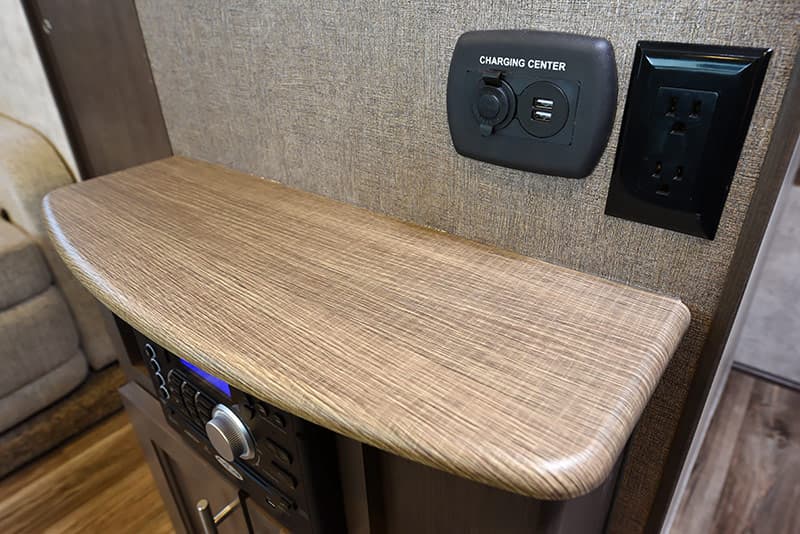 The cabinet table top doubles as a central 12-volt, USB, and 110-volt charging station.  This is one of the most useful and perfectly located charging stations ever seen in a truck camper.  Many a smartphone and camera battery will be charged here.
It's possible that larger devices would also be charged in this location including tablets and laptops, but they would require something to secure them in place.  I can picture a wall-mounted pocket or a strap to the left of the 12-volt and USB charging center to safely hold an iPad, Surface, or Chromebook.  Our MacBook Pros are far too big for this shelf and would definitely require a pocket or strap.
Now that your smartphone is charging, it's time to make dinner.  You turn the HDTV on and find that episode of M*A*S*H when Klinger tries to eat a Jeep – perfect background fun for meal preparation.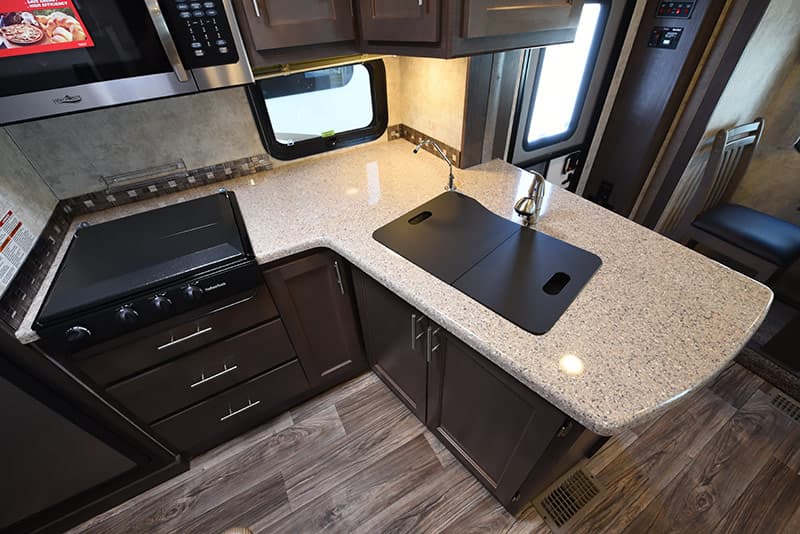 Chefs, cooks, and bottle washers will all discover a dream come true in the Eagle Cap 1200 kitchen.  The one-piece granicoat fiberglass counter peninsula extends about two feet and presents a large surface for food prep and dish washing.  The location and accessibility of the sink, gas cook top, 30-inch convection microwave and kitchen storage is all very intuitive.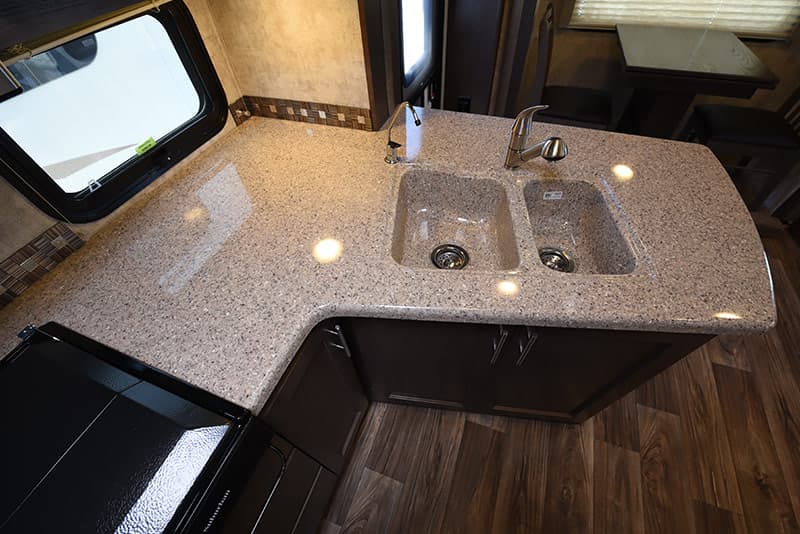 The double-bowl sink is integrated into the one-piece countertop.  This eliminates the need for a stainless steel or porcelain sink, the required sink seals, and the potential rust and/or maintenance of those sinks and seals.
The integration also makes the sink non-replaceable should this high use area get damaged.  For this reason I would recommend a PVC sink liner in both sinks.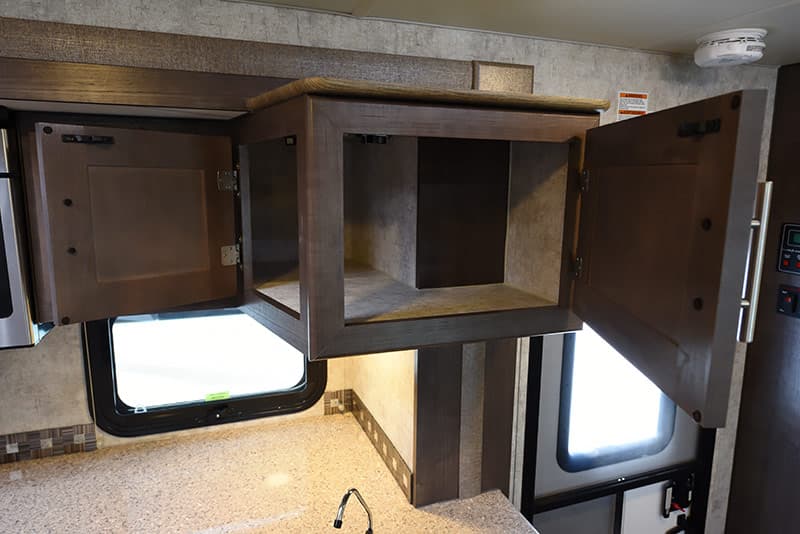 The cabinet immediately over the sink has two doors for accessibility from the kitchen or main living area.  This is where we would store our cups, bowls, and dishes.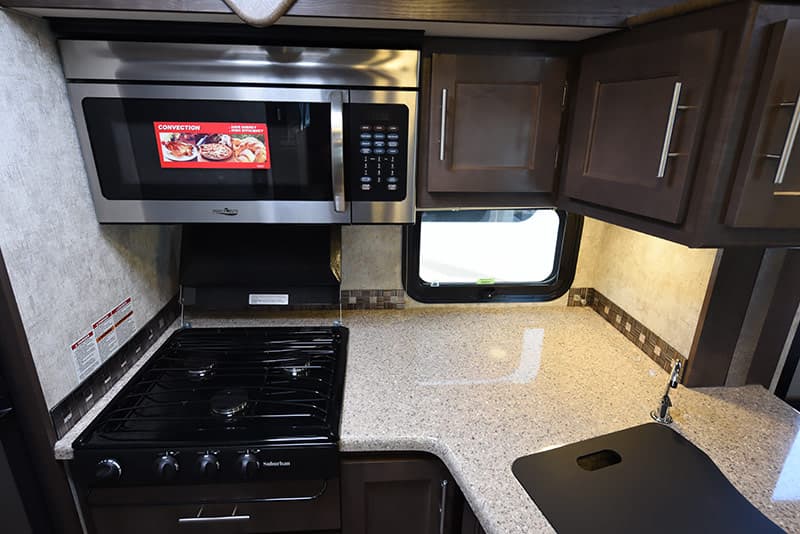 One potentially controversial aspect of the 1200 feature list is the inclusion of a 30-inch convection microwave and the omission of an oven.  When the 1200 debuted, Adventurer Manufacturing explained that the 30-inch convection microwave was preferred by motorhome and fifth wheel owners, and that losing the oven created the opportunity for three large pull-out drawers.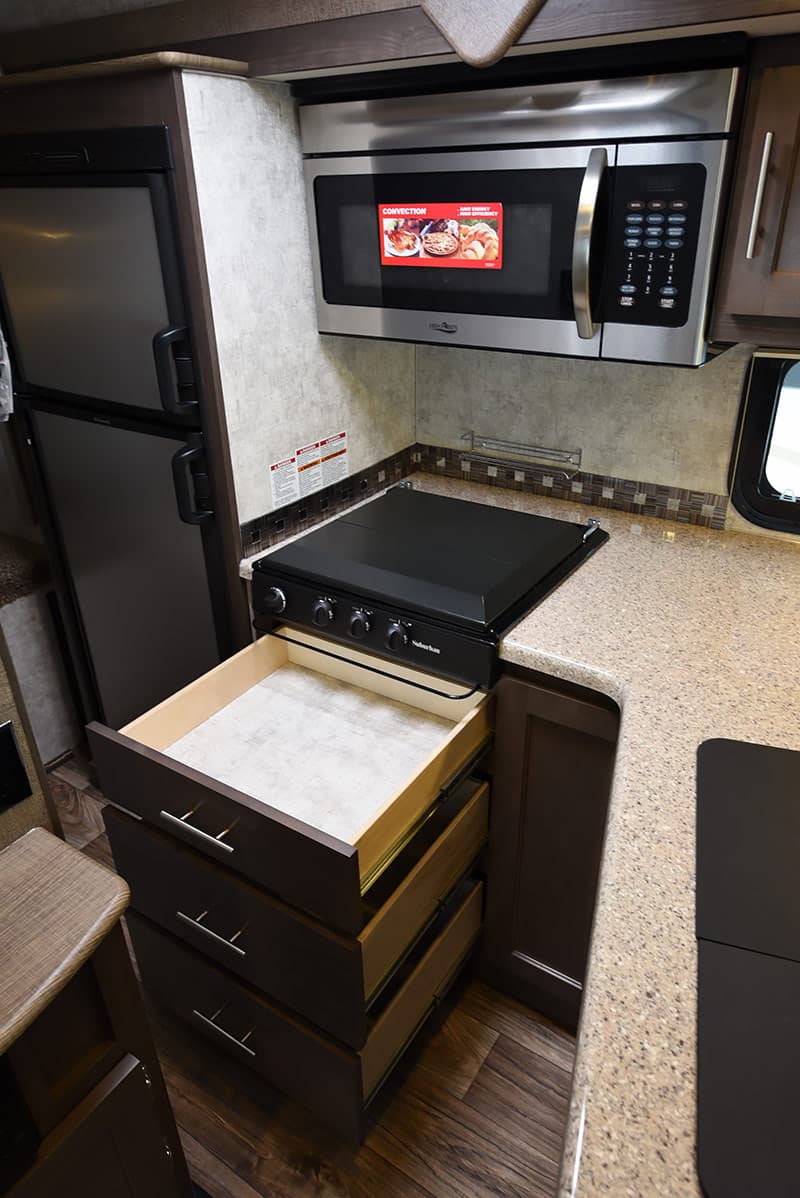 The three drawers are deep and wide, and further add to the domestic feel of the 1200.  Most of us would put our silverware in this top drawer, just like we do at home.  If you are not an oven user, the addition of these drawers is an over-the-fence home run.
If you are an oven user, it's unlikely that a convection microwave will make up for the absence.  I also wonder about the need and practicality of a 30-inch microwave in a truck camper.  Yes, it's beautiful in stainless steel.  And yes, you could fit larger items in it.  That said, I bet most folks will never need this much microwave capacity and might prefer a smaller appliance, and more cabinetry storage.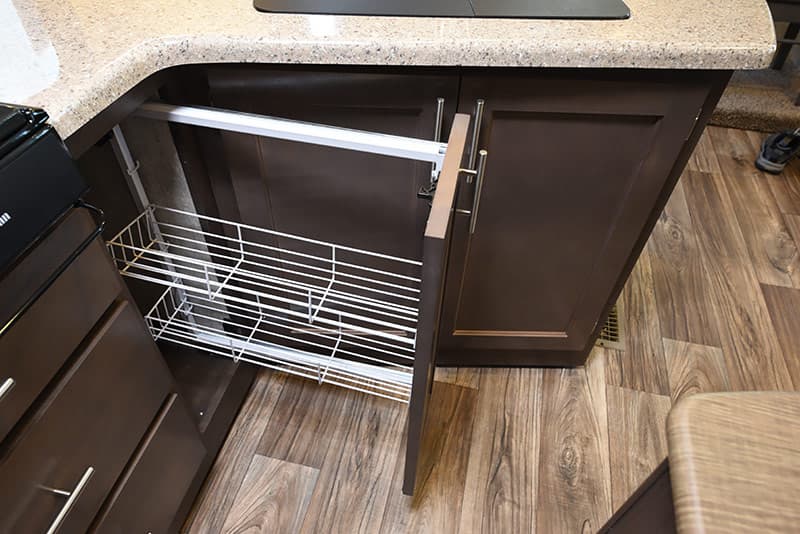 As pull-out pantries go, this is a small but welcome addition.  Pull-out pantries offer a lot of storage in a vertical space and are great for cans, jars, and other contained food items.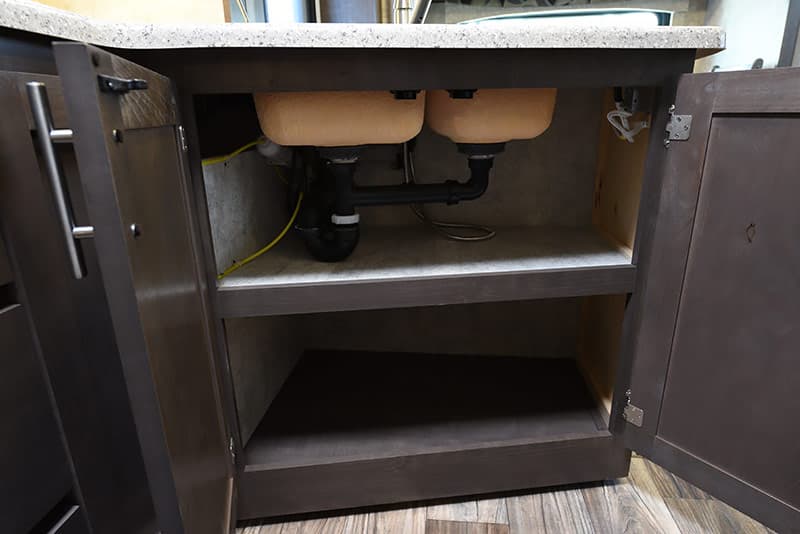 The under sink plumbing did not feature the neatest presentation, but the fittings were solid.  The real disappointment here is that the space doesn't lend itself to a trash can.  The upper shelf area is almost completely consumed by the sink bowls and plumbing and the lower shelf is too short for a traditional horizontal can.
It would be great if Adventurer Manufacturing supplied the Eagle Cap 1200 with a trash container that fit into this area and accommodated a standard 20-gallon trash bag.  Owners will find something, but why not solve this common customer need at the factory?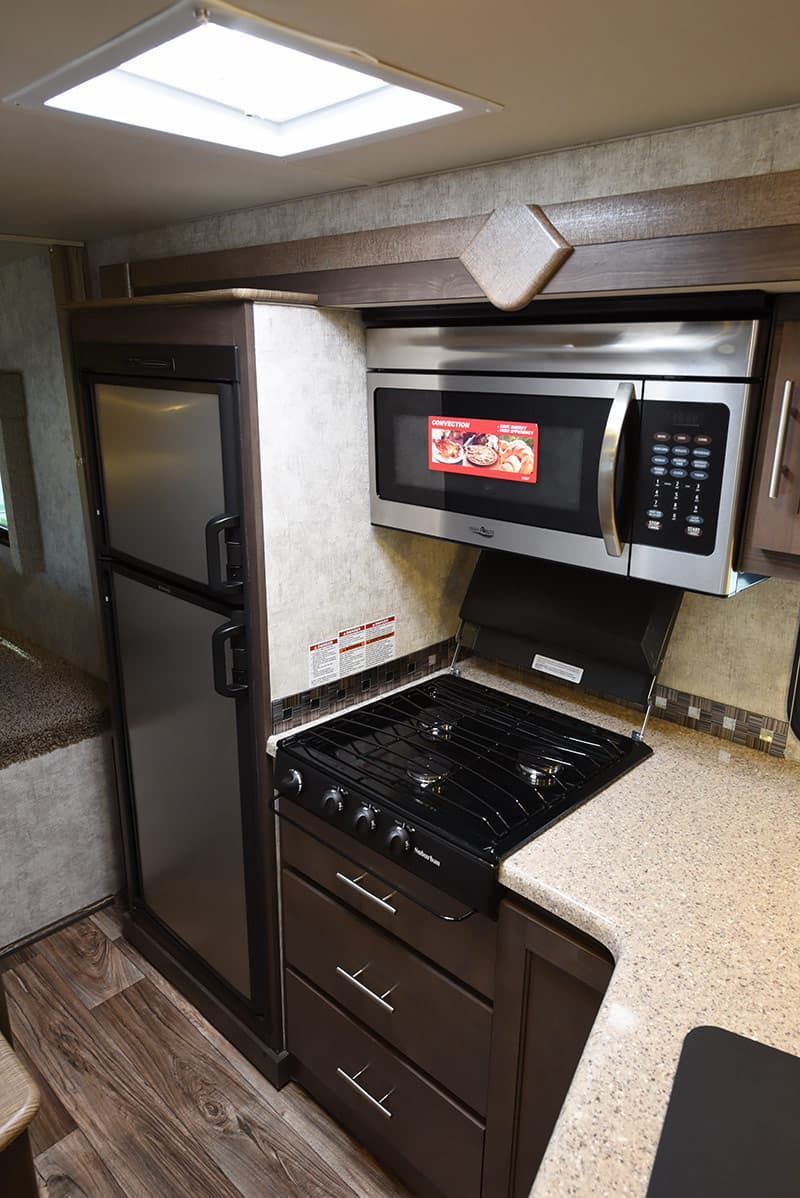 Turning towards the front of the camper reveals where the refrigerator is located.  Also note the skylight over the kitchen filling this area in natural daylight.  The skylight is the kind of detail that helps make the 1200 feel bright and open.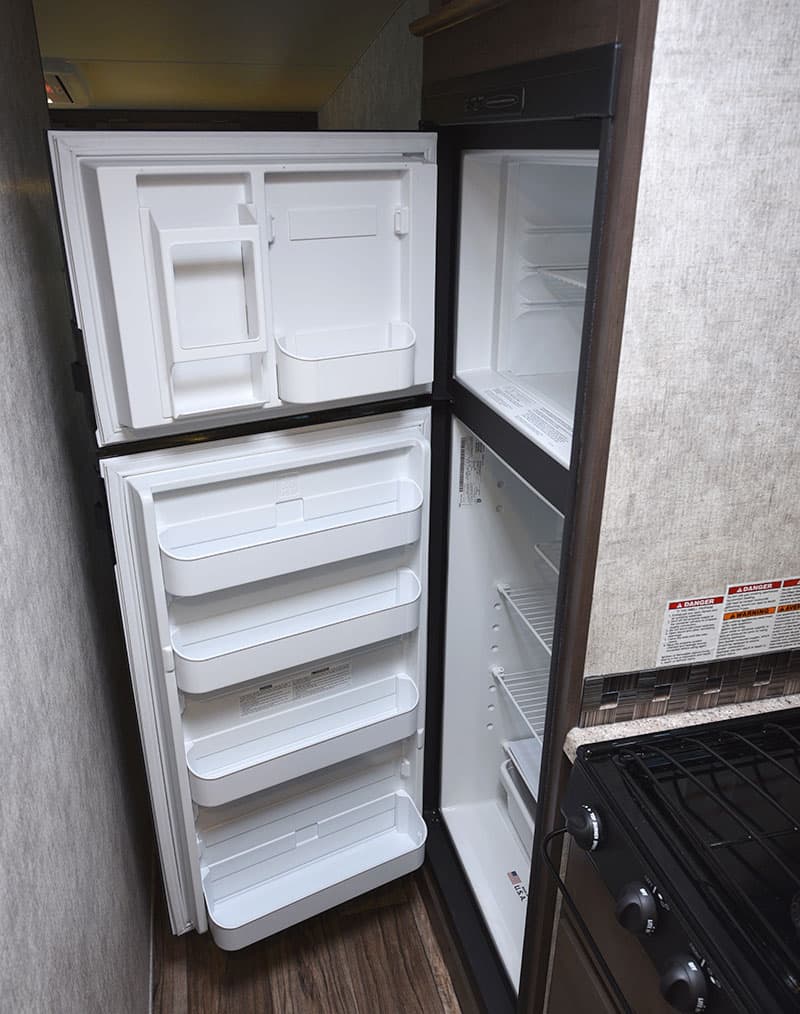 Where most hard side truck camper manufacturers have 6-cubic foot refrigerators, Eagle Cap gives you an 8-cubic foot refrigerator.  Again the foodies and gourmands go crazy.  This refrigerator is huge!
Closing the refrigerator door, take a step towards the front nose of the camper and check out the cabover bedroom area.  The cabover is accessible from both sides of the camper and features a King size bed.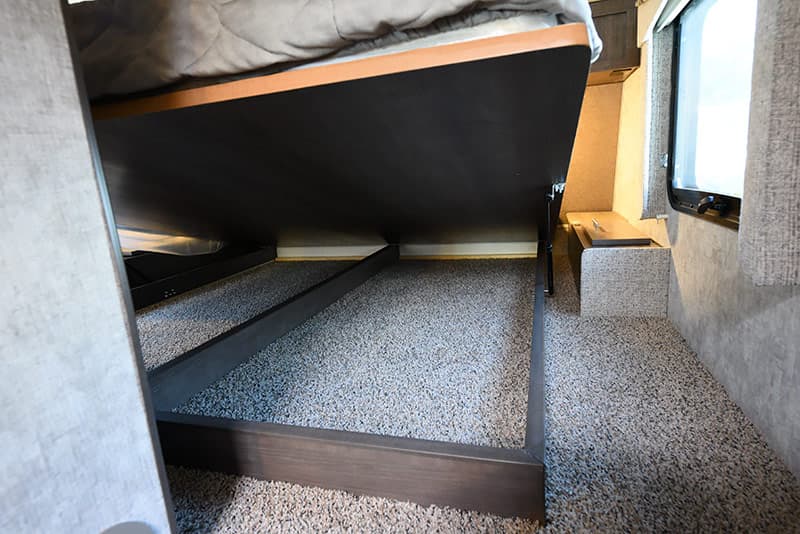 The King size bed lifts up to access the under bed storage area.  Lifting the bed is actually very easy with the gas struts doing most of the lifting.
No other hard side truck camper currently features under bed storage.  Yes, there were hard side manufacturers who offered under bed storage in the past.  And yes, pop-up truck campers have offered under bed storage for decades.  But only the Eagle Cap 1200 offers this storage area in a current production hard side truck camper.
With the incredible amount of clothing storage offered in the 1200 dry bath, the under bed storage could be used for clothing for different seasons, dry food products, hobby items like scrapbooking supplies, and/or whatever else you want to take truck camping.  This is a fantastic bonus storage area.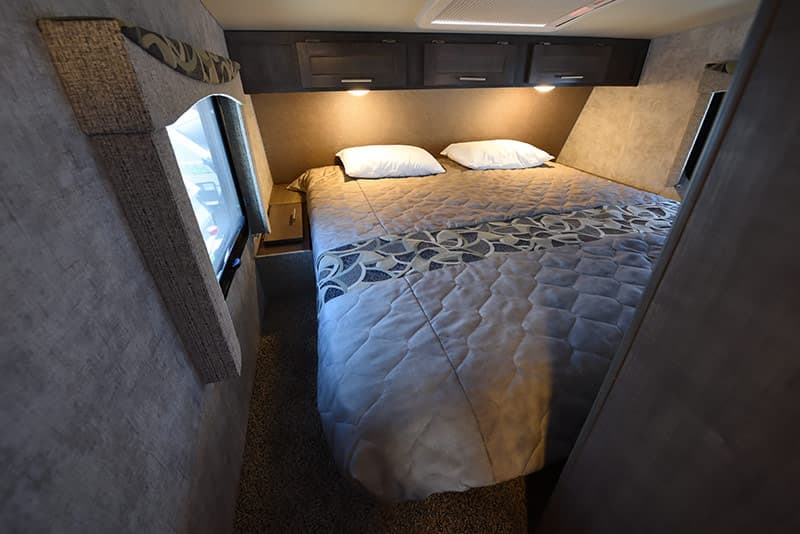 Walking over to the driver's side, the cabover access is equally easy to crawl into thanks to the 24-inch rail-height basement.  The tall basement raises the floor and thus lowers the entry point for the cabover bedroom.  You can literally sit down onto the cabover, and then turn to crawl in.  There's no climb necessary as the cabover is about the same height as a domestic bed.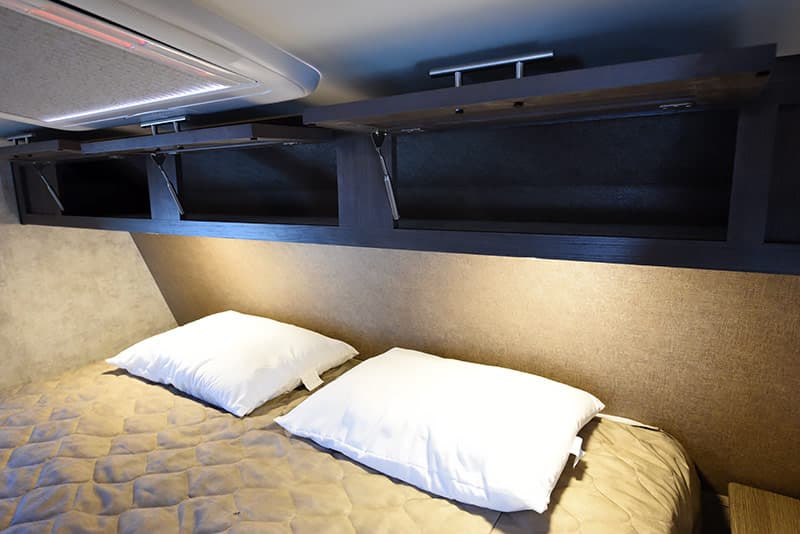 Along the width of the upper front nose is a set of three cabinets with gas struts to hold the cabinet doors open.  Usually I'd be marking this storage for socks and underwear, but I already designated that for the dry bath drawers.  Well, I guess you have options in the Eagle Cap 1200.  Put your socks and underwear where you see fit.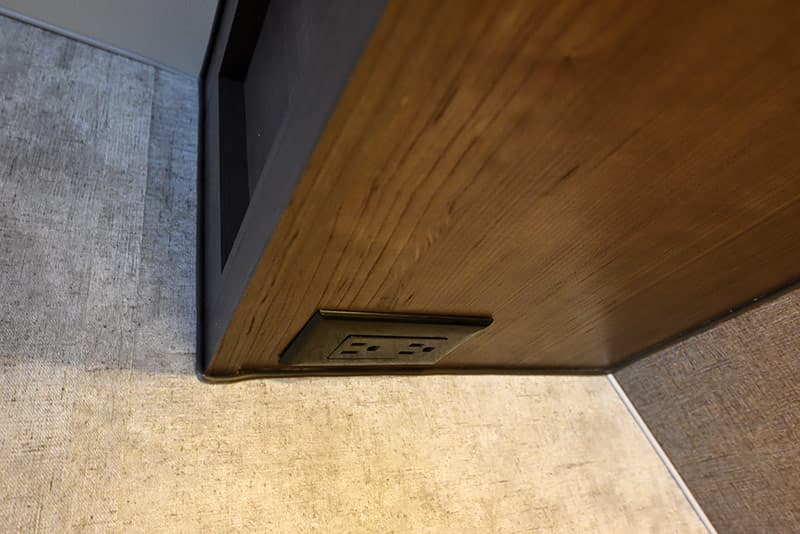 Eagle Cap placed 110-outlets under the front nose cabinets, presumably for folks with CPAP machines.  This is a welcome feature, and would be even better with a 12-volt and USB outlet.  In the future, maybe all RV outlets will include 110-volt, 12-volt, and USB connections.  Wouldn't that make sense?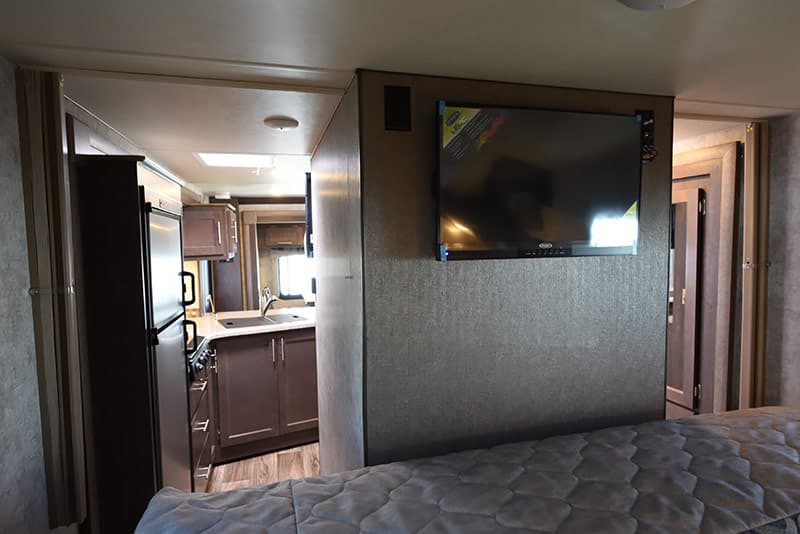 Now this is serious luxury.  The bedroom features a 28-inch Jensen HDTV.  28-inches is very large for a cabover television – even though it appears that an even bigger TV would fit.  Personally, I can't see wanting anything more than this.
In theory, you could be watching Ghostbusters in the theater seating while your significant other watches Grey's Anatomy via over-the-air (or satellite) reception in the cabover.  What I don't know is if it's possible to watch a movie on the "theater" screen and television in the cabover at the same time?  Maybe Adventurer can answer that in a Manufacturer's Response.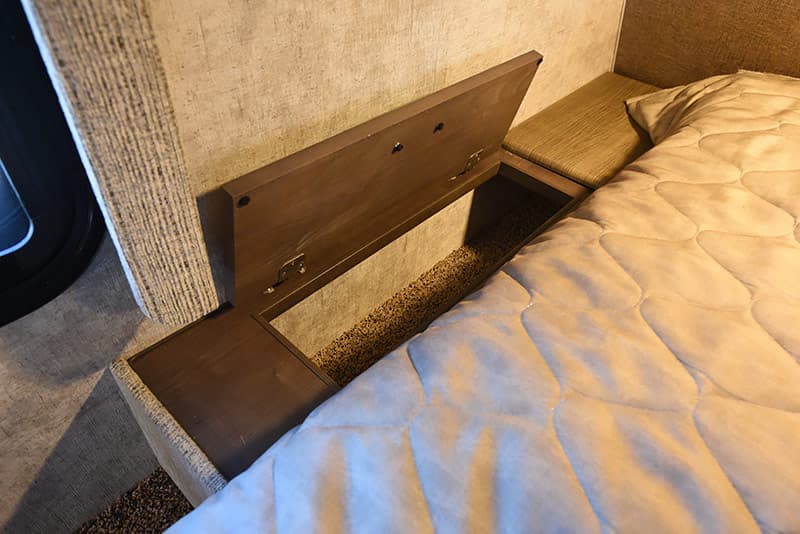 On each side of the King bed are small hampers and even smaller nightstands.  The nightstand would be great for glasses and/or a book, tablet, or smartphone.  What folks will use the hamper for is anyone's guess.  There are already numerous places to put your socks and underwear.  What would you keep in here?
Capacities
| | |
| --- | --- |
| Capacities | |
| Fresh | 60 gallons |
| Grey | 34 gallons |
| Black | 34 gallons |
| Water Heater | 6 gallons |
| Propane Tanks | 2x 20 pounds |
| Batteries | Two Batteries |
When Eagle Cap announced the 1200 model in October of 2015, they also announced an important change to their fresh water holding tank sizes.  Prior to this announcement, Eagle Cap had equipped their 1165 triple-slide and 1160 double-slide with 75 gallon fresh water tanks.  75 gallons of fresh water sounded great on paper, but proved to be too much capacity and water weight for most customers.
To reduce the water weight on the 1200, 1165, and 1160, Eagle Cap switched to 60 gallon fresh water tanks.  That's a 20-percent reduction in fresh water capacity and weight.  Put another way, that's the difference between 625.5 pounds of water (75 gallons) and 500.4 pounds of water (60 gallons).
Given the real world payload capacities of most long bed dually trucks, and the real life fresh water requirements of truck camping, the 60 gallon tank is a more sensible size.  We applaud this change.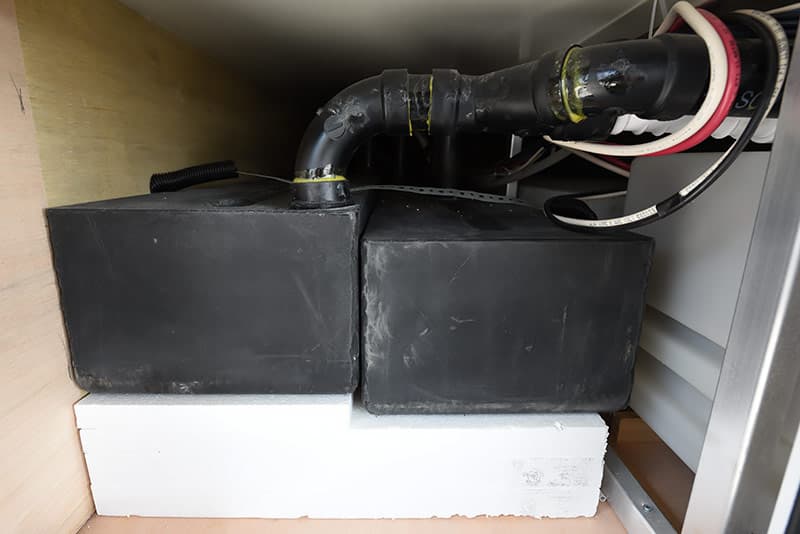 Above: Eagle Cap 1200 Holding Tank Access
The other tanks are 34 gallons grey and 34 gallons black.  Going by our own typical tank use (two people off-grid), the 34 gallon grey and black would last us 6 to 7 days.  If we really focused on conservation, we might be able to stretch these tanks to 9 days, but then we would have to find a dump station immediately.
In my opinion, the 60 gallon fresh tank is still too big considering that the grey tank is basically half that capacity.  Some fresh water will go from the fresh to the black from flushing the toilet, but most will go into the grey.
Allowing for 5 gallons of fresh water to go into the black tank, there's 21 excess gallons of fresh water capacity that has nowhere to go.  From this perspective, you could literally swap the 60 gallon fresh tank for a 40 gallon fresh tank and not lose any fresh water capacity in real world use.  Unless you're a heavy user of the exterior shower, the fresh tank is still too big.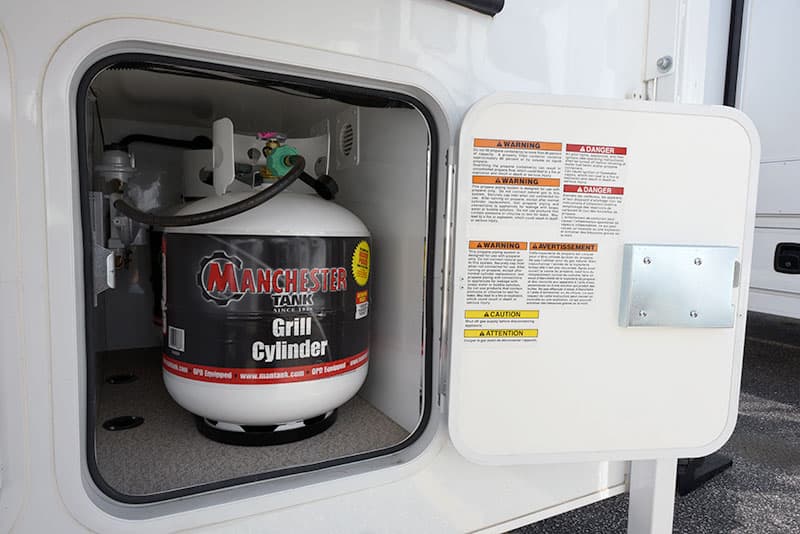 During their announcement for the 1200, Adventurer explained the three reasons why they selected two 20-pound propane tanks rather than two 30-pound propane tanks.  First, 20-pound tanks are easier to lift and install.  Second, 20-pound tanks can be conveniently swapped at any Walmart, Home Depot, 7-11, or thousands of other propane exchange locations coast-to-coast.  And third, the smaller and lighter tanks opened up the rear basement storage area.  We couldn't agree more with their decision for 20-pound tanks.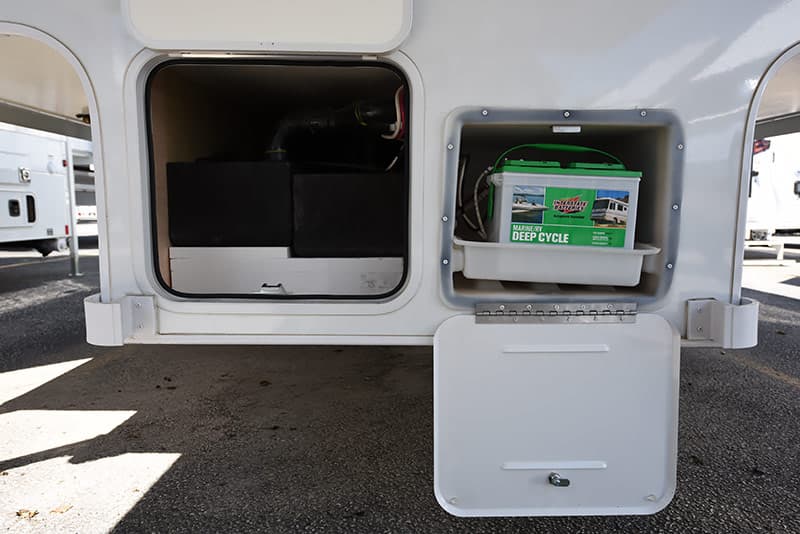 Above: The Eagle Cap 1200 has a front battery compartment
To move the center of gravity forward, the Eagle Cap 1200 has an external battery tray on the front wall.  This battery tray will really only be accessible when the camper is unloaded from the truck.
If you unload your camper often, or plan on using AGM batteries that don't require maintenance, this is no big deal.  However, if you leave your camper loaded and use lead acid batteries, maintenance could be challenging.  Our recommendation is to use AGM batteries in truck campers with front wall battery boxes.
Specifications
| | |
| --- | --- |
| Specifications | |
| Dry Weight | 4,801 pounds |
| Wet Weight* | 6,021 pounds |
| Floor Length | 11'11" |
| Overall Length | 21'0″ |
| Width | 102″ |
| Interior Height | 6'3″ |
| Exterior Height | 112″ |
| Center of Gravity | 58″ |
| Truck Type | Long Bed |
When we opened the dry bath closet door we found Adventurer Manufacturing's celebrated, "ACTUAL WEIGHT WITH FACTORY INSTALLED OPTIONS" weight sticker.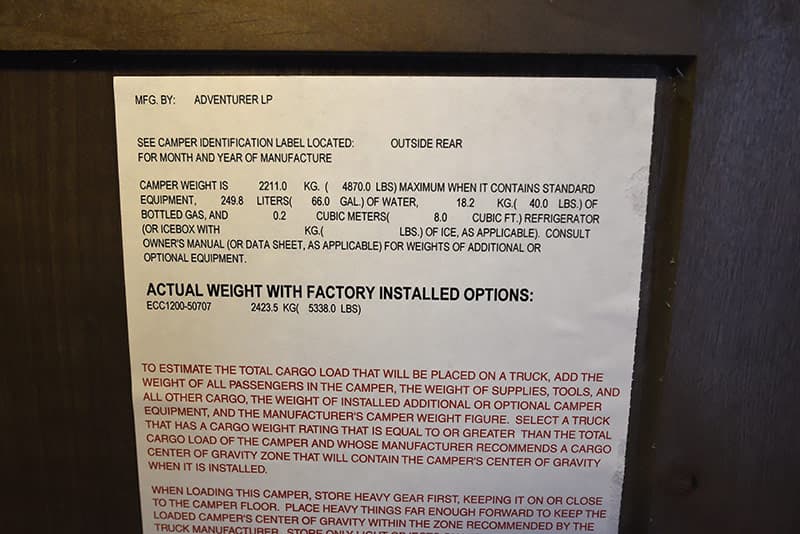 We celebrate this because Adventurer Manufacturing weighs every truck camper before it leaves the factory and puts that actual weight with options in the units.  Very few truck camper manufacturers weigh every unit, and only Adventurer actually posts that weight on the unit itself.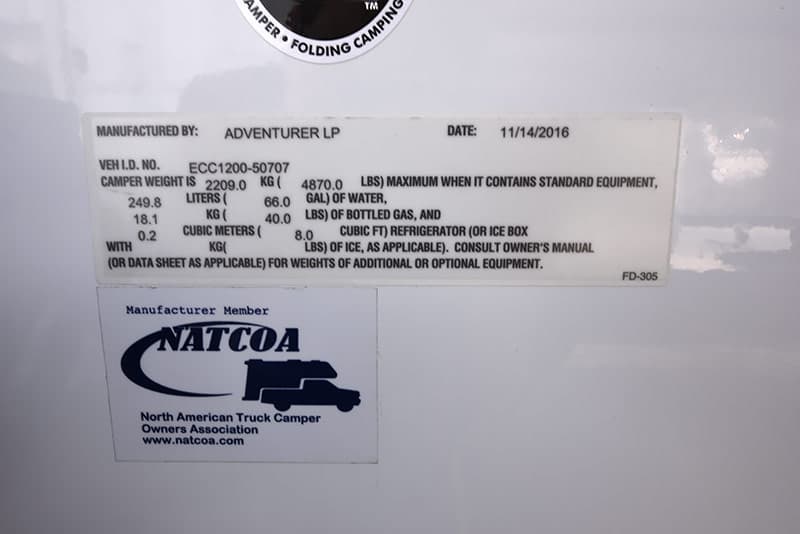 We would be even more excited if Adventurer put this actual weight with options on the back of their units as well.  Instead they post they dry weight without options.  If I've said it once I've said it a thousand times; exterior weight stickers are almost always wrong!
Looking at the interior "actual weight" sticker, this particular 2017 Eagle Cap 1200 starts with a dry weight of 4,870 pounds and ends up at 5,338 pounds with factory installed options.  That's an option weight of 468 pounds or an increase of 9.6-percent.  This is why it's so important to know the actual weight with options, not just the base dry weight.
Kudos to Adventurer for being straight with their customers and posting this information inside the unit.  They really are leading the pack with this practice.  Maybe someday I'll convince them to post the actual weight on the exterior as well.
With a floor length of 11'11", the Eagle Cap 1200 is actually 5-inches longer than the Eagle Cap 1165 triple-slide and 1160 double-slide.  The additional floor length opens up the main living area and makes this kitchen peninsula design possible.
To counter balance this extended floor length, Eagle Cap also extended the cabover bringing the overall length to a mind-bending 21-feet.  That makes the Eagle Cap 1200 the longest truck camper available and likely the longest truck camper ever to come off a production line.
The 102-inch width is the same as the 1165 and 1160, as is the 112-inch exterior height.  The center of gravity was certainly helped by the 21-foot length and comes in at a reasonable 58-inches.  For comparisons, the Eagle Cap 1165 is 59.5-inches and the 1160 is 57-inches.  That should be right on target for long bed dually trucks.
Wet Weight Calculation
Using the standardized Truck Camper Magazine wet weight calculation, let's run the numbers on the 2017 Eagle Cap 1200.
Base Dry Weight – special factory order only
Eagle Cap 1200: dry weight, 4,870 pounds + 60 gallons fresh, 500.4 pounds + 6 gallon full hot water heater, 50 pounds + 2x 20-pound full propane tanks, 40 pounds + 2 batteries, 130 pounds + stuff, 500 pounds = 6,090.4 pounds
Fully Optioned Weight – Reviewed Unit
Eagle Cap 1200: dry weight, 5,338 pounds + 60 gallons fresh, 500.4 pounds + 6 gallon full hot water heater, 50 pounds + 2x 20-pound full propane tanks, 40 pounds + 2 batteries, 130 pounds + stuff, 500 pounds = 6,558.4 pounds
Truck Recommendations
This is not a camper for which the only recommendation necessary is, "You need a long bed dually".  In reality, the majority of long bed dually trucks don't have anything near 6,090 pounds of payload, much less 6,600.  Even our carefully planned for payload 2014 Ram 3500 dually only has 5,851 pounds of payload.  And that's with a 6.4L HEMI, not a diesel.
Many non-payload-planned late model and even brand new one-ton dually trucks have less than 5,000 pounds of payload.  So how do we make this work?  In five words; go minimal, or go big.
Truck Option 1: Go Minimal
The 2017 Ram 3500 (with the 4.10 axle ratio) offers up to 7,387 pounds of payload.  The 2017 Ford F350 offers up to 7,630 pounds of payload.  The 2017 Chevy Silverado 3500 and GMC Sierra 3500 offer up to 7,153 pounds of payload.  All of these numbers represent base work trucks, with gas engines, single cabs, and no options.
If a Ford, Ram, or GM one-ton base work truck with a gas engine, single cab, and no options is all you want or need, you're in luck.  These trucks can be purchased for under $45,000 and will give you all the payload you need.
However, most folks want a crew cab and four-wheel drive.  While TCM does not have access to the necessary payload equations, adding a crew cab and four wheel drive to a base dual rear wheel 3500/350 work truck should still result in enough payload for a loaded and wet Eagle Cap 1200.  To be clear, that's a Ford, Ram, or GM one-ton base work truck with a gas engine, crew cab, four wheel drive, and no other options.
From there things are going to get tricky.  You may be able to add a few features, but not much.  This is where working closely with a dealer that you trust is going to be critical.
I'm also not sure about how this approach would work with a diesel engine.  If you started with a Ford or Ram one-ton base work truck with a diesel engine, single cab, and no options, that configuration might also offer enough payload for a loaded and wet 1200.  Again, please find a reputable dealer to work with.  This can be tricky to get right.
Option 2: Go Big
The other approach is to go beyond a one-ton and purchase a Ford F450, Ford F550, Ram 4500, or Ram 5500.  Now you can have your diesel, crew cab, and all the luxury trimmings with payload to spare.
Ford offers the F450 with up to 8,340 pounds of payload, and the F550 with up to 10,930 pounds of payload.  Ram offers the 4500 with up to 8,400 pounds of payload, and the 5500 with up to 11,450 pounds of payload.  Obviously these payload numbers are awesome and more than enough for a fully loaded and wet Eagle Cap 1200, but there's a catch – or three.
First, the F450, F550, 4500, 5500 only come as cab and chassis models.  That means you need to have an up-fitter install a custom bed that will work with the 1200.  While many folks have done this, it's not simple, or cheap.  A high quality custom truck bed can cost upwards of $15,000.
Second, these trucks may not have a standard 8-foot bed.  That means the loaded camper may be further back for center of gravity than designed.  The huge payload capacities offered by these trucks may overcome this limitation, but it's definitely something to be aware of.
Finally, the MSRPs for these trucks push well past $50,000.  Add options and a custom truck bed and you will very likely have a $75,000 truck, or more.  That under $40,000 Ford or Ram work truck is looking like a bargain now, right?  They're practically buy one, get one free!
What We Would Do
If we were matching a truck to a 2017 Eagle Cap 1200 for ourselves, we would go minimal.  Our choice would be to start with a 2017 Ram 3500 Tradesman, 6.4L HEMI, 4×2, crew cab with the 4.10 axle ratio (14,000 GVWR).  Even base trucks like the Ram Tradesman are extremely nice in 2017, and the price would be a lot easier to handle.
My main concern would be how the 6.4L HEMI would handle being near maximum payload.  My guess is that it would struggle up mountain grades, but get us there.  It wouldn't perform like a sports car on the highways, but it would get us there.  And it might not offer the best fuel economy, but it would get us there.
If you need to blast up mountains, or plan to tow anything behind your Eagle Cap 1200, go minimal with a 3500 work truck and a diesel, or go big with a F450 / F550 / 4500 / 5500 and a diesel.  Simple as that.
The Verdict
As I wrapped up my analysis and photography of the Eagle Cap 1200 triple-slide camper, the true measure of the floor plan started to sink in.  From my perspective, this a truck camper I want to take somewhere and stay a while.  Put the 1200 in Key West, Florida every winter, and live the Key West life.  Put the 1200 in the Kenai Peninsula, Alaska all summer and live the Alaska life.  That sounds like fun.
What really struck me was how the Eagle Cap 1200 felt like a small apartment inside.  It has that level of comfort and move-about space.  All it really needs is full hook-ups and a washer dryer and I'm home.
Naturally there are some steep costs for all this space and comfort.  First, the camper under review weighs over 6,600 pounds fully loaded and wet.  That means you will very likely need to custom order a truck to properly match the Eagle Cap 1200 (see Truck Recommendations above).
Second, there are six steps to get into the Eagle Cap 1200.  That's quite a climb and decent for anyone facing mobility issues.  Please have your Eagle Cap dealer raise this camper to loaded height and try the steps before purchase.
Third, the Eagle Cap 1200 starts at $49,973.  The review unit was going for $53,988.  When folks talk about entire truck camper rigs approaching and even exceeding $100,000, this is what they're talking about.  Any truck that can properly handle the weight of this camper is going to be at least $40,000, probably more.
All of these thoughts melt when you're standing in the 1200.  It's simply stunning.  And please don't sit in the theater seating unless you're prepared to buy this camper.  Without a doubt, this is the most comfortable place to sit in the truck camper universe.
"If you like to cook and entertain, or just want the biggest and best truck camper on the market, this camper is for you." – Greg Tucknies, National Sales Manager for Adventurer Manufacturing
I have to agree with most of Greg's bold statement.  The 2017 Eagle Cap 1200 is truly great if you like to cook and entertain.  At 21-feet long with three-slides, it's also 1200 is the biggest truck camper on the market.
Is the 1200 the, "best truck camper on the market?"  Absolutely not because there is no such thing as the best truck camper for everyone.  However, if you're looking for a big multi-slide truck camper and are prepared to special order a truck that can handle it, this is one heck of a sweet apartment – to go.
Pros
Huge wide-open and bright interior space.  An apartment on wheels.
Sturdy and table and chairs.  Table extends for more space.
Extremely comfortable recliner theater seating
Huge dry bath with dressing room and wardrobe closet and drawers
Big kitchen peninsula and 8-cubic foot refrigerator for cooks and foodies
California King bed with under bed storage and easy-lift struts
Cons
Very careful truck matching is required for the 6,600 pound wet weight
24-inch rail height basement requires six steps in and out of camper
Fresh tank capacity by far out strips the grey tank capacity
Bathroom sink area lacks counter space for toiletries in use
No oven available, but there is a 30-inch convection microwave
No place for a trash can under the kitchen sink
Model Information
2017 Eagle Cap 1200
MSRP: $49,973
Warranty: one year bumper-to-bumper, three-year structural
Adventurer LP (ALP)
3303 West Washington Avenue
Yakima, Washington 98903
Phone: 509-895-7064
Request An Eagle Cap Camper Brochure
Web: eaglecapcampers.com
Quality, Customer Service, and Long-Term Reliability
Truck Camper Magazine inspects all reviewed truck campers for design, material, and quality issues and reports what we find.  However, since Truck Camper Magazine reviews only brand new truck campers, our reviews do not address long-term quality, customer service, or reliability.To learn about a brand's long-term quality, customer service, and reliability, Truck Camper Magazine recommends talking directly with truck camper owners at truck camper rallies and online via truck camper forums and truck camper owners groups.
Please be sure to balance your gathered feedback across multiple sources including direct correspondence with the truck camper manufacturers and your closest truck camper dealers.
If you are new to truck campers, start in our Newbie Corner.