Adventurer Manufacturing debuts the 2021 Scout Yoho, a hard-side, non-slide truck camper for short bed mid-size and full-size trucks.  Don't miss the videos on loading, the adjustable ratchet tie-downs and removable Happijac jacks!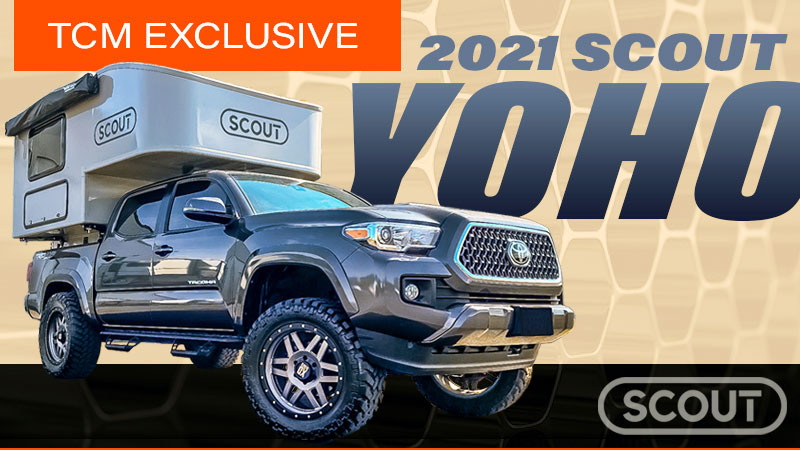 There is a long history of truck camper companies building small, simple, ultra-lightweight non-slide entry-level truck campers.  The industry consensus has long been that any customer with deeper pockets would want a larger, more fully-featured truck camper with an extensive option list.
In all fairness, this belief has proved remarkably successful for decades.  Even now, demand for fully-loaded premium slide-out truck campers is as strong as it has ever been.  Ask most truck camper dealers if they'd like to see more fully-loaded slide-out campers on their lots right now and they'll say, "Yes, please!"
In direct contrast to this accepted reality, a new truck camper market has been developing.  This market is championed by younger millennial buyers who want (you guessed it) something much smaller, simpler, and lighter – but also high-end in its construction quality and presentation.
Having recognized this unseen opportunity, Adventurer Manufacturing launched Scout Campers in April.  Debuting right into the depths of the spring's Covid-19 outbreak, the timing was both devastatingly unfortunate and, as it turns out, absolutely brilliant.  As David Epp, CEO of Adventurer Manufacturing, explained to us at the time, "People need something positive."
Initial evidence that David's intuition was correct started with an exceptionally strong interest from our own readership.  Proof landed as prominent A-list automotive websites featured the new Scout, some of which had barely lifted an eyebrow toward truck campers before.  Something about the Scout was in-tune with the moment, and it wasn't long before Scout demand outpaced expectations.
The all-new Scout Yoho takes the smaller, simpler, lighter and premium idea to a logical extreme.  Smaller, simpler and lighter than the Olympic, the new Scout Yoho is a potential match not only for full-size half-ton short bed trucks (the previous Holy Grail), but also mid-size short bed trucks.
This doesn't mean the Yoho is a proper payload match for every mid-size short bed truck but, with a dry weight of 958-pounds, it's possible if you spec the right mid-size truck, and run the numbers.  A hard-side truck camper that can honestly payload match a mid-size short bed truck?  Ladies and gentlemen, that's really saying something.
To learn more about Scout's new Yoho, we talked to David Epp, CEO of Adventurer Manufacturing.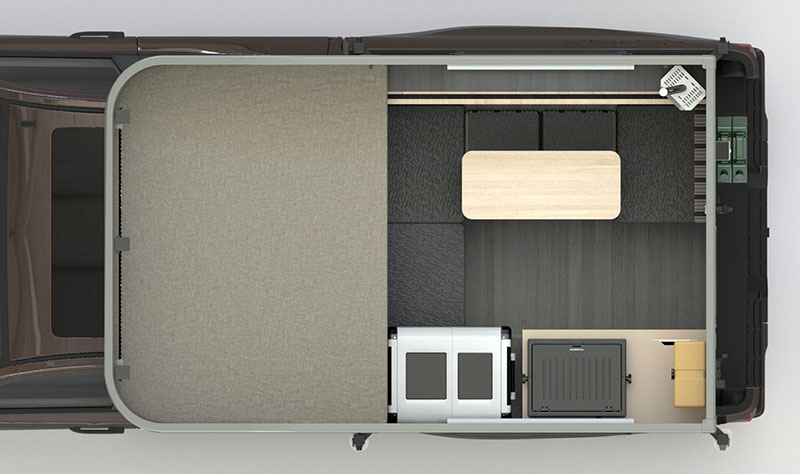 2021 Scout Yoho Specifications:
The 2021 Scout Yoho is a hard side, non-slide truck camper made for short or long bed trucks.  The interior floor length of the 2021 Scout Yoho is 69.34″, the interior height is 75″, and the center of gravity is 26″ from the front wall.  The 2021 Scout Yoho has 4.9-gallons of fresh water capacity, no grey tank, and an optional portable 2.6 gallon toilet.  It has a Goal Zero Yeti Lithium 1000 battery and a 10-pound propane tank.
Adventurer is reporting the base weight of the Scout Yoho to be 958 pounds.  The base MSRP for the Scout Yoho is $19,240 US.  Click here to request more information about the Scout Yoho.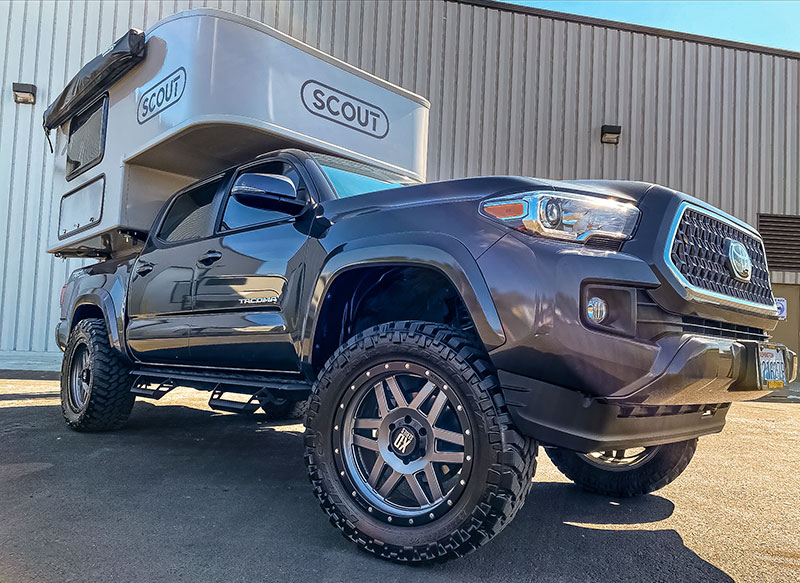 Above: The 2021 Scout Yoho, all photographs courtesy of Adventurer Manufacturing
The Scout Olympic was literally announced right in the middle of Covid-19 outbreak. How did the Scout brand launch go?
It took a lot of faith and trust. There were so many uncertainties, including shutdowns. We were navigating our own production shut down at Adventurer Manufacturing.
Even though things were challenging, we were confident that people wanted to see something positive. When you are dealing with a challenge like Covid, people still want to escape. Scout offers a way to get away from the crowd and get out.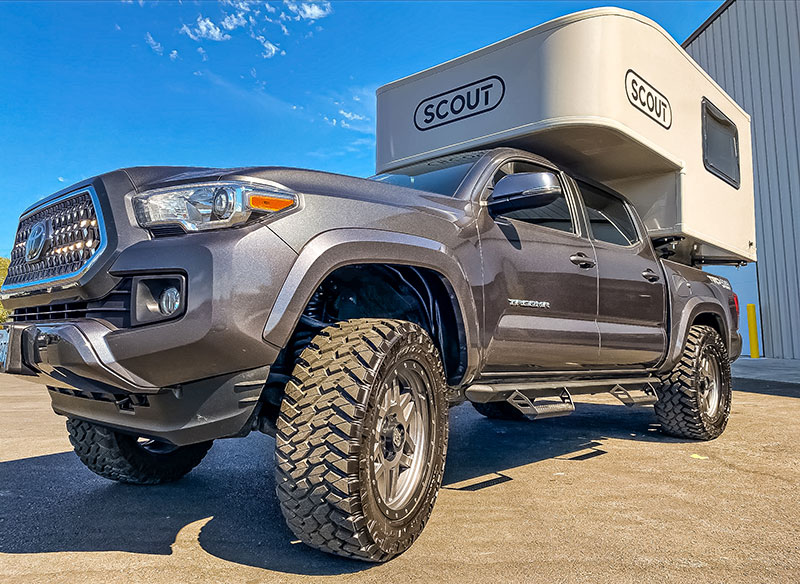 Are Scout Olympic models currently at Scout dealerships across the United States and Canada?
Both Scout Olympic and Scout Yoho models are shipping. There are also display models at select dealers.
Display models?
We currently have nine Scout dealers spread out across the west and east. We hope to have the full line of Scout truck camper models on display by the end of 2020. The display units at the dealerships are not for sale for a period of time. That way there will be Scout campers at our dealers that you can see and order from the dealer.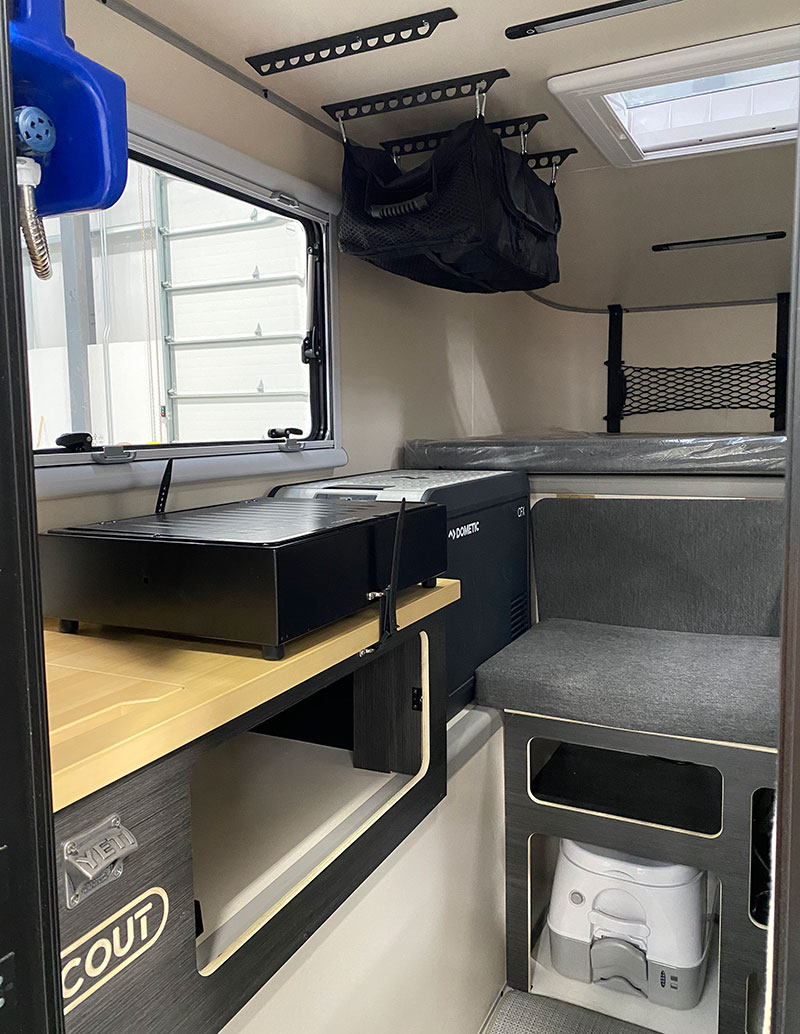 The Scout concept leans toward simplicity and versatility. With that in mind, are customers buying the Scout campers as base models, or more fully optioned?
So far the majority of our Scout builds are well equipped but there definitely is a mix.
Scout's wood-free frame-less composite structural panel construction is an exciting development at Adventurer Manufacturing. Now that Scout Campers are in production, how has that new material and design approach worked on the line?
You could call the process fun. With anything new there are a lot of learning moments and listening sessions with our team. We have a great team at Adventurer. It has gone really well.
One of the reasons things have been successful is our recent investments in two new CNC machines. A larger CNC machine routs our walls. A smaller CNC machine is for parts. The timing of bringing the CNC machines online was perfect and made for a more seamless experience with Scout camper production.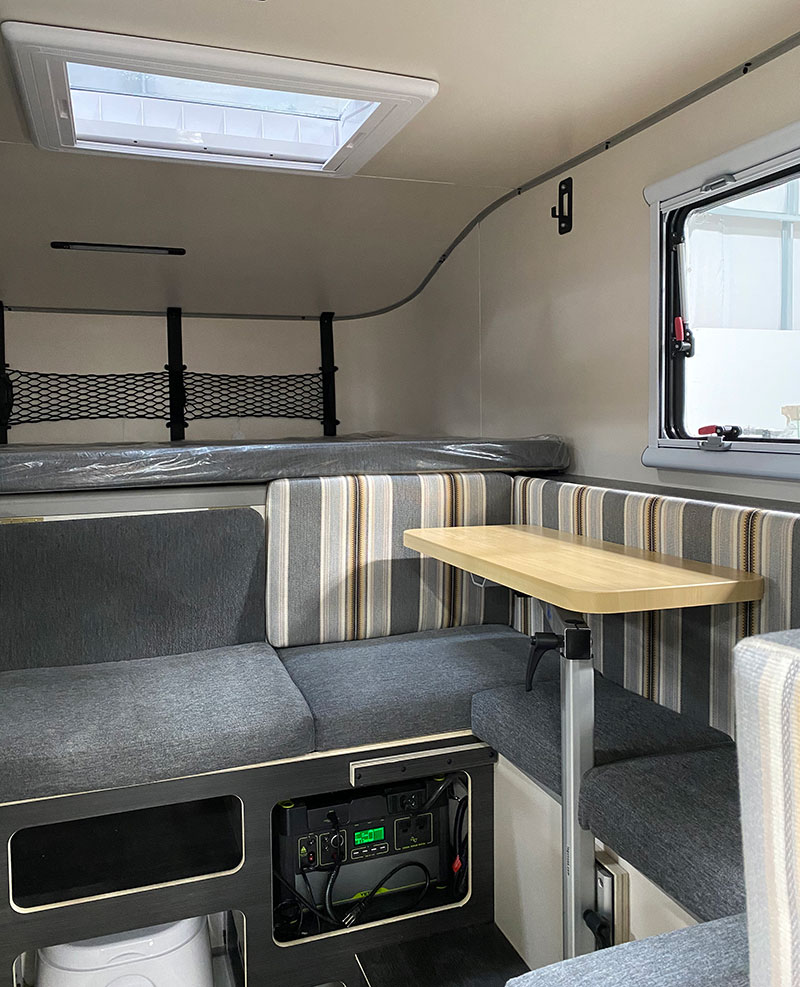 From a 50,000-foot level, it seems like the Scout Yoho is a smaller version of the Scout Olympic. Is that a fair description, or is there more to this design?
There are a lot of similarities between the Scout Yoho and the Scout Olympic, but both serve a specific purpose. The main differences are the floor plans, size, and weight. The Olympic has a front dinette. The Yoho has an L-shaped convertible lounge.
When you get into small space, it's a fun challenge to find ways to build a more compact version. We also want to maintain storage inside and outside of the unit. You guys are truck campers and know how important it is.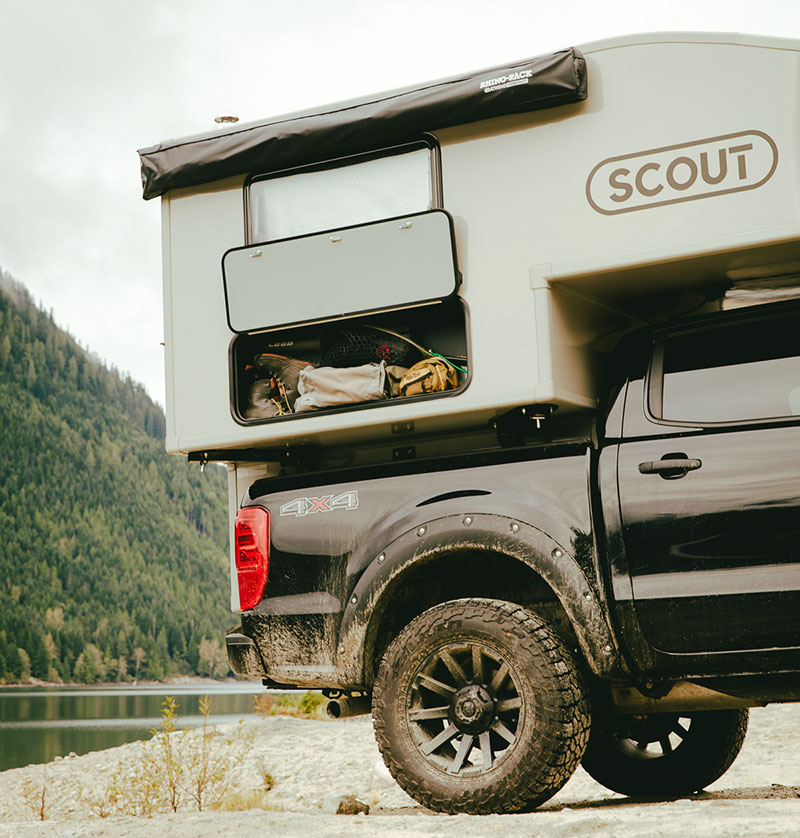 During my recent trip in the Scout Olympic, the outside storage was extremely useful for gear, boots, power cords, and other items. We were able to maintain that level of versatility with the Yoho.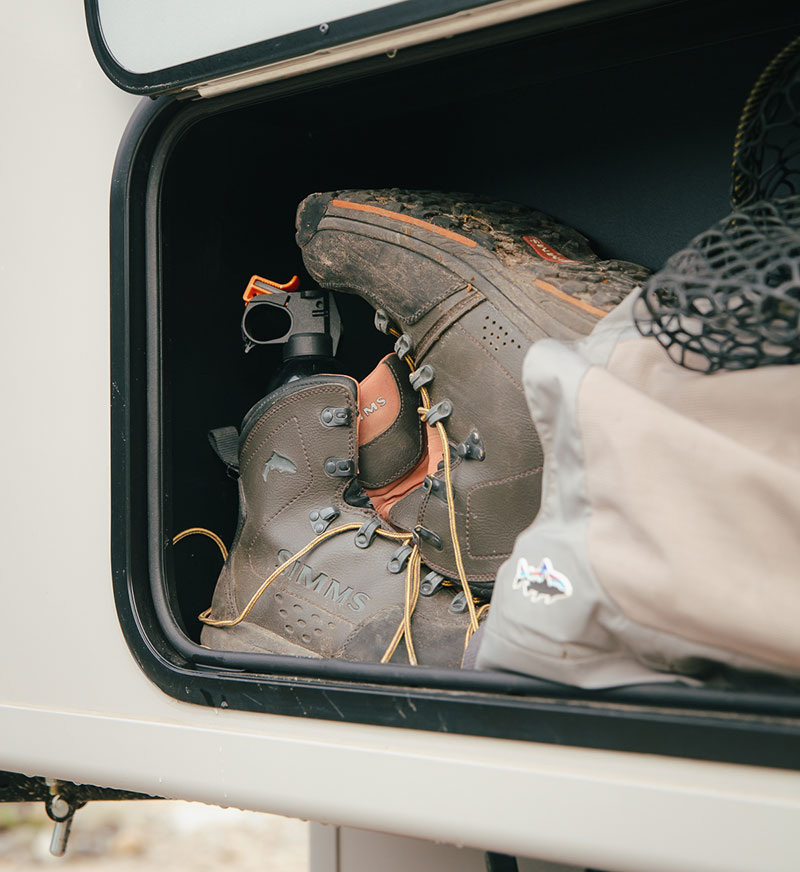 How do you know what floor plan is appropriate for each camper?
We went through multiple variations of floor plans when designing and developing the Scout line. Ultimately, we wanted to come up with something that has an open and airy feeling, while having the maximum possible storage and flexibility.
We made the Yoho narrower and shorter to be weight and size compatible with mid-size trucks. In that narrower and shorter space, a front dinette would work, but it would not have the same flexibility in seating because of the reduced length. A four-person dinette would have to be a two-person dinette.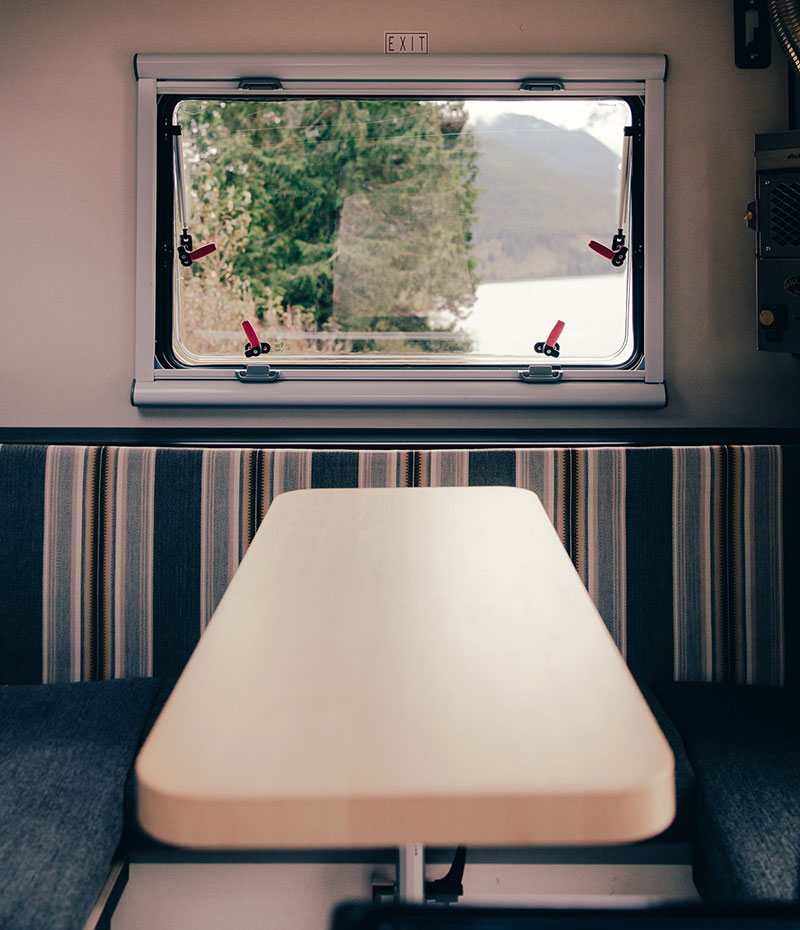 We wanted the Yoho to be open for families and have additional sleeping. We didn't want to limit our customers and their lifestyle. With that goal, we came up with an L-shaped convertible lounge.
This maintained the flexibility and open and airy feel for a small compact camper. Using the Lagun table leg system offers a lot of flexibility. You can swing it for additional counter space, pop it down to make a bed, or up for a table. The Lagun provides the versatility that we want.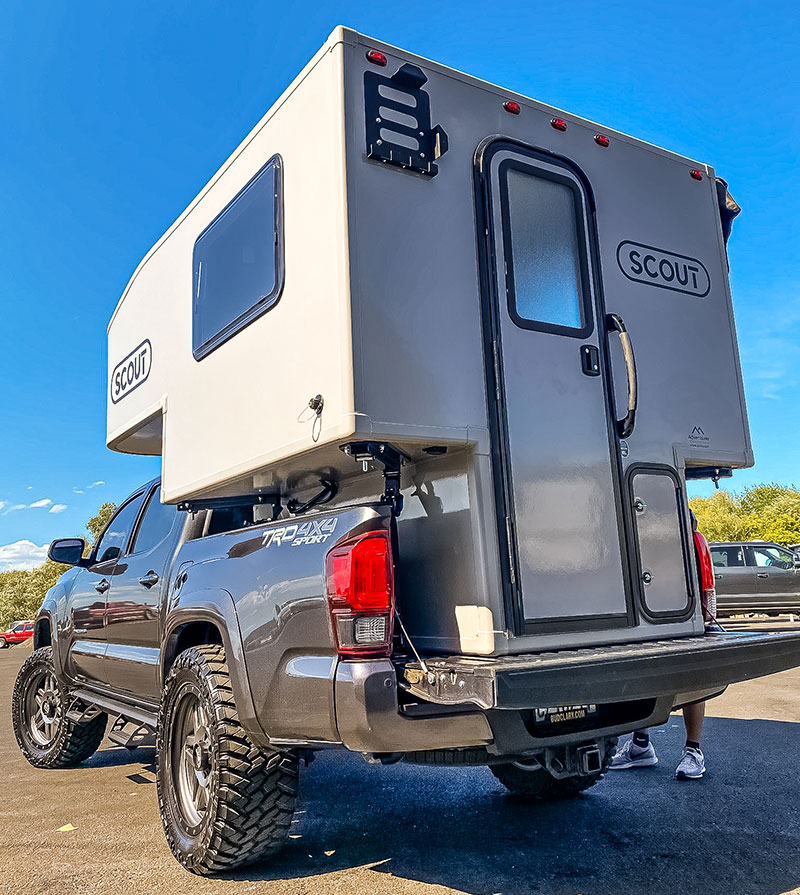 What smaller mid-side trucks are you targeting for the Yoho?
The Yoho fits the midsize truck category. If you have a Ford Ranger or a Toyota Tacoma with a 6-foot box, the tailgate closes. If you have a 6.0 or 5-foot truck bed, you need to remove the tailgate.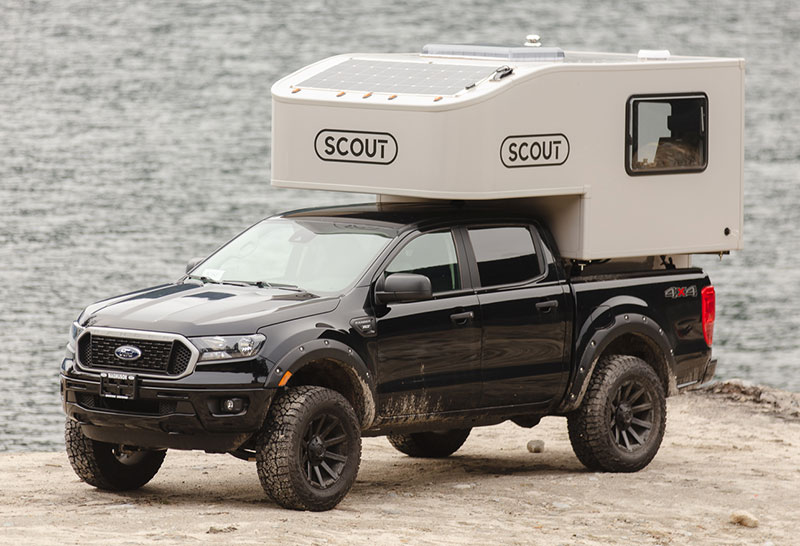 I actually have a Yoho here on a Ranger with a 5-foot box. It's awesome! I like the Ford Ranger based on the payload and some upgrades. Typically, I've been a Toyota guy but the new Ranger with 1,600-pounds of payload capacity is pretty nice.
Above: A time-lapse video of loading a Scout Yoho on a Ford Ranger
We have a time lapse video of us loading the Yoho. It was not for the faint of heart to get to the place we went for the photo shoot. The Ranger and Yoho combination is a nice match.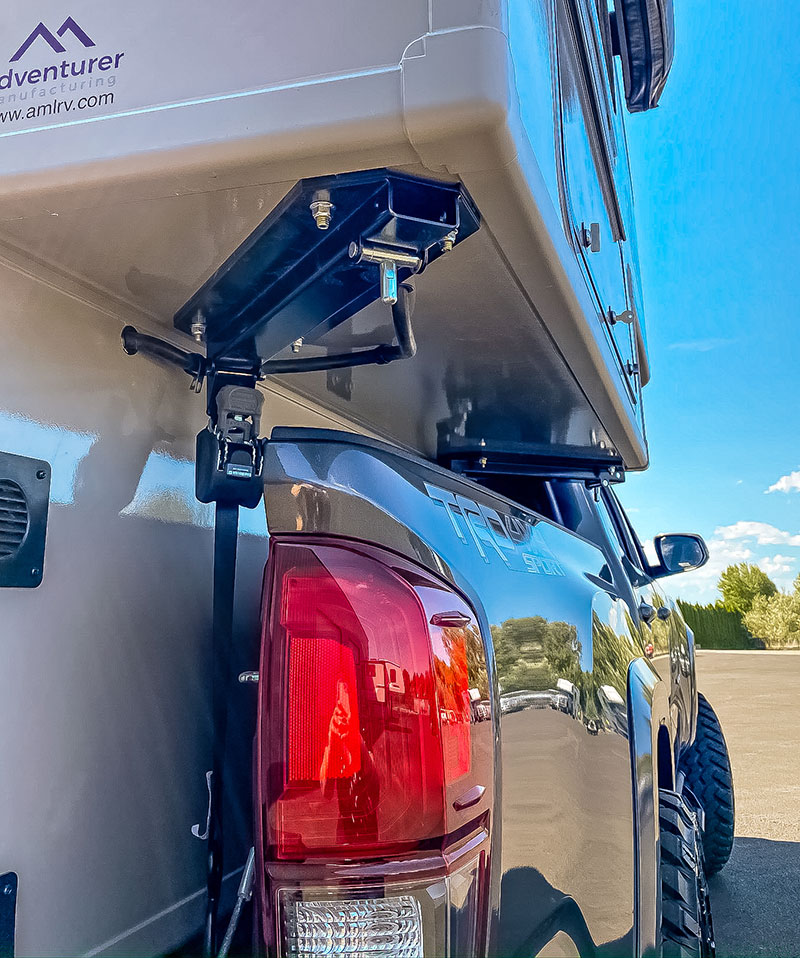 Tell us about the tie-down system shown in the photography.
The goal for the Scout tie-down system was to provide a tie-down solution that was easy to use and contained inside the bed of a truck.
There are adjustments on the tie-down system to match a customer's specific truck and its anchor ratings. However, most customers will be able use the tie-down anchors inside their truck bed.
Above: A video demonstrating the Scout ratchet tie-down system in action
Is this the same tie-down system used in the Scout Olympic?
Yes, this is the same tie-down system used in the Olympic. It was designed for the Scout truck camper line.
Might we see this tie-down system employed on Adventurer or Eagle Cap campers?
Not at this time. The system was designed for the weight capacities of the mid-size and half-ton trucks Scout campers are designed for.
In the Yoho announcement, 913 pounds was given as a target weight for the Yoho. Did you hit that target?
We were very close. The final base weight of the Scout Yoho is 958 pounds.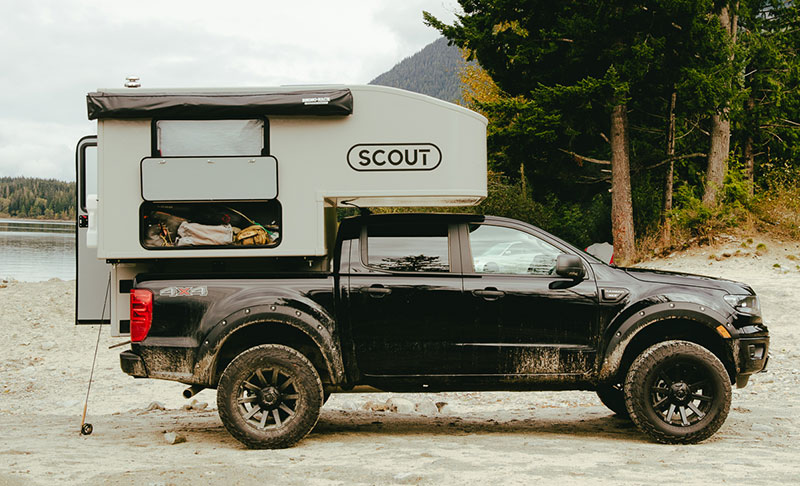 What is the center of gravity for the Yoho?
The center of gravity is 26 inches.
Do you believe the Scout Yoho 6.0 has achieved true payload and center of gravity compatibility with smaller mid-size trucks?
Yes. The Yoho is probably the most versatile hard side camper for mid-size trucks.
Even better, the Yoho will also fit on a full-size half-ton short bed truck. We had it on a GMC 1500 short bed with a 5.8-foot box. It's an ideal match with a 6-foot short bed with the tailgate closed.
To keep weight down and the simple and versatile concept, there were a limited number of options for the Olympic. With that focus, what options are available on the Yoho?
There are less options for the Yoho. The key option difference is the roof top tent. We do not have that option for the Yoho. That may change in the future. We are looking at it.
If the Yoho was going on a half-ton, then the roof top tent would work. Part of what we are looking at is the overall size. The Yoho is narrower and shorter, so that would mean a roof top tent would have to be narrower and shorter.
Above: A video demonstrating the adjustable and removable Happijac jacks
For the Olympic announcement, a traditional RV air conditioner was not available, but Adventurer Manufacturing was investigating some lightweight and removable air conditioner solutions. Has that effort progressed?
There has been progress, but we are continuing to look at a variety of solutions. The products in the Scout need to be high quality and long lasting. We are continuing to test products.
What we want is a really good 12-volt air conditioning solution. We will have an air conditioner option for Scout, but we're still looking for the right vendor.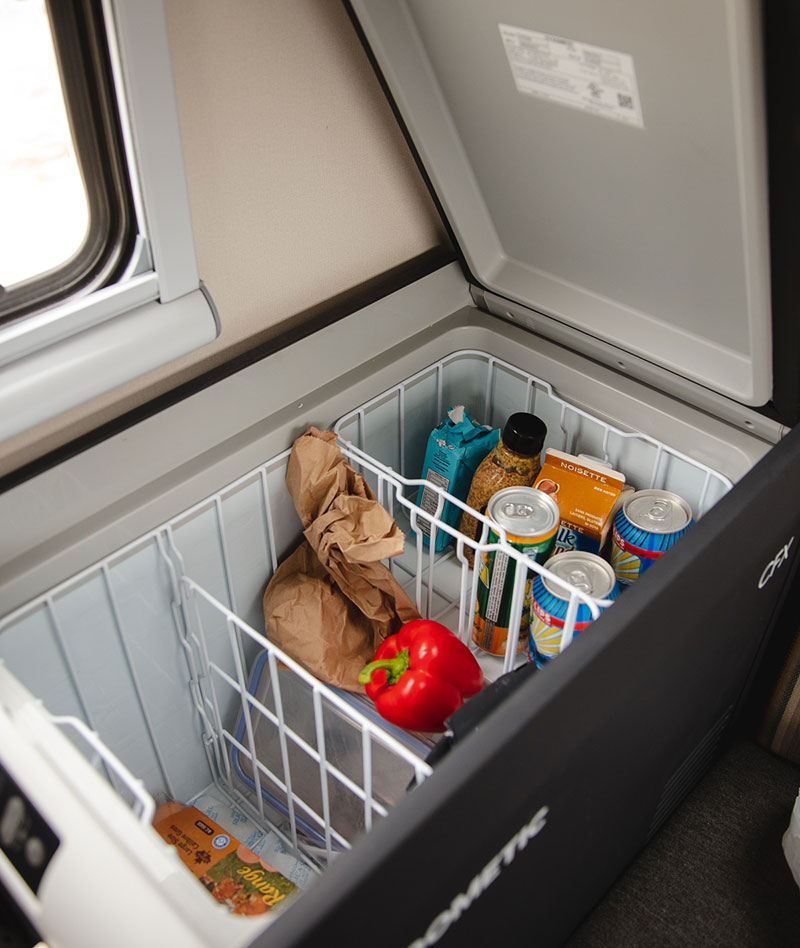 Tell us about the removable refrigerator selected for the Yoho.
With the Yoho being smaller and more compact we chose the Dometic CFX 45 accordingly. As for the other features and options, the Yoho shares many similarities to the Olympic.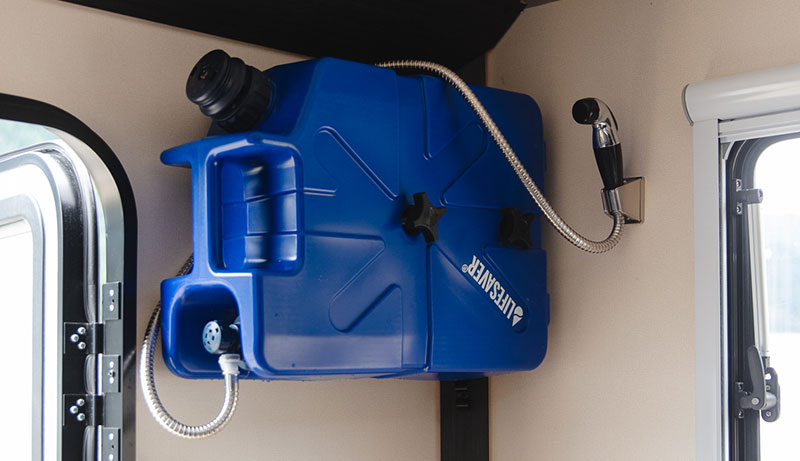 Are you using the same gravity-fed detachable water storage and filtration system utilized for the Olympic?
Yes. The LifeSaver Portable 4.9-gallon Jerrycan features a built-in charcoal filter and spray wand. It's been very well received for off-grid travels and works well in the Scout.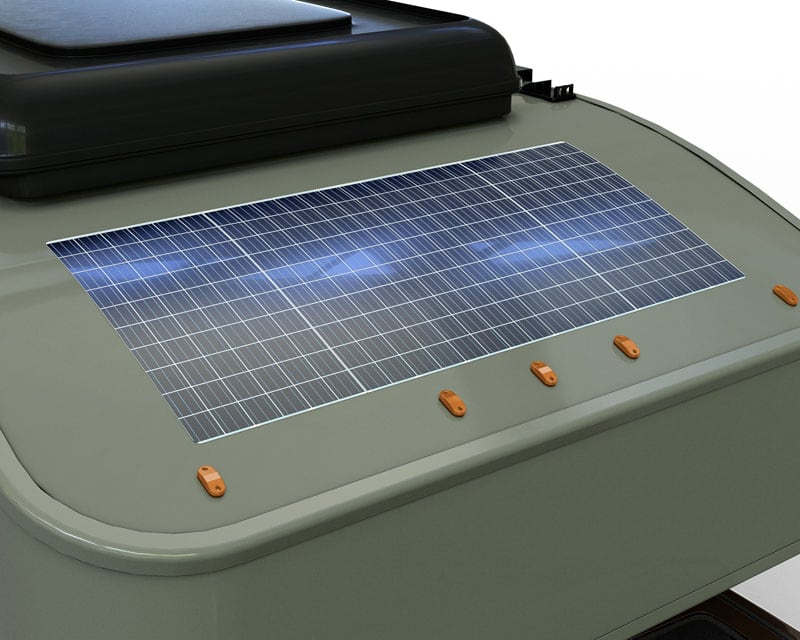 The Olympic also featured a standard 175-watt monocrystalline solar panel. Are you using the same or a similar panel for the Yoho?
Yes, the same 175-watt solar panel comes standard with the Yoho.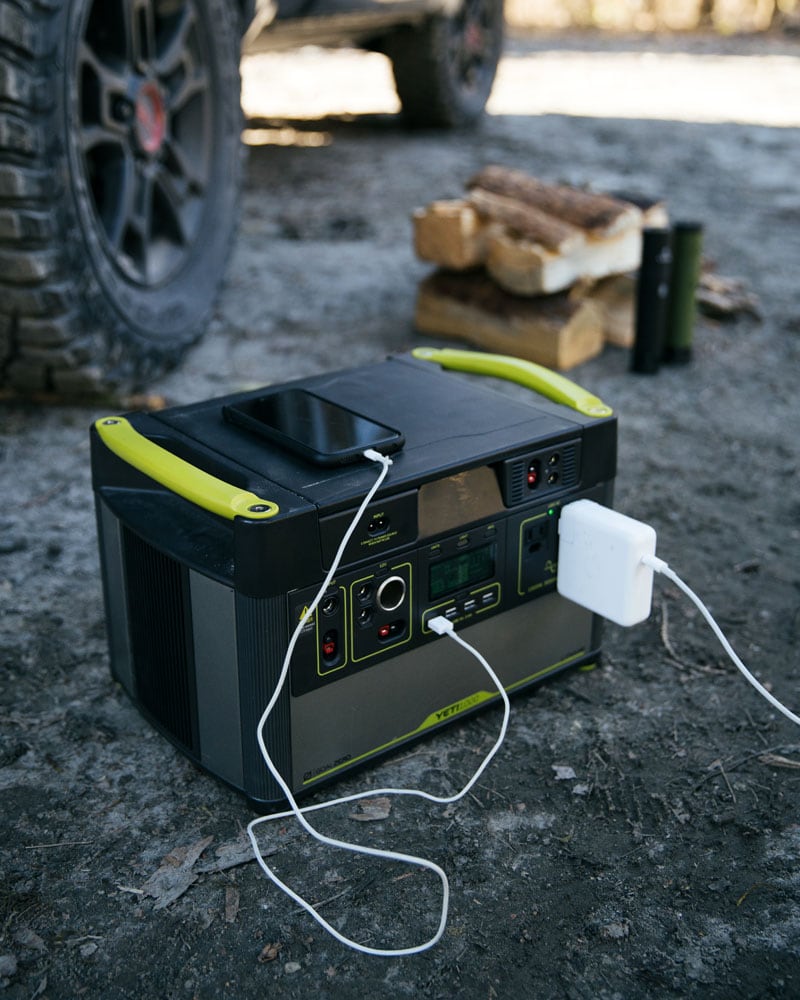 The Olympic featured Goal Zero Yeti 1000 lithium portable lithium battery and inverter for its electrical system. Is that same approach being used for the Yoho?
Yes, we're using the Goal Zero Yeti 1000 in the Yoho.
From our testing, the Yeti 1000 is able to support all of the systems for extended periods of time. Where you might want additional power is in cold snowy weather conditions, or in areas with heavy tree cover that would impact solar efficiency. In that situation, we recommend a portable generator, or an additional Goal Zero Yeti system.
I was recently out camping in a Scout Olympic for ten days in cold and snowy conditions. It can be difficult to manage battery power in those conditions. I took two Goal Zero Yeti 1000 batteries and had 75-percent left on the second battery when I got home.
Another option for the Goal Zero system is additional battery banks. They cost less money than the main system because they are just the battery and use the main system for the interface and controls. There's more information about the additional battery banks on Goal Zero's website.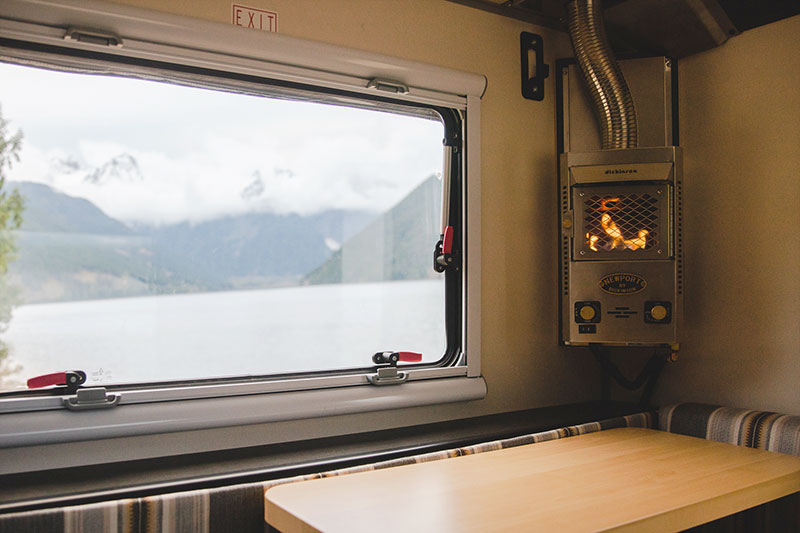 What heating system is available for the Yoho?
The Yoho has the same heating system as the Olympic; the Dickinson Marine Newport P9000 propane fireplace.
We have not had the opportunity to use the Dickinson Marine system. What is that system like in practice?
I would call it nostalgic; like turning on a gas fireplace at home. It's even similar in operation.
It's very easy to use and has high and low fans for heat. During our last trip out, the temperatures dropped to 5-degrees at night. I kept the it on its low setting and medium fan speed. That kept the camper warm enough to kick off the covers while sleeping.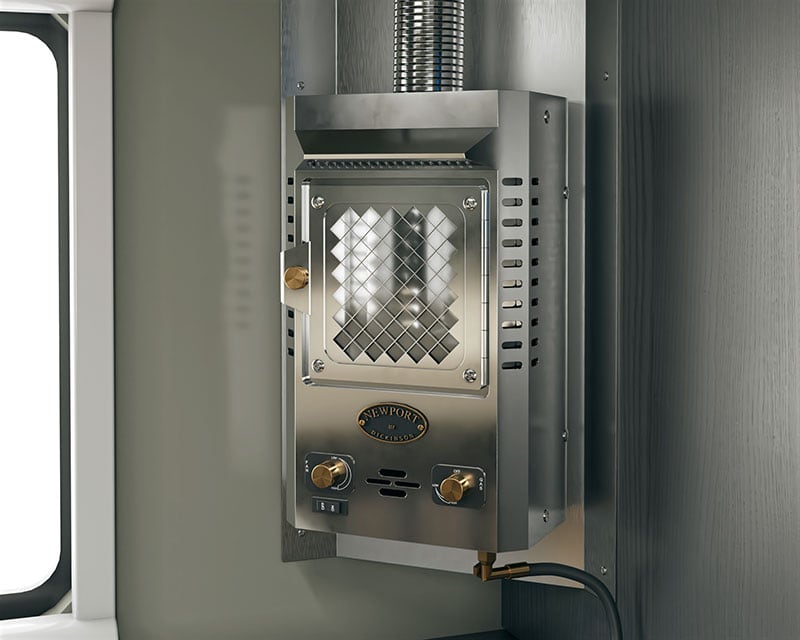 How long does it take to heat the camper?
It took a little while to heat up, but for the most part it was always on low. Heat was never an issue and we always had the option to adjust it to high. I have had a wide variety of camping experiences from tents with a tent heater and RVs with a traditional furnace. What I appreciate about the Dickinson is its simple, efficient, and reliable design that keeps up with the colder temperatures.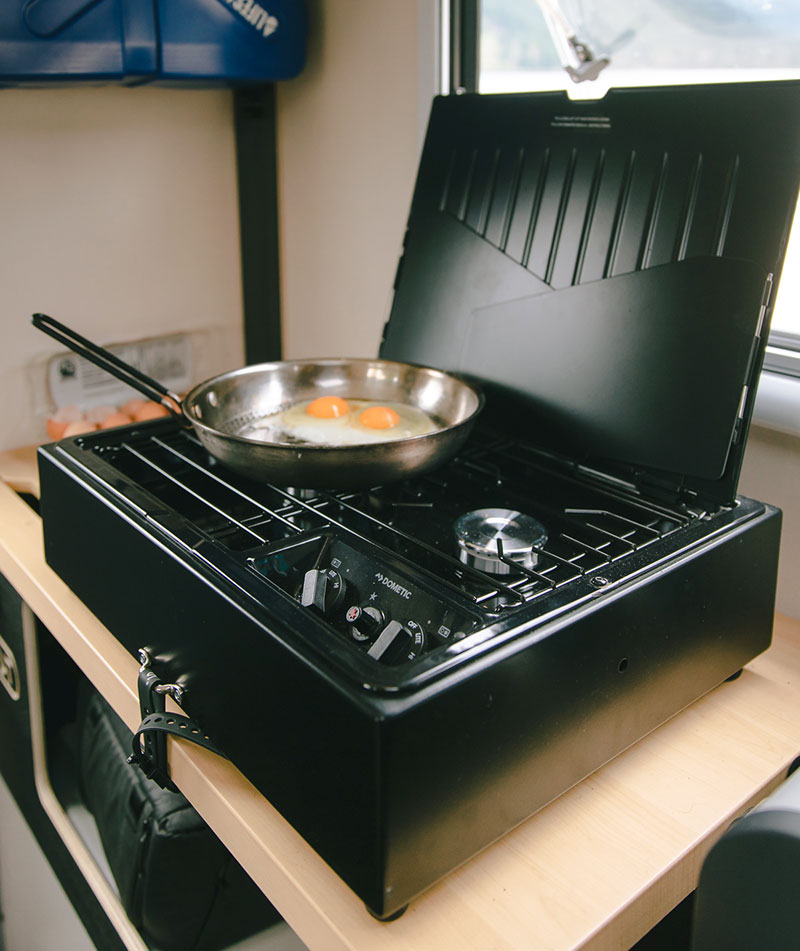 How many propane tanks does the Scout Yoho have?
The Yoho has one 10-pound propane tank in a vented compartment located on the lower right side of the entry door area. The Olympic has two 5-pound propane tanks, so the amount of propane is equal on both campers.
How long can a 10-pound propane tank heat a Scout Camper with the Dickinson Marine system?
On this last 10-day trip, we ran out of propane on the last night at 3:00am. This was the coldest fall trip we have had yet over many years.
We've had that happen!  I think a lot of readers can relate to that experience.
It was crispy outside as we say. We had a spare propane tank ready but neither of us were getting out of bed at 3:00am to change it out. We survived. We had run the Dickinson Marine system for about 8 to 12-hours a day for 8-days of camping.
What is the entry step system for the Scout Yoho?
There are a number of good step options for the Yoho. First, Easy Hitch Step makes step products that go into a truck's hitch. Reese also has hitch steps, but the Easy Hitch Step is our preference. In addition, there are some really nice rear bumpers that you can add to your truck with pivoting extensions for a spare tire, storage, and steps.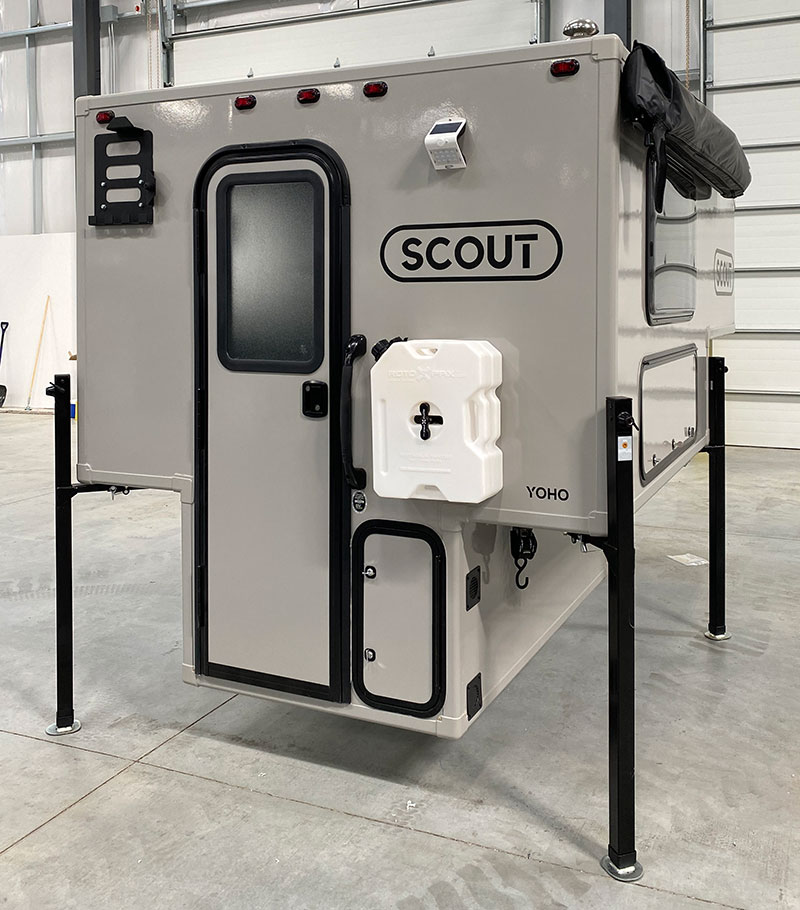 When will the Scout Yoho be available?
The 2021 Scout Yoho is on display now at several dealerships with more arriving into December and January. Contact us as scoutcampers.com and we will help you find one closest to you.
What is the warranty for a Scout truck camper?
We have a three-year structural warranty for Scout campers.
What is the base MSRP of the 2021 Scout Yoho?
The base MSRP is $19,240 USD.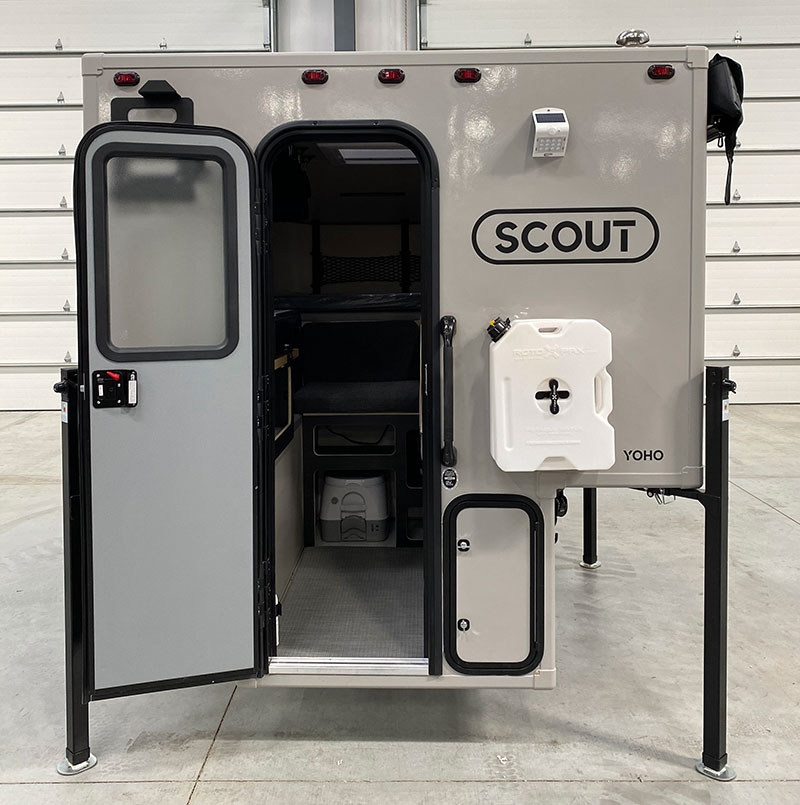 What is the MSRP of a fully optioned 2021 Scout Yoho?
The MSRP of a fully optioned Yoho is $24,195. The dry weight of that fully optioned unit is 1,213-pounds. Removing the jacks and leaving them at home brings the Yoho dry weight to 1,100-pounds.
That includes the optional Dometic CFX3 45L refrigerator/freezer, Dickinson Marine Newport P9000 4.5K BTU propane fireplace, Rhino Rack Batwing 270-degree awning, removable camper jacks, portable indoor/outdoor gas cooktop, portable Dometic 2.6-gallon porta-potty, and two Rotopax 2-gallon water packs, Goal Zero Yeti 1000, 175-watt solar panel, safety features like CO and smoke detectors, as well as a fire extinguisher, and more.
You can go to our website to build your own Scout Olympic or Yoho. The system will show you the final weight and price in real time. It's fantastic.
Is there anything else about the 2021 Scout Yoho you would like to add?
One of the best things about the Scout Yoho is its near universal compatibility with a very wide range of mid-size and full-size trucks. The floor length, dry weight and center of gravity will match with more trucks than anything we've offered before.
Will the Yoho fit on all full-size trucks?
Yes, the removable jacks have the ability to extend out for the increase in width on the full-size trucks. We do suggest keeping the Yoho on box lengths 6-feet and under for aesthetics, but it will work on a long box. We're working on some photos showing the Yoho on full-size trucks to share in the near future.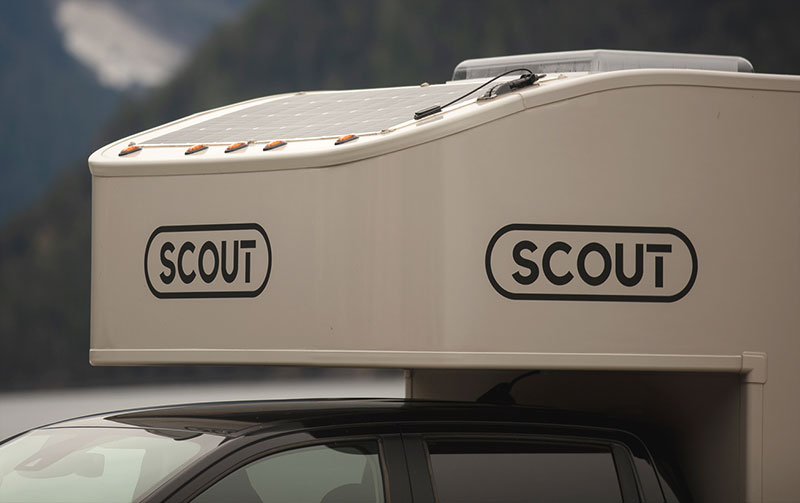 Will there be an even smaller, lighter or simpler Scout Camper, or is the Yoho as small as you'll go?
You never know. A number of customers have expressed interest in a smaller camper. For now, we are focusing on our three models; the Olympic, Yoho and Kenai.
Are you still on target to announce the Scout Kenai in 2020?
We'll be ready to announce very soon. We've been working through our prototypes now, as we are getting close to production with the Kenai.
Of everything in the Kenai, I'm most excited about the mudroom. For people who enjoy snowboarding, surfing, hiking and any other outdoor activities that can get dirty, the mudroom drain pan is the perfect place to remove clothing and gear before you enter the camper.
Then, you can hang and dry the clothing and gear inside the adjacent closet. Even skis will fit and drain through the mudroom's floor pan. It's all in the works, right now.
When we talked with you back in April, Adventurer Manufacturing was following safety protocols and many employees were working from home. Now six months later, is everyone at Adventurer Manufacturing healthy and safe?
Our health and safety team has done a phenomenal job. We haven't had any break outs at the factory. We continue to do our due diligence and I hope we continue on the same track.
Unfortunately, we are not able to accommodate factory tours at this time. I'm really looking forward to when we can have customers visit and tour our facility again.
How has the Covid-19 situation impacted production for Adventurer, Eagle Cap, and Scout?
There was a significant impact to production. We shut down for about eight-weeks in March and April. We came back online in the beginning of May. I don't foresee us having any further lock downs as long as we keep our team and customers safe. That's our priority.
Did you need to change the plant's staging and stations for social distancing?
There was a whole health and safety protocol implementation. We were able to spread people out with our recent plant expansion. In addition, we have daily screening and sanitization for our team, and every unit that goes out the door is sanitized.
Do you have someone at the plant who manages the safety protocols and keeps everyone on target with that priority?
Any project this important needs leadership. Our Project Manager, Melissa, is doing a great job along with our General Manager, Dave Frampton, and our entire team. I want to thank our entire team for embracing the safety protocols and keeping us safe.
Have you had any challenges getting materials, parts, or appliances?
I would love to say no, but I think everyone in the outdoor recreation industry has had supply challenges. We definitely have and it is a top priority to mitigate delays and find solutions. We want to make sure that we're delivering campers on time.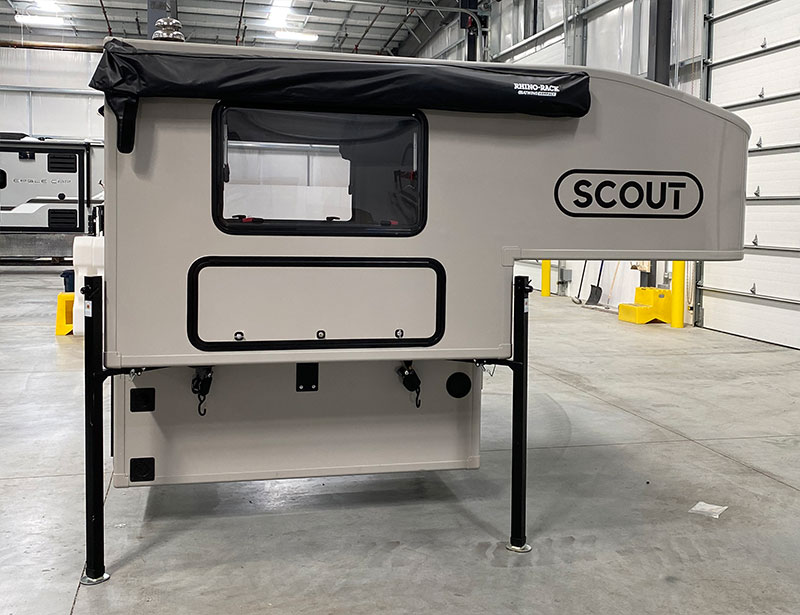 Are you back to full production at this point?
Yes.
What's your personal perspective on the Covid-19 challenge and opportunity for Adventurer Manufacturing?
I definitely see the overall industry growing significantly in 2021. Demand is going to continue to outpace supply.
From a pure business standpoint, there is an opportunity to fully capitalize on that demand. However, we are not willing to jeopardize quality and premium customer experience to increase production. Everything we do is about a premium customer experience.
Overall this year has given us a lot of opportunities to learn. I think the biggest thing is that we're always listening. We love feedback of any kind. From our customers, or owners, or community. Having that feedback is valuable.
To learn more about Scout campers, visit their website at scoutcampers.com. Click here to request a free Scout brochure.