Built with Scout's signature composite-panel construction, the all-new full-size Kenai features an optional cassette toilet, mud room, expandable queen-size bed and more storage.  Outdoor sports and adventure-seekers take note.  The Kenai was designed for you.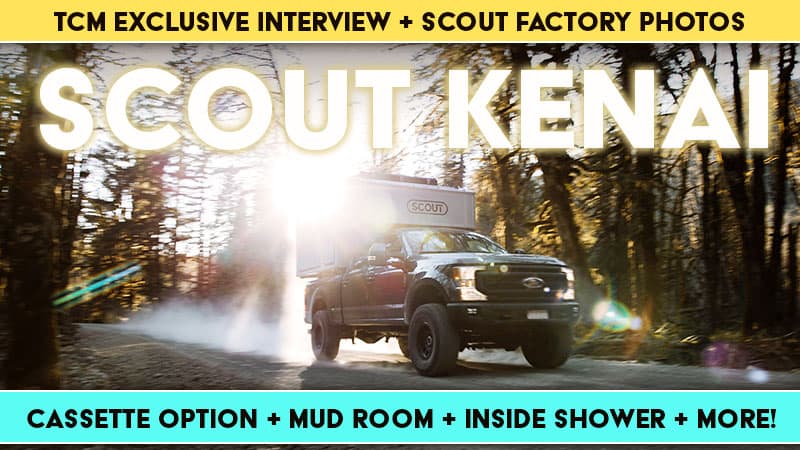 In the almost decade-and-a-half we have been publishing Truck Camper Magazine, we have seen manufacturer after manufacturer painstakingly whittle down the weight of a new model only to add it right back with expanded features and options.
The stated reason for this design dilemma has always been the same.  First, within the confines of traditional materials, there is only so much weight that could be extracted before unacceptable structural compromises kick in.  Second, truck camper customers demand heavy features and options.  No air conditioner, microwave, or electric remote control jacks?  No sale.
The debut of Scout Campers in April of 2020 completely upended this long-accepted paradigm.  Not only did it present a revolutionary lightweight composite-panel construction approach, but it also rewrote the decades-old rulebook on what standard features and amenities had to be built into a camper.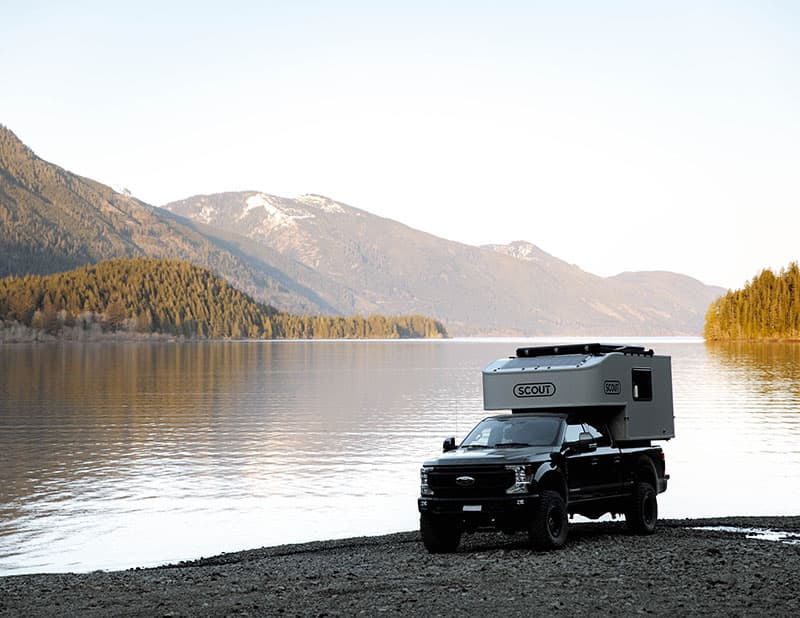 Scout promoted the benefits of omitting heavy, expensive, and permanently installed refrigerators, cooktops, and even fresh water holding tanks.  When he presented Scout to us, David Epp, CEO of Adventurer Manufacturing, explained that more portable, power-efficient, and serviceable alternatives were often better and allowed the customer to pick and choose what they specifically needed for each camping trip.  Don't need a cooktop for an overnight trip to your buddy's wedding?  Don't take it.  Need more water and battery power for that weekend fishing trip?  Bring it.
With the release of the Scout Kenai, Adventurer Manufacturing now has a larger version of the Scout concept.  Unlike its smaller stablemates, the larger Kenai offers an optional cassette toilet along with an expandable queen-size bed and considerably more storage.  Where the Scout Olympic and Yoho were pure catnip for the Overland camper market, the Kenai, with the aforementioned features, could have an even stronger appeal to the traditional truck camper market.  According to David, Kenai orders are already quite strong.
For the inside scoop on the full-size Scout Kenai, its mudroom, bathroom space, portable shower system, and other unique features, we talked to David Epp, CEO of Adventurer Manufacturing.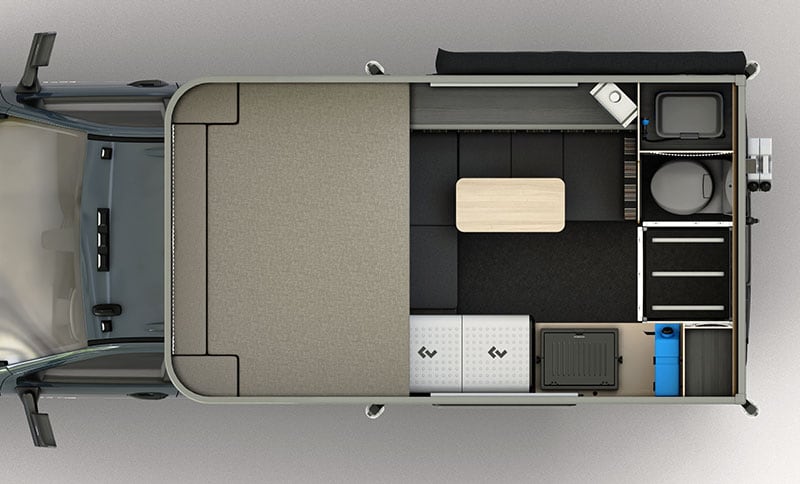 Above: The floor plan for the 2021 Scout Kenai
2021 Scout Kenai Specifications:
The 2021 Scout Kenai is a hard side, non-slide truck camper made for short and long bed trucks.  The interior floor length of the 2021 Scout Kenai is 92.25-inches, the interior height is 80-inches, and the exterior width is 83-inches.  The 2021 Scout Kenai has 4.9-gallons of fresh water capacity, no grey tank, and an optional portable 4.75-gallon cassette toilet.  It has a Goal Zero Yeti 1500X Lithium battery system and two 10-pound propane tanks.
Adventurer is reporting the base weight of the Scout Kenai to be 1,370 pounds.  The base MSRP for the Scout Kenai is $24,900 US.  Click here to request more information about the Scout Kenai.
Above: Explore the 2021 Scout Kenai with this 3D Matterport walk through
It's been a year and two months since the Scout truck camper line officially launched in Truck Camper Magazine (April 2020).  Looking back, how would you describe the first year for Scout Campers?
It's been an amazing year, and we have learned a lot along the way.  We are thrilled with the ongoing support from our community.  Launching in the middle of Covid was a leap of faith that the plan that was years in the making was worth driving forward.  The most challenging aspect of this has been the volatile supply chain.  Our team is dedicated, and we continue to make improvements to our processes and designs driven by customer feedback and field testing.
Is that what delayed the introduction of the Kenai?  Originally it was slated for the end of 2020.
We were hopeful that supply chain issues weren't going to impact Kenai when we issued our first offline dates, but they did.  The anticipation and excitement the Scout community felt when those first Kenai units left our facility was notched up with that extra wait.  Based on what we're seeing, the supply chain is going to continue to be stressed until early 2022.
Above: If the Kenai walk through video doesn't play, click here to watch it on YouTube
What trucks are you targeting for this camper?
The Kenai will fit a wide variety of full-size trucks including three-quarter and one-ton models.  Only a few heavy-duty half-tons will have the payload capacity to carry it, so it really comes down to knowing your truck.  A standard three-quarter or one-ton truck will typically work great for Kenai.
The Kenai is also designed for both long and short bed trucks, which is a question we get a lot, as well.  If you have a long bed truck, you can close the tailgate with the Kenai.  Having the ability to close the tailgate and maintain the rear-view camera has gone over well with Scout customers.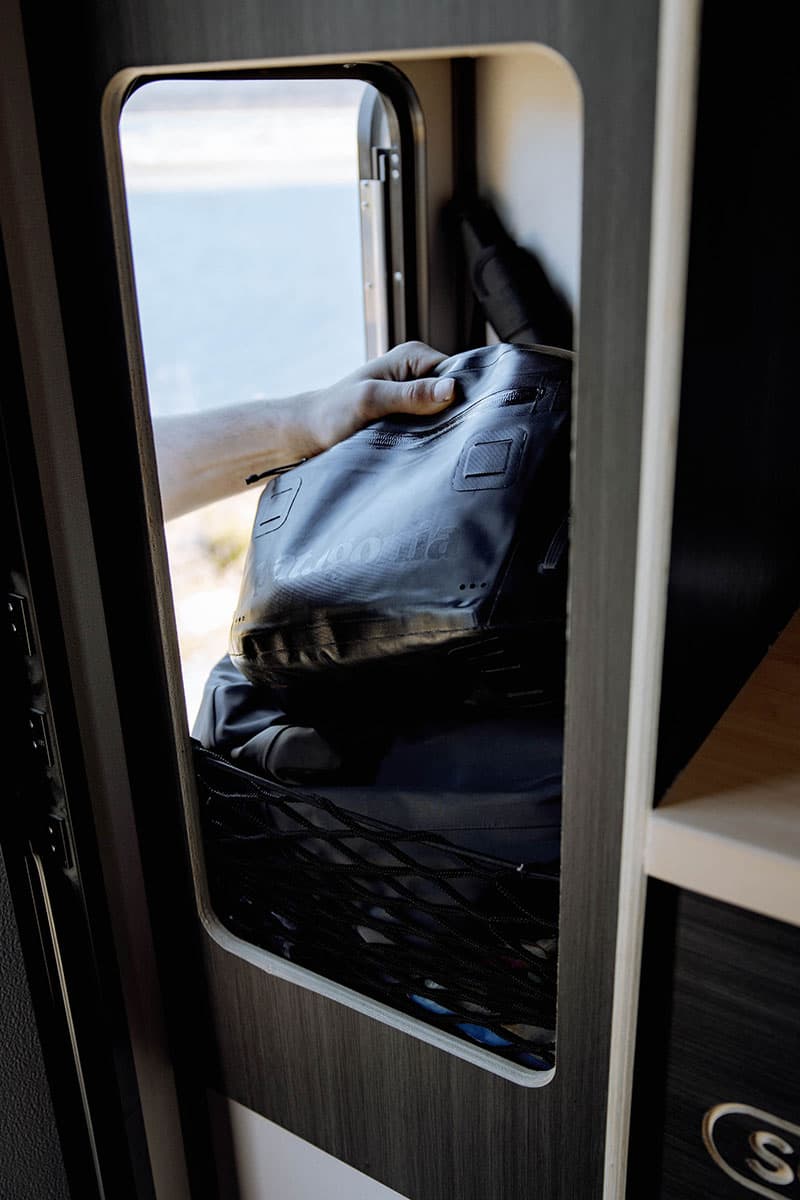 Above: The rear compartment is accessible from the inside and outside
On the outside, the 10-cubic foot external gear locker is a stand-out.  What's the thinking behind this feature?
We have an external gear locker on all of our Scout models, but it's a lot larger on the Kenai.  We saw the need for a place to store outdoor gear (camp chairs, small snowboards, and camping equipment) and made it so you don't have to track in and out of your camper when it's time to pack up and travel.  The whole unit, but especially the gear locker, is designed to add flexibility to your outdoor activities.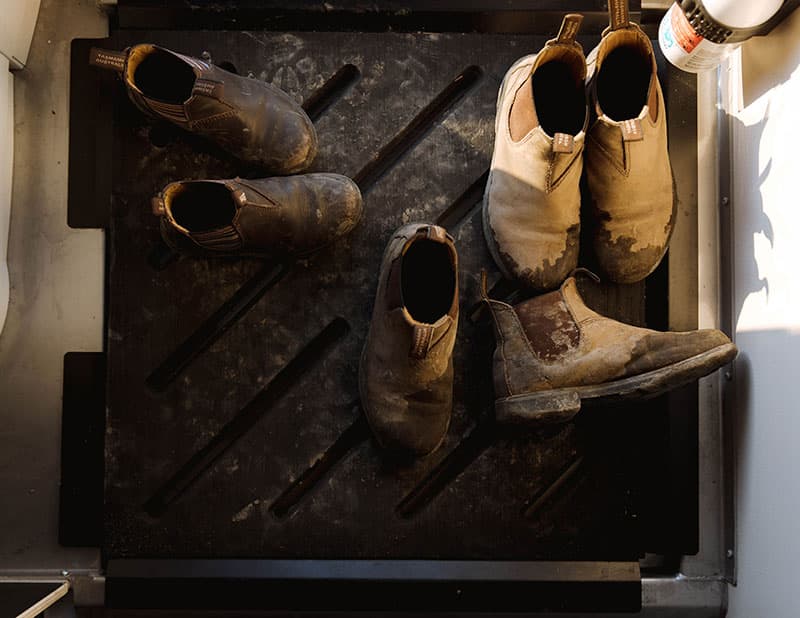 Perhaps the most prominent feature of the Kenai versus the other two Scout models is the mudroom.  What exactly is a mudroom?
I have a family, so I know what it's like to camp with kids.  And even camping alone, you constantly track stuff from the outside to the inside.  The mudroom in the Kenai a space immediately inside the entry door designed to trap dirt and mud so that you can kick off your boots and not track the dirt throughout the camper.
It's the ideal place to drip-dry dirty boots, clothing, and equipment without waking up to your mittens frozen to the tailgate of your truck.  The mudroom in the Kenai consists of a stainless-steel floor pan that has a drain that allows run-off to exit directly to the exterior.
The space where the optional cassette toilet is located is also another great spot to store sports equipment like skis or snowboards while letting them dry inside because the floor extends to the central mud/drain pan.  Jackets, gloves, and other wet or dirty clothing items can be hung in the mud room's cabinets.  With Kenai, we're not telling you not to get dirty.  The mudroom just gives you the flexibility of containing the dirt so that you can enjoy more of your adventurous lifestyle.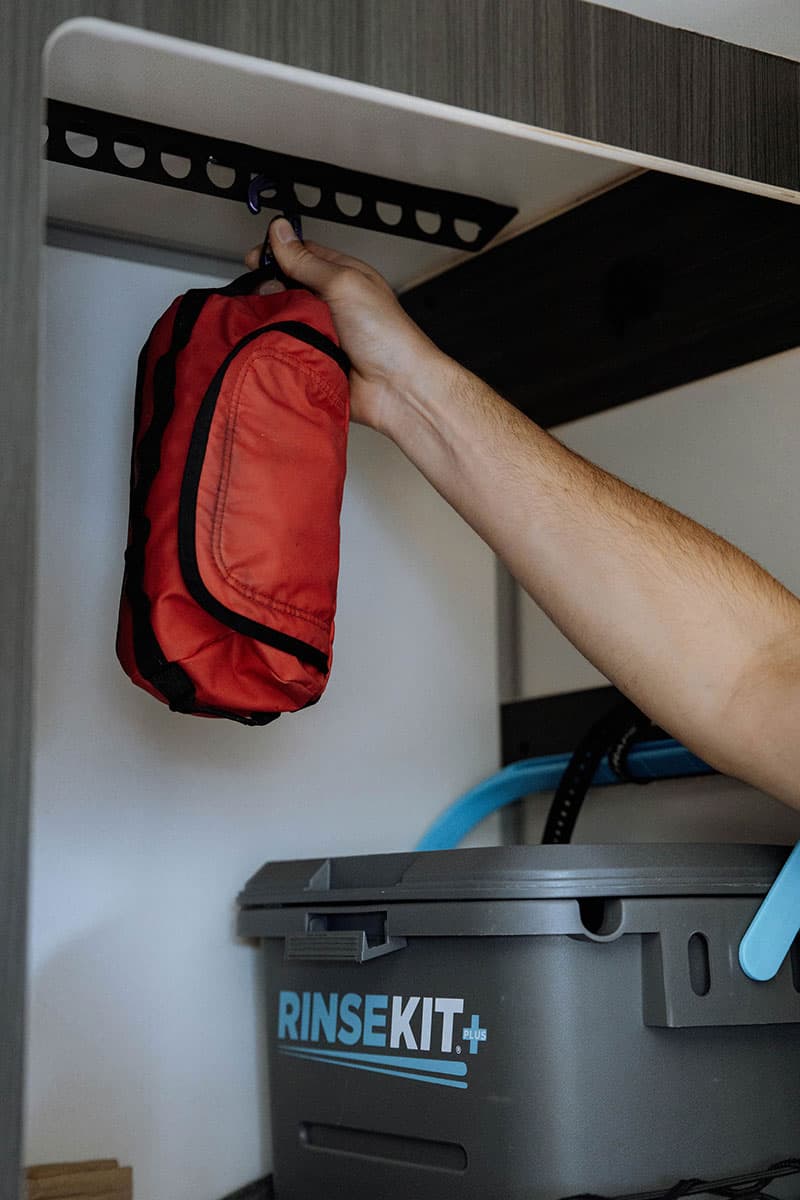 Is there a fan in the mud room's closet to help hung items dry?
Ventilation is so important, especially when evaporation and heat are involved. Kenai comes standard with a Maxx Dome fan, which is a circular power exhaust fan that works with the GoalZero 1500X lithium battery system (standard on every Kenai unit).  The Maxx Dome fan provides airflow and exhaust for the Scout Kenai, and is positioned in the galley so that it can be used while cooking on the portable stove, as well.
Like all of our models, the Kenai has dual-pane acrylic windows with multi-level latching systems to keep them open, which is great for creating cross ventilation.  If you order the Kenai without the optional roof-top tent, there is a skylight that opens with a solar reflective shade and bug screen.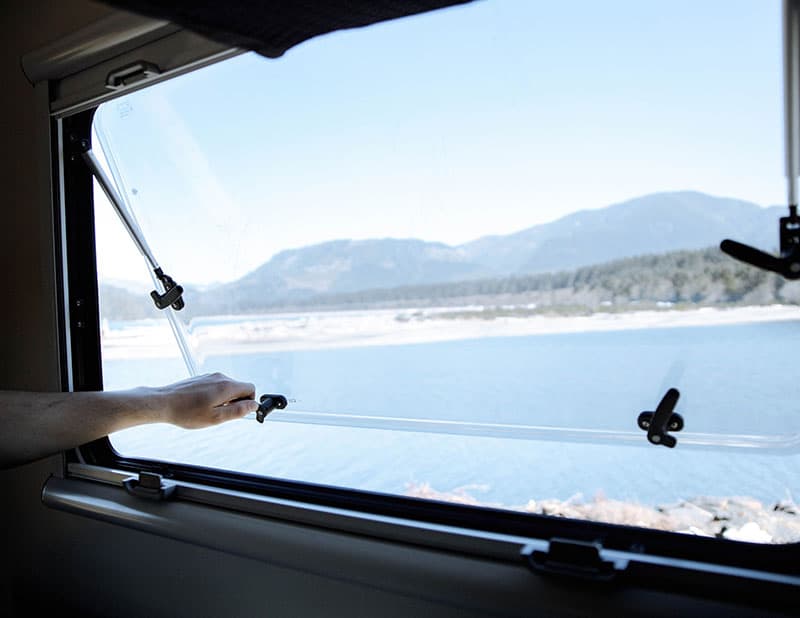 The RinseKit pressurized portable shower system made its Truck Camper Magazine debut with the release of the Kenai renderings.  Now that the physical camper has been finalized and produced, tell us why you selected the RinseKit portable shower system for the Kenai.
The RinseKit is one of several pressurized portable shower systems on the market today.  With Kenai, we wanted to launch the "shower" feature in a way that would open the door for customization and personalization.  Something that works inside or out – as a rinse-off or a shower.  Like all of our integrations, the RinseKit what portable, comfortable, and flexible enough to give people the kind of Kenai experience we envisioned.
We don't want to box someone in with a specific product or feature, though.  We want highly customizable options that are portable, and we learn so much from watching people take our units and make them their own.  Will the RinseKit work for everyone?  Probably not.  But that's the benefit of it being portable and optional.  Kenai can meet you where you're at, whether you have something else in mind that fits your lifestyle better, or if you simply create your own solution.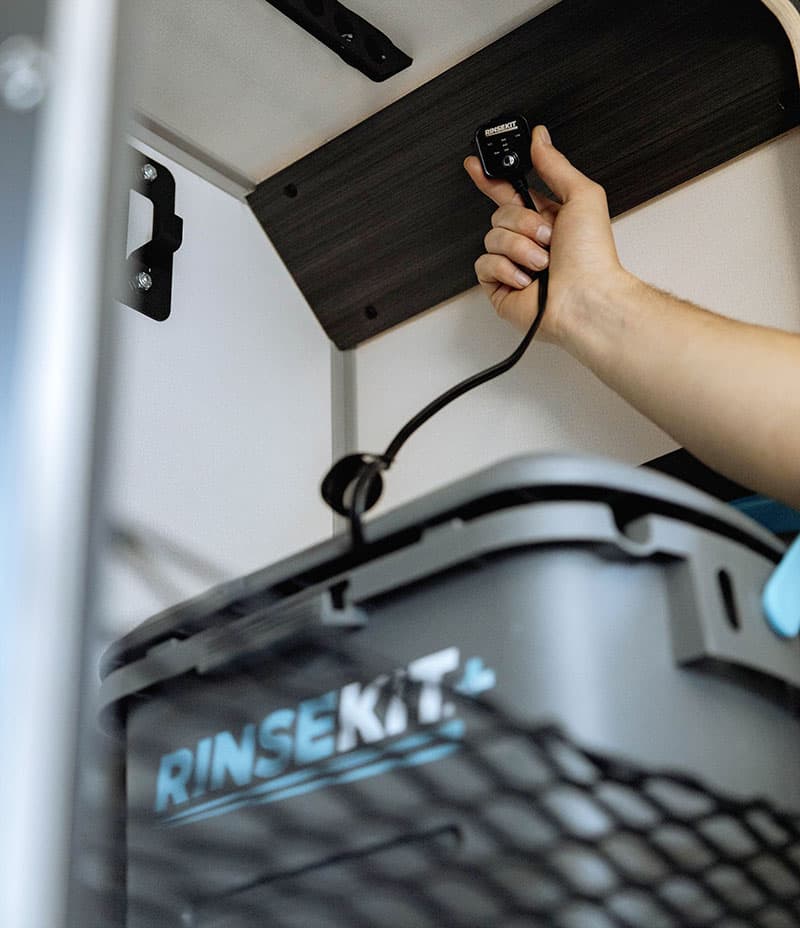 The idea of a portable two-gallon portable pressurized system that doesn't require a pump seems too good to be true.  Have you had the opportunity to test and try out the RinseKit system?
Yes.  Every time I take a trip to Yakima, Washington to visit the Adventurer Manufacturing factory, I stay in my Kenai.  I'm going on 20-days camping in the parking lot there; all in a Kenai.
When I'm staying in the Kenai, I use the portable shower system along with the shower curtain and mudroom pan and drain inside the camper.  I want the full experience of using our campers so I understand what works and what needs improvement.  You can only get that perspective from using the product.
I've tried multiple portable shower systems.  In addition to RinseKit, there are a few others that the design would support if this doesn't work for you.  We have received some great feedback from owners on a number of custom solutions.
For example, the Helio Pressure Shower gives you a foot pump for water pressure and offers a faster and more efficient way to heat the water.  To heat water for the Helio system, you boil water on a cooktop first.  In contrast, RinseKit's 9-amp, 12-volt plug-in heating option can take longer to heat up for some.  For some, the speed and efficiency of boiling the water is hard to beat.  Others have been using systems like Joolca, for pressurized hot water on demand.
Portable shower solutions often hold about 2-gallons of water.  Is the cabinetry shown with the RinseKit able to hold the weight of a full RinseKit (or similar product) while traveling?
Yes.  We designed that cabinetry to hold that weight while traveling, while also taking into consideration the other gear and items that would also occupy the space.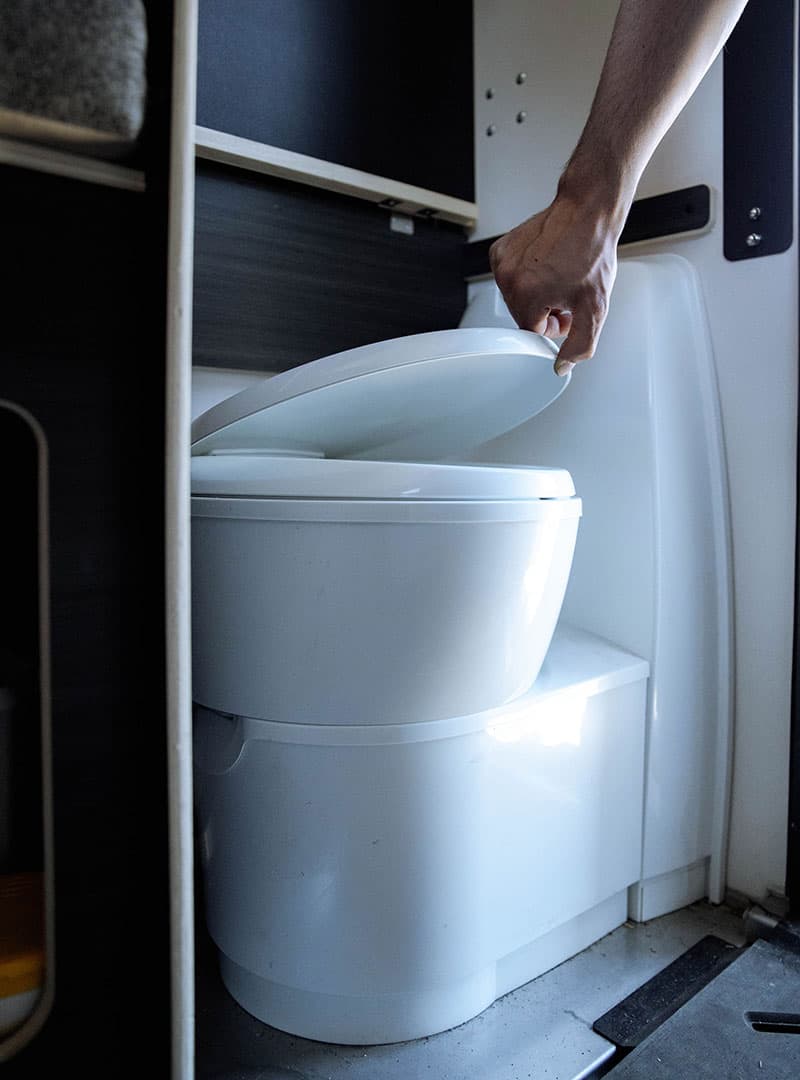 The Kenai is the first Scout model to offer a built-in toilet option.  Why are you offering a 4.75-gallon Thetford Cassette toilet option on this model?
With the Kenai and all of our Scout models, we focused on the ability to customize.  You don't have to order the cassette toilet.  In fact, many Scout owners want composting toilets and are installing them in that space.  We also think that's a fantastic, natural direction.
Our goal was to have a simple toilet system with no required power.  The cassette system requires no power and offers a removable black tank.  If you need to dump the tank, you can remove it and take it to a dump station, outhouse, or standard residential toilet.
Do you anticipate the cassette toilet being a popular option?
We have had a great response to the cassette toilet.  There are a lot of personal preferences with toilet solutions, but for those already familiar with truck camping, or RV camping, it's a comfortable, familiar feature.  The other options are no toilet (which is great for people who already have a solution) or a Dometic 2.6-gallon porta-potty.  Having multiple options in the Scout is important, and we want people to decide how to do their business.
Which composting toilet are people installing into the Kenai?
There are two brands that I've heard of so far; Nature's Head and Laveo by Dry-Flush.
Given the interest, would you consider making a composting toilet a Scout Kenai option?
Everything is on the table for review.  That's how we are going to continue to drive the Scout brand.  We are listening to our customers to see what's best moving forward and constantly testing the units in the field.  We are open to feedback and enjoy seeing the modifications our customers make to their units.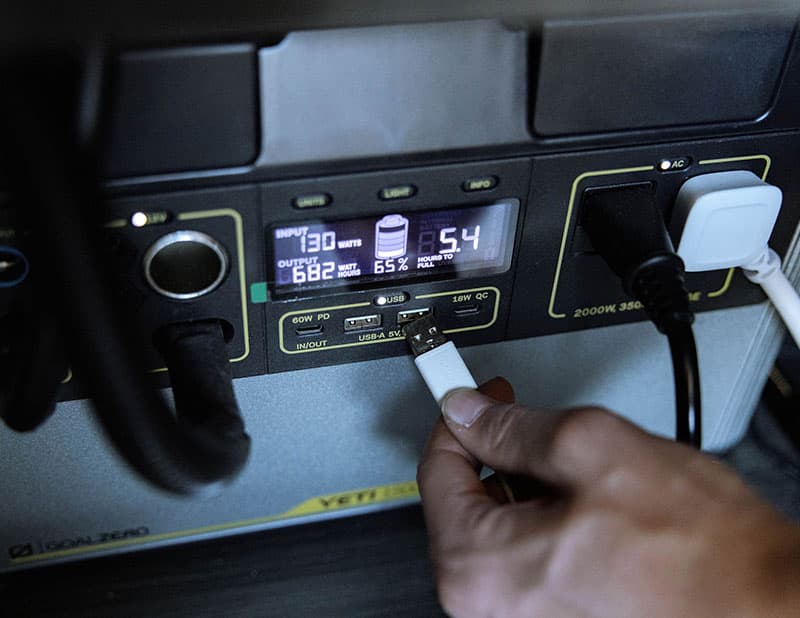 The Scout Kenai comes standard with a GoalZero Yeti 1500X lithium battery and inverter as its electrical system.  The Scout Olympic and Yoho come standard with the GoalZero Yeti 1000.  Why does the Kenai get the larger GoalZero system?
Actually, on our Scout Olympic the GoalZero Yeti 1500X is standard now, as well.  We started out with the Yeti 1000 and then we switched over to the 1500X as this was more readily available.  The Yoho still comes standard with the 1000 which we will be shifting over to the new 1000X soon.  This lines up well with the power consumption of the portable fridge options as the Olympic and Kenai offer the larger CFX75 while the Yoho is the CFX45.
Having more battery reserve is necessary when you're out camping off-grid for extended periods of time, especially when you have clouds blocking your solar panel for a day or two.  With more battery reserve, you don't have to be concerned about power usage.
Did you calculate the amp-draw of the entire camper (lights, fans, etc.) when selecting the GoalZero Yeti model?
A lot of testing and amp-draw calculations were done during the testing phase.  Our goal was to design an electrical system that could sustain itself for an extended period of time while traveling and camping off-grid.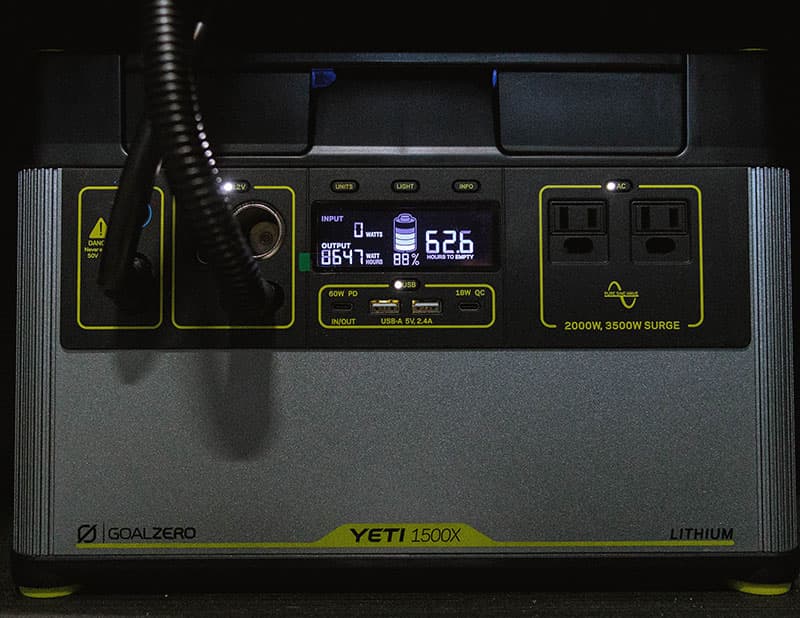 How does the GoalZero Yeti 1500X connect to the standard 160-watt Renogy Monocrystalline solar panel?  Is there a kit?
We provide a port, and the GoalZero is wired directly to it.
If better panels become available, or the installed panel fails, could a Scout owner upgrade their solar panel?
Yes, definitely.  The Renogy is a thin flexible panel that mounts on top of the camper.  A lot of our decision to use thin flexible panels comes down to weight.  Traditional panels are quite a bit heavier.
Have you had any Scout customers employ GoalZero's expansion battery packs?
Not that I'm aware of, but they're a great option for a big excursion.  If you have several weeks of inclement weather in front of you, it's good to have the extra power.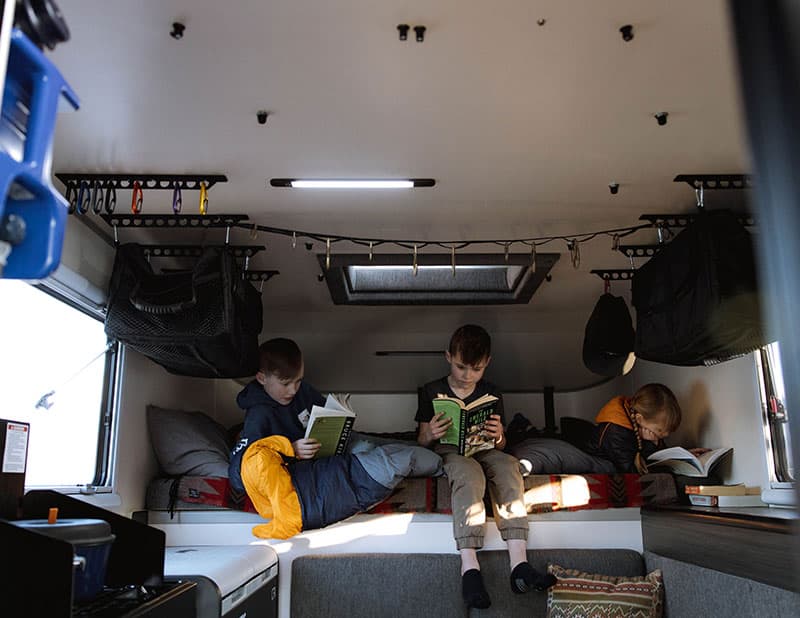 The cabover bed's pull-out feature turns it from a full-size bed to a 60 by 80 inch queen.  Is this a larger bed size than what's on the Olympic or Yoho?
Yes, it's definitely larger.  The Olympic has a full-size bed.  The Kenai has a queen.  The slide-out bed concept isn't anything new to truck campers and you will find them more commonly in some pop-up campers, but what we came up with is different.  Having a pull-out queen-size bed is already a popular feature of the Kenai.
The Convertible Lounge dinette transitions from an L-shaped seating area into two single beds.  How does it convert into two single beds?
The two single beds are in an L-pattern and ideal size for kids.  One is along the passenger's sidewall.  The other is created by unstrapping the optional Dometic refrigerator, placing it on the floor.  With the refrigerator moved, the front wall becomes the second single-bed area.  The rooftop tent option creates even more sleeping opportunities.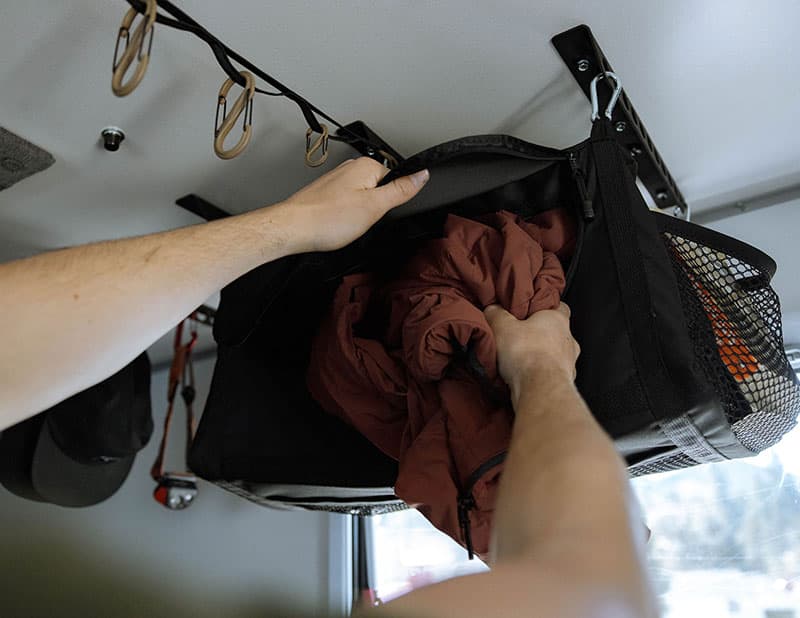 The utility ceiling brackets are designed to accept the optional expandable fabric storage containers.  What else could these brackets be used for?
There are so many different things that you can do with them.  I have carabiner clips and use them to hang everything from my cooking utensils to my socks.
We know one Scout owner who employed the utility ceiling brackets to mount a custom-designed TV bracket that swings out.  The brackets offer endless options.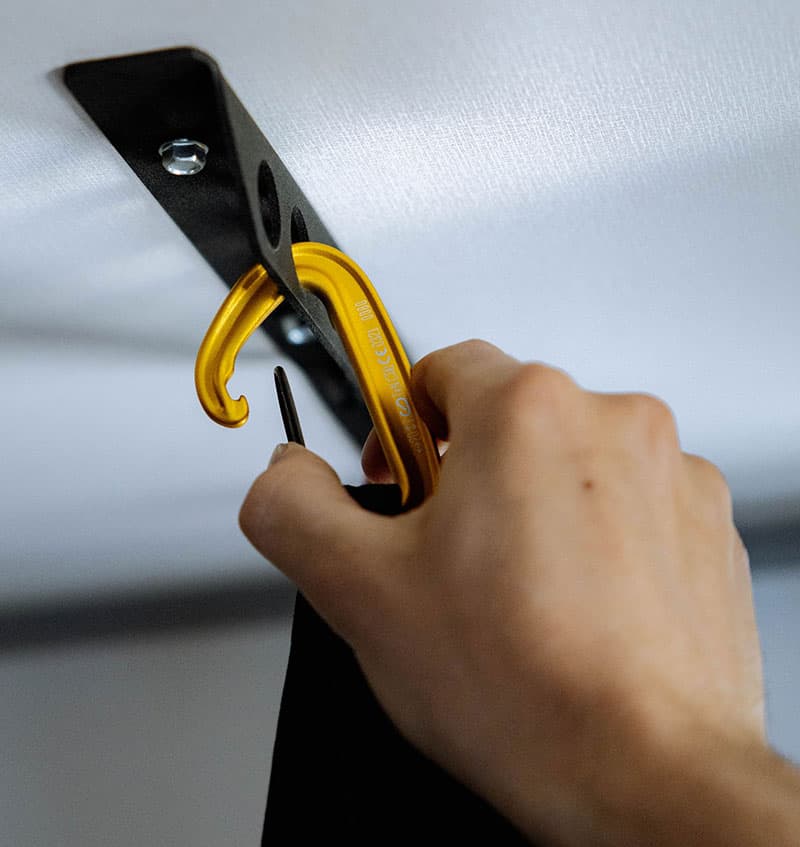 Is there a specific carabiner clip you recommend for the brackets?
The ones I'm using are Black Diamond carabiners.  You can find them online or at most outdoor adventure stores like REI.  They are rated for weight so hanging bags or other heavy items aren't a concern.
The Scout Kenai comes with two 10-pound propane tanks.  Why did you select two 10-pound tanks instead of the more standard 20-pound vertical tanks?
The two 10-pound tanks fit into the available space.  Due to the increased diameter, a 20-pound tank would not.  We increased the propane capacity for the Kenai because it's designed for larger trucks with more space and payload capacity and likely to be used on even longer excursions.
I went on a trip up north in the fall with my friend in an Olympic.  It was below freezing for nearly the entire trip along with 5-degree nights and 10-pounds of propane.  We didn't run out of propane until the last night, so 10-pounds lasted eight nights of running the heater.  Reports from our owners on the efficiency have been great as well.
Are the 10-pound tanks refillable at any propane station?
Yes.  Five-pound and 10-pound propane tanks can be refilled at a propane station.
Is the portable Dometic cooktop standard or optional?
It's optional.  It is the same Dometic cooktop that we use in the Yoho and the Olympic.  We worked with Dometic and developed a custom powder-coated version for the Scout.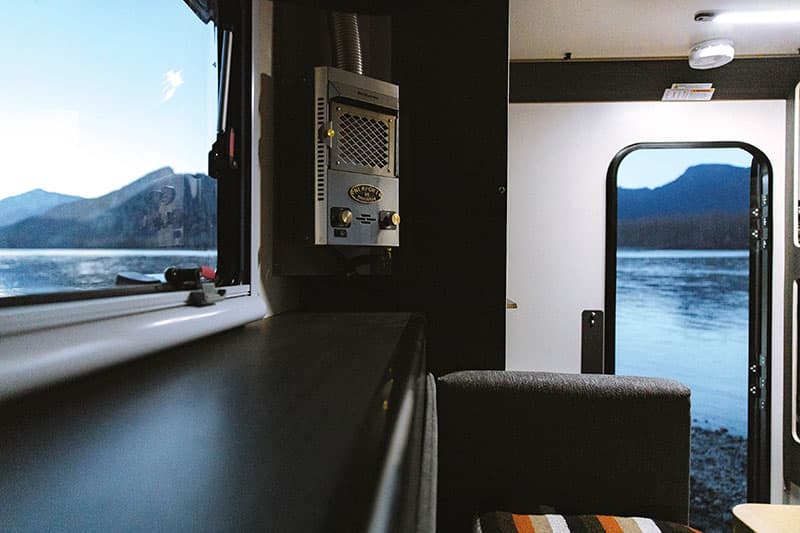 The Dickinson Marine Newport P9000 4.5 BTU fireplace heating system is another option.  How many Scout units are being ordered with that feature?
The Dickinson Marine fireplace option is very popular.  It's simple, highly efficient, and uncomplicated for camping.  That's why it works so well with Scout.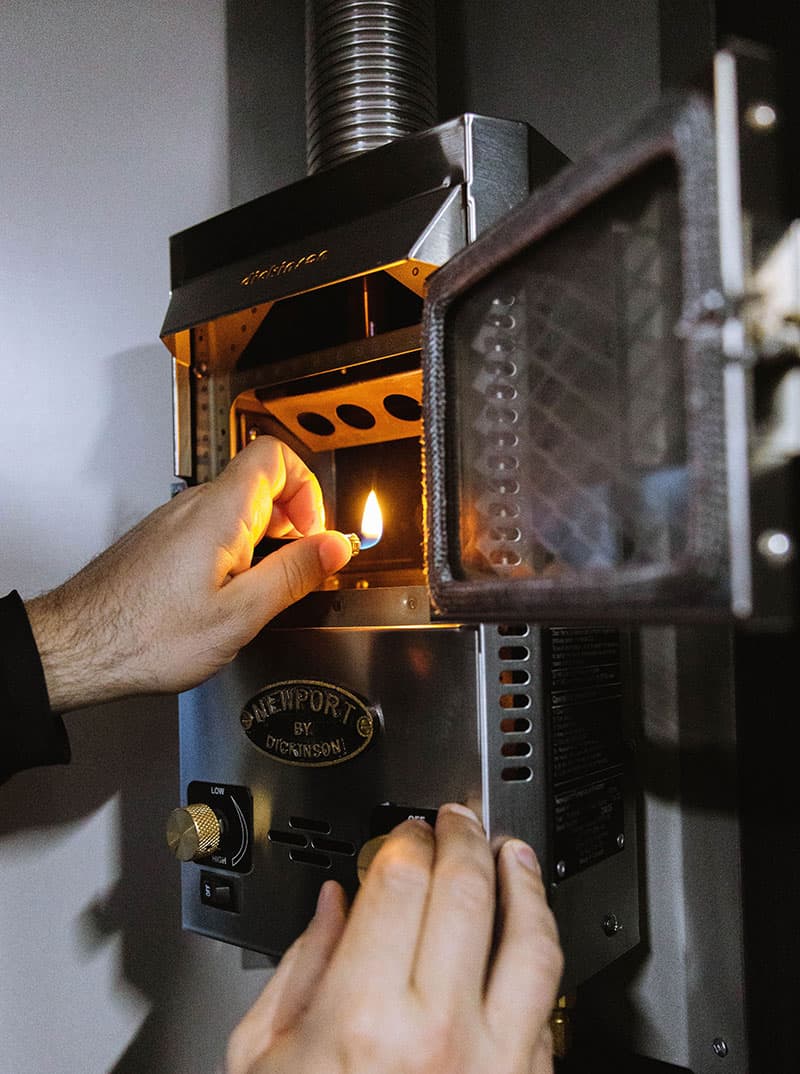 When grandpa started the company in 1969, there were catalytic heaters.  There are a lot of similarities between catalytic heaters and the Dickinson Marine system.  It's neat to see how some things have come full circle.  A benefit of the Dickinson system is that the exhaust is straight out of the camper.  You're not getting the exhaust or moisture from the heater.  With a catalytic system, you need to crack the windows for safety.
That's important advice.  The Scout Kenai comes with a Dometic CFX75 dual-storage 12-volt compressor cooler.  Is this the same model as the other Scouts?
The Olympic and Kenai have the CFX75.  In the Yoho we have the CFX45.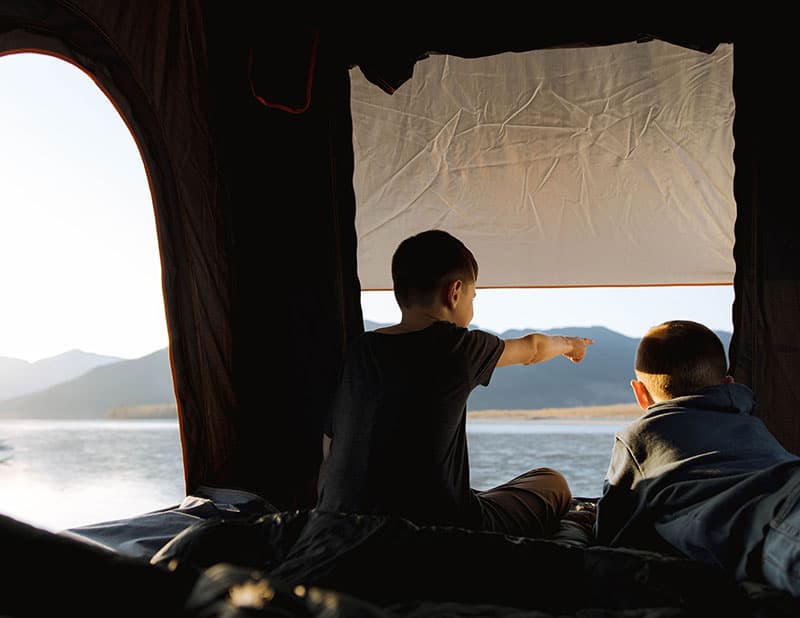 Is the roof-top tent available on the Kenai?
Yes.  Currently, it's the same model we are using for the Olympic and Kenai.  We don't offer the roof-top tent option for the Yoho because of space and weight considerations.
The roof-top tent is a very popular option, especially for families.  We have owners and friends like the Mortells, who use the roof top tent for friends and family.  It offers them a spare bedroom area.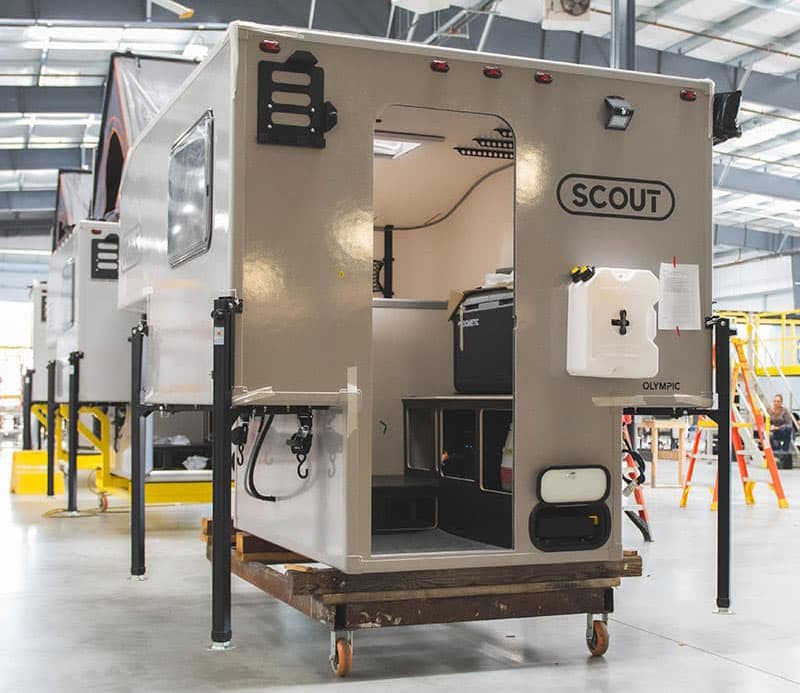 The removable Happijac jack system was important news when the Scout Camper line debuted in 2020.  In fact, it was so popular that it won our Readers' Choice Gear of the Year prize.  How has that system proven itself in the field with customers?
When we designed and built the Kenai, we realized that the removable jack design needed further improvements to increase stability.  We went back to the drawing board and have now added a second point of attachment.  What we have now is just as robust as a conventional jack system.  You still have the ease of removability, but the stability has improved significantly.  We are constantly testing and making improvements.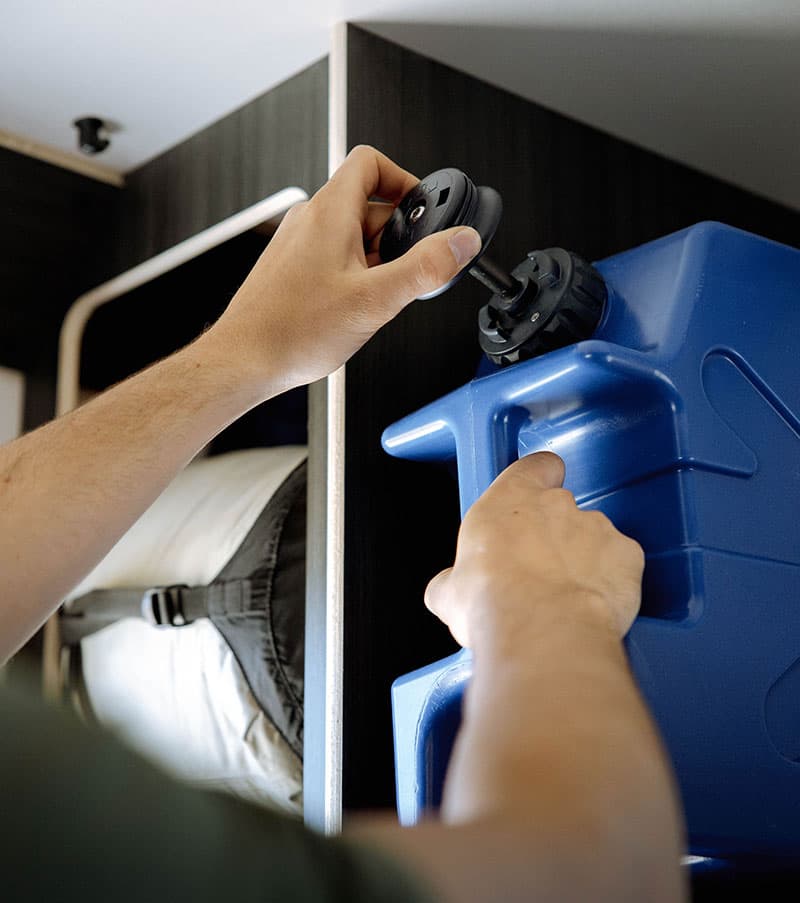 Are you using the same gravity-fed portable 4.9-gallon Lifesaver water storage system in the Kenai?
Yes.  The Lifesaver jerrycan has built-in water filtration for up to 20,000-liters.  If you have a water source nearby, you can utilize that to refill the Lifesaver system.  If you are going camping without a nearby fresh water source, we have an optional Rotopax that attaches to the camper.  There are lots of options to bring more fresh water.
When will the Scout Kenai be available?
The Kenai is available for order now.  We have already delivered a few Kenai models to customers.  We have seen a lot of interest and activity around Scout.  We are humbled by the outpouring and support from the community.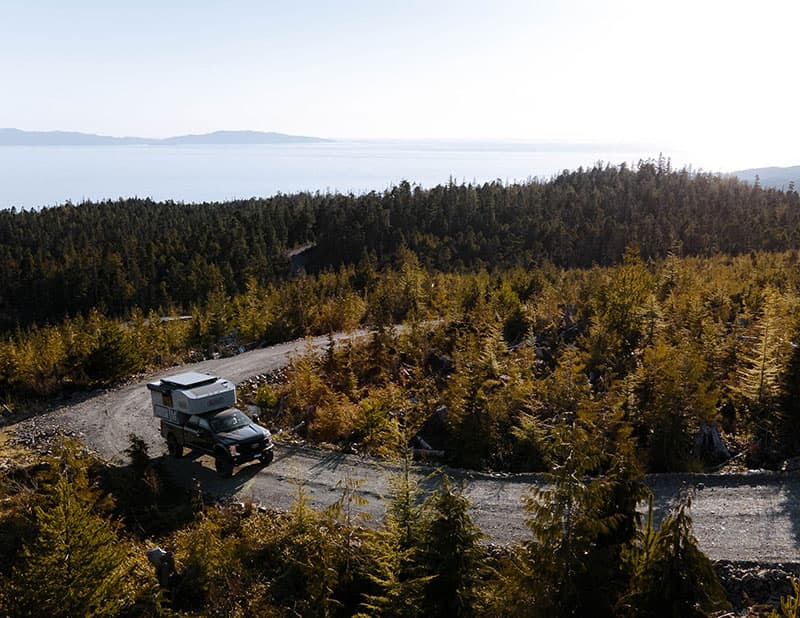 If someone orders one today, how long will they need to wait for their Kenai to be completed?
Currently, we are 12-months out.  As I stated earlier, there have been challenges in the supply chain and that volatility limits our ability to increase production.  We are taking a hard look at simplifying our process and systems and increasing production.
One supply chain area that's been a challenge is glues and adhesives.  I that other manufacturers that have gone into shutdowns because of that particular shortage.  We haven't faced that drastic measure, but have had delays in production because of the shortages.  We're doing our best to manage it.  We have built great relationships with our suppliers, and are continuing to focus on this communication.
The RV and truck camper market is growing significantly across the board.  Suppliers are operating in a challenging environment.  For us, it really comes down to partnerships and planning.  We are harnessing our 50-years of experience to help us focus on sustainable growth.  What I mean by sustainable growth is not growing too fast.  Growing at a sustainable rate is important to the quality of the product.
What is the warranty for a Scout truck camper?
Scout has a three-year structural warranty.  In addition, every component carries its own warranty.
The nice thing about a modular camper is that if you do have challenges, like an issue with your refrigerator, it's not an integrated system that will take you down for months.  You could swap out a refrigerator for a cooler or a new refrigerator.  It's going to be the same thing with your battery system.  The serviceability with a modular camper like Scout is a lot better than a traditional RV.
What is the base MSRP of the 2021 Scout Kenai?
The MSRP of a base Kenai $24,900 USD.
What is the MSRP of a fully optioned 2021 Scout Kenai?
A fully optioned Kenai is $37,800 USD.
That includes the RiseKit Plus portable shower, Thetford cassette toilet, Dometic CFX3 75L refrigerator/freezer with WIFI, portable indoor/outdoor gas cooktop, hanging storage bags for both the drivers and passenger side, Newport Real flame 4.5K BTU fireplace, removable camper jacks, Rhino-Rack Batwing 270-degree compact awning, roof-top tent with interior access hatch and two Rotopax 2-gallon water tanks.
What is the weight of the Kenai?
The base weight is 1,370 pounds.  A fully optioned camper will be 530 additional pounds (1,900-pounds). The biggest contributor to the weight is the roof-top tent at 160-pounds.
You have now launched all three Scout models that were planned from the beginning; the Olympic, Yoho and Kenai.  Now that those models are out, should we expect to see additional Scout models?
It's always fun as we continue to innovate.  Right now we are focusing on our owners and the production of our current models.  We want to build the best product out there.  We are also focused on who we are and where we're going . A new Scout model is not on the immediate horizon, but we are always working on new ideas and inspiration.
Do you think we will see Scout model updates next year?
Absolutely.  We are focused on ongoing and continuing improvements.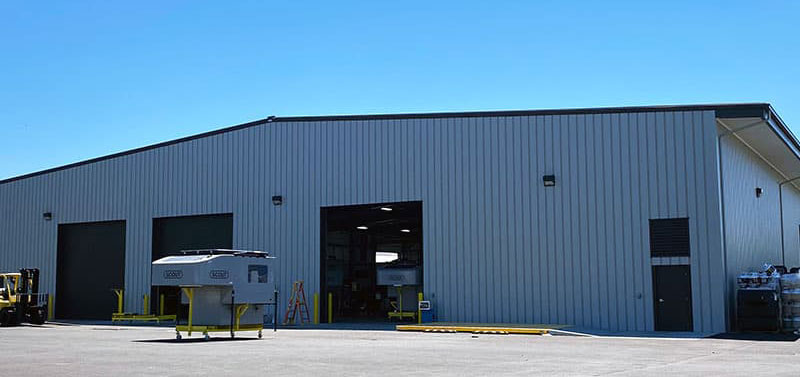 It's fair to say that the consumer for Scout Campers has been exceptional.  Have you made changes at the factory that specifically increase Scout production capacity?
With our factory expansion, we will be able to go from one line to two lines.  That will give us the ability to run Scout on an exclusive line and increase our capacity across the board.
We have also been hiring new team members including a new Marketing Director and Supply Chain Manager.  Our team is growing and expanding.  We are building the best team for the best experience.
To learn more about Scout campers, visit their website at scoutcampers.com.  Click here to request a free Scout brochure.