Adventurer Manufacturing has released detailed CAD renderings and specifications for the 2020 Scout Kenai hard side truck camper.  Designed for full-size short or long bed trucks, the largest Scout model features a number of compelling industry-firsts.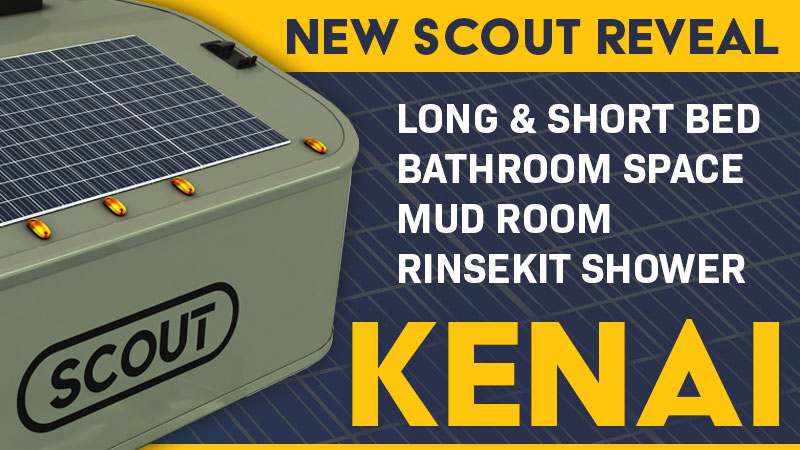 Adventurer Manufacturing is setting a blistering pace with not one, not two, but three all-new truck camper models from a brand that debuted just four months ago.
Scout's April launch timing was anything but auspicious as the Covid-19 pandemic closed businesses, schools, and even campgrounds across the United States and Canada.  And yet, something rather amazing happened.
Almost immediately, Scout Campers attracted the attention of major media that rarely, if ever, covers the truck camper market.  We were equally amazed and delighted to see USA Today, MotorTrend, AutoBlog, and even HouseBeautiful cover the new upstart.  If you put, "Scout Camper" into Google News, you will literally find dozens more.
In our 13-plus years of publishing Truck Camper Magazine, we have never seen a truck camper brand or product launch get this level of media attention.  So the big question is, what's going on here?
Scout Flipped The Script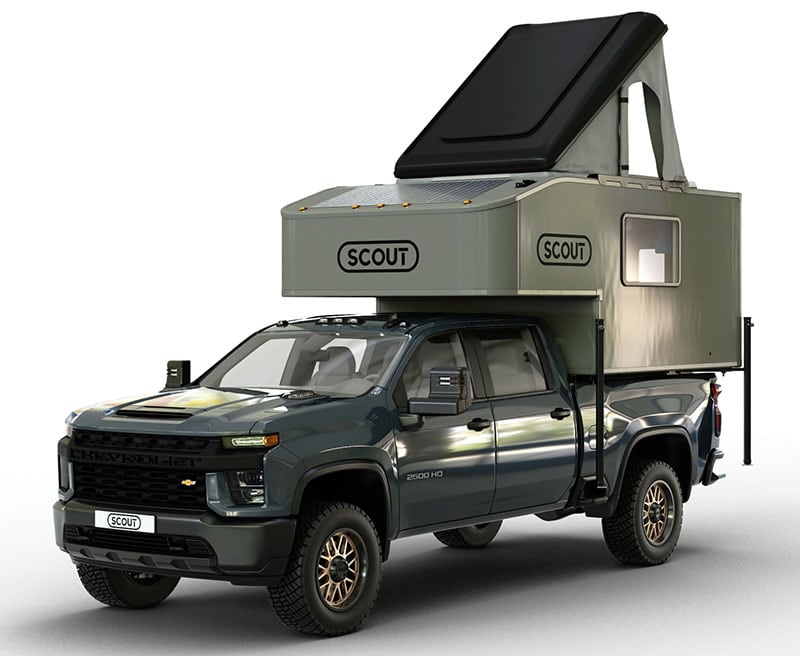 Above: The new 2020 Scout Kenai for full-size long or short bed trucks
When developing Scout, Adventurer Manufacturing put aside their traditional truck camper mindset and took a completely fresh look at what they believed to be an untapped marketplace opportunity; unprecedentedly simple, lightweight, highly durable, and versatile truck campers.
With an aluminum exoskeleton, marine-grade, high-density polyurethane and fiberglass composite panels, completely removable and portable components, water tanks, and lithium battery system, Scout literally flips the script on modern lightweight hard side truck campers.
These elements would have meant nothing if they hadn't nailed the execution.  The Scout Olympic debuted as one of the most refined new camper introductions we've ever seen.  With a horizontally curved front nose, roof-top tent, spot-on modern interior design, space maximizing floor plan, and state-of-the-art removable components, we were wowed.
And so were other media outlets.  When most of the world was laying low and watching where the Covid-19 pandemic was headed, Adventurer Manufacturing launched a bold new vision.  Scout represented the perfect way to safely get outside, maintain social distance and explore.  In retrospect, it makes perfect sense that outdoor and automotive journalists went absolutely nuts for Scout Campers.
Introducing the Scout Kenai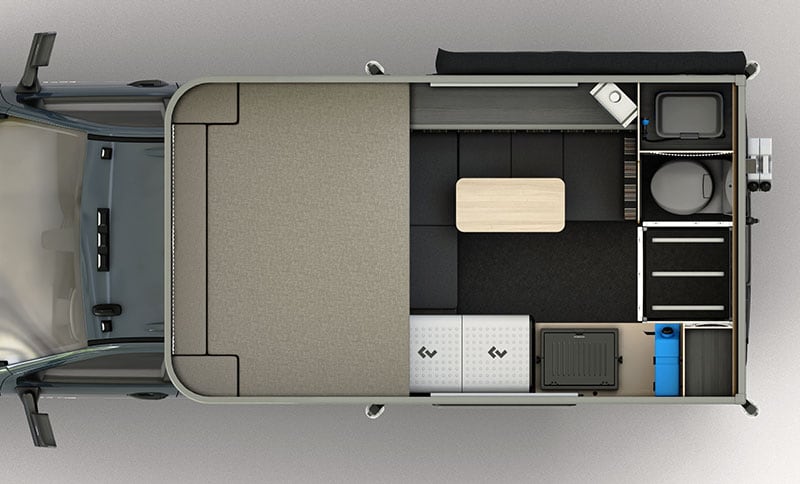 Above: The floor plan for the new Scout Kenai
Adventurer Manufacturing followed-up in June with the Yoho, an even smaller, lighter, and simpler take on Scout's forward-looking concept.  Somehow the Yakima, Washington team was able to make the Yoho 7.25-inches narrower and 252-pounds lighter.  Oh, and it looked equally modern with darn-near as much versatility as the Olympic.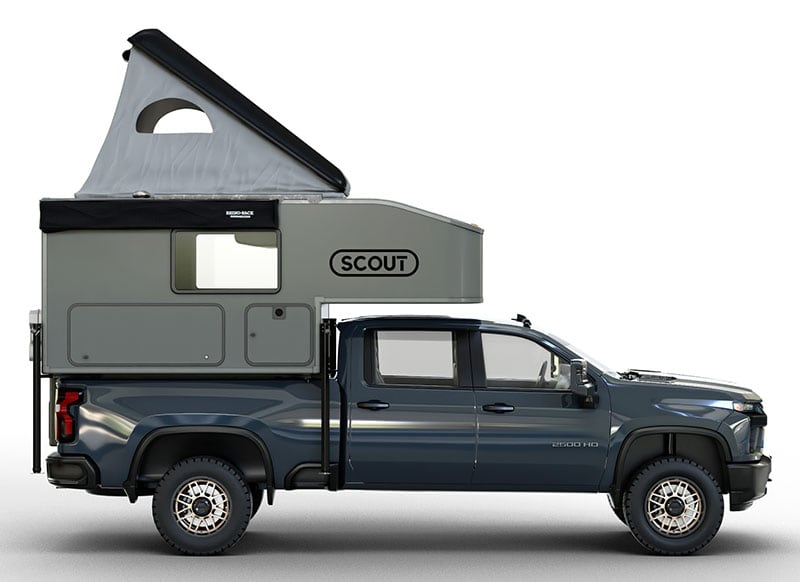 Next up is what, admittedly, we have been most excited about.  The Scout Kenai is a full-size hard side truck camper for short or long bed trucks.  As the largest and most-featured Scout model, the Kenai offers a bathroom space, mud room, optional RinseKit, expandable full to queen-size bed, and extendable storage.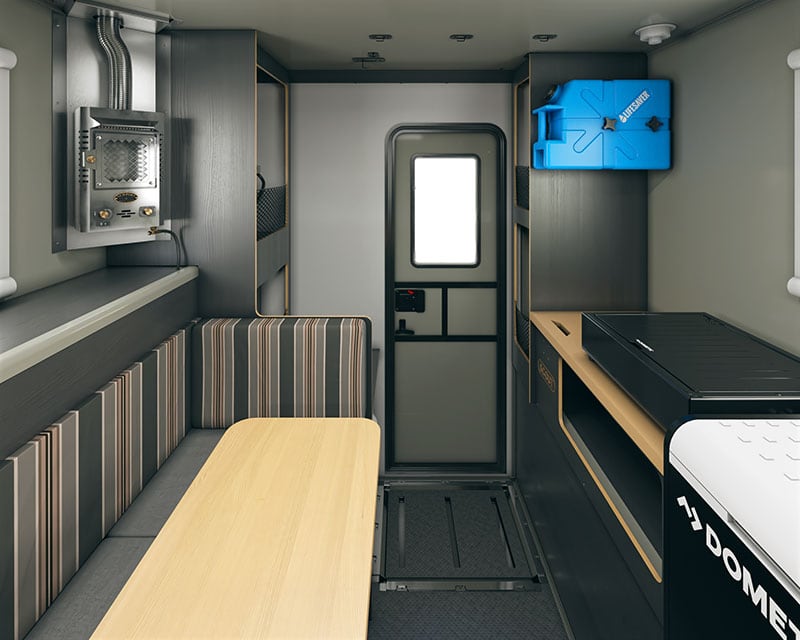 Above: Note the "mud room" on the Kenai floor, just inside the entry way
If you're reading closely, you just saw a few words never before injected into established truck camper nomenclature. What the heck is a "bathroom space"?  What in the truck camper universe is a "mud room"?  A RinseKit?  Extendable bed?  Expandable storage?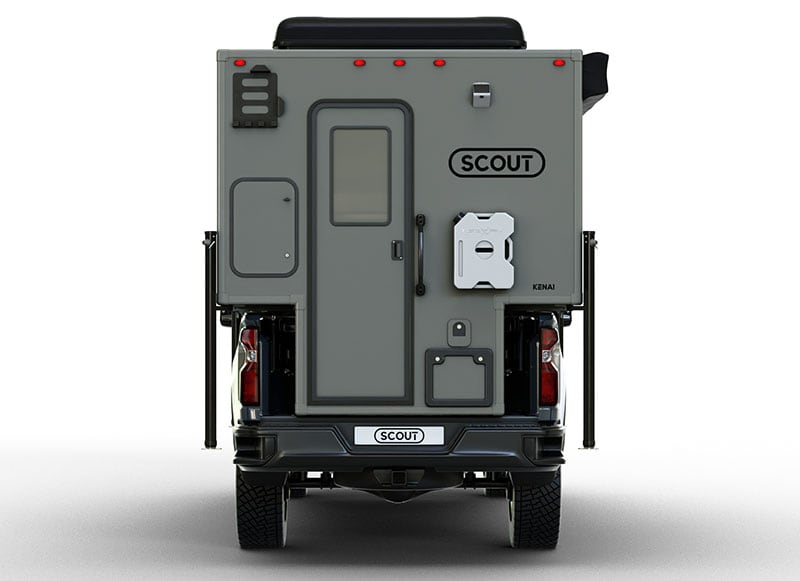 Let's unpack these new features one at a time. Get out your truck camper dictionary and a pen. We have a few new entries.
Bathroom Space: Two Toilet Options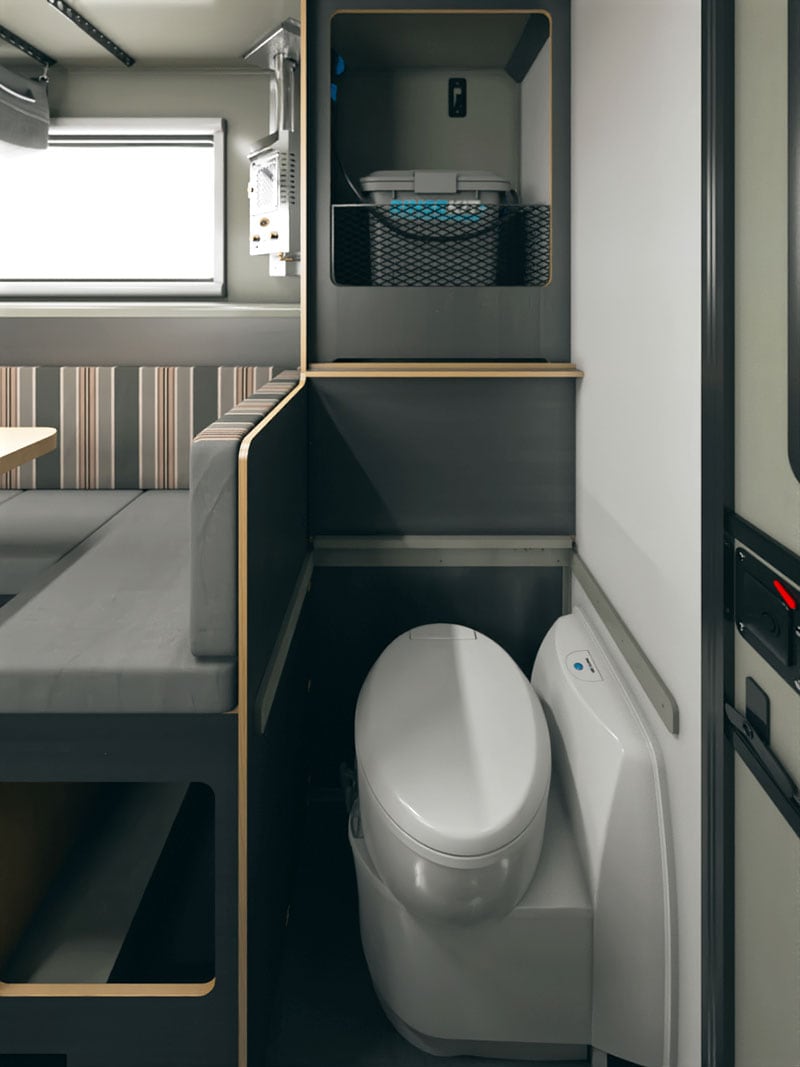 As standard, the Scout Kenai doesn't have a traditional bathroom with a toilet, sink, and shower.  What it offers is a dedicated, "bathroom space" where an optional 4.75-gallon Thetford cassette toilet can be factory installed, or a 2.6-gallon porta-potty can be placed.
None of the other Scout models offer this bathroom space or the option for a cassette toilet.  If you want a toilet in the other models, your only option is a porta-potty.
We have long hailed Thetford cassette toilets for their unmatched versatility.  With a removable cassette, you can literally dump it into any standard toilet.  When RV dump stations are closed for the season or are otherwise unavailable in a given area, you can just pull your cassette and dump it into a household toilet.
By utilizing a swiveling bowl design, the cassette toilet takes up the least amount of interior space possible.  When not in use, the bowl turns north-south and out of the entryway.  When needed, the bowl turns east-west.  We're talking about inches of interior space, but inches is where it's at in truck camper design.
Bathroom Space: Mud Room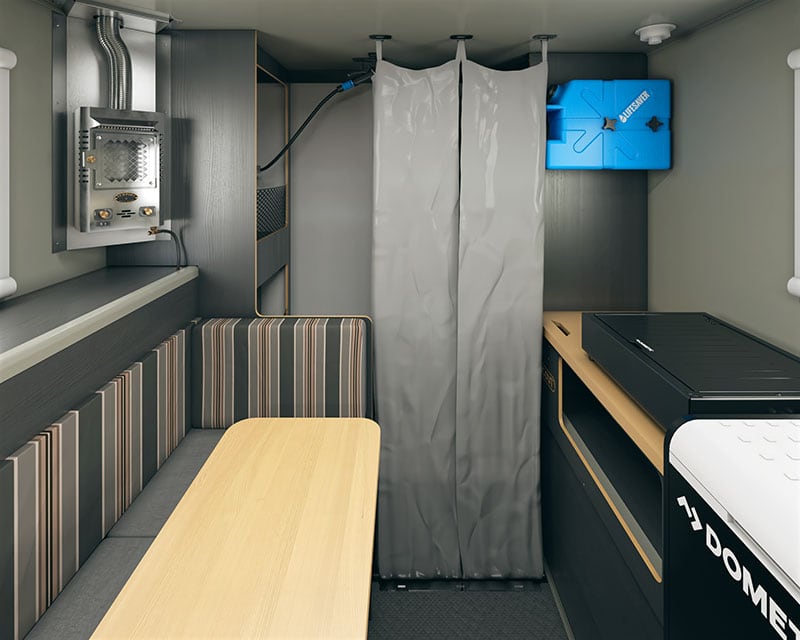 Above: The shower curtain deployed creating a shower stall inside the Scout Kenai
The definition of the bathroom space doesn't end with the two toilet options.  On the floor immediately outside of the toilet area is a built-in stainless-steel drain pan.
This drain pan is located immediately inside the entry doorway creating the "mud room" for removing dirty shoes, gear, and clothing before proceeding into the camper.
As its name implies, the stainless-steel drain pan also includes a drain that leads directly outside the camper.  On the camper ceiling above the drain pan is a track for a 360-degree shower curtain enclosure (see above).
Bathroom Space: RinseKit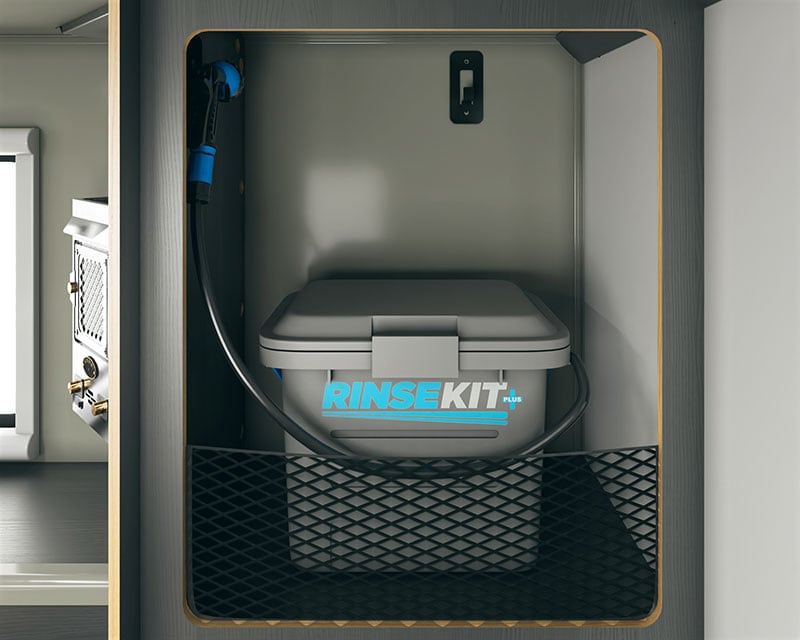 This is where things get really interesting.  Adventurer Manufacturing has employed a RinseKit pressurized portable shower to create a stand-up shower inside the Scout Kenai.
To be honest, we had never heard of RinseKit products and were extremely impressed with the concept when we researched it.  In a nutshell, the RinseKit Plus looks like a small cooler with an attached hose and sprayer.
With no moving parts, batteries, or pumping, the RinseKit contains two-gallons of water under pressure and provides between 5 minutes (full blast) and 30 minutes (mist setting).
There's even an optional 12-volt (9-amp, cigarette lighter socket) heating system that screws into the drain plug for hot showers off-road, off-grid, and anywhere.  The heating system has settings for 30, 60, and 90 minutes and says it can reach temperatures beyond what most of us would find comfortable.  Thankfully, there's an automatic safety shutoff.
It works by filling the built-in sealed chamber from a water hose with standard water pressure.  That pressure is contained within the chamber using the air inside the chamber as a spring.  According to the RinseKit, it will hold that pressure for months.
If you don't have access to a hose bib with standard water pressure, you can fill the chamber with water and pressurize it with an optional hand pump.  The lid to the system turns into a place to stand on sand or dirt.  This product just exudes clever thinking.
Like so many things the Scout Camper has brought to the table, I can hear fellow truck campers saying, "That's a really good idea" and incorporating it into their existing campers.  I like the idea of a shower that limits users to two-gallons, doesn't need an RV pump, and can be used outside.  Hey Sparky, you wonder mutt!  You need a bath.
Extendable Bed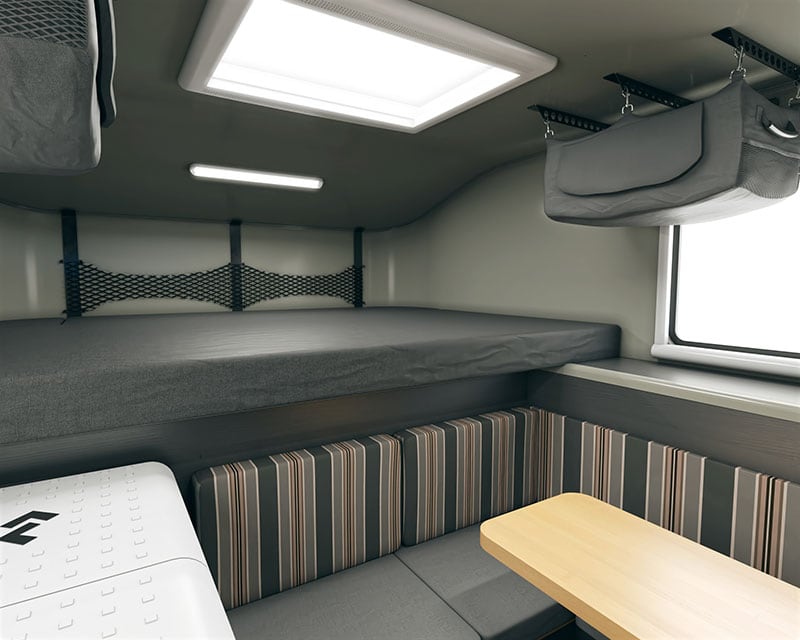 The cabover bed in the Scout Kenai can be used in two east-west configurations; full-size, or pulled towards the living area into a 60 by 80-inch queen-size.  This design approach has been utilized in pop-up campers for decades, but it's a very smart addition in the hard-sided Kenai.
Expandable Storage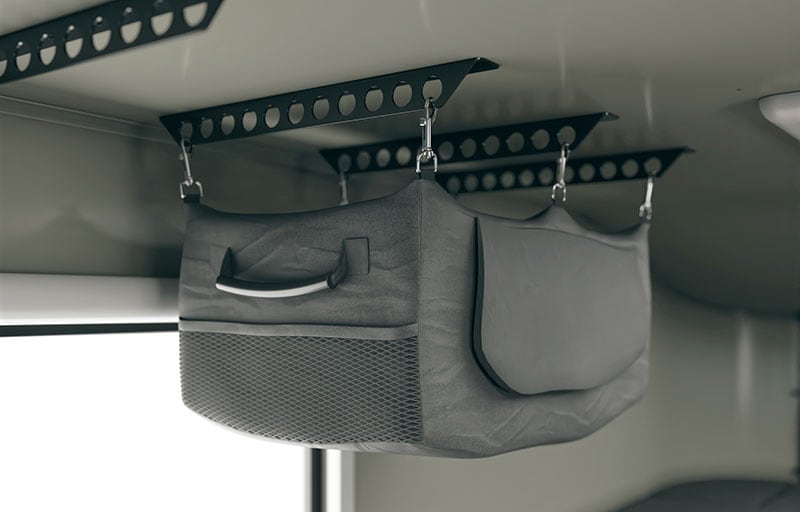 Rails built into the ceiling of the Kenai are designed to accept optional expandable fabric storage containers with self-locking snap hooks.  These containers can be removed, loaded inside your home, and then brought back into the camper.  The rails themselves are sure to find a number of creative uses once these campers are in the field. Mod makers take note.
Convertible Lounge
While the provided renderings don't illustrate this feature, the Scout Kenai's dinette transitions from an L-shaped seating area into two single beds.  In theory, that means two adults could be sleeping in the cabover, two children could be in the dinette, and two to three could be in the rooftop tent (two adults and one child, or three children).
More Features From the Olympic and Yoho
The Kenai has just about every feature found in the previously announced Scout Olympic and Yoho with a few important differences.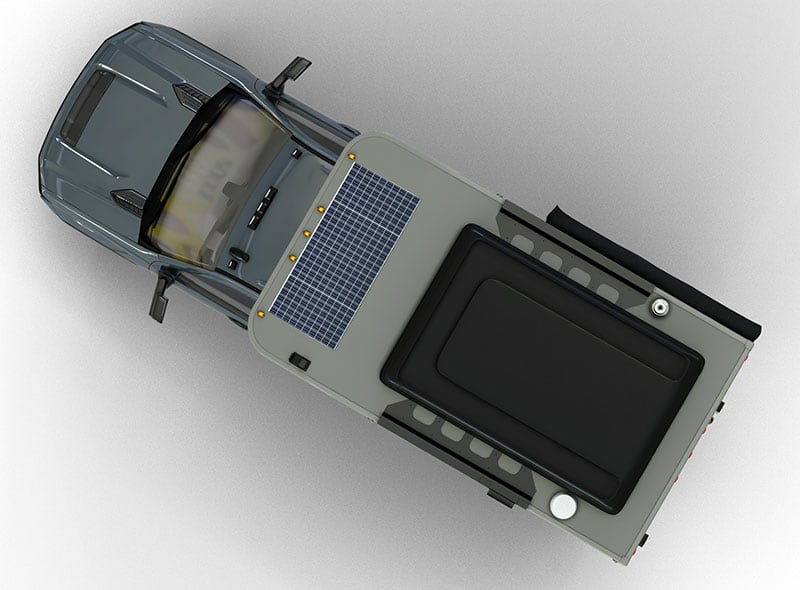 First, the standard portable lithium power station for larger the Kenai model is the GoalZero Yeti 1500X.  With 1,516 watt-hours, 2000-watt inverter, and built-in MPPT solar controller, the 1500X is an impressive upgrade.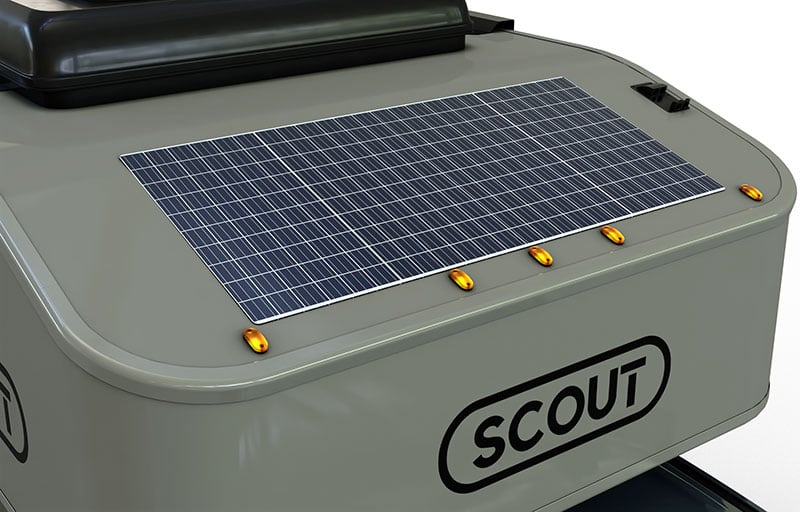 It's also a fantastic way to charge devices or run 110-volt items with its 60-watt USB-C port, multiple USB-A ports, regulated 12-volt, and two 120-volt outlets.  To keep all those devices humming, Adventurer includes a 160-watt Renogy Monocrystalline solar panel standard.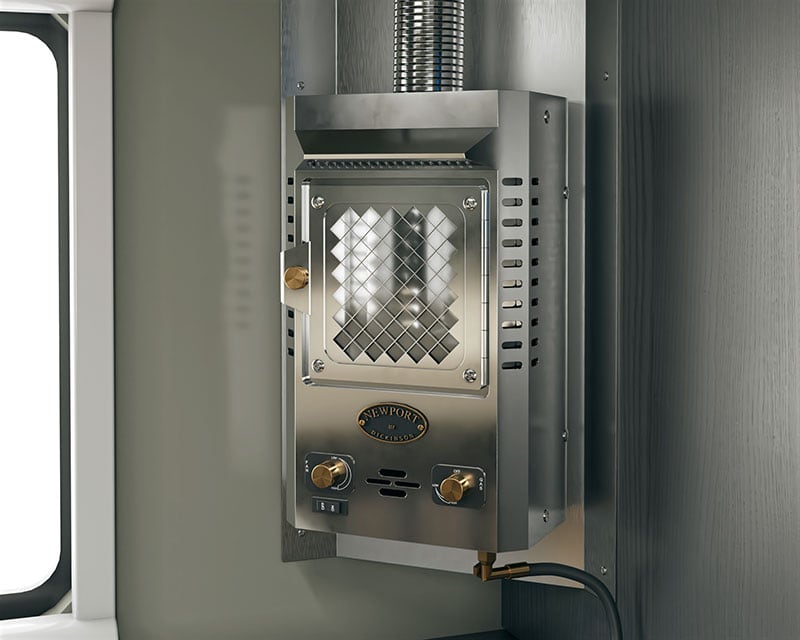 For propane capacity, the Kenai steps up to two 10-pound propane tanks.  This propane fuels a portable Dometic cooktop and Dickinson Marine Newport P9000 4.5 BTU fireplace heating system.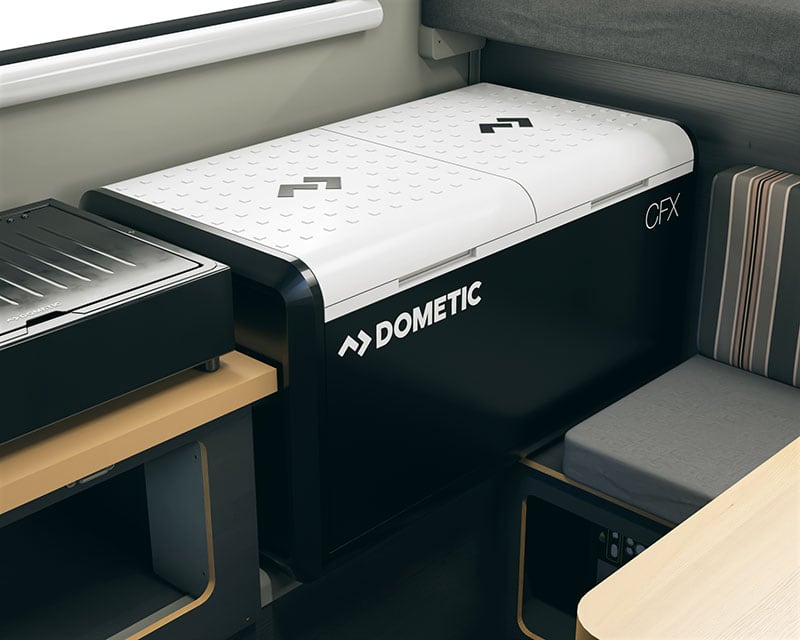 For a refrigerator, the Kenai offers a Dometic CFX3 dual-storage 12-volt compressor cooler.  We have a similar unit and it's been both efficient and reliable.  More importantly, it keeps food cold or frozen depending on your requirements.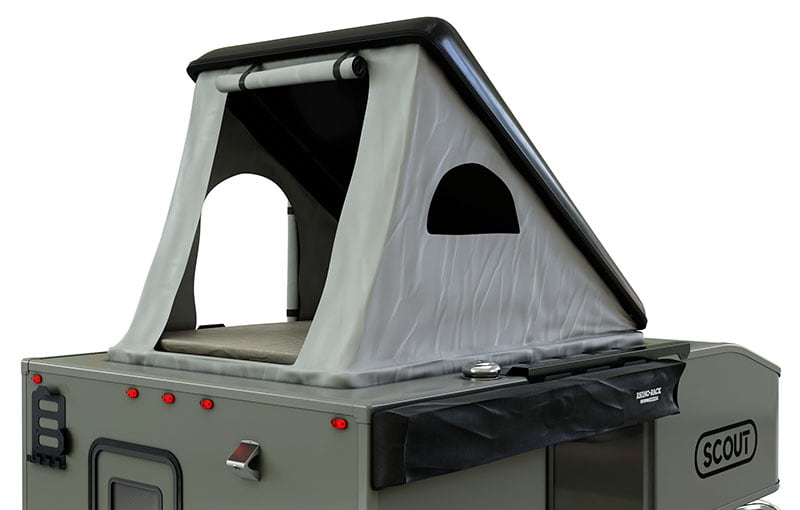 Other features include removable Happijac jacks, the gravity-fed portable 4.9-gallon Lifesaver water storage system with built-in filtration, 10 cubic foot external gear locker, and an optional Roost roof-top tent (pictured above).  For more information on all these features, check out our previous reporting on Scout Campers and the Scout Camper website.
Here's a chart of the Scout Camper line specifications:
| | | | |
| --- | --- | --- | --- |
| Scout Specifications | Kenai | Olympic | Yoho |
| Dry Weight | 1,370-pounds (estimate) | 1,165-pounds | 913-pounds (estimate) |
| Wet Weight* | 1,931 pounds (estimate) | 1,716 pounds | 1,464-pounds (estimate) |
| Floor Length | 92.25″ | 71″ | 69.75″ |
| Overall Length | 145.5″ | 127.5″ | 126.25″ (estimate) |
| Width | 83″ (without awning) | 82″ | 74.75″ |
| Interior Height | 80″ | 78″ | 75″ |
| Exterior Height | 83″ (without roof top tent) | 81″ | 78″ |
| Center of Gravity | TBD | 27″ | TBD |
| Truck Type | Full Size Long or Short Bed | Mid-Size and Full Size Short Bed | Mid-Size Short Bed |
| MSRP | $23,625 USD | $19,980 USD | $19,240 USD |
*Scout Kenai: dry weight, 1,370 pounds + 4.9 gallons fresh, 40.9 pounds + 2x 10-pound full propane tank, 20 pounds + battery, included in dry weight + stuff, 500 pounds = 1,930.9 pounds
*Scout Olympic 6.5: dry weight, 1,165 pounds + 4.9 gallons fresh, 40.9 pounds + 2x 5-pound full propane tank, 10 pounds + battery, included in dry weight + stuff, 500 pounds = 1,715.5 pounds
*Scout Yoho 6.0: estimated dry weight, 913 pounds + 4.9 gallons fresh, 40.9 pounds + 10-pound full propane tank, 10 pounds + battery, included in dry weight + stuff, 500 pounds = 1,463.9 pounds
Another Impressive Rendering Launch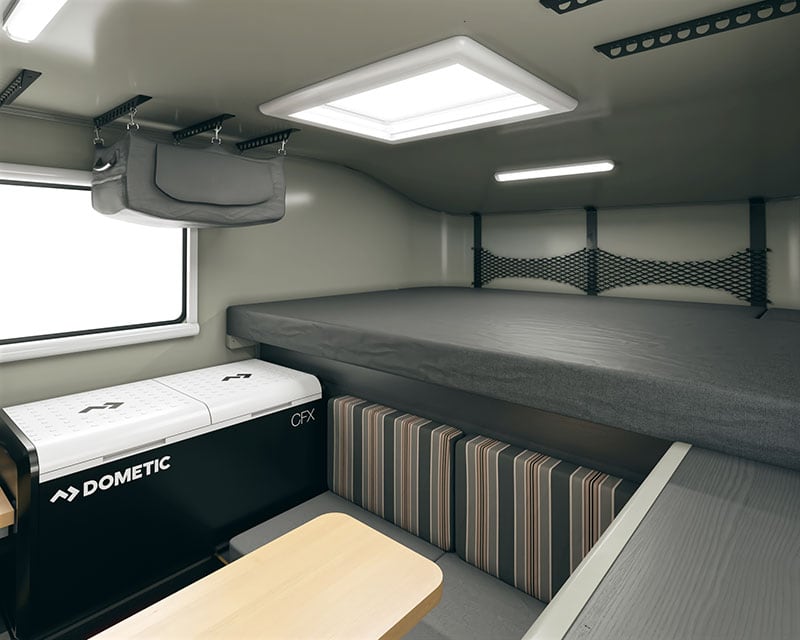 Make no bones about it, the Scout truck camper line-up is potentially disruptive.  If the Scout concept takes hold and sells like hotcakes, the truck camper industry will be forced to take notice.  Based on the media attention they've earned thus far, all signs point in that direction.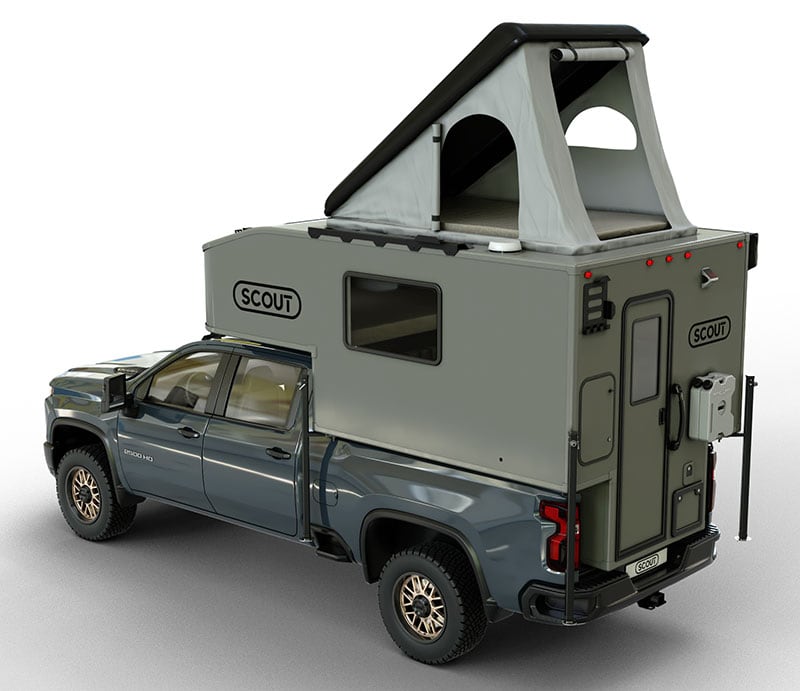 On balance, we have not yet seen a Scout truck camper in person.  Furthermore, the images above are computer renderings, not actual photographs of a final and finished truck camper.
We won't have a solid read on the Scout brand and its innovative products until we have conducted an in-person evaluation and thorough review.  Even better, we would love to take a Scout truck camper out and put it – and all those amazing features, components, and concepts – through their paces.  Due to the pandemic, we may need to be patient for that opportunity, but we can hardly wait.
In the meantime, we look forward to Adventurer Manufacturing sending us photography of the finished Yoho and Kenai campers.  Heck, we'd love a full suite of photography and final production Scout campers, including production line shots showing us how these remarkable campers come together.
For more information about Scout, visit scoutcampers.com. Click here to request a free Scout Camper brochure.