Adventurer Manufacturing showcases fresh CAD renderings and new details of the upcoming 2020 Scout Yoho 6.0 hard side truck camper for mid-size trucks.  The Yoho is poised to become the lightest hard-side cabover camper in the business.
With the introduction of the first Scout model this past April, the notoriously innovative Adventurer Manufacturing team challenged the very foundation of modern truck camper design and construction.
Aluminum exoskeleton?  Marine-grade polyurethane composite panels?  Removable cooktop?  Removable lithium battery system?  Removable fresh water holding tank and system?  Removable jacks?  What?
To put it mildly, Scout Campers is one of the most impressive new camper concepts we've seen in a very long time.  As details about the Scout Olympic 6.5 emerged, evidence of a completely clean slate approach only intensified.  Items like the optional Roost roof-top pop-up tent and Dickinson Marine Newport P9000 propane fireplace immediately put the Scout into a distinct brand realm.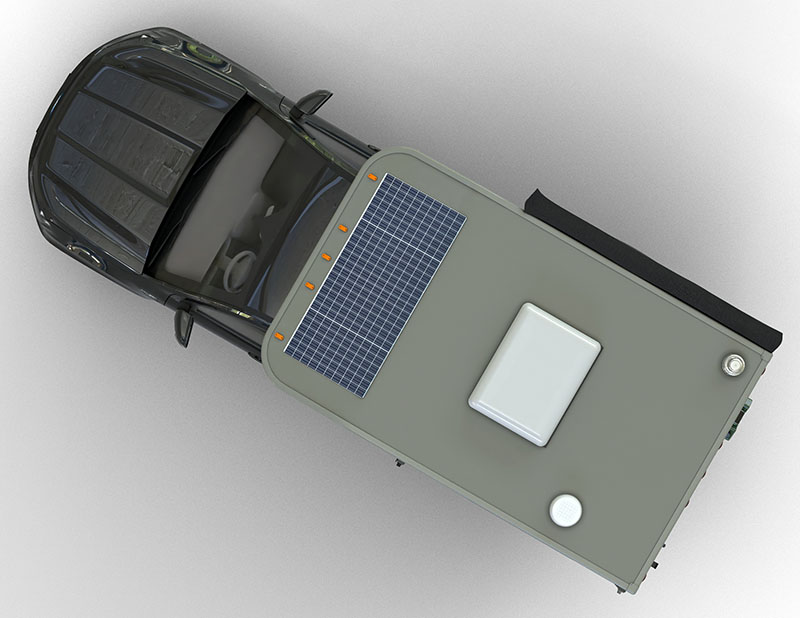 Introducing the Scout Yoho 6.0
This week we received CAD renderings from Adventurer Manufacturing of the upcoming Scout Yoho 6.0, plus new details and information on the new camper.  Full interior and exterior photography, complete specifications and an in-depth interview with Adventurer Manufacturing CEO, David Epp is scheduled for late July.
Studying Adventurer Manufacturing's preliminary specs for the Yoho 6.0, the new Scout will be approximately 252-pounds lighter, 1.25-inches shorter, 7.25-inches narrower, and 3-inches lower than the Scout Olympic 6.5.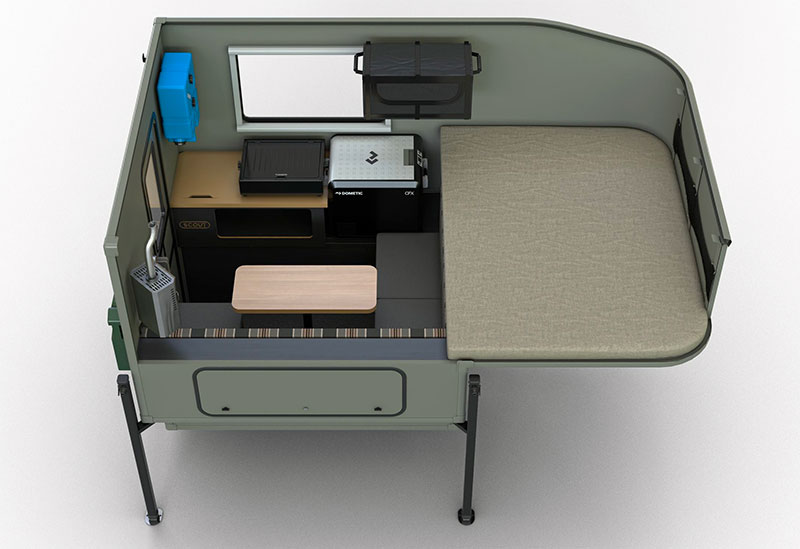 When we asked David Epp, CEO of Adventurer Manufacturing, how the Yoho dimensions were derived, he explained it was a combination of meeting the size, weight, and center of gravity requirements for the targeted mid-side trucks, and aesthetics.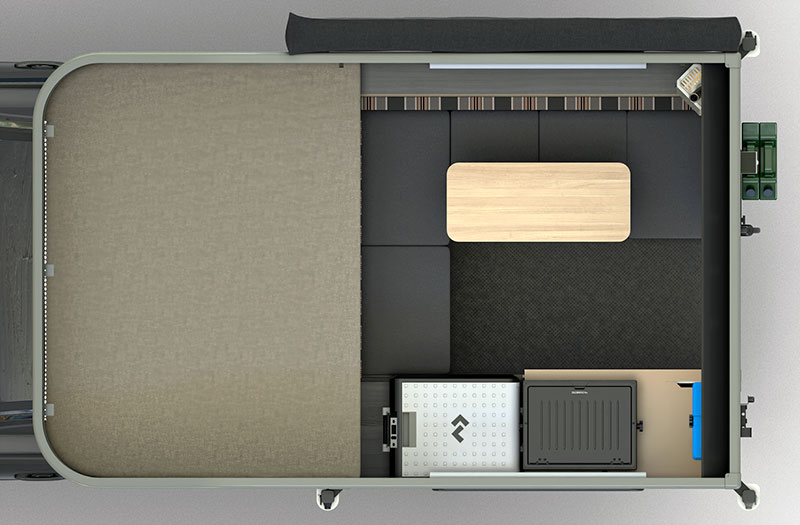 Above: The floor plan of the 2020 Scout Yoho
When we pressed on the aesthetic perspective, David explained that they dialed in the required size, weight and center of gravity, and then made further adjustments to make sure the Yoho would also look good on the intended trucks.  We all like a good lookin' truck and camper rig and can't wait to see the final Yoho mounted on a suitable truck.
Here's a chart to show the differences in the Scout specifications:
| | | |
| --- | --- | --- |
| Scout Specifications | Olympic | Yoho |
| Dry Weight | 1,165-pounds | 913-pounds (estimate) |
| Wet Weight* | 1,716 pounds | 1,464-pounds (estimate) |
| Floor Length | 71″ | 69.75″ |
| Overall Length | 127.5″ | 126.25″ (estimate) |
| Width | 82″ | 74.75″ |
| Interior Height | 78″ | 75″ |
| Exterior Height | 81″ | 78″ |
| Center of Gravity | 27″ | TBD |
| Truck Type | Mid-Size and Full Size Short Bed | Mid-Size Short Bed |
| MSRP | $19,980 USD | $19,240 USD |
*Scout Olympic 6.5: dry weight, 1,165 pounds + 4.9 gallons fresh, 40.9 pounds + 2x 5-pound full propane tank, 10 pounds + battery, included in dry weight + stuff, 500 pounds = 1,715.5 pounds
*Scout Yoho 6.0: estimated dry weight, 913 pounds + 4.9 gallons fresh, 40.9 pounds + 10-pound full propane tank, 10 pounds + battery, included in dry weight + stuff, 500 pounds = 1,463.9 pounds
Yoho Standard Features and Options
With its reduced length, width, and height and lower target weight we were keenly interested to see how the Yoho's standard features and option list would compare to the Olympic.  It would make perfect sense if both were curtailed to hit the stated weight and center of gravity targets.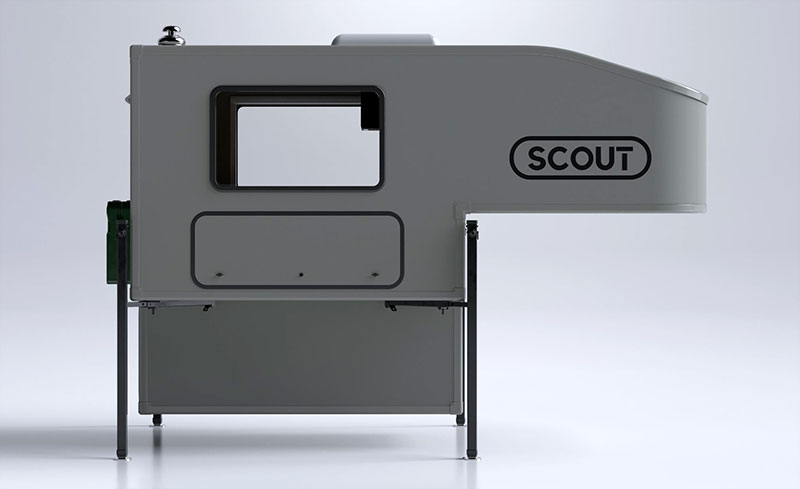 Which is why we were somewhat surprised that most of the standard and optional items from the Olympic will be available for the Yoho.  For starters, the standard features include the built-in 160-watt Renogy Monocrystalline solar panel, portable Goal Zero Yeti 1000 lithium power station, portable 4.9-gallon Lifesaver water storage system with built-in filtration, moon roof and a ratchet tie-down system.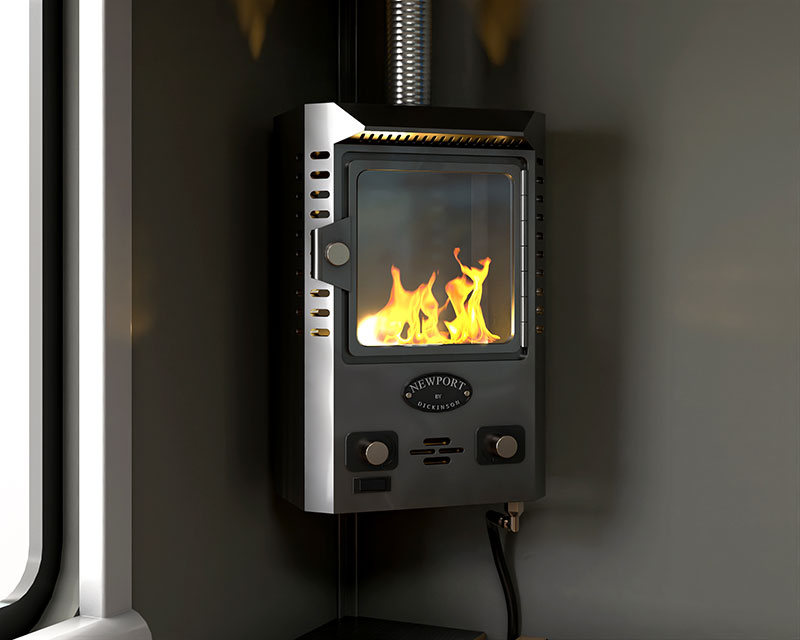 The first Yoho 6.0 option that jumped out was the  Newport 4.5 BTU Real Flame Fireplace heating system.  The Newport is unique to the Scout line and was nothing less than a show stopper for the Olympic 6.5.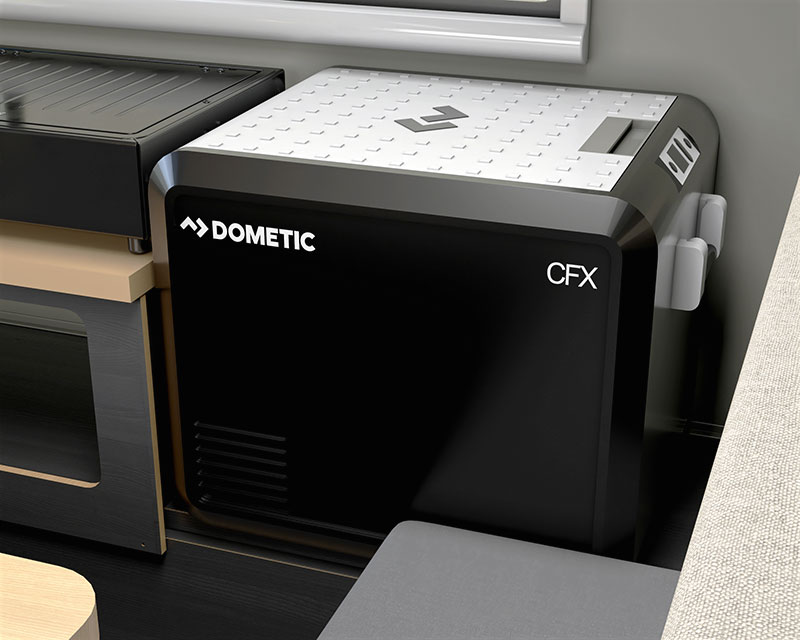 Other options Adventurer Manufacturing is announcing for the Yoho include a Rhino Rack 270-degree Batwing Awning, portable Dometic CFX 45L power cooler/freezer, portable Dometic 2-burner propane cooktop, and a portable toilet.
Adventurer Manufacturing has promised more options, but we'll have to wait for the final list when the Yoho is formally announced.
New Convertible Lounge and Gear Locker
When we asked what distinguished the Yoho from the Olympic – other than size and weight – David told us about the Yoho's all-new convertible lounge design.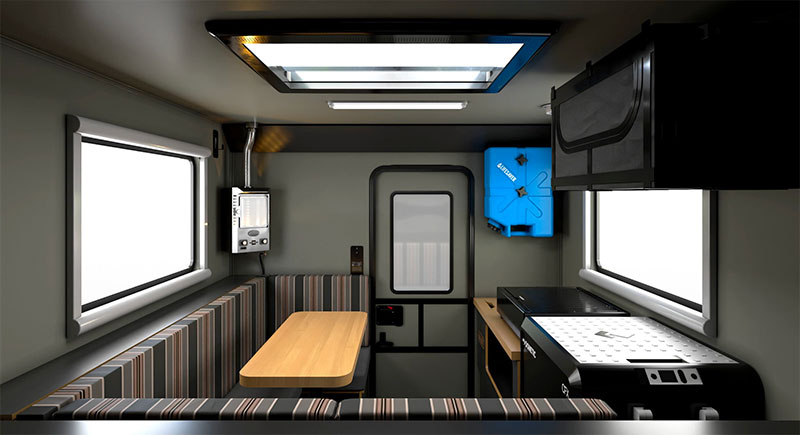 As a dinette, the convertible lounge is an open L-shaped seating area with a dinette table.  Then the lounge is designed to easily convert into a bed large enough for two adults.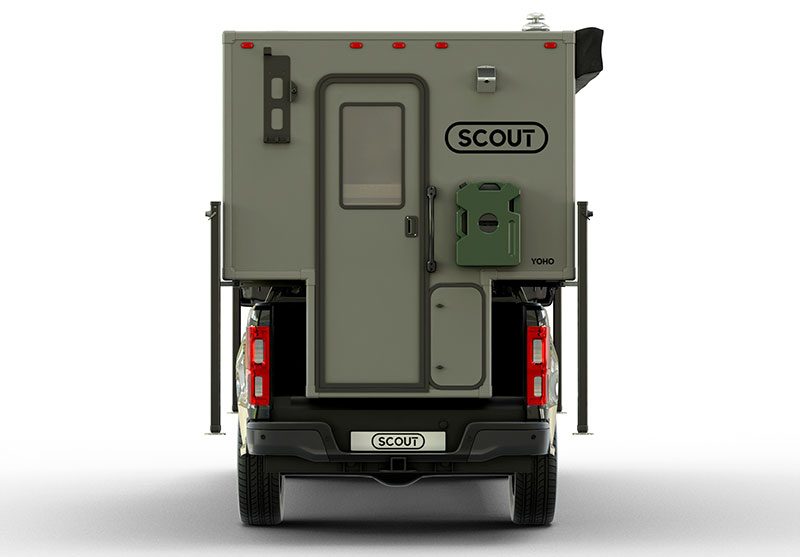 The gear locker exterior storage area that debuted with the Olympic 6.5 is expanded and moved on the Yoho 6.0. Located on the passenger's side, the Yoho gear locker measures 66 3/7-inches wide, 17.5-inches tall and 6-inches deep.
For the formal Yoho announcement, we have asked to see the gear locker featuring a wide range of outdoor camping products and sports equipment.  Based on the provided dimensions, you should be able to store adult skis in the gear locker.
Pointing To Center Field
During our conversation about the Scout Yoho 6.0, David made a prediction. "Weight is critical to our design and we are confident that we will hit the Yoho's dry weight of 913-pounds and our goal will be to beat that. Keep in mind that this includes the Goal Zero Yeti 1000 lithium battery as well."
A dry weight of 913-pounds would make the 2020 Scout Yoho a potential payload match with a wide range of mid-size trucks including current model versions of the Chevy Colorado, GMC Canyon, Ford Ranger, Toyota Tacoma, and Nissan Frontier.  There are literally three dozen pop-up truck campers in our Buyers Guide that weigh more than the projected Yoho weight.  Let that sink in for a minute – less than pop-ups!
In the truck camper universe, David's 913-pound prediction for the Yoho dry weight is like Babe Ruth pointing to center field during Game 3 of the 1932 World Series.  As the legend goes, with two balls, two strikes, and a 4-4 tie score, Babe pointed to the center field calling a home run.  Moments later, he hit a 440-foot (some say 490-foot) home run into the center field stands – and the sports world has never been the same since.
With 50-years of manufacturing behind them, and a solid record with Adventurer, Eagle Cap and – most recently – the Scout of meeting or beating their camper weight targets, we have no doubt that the Adventurer Manufacturing team will pull this off.
That stated, it's hard to overstate the impact a 913-pound hard side truck camper could have on the marketplace.  It's a big play we can't wait to see.  Go Yoho.
For more information about Scout, visit scoutcampers.com. Click here to request a free Scout Camper brochure.