For Behind the Shot Part 4, we are featuring photos and stories from Assateague Island, Buckhorn Wash, New Zealand, and many more!  Click here to participate in the 2022 Truck Camper Magazine Calendar Contest and be considered for a Behind the Shot feature.
Sam Downing
Port Clinton, Ohio
2021 GMC 3500
2021 Capri Retreat
Camera Used – iPhone 12 Max Pro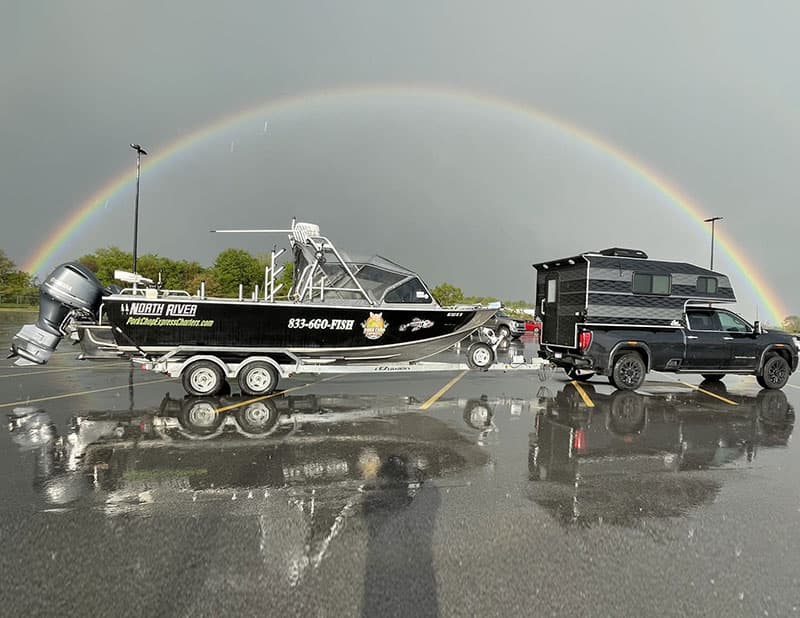 I caught this picture in Port Clinton, Ohio. I came out from shopping in a store just after a fishing trip on Lake Erie and a rainstorm had just passed by. The sun was out and this rainbow was perfectly positioned over my rig and presented this great picture. So I took advantage and snapped this cool photo. This rig is new to me. I just picked it up a week ago and this seemed like a good omen that I needed to capture.
Sarah Trybula
Kings Canyon National Park, California
2020 Ram 3500
2021 Palomino HS-2910
Camera Used – Nikon D850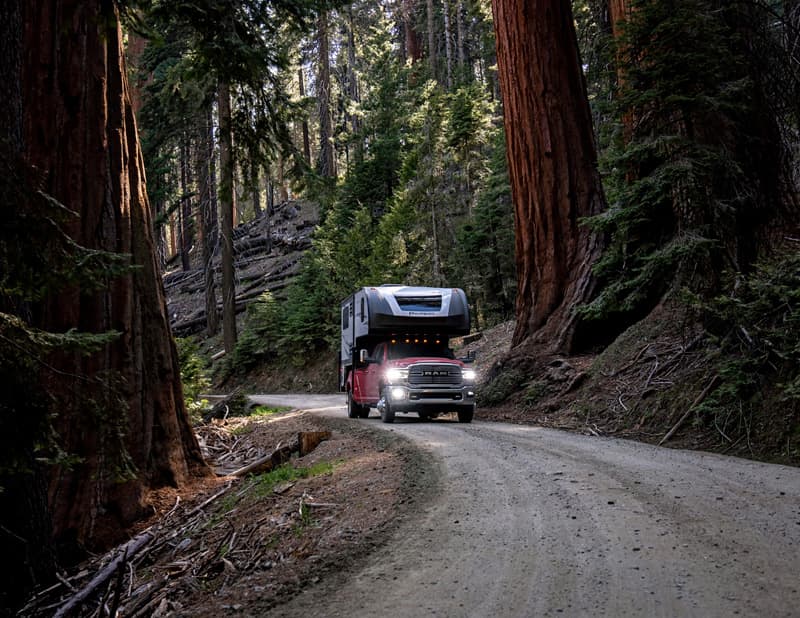 Matt and I went out to hike a seven-mile trail in Kings Canyon National Park. After we finished the hike we took the skinny one-lane road away from the trailhead. We were surrounded by giant Sequoia trees on each side of us. We stopped the truck since nobody else was in the area and photographed it to show the scale of the trees around it.
Jeff Wootten
Assateague Island National Seashore, Maryland
2013 Toyota Tacoma
2018 Travel Lite 610R
Camera Used – iPhone 10
I have been camping and surf fishing on Assateague for years now. They have a central spot on the Over Sand Vehicle portion of the park called the Bullpen for overnight campers. It is busy in the summer, but peaceful during other months.
Deanna Schrell
Buckhorn Wash, Utah
2006 Toyota Tundra
2012 Palomino Bronco 800
Camera Used – iPhone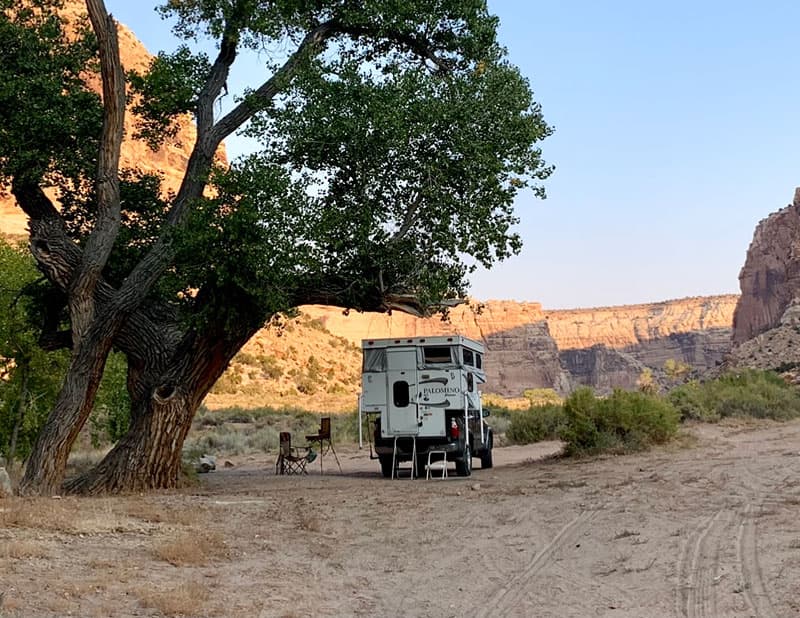 Living in the mountains it's always a treat to go south to the desert. I am an artist and made it to Buckhorn Wash in Utah for an oil painting trip. After the weekend it was quiet. I lucked out with this beautiful camping and painting spot. The view did not disappoint and the fine weather, too.
Steve Price
Stewarts Point, Nevada
2019 Ford F-350Four Wheel Campers Grandby
Camera Used – Samsung Android Phone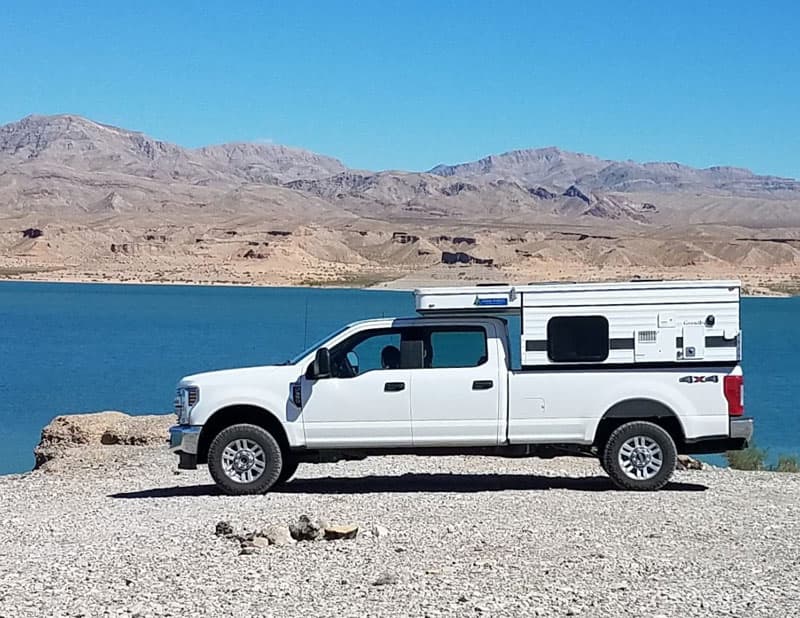 This was taken on the Eastern Shore of Lake Mead, Stewart's Point, Nevada. There is a dispersed camping area about 10 miles down a dirt road outside the Valley Of Fire State Park.
Murray Burbidge
Blueskin Bay, Karitane, South Island, New Zealand
2010 Nissan Narva
2003 Six-Pac
Camera Used – Phone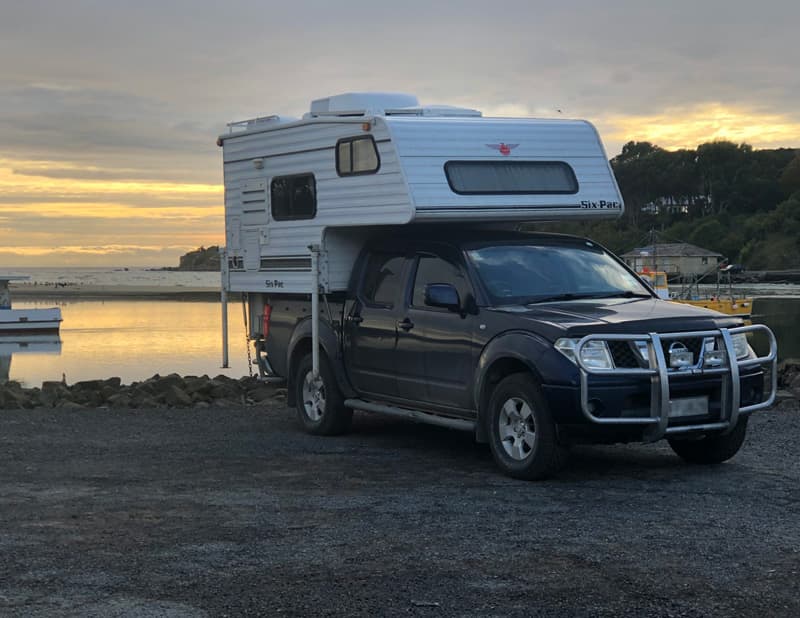 On an 18 day lower South Island road trip we stopped off at Blueskin Bay on the east coast on the way to Karitane township. I wish we had brought the boat there because there is some great sea fishing off this coast. Maybe next time.
Matt Breiter
Utah
2021 Ram 3500
2021 Palomino HS-2910
Camera Used – Nikon D850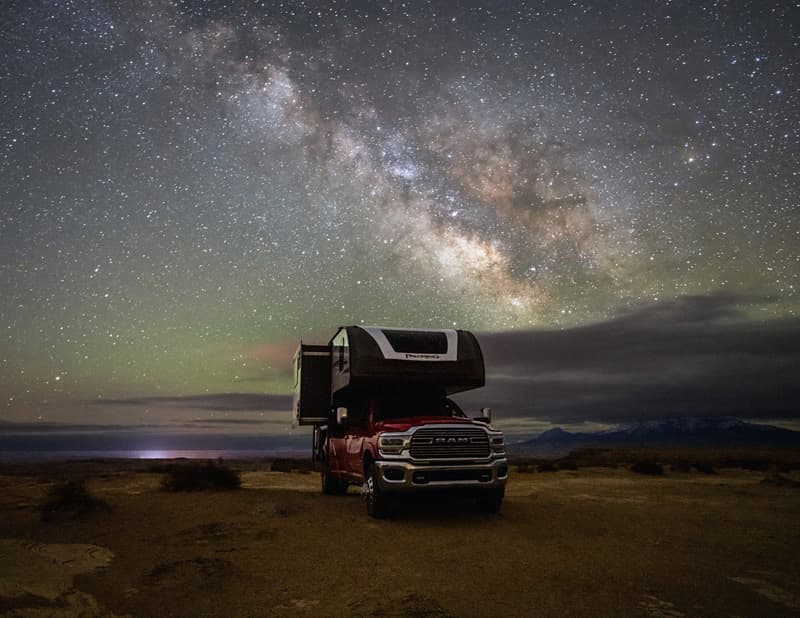 We woke up around 1am to shoot a time-lapse video of the Milky Way rising over our truck camper. We planned this shot and camped out in the middle of nowhere in Utah and waited for a clear night to shoot it. It's a long exposure to capture all of the details of the Milky Way and the details of the truck and camper as well.
Robin Van Gorp
Medford, Wisconsin
2013 Ford F250
2006 Hallmark Ute
Camera Used – Phone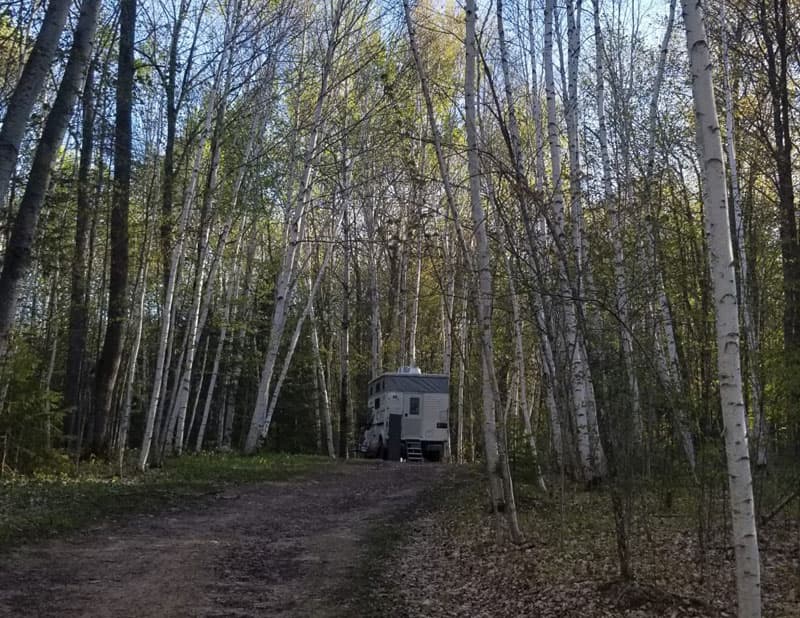 We took a discover Wisconsin trip after being cooped up with the virus like everyone else. Neither my husband nor I had been in Wisconsin more than to pass through. We found out that it is a beautiful state with large amounts of boondocking opportunities. This was a shot on a forest service road. I thought the birch was beautiful; black and white just like our truck and camper. We normally just luck into places we camp. We start out in a direction and kind of let the roads take us to our next stop. We plan on discovering Minnesota next May and hope to find it's as nice as Wisconsin.
Click here to see all of the photos entered so far in the 2022 TCM Calendar Contest.  Enter your truck camper photos today!