For Behind the Shot Part 1, we are featuring photos and stories from Montezuma Canyon, Crowsnest Pass, Sam Houston National Forest, and many more!  Click here to participate in the 2022 Truck Camper Magazine Calendar Contest and be considered for a Behind the Shot feature.
Marcus Larson
Montezuma Canyon, Coronado National Forest, Arizona
2019 Ford F250
2020 Capri Retreat
Camera Used – DJI Mini 2 Drone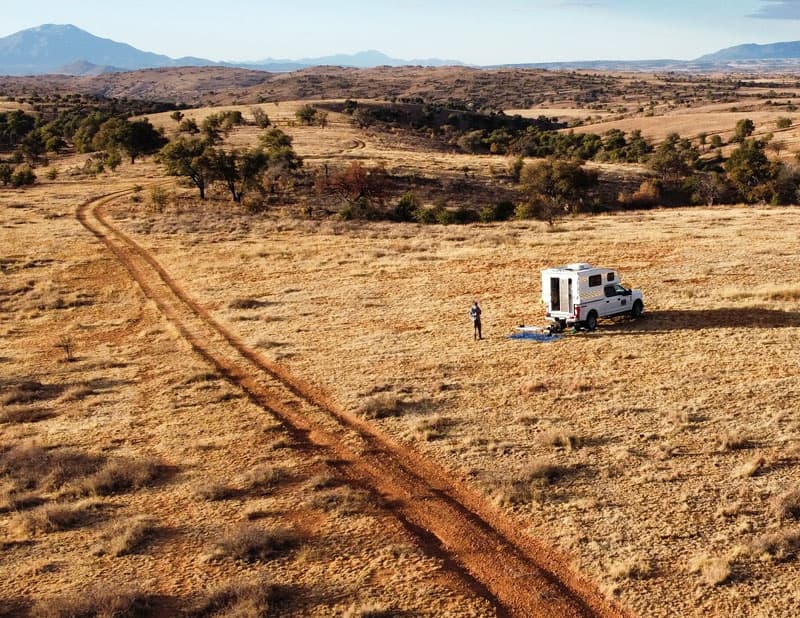 Dispersed camping on the Mexico border in Montezuma Canyon Coronado National Forest. We just kept turning down the road less traveled until we found this spot.
Chad Shackelford
Sisters, Oregon
2005 Ford F550
2019 Northern Lite 8-11
Camera Used – iPhone 12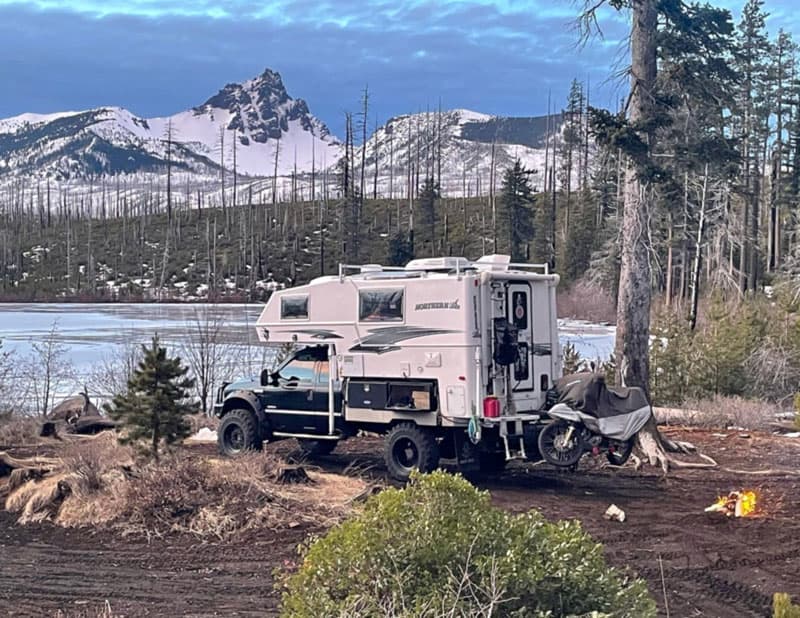 I went skiing at Hoodoo Ski Resort in Oregon and found this spot on iOverlander. It was a bit tricky getting to it with some fairly deep snow in areas. But, I was all alone when I got there with an awesome view.
Darcy Willett
Crowsnest Pass, Alberta
2005 Dodge 3500
2005 Alaskan
Camera Used – iPhone 8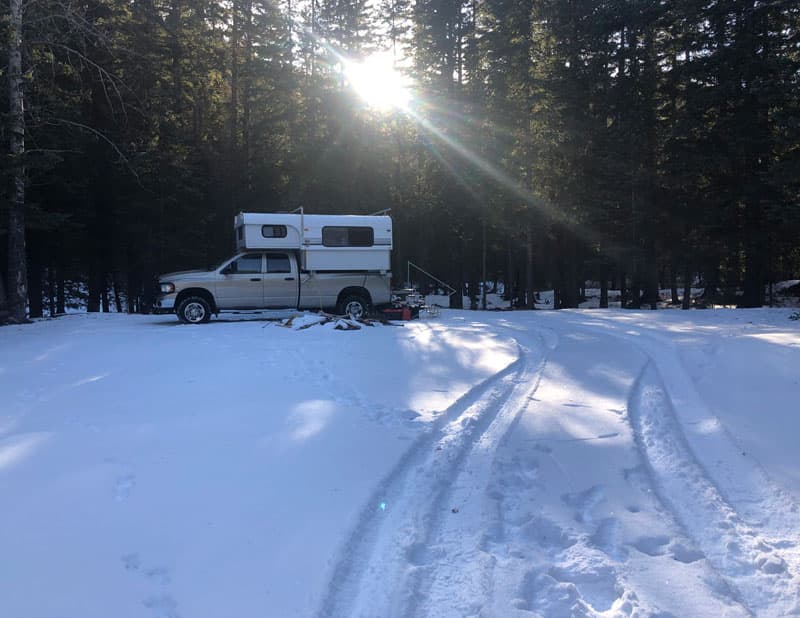 We just pulled into an open area off the trail in the Rocky Mountains of southern Alberta. This was on our maiden voyage with our new to us truck camper rig. I couldn't wait for spring. It was a fairly warm weekend of 37 degrees during the day and 15 degrees overnight. I had a great two-day camping trip.
Fred Patterson
Sam Houston National Forest, Texas
2013 Ford F350
2002 Lance 1161
Camera Used – iPhone 10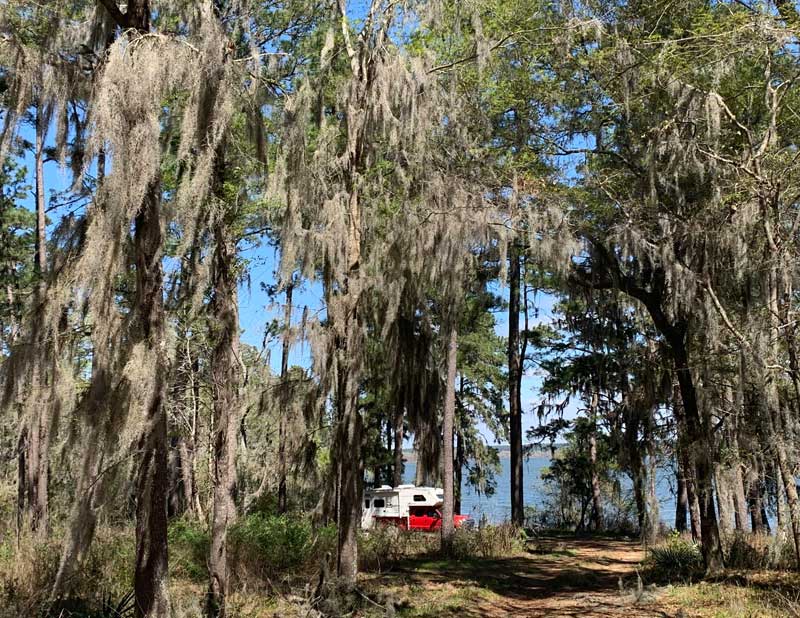 I spent an unexpected additional month in Texas since my nurse daughter gave me a Covid shot just before I was planning to return to Virginia. So, I toured Texas awaiting the second shot; Big Bend area, Gulf Coast, Panhandle, South Texas Plains, etc. I bought a Texas park pass and stayed in state parks for a week or so. That was fine, but not the first choice of truck campers. I began to visit state and national natural areas and forests. I spent five days in different locations in Sam Houston National Forest on Lake Conroe, where this picture was taken. It was a relaxing and great experience where I met several interesting people.
Brian Robinson
Surf City, North Carolina
2005 Ram 3500
2013 Palomino
Camera Used – Galaxy S9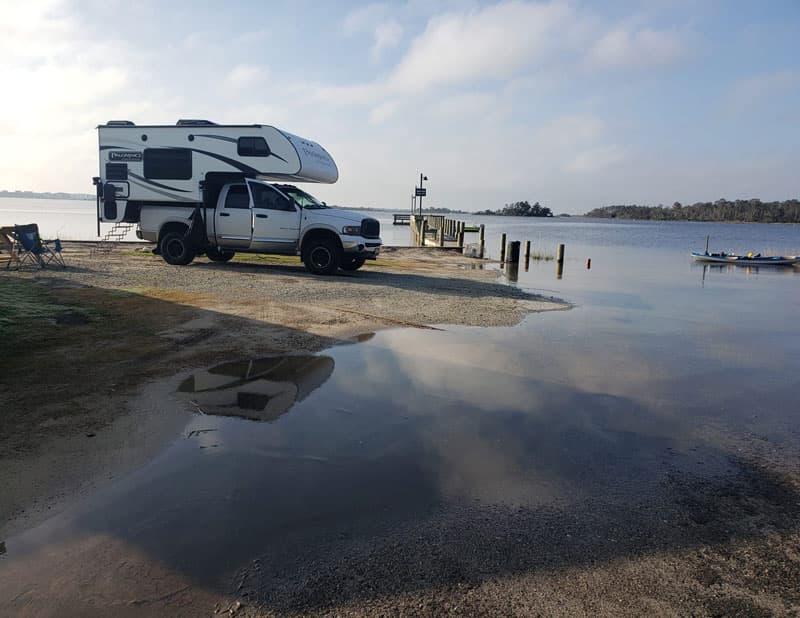 I found this site on the sound side of the island which was beautiful. The water was not this close when I went to bed the next morning at high tide. I got a little nervous, but everything turned out fine. I ended up staying for two weeks.
Steve Osburn
Pacific Beach State Park, Washington
2019 Ford F350
2020 Lance 1172
Camera Used – Phone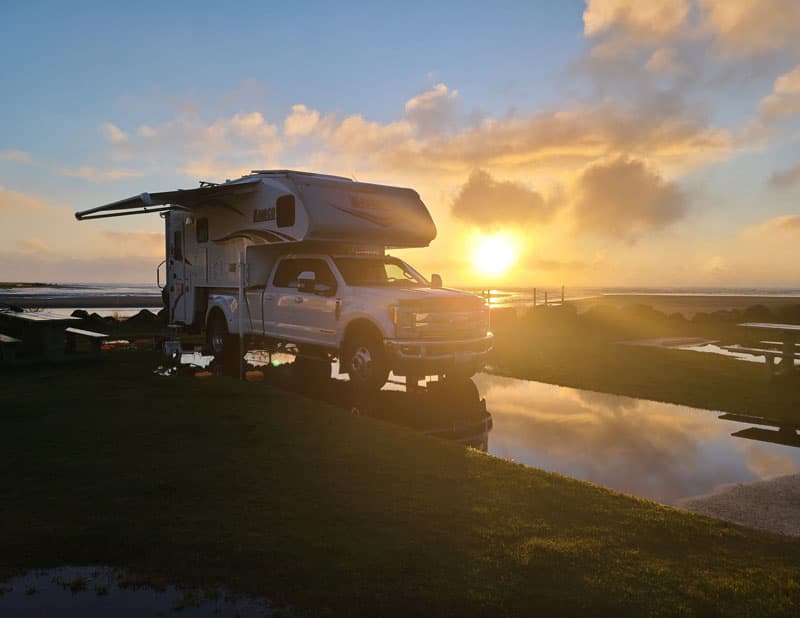 We had reservations at Pacific Beach State Park on the Washington coast, but as we cruised around the campground before parking, we noticed a waterfront site was available in a section that was first come, first serve, but it was filled with about an inch or two of water (which is why it was empty). We switched campsites and scored stunning views for the 3 nights we stayed here. The site was virtually level, so we used our leveling blocks as stepping stones to get to dry land a few feet away. The weather turned out fine, so the water drained, and we had an awesome site for watching people, waves, sunsets, and dogs running on the beach.
Bruce Miesse
Big Bend BLM campground along the Colorado River, Utah
2019 Ford F250
2020 Northstar 8.5 Adventurer
Camera Used – Samsung Galaxy S20+ FE
I had just bought my truck and camper in February 2021. Since I've always wanted to camp along this highway on the way to Moab from Colorado, I figured I'd make it my maiden voyage. This photo was taken on Highway 128, north of Moab. I spent a week in the area, getting used to full-time traveling in the camper.
David Holmes
Anza Borrego Desert State Park, California
2003 Ford F250
2018 Palomino SS-1200
Camera Used – Canon SX60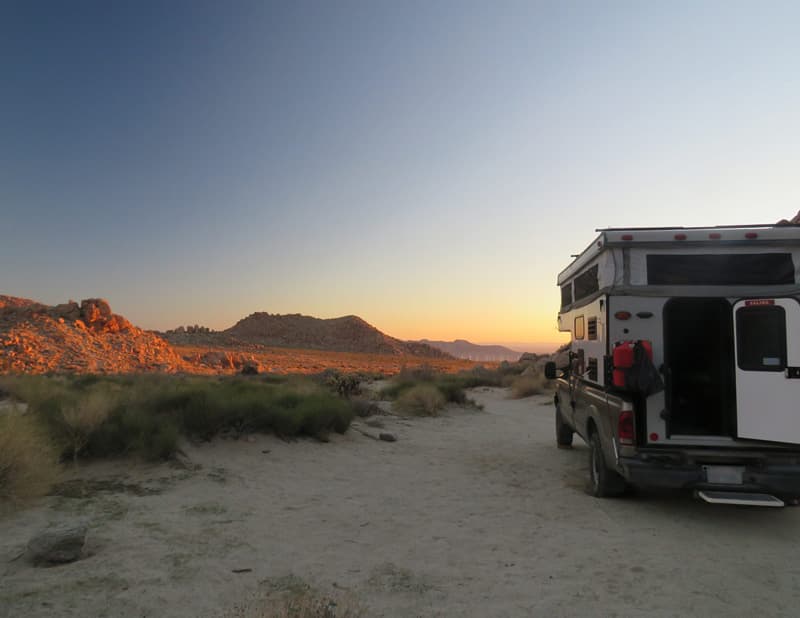 I was camping with three friends in their own campers at the trailhead for a rugged hike to a palm oasis. It was a 40-degree morning as we waited for the sun to clear the high hill behind camp; clear, crisp desert air is the best!
Rod Yoder
Great North Woods, Maine
1987 Ford F350
1967 Banner Camper
Camera Used – Canon Power Shot A720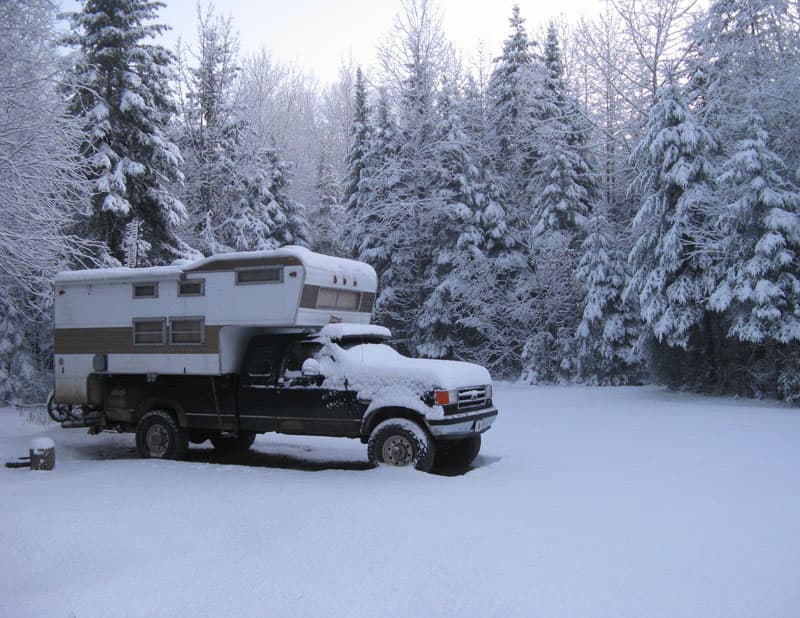 This was taken during hunting season in Maine North Woods near Allagash River on the Canadian Border. I spent a full week in the North Woods.
Roger Gedminas
Bodega Bay, California
2008 Toyota Tundra
2017 Four Wheel Camper Hawk
Camera Used – Nikon D70s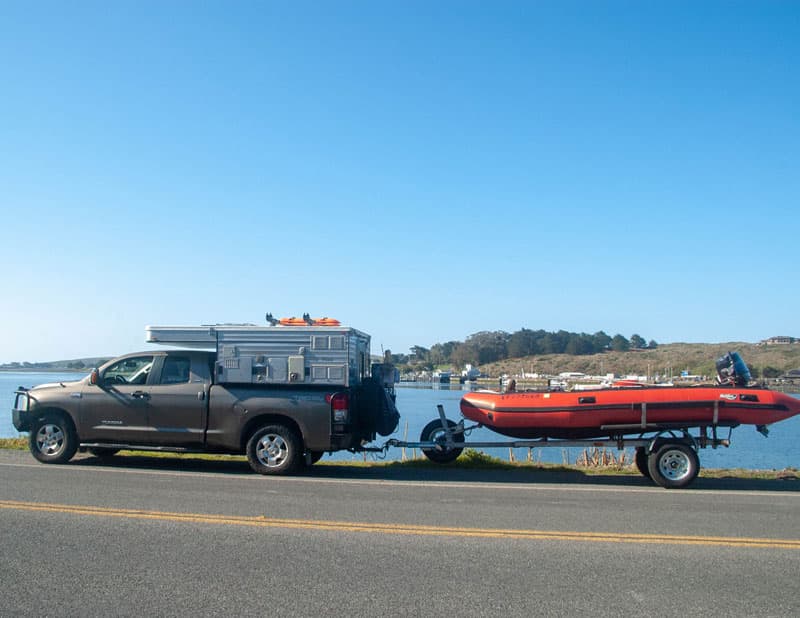 During the Covid-19 lockdown, my daughter, son, and their friend got SCUBA certified. As spring break 2021 neared and business was opening a bit, I put together a spearfishing tour of California: San Diego, Santa Barbara, Morro Bay, Monterey, Bodega Bay, and Ft. Bragg. The goal was Catch-N-Cook all of our dinners. We only made it four of the five nights but ended up batting 1,000 for fun and great memories.
Click here to see all of the photos entered so far in the 2022 TCM Calendar Contest.  Enter your truck camper photos today!