For her birthday this year, Angela got a Cuisinart Griddler from my mom.  The moment she pulled it out of the box, her eyes lit up and she smiled ear-to-ear with culinary excitement.  I had never seen anyone get so excited about a cooking device, at least not since I bought Angela a Weber grill for her birthday three years ago.  Clearly Angela likes her cooking gadgets!
Angela started using the Griddler to make hot pressed panini sandwiches.  Then she used it to cook ground beef for our contribution to the Lake George Rally potluck dinner.  About that time she also started using it to toast bagels in the morning.  Now we always toast our morning bagels if we have shore power.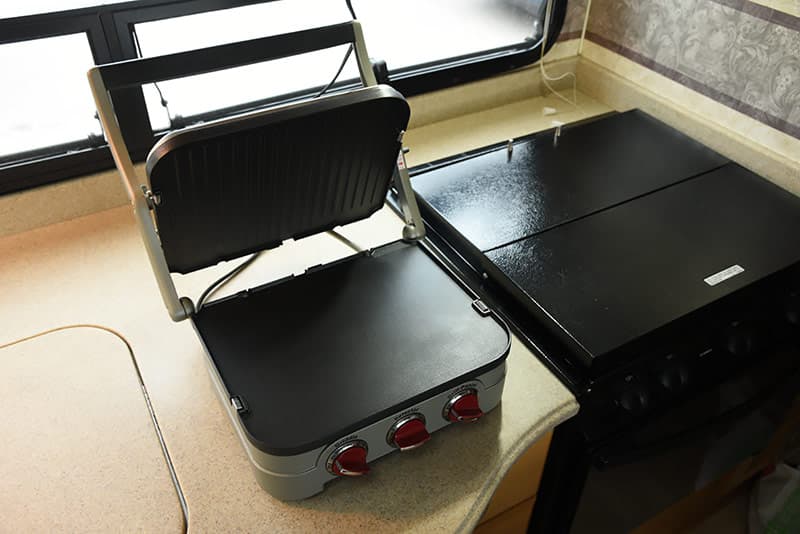 Above: The Griddler on our truck camper counter top.
When we toured the Cirrus production line in Ohio, Angela put her Griddler on our Torklift bumper, plugged it into power at the guest campsite, and grilled chicken.  After cutting the chicken into smaller pieces, that worked out well.
To make pancakes, bacon, and eggs, you simply open the top and bottom of the Girddler completely flat, use the included griddle inserts, and start flipping pancakes in not time.  You can even get waffle inserts and make waffles!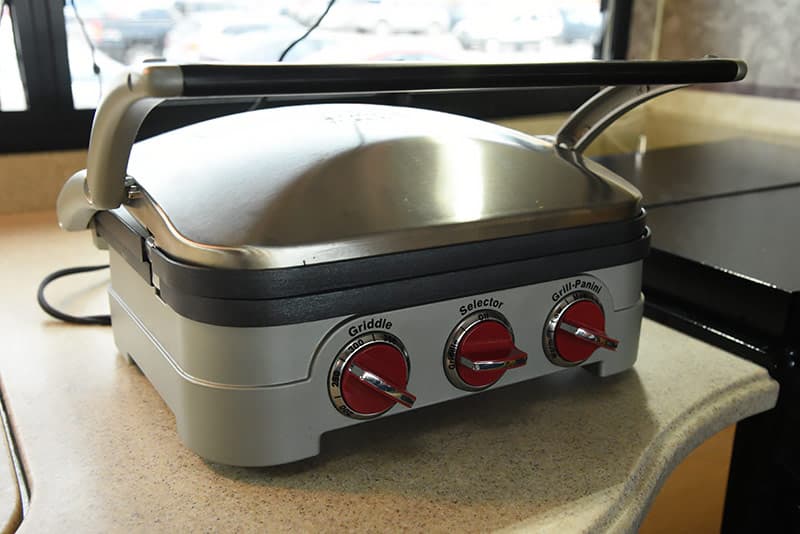 Now nothing is safe from Angela's Griddler.  When we go grocery shopping, I hear her saying, "Can that be Griddled?  Oh that could definitely be Griddled!"  Then I pull her away from the bananas.  It's getting out of hand.
The size and weight of the Griddler is quite reasonable for a truck camper.  We keep our Griddler in the kitchen compartment where a microwave would normally go.  It could just as easily fit in our rear exterior storage compartment, or in the truck, but we like to keep it handy.  Yes, it's 110-volts and only usable when we have shore power, but we love it.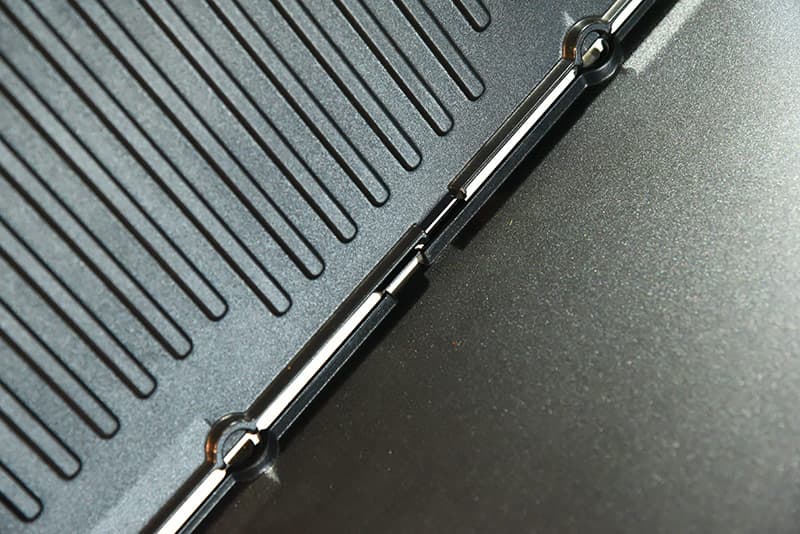 Above: The Griddler has removable and reversible non-stick cooking plates.  This photo shows the grill plate (left) and the griddle plate (right).
Angela started using the Griddler at home, but it's been a big hit on the road.  Our positive experience with the Griddler has us wondering about other household appliances that are designed to be used at home but are must-haves for the road?  Are there more 110-volt appliances out there that we haven't considered?
This week's Question of the Week is, "Do you use any domestic 110-volt appliances on the road?"
Maybe you travel with your 110-volt kitchen toaster.  Perhaps you boondock with your 110-volt bread machine.  Or could it be that you camp with your 110-volt counter top coffee maker?  If it's 110-volts and you take it truck camping, we want to know.
This QOTW is now closed.  Click here to read the 110-volt appliances readers have in their truck campers.