After revealing our truck camping experiences with a Cuisinart Griddler, we asked what 110-volt appliances our readers use while truck camping.  Over 80 readers responded with over 150 road ready 110-volt appliances.  Let's get cookin'.
This week's Question of the Week was, "Do you use any domestic 110-volt appliances on the road?"
"I never leave home without my 110-volt coffee grinder!  We very rarely have hookups, so I use the generator for a few minutes.  It's great to have freshly ground beans and my coffee press!  In the late fall, if we do camp with power, I will use my 110-volt crock pot to make some warm comfort food." – Kathy Brown, 2015 Ford F350, 2016 Arctic Fox 996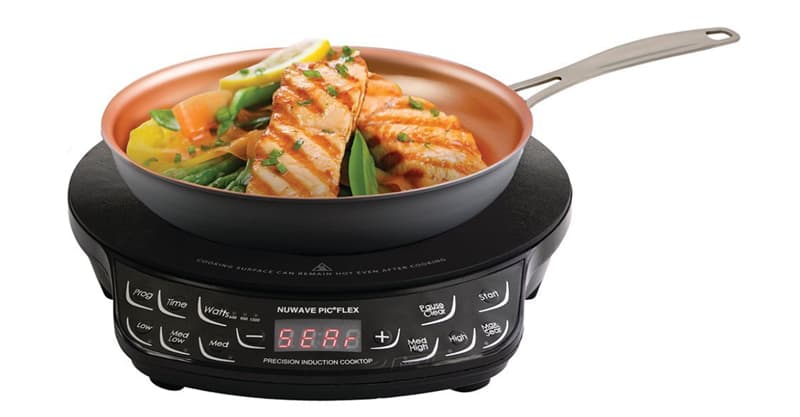 "I have a 110-volt Cuisinart Griddler, toaster, a coffee maker, and NuWave induction cooktop.  If I am plugged in, these 110-volt appliances are used just as they are at home.  If I'm not plugged in, they are not used.  If I'm using the Griddler for pancakes, it is used inside on the table.  If for meat products, I use it outside on the bumper." – James Burns, 2005 GMC 2500HD, 2008 Eagle Cap 850
"I bring along a 110-volt toaster, coffee maker with thermos carafe, and a small George Forman grill for paninis, burgers, and grilled cheese sandwiches.  I also have an electric frying pan for anything I make on the stove to save propane when we are on shore power." – Eileen McClelland, 2011 Ford F350, 1998 Lance Legend 945
"I use my 110-volt coffee maker, flat screen and laptop (external charging and power source), when shore power is available.  The laptop is used in conjunction with the television as a viewing source via saved files, external thumb drives, and internet (Slingbox and Xfinity to go) when WIFI is available.
I can also use the 110-volt power outlet in my 2016 F150 XLT.  It has a maximum output of 400-watts, which eliminates use for the coffee maker, but can easily handle the television and/or chargers.  I only use the truck inverter power as an emergency as the vehicle has to be running to be energized.  I will not use my portable power inverter as I won't risk battery drain." – Tony Polvino, 2016 Ford F150, Travel Lite 770RSL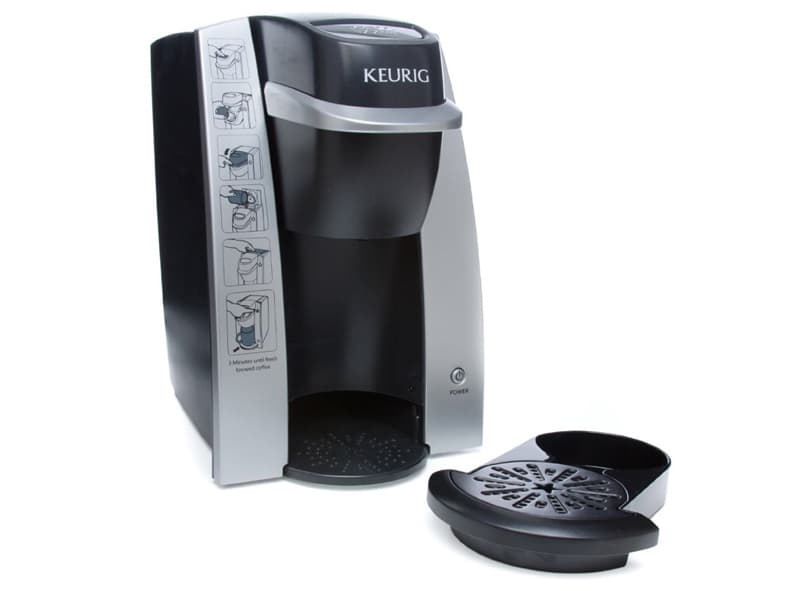 "The best thing I've bought recently is my hotel version of the Keurig coffee maker that brews one cup at a time and only draws 700-watts.  It's Keurig model K130.  It works great off a 1,000 watt inverter.
If you travel and need nice, pressed shirts, I bought a 110-volt Xsteam model T steam iron that draws 500-watts.  It works better than my heavy iron at home!" – Roy Bertalotto, 2006 Dodge 2500, 1998 Palomino Bronco 1200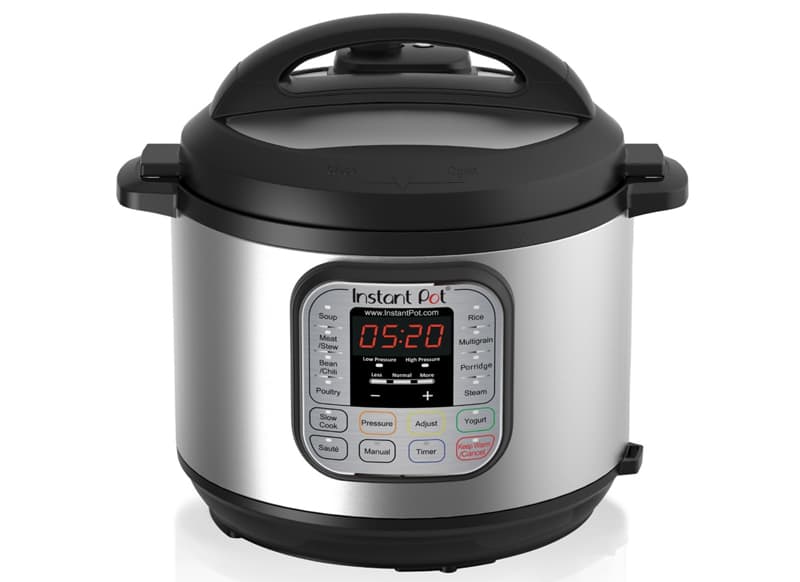 "It was a bit bulky, but we used our 110-volt Instant Pot pressure cooker for amazing ribs on-the-road.  We use the Griddler as well, since it's the most versatile ever!" – John Cook, 2006 F-250, 1994 Lance Squire
"I enjoy a good hot chocolate and single serving meals (the soup varieties are expanding) using my 110-volt Keurig.  As far as running the Keurig, I've got an inverter that can provide power while boondocking.  If parked away from prying eyes, I also use my 800-watt Harbor Freight generator to keep the batteries charged and everything powered up." – Joshua Quaintance, 1990 Dodge Ram, 1977 Western Wilderness 9.5-foot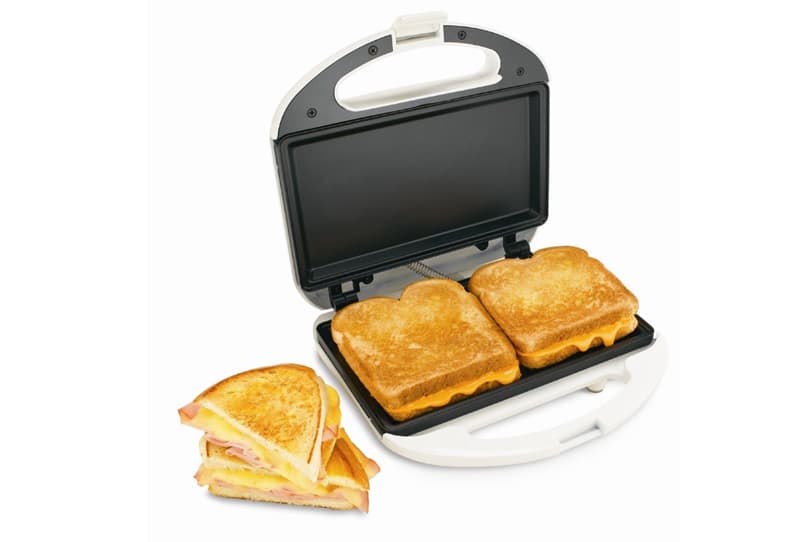 "If I have 110-volt, I love to take my little Proctor-Silex sandwich press.  It makes a great grilled peanut butter and dill pickle sandwich and there are no pans to wash." – Tom Fitch, 2002 Toyota Tacoma, 2016 Outfitter Caribou Lite 6.5
"A 110-volt coffee pot is a must, and I always have a 110-volt toaster and waffle iron.  I also take a 110-volt crockpot, especially when attending rallies.  When we converted our truck to a flatbed we gained storage in the outside boxes, so I could take any number of appliances as needed (blender, Keurig etc).  I also enjoy my 110-volt scented wax melter." – Peggy Sego, 2005 Dodge 3500, 2011 Lance 992
"We can bring all sorts of 110-volt appliances because we have a generator.  We do not rely on shore power." – Scott Parks, 2008 Custom 5500, 2014 Eagle Cap 1165
"My wife cannot live with out her small 110-volt coffee maker.  I like having a 110-volt toaster.  We will make pancakes and waffles, freeze them, and then reheat them in the toaster.  The funny thing is on the last trip we only had shore power five of the twelve nights we were out." – Matt Wiegand, 2014 Ford F150, 2015 Palomino SS-1251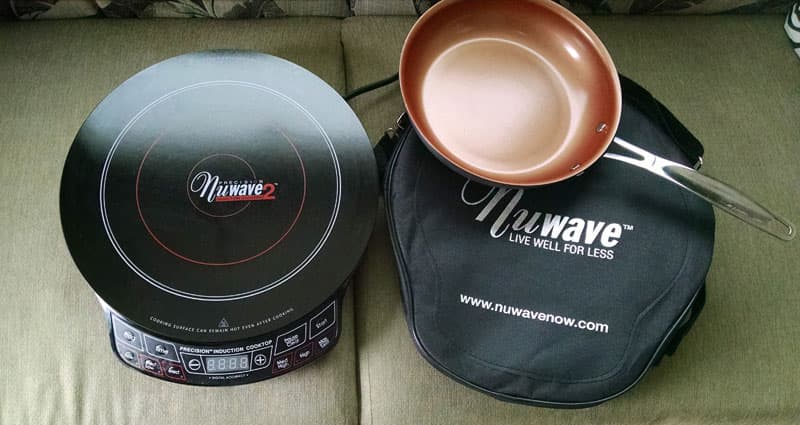 "We carry a NuWave cooktop that plugs into 110-volt.  We have used it at home, but not on the road yet.  We only have one pan that works with it but, in 2017 we will travel for three months and will get a chance to test it out on the road.  If we like it we can purchase additional cookware for it.
The NuWave pans and pots work on gas as well so that would not be a problem.  You can purchase a NuWave cooker that will cook a whole turkey in two and a half hours.  We have used it at home and works really well." – Donald Fox, 2015 Ford F-450, 2016 Lance 1172
"I bring a 110-volt toaster, electric skillet, and electric kettle." – Jim Wood, 2014 Chevy 3500, 2008 Arrow 8.5 Northstar
"Well, I don't have a shore power cord or my Honda 2000 anymore, but I do have dual AGM batteries, a Zamp pure sine inverter, and a portable solar panel.  For 110-volt  AC power, I have a Keurig single cup coffee maker, a Dewalt portable radio, and a 12-volt fan (110 as a backup).  The only thing I really toss on the inverter is the coffee pot.  I've gotta have my coffee in the morning before a ride in the UTV." – Winston Gotte, 2003 GMC Sierra 1500 HD, 2016 Four Wheel Camper Hawk shell
"For 110-volt, I only have a Mr. Coffee.  We don't even have a microwave (they make reheated food taste funny).  We have a number of electronic device chargers." – Philip Tron, 2009 Chevy 3500, 2012 Lance 1050
"We do not take any 110-volt appliances along.  We do a lot of boondocking and have a small camper, so space is at a premium.  When we stayed for a few weeks at a campground down south last winter, we realized we should have had a small 110-volt electric heater along because we went through a bit of propane.  This winter we will probably find room for that, but I think that will be the only thing that we'll need 110." – Allen Brummel, 2008 Dodge Ram 1500, 2016 Northstar 650SC
"I have a 110-volt Melitta coffee maker and Bosch bread maker.  Fresh bread and fresh brewed coffee is a amazing way to start the fishing day right.  We use a generator to power the appliances." – Tim Ubels, 2004 Dodge Ram 3500, 1982 Okanagan
"We spend our winters in Florida fishing.  Our screen porch is our kitchen, so we have a 110-volt coffee pot that serves for hot water for washing dishes.  We also have a 110-volt toaster oven for toast and our 110-volt oven for baking cakes, pizza, etc.
We have a 110-volt rice cooker because my wife is from the Philippines and she gets grumpy if there's no rice.  You can steam veggies and cook many foods in it.  We also bring along a 110-volt electric frying pan." – Ronald Karczewski, 2002 Ford F150, 2002 Jayco pop-up

"We have a 110-volt NuWave induction cook top, Hamilton Beach induction cook top, Pelonis 1500-watt fan/heater, and Kitchen Living 8C water heater.  I also brought our 110-volt Tespo vitamin/mineral supplement machine, but that's only for extended stays.
We use shore power frequently, but the Honda 2000 does just fine if we really, really want or need 110.  Everything we use 110 for can also be done with propane or the generator in a pinch." – Cheryl Nelson, 2004 Chevy 3500, 1989 Shadow Cruiser 9.5 hard side
"I use a 110-volt two-quart slow cooker.  It's nice to have a meal waiting when you come home dirty and tired after a day of canoeing or fishing." – Nancy Meiners, 1996 Ford F350, 2014 Lance 1050S
"None.  Everything is being powered by 12-volts and solar; two computers, cell phones, and the television.  There is no need to drag along 110-volt items.
I mostly boondock for the three winter months I spend in Arizona, or I'm parked at the homes of friends or relatives.  We have a generator, but use it only to nuke a potato or thaw out something frozen.
Two years ago we were out 80 nights and paid a total of $62 to dump, or park and dump, and put 3.6 hours on the generator.  We did use a whole lot of gas in the ATVs running all over the desert." – Frank Niehus, 2007 Ford F-350, 2007 Arctic Fox 1150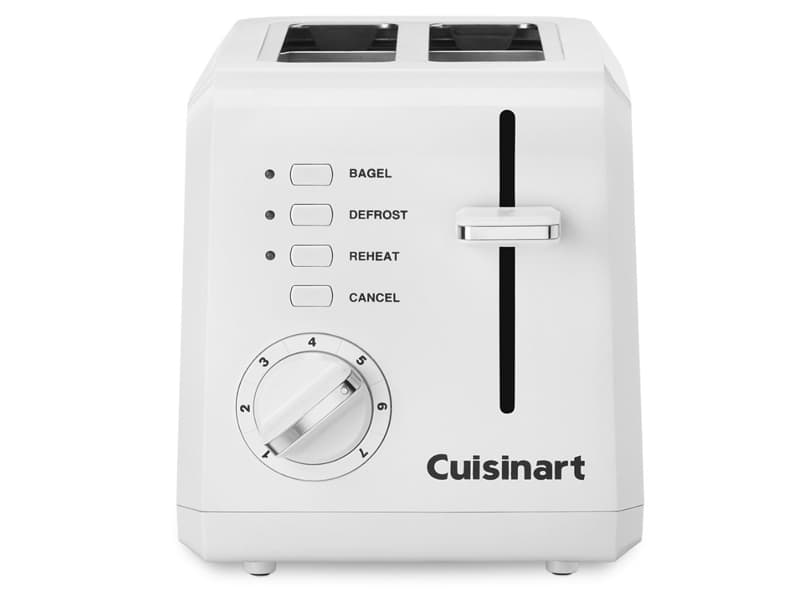 "Marylou uses a 110-volt compact hair dryer and a hair flat iron to stay beautiful.  We also use a very lightweight Cuisinart Compact Toaster for quick breakfasts.
For floor and upholstery cleanup in the camper, we use a 110-volt Eureka Easy Clean Hand-held vacuum that is very compact and powerful!
We use the 110-volt Dometic Microwave that came installed in the camper for warming left-overs and quick cooking simple meals.  When we're plugged in, we use shore power.  When boondocking, we just power-up the on-board propane generator briefly, use the required device, and shut it back down.  The generator rarely runs for more than a few minutes at a time.
I do like the idea of multi-purposing with that Griddler, though.  Maybe our toaster will get traded in on one of those puppies in the future!" – John and Marylou Wells, 2011 Chevy 3500, 2012 Chalet Ascent S100F
"A 110-volt toaster!  We have a large inverter so we can make toast and toasty things on the road while on battery power." – Mike Johnson, 2008 Chevrolet 3500, 2008 Eagle Cap 1160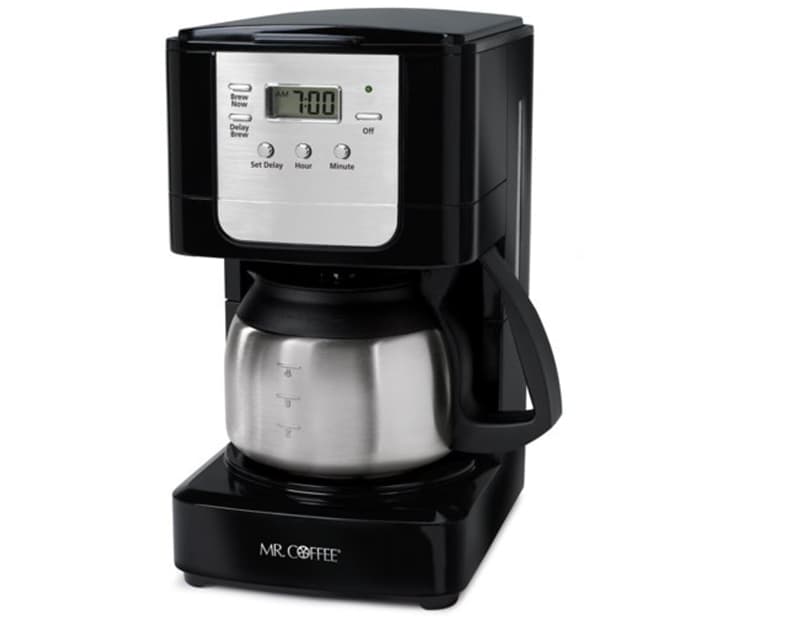 "First of all, I have to have my coffee in the morning and, even though I have tried non 110-volt coffee makers, I have not found one that I find as convenient as my Mr. Coffee JWX9 5 cup coffee maker.  It has a stainless steal pot so breakage is not a concern. I usually have shore power.  When I don't, I will fire up the generator for the short time it takes to brew a pot.
I also take a 110-volt Cuisinart TOB-165 Convection Toaster Broiler and Oven that I use for everything from making toast to brownies.  It is great for most everything that can be done in a conventional oven, but heats the camper less than the built-in oven, is faster, and uses no propane." – Eldon Rhodes, 2008 Chevy 3500HD, 2011 Lance 1050
"In the kitchen, I have a 110-volt versatile crockpot (which is a pan and heating unit).  The pan is 4-quarts and can be used as such.  When you put on the electric base, it becomes a crockpot.
I also have a 110-volt hand mixer, an immersion blender, a heavy duty Ninja blender (makes great margaritas), Ninja food processor, and (of course) my blow dryer, curling iron, and hot curlers.  All of these items can be used on shore power, but I have absolutely no problem using them while we are dry camping since we have a 1,000-watt inverter.
We also have all our computers, camera equipment, and printer.  And my honey's drills and tools are battery operated and need to be charged up." – Gretchen Berquam, 2014 Ford F-350, 2015 Arctic Fox 1140
"I boondock with a 110-volt television, coffee pot, and microwave oven.  I use a 3,000-watt inverter with two 6-volt golf cart batteries.  I also have 400 watts of solar power so long stays off the grid are easy.  I have a nice generator that I don't even take with me anymore." – Richard Sullivan, 2010 Chevrolet 1500, 2009 Lance 845
"We use a 110-volt toaster, computer, hair dryer (wifey), smart phone chargers, and microwave (sometimes).  We use our camper year round but, when the temperature drops to freezing and we aren't on the road, I often run a 110-volt oscillating heater fan to make sure things don't freeze up." – Kevin Eliseo, 2006 Ford F-350, 2006 Lance 1055
"We absolutely love our 110-volt NuWave oven.  Admittedly, it is bulky to find space for, but it is very light and well worth it.  We use it in camp and at home all the time!  It has been our favorite mini kitchen appliance for over 20 years.  We wouldn't leave home without it!" – Ken Southworth, 2015 GMC Sierra Denali 3500HD, No camper right now, we're still shopping for the right one!
"Instant coffee has gone out the window since I purchased a 110-volt Keurig.  I can't leave my Keurig behind.  I have to have Keurig coffee first thing in the morning." – Kathy Jo Zigrang, 2003 Chevy Silverado, 2001 Alpenlite 1150
"I have a 110-volt electric pressure cooker.  I stumbled across one at Goodwill, and glory be it was a 4-quarts.  I have a 6-quart version at home and love it, but it's big and there is no place to easily fit it, so it stays home.  Enter the 4-quart, and it's just big enough.  I throw something frozen in it when we have shore power and, in less than 45 minutes, we have a hot meal.  It doubles as a slow cooker and rice cooker.
Our other vise is our 110-volt Bunn Coffee maker.  Don't get me wrong, I love percolated coffee, but I want instant gratification when I roll out of bed.  In three minutes and I have a steaming cup of nectar of the gods.  Aahhhh!  We also have a toaster (sorry that doesn't inspire me)." – Cindi Delo, 2002 Chevy K2500, 2004 Adventurer 90 RDS
"Our 110-volt Cuisinart compact two-slice toaster ($25 white plastic body) has elements on both sides of each slot and does a better job than our big name/big buck home toaster.  We also enjoy the speed, convenience, and variety of coffees available from our 110-volt Nespresso.  Their compact $100 model does the same job as the larger home model (pods are recycled).  Both fit perfectly in a small overhead cabinet.  They were bought on sale at a Target somewhere in Arizona.  We never leave home without them." – Joe Sesto, 2015 Silverado 3500, 2015 Bigfoot 10.6E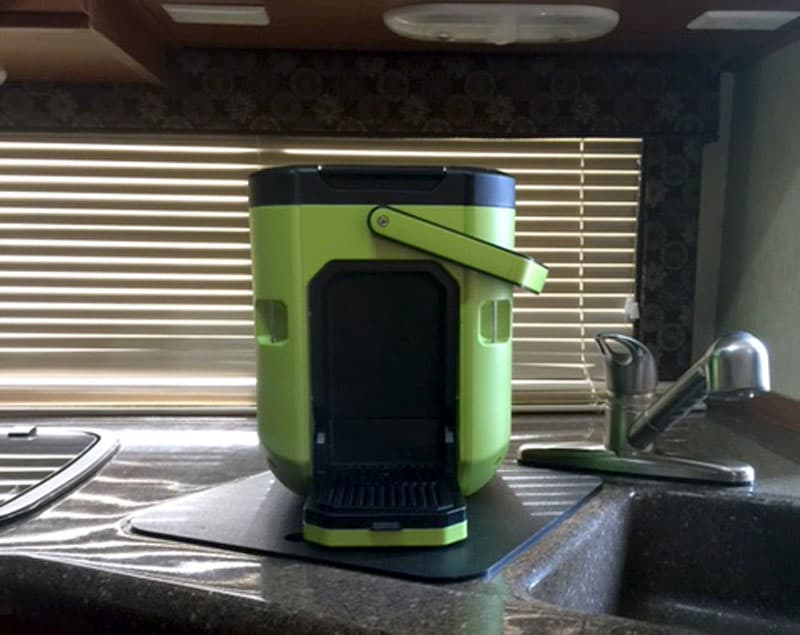 "We have a 110-volt Oxx CoffeeBoxx, the Godzilla of K-Cup coffeemakers.  It was designed primarily for construction workers, but works great in the boondocks.
Oxx CoffeeBoxx coffee makers are built strong enough to support the weight of a Jeep Wrangler by placing one coffee box under each wheel.  It has a retractable cord, tie down brackets (for serious off-roaders with a generator), and can be easily stored in the truck or an outside compartment.  We use it both inside the camper and outside as well." – Gene and Linda Yale, 2016 Dodge Ram 5500, 2015 Host Mammoth
"I have a 110-volt coffee maker with a stainless steel insulated pot, and a regular two-slice toaster.  I installed a 2,000 watt inverter and a selector switch so, when we are plugged in, everything runs on shore power.
Off grid, I turn on the inverter, switch the selector switch off of shore and onto inverter, and we have our regular toast and coffee in the morning.  We run the coffee first and turn it off when it's done before pushing down the toast.  The insulated pot keeps the coffee warm as long as it needs to be." – Michael Dvorak, 2003 Ram 3500, 2007 Okanagan 90W
"We use our 110-volt coffee maker and, when we're fishing, we bring the vacuum seal machine to pack the fish before freezing." – Jeff Hauser, 1996 Dodge 2500, 2006 Arctic Fox 860
"Other than an electric heater in winter, I don't take any 110-volt devices on the road, and I really don't want to.  I like to get away from all of that and follow Thoreau's advice, "Our life is frittered away by detail… simplify, simplify." – Al Stebbins, 2016 GMC 2500 HD, Northern Lite 2005 8-11 Queen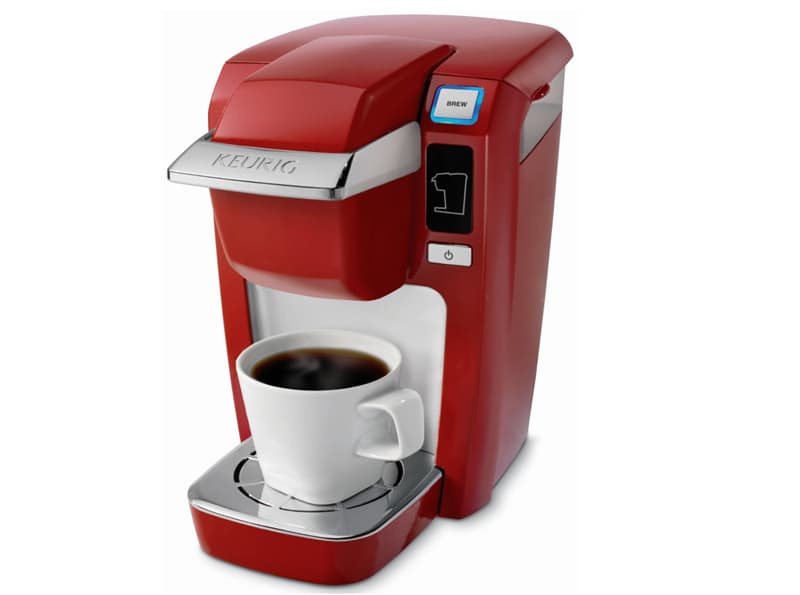 "When ever I'm connected, I use a 110-volt Keurig K10 Mini Plus Brewing System.  When I'm not connected, I cut the top off the K-cup and pour the contents into a drip coffee cone with a #2 filter and drip a perfect cup.  Gotta have my coffee!" – Larry Howard, 2008 Ford F250, 2015 Hallmark Everest
"In addition to a 110-volt Mr. Coffee electric coffee pot which is a top priority, we also have the following two 110-volt items.
We purchase many types of gourmet coffee in the whole bean form.  We have a 110-volt KRUPS coffee mill/grinder to grind our coffee for freshness and flavor.  It tastes so much better.
During extended stays, and we are out most of the day, we prepare a meal with a 110-volt crock pot.  It is a great convenience to return with a hot meal ready for dinner after a long day on the trails.  These 110-volt appliances are a must and add convenience and enjoyment to our trips." – Warne Todd, 2000 Ford F250, 1995 Lance 981
"First is a small 110-volt Electric B&D three-cup coffee maker.  Second, my wife cannot be without a small 110-volt Pelonis Heater.  We use it with the shore power or generator.  Sometimes we use a 110-volt hair dryer, 110-volt toaster, and a 110-volt Stanley blower-type electric fans.  We take the fan only when the weather is hot.
I have a 110-volt California two-cylinder air compressor that is always in the camper because I need it to refill my tires at the beach.  We run the awning lights when the mood is right.
All of the 110-volt appliances will operate with my Honda EU2000, or my 2,000-watt pure sine wave inverter when I don't want to go outside and start the generator.  They also run off shore power when it's available." – Frank Paglianite, 2013 Ford F350 Super Duty, 2012 Lance 992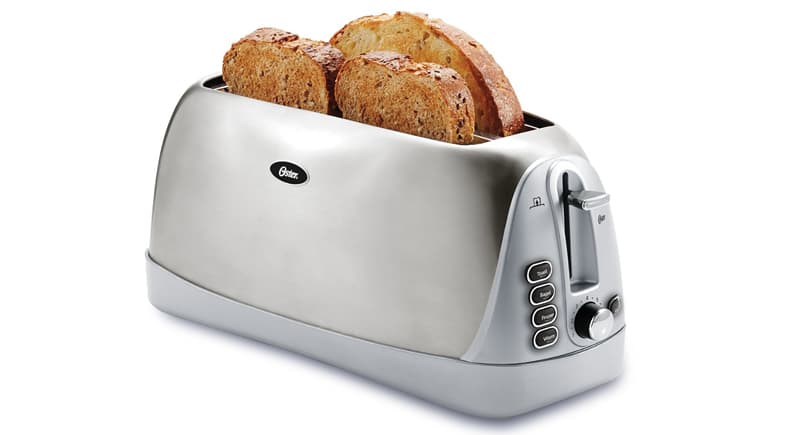 "We love to bring our 110-volt toaster truck camping.  It's an Oster four-slice long slot toaster.  It's great for cooking a couple of bagels or those long slices of artisan bread in the morning with coffee.  It's also nice having a toaster when we're not feeling like putting too much effort into making lunch or supper." – Rob Nelson, 2015 Ford F350, 2015 Adventurer 80RB
"We have a 110-volt electric tea kettle.  We use it to heat water for coffee in the morning.  We put a filter holder, filter, and coffee on top of our cups.  Then we pour the water on the coffee and let it drip into the cup.  It's a great cup of coffee!" – Patrick Brolley, 2015 Ram 3500, 2016 Cirrus 800
"It's not really applicable, but I have a 110-volt television, DVD player, and lap top.  I shy away from other appliances due to storage and power.  I make coffee in a French Press, which is quick and easy.
While I have 480-watts of solar and six 6-volt batteries, it's still iffy; especially in the shade and tree areas.  I have the Onan generator (loud) and a little Honda 2000 (stored on the truck), but I don't like to use them unless I'm staying for a while.  I am interested in what 110-volt appliances others have." – Frank Poole, 2016 Ram 5500 HD, 2016 Arctic Fox 990
"In South Africa, we have 220-volt, but the principal is still the same.  Loving the solitude of the African bush, we do not have a television and "get lost" for about a week at a time.
Off main current, we use a mixer (for mixing pancakes, and then make on a gas grill), a toaster, and lights.  Also we have a battery charger for when we have been in the bush for long enough to let our lead-crystal battery bank run down." – Mike and Helena Eaton, 2009 Isuzu KB p190 truck, Bakkie mate (Heavily modified)
"We have a 110-volt Mr. Coffee 4-cup drip.  Four scoops of dark roast and filling water to the 3.5 cup mark on the pot makes exactly enough to fill my 16-ounce travel mug.  We just spent two months covering just over 10,000 miles and only stopped at a Starbucks a couple of times.  I won't leave home without it!" – Ed LaRoe, 2016 Chevy Silverado 3500, 2006 Northstar TC800
"I have something like the Griddler you have.  It was bought off the internet a few years ago.  I'm not sure of the brand.  I have a 110-volt Sunbeam toaster oven and a GE microwave.  I also have 4-cup and 1-cup Black and Decker coffee makers." – Jeff Hagberg, 2002 Ford F250, 2006 Travel Lite 800SBX
"I have a 110-volt Dometic ice maker, model HZB12SA.  Sometimes it's nice to have ice.  My wife loves it." – Ray Stallings, 2010 GMC 2500HD, 2007 Travel Lite 890SBRX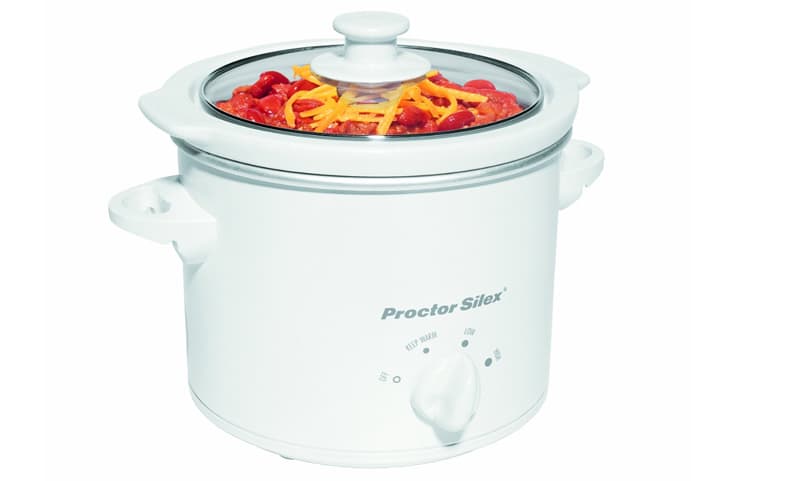 "On our four month Prince Edward Island to Alaska camping trip this summer, we took along our 110-volt Procter-Silex Hamilton Beach slow cooker.  We used it for roast beef, vegetables and more while we were out hiking.  Over my wife's objections, I also took our 110-volt toaster along.  I had to have my toast for breakfast if at all possible." – Jamie Rea, 2012 Ford F 350, 2012 Lance 855s

"Since Lynne's been convection microwave cooking for 46 years, we moved her twin 110-volt Sharp Carousel Commercial Convection Microwave into our truck camper.  She doesn't use the Dometic's propane stove top.  The Sharp sits perfectly on top of it.
She also brings along her induction hot plate to do any water boiling or any skillet dishes like eggs, bacon, steaks, etc.  The Dometic's oven has now become a pots, pans, pizza stone, and cookie sheet storage area.
If we are boondocking, our Honda EU3000iS generator is fired up for any 110-volt appliances we may need.  Lynne loves her Sharp convection microwave!" – Jack and Lynne Sheesley, 2008 Ram 3500, 1993 Lance LC980
"I can not go anywhere without my 110-volt Salton ice maker.  I need ice for my drinks and also for my cooler.  My refrigerator is way too small." – George Reid, 2010 Chevy Silverado 1500, 1989 Sun Lite
"We use a 110-volt slow cooker, a 110-volt George Foreman with interchangeable plates and our favorite, a 110-volt electric pressure cooker.  It is so nice to spend the day at the beach, fishing, or whatever and then come back and prepare a pork roast tender as can be in 70 minutes.  It also makes great mac and cheese in ten minutes, something the grandchildren love me to make when we are home." – Connie Wolff, 2012 Ford F150, 2010 Northstar Freedom
"We take our 110-volt Cuisinart coffee maker and our ice maker with us!" – Audra Abbott, 2008 Ford F350, 2006 1181 Lance Max
"I take a 110-volt Keurig coffee maker to avoid the mess.  It works well for our staggered waking hours.  A 110-volt Lasko tower fan keeps us from over-using the air conditioning in the hot Florida afternoons and warm evenings." – Mike Burbank, 1999 Chevy K3500, 2014 Wolf Creek 840
"I take a 110-volt toaster and an electric frying pan." – Mike Chesnutt, 2010 Toyota Tundra, 1995 Hide Away 855
"We spent two months in Florida last winter and did lots of 110-volt crock potting!  It is so easy to make stews, soups, or barbecue meals in the slow cooker.  We also have a 110-volt dust buster for periodic cleanups." – Mike Ricci, 2006 Chevy 2500HD, 2008 Bigfoot 1500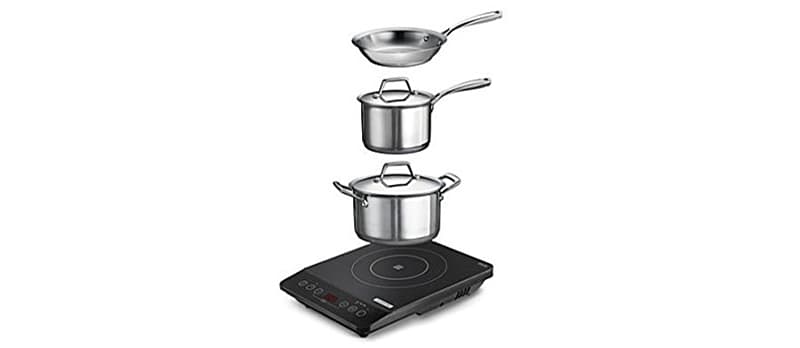 "I have a 110-volt induction cooktop by Tramontina.  We stir fry in a wok, and grill in a frying pan with ridges.
I have an old 110-volt Vitamix 3600 blender for making breakfast fruit smoothies using whatever fruit is on hand.  Freezing some of the fruit beforehand makes it almost dessert-like.
I also have a 110-volt Aroma brand 4-quart slow cooker that I've used so far to make chili for truck camper rallies.  I like this one because the cooking insert is metal, so it's not breakable.
I have a 110-volt Presto electric grill, but don't need it anymore since we got the induction cooktop and a grilling fry pan." – Bob Branson, 2008 Ford F350, 2014 Lance 1172
"In the past, my wife and I have used a 110-volt crockpot on a 300-watt inverter with a four battery setup.  It cooked awesome." – Randy Winslow, 2016 Toyota Tacoma, thinking about a Four Wheel Camper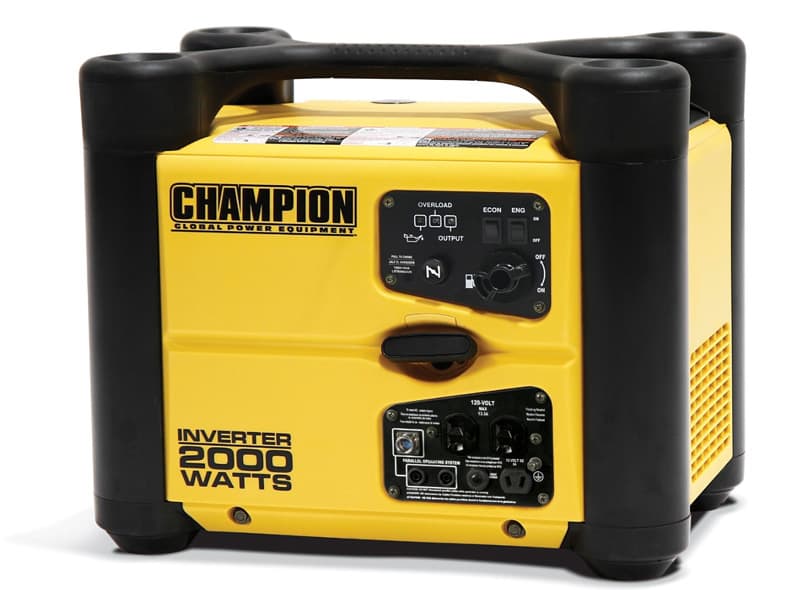 "I have a 110-volt Samsung Compact microwave.  My 2,000-watt Champion inverter runs it just fine.  The microwave fits nicely on top of the refrigerator with the top closed.  Did I say it's hard mounted?
I also keep a spare 110-volt DeWalt Cordless drill battery charger in the camper, just in case my cordless drill gets weak when cranking the Rieco-Titan jacks legs down." – Daryl Davis, 1997 Ford F350, 2014 Palomino SS1500
"We carry a 110-volt toaster and have a 1,200 watt generator for areas which have no power.  It works great." – Michael Zemenchik, 2016 Ford F450, 2000 Northern Lite 10-foot
"We bring a 110-volt coffee maker, toaster, fan, crock pot, electric blanket, and big ceramic heater.  We use shore power or our built-in house generator.  We do carry a stove top coffee maker when off-grid or when we don't want to fire the generator." – Bill and Shellia Sargent, 2012 Ram 3500, 2009 Lance 971
"We use a 110-volt toaster oven (toast, muffins, cookies, etc) and electric griddle (pancakes) all the time.  We just fire up the generator if we're not on shore power.  Both are 1500-watts." – Kevin Presson, 1997 Dodge Ram 2500, 2011 Outfitter Apex 9.5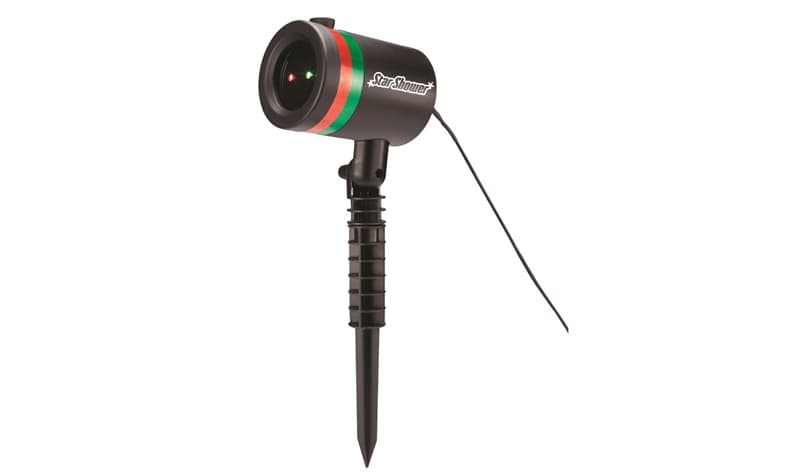 "I use a 110-volt coffee pot which was donated to me by a camper guest.  I girl camp monthly or more with the Florida Floozies.  We gather from all over the area at state parks.  Most state parks in Florida have shore power.
I also use my 110-volt microwave, a Walmart toaster and, the best item ever… a large box fan to set outside.  The fan keeps away skeeters and is a welcome illusion of cooling.  I have used my 110-volt Star Shower light show as a a campsite decoration, too." – Candy Krewer, Dodge 3500diesel 1995, 2005 Lance 1181
"My 110-volt rice cooker which also slow cooks is always with us.  I love it for rice, soups, chili, roasts, etc.  I don't have to worry about propane use and it's a set-it-and-forget-it item.  Mix up the meal and go back to enjoying the outdoors.  Later foods are hot and ready!" – Lindy McCarthy, 2011 Dodge 3500, 2012 Arctic Fox 992
"I have a 110-volt 12-cup coffee maker and a microwave oven." – Tim Chapell, Ford F150, 2013 Palomino SS-1251
"I have a 110-volt Keurig coffee maker.  When I get my Eagle Cap 1165 I plan to install an inverter and wire an outlet on the counter just so I can have coffee in the morning." – Pete Haidinyak, 2016 Ram 5500
"I use a 110-volt Mr. Coffee 12-cup coffee maker with a timer when shore power is available.  Otherwise, I use an old style coffee percolator on the cook top.  I don't like to operate the generator to make coffee." – Bob Walsh, 2013 GMC Sierra 3500, 2003 Bigfoot C2510.6
"I have a 110-volt Keurig Mini Plus coffee maker and a Walmart toaster.  I brew two mugs of Dark Magic coffee and pour them into a Yeti tumbler.  Then I can take my time drinking it (the coffee stays hot for a while.)   The inexpensive toaster is lightweight and makes better toast than any toaster oven I've used." – Stephen Smith, 2015 Chevy 3500, 2017 Cirrus 820
"We use the 110-volt NuWave oven and cook top all the time, and a crock pot.  I'm definitely going to try out the griddles." – Wendy Madison, 2016 Ford F350, Arctic Fox 811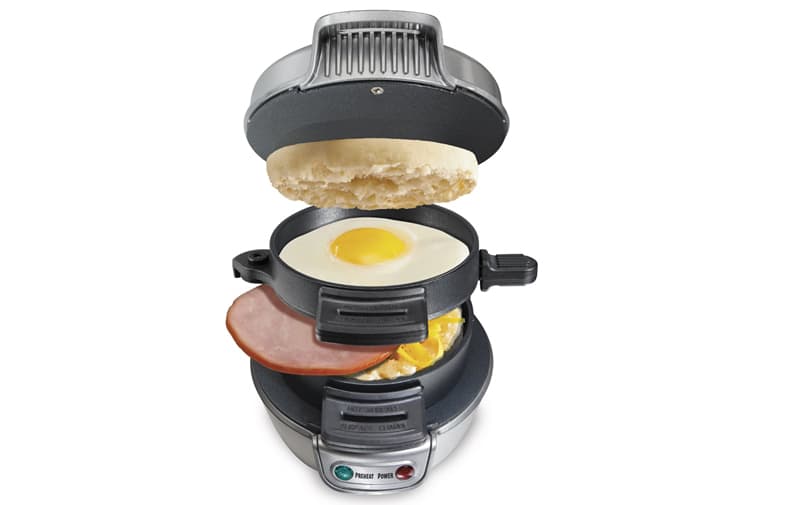 "We put a 2500-watt inverter in our truck camper's basement two seasons ago.  It was kind of a pain to get everything figured out, but now very worth it!  We have an onboard generator.
We love our 110-volt appliances!  First, we have a 110-volt Keurig K-cup maker.  We actually put in the inverter so we could make stealthy early morning cups of coffee when other campers are around.  Second, we have a 110-volt Hamilton Beach breakfast sandwich maker.  Both are used daily.  We also have a 110-volt George Foreman grill that is awesome for chicken and burgers.  Add in our 110-volt toaster (for bagels) and you've got it.
We also have a 6 USB high-speed charging hub that we use when on shore power.  If the other power sources are running, we use that instead of our many dual 12-volt high speed chargers." – Tracy Schuster, 2015 GMC 3500, 2012 Lance 992
"We use several 110-volt appliances in our camper.  We crank up the onboard generator to power the big devices.  Or, we just plug into a 400-watt inverter to power our 22-inch Insignia television and Toshiba Blu-Ray player.
Also, we have an old 110-volt two slice GE toaster, an old Mr. Coffee, a small built in microwave, a little table fan, and my wife's various hair appliances.  The Lance 1130 is clearly designed to take full advantage of shore power or the generator as there are 110 outlets everywhere, even on the outside, not to mention a pretty nice roof top air conditioner unit." – Wade and Becky Johnson, 2004 Ford F350, 2003 Lance 1130
"I never leave home without my 110-volt Mr. Coffee coffee maker." – Michael Davis, 2016 Ram 3500, 2016 CampLite 8.6
"I have a small 110-volt, 5-cup electric coffee maker with a timer so that the coffee is ready before I wake up in the morning.  I don't like to wait for my coffee in the morning.
I also carry a small 110-volt fry daddy to fry up fish while I'm fishing.  I like using a small crock pot while I'm camping due to the fact I can set it and forget it.  By the time I get back to my camp site, I'll have a delicious meal ready.  It's easy clean up, too." – Mark White, 2011 Ford F250, 2005 Lance 845
"I have a double 6-volt golf cart battery set in my pickup box with a 2,000-watt pure sine inverter.  I have a 110-volt, 4-cup coffee maker, a coffee grinder, and a two-slice toaster.  They're cheapies from Walmart.  I also have a small 110-volt clamp-on fan, and an electric heater that I use for a quick warm up.  I've gotten by for two days with no problems so far." – Phil Hunter, 1999 Ford 250, 1994 Sky View pop-up
"We travel with a 110-volt mini Keurig coffee maker.  It stores in cabinet over the cooking area making it easy to access.
We use shore power when we have it.  Last Christmas Jim gave me an inverter that he installed; a great gift!  I can now use my Keurig every morning anywhere, anytime, anyplace for a great cup of coffee.  Since we have a 110-volt outlet, I'm thinking there are many other options available.  I'm looking forward to responses to this question." – Janet and Jim Manis, 2014 Dodge 2500 HD, 2016 TravelLite 960RX
"I have a 110-volt Mr. Coffee 12-cup coffee maker from Walmart that was $9, a two-slice toaster, and a tea kettle, but I don't know the brands.  They stay in the camper permanently." – Erwin Greven, 2002 Chevy 2500HD, 2002 Lance 921
"None.  We're only set up for off-grid camping using propane, 12-volt, or fire." – Steven Gasser, Ram 3500, Adventurer 90FWS
"I have a 110-volt Salton Portable induction cooktop, Advent microwave oven, and single serve Keurig coffee maker (to make hot water, coffee or hot chocolate).   All are used with shore power or dry camping with a 1,500-watt GoPower Inverter I installed.  A propane oven and a three-burner cooktop were included in the 89RB, but have never been used." – Vic Smith, 2015 Ford F350, 2013 Adventurer 89RB
"We use a 110-volt under-the-counter coffee maker (it takes up no counter space, and we can use it to also heat water – my favorite), an electric skillet (for skillet dinners, and baking – and I use it outside to keep the heat out of the camper), toaster oven (again, outside), a Bullet for making smoothies and slushie drinks, and a small George Forman grill (for when it's raining outside, and sandwiches).
We also have a 110-volt two-slice toaster for toast and bagels.  And they all fit in one drawer under the dinette seat.  It's nothing fancy, but it works for us!" – Jody Smith, 2013 Chevy 3500, 2013 Lance 1172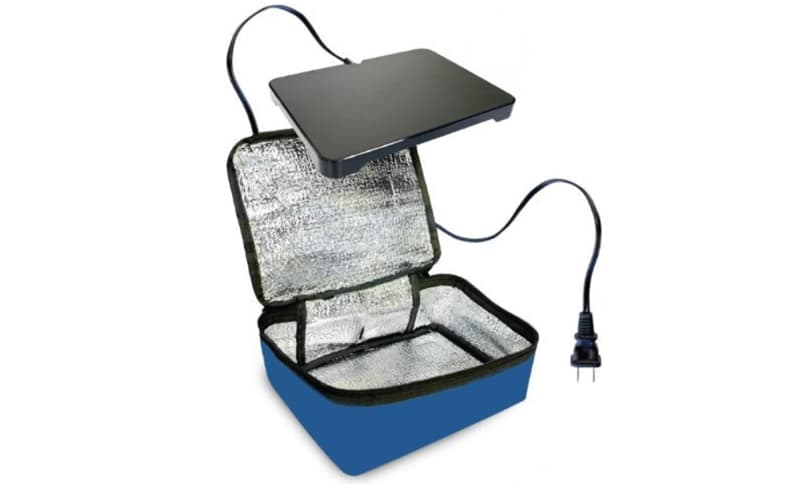 "The 110-volt HotLogic Mini Personal Portable Oven goes camping with me.  It's a sort of heated lunch box that can actually cook food, including frozen meals.  I set it up with a meal, put it where it won't slide around if I'm driving, and the food is ready in an hour or two.
It seals in food smells, so if you are cooking something like curry, you can open it up outside.  I was looking on Amazon for a slow cooker to use in my camper when I found it.  Wonderful invention!  My camper outlets are 12-volt and I use it with a 75-watt inverter." – Christine Dyer, 2012 Chevy Silverado, 2016 FWC Hawk Shell
"I use a 110-volt Keurig coffeemaker for sure, and a toaster sometimes.  We have a generator, so we can get the Keurig going even when boondocking." – Jim McIrvin, 2015 Ford F350, 2012 Lance 1191
"We bring our Mr. Coffee drip machine, a Rival 2 quart crockpot, and a Sunbeam mini food processor.  Our camper has ample counter space for the coffee pot and crockpot when being used.  For travel, the coffee pot goes on the dinette floor, the food processor goes inside the crockpot, and the crockpot goes inside a storage tub in the bedroom closet." – C&J Ramsey, 2012 Chevy 3500, 2014 Adventurer 116DS
"We have a Keurig coffee maker.  I start it first thing in the morning.  It makes one cup on a timer.  It keeps the waste down and I usually only have one or two cups of coffee.  So, it's simple to use.  Coffee is a bit expensive, but then again, I waste nothing.
I also have a GNC Blender just to make a protein drinks.  So far I've been using these items when I'm plugged into 110 or with my Honda 2000 generator.  I just added a 150-watt solar panel to the camper and I will add an inverter soon." – Joe Tatosky, 2005 Dodge Ram 3500, 2008 Northstar 850SC