Readers share why their truck and camper set-up is the best RV solution for what they want to do, where they want to go, and exactly what they need to tow.
This week's Question of the Week was, "How is a truck camper the best solution for what you do?"  Put bluntly, how is a truck camper the right tool for the job?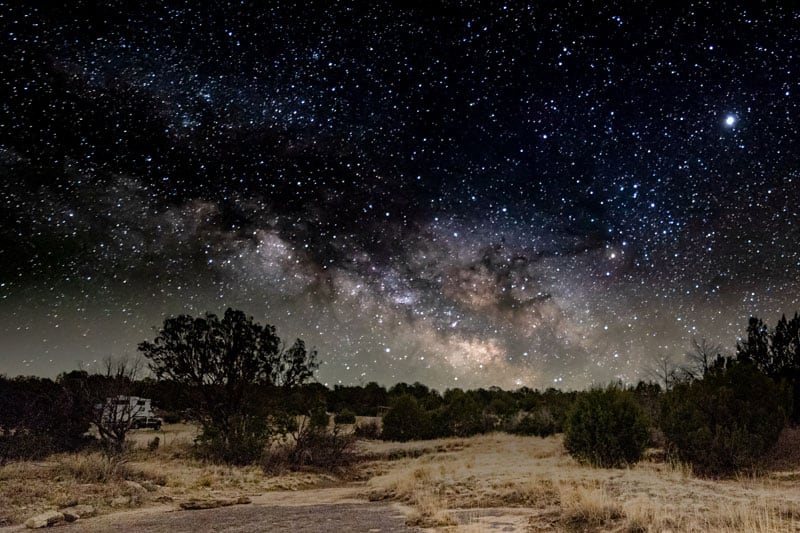 "I'm passionate about photography and particularly capturing the night sky. This requires getting to really dark and remote locations. A truck camper allows me to reach sites I could never get to in a larger RV or trailer. The photo above is from this spring in Mills Canyon, New Mexico. It is at the end a very nasty road that descends 1,000 feet into the canyon." – Bill Rosso, 2016 Ford F250, 2016 Northstar 850SC
"We mainly boondock, so having a truck camper allows us to get off the main roads and onto fire roads, BLM land, etc. That's where we can locate beautiful campsites. We are known to drive as much as six miles off the main roads following a fire road to its end. This would not be possible, in my opinion, even with a very small pull-behind trailer.
When we're out west in Canada or Alaska, we can always find a place to camp for free. Most of the time these spots are better than any RV facility. Even the storage at home is better. A truck camper takes up less space.
This camper has everything that a large RV has except extra space. I am willing to give up the space in order to go on the "Roads Less Traveled". As one example, driving through Valley of the Gods is very safe with a truck camper." – Donald Fox, 2015 Ford F-450, 2018 Arctic Fox 990

"We take our 1952 M38 Jeep and 1964 CJ5 Jeep on a flat bed trailer to Jeep runs in South Dakota and Colorado. At most these runs/gatherings last seven days.
The truck camper lets us stay where the action starts every morning. There are usually 25 to 50 Jeeps. We go on back trips each day lasting four to eight hours. We are not rock crawlers, but are using the old Jeep for sightseeing.
The camper and trailer are easy to operate through traffic. Everything we want to take with us is with us." – Tom Ralls, 2009 Chevy 2500HD, 1994 Shadow Cruiser 800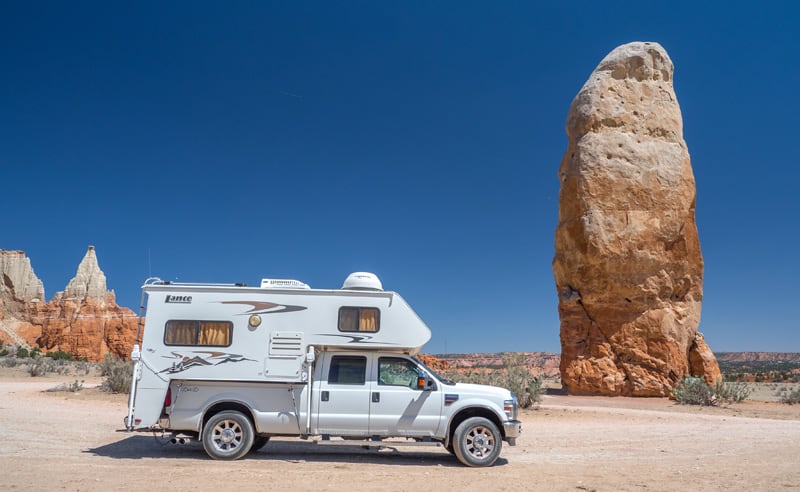 "Since we live in the Midwest, we usually take interstates to arrive quickly at the out-of-way places in the East and the West. But once we're in the vicinity, it's local and back roads all the way.
The truck camper set-up is ideal for this. It's not much slower than just the pickup, and we have all our conveniences with us – especially the bathroom!
We have driven some pretty rough roads, like forest service roads in Alaska and the Notom and Burr Trail in Utah. If we miss a turn, it's so much easier to turn around. We don't have to backtrack to return to a bigger RV.
It's also a lot easier to get a last minute campsite with a shorter rig that is easily maneuverable. With just a 9.5-foot camper, we can also park in regular car spaces at parks and rest stops." – Shelley Pike, 2009 Ford F350, 2006 Lance SC950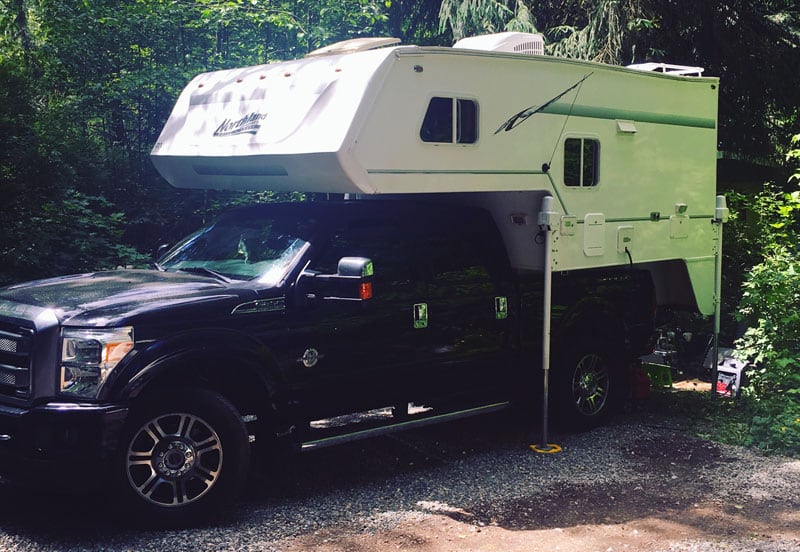 "We live full time (stationary) in a 2011 Montana 3750FL fifth wheel. We can, of course, haul it, but we also have the truck camper which we use for travel. Plus, we tow a boat. This setup gives us the versatility to do it all. I use the truck as my daily driver as well." – Larry Power, 2014 Ford F350, 2009 Northland Polar 860