Readers share why their truck and camper set-up is the best RV solution for what they want to do, where they want to go, and exactly what they need to tow.
This week's Question of the Week was, "How is a truck camper the best solution for what you do?"  Put bluntly, how is a truck camper the right tool for the job?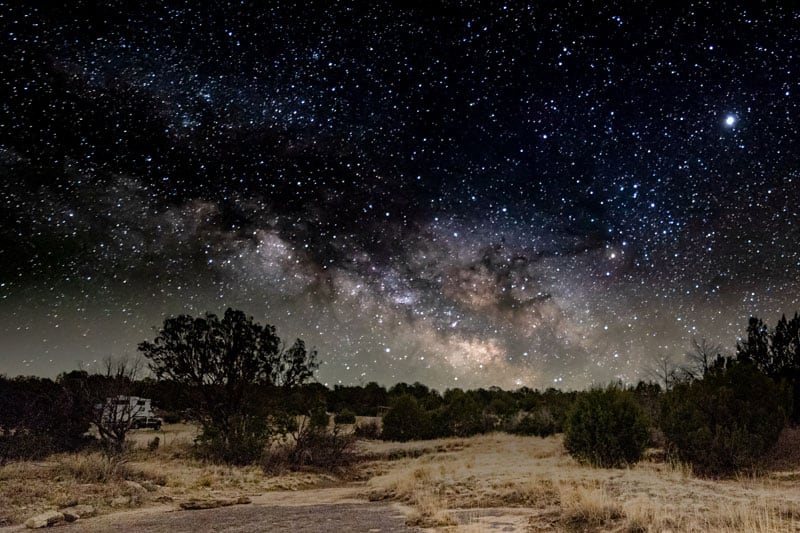 "I'm passionate about photography and particularly capturing the night sky. This requires getting to really dark and remote locations. A truck camper allows me to reach sites I could never get to in a larger RV or trailer. The photo above is from this spring in Mills Canyon, New Mexico. It is at the end a very nasty road that descends 1,000 feet into the canyon." – Bill Rosso, 2016 Ford F250, 2016 Northstar 850SC
"We mainly boondock, so having a truck camper allows us to get off the main roads and onto fire roads, BLM land, etc. That's where we can locate beautiful campsites. We are known to drive as much as six miles off the main roads following a fire road to its end. This would not be possible, in my opinion, even with a very small pull-behind trailer.
When we're out west in Canada or Alaska, we can always find a place to camp for free. Most of the time these spots are better than any RV facility. Even the storage at home is better. A truck camper takes up less space.
This camper has everything that a large RV has except extra space. I am willing to give up the space in order to go on the "Roads Less Traveled". As one example, driving through Valley of the Gods is very safe with a truck camper." – Donald Fox, 2015 Ford F-450, 2018 Arctic Fox 990

"We take our 1952 M38 Jeep and 1964 CJ5 Jeep on a flat bed trailer to Jeep runs in South Dakota and Colorado. At most these runs/gatherings last seven days.
The truck camper lets us stay where the action starts every morning. There are usually 25 to 50 Jeeps. We go on back trips each day lasting four to eight hours. We are not rock crawlers, but are using the old Jeep for sightseeing.
The camper and trailer are easy to operate through traffic. Everything we want to take with us is with us." – Tom Ralls, 2009 Chevy 2500HD, 1994 Shadow Cruiser 800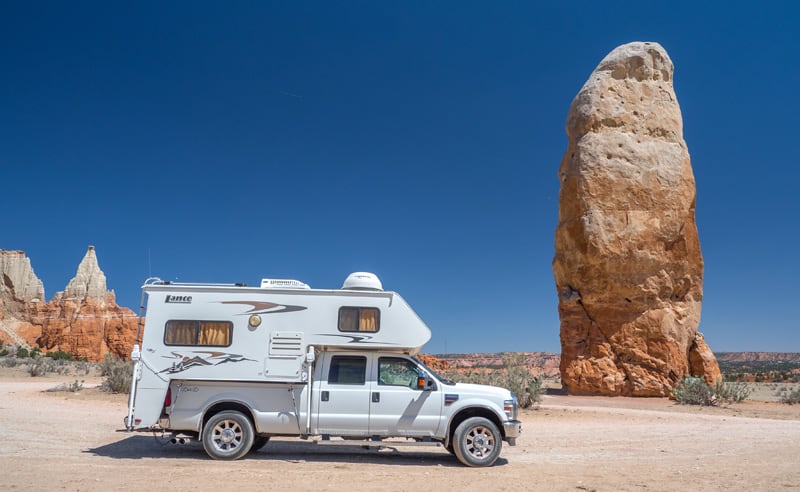 "Since we live in the Midwest, we usually take interstates to arrive quickly at the out-of-way places in the East and the West. But once we're in the vicinity, it's local and back roads all the way.
The truck camper set-up is ideal for this. It's not much slower than just the pickup, and we have all our conveniences with us – especially the bathroom!
We have driven some pretty rough roads, like forest service roads in Alaska and the Notom and Burr Trail in Utah. If we miss a turn, it's so much easier to turn around. We don't have to backtrack to return to a bigger RV.
It's also a lot easier to get a last minute campsite with a shorter rig that is easily maneuverable. With just a 9.5-foot camper, we can also park in regular car spaces at parks and rest stops." – Shelley Pike, 2009 Ford F350, 2006 Lance SC950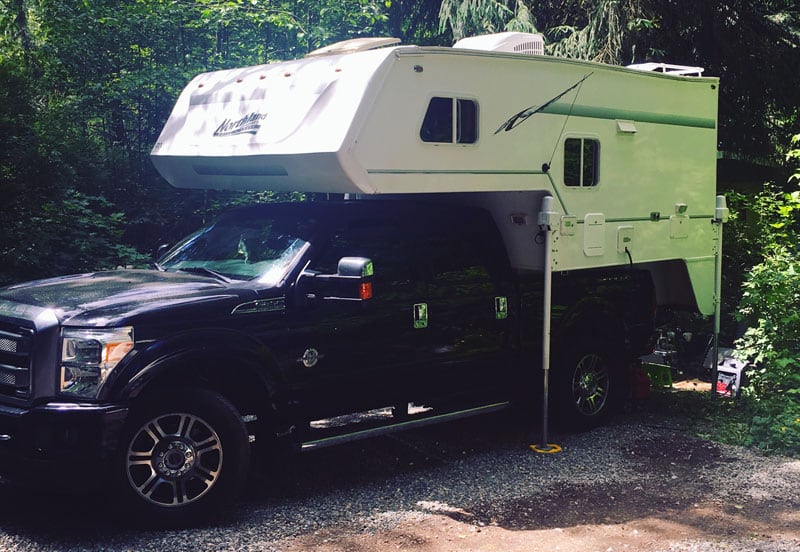 "We live full time (stationary) in a 2011 Montana 3750FL fifth wheel. We can, of course, haul it, but we also have the truck camper which we use for travel. Plus, we tow a boat. This setup gives us the versatility to do it all. I use the truck as my daily driver as well." – Larry Power, 2014 Ford F350, 2009 Northland Polar 860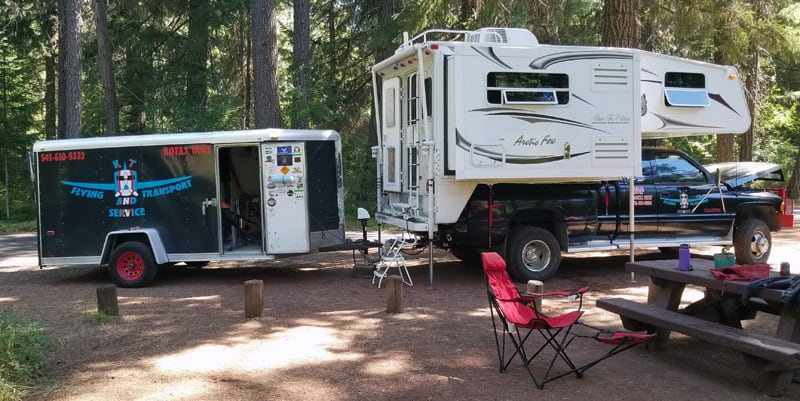 "I am a FAA Airframe and Powerplant Mechanic by trade. I also am a pilot. I am currently traveling cross-country, pulling a 14-foot enclosed trailer. The trailer not only hauls my Harley, but also my toolbox.
The truck camper allows me to stay at or very near the airports or airfields so that I can do my work. In some cases, I stay inside the hanger, so the versatility is great.
I have two 100-watt solar panels on the roof, and two 120-watt portable solar panels. Power isn't a problem. I also have a 100-watt panel on my 14-foot trailer that charges my tools and my Harley battery while I am boondocking. It's a very good setup for me!" – Kenneth Dunn, 1998 RAM 3500, 2010 Arctic Fox 811S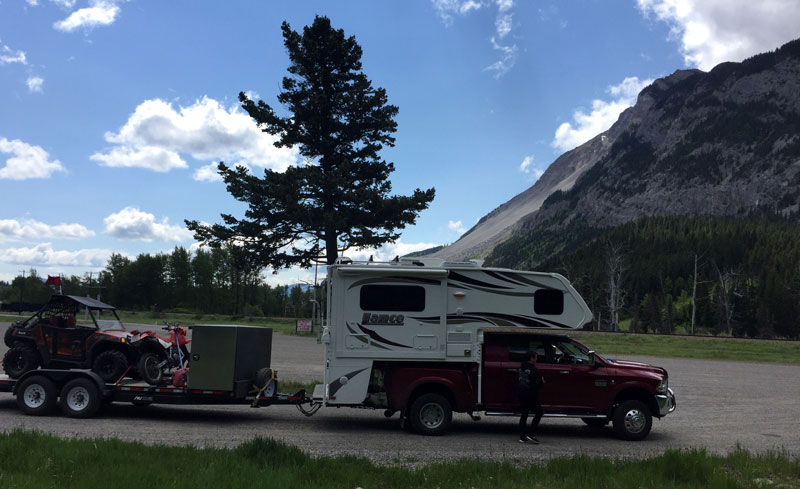 "The truck and camper work the best for us because we go camping in the places most people don't go. We'll go down the mountain roads, or the steep and narrow roads less traveled. We tend to go where there are very few people (or so we hope) so we can have some peace and quiet.
We also tow a trailer with our side-by-side and all our extra camping stuff. Some weekends we will pull the boat to a lake for some fishing as well. Just the size of the truck and camper makes it right for us." – Ken and Leona Atamaniuk, 2012 Ram 3500, 2016 Lance 855s
"Truck campers have always been the right tool for us. We camp mostly on our own property in north central Michigan. The only access is via a seasonal two-track, so any other RV won't work. It is impossible to haul in a conventional RV on a two track with stream crossings and other hazards. We need the ground clearance.
Additionally, having a truck camper allows us to pull a trailer with the quads aboard. I can get to about any spot on our property.
I also like the versatility and the ease of storage in the off-season. I had a hard side which I sold a few years back. The hard side was difficult to store in the off-season and the height was always an issue. My pop-up fits in the garage." – Daryl Davis, 1997 Ford F350, 2014 Palomino SS-1500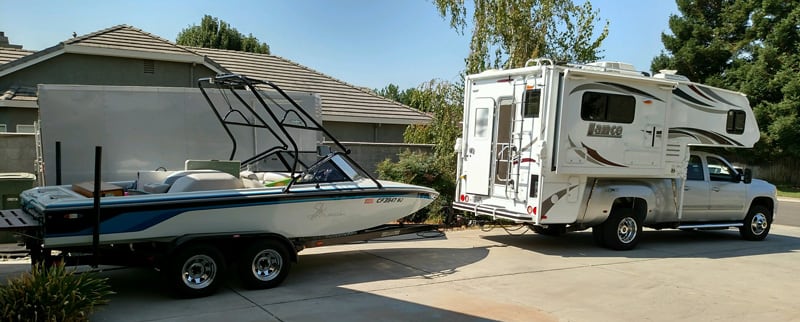 "A truck camper has always been the best tool for our family because we tow our ski boat when we go camping. We typically go to lakes in and around northern California, like Shasta and Oroville.
This is our third Lance camper over the last 28-years. We have never had a different type of RV. The truck camper set-up also allows us to tow our Yamaha side-by-side UTV. We recently spent time on the Oregon coast in the sand dunes. Great fun!
Another benefit we enjoy is the use of the truck when the camper is in storage." – Mike Paulucci, 2013 GMC Sierra 3500HD, 2016 Lance 1052
"Except for our tenting days, we've only owned truck campers; three of them in the last 25-years or so. It's handy having a pickup for hauling stuff when we're not camping. It's handier for towing things like boats than a motorhome or using a fifth wheel trailer as part of a train. It's much more versatile when traveling because it fits into smaller campsites. My four-wheel drive pickup has the clearance that may be needed for boondocking.
The only disadvantage is getting into the overcab bedroom. As retired folks, we'll soon need a ladder or change to a trailer, but we're hanging in there for now." – Philip Tron, 2009 Chevy 3500, 2012 Lance 1050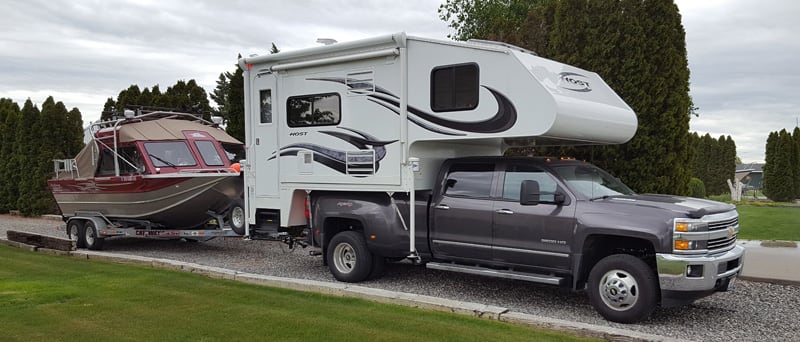 "Because we are always towing a boat or car trailer, boondocking in various places, and using the truck for other activities besides hauling the camper, a truck camper is the only RV that makes sense for us. It fits into places that a big or even some smaller RVs don't fit. It allows us to drop the camper and use the truck for other activities while we're still using the camper. Right now, it's the best choice for our activities and RV lifestyle." – Dave Riddle, 2015 Chevrolet 3500, 2017 Host Mammoth
"My camper allows me to sleep in my own bed when I travel to Alaska, Mexico, to the coast, the mountains, the desert, and to my winter home. All of that is with my 147,000 mile motorcycle in the trailer behind us. It is my motel. It keeps me out of the flea bag hotels slept in by someone that I do not know." – Glenn Yauney, 2016 Ford F350, 2000 Arctic Fox 1150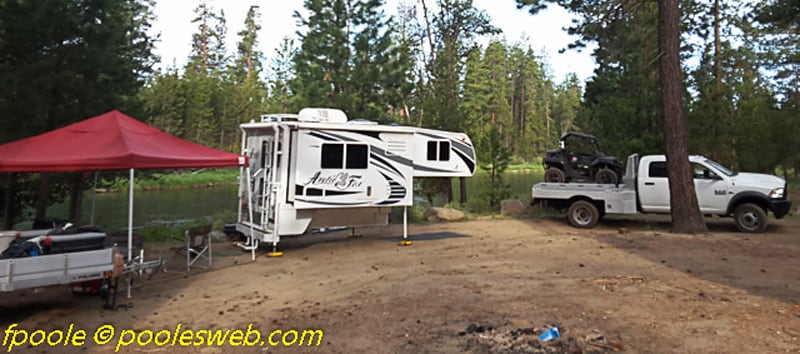 "I have been a solo full-timer for about three years now. Prior, I used to have a Camp Inn teardrop and then got a Polaris RZR XP1k Off Road Buggy. I learned that I can't take them both. So, I sold the RZR and got my truck camper with off-roading in mind.
The game plan was to travel around to different Buggy Rallies with sightseeing along the way. Then I got a cab chassis and put a flatbed on it to carry my buggy to staging areas. The camper was the best solution to allow access in tight off road sites, carrying the buggy, and small enough to clean.
Currently I am without said buggy, but love the small footprint that allows me to get into smaller boondocking sites. So, my truck camper is the best solution. Hopefully I will have another buggy and get back to retirement living." – Frank Poole, 2016 Ram 5500 HD, 2016 Arctic Fox 990
"We go long distances and got tired of the hassle of a long travel trailer. We didn't want a single-use Class A or C motorhome. We had tents and pop-ups for years, so small was fine. With a truck camper we can use the truck for other things and it takes a lot of stress out of traveling and finding campsites. We can fit in any available site, which has come in handy many times." – Connie Westbrook, 2003 Chevy 3500, 1996 Lance Squire 5000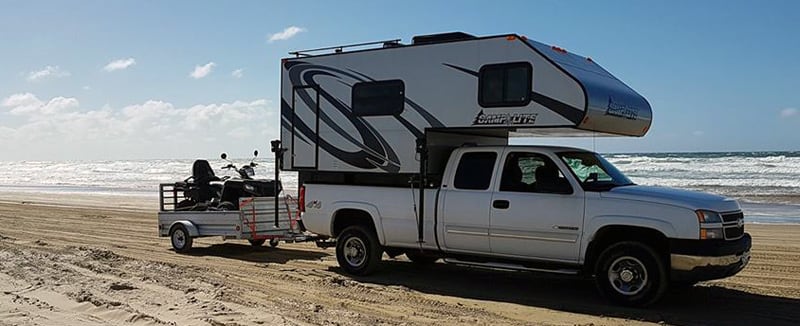 "We tow a trailer behind our camper to make space for our kids and grandkids. The trailer is a 29-foot 2014 Dutchman Island Trail with a bedroom in the front and bunks in the back. Everyone has lots of room.
If the whole family is not coming we can just take the camper. Last winter I pulled an ATV on a trailer south to Arizona, Nevada and California. The four-wheel drive truck and camper is the perfect combination for multiple activities." – Dave Keating, 2005 Silverado, 2014 CampLite 8.6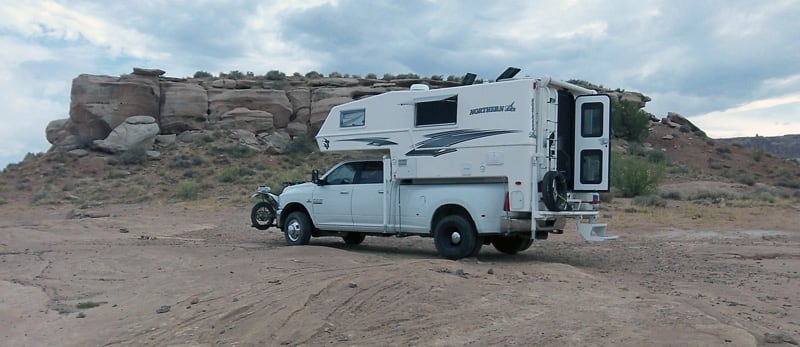 "I'm a 77-year old professional extreme off-road motorcycle rider from the Big Island of Hawaii. I sold my property and moved to the mainland for a lifetime of boondock camping everywhere.
I chose a 2017 RAM 3500 crew cab, four-wheel drive, diesel dually that hauls a 2017 Northern Lite 9-6 Q SE camper. My trusty KTM off-road motorcycle is mounted on the front to ride the gnarliest challenging places in mainland states that I can find until I go boots-up dead.
My four-wheel drive RAM truck gets me way off-road so I can boondock camp for weeks at a time. I explore vast areas solo with the KTM." – Gaston Belanger, 2017 Ram 3500, 2017 Northern Lite 9-6 Q SE
"I attend dog lure coursing events in an equipment support role. They are conducted in large open pastures in rural locations for two to three days at a time. The autonomous nature of a truck camper is ideal as a mobile thumb-twiddling facility for the inevitable "hurry up and wait" times.
At one event there were no restrooms. The closest bathroom was two miles away at a gas station. Our camper's onboard bathroom was very convenient.
We had a week of rain and cold, which turned into a very muddy event. Our camper was a place to warm up, rest, eat, and stay the night with the equipment and dogs.
The camper sure beats driving to and from the event, and looking for a motel that accepts pets. Also, our truck camper is easily driven anywhere in a pasture to address the equipment." – Bill and Kira Jones, 2017 Ford F350, 2018 Northern Lite 9-6Q SE
"I teach license to carry classes. The camper is used as a classroom and a place to hang out at the range. The best classes are at private property ranches and hunting leases. My truck camper makes it possible to have restroom and shade no matter where I go." – Charles Patton, 2016 Chevrolet 3500, 2008 Arctic Fox 990

"We have been full-time RVers for 20-years living in our 40-foot diesel motorhome. We tow a Ford Ranger and Four Wheel Camper Eagle Shell behind our Class A.
We use the Four Wheel to go camping in the high alpine mountains of Colorado, the desert backcountry of the Southwest, and any place we can't take a 40-foot motorhome. Without the truck camper we would not be able to camp in the backcountry.
We gave up tent camping and opted for the comfort of our truck camper. When we were younger, we often backpacked in the wilderness for weeks at a time, but now we can escape with much more comfort. The Ranger/Eagle combination tows nicely behind our motorhome and also serves as our every day driving vehicle." – Larry Chiuppi, 2009 Ford Ranger, 2014 Four Wheel Camper Eagle Shell Model
"I am a union electrician who travels for work. I am able to tow my 2003 Dodge Dakota with my 2012 BMW F650GS on a mounted motorcycle carrier on the back of the Dakota. I also had a motorcycle carrier designed to carry my bike on the front of my Ram. That way I have alternate transportation when I get to my campsite. I have camped in my trailer down to about -35 degrees for extended periods of time. Every job on the road has been an adventure." – Richard Dixon, 1998 Dodge, 2007 Bigfoot 15C8.2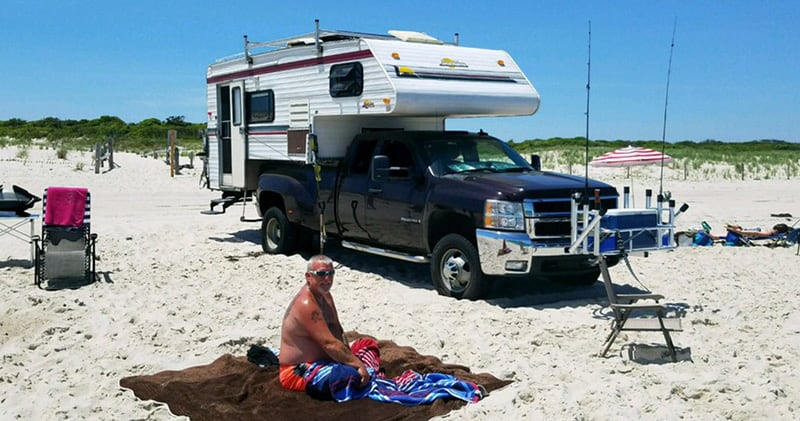 "I love my truck camper so much because I can go on and off the beach. In Pennsylvania I go off-road and off-grid. No one is around and I love it." – Denis Heil, 2008 Chevy Silverado 3500, 30-year-old Sunline camper
"We only have a 28-foot area on our property to store an RV. A 450-foot dead-end drive reduced our choices. We need to go anywhere and that meant four-wheel drive and diesel power. Campers with slides would not be rugged enough.
Bigfoot seemed the best suited for our requirements. We hoped to be able to dry camp for at least three days, but Bigfoot's 50-gallon fresh and 24-gallon grey tanks and Sandee's two times a day shower routine cut that to two days.
We enjoy photography. The rig gets us to places few other RVs can travel. The inside basement compartment is the ideal space for photo gear and a laptop. Tripods go in the rear basement. It has been a mostly trouble-free experience.
We have traveled 36,000 miles in 41-months and visited three-fourths of the lower 48-states, border-to-border, coast-to-coast. We get 13.6-miles per gallon. OnStar is priceless." – Joe Sesto, 2015 Silverado 3500, 2015 Bigfoot 2500 10.6E

"We started truck camping in Colorado as recreation combining a construction pickup with a $500 Skamper pop-up. This allowed for trips around the Rockies and into the desert areas of the four corners. I towed a BMW R50/5 on a trailer as well.
As our RV experience progressed, we went to a small fifth wheel and discovered the added room wasn't as great a benefit as the hard sides. We sold it and got a Bigfoot 9.5. It was our fourth truck camper, and a really great camper.
Now we are in our 35th year of RV life. Our current Bigfoot keeps us secure, warm, cool, and dry for about six months a year while we rip around the United States and Canada. I guess I keep on being a truck camper because it is easy and it keeps my beer cold." – Tom Scholtens, 2010 2500HD Silverado, 2013 Bigfoot 25C10.4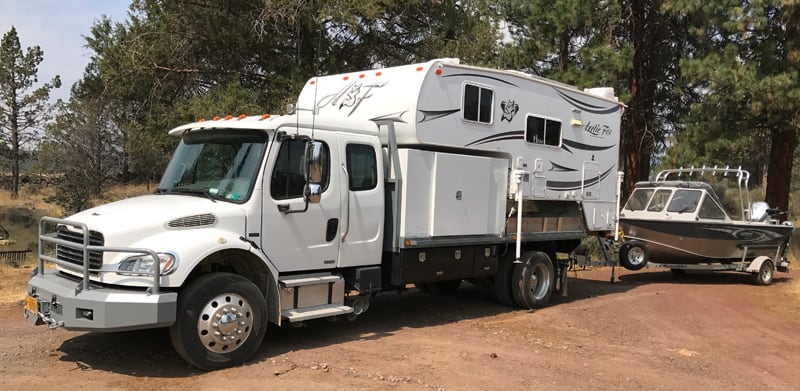 "We live in southeastern Oregon and travel for fishing and exploring. Typically we are out for a week or more at a time, hauling the boat or Jeep to add to the adventure. We live at 4,400-feet and often go higher in the Cascades. We rely on the power and capabilities of the truck to handle the mountains.
We also spend a lot of time in small campgrounds and on gravel roads which we didn't do with our other RVs. The camper exceeds all of our needs for space, comfort and extended dry camping. The truck also has storage for all of the necessary toys for trips and is a miniature shop with tools and air for pneumatic tools.
We can also drop the camper in 15-minutes and go on an adventure when we have the boat. It is the best combination we have ever had." – Jon Schnebly, 2004 Freightliner M2-106, 2014 Arctic Fox 1150
"We tow a boat and often stay at campgrounds where we launch and load our boat daily. Our trolling motor needs to be charged each night. Being able to take camper off so we have use of our truck to launch and load daily is convenient. In winter we use our truck and camper to camp at ski resorts that have electricity. It's been easy on the pocketbook." – Grace OSullivan, 2017 Chevy Silverado 3500, 2008 Snowriver 9.5-foot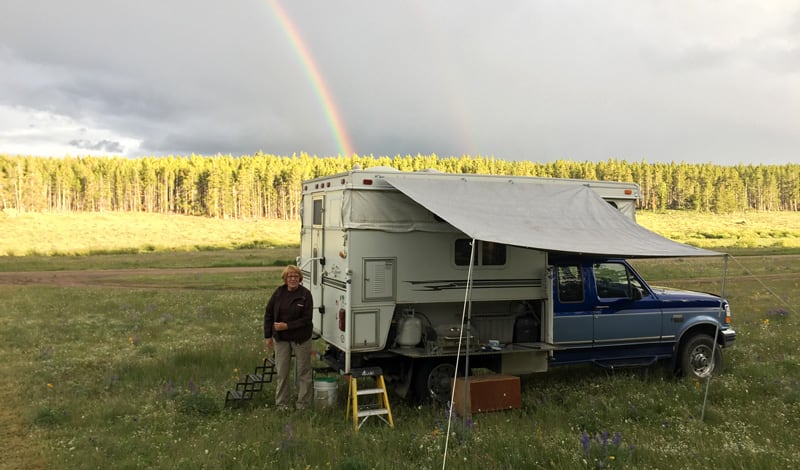 "A truck camper is the only RV we have ever had, and it allows us to travel in our desired mode. We don't spend much time in one place. There are so many things to see in this great country and we love the mobility of a truck camper.
We can drive, park and turn around nearly any place that we can with a car. If we pass something on our route that catches our eye, we will make a U-turn and go investigate. When traveling, we do not have a schedule and love the flexibility.
With an onboard kitchen and bath, we need not stop at designated rest areas. We stop when we want and go where we want, on the road and off the beaten path.
We've been traveling with this rig for 11-seasons and see no end for our adventures! Truck campers rock! The picture above is near Crazy Woman creek in Wyoming, camping among the wildflowers." – Dan Forry, 1996 Ford F250, 2006 Palomino Bronco 1251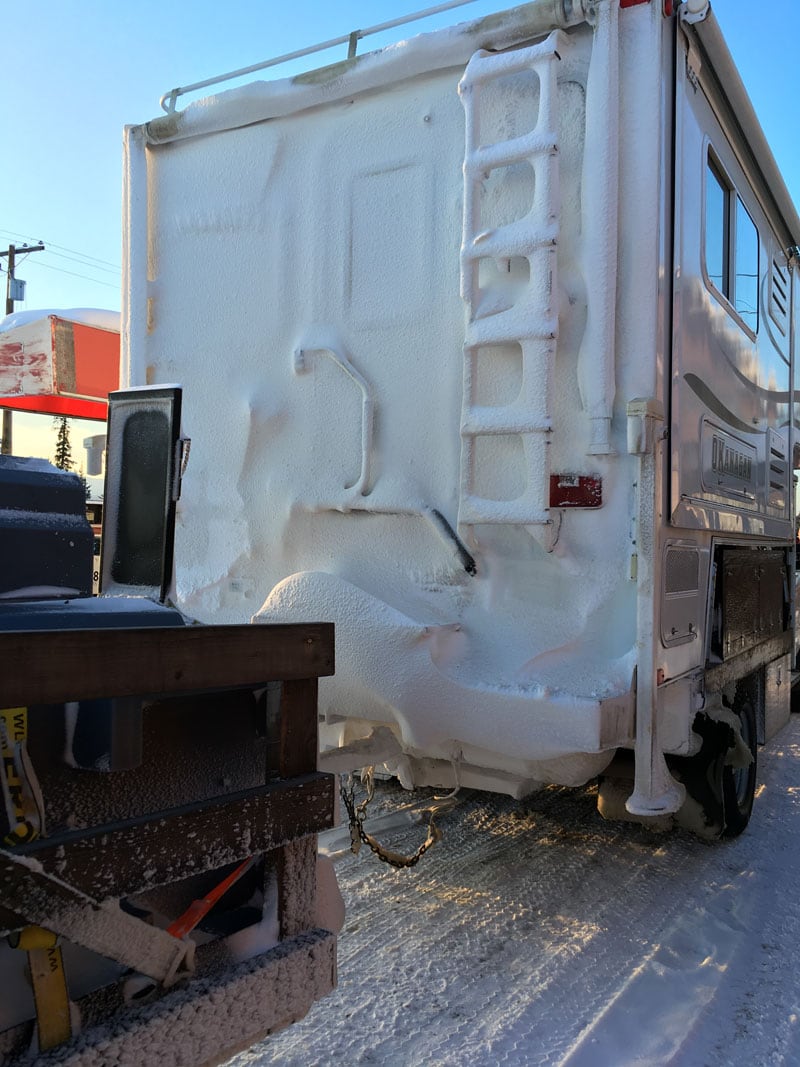 "It's all about the four-wheel drive. There have been the odd occasions where 4-High or 4-Low has saved our bacon (more than once). There are only a few odd ball four-wheel drive RVs that have been produced. I am surprised that the RV Industry doesn't offer more. It is not that much more expensive, and offers great peace of mind." – Kevin Mooney, 2014 Ford F350, Okanagan 106UDB
"My first rig was 1981 Ford F250 with a Vanguard 8-10SW. It was used primarily as a home-away during my first years as a bus driver. Back then I had four hour split shifts over 13-hour days. I took university classes during the splits for fun.
I was part of cultural dancing, pipe bands and sports groups. My truck camper allowed me to go from work to whatever event, transport equipment, and go earlier than required to avoid rush hours. Then I would park and relax. Actual camping was only something I did on holiday weekends and the rare ten-day get-away.
Since 1981 I've had three truck camper units, each with the flexibility to use each component individually or in combination. They have proven the best solution for my lifestyle. The camper stays mounted all year long, unless I'm moving furniture or large objects." – Vic Smith, 2015 Ford F350, 2013 Adventurer 89RB
"We only use our camper about two months a year. I wanted a non-slide because they are less weight and have less to go wrong. I have a fractured back and can't sleep in a bed other than my own special bed, which I have in the camper. Without that bed and camper, I couldn't go anywhere.
I like staying places that I can get outside and see some scenery. I don't like being stuck in a room in a motel where I can possibly get bed bugs. I want my own clean place.
I did not want a trailer because I like to stop and eat wherever I want. I do not want to worry about parking. Also, a trailer is harder to change lanes in traffic.
With my camper, I can go anywhere and park anywhere. My rig is small enough to park in a small camping site. I did not want a motorhome. That would be another engine to take care of." – Margaret Smith, 2004 Dodge 3500, 2011 Lance 950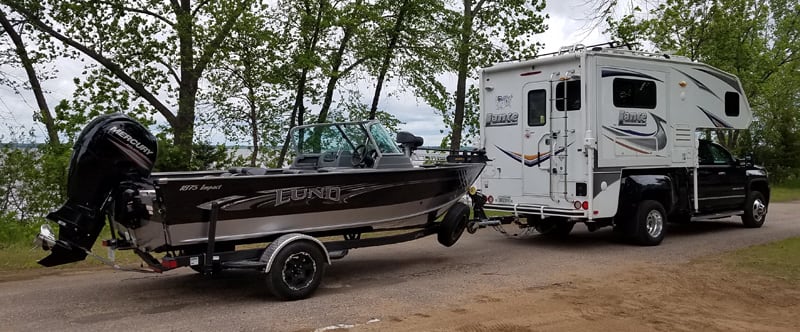 "We travel to Wisconsin a lot and love to spend our days on the lake and our evenings by the campfire. Because we have a camper that sleeps four (plus a dog) and tow a boat, a truck camper is really the only solution. We just came back from the Upper Peninsula in Michigan and it was awesome" – Ross Vlieger, 2015 GMC 3500, 2015 Lance 992
"My rig gets me off the pavement and easily out of cell range. I can tow my whitewater raft as well." – Bruce Norring, 2004 Chevy 2500HD, 2004 Hallmark Guanella
"I bought my truck camper because I really shouldn't tow big things. I was fond of my 1970 Kit Companion trailer, but we had adventures that still make me shudder when I remember them. I decided to quit while I was still alive. I sold it and went back to car camping.
Then I saw a Four Wheel Camper at Yellowstone. I was fascinated, and asked the owner if I could see inside. When my old SUV died, I bought a truck. That's when I discovered that I could order a Four Wheel Camper and install my choice of seating, appliances, accessories, etc. I thought about it for a long time. From first sight to ownership took about three years.
I'm very happy with my Four Wheel Camper. It weighs less than 800-pounds and is easy to manage. It solved all the problems I had with the trailer. It goes everywhere my truck can go. I get decent gas mileage and there's no more towing!" – Christine Dyer, 2012 Chevy Silverado 1500, 2016 Four Wheel Camper Hawk Shell
"We used to tow quads to the desert. These days I tow a drag race car or a golf cart to racing events. Being able to take the camper off and drive the truck to work was the best financial thing to do for us back when we made our purchase." – Ron Williams, 1997 Ford F250, 2003 Lance 1010
"I drag race on the weekends. I have a 1969 Chevrolet Chevelle that I bracket race at one-eighth-mile and quarter-mile tracks. My home track is Capitol Raceway in Bowie, Maryland. I mostly travel up and down I-95 to other tracks.
After some research and various tow combinations, I found a truck camper rig to be the best solution. It provides shelter and all the necessary needs for the weekend warrior.
The biggest issue is having enough truck to pull my trailer. The big block Chevy and the one-ton chassis is a must have. You have to have a lot of motorhome to meet your needs if you tow.
I have a 24-foot Haulmark trailer with a golf cart, race car and tools loaded inside. It's less of a headache to service than a Super C motorhome. And it's nice to have shelter at the track. Track temperatures have been in the 120-degree range this year. Brutal." – Jacques Bonaparte, 2000 GMC K3500, 2018 CampLite 8.6
"My soon to be business venture will make perfect use of my truck camper as a tool. Since I paid it off this year, (I bought it used in 2017), my next purchase shall be a portable sawmill. I will go to job sights and take my office with me. It will also be my break room and sometimes, my hotel room." – Johnnie Walker, 2004 GMC 2500HD, 2014 Northstar Liberty
"We had our first truck camper 26 years ago. It was $650 from an acquaintance. Why was this the right tool? Because it was what we could afford at the time.
Then we read about the Four Wheel Camper in a magazine. It was lightweight and we could pull our horse trailer behind our truck. The kids attended all their shows and 4H functions with that setup.
Our children are grown and we don't tow anything anymore, but we have still kept that camper. It fits in parking spaces. We can stop and take a rest or have lunch. And we have never had to remove it to get to some of the places we like to go. We travel and we have lots of freedom to get to different spots. Freedom." – Stacie Link, 2016 Ram 2500, 2001 Four Wheel Grandby
"We like to go on weekend trips to different areas and with many different purposes.  I have an aluminum 14-foot 8114 Sundowner trailer that is set up to load three Harleys, my side-by-side, or my John Deere 3024E front end loader tractor.
We have hauled Harleys to North Carolina and spent a week riding the Blue Ridge Parkway.  We have hooked up our 23-foot Galaxy fish and ski boat and driven to Texas.  While we're in Texas we will stay at campsites with boat launches.
We have loaded up our side-by-side and camped out in areas that we can trail ride.   We have also hauled our tractor to our property to clear or bush hog.
We have recently used our truck camper to run out of town a few hours early on a Friday.  We will spend time in the Ozarks and be home again early Monday." – David Romero, 2017 Ram 2500, 2017 Cirrus 820
"This set up fits our needs. The footprint is not much larger than a full-size car, but it's a hotel room on wheels. We do some dispersed camping, National Parks, and campgrounds. Sometimes we tow a small trailer with my wife's beads or a small ATV.
A truck camper is nimble and easy to travel. It's also relatively light compared to other RVs. From driving the shelf road to Animas Forks, Great Basin National Park, Death Valley, Quartzsite, and Duck Creek, Utah I can think of no other setup more suited to seeing the USA." – Russell Sherratt, 2016 Ford F250, 2016 All-Terrain