This is the story of how a 2004 Freightliner M2-106 and a 2014 Arctic Fox 1150 were assembled into one of the most impressive truck and camper combinations on the planet.

When most truck campers see an unusual truck and camper combination, they might be impressed at first blush, but then they always ask, "Why did they do that?"
With truck campers specifically being designed for pickup trucks, why would anyone match a truck camper with anything else?  It's like messing with milk and cookies, eggs and toast, peas and carrots, lawns and sprinklers, or La-Z-Boys and football.  No one dares to defy these noble combinations, right?
Well, you'd be surprised.  One look through our Extreme Rigs section and you'll find plenty of rig rebels, pickup insurgents, and slide-in separatists.  These open thinkers discovered another way to solve their truck and camper needs, and dared to bring their wild visions into reality.  Unimog and a pop-up?  Peterbuilt and a hard-side?  Firetruck and a triple-slide?  Why not?
Jon and Laurie Schnebly were inspired to join this radical truck and camper matching revolution by the very electrons of this supposedly fine publication.  With a Freightliner M106 already on hand, they set out to assemble a one-of-a-kind truck and camper rig.  As you're about to read, finding the inspiration was easy, but designing and assembling the rig to be safe, fully functional, and street legal was not.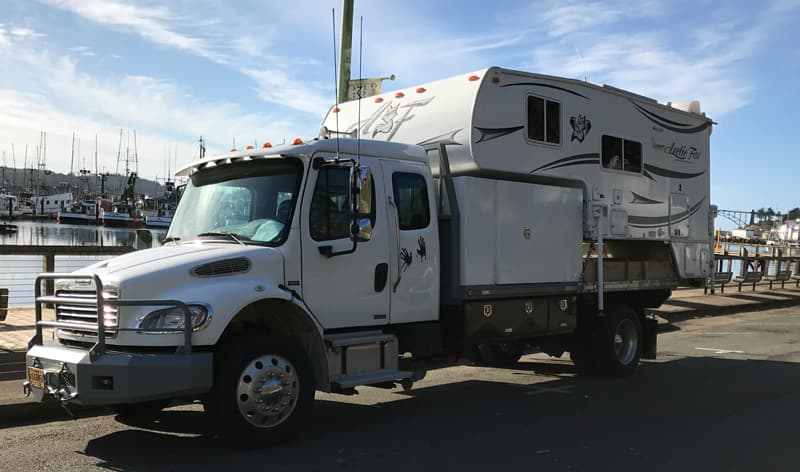 TCM: No one just decides to build a Freightliner truck camper rig.  What set you on this unusual path?
Jon: My parents had a camp trailer when I was growing up.  When my sister, brother and I were teenagers, my parents bought a Skyline Weekender truck camper.
We frequently traveled to California to visit relatives and the truck camper was an easier way for all of us to travel.  That was also great exposure to the truck camping lifestyle.
In my twenties I bought my first truck camper; a Lance 11-foot model.  Unfortunately, my career got in the way and camping took a twenty year hiatus.
When my career schedule changed, we purchased another Skyline truck camper.  That was followed by a fifth wheel that we used for another four years.
That brings us to September of 2014.  We stayed with friends while attending the Pendleton Round-Up.  They happened to have an Arctic Fox 1150 truck camper, and we both immediately fell in love with it.  Before leaving, we placed an order and picked up our own Arctic Fox 1150 in January of 2015.

TCM: Your friends probably didn't have their Arctic Fox mounted on a Freightliner, so where did that idea come from?
Jon: When we bought the Arctic Fox, we had a Ford F350 dually.  For our particular truck, the weight of the 1150 was too much.  After about 18-months, I started researching another solution.
I already owned a Freightliner M-2 with a fifth wheel toter bed.  That set up was no longer necessary since we had sold our fifth wheel.  That's when I got the idea of converting the Freightliner to a 16-foot flatbed with gooseneck and receiver hitches.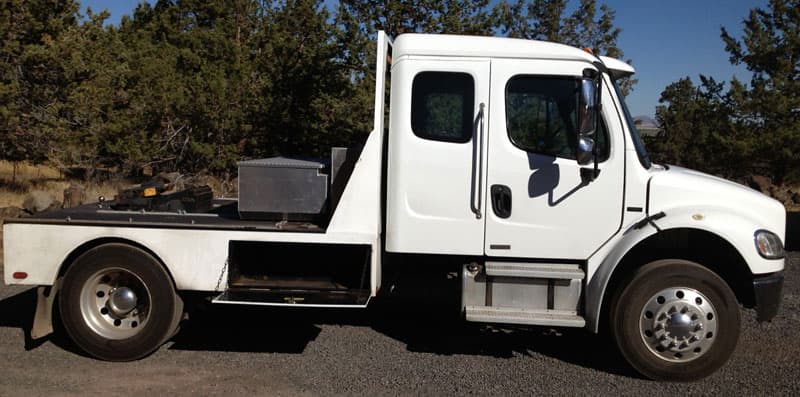 TCM: Most folks reading this interview are probably wondering why you didn't just go purchase a heavier duty pickup truck?  For example, a Ford F-550.
Jon: That was always an option, but a Ford F-550 would have cost $75,000.  I already had the Freightliner, and it would cost significantly less to just modify it for the Arctic Fox.  Besides, the Freightliner is the equivalent to a 750, or a five ton truck.