Julie Greenwood and Ernie Buchanan have what might be the biggest truck camper rig on planet Earth.  This is the story of how, and why, they built a Peterbilt semi truck camper.

From the moment we arrived at the North-East Truck Camping Jamboree in Gettysburg, folks were telling us, "Have you seen the big rig truck camper that's here?  You have to do a story on them!"  This went on for literally two days before we walked over to see the rig everyone was buzzing about.  When I finally saw it, I instantly said to Angela, "They're right!  We have to do a story on them."
After the initial shock of seeing the rig in person, two questions were burning a hole in my cerebrum.  First, how the heck did they do that?  And second, why the heck did they do that?  It's one of those, "Wow!  What?  Why?" moments in life that intrepid journalists like ourselves live and die for.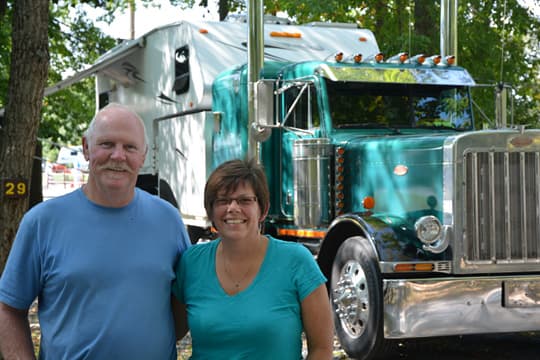 Above: Ernie and Julie with their Peterbilt-Lance 1181 rig
Perhaps what's most amazing is the rather rational answers Julie Greenwood and Ernie Buchanan had to our questions.  Believe it or not, they have really good reasons that explain exactly why they built this seemingly insane rig.  I bet any one of us in their position would have done exactly the same.  Sound impossible?  Well, that's what makes this so much more than a monster truck camper story.
Above: The Peterbilt-Lance 1181 rig at the Gettysburg Campground for the North-East Truck Camping Jamboree – click to enlarge
Where did you get the idea to put together a Peterbilt-Lance rig?
Ernie: When we bought the Lance 1181 in 2010, it was about two years old.  The previous owner had used the camper for only one trip.
Unfortunately, the camper had been in an accident.  A pickup truck had hit the back of the camper impacting the sewer hose area. The original owner was a fabricator and repaired the camper with aluminum plating.  We got a heck of a deal on the camper.
Above: The new rear bumper on the 2007 Lance 1181
At the time we had a one-ton single rear wheel truck.  We originally thought we would go around the United States and Canada with that single rear wheel truck and the Lance.
Well, driving that truck and camper combination was miserable.  The Lance 1181 was way too heavy for our single rear wheel truck.  On one of our first adventures out, I told Julie, "This is the last trip with this truck. It's dangerous and an accident waiting to happen."
We returned home from that trip and started looking for a Ford F-550 dually.  Before taxes, a nicely equipped Ford F-550 was $80,000 CAD ($70,000 US), bloody expensive, and way out of our budget.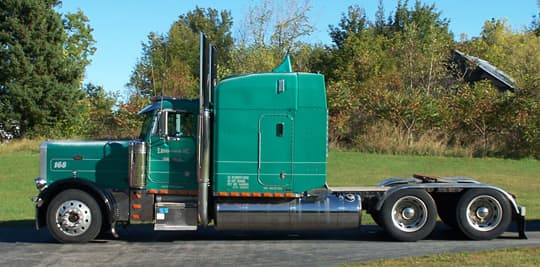 Above: The Peterbilt before modifications were made
That's when we looked at our old Peterbilt truck sitting in our backyard, doing nothing.  I didn't want to sell it because it wasn't worth much.  That's when I started thinking about a Peterbilt-Lance rig and thought, "Why not?"
Above: Peterbilt emblems – click to enlarge
Putting the Peterbilt together with the Lance eliminated the need to buy an expensive truck.  We owned the Peterbilt, so we wouldn't be making payments.  It would also solve the payload and safety needs as well as the Ford F-550, only better.
I have forty years of experience driving big rig trucks, so it was an easy decision for us.  It's all about safety to me.  When I put my foot on the Peterbilt's brake pedal, I stop.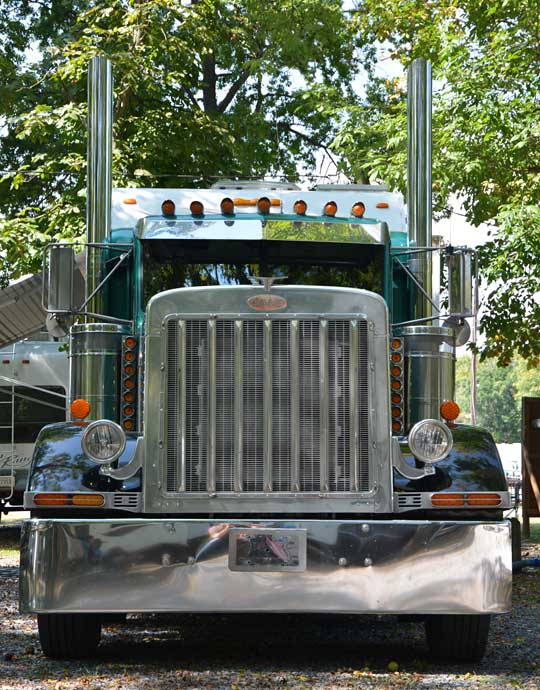 Above: The Peterbilt from the front
You could have safely matched the Lance 1181 to a late model Ford F-350, or certainly our 2014 Ram 3500 build, but that would have also been a payment.  The economics certainly make sense with the Peterbilt, but how did you go about putting an eighteen-wheeler together with the Lance?
Ernie: One day we started tearing the Peterbilt apart and figured out what would work.  For starters, the original sleeper on the Peterbilt was too tall and deep to accommodate the Lance.
Julie: Eighteen-wheel trucks often have sleepers on the back, which are like mini RVs.  The original sleeper on the Peterbilt was tall enough to stand-up.  It also had a microwave, inverter, kettle, refrigerator, and a bed.  With that sleeper, we were able to camp as we traveled down the road.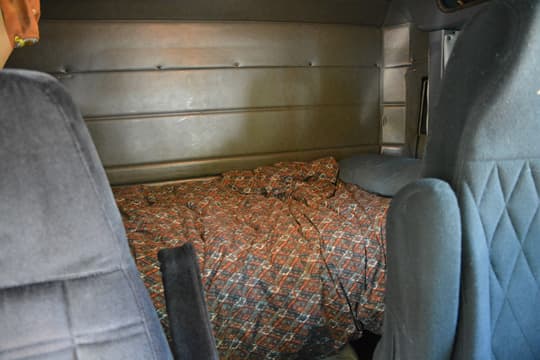 Above: Inside the current sleeper of the truck
Ernie: We have a sleeper on the completed rig, but it's much smaller to allow clearance for the Lance camper.  If I hadn't done that, the Lance would have to sit back further and I would have had to modify the Peterbilt frame.  I didn't want to do that, so I put a smaller sleeper on.  It worked out perfectly.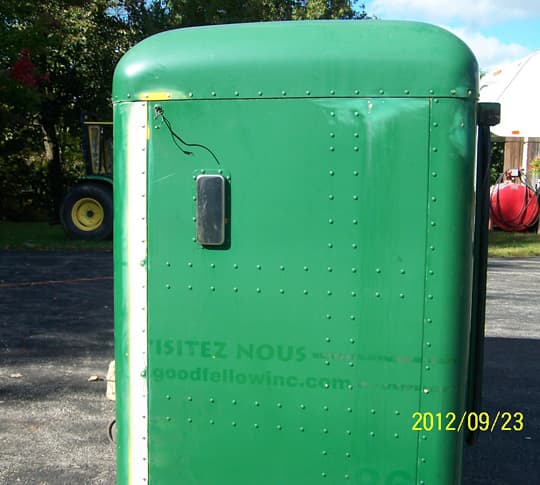 Above: The new sleeper had to be repaired, sanded, and painted
The sleeper we have now was actually damaged when we got it.  Julie and I fixed the sleeper, sanded the body, and then had the sleeper and truck painted.  I had a friend do the paint, but we did all the prep work.  The process took a lot of time as we had not done this kind of work before.
Above: Preparing the truck for painting
How long did it take to complete the rig?
Ernie: We had to do everything in the backyard, so it took longer.  We started in June of 2013.  We worked from June until the end of October, quit for the winter, and went back to work on it in April 2014.  It was finished in June.  It took about eight months of actual work time.
It was a combined effort.  We had to sandblast, prime the frame, take an axle out of suspension, and change the airlines around.  Then we worked on the sleeper.
Once that was done, we started prepping the Peterbilt for the Lance.  That included installing the pickup truck bed.  When we secured the pickup bed, everything was measured and fitted.  I wanted it to be safe and look nice going down the road.
The rig design and build took a long time because we didn't have a lot of outside help other than the painting.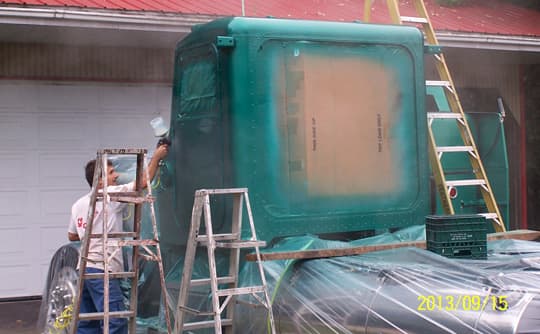 Above: A friend helps with painting the truck
How do you know how to do all of this?
Julie: Ernie has always worked on his own trucks and done mechanic work on his trucks.
Ernie: Other than the body work, there really weren't any really hard parts.
Julie: We have friends who do body work for a living and they guided us on the process.  At one point we had to start over because we missed a step.  It just took us a lot longer to do it compared to someone who does it professionally.
Above: The pickup bed, fenders, and wheels – click to enlarge
All of your hard work certainly paid off. How did you get the pickup bed to work on the Peterbilt?
Ernie: The shape of the fenders on Peterbilts is round and high up.  The newer Ford dually fenders are similar to the Peterbilt, so I decided to go with a Ford bed.  The Ram and GM dually beds would have been cheaper, but I'm a Ford guy.
I thought about a flatbed, but it would have been more work and cost more money to build with a flatbed.  Adding a truck box was simple and less expensive.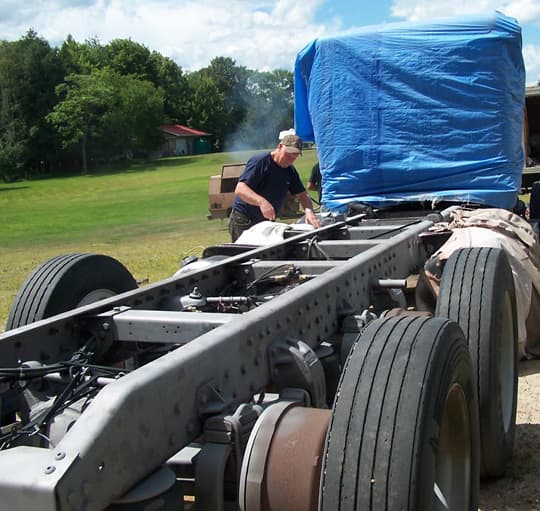 Above: Ernie working on the frame of the truck
The truck bed is secured the same way that your truck bed is secured on your truck.  It is bolted through the floor.  There are six or eight bolts that are hooked to the frame rails.  They are narrower on a regular truck, which is narrower than what I needed.
To compensate, I put four inch angle iron on each side of the frame and bolted the angle iron to the frame.
The truck box is mounted on four inches of angle iron, plus there's the frame of the truck.  It's actually more secure than a regular pickup truck because the Peterbilt frame area is a lot heavier.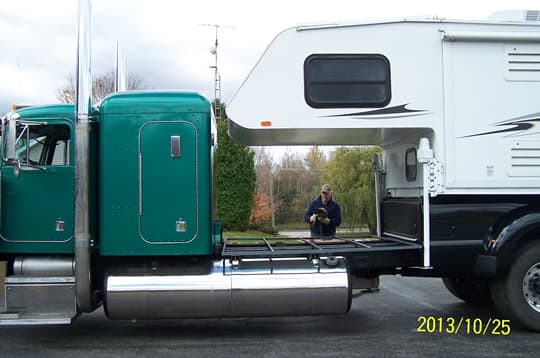 Above: The rig before the storage garage was added
For lack of a better word, you added a garage storage area under the cabover.  Tell us about this storage area.
Ernie: Wouldn't the rig look silly if there was nothing in that space?  When I first started, I wondered if I should put a small sleeper there.  I also thought about putting the camper over the sleeper, but the camper would be very high.  I didn't want to do that.
After considerable thought, we decided to build a storage box for that area.  From a distance, it looks like the box and truck are one unit.  Before building the box, I had never built anything with carpentry. Julie squared it all up.  We put in a steel floor and then plywood.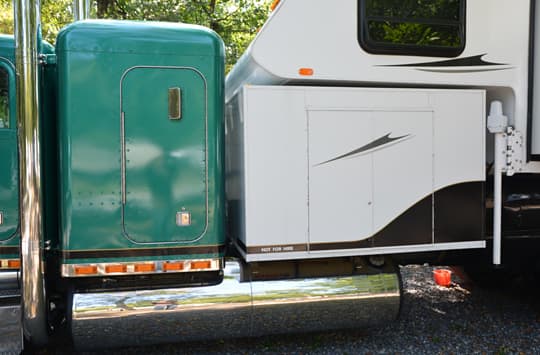 Above: The rig with the storage garage installed
Julie: The walls are 2" x 3" and then we put plywood on each side of them.  The aluminum skin is over that.
Ernie: It's eight feet wide and seven feet long, which is basically the same size as the bed of a pickup.  We have so much storage in there.
Next season I'm going to put in a 100 gallon fresh water tank and a 100 gallon grey and black holding tank.  The tanks will be one and a half feet wide by eight feet long and installed directly on the Peterbilt frame.  With that kind of capacity, we can go for quite a while.
You're not kidding.  With the added water weight, will you still be within the GVWR of your truck?
Julie: Our front axle capacity is 11,975 pounds.  The back axle capacity is 22,950 pounds.  Our total GVWR is 34,925 pounds.  We're 21,110 pounds with the camper on. We weighed it at a local feed mill and another certified scale.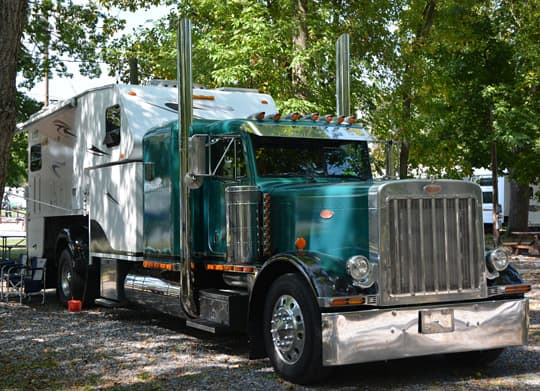 Above: The entire rig is 35′ in length, 8'4″ wide, and 12'8″ high
Wow!  You could literally put another two fully-loaded and wet Lance 1181 truck campers on your rig before you hit your payload.  That's insane!  What are the rig's dimensions?
Ernie: We are thirty-five feet in overall length bumper-to-bumper.  We are 8'4" feet wide and 12'8" high, so not much higher than if you put the camper on a Ford pickup truck.  Maybe we're 3" higher where the box of the truck is sitting than a regular pickup truck.
That's about the size of a small Class A or large Class C motorhome.  What do you think about the accuracy of truck scales being that you were a trucker and used them all the time?
Ernie: When I was a professional truck driver, I used CAT scales all time.  They are very accurate.  If there are any discrepancies between a CAT scale weight and a government scale weight, CAT will go to court with you and dispute your ticket.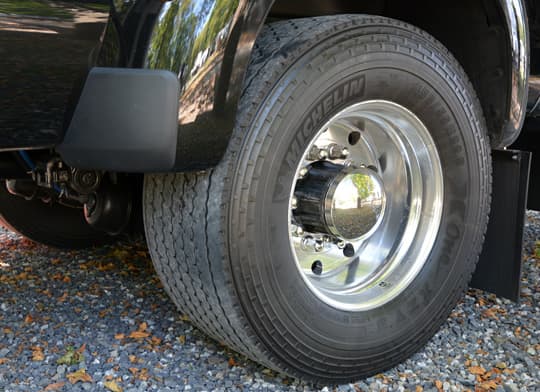 Above: Super singles were put in place of dual rear wheels
Let's talk about your super single conversion.
Ernie: The Peterbilt had dual wheels.  I removed the duallies and put on super singles.  They are 18" wide, and they look better.  They also fit the mold on the fenders better.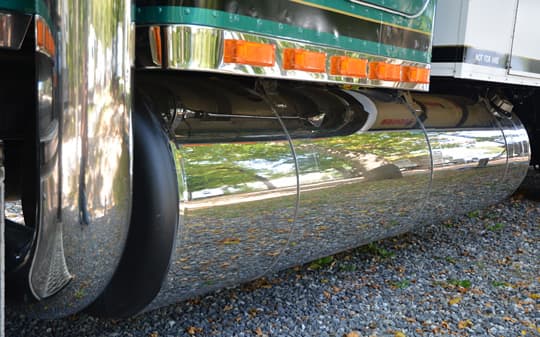 Above: The Peterbilt has the capacity of 383 US gallons of fuel
Tell us about your fuel capacity and economy.
Ernie: At the North-East Truck Camping Jamboree in Gettysburg Mike Tassinari asked, "How far can you go without refueling?"  I told him about 2,000 miles on a tank of fuel, but that number is from back when I was driving my truck for work.  I used to pull 80,000 pound loads and I was getting 7.6 miles to the Imperial gallon (6.3 mpg US gallons) in the summer time, 6.5 in the winter (5.4 mpg US gallons).
With the truck camper rig, I think I'm getting about 12 miles per Imperial gallon (10 mpg per US gallon).  When we went to the Gettysburg rally, I was surprised at how little fuel I used.  It's incredible the difference in mileage.
Due to the fact that I haven't filled the rig with the full 383 US gallons, we haven't properly been able to do a fuel check.  I haven't needed to fill it that far yet, so I haven't gotten an exact number.  At ten miles per gallon US, I would be able to go 3,800 miles.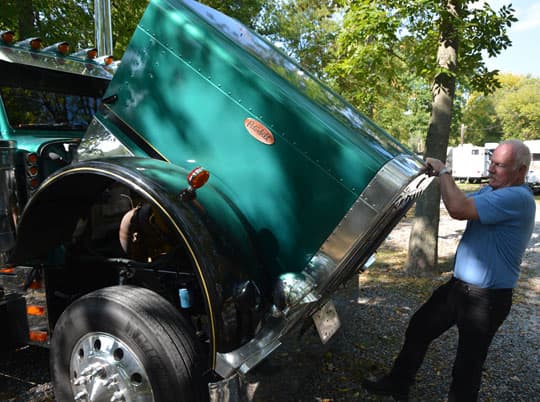 Above: Ernie lifting the truck hood to access the engine
Above: The diesel CAT engine
We've only made two long trips with the rig so far.  I would have loved to do more camping this past year, but we missed out on a big trip because I couldn't get a license for the truck.  I wanted to license the truck as a camper, but you can't get out of the driver's seat and walk into the camper.  That meant that we couldn't license it as a camper, which is one of the reasons I couldn't get it licensed as a camper in the province of Quebec.
I also had to go get an Engineer's Report. An engineer had to come out and check
it out for safety.  I was charged $2,750 CAD ($2,415 US) to write up the Engineer's Report. The report was sent to the Quebec government.  Then I could license the truck. The experience left us with a bad taste in our mouths.  That's when I got the adjusted GVWR tag on the door.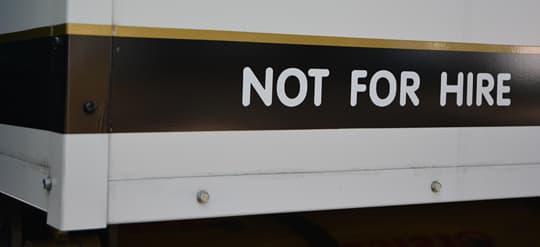 Above: The required "Not For Hire" sign on their truck
With the Peterbilt, do you have to take the rig into government weigh stations?
Ernie: That's a good question and wish I could fully answer it.  In Canada, it's licensed as a personal heavy vehicle, so I am exempt from log books, scale houses, and daily inspections.
When I was on my way down to Gettysburg, I asked two state troopers if I have to go over the scales in the United States.  They said, "How would we know?"  I said, "You're the state police.  I don't want to get a ticket."
They told me to go to the weigh stations and ask what they thought about it.  I went down to Gettysburg, and there were no weigh stations open.  On the next trip we went to New Hampshire and again, no weigh stations were open.
They may weigh our rig, but I don't think they'll bother with log books or permits.  I have a "Not For Hire" sign on the side of the truck since it's not a commercial vehicle anymore.
I don't care if I have to go over the weigh scales.  I'd never be even close to the weight limit of my rig.  Plus, being a former truck driver, I'm used to it.
Above: Fun truck detail photos – click to enlarge
What kind of driver's license do you need for the Peterbilt?
Ernie: I have a CDL from when I drove big trucks professionally.  In Canada, because our Peterbilt has air brakes, Julie would need a different endorsement on her license.  Julie has a Class 5 license and needs a Class 3 to drive it.
I have to go every two years for a medical to keep my license in Canada, and another one every two years to drive a commercial vehicle in the United States.  I'll keep my CDL license as long as I can.  I have friends in their 80s still driving big rig trucks.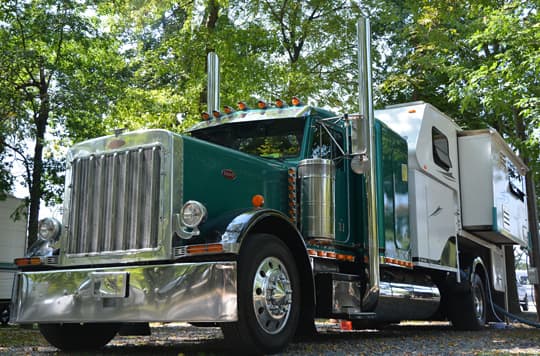 Above: The rig with the 1181 slide-out in the out position
Is there anything about the rig that you would change, or would have done differently if you could go back in time?
Ernie: It may sound like I'm being a smart ass, but I'm totally happy with how everything turned out.  Julie thought maybe we should have put another door on the big storage area, but it's not the end of the world.  Other than that, everything went together so well.  I'm happy with it.
Above: A look inside the truck cab – click to enlarge
Many Truck Camper Magazine readers will wonder if a big rig truck camper is a good idea. Would you suggest that others pursue a setup like yours?
Ernie: This is most definitely not for everybody.  I think it's much easier in the United States to have one built as a camper.  In Quebec, it's much harder with all the government regulations.  If you could get the rig licensed as a camper, you would not need a commercial driver's license.  I wouldn't suggest it to everyone, and I wouldn't talk anyone into it.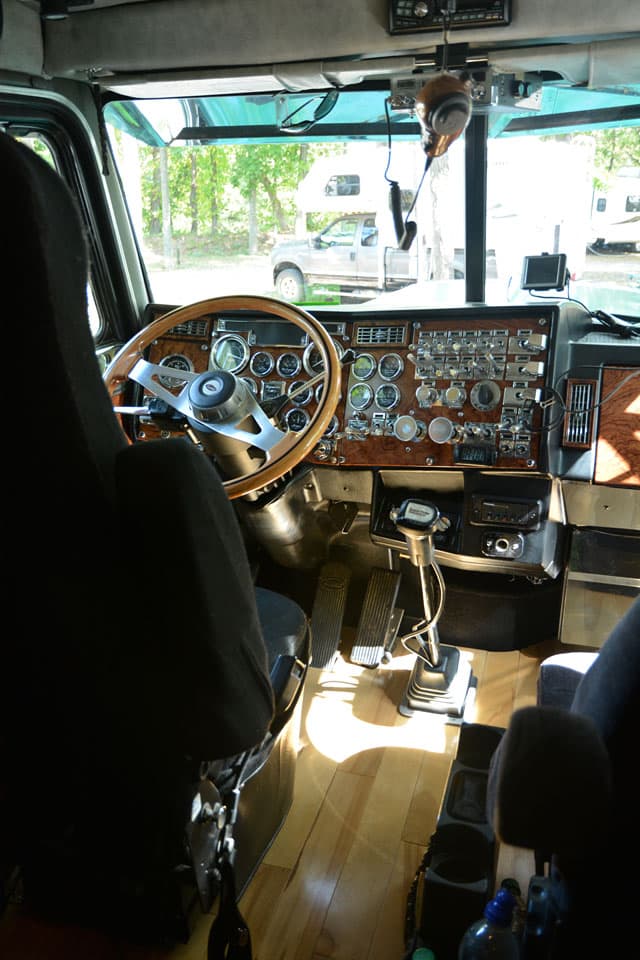 Above: Inside the truck, taken from the sleeper area
Julie: Ernie had driven a big rig for so many years.  For him, it's as comfortable as driving a pickup truck.
Ernie: We're retired.  I don't want to make payments or use up our savings.  It didn't cost us a lot of money to build this.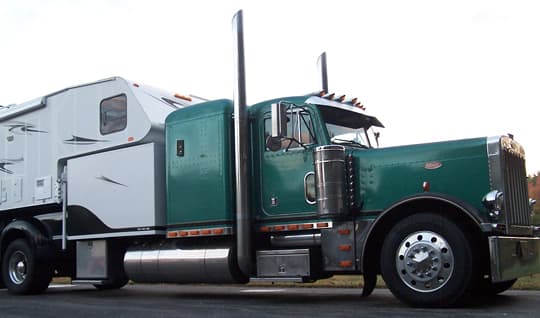 Above: Julie and Ernie's rig is ready for adventure
Now that you have this rig, what do you plan to do with it?
Ernie: We were going to go to Alaska next year, but now Julie is thinking of Newfoundland and Labrador.  We are also planning on taking short trips and going to the Northeast Truck Camping Jamborees.  They are a lot of fun.  As long as the nice weather is here, we plan on spending as much time as we can meeting new friends.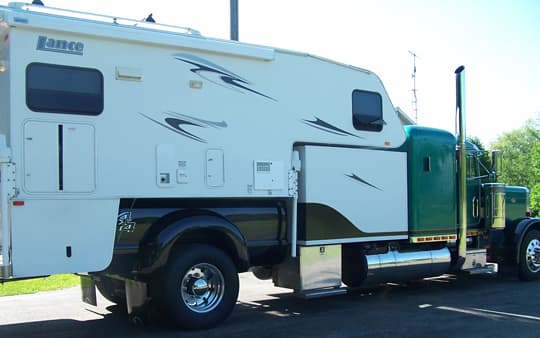 Above: The Lance and the Peterbilt are now complete
We sure enjoyed meeting you in Gettysburg and seeing your rig. It was the talk of the rally and for good reason.  Is there anything else about your Peterbilt-Lance rig you would like to add?
Ernie: I'm quite content with the outcome, we still have a few changes to make.  In the storage area, we have the spare tire.  If you get a flat tire with a super single, you can't move.  If you have duallies, you can get a flat and keep going.  I put a spare tire inside the storage area and a powerful jack to jack up the rig.
There are also tire bars and a gear wrench.  I can be back on the road in a half hour.  I want to eventually put a winch on the front.  I've got a tow hitch to build on the back.  It's a work in process.
Our rig may be overkill for the roads in the lower 48, but the Northwest Territories, Yukon, and Alaska where the roads are not as good as the highways and secondary roads in the United States.  In northern Quebec, there are some hills that would scare you, even in your Ram.  That's what I built this truck for.  I already know because I've been there.  I wouldn't go with a fifth wheel.  There is more room, but they can't go to all the places we can go.  That's the reason I wanted a truck camper.
Truck: 1995 Peterbilt 379, 600 caterpillar engine, 18 speed transmission, diesel, single axle, locking differential – if one wheel spins, the other locks and engages, only the back would drive
Camper: 2007 Lance 1181
Tie-Downs/Turnbuckles: Two back turnbuckles and chains rear, two hand winch straps on each side in the front, capable of 4000 pounds each
Suspension: Completely air ride suspension, part of Peterbilt
Gear: See article for specifics on gear
Do you have a unique truck and camper build like Ernie and Julie do with their Peterbilt truck?  If you do, please share your story.  We'd love to hear from you!