Thomas Atkins and Sequoia Buck converted a 1978 International Harvester Loadstar 1700 fire truck into an off-road ready, flat bed, triple-slide truck camping machine.  She's a brick house!

About ten seconds after Thomas Atkins and Sequoia Buck submitted a photograph for the 2017 Truck Camper Magazine Calendar Contest we were asking them for an interview.  There in our email box was a picture of a fire truck that had been converted into a flat bed, triple-slide, Eagle Cap 1165 truck camper rig.  We could hardly believe our luck.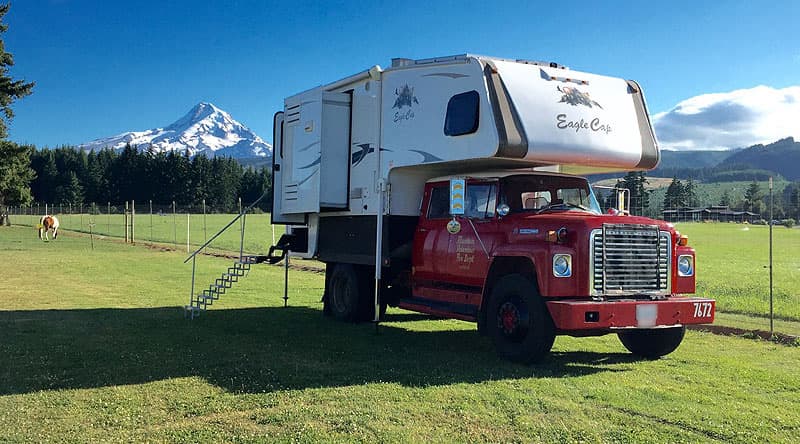 Above: The photo that Thomas and Sequoia submitted for the 2017 TCM calendar contest
As it turns out, the history of this fantastically outrageous truck camper build is even more interesting than the rig itself.  Like the Unimog truck campers, Fuso truck campers, and semi-truck truck campers before it, the way that this unusual combination happened is not your everyday truck meets camper story.
It's also not a fairy tale.  Once the build was completed, there were expensive lessons to learn, some of which are valuable no matter what year, make, and model your truck and camper are.  For starters, make sure to check the age of your tires, not just the tread.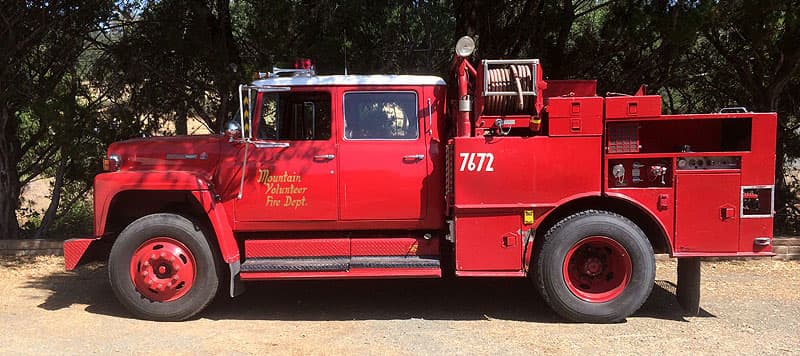 Above: The 1978 International Harvester Loadstar 1700 fire truck prior to conversion
TCM: Where did you get the idea to put a fire truck and truck camper together?
Thomas: I belonged to the volunteer fire company in Sonoma County, California for fifteen years.  The 1978 International Harvester Loadstar 1700 was our Wildland fire truck.  The fire company acquired the truck in the early 1990s.
In the 2000s, the truck was replaced by Sonoma County with an International Navstar, a newer version of the truck, that was more modern and aggressive.  The older International couldn't be inside the fire station bay anymore, so it sat in our front yard next door.
Sequoia and I are on the fire station board of directors and had to figure out what to do with the truck.  We considered making it a farming truck since it had a 500 gallon water tank and four cylinder pumping engine.  But then we got an idea.
Instead of turning it into a farming truck, why not turn it into a flatbed for a camper?  We had always wanted to put together a gypsy caravan for camping.  Why not?
When I retired, we acquired the truck and started researching possible campers.  We wanted a large camper because we wanted plenty of interior room, and the truck was big enough.  We even considered remodeling an Airstream, but that fell through.
Sequoia: That's when we started looking at the larger truck campers.  We figured the truck could more than handle the biggest truck camper made.
Thomas: We eventually found an Eagle Cap 1165 triple-slide at SCATT Recreation in Roseville, California.  When we drove up to see it, we took detailed photos and measurements to make sure it would fit the truck.  Before leaving the dealership, we put a down payment on the camper.
Returning home, we began removing the equipment installed on the back of the fire truck.  We stripped it to the original truck rails.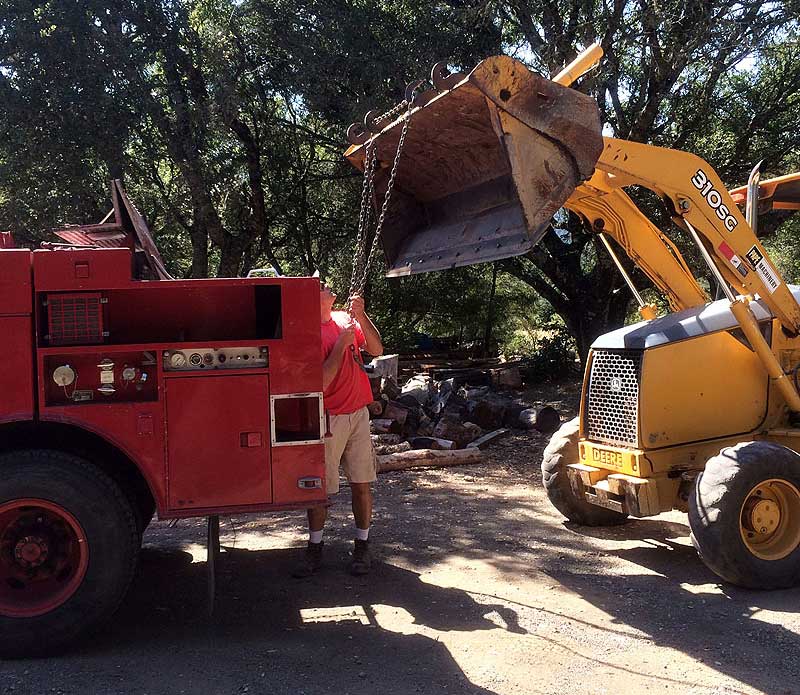 Above: Removing the original fire fighting equipment to get to the truck rails