Thomas Atkins and Sequoia Buck converted a 1978 International Harvester Loadstar 1700 fire truck into an off-road ready, flat bed, triple-slide truck camping machine.  She's a brick house!

About ten seconds after Thomas Atkins and Sequoia Buck submitted a photograph for the 2017 Truck Camper Magazine Calendar Contest we were asking them for an interview.  There in our email box was a picture of a fire truck that had been converted into a flat bed, triple-slide, Eagle Cap 1165 truck camper rig.  We could hardly believe our luck.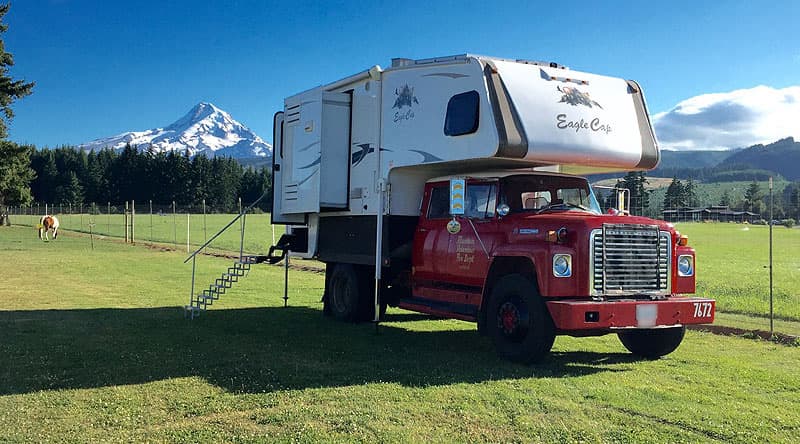 Above: The photo that Thomas and Sequoia submitted for the 2017 TCM calendar contest
As it turns out, the history of this fantastically outrageous truck camper build is even more interesting than the rig itself.  Like the Unimog truck campers, Fuso truck campers, and semi-truck truck campers before it, the way that this unusual combination happened is not your everyday truck meets camper story.
It's also not a fairy tale.  Once the build was completed, there were expensive lessons to learn, some of which are valuable no matter what year, make, and model your truck and camper are.  For starters, make sure to check the age of your tires, not just the tread.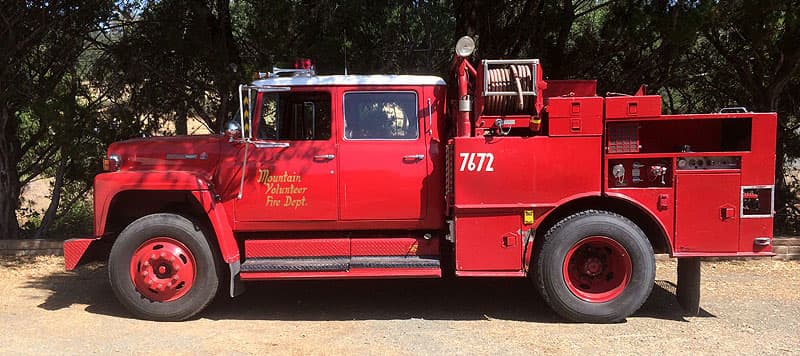 Above: The 1978 International Harvester Loadstar 1700 fire truck prior to conversion
TCM: Where did you get the idea to put a fire truck and truck camper together?
Thomas: I belonged to the volunteer fire company in Sonoma County, California for fifteen years.  The 1978 International Harvester Loadstar 1700 was our Wildland fire truck.  The fire company acquired the truck in the early 1990s.
In the 2000s, the truck was replaced by Sonoma County with an International Navstar, a newer version of the truck, that was more modern and aggressive.  The older International couldn't be inside the fire station bay anymore, so it sat in our front yard next door.
Sequoia and I are on the fire station board of directors and had to figure out what to do with the truck.  We considered making it a farming truck since it had a 500 gallon water tank and four cylinder pumping engine.  But then we got an idea.
Instead of turning it into a farming truck, why not turn it into a flatbed for a camper?  We had always wanted to put together a gypsy caravan for camping.  Why not?
When I retired, we acquired the truck and started researching possible campers.  We wanted a large camper because we wanted plenty of interior room, and the truck was big enough.  We even considered remodeling an Airstream, but that fell through.
Sequoia: That's when we started looking at the larger truck campers.  We figured the truck could more than handle the biggest truck camper made.
Thomas: We eventually found an Eagle Cap 1165 triple-slide at SCATT Recreation in Roseville, California.  When we drove up to see it, we took detailed photos and measurements to make sure it would fit the truck.  Before leaving the dealership, we put a down payment on the camper.
Returning home, we began removing the equipment installed on the back of the fire truck.  We stripped it to the original truck rails.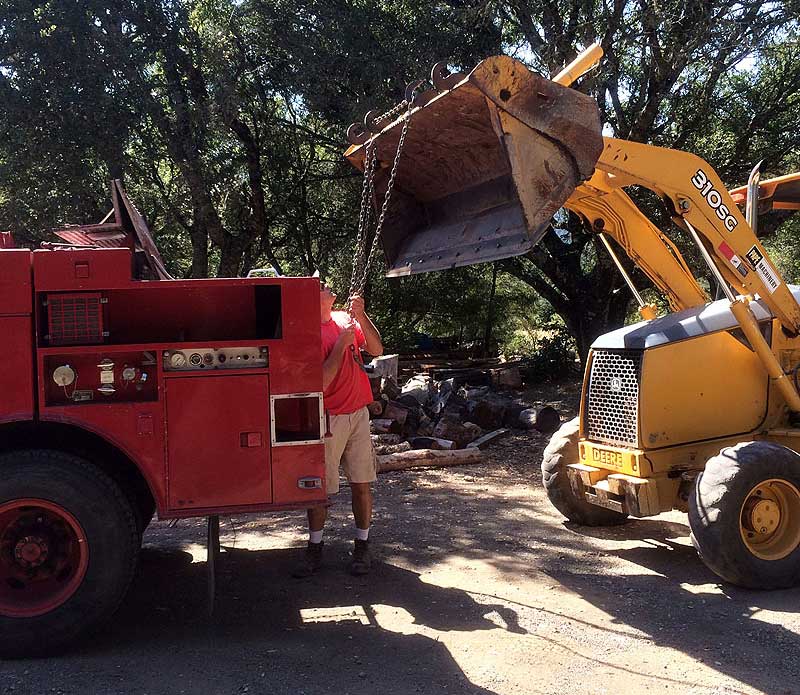 Above: Removing the original fire fighting equipment to get to the truck rails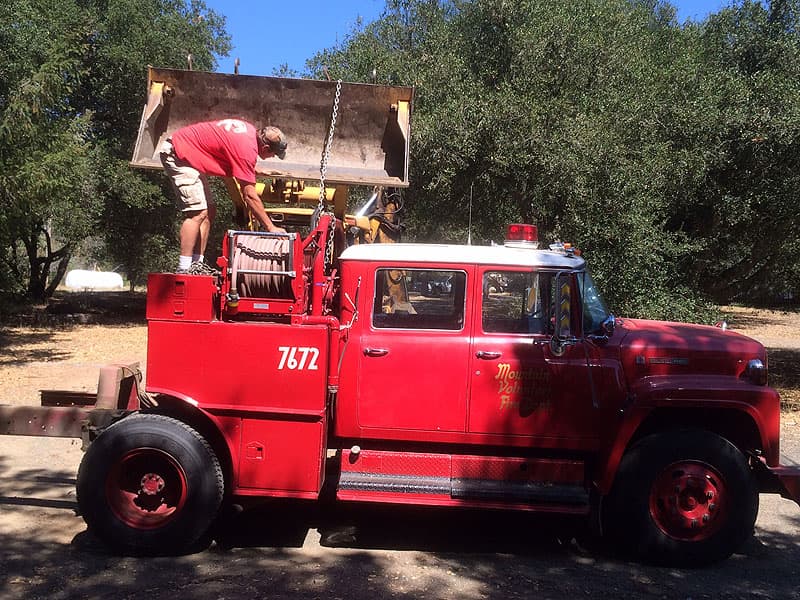 Above: Removing the 500 gallon water tank and four cylinder pumping engine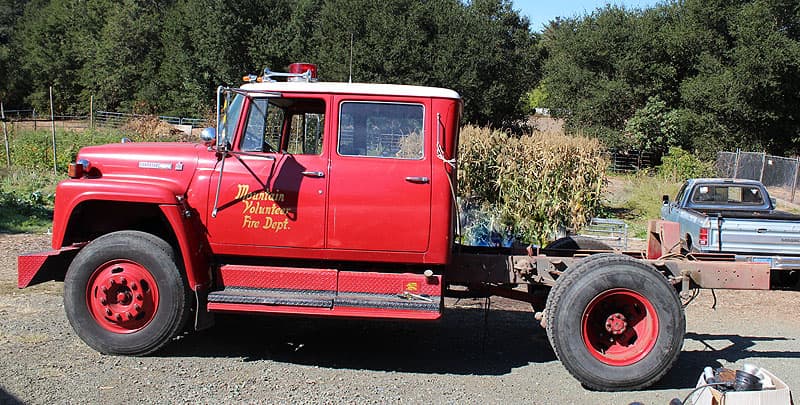 Above: The International truck cab and chassis before the flatbed was installed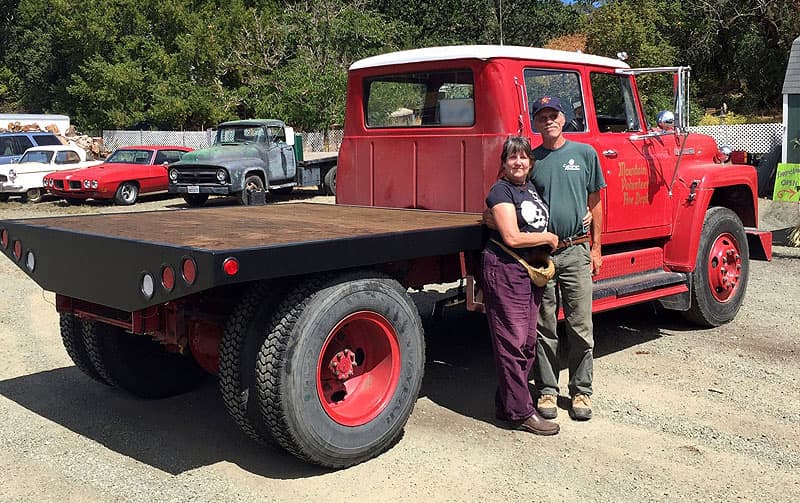 Above: Thomas and Sequoia with their flatbed converted 1978 International fire truck
Sequoia: We found a guy in Santa Rosa who makes custom extreme off-road vehicles to modify the truck and build a custom flatbed.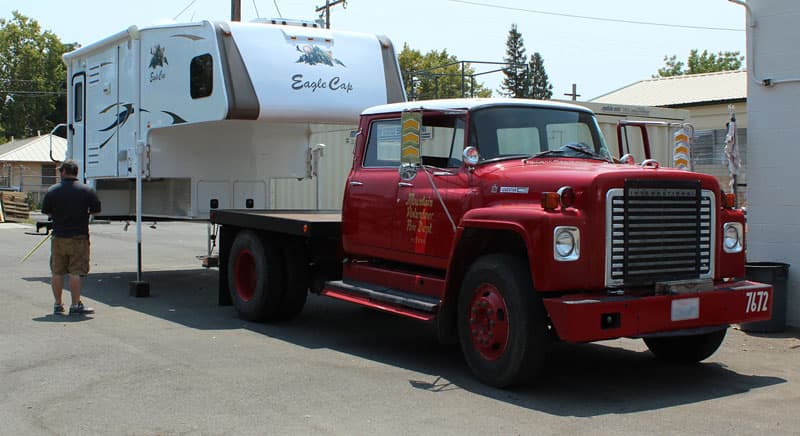 Above: Eagle Cap 1165 being loaded on the flatbed International
Thomas: He had to move the rear end of the truck back about a foot and a half before mounting a custom flatbed.  The truck rails were 9-feet long, but he cut them to 8-feet after he moved the axle back.  That put the camper's center of gravity in the right place.
Once the flatbed was completed and installed, we drove the truck to SCATT and picked up the camper.  The final truck and camper rig is 22-feet long, and 8-feet wide.
TCM: Tell us about adding exterior storage to the flatbed.
Thomas: I first went to Los Angeles and visited a company that does custom storage compartments.  They offered good quality, but were too expensive.  As it became closer to the time we wanted to do our month long shakedown trip, we decided we could fabricate something ourselves.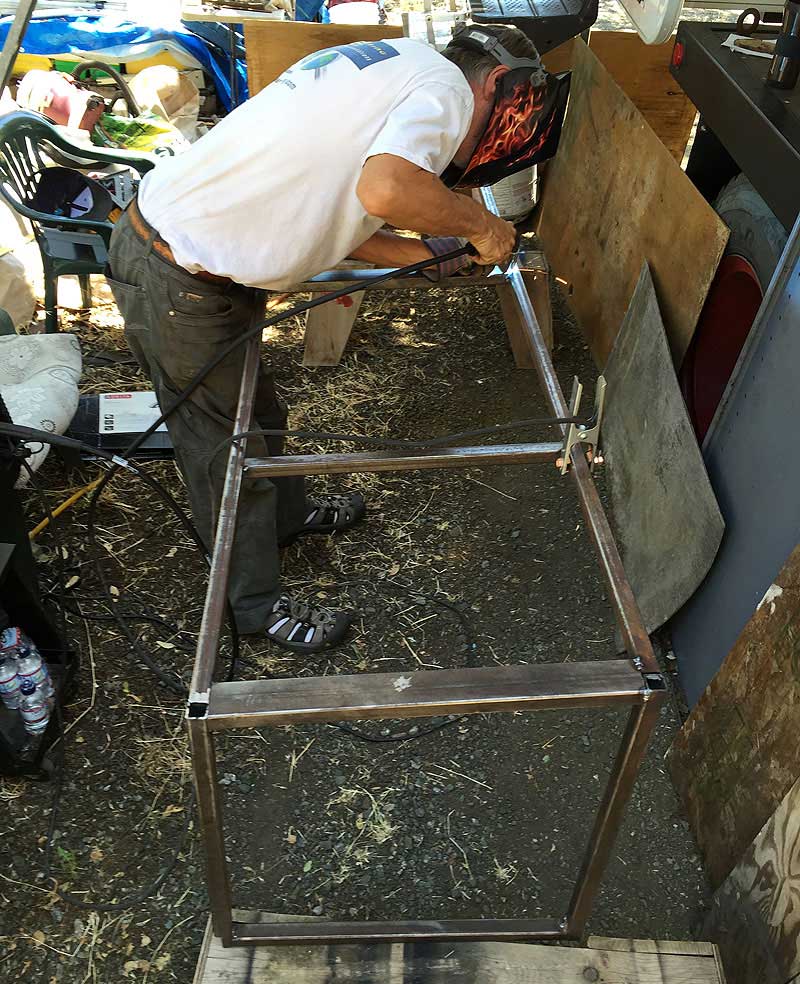 Above: Thomas Atkins welding the flatbed storage frames
I have welding skills.  I got 1-inch by 1-inch tube steel and fabricated a frame work that would fit.  When I was building the frame, I learned that neither side of my truck camper is the same height and length.  They were off by inches.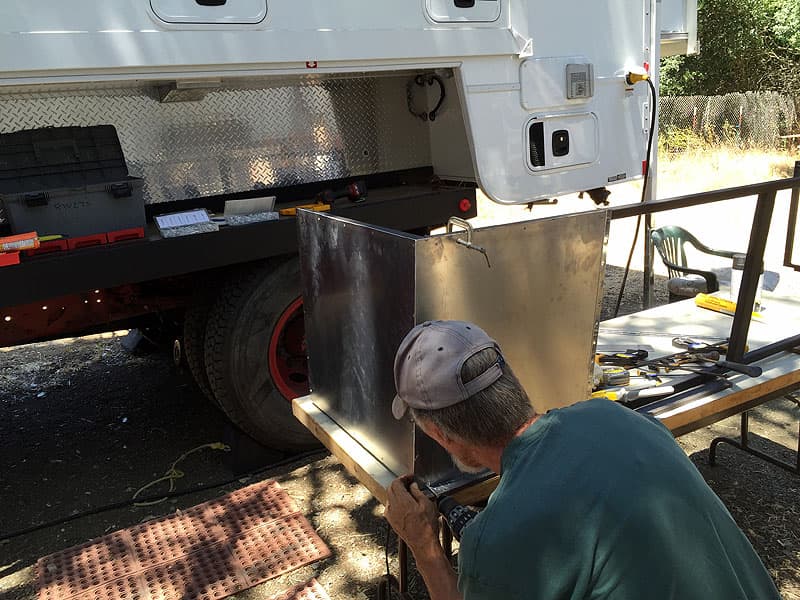 Above: Checking the fit of the storage compartments
With those measurements, I designed a custom frame that would work on either side and go around the angles and supports on the bed.  I bought sheet aluminum, cut it up, riveted it, and used Sikaflex to secure it.  All of the panels that have hinges are riveted and have piano hinges with locking mechanisms on the doors.  Finally, I painted it up, slid it in, and bolted it on.
TCM: That's a lot of work.  Why not to just buy a one-ton dually pickup truck?
Sequoia: I love vintage trucks.  I've had two 1950 Chevy pickups.  We also wanted a truck that would go out on BLM lands better than a regular pickup.
Thomas: I also love the old truck look.  And the camper was quite expensive for us, so purchasing a new truck was not realistic.  With the fire company, I drove this truck off and on for wild land protection.  I was used to driving it.
I also like that there's no electronics on it.  My friends have regular trucks and my brother-in-law has a huge fifth wheel.  There is always something going wrong with their electronics.  I didn't want to be somewhere and not know how to fix it.
TCM: Was the 1978 International Harvester in good condition when you bought it?  After all, it's now a 38 year old truck.
Thomas: It had 100,000 miles on the odometer, but it was in good condition having been garage kept in the fire house and maintained by County Fire.
When we bought it, I took the truck to some friends who own a local company with large trucks.  They were enthusiastic to check out the steering and the things the county was reluctant to do.
I had to rebuild the air brake system.  The rest had been maintained very well.  I had the front end checked and retuned.  Overall, it was in excellent shape when we got it.
TCM: For the gear heads reading this story, what are the specifications of your truck?
Thomas: The International Harvester came with MV-404 engine.  It's powered to perfectly compliment its transmission and rear end.  It can climb up a tree, but it won't go very fast.  When we have to go up an incline, we go 20 miles per hour.
It's a 6.6 liter gas truck with 188 horse power and an automatic transmission.  It's not four-wheel drive.  It's geared so low and the rear end is so big that it will navigate pretty much any road.  We now have the intention of converting it to a diesel engine.
The truck has two fuel tanks on either side.  The decal that tells you how many gallons the tanks hold was painted over, so I don't know how many gallons of fuel we have.  I usually put in 25 gallons, so I carry 50 gallons of gas.  When we change to a diesel engine, I'll add two 50 gallon tanks in front of the rear wheels.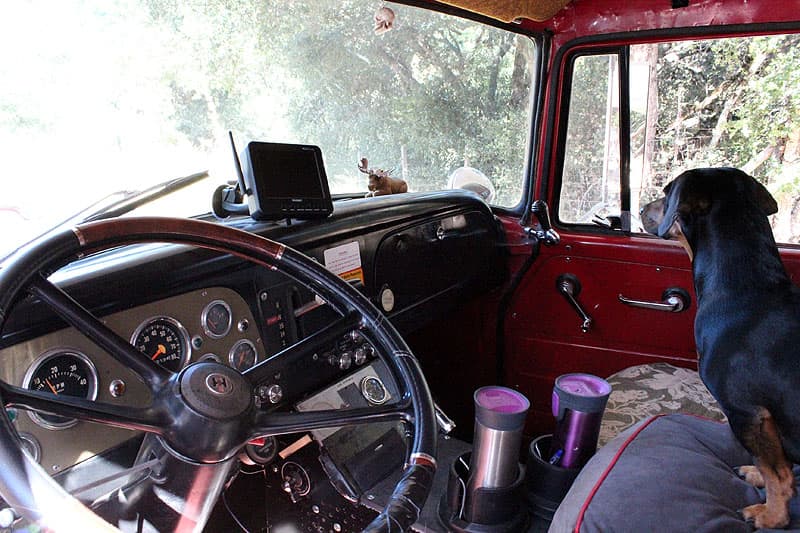 Above: The dashboard of the International fire truck with Benny the dachshund
TCM: Since the truck was a fire engine, does it still have lights and a siren?
Thomas: The truck had six running lights on the cab but, with the required clearance between the cab and camper, they had to go.  It also had a round light on top, but we had to remove that as well.
The truck now has two spot lights, and two red lights on the front fenders.   Everything is the same in the cab.  We still have the siren and PA system.
TCM: I'd like to have that PA system and siren at truck camper rallies, and for knuckleheads on the road.  You have already stated that you acquired the truck from the fire department.  How much was the truck and flatbed build?
Thomas: At first the board was going to give me the truck as a retirement gift.  But then a small financial offer was made on the truck, so the board could not gift the truck.  Then they said, "How about $1,000 dollars?"  It was a fair deal.
Sequoia: The flatbed was expensive at $5,000.
Thomas: And another $1,000 was spent on new air pods, which is the brake system that the air system controls.  We also got new brake lines.  Then we got a set of tires.  That probably put the truck in the $10,000 range – so far.
In Washington the torque converter went out, which was a couple thousand.  Another large expense will be putting in the diesel engine.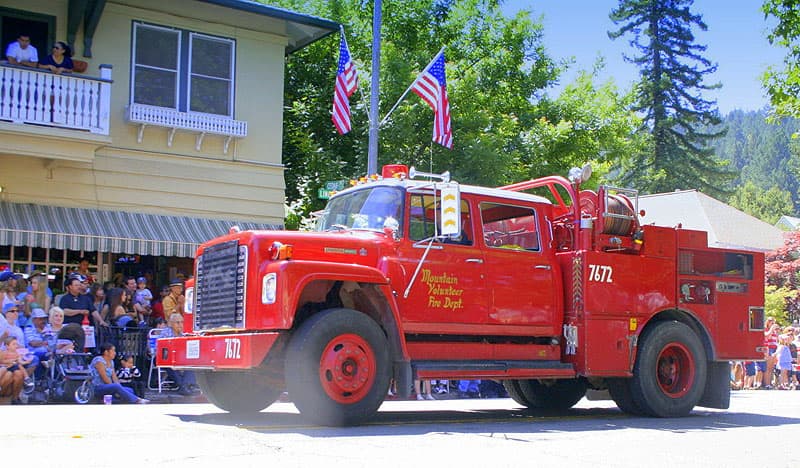 Above: The 1978 International Harvester fire truck on parade
TCM: Did this truck have an active fire fighting career with the fire department?
Sequoia: Before joining our fire department, it started as a forestry truck.  That's where most of the 100,000 miles came from.
After that, it mostly lived in our fire house for 20 years and went out on parades for the 4th of July.  It would occasionally go out for a local brush fire.
Thomas: Fortunately, we haven't had too many large fires in our immediate area.  I took it out four or five times in the 15 years I was at the fire department.  A couple were mutual aid; support for neighborhood volunteer groups nearby.  Other than that, our truck was used for run-of-the-mill fires.
There's been a lot of turnover in our department for the past 30 years, so it's hard to get information on my truck.  When fire equipment is past its prime, it's put into a distribution area for other departments that need equipment.  There's a sister truck that is identical to this truck in a city a few miles from us, but I've never seen it.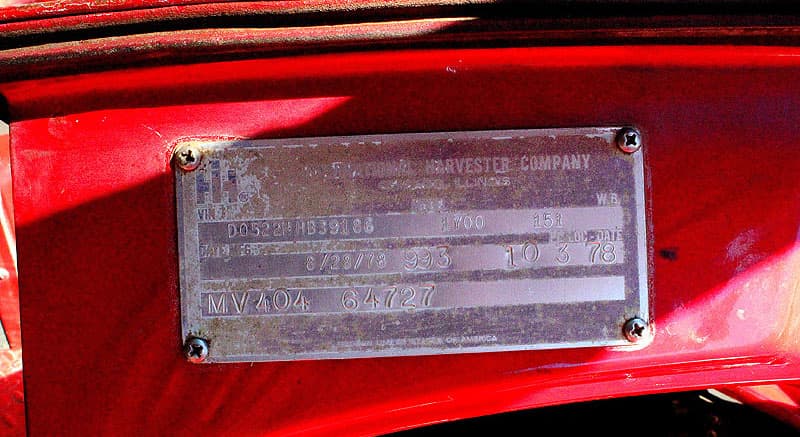 Above: The VIN plate on the International Harvester
TCM: What's the truck's payload?
Thomas: The GVWR is 25,000 pounds.  The truck and camper together are 16,300 pounds.  The camper weighs about 6,500 pounds.
TCM: That GVWR is impressive!  What size wheels and tires are those?
Thomas: I have six 10R 22.5 tires that are 40-inches in diameter.
TCM: The truck and camper look very tall.  Has that been an issue?
Sequoia: We are 13'3" tall to the top of the air conditioner with the camper loaded.  We've already lost two rear view camera antennas from hitting trees.
Thomas: When we first realized that the rig would be over 13-feet tall, we had to decide whether to continue with the build, or not.  We figured semi-trucks and Class A motorhomes are that height.  I did install a front camera so I can switch between the front and rear cameras to see what's in front of me at that height.  We also carry a chainsaw.
Sequoia: We have to be careful with the clearance at gas stations.  We can't get under some of the canopies.
Thomas: I have an app on my phone that tells me all of the overpass heights in the United States.  We can't go under anything less than 13'5".  We were in the Columbia River Gorge on the Washington state side, and found several tunnels that were only 12-feet tall.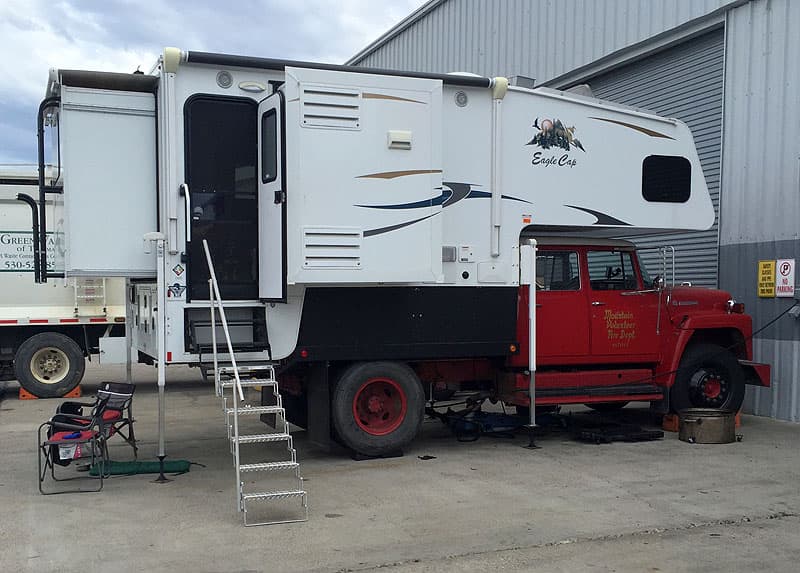 Above: The tall climb into the loaded camper was a challenge
Sequoia: Because the truck is so high, we also had to get another stair system to put on the existing steps to get into the camper.  I can't just hop up the steps.
Thomas made a railing system so that I can get in the camper.  The railing system consists of two-piece aluminum tubing that slides.  If you put out the stairs and you're on an incline or hill, it adjusts.
Thomas: I welded a collapsible step system to the original steps.
TCM: Have you made any suspension modifications to the truck?
Sequoia: We replaced the shock absorbers because they were all shot.  We have not replaced the springs.  When loaded with the camper, we are on the overloads.
Thomas: The truck still has the original springs.  A local place said they could have custom springs made for our truck, but it would be costly.  We are thinking of getting air suspension because the ride is so stiff.  It doesn't give very much.
When we were in Nevada looking for minerals and gems, we got on a bad road.  The rig crawled up the road, and wobbled.  When the truck would tip from one side to the other, the load wouldn't move properly because the original springs are so tight.
TCM: I can't believe we're saying this, but perhaps you have too much GVWR and payload.  How long did it take from start to finish to put the rig together?
Thomas: It took a year for us to get the camper and we were working on the truck at the same time.  So, realistically it took a year and a half to put it all together.
TCM: Is this your first truck camper?
Thomas: Yes, this is our first truck camper.  We chose the Eagle Cap 1165 because the layout inside the camper was what we wanted.
Sequoia: With all three slides, it's like an apartment in there.  We even have recliner seats.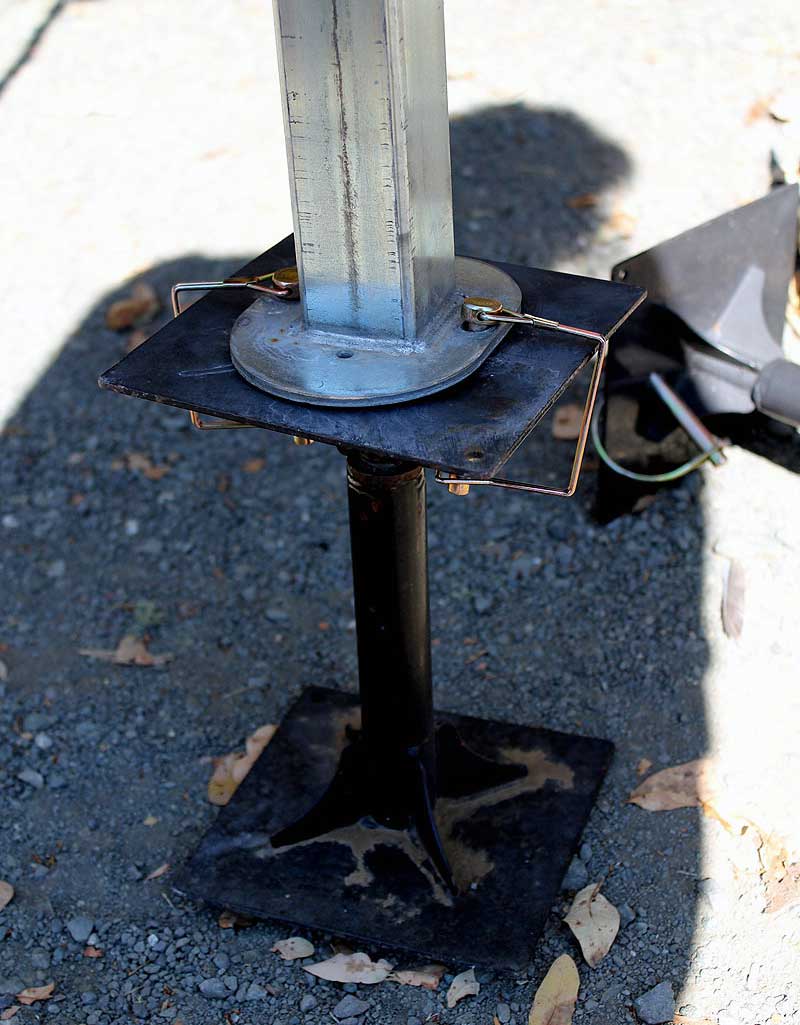 Above: Happijac jack extensions make for easier loading and unloading, and stabilization
TCM: Tell us about loading and unloading your camper.
Thomas: The flatbed on the truck is three feet higher than a normal pickup truck bed, so the Happijac jacks on the Eagle Cap don't reach the ground.
We purchased jack extensions and put bolts through them so they can't move.  With this mod, we can use the Happijacs for stabilizing the rig when camping.
As far as loading, I had to create boxes and extended rails so that I can drive out and not get caught on anything.
TCM: Do you need a special driver's license to drive the truck?
Thomas: Yes and no.  To drive a truck that's 25,000 pounds with air brakes, you need a Class B license.  We lowered the rig to less than 25,000 pounds by taking off the water tank and pumping engine.
In another year it will be a historical vehicle, so we can get a historical vehicle license.  I have a fire department classification on my license so that I can drive it right now.
I talked to Highway Patrol and the rig can also be registered as an RV only.  If I convince them the camper is only removed for maintenance, it can be registered as an RV.  I am currently insuring it as a two-and-a-half ton commercial truck.
TCM: Now that the rig is together, is there anything you would change, or anything you would have done differently?
Thomas: Knowing what we know now, I would have extended the flatbed to support the rear overhang of the camper.  On our month-long trip to Yakima, Washington, the back end of the camper was hanging off the back end of the flatbed unsupported.
Fortunately, Adventurer Manufacturing did an excellent job repairing the camper under warranty – it had some cracks from not being properly supported – with no cost to us.  They were great, and gave us a factory tour.
Now we have these big huge rails that go out the back to support the camper.  The rails also make for perfect loading guides.
Sequoia: We originally thought the gas engine would be fine.  After driving the steep grades and inclines of Oregon and Washington, we are thinking differently.  We're going to put a sticker on the back that it's a vintage fire truck, and we are slow.  People following us sometimes get impatient.
Thomas: When we first loaded the camper, I took the whole rig to a heavy truck company.  The manager took an interest because it was a fire truck.  He took it out for a spin to test it.  It performed admirably.
The camper doesn't really move on corners and is rock solid.  I feel good about the way we've designed the rig and the way the camper fits the flatbed.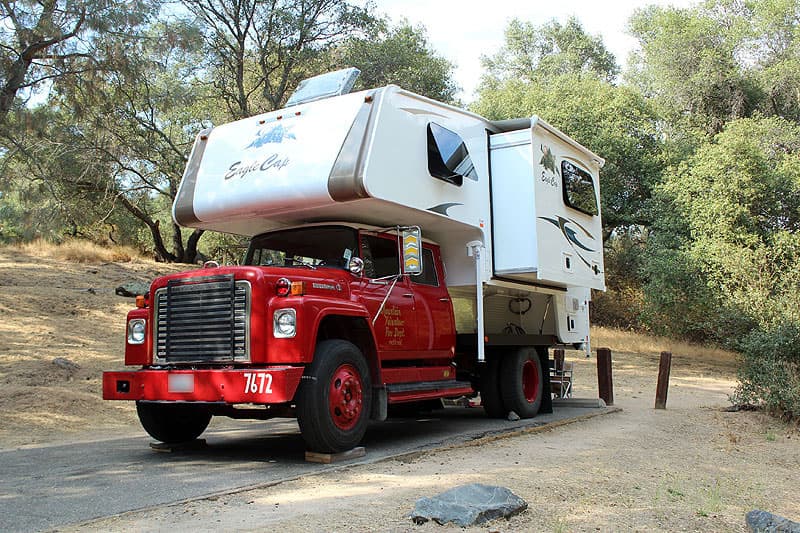 Above: Camping in the International fire truck and Eagle Cap 1165 triple-slide
TCM: How did your first camping trips go?
Sequoia: For our first trip out, we wanted to end up at the Adventurer Manufacturing factory in Yakima, Washington.  On the way, the torque converter in the transmission went out on the second day.  Miraculously, it happened in Redding where there was a Cummins repair facility.
For five days, we camped next to a broken down garbage truck waiting for needed parts to arrive.  While we waited, we rented a car, did laundry, and visited a nearby state park.  Then the truck was fixed and we were back on the road.
We had made plans to meet up with friends, but the window of opportunity had closed, so we went to Crater Lake National Park instead.
Then, in Bend, Oregon, we had a tire blow out.  The tire tread looked good, but we didn't realize the tires were 20 years old.  Tire rubber deteriorates even when it's sitting in a fire house.  With that news, we got new tires.  It was an expensive trip.
Other than that, the truck did a great job on our first trip.  It didn't overheat because we have a huge radiator.  We also didn't drive it more than 200 miles a day.
When you drive this truck you have to hang on to the wheel because the power steering is old fashioned and the gas pedal is stiff.  It's a work out to drive it.
Our truck has a theme song; Brick House by the Commodores.  We call her the brick house.  Sometimes, when we land someplace, we play it.  The Eagle Cap has speakers on the inside and outside, so we sing Brick House.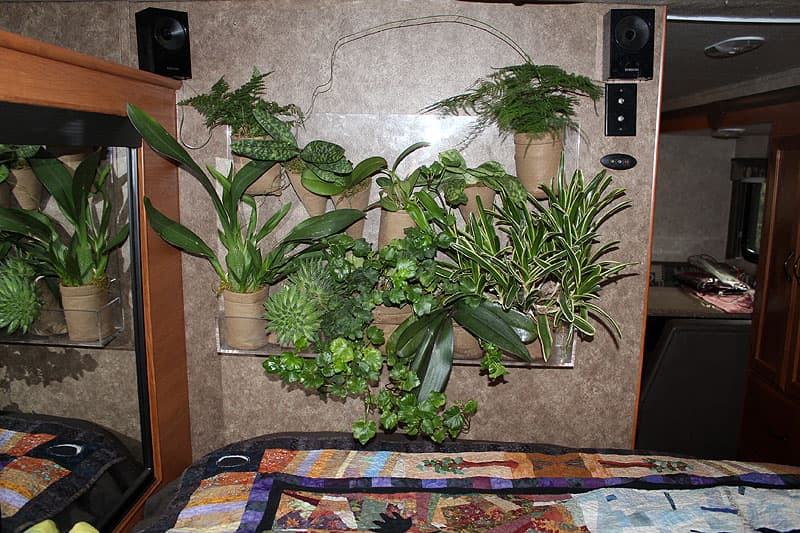 Above: The plant wall in the cabover
TCM: That's funny.  We should ask our readers what theme songs their trucks and campers would have.  In some of the photos you sent us, there are plants on a wall in your camper.  What's that all about?
Sequoia: I have a plant wall in the cabover bedroom.  It is a big blank wall that has the bathroom on the other side.  It's where there are hookups for a second television.  We don't need two televisions, but I do need my plants.
I have a plexiglass piece that hangs on the wall with a trough on the bottom.  I attached it to the wall for grow pot bags.  I have Orchids, Bromeliads, and African Violets growing in the camper.  There's a good skylight in the cabover, so the plants get plenty of light.  We like to have plants in our RV.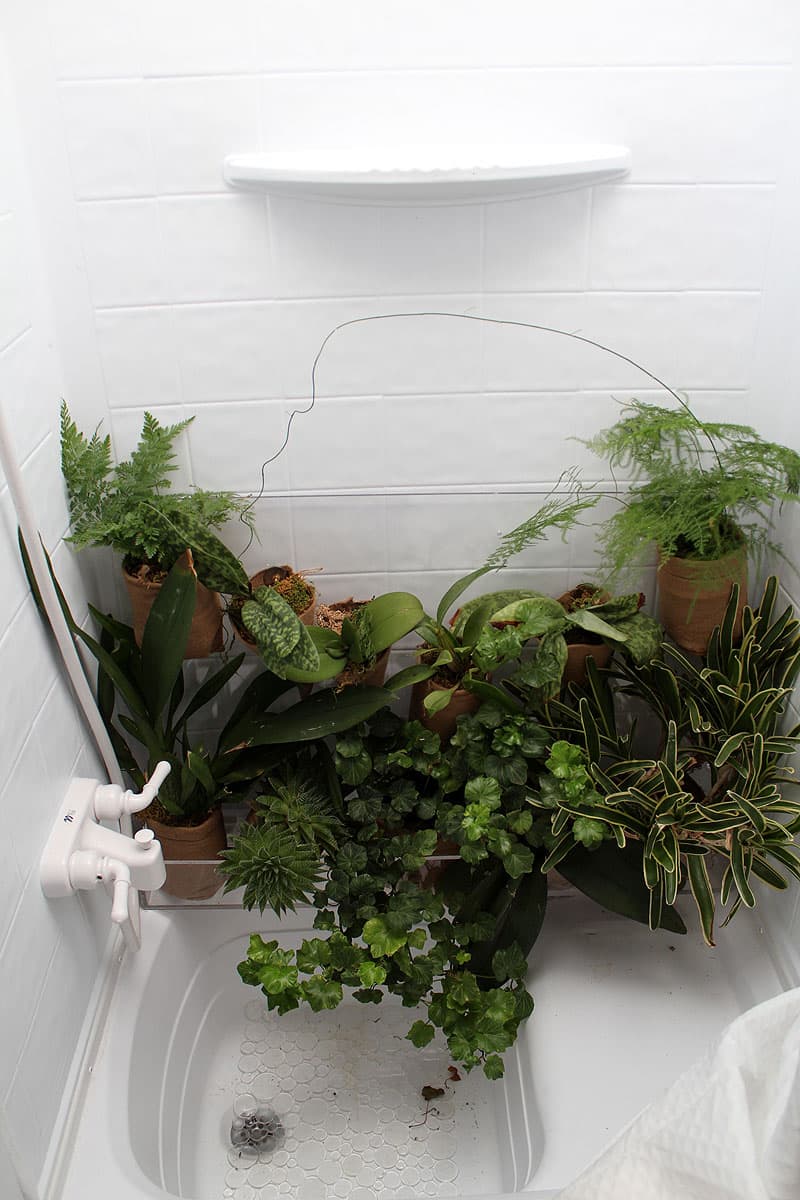 Above: The camper shower doubles as a greenhouse for plants
Before we left on our trip, I planted up a Patio tomato.  It's like a Bonzai tomato, so it's only two feet tall.  I had it in a geo pot and it lived in our shower.  For the whole trip we ate tomatoes off of that plant.  The shower has an incredibly bright skylight, so it was like a miniature green house.  It sat on the composting toilet when we showered.
TCM: A garden to go.  Why not?  Tell us about the composting toilet, and any other mods you made to the camper.
Thomas: We removed the flush toilet and installed a compost toilet.  We also replumbed the black tank and turned it into a second fresh tank.  Now the rig has a 100-gallon fresh water capacity.
We installed a water filtration system with UV and a secondary pump to purify water.  We also have a solar array and a wind turbine.  This rig can source water and make power on the fly.
TCM: Where do you plan to go with your truck and camper in the future?
Sequoia: Thomas has gone all over the world, but he's never been to the national parks here in the United States.  I went to some as a kid in a family station wagon and travel trailer.  I only have faint memories of those trips, so we want to go see the national parks.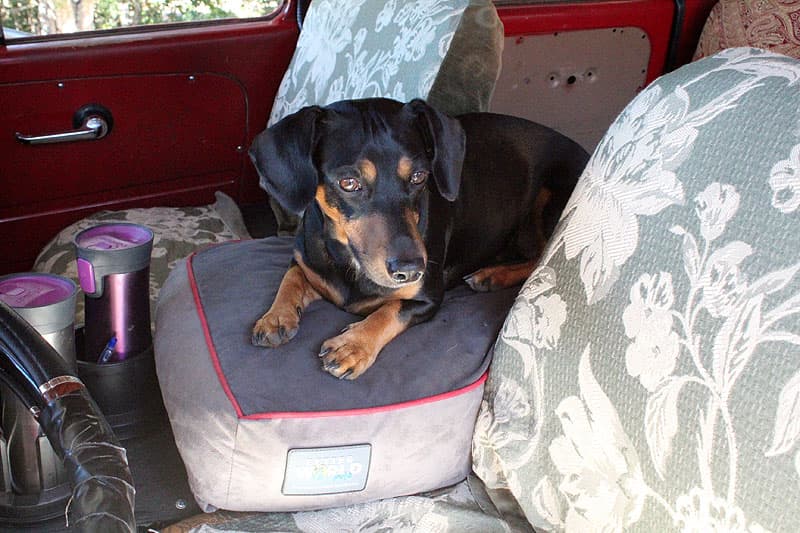 Above: Their dachshund, Benny, travels with them
We have talked about going mostly full-time in our rig.  We want to do this now when we're young enough and in good enough shape to do it.  We also have a small dachshund named Benny and he travels with us.
Our next trip is this winter.  We met up with the Gypsy Time Travelers.  You would be amazed with their rig.  It looks like a castle.  They go to fairs and festivals and do shows.
The Gypsy Time Travelers told us about Tecopa, California south of Death Valley.  That's where a lot of boondockers go in January.  We're thinking of going there this January.
Thomas: We make garden art that we sell at fairs and venues locally.  They are metal and glass flowers.  We collect glassware from hospice and yard sales and then we make flowers out of them.  I weld together stems and leaves.
Sequoia: We were thinking of taking our garden art on the road and going to festivals.  You can see our work at ravenworksupcycle.com.  We are a work in progress.
Thomas: We want to travel wherever the wind takes us.