Chris Cole, President of Campa USA, envisioned a flatbed Unimog U500NA with a Phoenix Custom Camper, and spent two years making his very own Unimog truck camper rig.

Building a Unimog Truck Camper Rig
by Chris Cole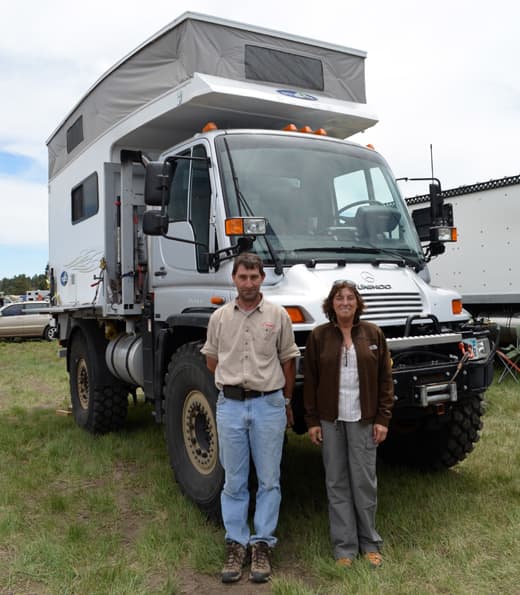 Above: Chris Cole and Anne Pence with their Unimog Phoenix Custom Camper rig
Growing up in South Africa, I developed a deep interest for four wheel drive vehicles and expedition travel.  After many overland adventures, serving in the military, and earning degrees from the University of Natal and Cornell University, I founded Campa USA.  Campa USA manufactures all-terrain trailers and camping trailers for off-road, overland, and expedition enthusiasts, as well as disaster response teams.
I've owned and manufactured a wide range of overland vehicles over the years.  For this build, I wanted to move away from tent-based expedition trailers and assemble a rig that could comfortably support a family for extended adventures.
That meant a vehicle where a family could travel and stay in comfort, enjoy heat when it's cold, air conditioning in the heat, be able to cook inside and outside, and sleep in a comfortable bed.

We like to go fishing and stay two weeks in one spot.  To do this, we needed the rig to reach to our favorite far away spots and camp, off-the-grid, for a two week period.  This was our vision for the build.
2012 Unimog U500NA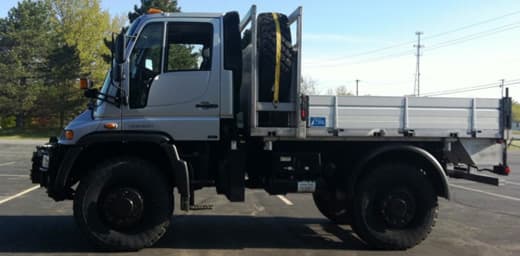 After considerable research, I decided a Unimog would provide the best vehicle platform for this build.  I found a 2002 Unimog U500NA with a GVWR of 26,000 pounds.  The vehicle weighs 16,000 pounds giving me a payload capacity of 10,000 pounds.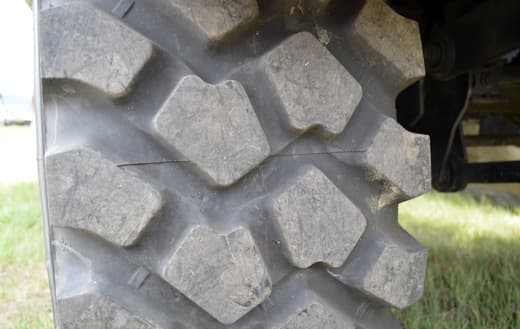 The rest of the Unimog U500NA's statistics are equally impressive.  The tires are 395/85 R20 Michelin XZL L1 168G tires.  These are all-terrain, all-position, self-cleaning, radial tires designed for emergency response vehicles and offer excellent flotation capabilities for snow, sand, and mud.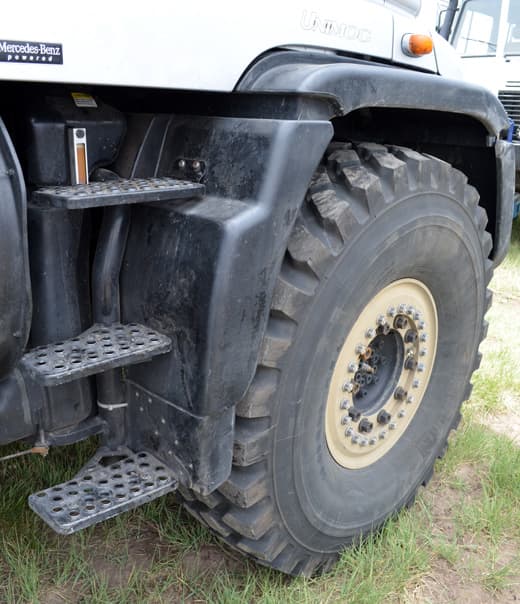 The Michelin XZL tire system is augmented with a central tire inflation system (CTIS) that shows front and real axle tire pressure levels.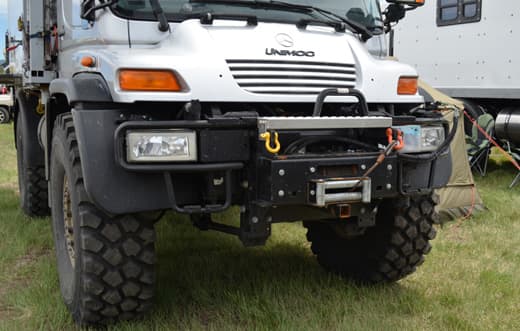 The Unimog also features front, center and rear differential locks, chrome vertical exhaust, transmission oil cooler, single circuit hydraulic system, high output 270 amp alternator, 1,500 watt electrical engine pre-heater, fuel-water separator with fuel heater, and a grid heater at air-intake.  The engine has been increased in output for 285 horsepower at 811 foot-pounds.  Of course there's a speed limiter set for seventy miles per hour.  The Unimog is not a racecar.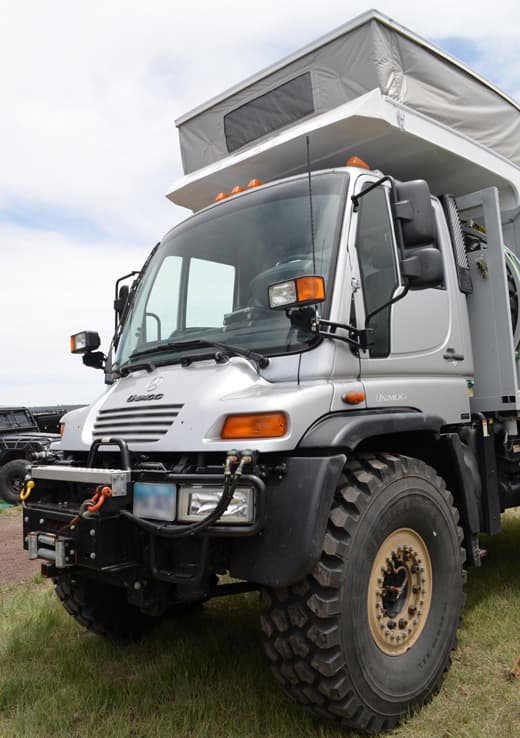 The Unimog cab has some neat features including a Webasto diesel heater, two-way radio, warning light for tip cylinder, air suspended seats, and a heated windshield.  Visibility is helped with high mounted headlights and daytime running lights.
On the front of the Unimog is a 16,000 pound hydraulic Warn Winch.  In short, this Unimog is loaded.
The Utility Flatbed
I wanted to keep the rig as compact as possible while keeping the utility of the tipper utility flatbed intact.  The platform of the tipper body is 8.75 feet long, 7.3 feet wide, and 15.8 inches tall.  The new flatbed was to be eight feet wide by eleven feet long.
I decided to build a new tipper bed and integrate tanks for fresh water, grey water, black water and diesel into the bed itself.  I also wanted to use 3CR12 as the material.  3CR12 is a very strong grade of stainless steel that is resistant to corrosion, forms well, and welds well.
The bed was constructed with two inch by four inch by three millimeter (.118") thick rectangular steel tubing.  In all but one place, strength was increased by using two pieces of two inch by four inch rectangular 3CR12.  The longitudinal and lateral pieces lock together by each being notched out in the appropriate places.  This creates an extremely strong structure.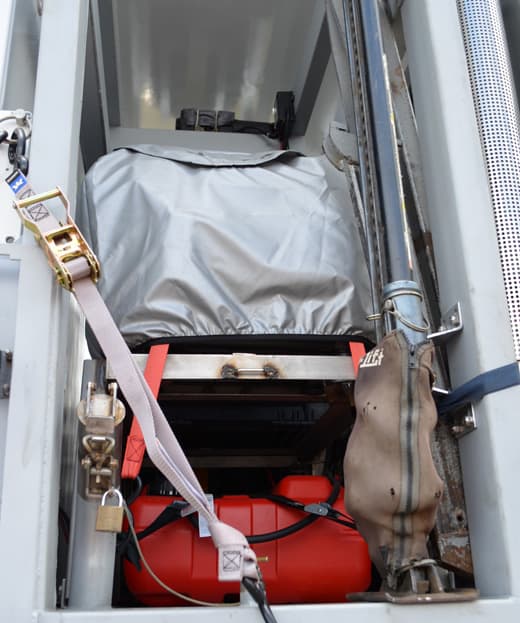 The first two feet behind the cab is dedicated to holding the spare tire, a generator, and tools.  The remaining nine feet would be an open bed with sides from the original U500NA tipper bed.
The Built-In Tanks
There could potentially be 2,000 pounds of fluids in my rig at one time.  That includes diesel, gasoline for the generator, fresh water, black water, and grey water.
That being said, one of the amazing things about this rig is that the truck camper itself physically has no holding tanks.  All of the fluids are stored in the Unimog's bed or the truck's tanks.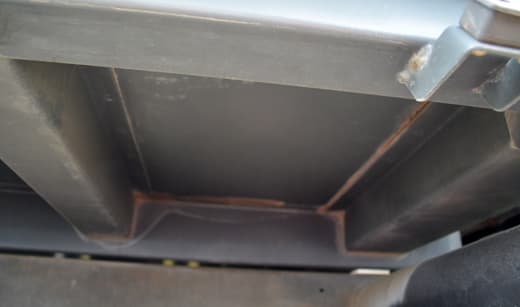 A regular Unimog has support beams under the bed holding up the bed.  The voids between the longitudinal and lateral pieces of rectangular tubing (see photograph above) were converted into tanks for fresh water, grey water, black water, and diesel.
There are three separate fifty gallon fresh water tanks, forty gallons of black, and forty-five gallons of grey.  There is also eighty gallons of diesel in the bed of the truck as well as the truck's standard sixty gallon diesel tank for a total of one hundred and forty gallons of diesel.  We also carry six gallons of gasoline for our Honda generator.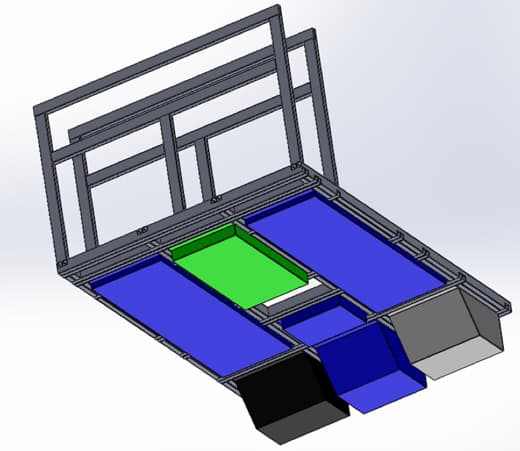 The diagram above shows the underside of the rectangular tubing skeleton covered with the lower trays for the tanks.  Blue represents water, grey represents grey water, black represents black water, and green represents diesel.  The top deck was covered with a flat sheet in a similar configuration.
In the picture above you see the upright section dedicated to holding the spare wheel and tire, tools, and diesel tanks.
With about 150 gallons of water and 140 gallons of diesel, I was satisfied.  The weight was low and evenly distributed across the bed.  I designed all the required plumbing connections, fillers, and breathers.  I used quick connects where necessary for the camper unit that would occupy the rear nine feet of the bed.  The camper extends past the rear of the bed by one foot and drops down one foot below the deck.
I placed a deck on top of the frame and made trays that were welded onto the bottom of the rectangular tubing frame.  The top deck and bottom trays were made from a three millimeter thick 3CR12 flat sheet that was laser cut and formed.
Phoenix Custom Camper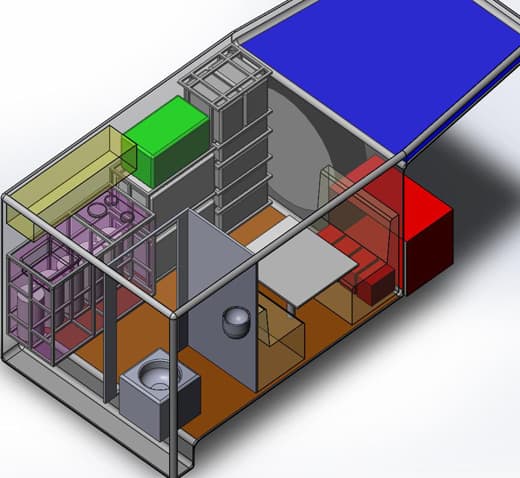 I have a very unique ten foot Phoenix Custom Camper.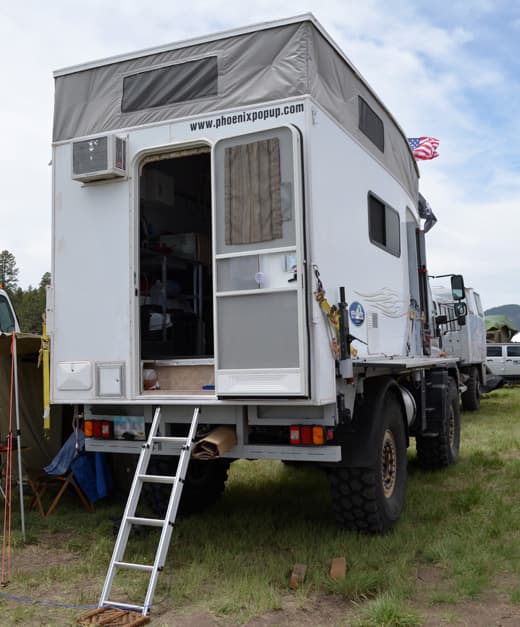 It is amazing in that I can fully stand up in the camper while it is popped down because there is six feet of clearance inside the camper with the roof down.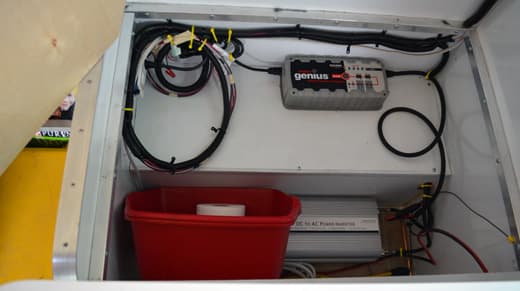 The Phoenix Custom Camper has four batteries giving 450 Amp hours, a 5,000 watt inverter, and a Honda EU2000i portable gas generator, and a 26 Amp intelligent battery charger.  I am planning on adding a solar system.  The rig currently has four ten pound propane tanks and can fit five.
The Phoenix Custom Camper features heat and air conditioning and all-LED lighting for low power draw.  Other custom requests include stainless steel countertops and polyurethene floors to prevent rot.  There is even filon fiberglass on the inside walls.  Just like most regular truck campers, the dinette can convert into a bed.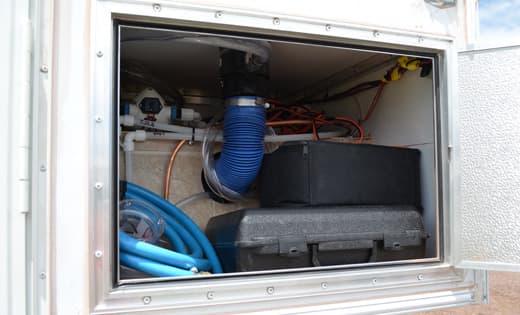 The black water is extracted from the black water tank via a macerator.  Since the tanks are in the bed of the truck, the position of the toilet had to be above the black water tank.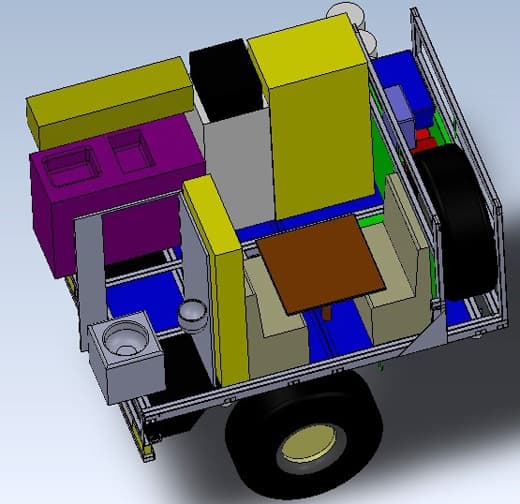 Robby Rowe of Phoenix Campers designed and built the camper, but he had to work around my design and build for the truck bed.  That means the fresh, grey, and black tanks had to be aligned.  That was not an easy task.  The flexibility of design and the ability to make my extensive custom requirements happen is why I went with Phoenix Custom Campers.  I had spent a great deal of time researching to find a camper builder with the expertise to build this custom camper.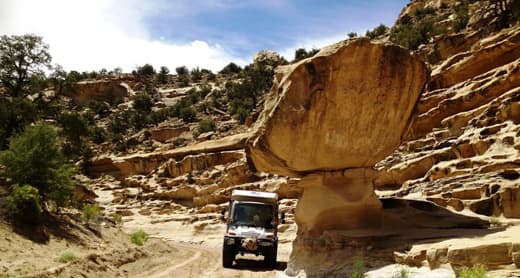 All roads led to Rob and Cari Rowe and they did a fantastic job.  I am delighted with our camper.
Time For Adventure
We finally got the rig set up right before Overland Expo 2013.  After the event, we went on a trip to Utah.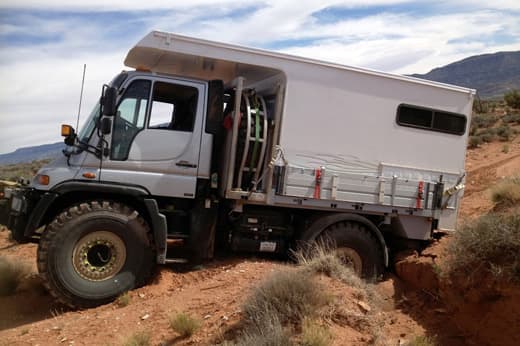 We spent a week living out of it and we really pushed it on some really rough dirt roads.  I wanted to see whether the camper would hold up.  I even got it stuck in a really big ditch and had to be pulled out.  My camper has been a big success.