Sunil Hegde had a vision of the ultimate overland truck and camper rig for world travel.  He started with a Mitsubishi Fuso FG, and called Four Wheel Campers.

Imagine that you're walking down the street when a nut-throwing squirrel drops an usually large acorn right on your head.  In an instant, you have a vision; the ultimate off-road, off-the-grid, go-anywhere, world-ready truck and camper rig.
The Mistubishi Fuso four-wheel drive truck is available all over the world, with parts and service available on every continent.  The diesel tanks hold 900 miles worth of fuel.  The all-terrain wheels are able to dominate all terrains.
The custom Four Wheel Camper is fully-self contained, able to safely plug into almost any power source, and features on-board water filtration, ample solar power, and efficient LED light.  All of its appliances operate on 12-volt electric and/or diesel fuel.
Most importantly, the assembled rig fits into a standard shipping container, ready to be shipped all over the world.  All you need is diesel fuel, water, food, and a direction to explore.
Then you wake up to the unmistakable laughter of a tree full of squirrels.  Was it just a dream?  Would it be possible to actually build the ultimate overland truck camper rig?
There were probably no nut-throwing squirrels involved, but some might say what Sunil Hegde did, with the help of Four Wheel Campers, was a little nuts.  Nuts or not, the results are nothing less than spectacular; truly an ultimate overland vision realized.  Introducing the one-of-a-kind Fuso Four Wheel Camper.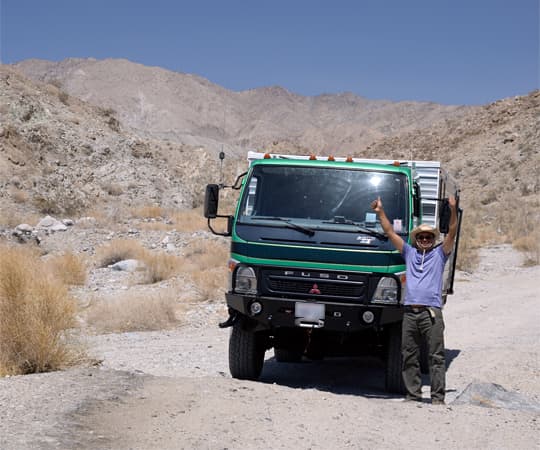 Above: Sunil with his 2006 Mitsubishi Fuso FG and 2013 Four Wheel Camper in Joshua Tree National Park, California
TCM: How did you end up custom building a Mitsubishi Fuso rig?
Sunil: I originally wanted to travel on a motorcycle.  As I got older, and since part of my job is to care for people who are in serious motorcycle accidents, I decided to change course and custom build a camper.
I wanted to build a go anywhere camper to travel the world.  I wanted a kitchen, shower, and room for my stuff.  After considerable research, I decided on a Mitsubishi Fuso and a custom Four Wheel Camper.
Above: The 2006 Mitsubishi Fuso FG before the camper was mounted – click to enlarge
TCM: Why did you want a Fuso?
Sunil: I wanted to maximize usage of space with a cab-forward design.  I also wanted four-wheel drive.  The only cab-forward truck with four-wheel drive sold in the United States is the Fuso.
In Australia, the overland community has been successfully using the Mitsubishi Fuso for many years.  That made me comfortable with getting the Fuso for an overland rig.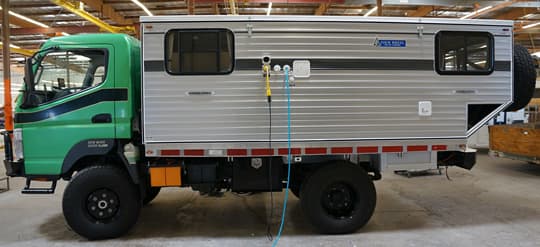 Above: Sunil's 2006 Mitsubishi Fuso FG and 2013 Four Wheel Camper
I wanted a 2006 Fuso because that was the last year that the EPA package was not used.  This means the systems are more simple than the newer Fusos, and easier to fix in case of breakdowns.  Fusos are sold in over 120 countries and as long as you don't modify engine and transmission, a Fuso can be worked on anywhere in the world.  That was another important consideration.
Above: The Mitsubishi Fuso and Four Wheel Camper can fit in a normal parking spot – click to enlarge
TCM: Where did you find your 2006 Mitsubishi Fuso?
Sunil: I found it online.  It was at a dealer in Connecticut with 15,000 miles.  It was practically brand new.  For some reason it was shipped from Oregon to Connecticut to be sold, so I had to have it shipped back to the West Coast.  It is the exact truck I wanted.  As far as I know my Fuso was used as a farming vehicle before I got it.
The suspension and the shocks are custom made and it gives the rig a ride similar to a SUV.  I am able to replace the custom shocks with stock shocks if I have to.  The engine and transmission are completely stock with no modifications.  The cabin in the Fuso has been insulated with Dynamat and is so quiet that I sometimes forget to shift the gears.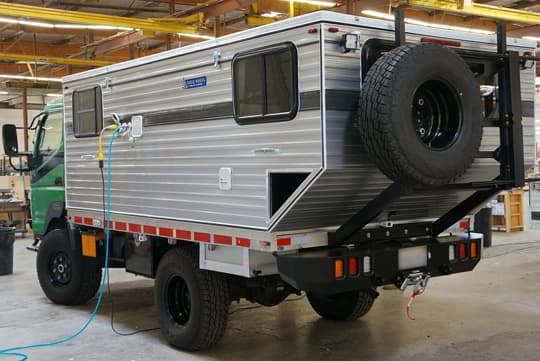 TCM: Tell us about your fuel tanks.
Sunil: My Fuso has two diesel tanks totaling seventy-five gallons with a driving range of 900 miles.  I replaced the original diesel tank with a larger fifty-gallon tank in the same space.  Another twenty-five gallon tank is located between the two frames of the back end of the chassis.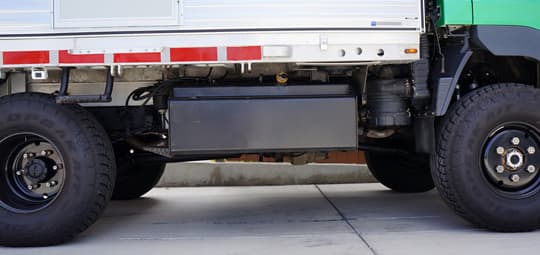 Above: The main diesel tank on the Fuso
The Fuso diesel engine runs on low sulfur, and high sulfur diesel fuel.  When I go to South America, there will be some places where I will not be able to get low sulfur diesel.  This truck can run on diesel with any sulfur content.
TCM: If 75 gallons gets you 900 miles, you're averaging 12 miles per gallon.
Sunil: That's right.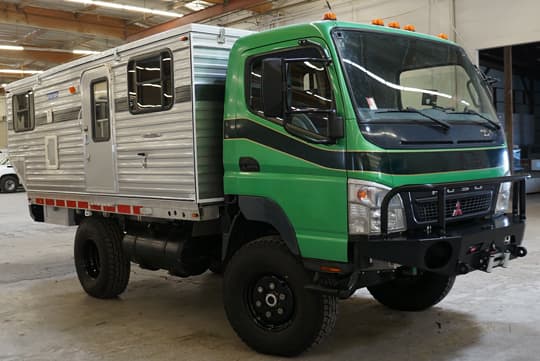 Above: The dually was changed to a single rear wheel
TCM: How did you change your dually to a single rear wheel?
Sunil: The consensus on Expedition Portal is that changing a Fuso from dual rear wheels to single rear wheels improves the handling and makes the rig easier to drive.
To get the wheels I contacted Kym Bolton at GoannaTracks in Australia and had them ship five 17×9 wheels to the United States.  The hassle of getting the wheels through US customs was a new experience.  I didn't know the process.
When the overseas manufacturer initiates the shipping, they have to fax or email the shipping manifest documents right away.  You have to register with US Customs as an importer and file the documents with US Customs before the shipment leaves the last overseas transshipment port.  This will allow the US Customs to inspect the package overseas for security purposes.  You then have to hire a customs broker and pay the taxes and fees to get the consignment released and delivered to you.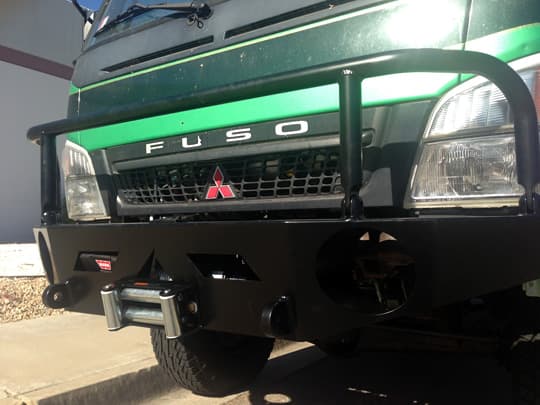 Above: Aluminess front bumper with a Warn winch, brush guard, and additional headlight slots
TCM: Tell us about your Aluminess bumpers.
Sunil: I changed the bumpers to Aluminess aluminum bumpers to get more functionality and decrease the overall weight.
Aluminess bumpers are much bigger and better than stock bumpers for absorbing an impact.  They feature built-in slots for Warn winches both in the front and back.  There's also a brush guard and additional headlight slots in the front bumper.
Above: Aluminess rear bumper includes room for a spare tire, bicycles, and storage boxes – click to enlarge
In the rear, Aluminess designed a rack to hold the spare wheel, bicycles, and/or storage boxes.
The Aluminess bumpers mount straight to the chassis.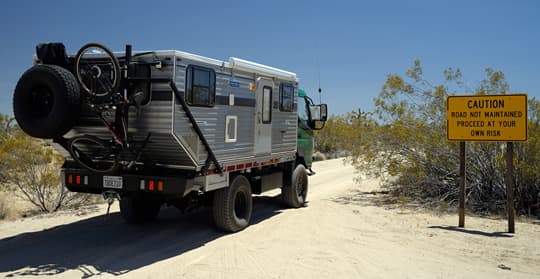 Above: Driving down an unmaintained road in Joshua Tree National Park, California
TCM: Why do you have three independent navigation systems?
Sunil: I have navigation via cellular network, via GPS, and via Delorme Iridium inReach satellite messenger.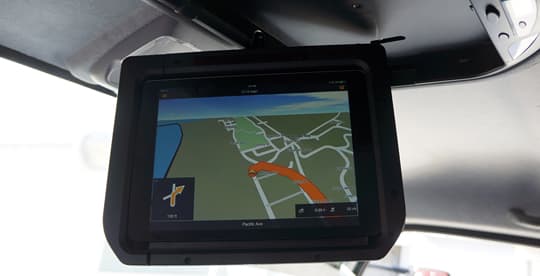 Above: Drop down iPad from the roof for navigation with Garmin Navigon

Above: The Garmin Heads-Up navigation, the Heads-Up display projects the navigation instructions to the windshield so you don't have to take your eyes off the road.
Navigation using cellular networks and Google maps works where there is access to cellular networks.  When I'm outside the reach of cellular networks, I use the Garmin Navigon system on an iPad with a GPS chip and preloaded maps.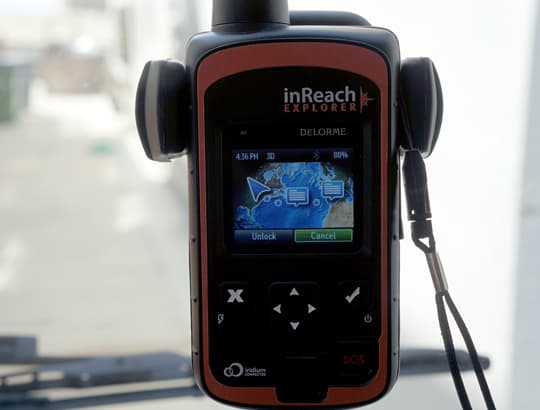 Above: The Delorme InReach Explorer
The Delorme InReach Explorer that I installed is primarily for sending SOS messages.  The Iridium satellite network has global coverage.  It also allows you to send an email directly via satellite, bypassing the local cellular networks, to communicate with the monitoring station.
Delorme also sells a separate insurance policy that will provide emergency medical care and evacuation, if needed.  The Delorme InReach Explorer pairs with the iPad and works in a similar way to a GPS system.  With preloaded maps, it allows you to navigate anywhere.  Delorme InReach Explorer is my back up system.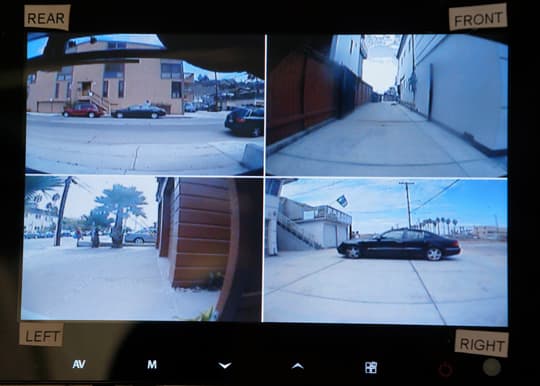 Above: Cameras that give Sunil a 360 degree view from inside the Four Wheel Camper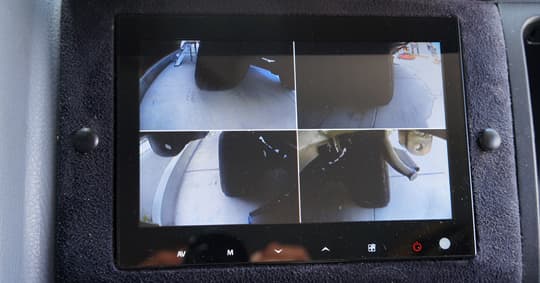 Above: Cameras are over each wheel which will show the position of the wheels
I also have cameras that give a 360 degree outside view from the Fuso cabin, as well as from inside the camper.  In addition I have a camera over each wheel which will show me the position of the wheels.  If I'm on a ledge, I can see where my wheels are located.
Above: Build process of the Four Wheel Camper – click to enlarge
TCM: That's neat, and potentially a life saver.  Your camper certainly doesn't look like a typical Four Wheel Camper.  How did you go about designing it?
Sunil: I designed it with the Four Wheel Camper team.  I told them what I wanted including the layout, specifications, and diesel appliances.  I wanted the camper to sleep three people, have a full kitchen, a toilet, and water heater.  The biggest challenge was the pass-through.  That took a lot of work, and design.
Prior to buying the Fuso, I had met with Tom Hanagan, President of Four Wheel Campers, and floated the idea to him.  I was very lucky to catch Four Wheel Campers when they were moving to their new factory location.  They had the time to do it, and agreed to do a one-off camper for me.  Tom is a nice guy, and I know that it was a challenge.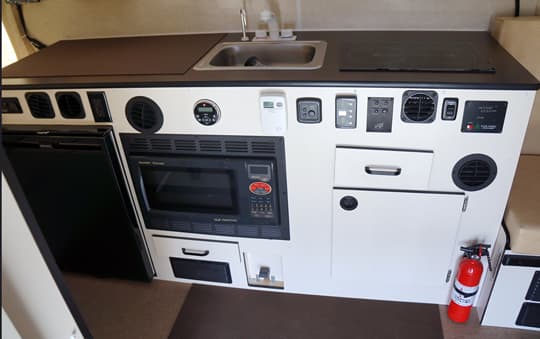 Above: The kitchen in Sunil's Four Wheel Camper
TCM: Why did you choose diesel appliances?
Sunil: I wanted one fuel source for all tasks, and that was diesel.  The cooktops, the space heater, and the water heater are all diesel powered.

Above: Panels for the electrical controls, fuses, shore power, some internal lights
TCM: What power sources does the camper have?
Sunil: I have no propane and no generator.  I do have house batteries recharged by solar and trickle charged by the Fuso engine.  The house batteries are completely independent of the truck batteries.
The battery and inverter system runs the LED lights, fans, air-conditioner, microwave, convection oven, and the 12-volt refrigerator.  The inverter will run the air conditioner for three to four hours.  I have provisions for both 110 volt and 220 volt shore power hook-up.
Above: The pass-through in the Four Wheel Camper and Fuso
TCM: You said the pass-through was the biggest challenge.
Sunil: To make the pass-through, Four Wheel Campers mounted the camper and lined it up with the Fuso.  Then we cut the Fuso cab.  The Fuso is a cab forward truck.  To get access to the engine compartment, the cab has to be tilted forward.
The challenge was getting a connecter that could be easily released and, at the same time, it needed to adequately seal the pass-through to prevent leakage. We used a pillow-connector that is bolted and glued down on one end, and is attached to a frame that slides into a slot on the other end.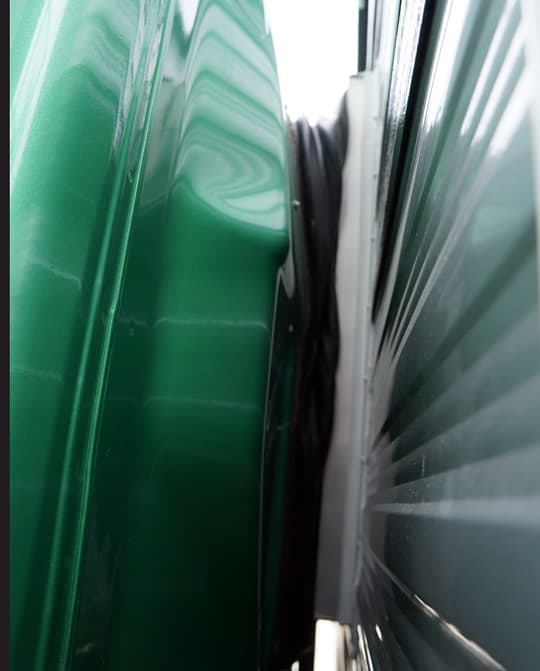 Above: The pass-through is sealed to prevent leakage – photo from the exterior of the truck and camper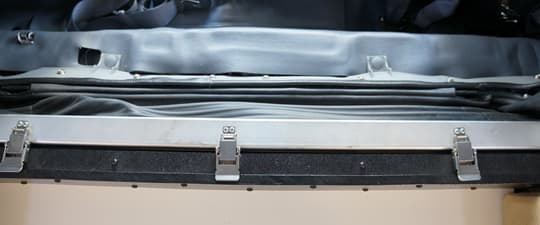 Above: The pass-through is sealed to prevent leakage – photo from the inside of the truck and camper
I wanted a large pass-through, mainly for security.  If I am parked in a foreign country and there's a problem, I can get from the cabin to the driver's seat without going outside.  I can also use it to access the camper during bad weather.  It's a bit of a chore to crawl through, but it can be done.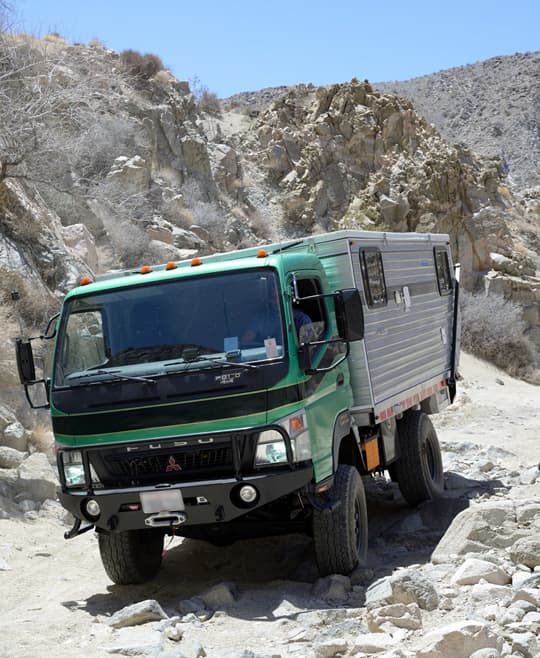 Above: In Joshua Tree National Park on an unmaintained trail
TCM: What are the holding tank capacities of the camper?
Sunil: The rig has 100 gallons of fresh water, 40 gallons of grey water, and a cassette toilet.  The rig also has water pumps and water filtration system that allow water to be pumped from a nearby river or stream to fill the fresh water tank.  I do not need to use a hook-up anywhere if I don't want to.
The fresh water tank is attached to the chassis and the grey tanks are on the side.  I have twenty gallons of grey on each side.  The black water is a five gallon Thetford cassette that I can take it out and dump into a regular toilet.
Setting up all the tanks took planning.  Four Wheel Campers had the truck with them during the design phase so they were able to position the equipment.  Having the truck on site enabled them to understand and work through issues.
I wanted the truck and camper to be relatively light weight.  That was one reason why I choose Four Wheel Campers.  Their aluminum framed construction kept the weight of the camper under 2,000 pounds dry.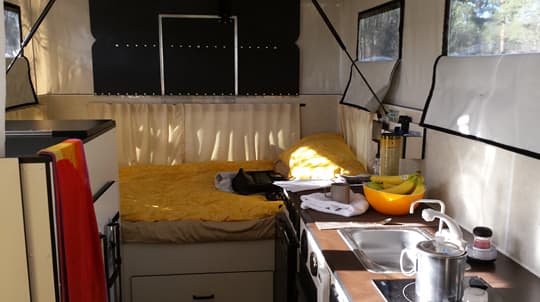 Above: The 80″x48″ bed in the back of the camper
TCM: That's impressive.  This camper does not feature a traditional cabover bed.  Where is the bed located, and what size is it?
Sunil: The rig actually features two beds, a 80" x 48" bed in the back of the camper, and the dinette converts into another 80" x 48" bed.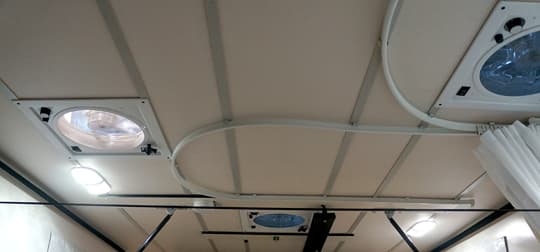 Above: The shower and changing area tracks on the ceiling
TCM: What are the tracks on the ceiling of the camper?
Sunil: There's one curtain that goes around the shower area.  The shower walls are shoulder height and the rest of the area above it is curtained off.  There other track is in front of the shower to create a private changing area.  There is drainage on the floor of the shower area that goes to one of the grey water tanks.

Above: Sunil's 2006 Mitsubishi Fuso FG and 2013 Four Wheel Camper in Randsburg, California
TCM: Other than the pass-through were there any other challenges to this build?
Sunil: The diesel systems were a challenge.  We didn't fully understand the intricacies, like how fat the diesel line needed to be.  If it's too fat, or too small, the system won't work.  It took some time and effort to figure it out.
Four Wheel Campers built the camper, mounted it on the truck, and then installed the connectors.  The whole thing took about nine months for the rig to be built and assembled.  A lot of the time was designing.  I was in no rush and didn't have a hard deadline.  I wanted to make sure it was done right.  That's another reason why I chose Four Wheel Campers.
TCM: In your email to TCM, you said you wanted a cost effective and sensible rig.  Did the Fuso and Four Wheel Camper combination hit the mark?
Sunil: Yes, it did.  The rig cost me quite a bit, but it was cheaper than an Earthroamer and it was custom made for my needs.  I particularly like the spaciousness inside the camper.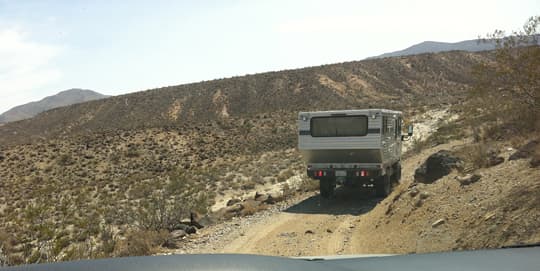 Above: Driving off-road in Randsburg, California
TCM: Do you have any future trips planned?
Sunil: This year I've been doing short trips.  I went to Overland Expo, Joshua Tree National Park, and Avila beach.  I'm just learning about the truck and camper.  Jonathan Hanson of Overland Expo is arranging a three day session to help me break it in and learn the ropes.
I will be going to Baja, Mexico later this year, and South America sometime next year.  Mostly I will be traveling overseas.  I grew up in India and I know how bad the roads can be.  So I am rigged for any terrain.
This rig fits in a high cube shipping container, so shipping is less expensive and much easier than using roll-on roll-off shipping.  The rig dimensions are 270" long, by 8'7" tall with the roof closed, and 7'8" wide.  I plan on traveling for few weeks at a time, then  renting a container, and storing the camper on location.  I will fly back home and then return a few months later and carry on with the journey.  That way I don't have to travel in one stretch.
The big plan is to drive around the world.  The camper was built by Four Wheel Campers specifically to satisfy this goal.  It is extremely self sufficient.  For all practical purposes, all I need is a diesel refill every two weeks or so, and access to food and water.  The camper has everything one has in a house, parks in a regular parking spot, and fits into a shipping container.
TCM: It's quite the extraordinary rig.  We can't wait to follow your adventures.
Sunil: The rig was designed for off-roading.  It's rugged.  It's got all-terrain Falcon Peak tires.  It's got a compressor to inflate the tires.  The hydraulic jack works off the compressor to lift the truck up.  It's a beautiful rig,.  The real beauty of it is its functionality and its simplicity.
Truck: 2006 Mitsubishi Fuso FG, regular cab, single rear wheel, short bed, four wheel drive, diesel
Camper: 2013 Four Wheel Camper Custom Model
Tie-downs/Turnbuckles: Permanently mounted, but can be taken off, just not easily. Engine and transmission is stock, leaf spring suspension is custom, Icon shocks custom and designed to fit original supports
Gear: Front bumper and rear bumper by Aluminess, they custom designed it, the rack to carry bike, brush guard in front, winch in bumper, 10,000 pounds in the front, 15,000 pounds in the back, also a third winch to lift spare wheel into the rack
Do you have a truck camper on a Fuso?  Please share your story about having a Fuso truck camper.