Sunil Hegde had a vision of the ultimate overland truck and camper rig for world travel.  He started with a Mitsubishi Fuso FG, and called Four Wheel Campers.

Imagine that you're walking down the street when a nut-throwing squirrel drops an usually large acorn right on your head.  In an instant, you have a vision; the ultimate off-road, off-the-grid, go-anywhere, world-ready truck and camper rig.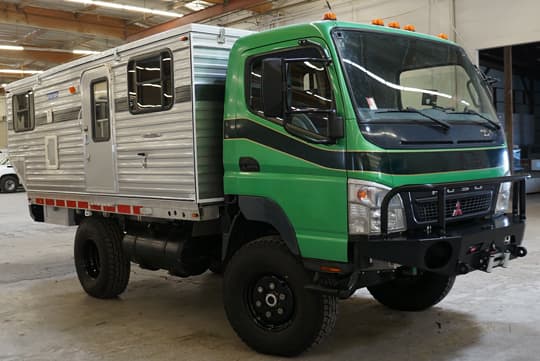 The Mistubishi Fuso four-wheel drive truck is available all over the world, with parts and service available on every continent.  The diesel tanks hold 900 miles worth of fuel.  The all-terrain wheels are able to dominate all terrains.
"The Fuso Camper was made to fit in a container and get shipped all over the world."
The custom Four Wheel Camper is fully-self contained, able to safely plug into almost any power source, and features on-board water filtration, ample solar power, and efficient LED light.  All of its appliances operate on 12-volt electric and/or diesel fuel.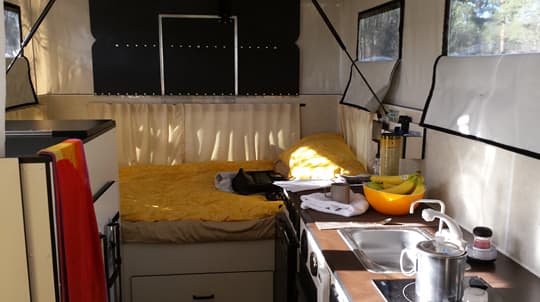 Most importantly, the assembled rig fits into a standard shipping container, ready to be shipped all over the world.  All you need is diesel fuel, water, food, and a direction to explore.
Then you wake up to the unmistakable laughter of a tree full of squirrels.  Was it just a dream?  Would it be possible to actually build the ultimate overland truck camper rig?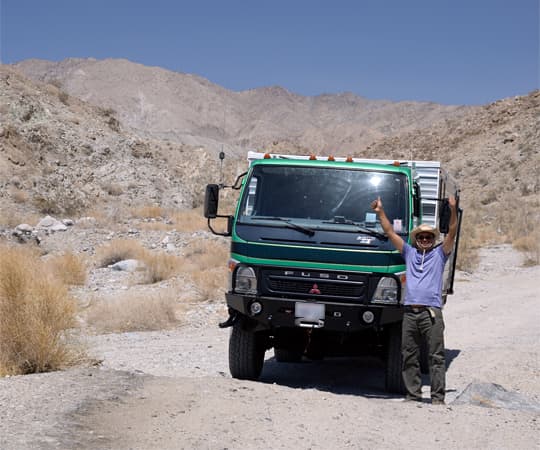 Pictured above is Sunil with his Fuso Four Wheel Camper in Joshua Tree National Park, California.
There were probably no nut-throwing squirrels involved, but some might say what Sunil Hegde did, with the help of Four Wheel Campers, was a little nuts.  Nuts or not, the results are nothing less than spectacular; truly an ultimate overland vision realized.  Introducing the one-of-a-kind Fuso Four Wheel Camper.
How To Fit A Fuso To A Truck Camper  |  Fuso Camper Challenges and Electronics
Do you have a camper on a unique truck?  Please share your story about having a unique rig.