Daniel Bass engineered and built a custom overland vehicle with a Unimog U1300L and a Four Wheel Camper Grandby pop-up truck camper.  Now you can, too.

With all-wheel drive, a flexible frame, and ample ground clearance, it's only natural that folks have matched the incredible off-road capabilities of Unimogs with the vigorous versatility of truck campers.  Unfortunately, matching a Unimog with a production truck camper is anything but natural.
Truck campers are designed for standard pickup-trucks.  Standing several feet taller than pickup trucks, and lacking a typical pickup bed, Unimogs are definitely not your standard pickup truck.  Making a Unimog truck camper rig is a custom project requiring intensive measurement and planning, fabricating capabilities, and the mechanical skills to make changes on the fly.
As an engineer with a life-long history with Unimog vehicles, Daniel Bass set out to take a Unimog U1300L and turn it into a flatbed capable of accepting any flatbed truck camper model.  Along the way he ran into a few design and clearance challenges, but his final rig is a true success.  Even better, he documented his design and has already shared it with others looking to match a Unimog with a truck camper.
What follows is Daniel's rational and build story for this exceptional expedition vehicle.  Some of his inspiration sparked right here in Truck Camper Magazine.
Be careful folks, this stuff is contagious.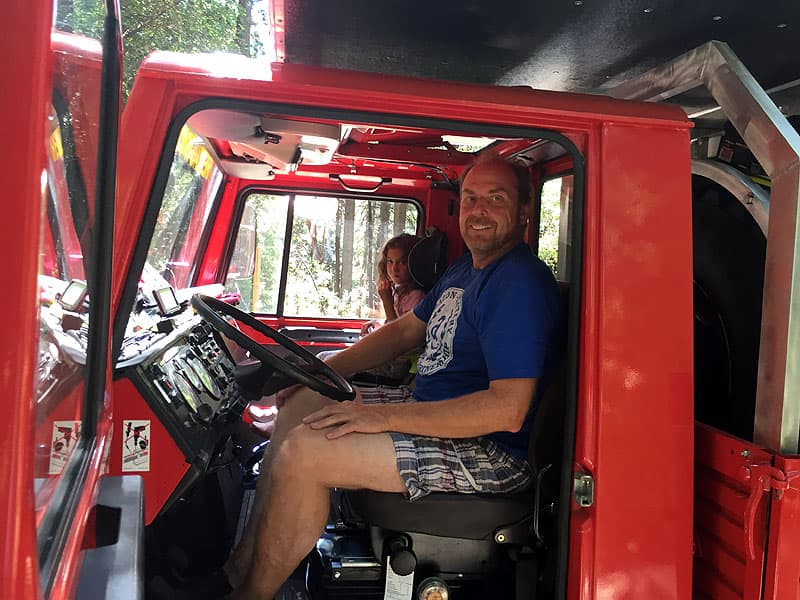 TCM: How did you get introduced to camping and truck campers?
Daniel: As a teenager growing up in Germany, my family went tent camping in Italy and Yugoslavia near the Mediterranean.
When I was 18, I bought an ex-German Postal delivery truck, a Mercedes 407D and changed it into a camper.  I used the Mercedes to travel to Greece three years in a row during summer vacations.  In the winter I used it to go skiing in the Austrian Alps.
I moved to the United States in 1983.  During the first few years after I moved, I went camping with a friend who had a truck and cabover camper.  Being from Europe where you don't see cabover campers, I liked the concept.  It lets you use your truck for hauling or work during the week, and for camping on the weekend.
Above: Daniel and his Unimog U1300L before it was turned into a flatbed truck
TCM: What led to you purchase a Unimog?
Daniel: An uncle of mine owned a Unimog which was developed after the war.  I grew up with Unimogs.  They are made for different applications.  For example Unimogs can be a tractor with four-wheel drive and fitted with snowplows and winches.
I bought my Unimog in May of 2015.  My Unimog was originally used in Germany for rescue on the freeway.  There's a box on the back with a generator and storage for recovery gear.  After so many years, the rescue team will buy new Unimogs to get the latest technologies.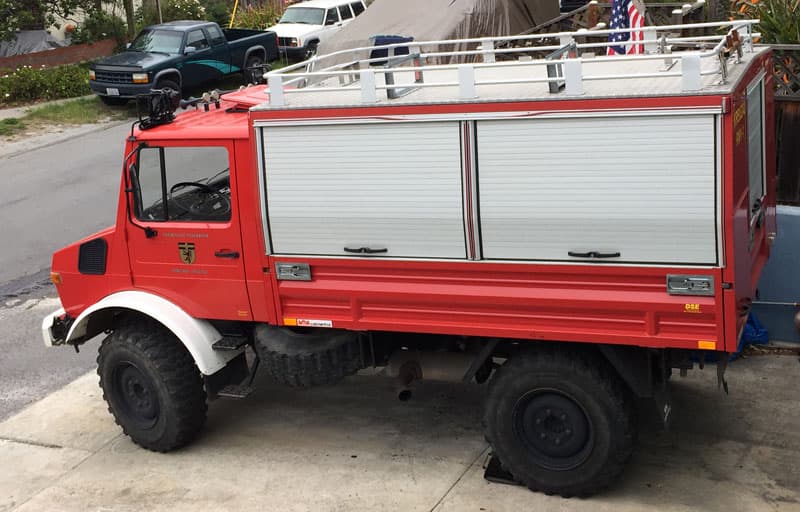 TCM: There aren't exactly Unimog dealerships in the United States.  How did you get your Unimog?
Daniel: In California there is an importer called Expedition Imports.  I found them on the web and drove by to see what the Unimogs cost.