Daniel Bass engineered and built a custom overland vehicle with a Unimog U1300L and a Four Wheel Camper Grandby pop-up truck camper.  Now you can, too.

With all-wheel drive, a flexible frame, and ample ground clearance, it's only natural that folks have matched the incredible off-road capabilities of Unimogs with the vigorous versatility of truck campers.  Unfortunately, matching a Unimog with a production truck camper is anything but natural.
Truck campers are designed for standard pickup-trucks.  Standing several feet taller than pickup trucks, and lacking a typical pickup bed, Unimogs are definitely not your standard pickup truck.  Making a Unimog truck camper rig is a custom project requiring intensive measurement and planning, fabricating capabilities, and the mechanical skills to make changes on the fly.
As an engineer with a life-long history with Unimog vehicles, Daniel Bass set out to take a Unimog U1300L and turn it into a flatbed capable of accepting any flatbed truck camper model.  Along the way he ran into a few design and clearance challenges, but his final rig is a true success.  Even better, he documented his design and has already shared it with others looking to match a Unimog with a truck camper.
What follows is Daniel's rational and build story for this exceptional expedition vehicle.  Some of his inspiration sparked right here in Truck Camper Magazine.
Be careful folks, this stuff is contagious.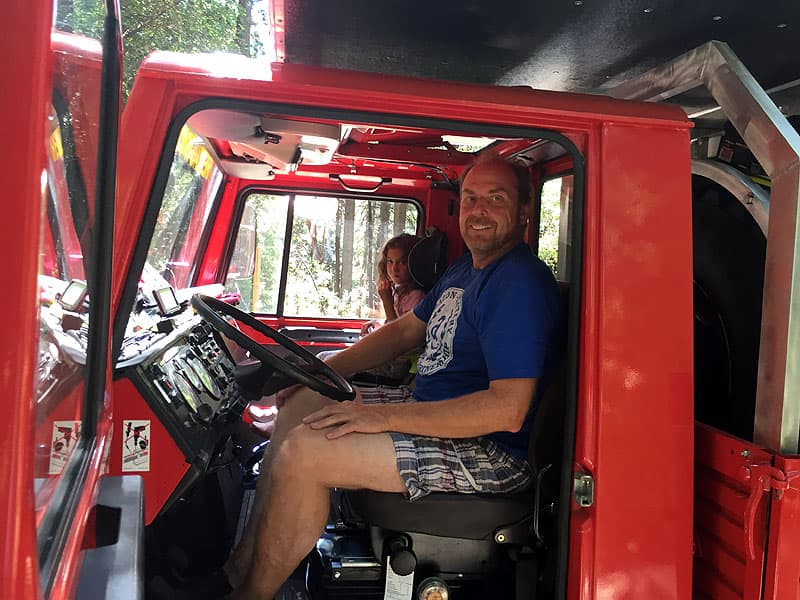 TCM: How did you get introduced to camping and truck campers?
Daniel: As a teenager growing up in Germany, my family went tent camping in Italy and Yugoslavia near the Mediterranean.
When I was 18, I bought an ex-German Postal delivery truck, a Mercedes 407D and changed it into a camper.  I used the Mercedes to travel to Greece three years in a row during summer vacations.  In the winter I used it to go skiing in the Austrian Alps.
I moved to the United States in 1983.  During the first few years after I moved, I went camping with a friend who had a truck and cabover camper.  Being from Europe where you don't see cabover campers, I liked the concept.  It lets you use your truck for hauling or work during the week, and for camping on the weekend.
Above: Daniel and his Unimog U1300L before it was turned into a flatbed truck
TCM: What led to you purchase a Unimog?
Daniel: An uncle of mine owned a Unimog which was developed after the war.  I grew up with Unimogs.  They are made for different applications.  For example, Unimogs can be a tractor with four-wheel drive and fitted with snowplows and winches.
I bought my Unimog in May of 2015.  My Unimog was originally used in Germany for rescue on the freeway.  There's a box on the back with a generator and storage for recovery gear.  After so many years, the rescue team will buy new Unimogs to get the latest technologies.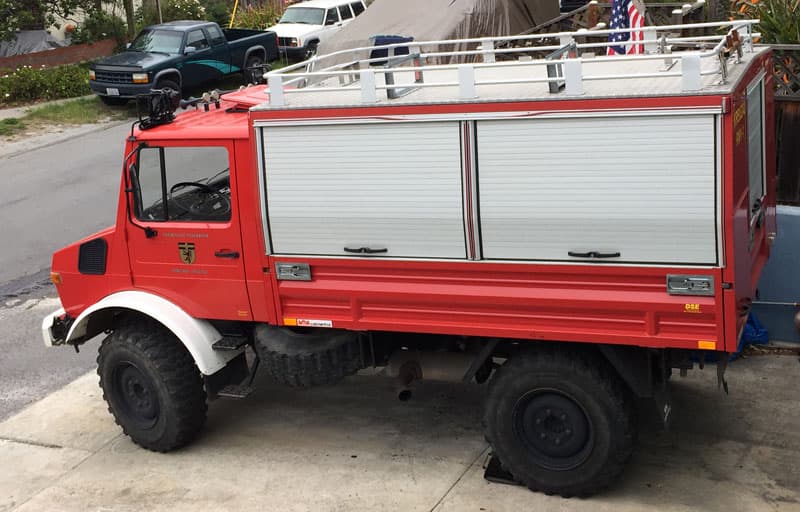 TCM: There aren't exactly Unimog dealerships in the United States.  How did you get your Unimog?
Daniel: In California, there is an importer called Expedition Imports.  I found them on the web and drove by to see what the Unimogs cost.
I saw this one and liked it.  It had low miles, a 12-ton winch, and a box on the back that I could probably convert for a truck camper.  So, I made a decision to turn the Unimog into a flatbed.  The flatbed conversion was done in the fall of 2015.
TCM: What's the year, make, and model of your Unimog?
Daniel: It's a 1987 Unimog U1300L.  It's a four-wheel drive, diesel, long bed truck.  The Unimog U1300L is essentially a 7.5-ton truck.
I have a RW1 version, or Unimog Rescue Wagon.  The RW1 models don't get a lot of miles on them since they are just used for recovery.
TCM: What kind of fuel mileage do you get with the Unimog?
Daniel: It's a 6-cylinder diesel.  I get about 12 miles per gallon with the camper, which is not bad at all.
TCM: That's impressive.  What can someone expect to pay for a Unimog?
Daniel: If you buy one used, as I did, you can expect to pay around $40,000 depending on how many miles it has on it.  I paid $45,000 because my unit has overdrive.
Unimogs are not very fast, but they are very nimble.  It goes about 55 miles per hour but, with overdrive, mine can go 65 miles per hour.  The fire truck is a turbo version as well.  Going uphill, it's like a semi-truck.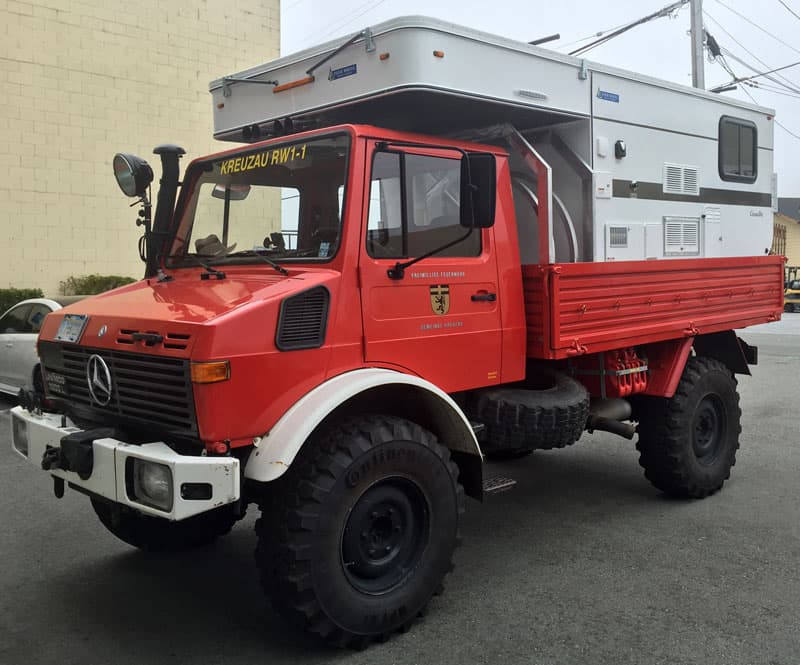 Above: 1987 Unimog u-1300l truck camper with a snorkel
TCM: I see that your Unimog has a snorkel.  Did you add that or was it original?
Daniel: I added the snorkel.  With the snorkel, a Unimog can go through water to the cab, which is three to four feet of water.  The snorkel is also good for dust.
All the gears are behind the axles.  Once it's in four-wheel drive, it locks the axles and it's pressurized so that water can't get into the axle housings.  There is a valve that puts positive pressure on the drivetrain, so water can't get in there.  It's closed up and sealed.
My Unimog has 16 gears, but normally they have 8 gears.  I wouldn't use the first three or four gears on the road.  I start in fourth gear.  In four-wheel drive mode, I can put it in first or second gear, and crawl.
The Unimog is the German version of a Humvee, so it has much taller wheels.  I can go over big rocks and drive in sand because I can lower the pressure in the tires.  This truck can go at about 45 degrees approach angle and a 50-degree departure angle, which is almost scary.  I haven't done that yet with the camper on the truck.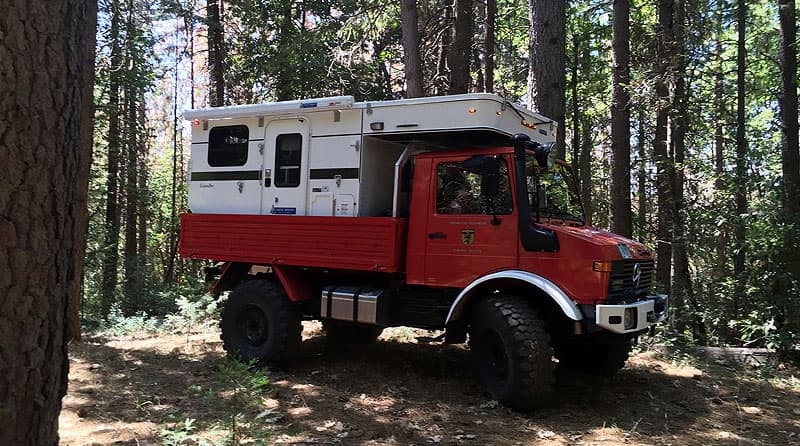 TCM: Putting a Four Wheel Camper on a Unimog is an interesting combination.  Why did you go with a Four Wheel Camper?
Daniel: As my plans for camping include a lot of off-road driving.  I wanted a camper that was built for the task and could handle the vibrations and twisting associated with off-roading.  I did a lot of my cabover camper research online.
Truck Camper Magazine was a great research tool.  I learned about the ways different companies build their campers and I decided that I wanted a camper that was built using an aluminum frame.
That led me to Four Wheel Campers and their flatbed model.  I called them to see if I could stop by their facility in Woodland, California on my way up to the mountains in January.  I wanted to check out how they built their campers in person and get some exact dimensions on the Grandby flatbed model that I had my eyes on.
Four Wheel Campers was very accommodating and gave me a tour of the facility.  I was impressed with the way they built their campers.  And I liked the flatbed version of the Grandby popup camper because it would fit my Unimog well.
TCM: Is there anything special about your flatbed Grandby, or is it built like other flatbed Grandbys that Four Wheel Camper produces?
Daniel: It's an off-the-shelf flatbed Four Wheel Camper Grandby.  You could swap it out with any other flatbed Grandby, or a different flatbed camper.  That was the idea.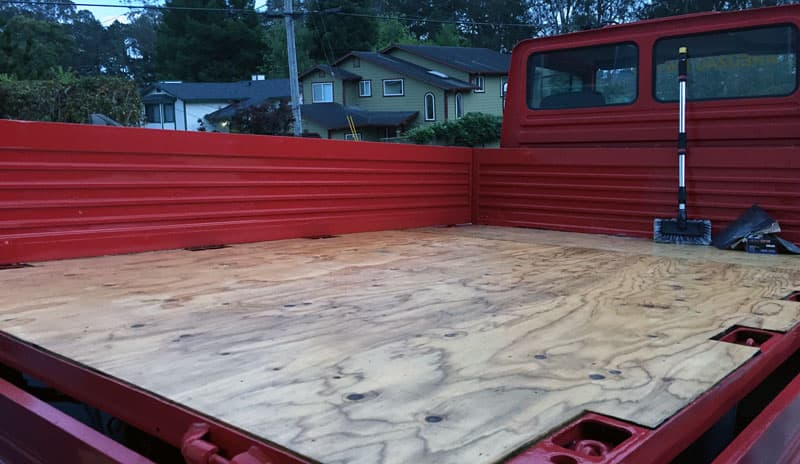 Above: The flatbed before the aluminum platform was added
TCM: Did you need to modify the Unimog for the Four Wheel Camper?
Daniel: Yes, I had to build a platform on the flatbed to raise the camper enough to clear the cab.  The platform also keeps the profile of the already high truck as low as possible when traveling.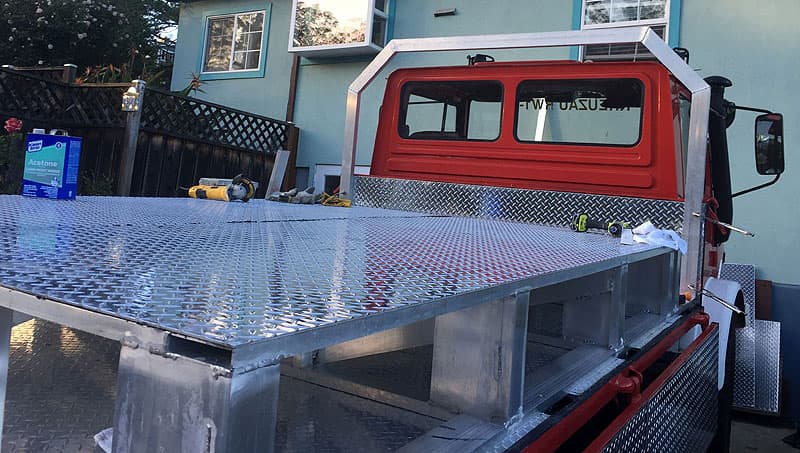 When I returned home from Four Wheel Campers, I made a CAD model of the camper and how it would fit on my truck.  In March, I ordered the camper and picked it up in June.  That gave me three months to build the platform.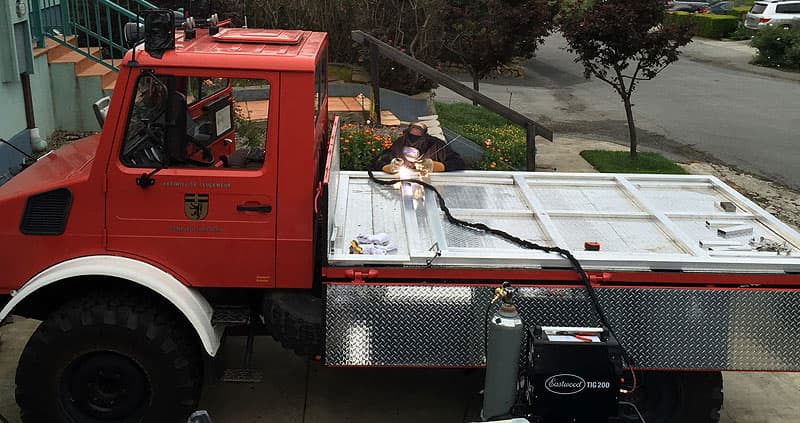 TCM: Tell us about constructing the platform.  How did you know how to do that?
Daniel: I'm an engineer, so I was able to make CAD models and drawings.  I built the platform out of aluminum.  I got the materials, cut them, and started welding.
The goal was to move the spare tire up and out of the way so that we could add a second fuel tank.  I fabricated a 12-inch high platform on the back of the flatbed to raise the camper enough to clear the cab.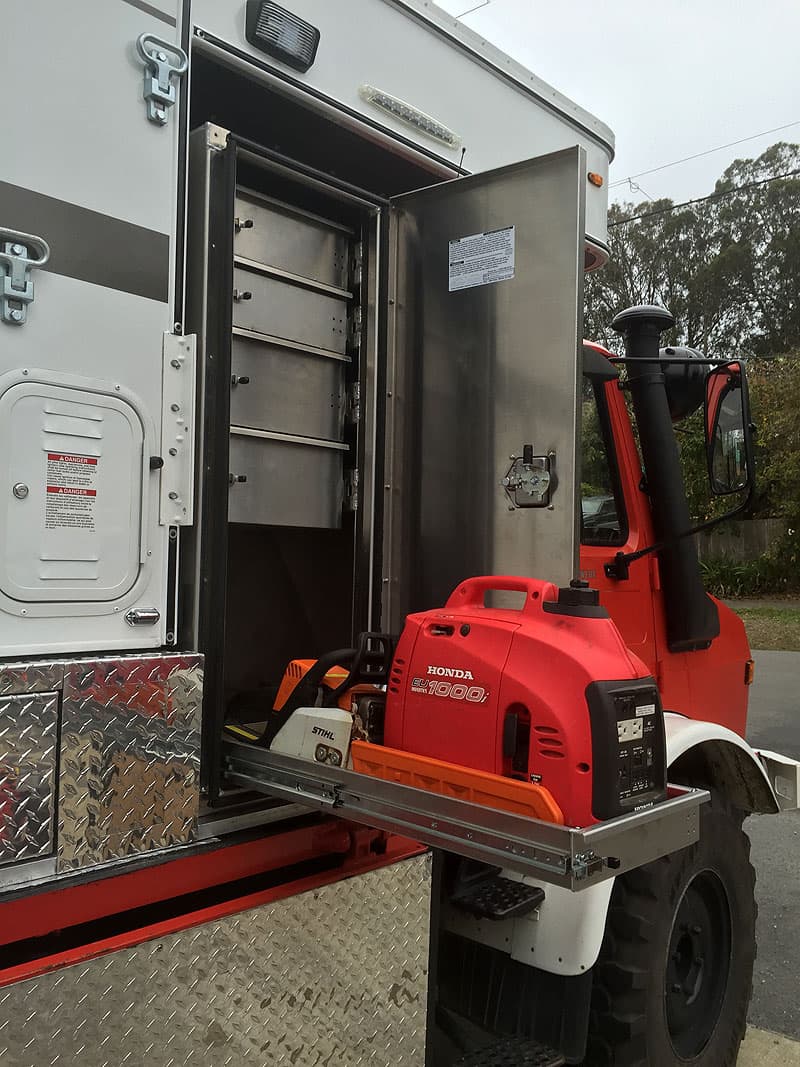 I use this platform for storage by adding pull-out drawers, which I ordered.  They are standard truck bed drawers for a work truck.  There is also a cabinet on the side.  The drawer and cabinet took the longest.
I also added two additional water tanks so I can stay in the backcountry longer without the need to refill the water tanks.
At first, I was going to get someone to build the platform for me, but I ended up doing it myself.  I actually built it over a few weekends.  Two days before the camper was ready the platform was done.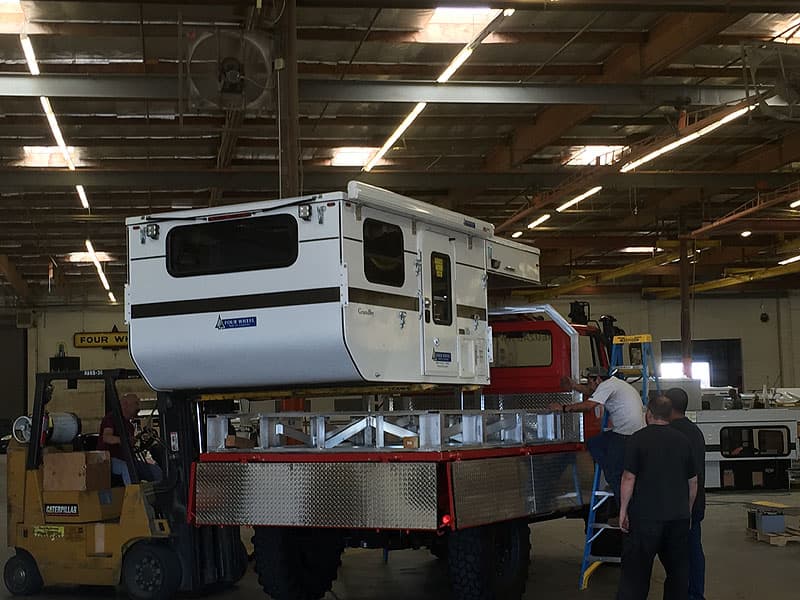 TCM: With the flatbed and platform installed, how was it to load the camper?
Daniel: Loading the Grandby was a challenge for the team at Four Wheel Campers because they're not used to big trucks.  The camper jacks were not tall enough, so they had to use a forklift and blocks to raise the camper.  Half the company came over to help.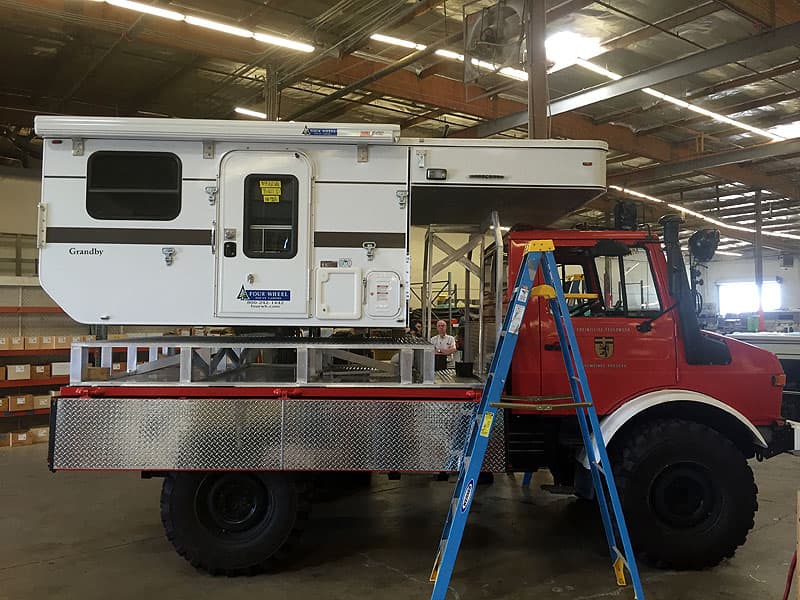 Before the pickup, Four Wheel Campers sent me the dimensions and technical drawings to make sure the Unimog, platform, and camper were matched correctly.  That was very helpful.  During the build, Four Wheel Campers was very professional and got it done quickly.
As I took the camper home, there were still platform details to complete.  I had to install the pull-out drawers and the generator cabinet.  The first time I took the rig out, the generator cabinet didn't have a door.
For our first trip out, we took the rig to a property in the mountains.  There are no roads on the property, so we spent three to four days trying out the camper, and seeing what it could take.  The camper did well during these trials.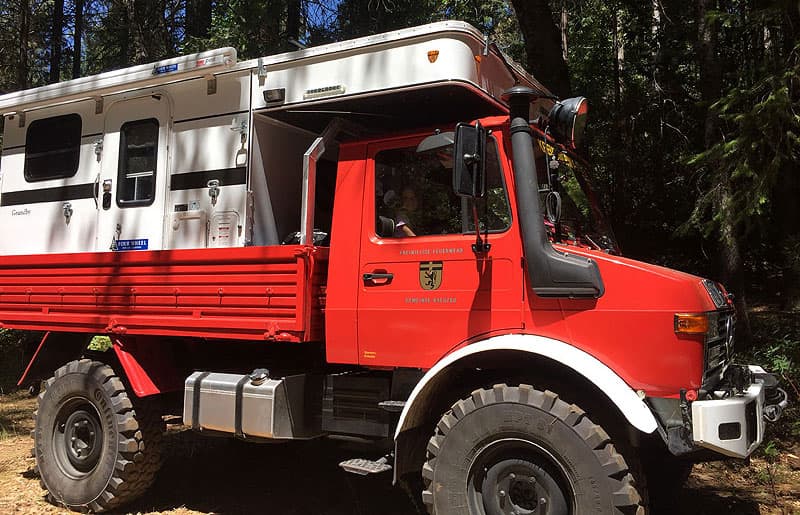 TCM: Do you intend to keep the camper mounted full-time?
Daniel: For the next couple of years, I am going to keep the camper on the truck.  My goal is to travel in Baja and Alaska.  After that, my daughter will be in school full-time.
Then I'll take the camper off during the off-season and use it for hauling wood on my property in the mountains.  I don't want to do that with the camper on my truck.
I have to make something to take it off and on easily.  As of now, my thought is to make a hydraulic stand to lift it up.  It's probably 5.5-feet off the ground.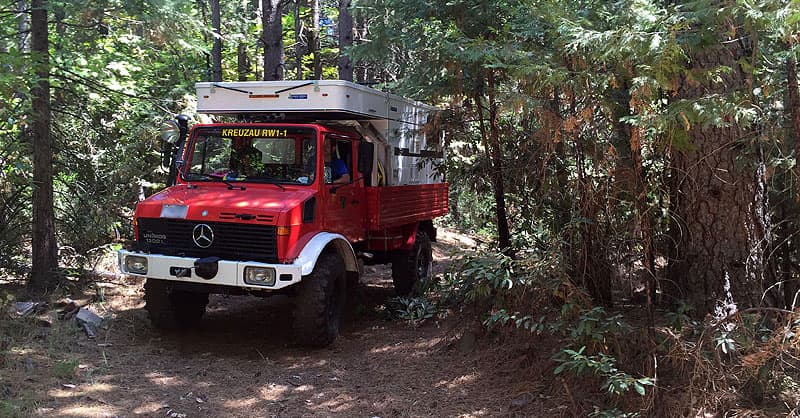 TCM: Were there any surprises when the camper and truck came together?
Daniel: For their 2016 Grandby update, Four Wheel Camper added an under bed storage area that creates a bump-out under the cabover.  With this bump-out, I had to move the LED floodlights and remove the Unimog's siren for the camper to fit.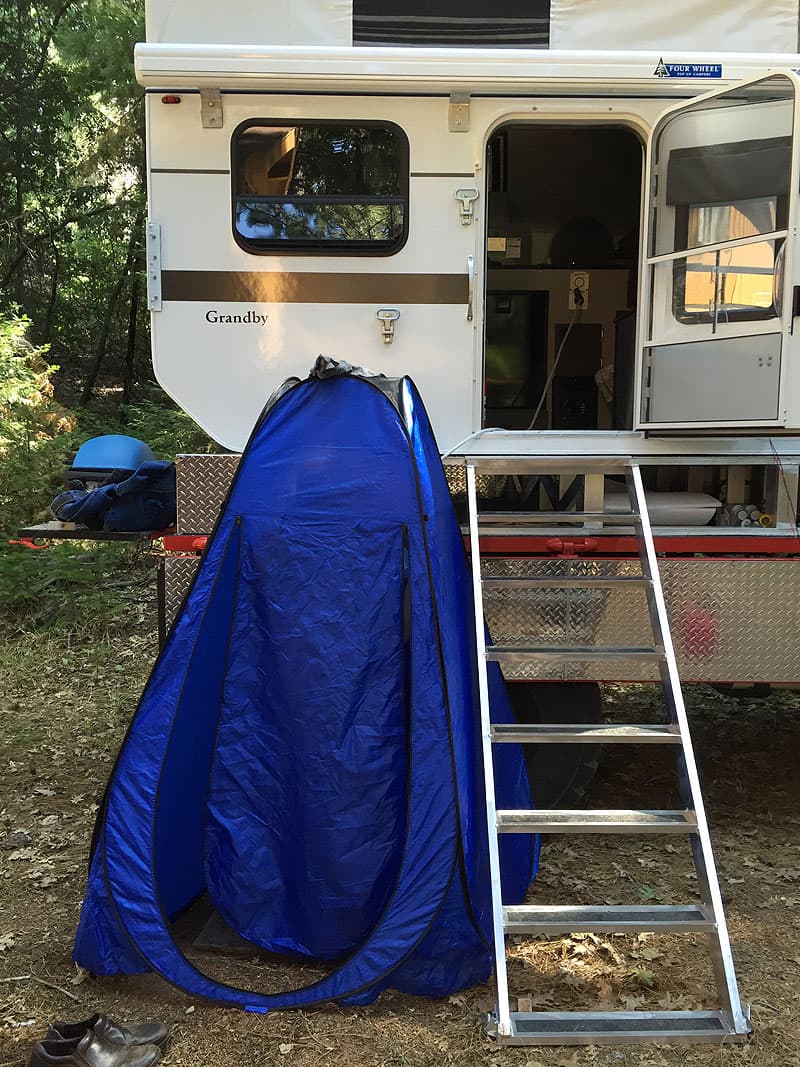 Above: The pop-up tent for outside shower taking
As a consequence of the height of our Unimog and required platform, the back wall exterior camper shower is very high up.  Our Grandby has an inside shower, but it makes more sense to use the outside shower in the summer.  To get around the height issue with the exterior shower, we bought a pop-up shower tent.
TCM: How did the platform and flatbed work out?  Does the camper stay put?
Daniel: Yes, the flatbed always stays straight.  If you go up on one tire in the front, the bed moves an inch.  Side to side, the cab angles, but the camper stays straight.  I had to account for that movement during my design.  I made sure the cabover had enough clearance.  The sirens bumped, so unfortunately I had to take those off.  Now I can't scare the bears.
I'm building a spoiler now between the camper and cab because air and bugs get channeled in there.  I want air to flow above the camper.  That was something I discovered after taking the rig out.  The spoiler will be at the front of the camper angled up, not something in between the camper and cab.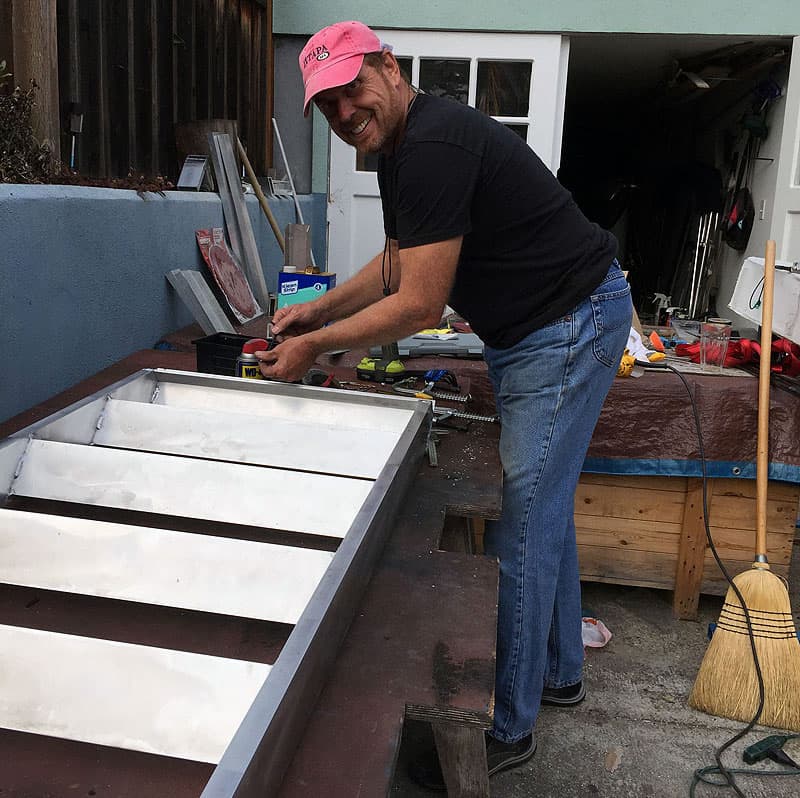 TCM: Tell us about designing your entry ladder, and how it works.
Daniel: I had to wait to load the camper on the truck to see where the suspension wound up with the weight of the camper.  Then I filled the tanks and took measurements of the bed height.  Once I got all that information, I decided on the length of the ladder and welded it up.
You'll see in the pictures that I devised a rail system.  The ladder has rollers and a channel, like a garage door.  I pull it out and it folds down.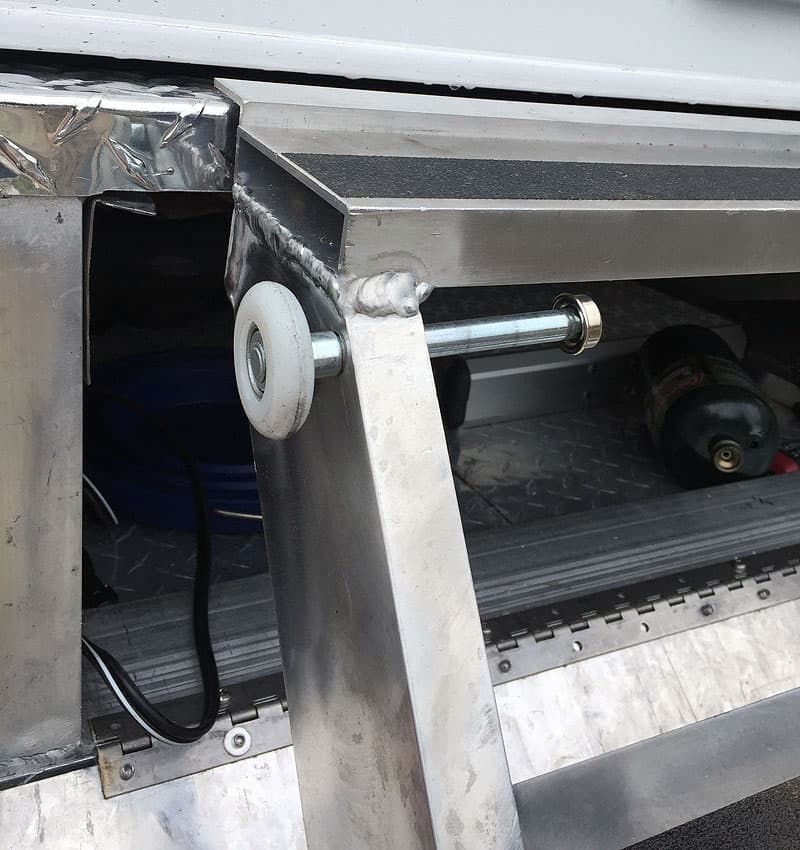 The ladder is located right underneath the door and hooks to a space under the door.  You can take it off and pop it back in.  It's not the lightest ladder, but it needed to be long and strong.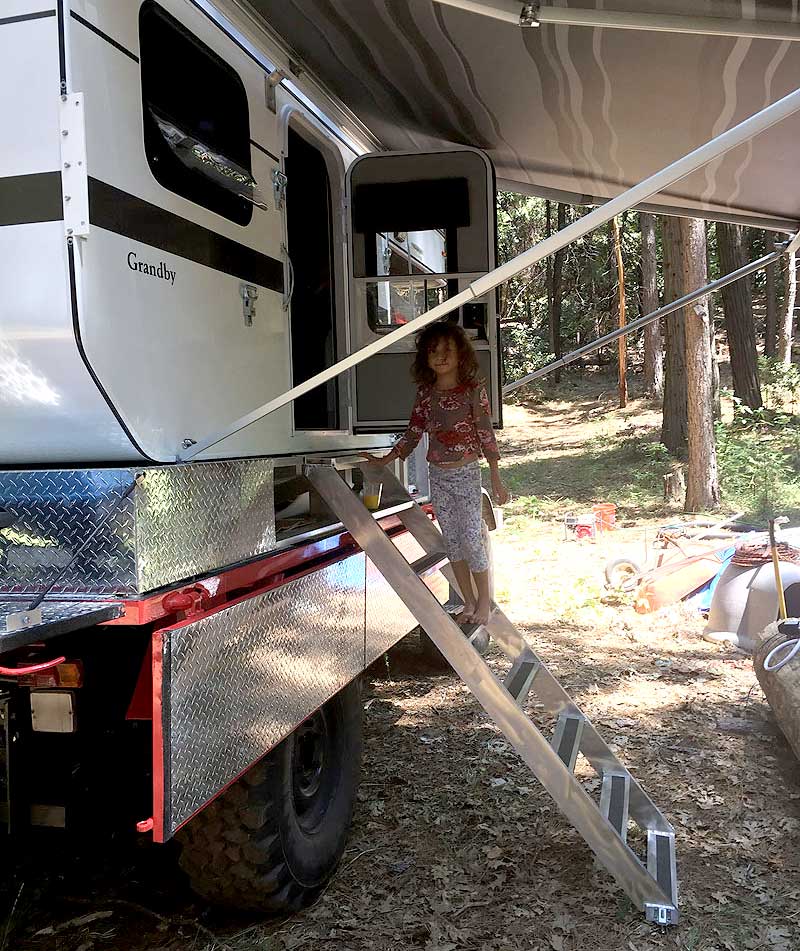 There are feet on the ladder so we can adjust the height of the legs.  It's always level.  I also designed a hook to the platform under the door.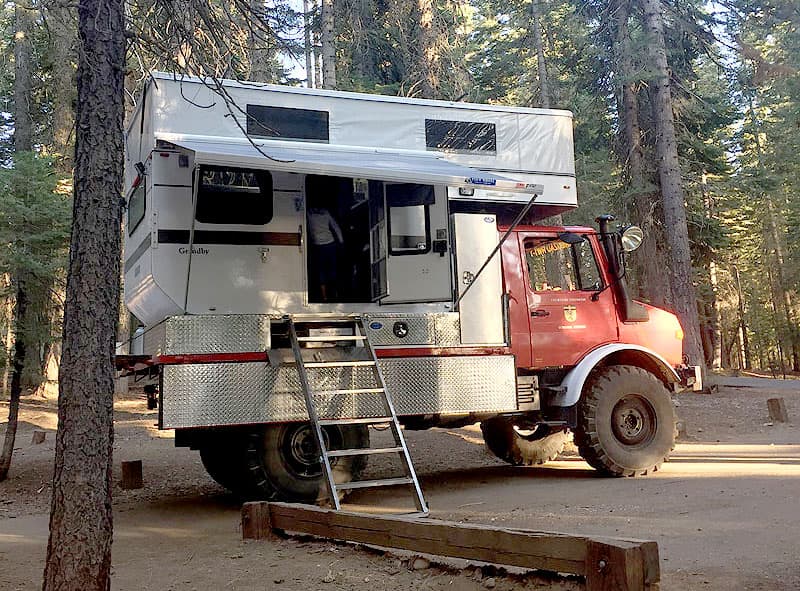 I went down a logging road over some logs and played with it.  I can go over rocks that are two feet tall and still have contact on the ground with all four wheels.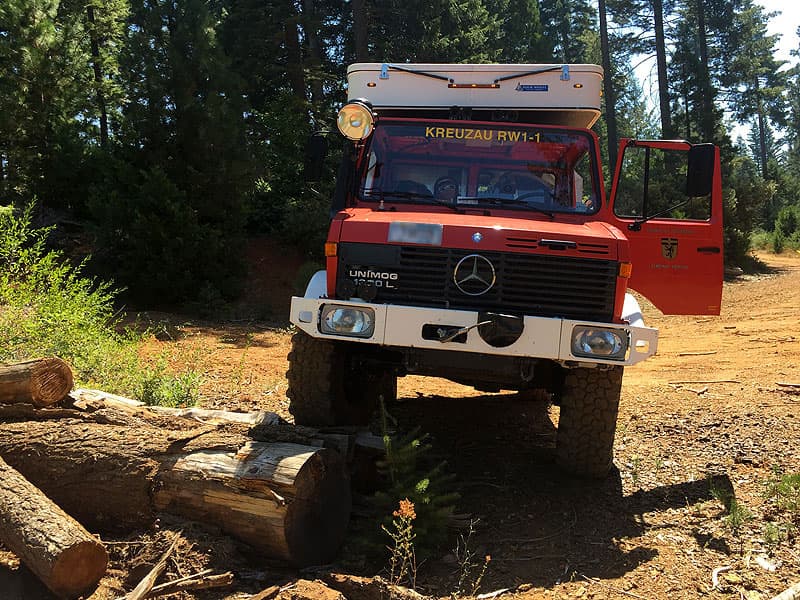 You can see videos on the web of what Unimogs can do.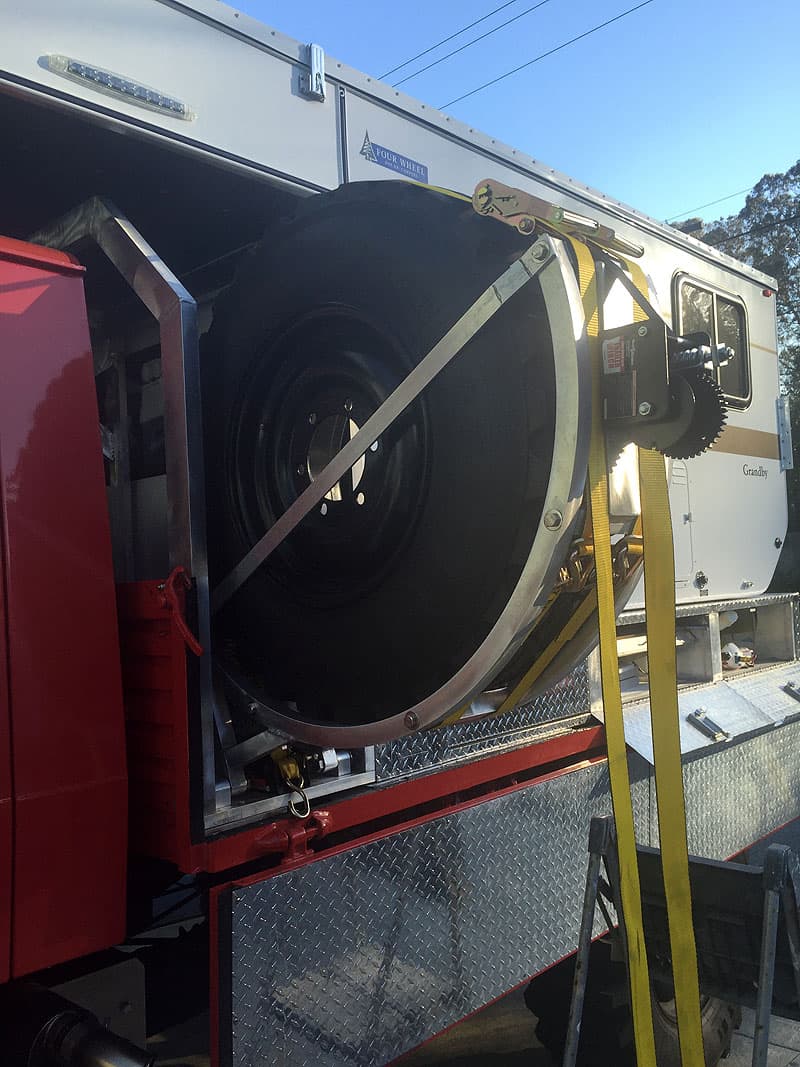 Above: The spare tire compartment is in front of the Four Wheel Camper on the driver's side
TCM: Tell me about the spare tire carrier.  How does it work?
Daniel: That's an idea I stole from a Truck Camper Magazine article, "Building a Unimog Truck Camper".  There are others on the internet with other solutions, but I liked Chris Cole's the most.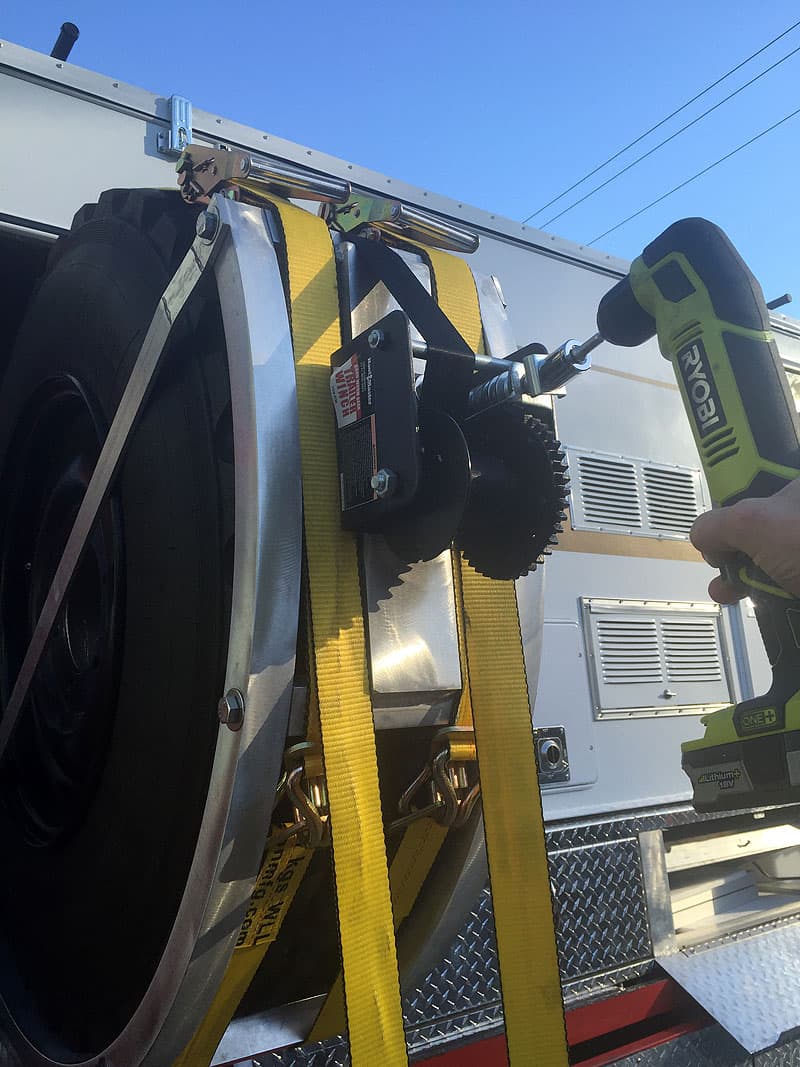 I have a winch on there to haul it up because the tire is 150 pounds.  I used a battery drill to haul it up.  I have straps that are tied in with a ratchet so it doesn't move.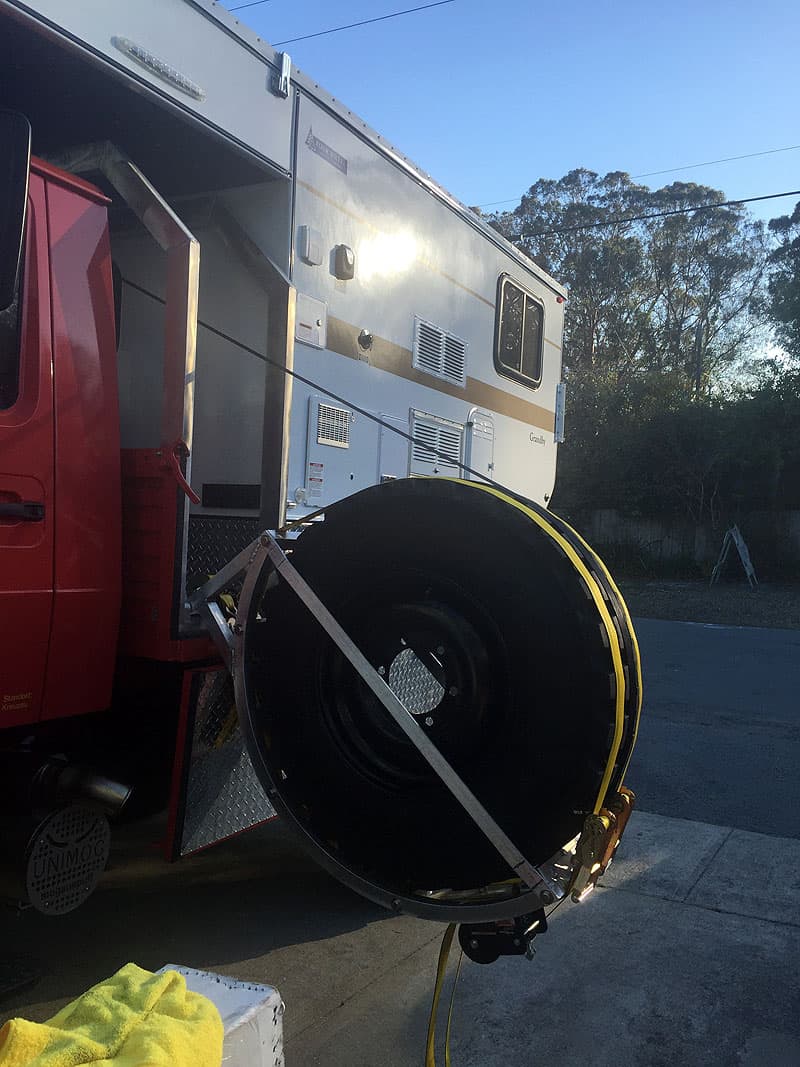 TCM: I bet Chris will get a kick out of seeing your version of his mod.  What else fits in the area with the spare tire?
Daniel: I slid the camper as far back on my bed as was possible to have a space between the cab and camper.  I utilize this space for a spare tire carrier on the driver's side.  On the passenger's side is an additional equipment cabinet for a 2,000-watt generator, chainsaw, and drawers for the jacks and truck tools.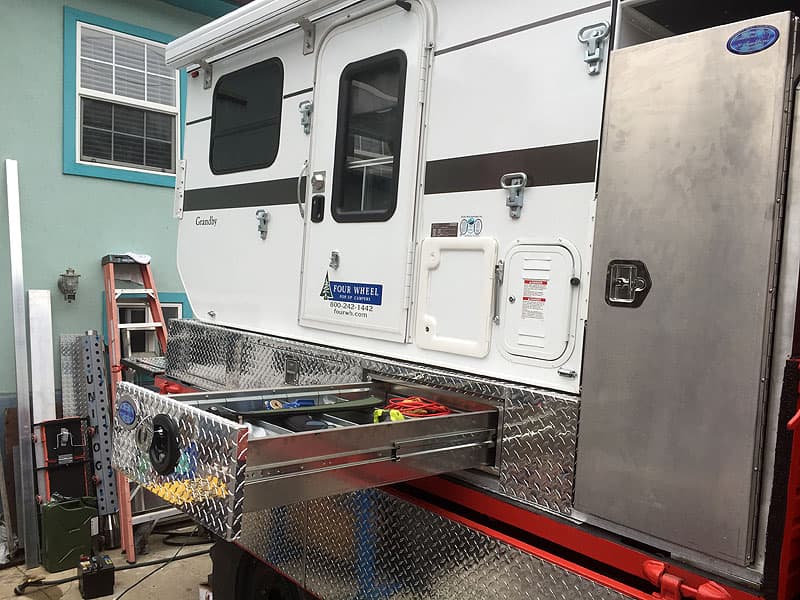 Below the platform are pull-out drawers that are two feet wide by three feet deep.  These drawers contain hoses, cables, and a standard water filter.
The center storage is the ladder.  Below the ladder are the camping chairs.  The ladder takes up 4-inches, so I have room for a folding table.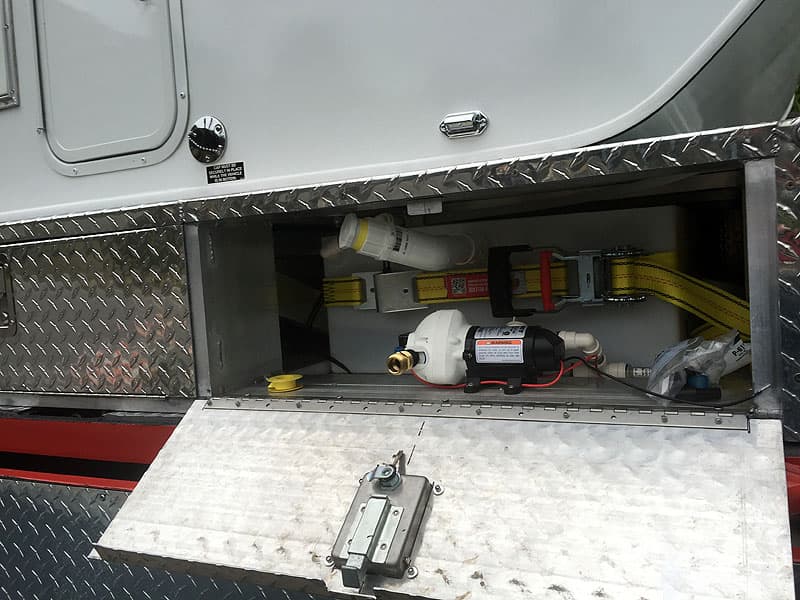 In the back are the fresh water tanks.  In addition to the storage inside the camper, the flatbed and platform provide ample storage.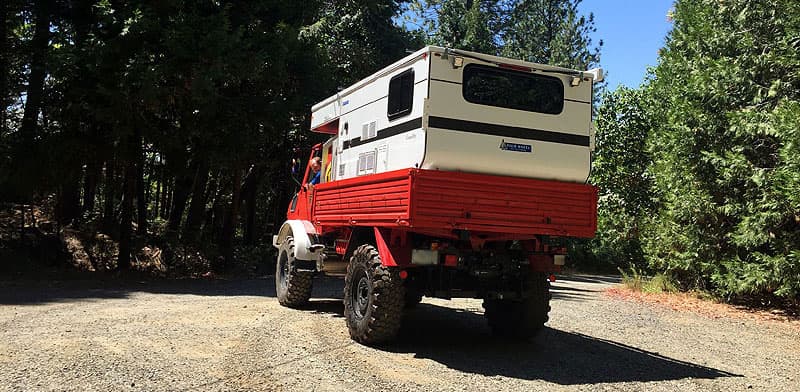 TCM: What is the gate-like structure around the outside of the camper?
Daniel: That is a standard fold-up side for a flatbed, which is built like a balcony.  I use it for a platform.  It folds down and flat like a table.  I can also use it as a platform for the barbecue.
The fold-up sides provide good staging areas for things.  I have straps so I can hold them in position.  They go off and on so I can use the Unimog as a truck.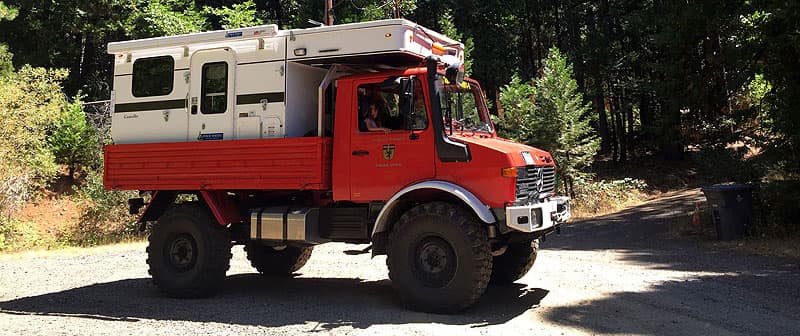 TCM: What are the capacities of your auxiliary water tanks?
Daniel: I added two 30-gallon fresh water tanks.  I believe the Four Wheel Camper has an additional 20 gallons built-in.  All totaled, I have 80 gallons of fresh water.
For grey water, I have foldable tanks that are like a bladder.  Out in boonies, I use biodegradable soap.  I didn't connect the two extra fresh water tanks to the camper.  I wanted the tanks to be separate.  You can see the pump in front of the tanks that pump water into the camper.
For my black water tank, I have a cassette toilet.
TCM: How long did the process of designing and assembling this rig take?
Daniel: I bought the truck in May of 2015.  By the time the camper was on it was June 2016, so a little more than a year.  In July 2016 I took it out for the first time.
TCM: Is your truck and camper build complete?
Daniel: I am still in the process of building a motorcycle lift for the back of the truck.  I want to bring along a dirt bike for excursions and a lifeboat in case the truck gets stuck or has a mechanical problem.
I also will be adding an additional diesel tank so that I have enough reserve to go off-road for an extended time.  I would like 1,000 miles of reach.
TCM: 1,000 miles at 12 miles per gallon is 83.3 gallons of diesel.  How big will this additional tank be?
Daniel: The additional tank will be 150 liters/40 gallons, which is the same capacity as I have now.  I will also have some spare tanks, like a couple of four and five gallon jerry can tanks.  They are the red tanks you see on the side of the truck.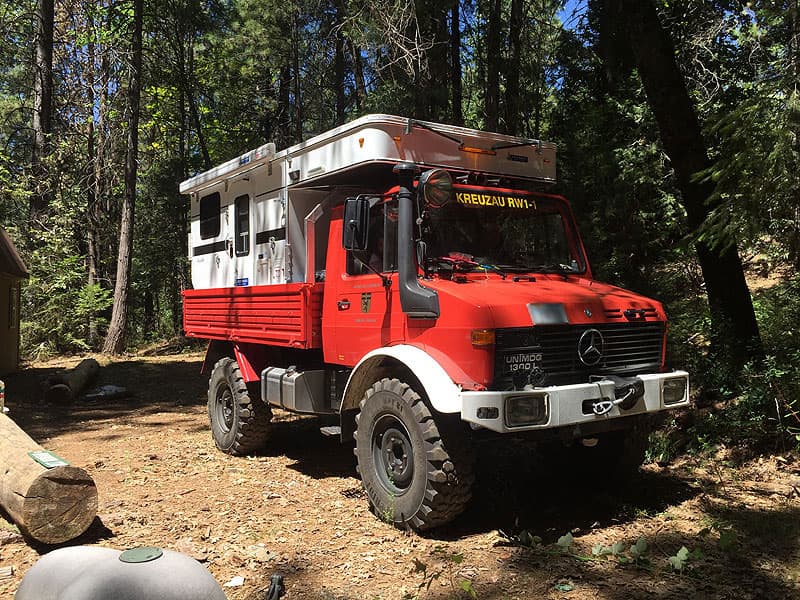 TCM: What advice do you have for others who may want to design a Unimog rig or a rig with a non-traditional pick-up truck?
Daniel: If you do a build like this, have an open mind.  As you build it, try things out to see how they perform.  To have someone else do the work is a lot tougher, and can get very expensive.
Think about how you're going to use your truck camper.  If you just go on weekend outings or to RV parks, you don't need a Unimog.
I enjoyed building it.  I know that it's an ongoing project and I can add things as I go.
TCM: In one of the pictures it looks like you were on a video shoot of some sort.  What was that for?
Daniel: We were on our way to Plumas National Forest near Sacramento.  We were at a truck stop to get gas, food, and drinks.  The Sacramento news station was there and didn't have much to do.  They saw my truck and wanted to do an interview.  They asked about the rig.  They put it on the web.  I get attention because it's not your standard camper.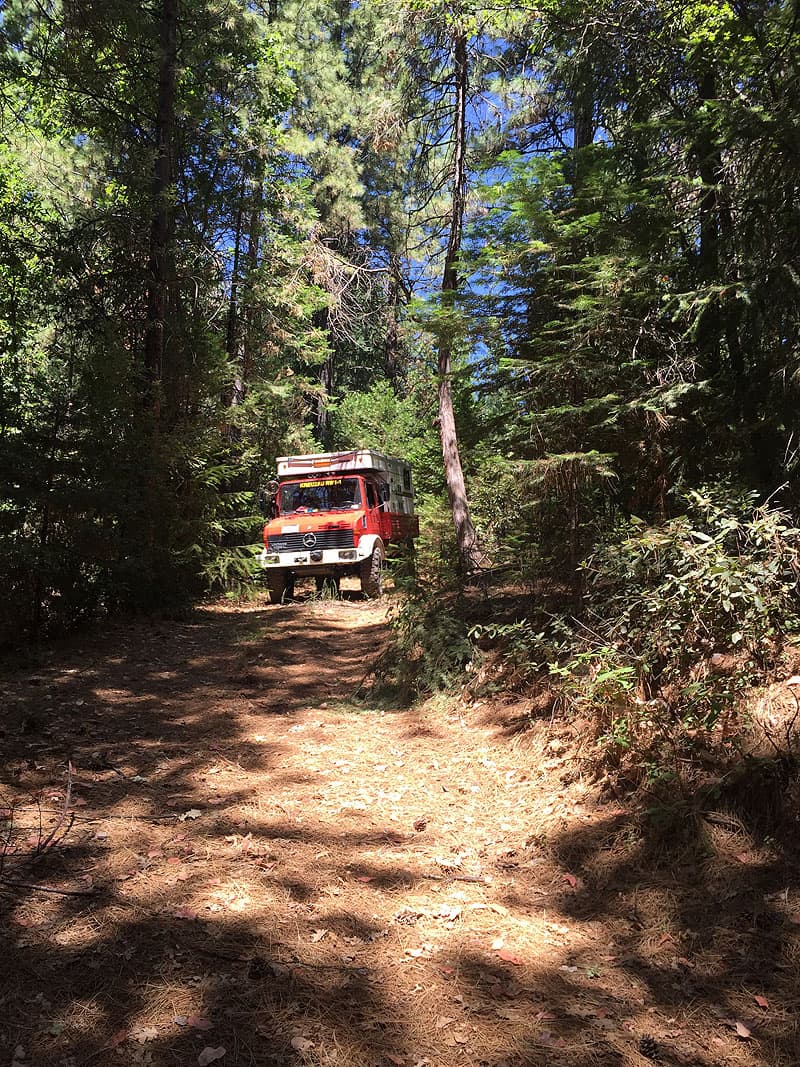 TCM: That's fun.  What do you enjoy doing while truck camping?
Daniel: We enjoy exploring nature, boating, and hiking.  We are planning to do a one-month trip down Baja, California next year in April.  We want to explore some of the Sea of Cortez coastline that is not accessible by road.
I did a couple of motorcycle trips down and up Baja and always wanted to check out some of the beautiful back bays that you can't access with normal vehicles.  This will require a minimum of five to seven days of self-reliance at a time before coming back to areas where we can re-stock with water and supplies.
Down the road, we are planning an extended trip to the Alaska wilderness.  I want to do this within the next two years since we have a five-year-old daughter.  It will be more difficult to take her out of school for an extended time once she is older.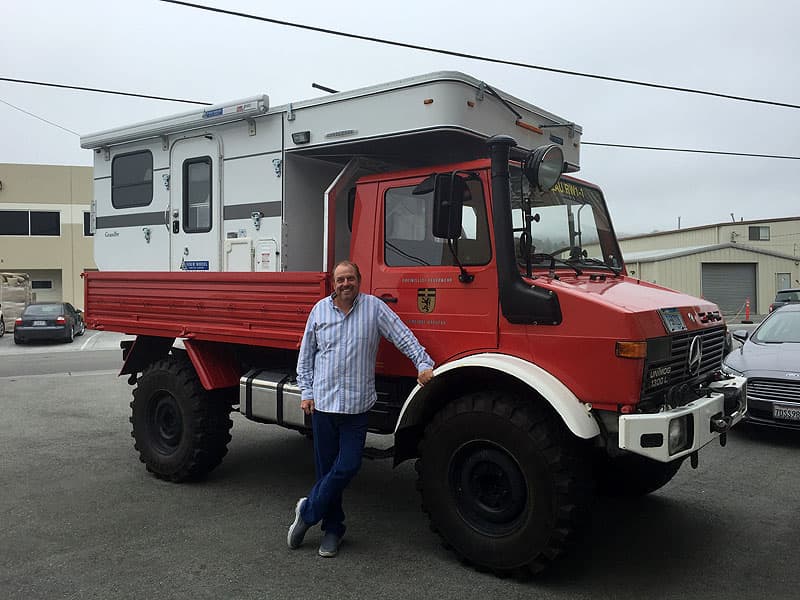 TCM: Is there anything else you'd like to share?
Daniel: A guy in Oregon who bought the same truck called me and asked how I did it.  I sent him all of my drawings.  He wanted to build it a little bit differently, and I was able to help him so that he could benefit from my experience.
If anyone wants information about my Unimog flatbed build, they can contact me through Truck Camper Magazine.  I'd be happy to help.
Truck: 1987 Unimog U1300L, regular cab, 4×4, diesel, single rear wheel, long bed
Camper: 2016 Four Wheel Grandby flatbed camper
Tie-Downs/Turnbuckles: N/A
Suspension: N/A
Gear: Flatbed platform to accommodate standard Four Wheel Camper
To visit the Four Wheel website, go to fourwheelcampers.com. Click here for a free Four Wheel brochure.